The Louvre in Paris is filled with thousands of statues and sculptures and it is impossible to see them all. That is why we've narrowed it down to the 14 most famous statues and sculptures in the Louvre!
---
14 Most Famous Sculptures & Statues at the Louvre
Michelangelo is commonly considered the greatest artist and sculptor in history. He said that sculpting is the purest of all art forms and gave a good reason why. He said that painters have "clever tricks and brushstrokes" to hide mistakes but if the final strike of your hammer on stone ends poorly you will lose years of your life.
Michelangelo's words ring true and when you stand in front of a sculpture you have to stop and think that a human (or more) spent years of their lives crafting that work of art. The artist and sculptures both have hidden truths and rich tales of their journeys in time. I will do my utmost best to tell those below, but we highly recommend Paris tours and Louvre tours while in the city of light.
Reading this article will prepare you for that tour and make it that much more interesting!
14. Spartacus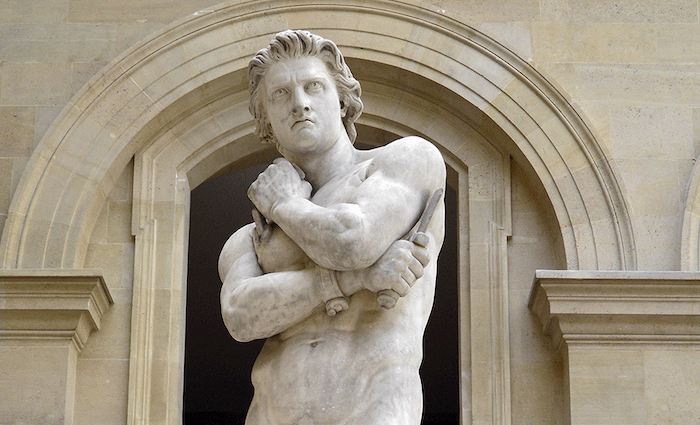 Denis Foyatier | Salon of 1827 | Carrara marble | Cour Puget, Room 105
Denis Foyatier was a strong sculptor in the early 19th century which is why Charles X chose him as his primary artist. Charles X is known in history as a tyrant but he definitely did not realize that while in power. If he did, he probably would not have commissioned Spartacus!
In Foyatier's version, Spartacus has literally broken free of his chains, notice his wrists, and is now fighting back. Soon after the commission, Charles X is overthrown in the July Revolution in France and this very statue is used as the emblem of that very fight.
There is no way Charles X would commission an escaped slave if he thought he was enslaving the population. He obviously felt some connection to the rebel. The population, on the other hand, definitely felt like an escaped slave when they stormed the Bastille and overthrew the government.
Spartacus is an iconic figure well-represented by Foyatier and the correlation with the July Revolution makes him even more interesting.
13. Saint Mary Magdalene (Pénitente)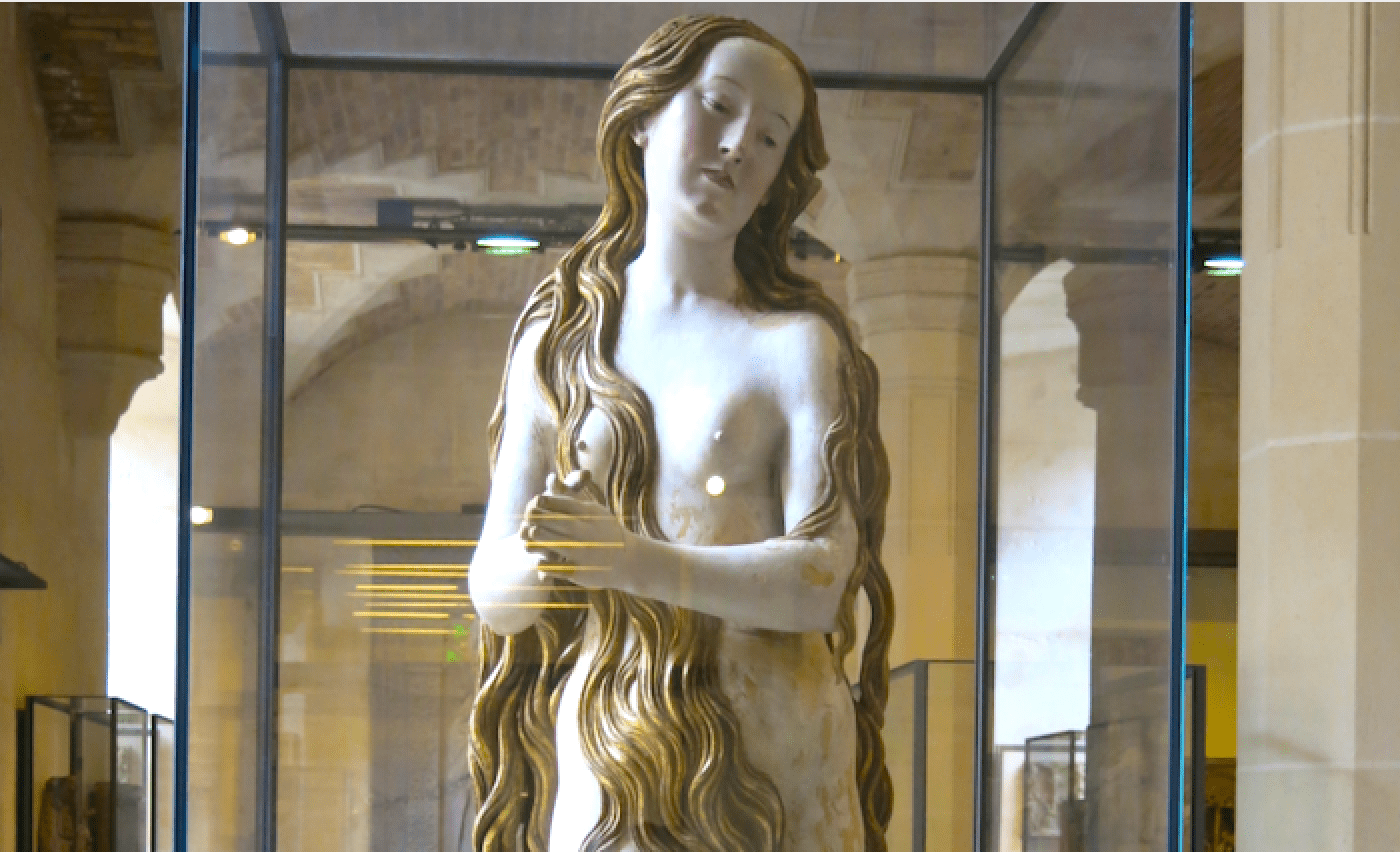 Grego Erhart | 1515-20 | Lindenwood & Polychrome | Dept. of Sculptures
Grego Erhart's painted wooden sculpture of Mary Magdalene is truly stunning to look at but I have chosen it for another reason. Sandro Botticelli painted The Birth of Venus 30 or so years prior to Erhart which Erhart would never have seen.
Mary Magdalene is normally painted as the Pagan goddess Venus in Christianity which is much less sacrilegious than it sounds. Renaissance artists relied on Roman art to perform their craft since it was abundant and of high quality. Therefore, all the Pagan figures were used as models for the Christian figures.
Just like Sandro Botticelli's masterpiece, the Birth of Venus, Erhart portrays Magdalene nude with long flowing covering her figure. The two works of art, one a sculpture and the other a painting, portray two different icons of almost identical form.
The statue is definitely worth passing by if only for that reason.
Check Out Our Best Versailles & Paris Louvre Tours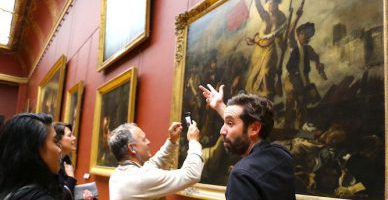 Top-Rated Tour
Royal Louvre Palace Tour with Mona Lisa & Crown Jewels
The Louvre is the largest art museum on Earth and the crowning jewel of Paris, which is why it's on everyone's bucket list. Don't be left out of an incredible opportunity! Join a passionate guide for a tour of the most famous artwork at the Louvre. Skip-the-line admissions included.





See Prices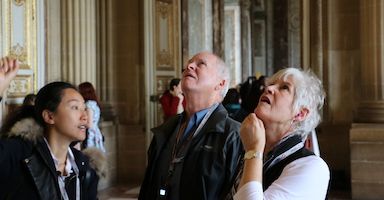 Likely to Sell Out
Skip-the-Line Palace of Versailles and Gardens Tour from Paris
Versailles isn't that difficult to get to by train, but why stress over the logistics? Meet a local guide in central Paris who will purchase your train tickets and ensure you get off at the right stop. Then enjoy a guided tour of the palace and the unforgettable gardens. Skip-the-line admissions included to the palace and gardens.





See Prices
12. Moai Statue of Easter Island
Artist Unknown | Approx 1000 B.C.E | Basalt Tuff
Easter Island may have possibly been the most prosperous and industrious society outside of Egypt in the 12 century B.C. but almost nothing is left in terms of record keeping. What is left is almost a thousand Moai statues that are littered across the island and now the world.
The statues are surprisingly simple but their mystery, age and great quantity makes them incredibly interesting. There is almost no written or oral history but most believe the statues were carved for important leaders over time. It is an interesting subject to research which is very foreign to most of us.
The natives of the island were the means to their own end. They grew so much in their small ecosystem that they most likely used too many of their resources which led to their decline.
11. Salle du Manège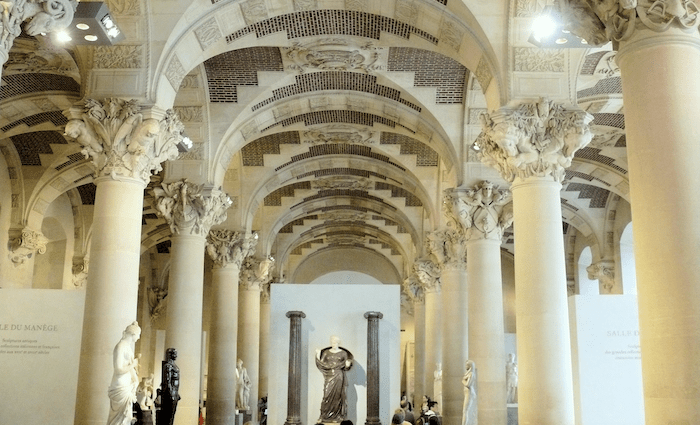 Many Artists | Salle du Manège
This is not one single sculpture but a collection of many sculpture that should be visited on any trip to the Louvre. Although there is a centerpiece, Worshipper, there is not a single statue of significant importance. Many are beautiful and I would be quite proud to have any featured in my home but on the level of the greatest statues in the Louvre, none make the list.
That said, as a collective these statues fill a room, Salle de Manège, that should be visited. The mere look and feel of this room allows you to imagine what it is like to be a Borghese off-spring with a palace in Rome.
10. Marcellus Divinized into Mercury Psychopomp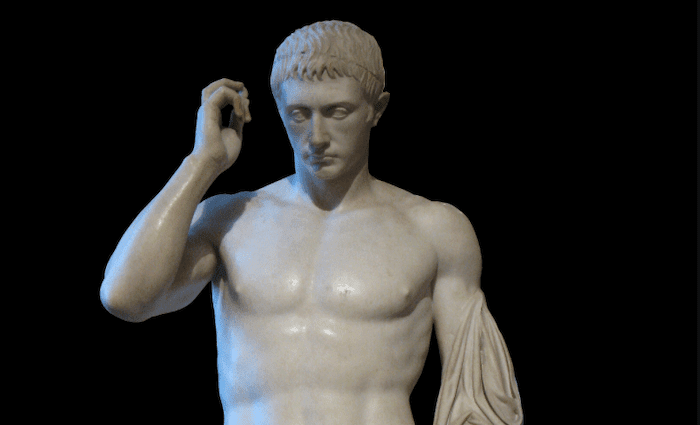 Unknown | 1st Century B.C. | Dept of Greek, Etruscan, and Roman Antiquities
If, as a society, we stopped making wine for a hundred years, would we be able to pick back up where we left off or start over from scratch? One could say that where we are now is the product of thousands of years of wine making.
The same goes for art. The art world peaked in Greece around the 5th to 3rd centuries B.C. and then again in Rome from the last century B.C. until the 3rd century A.D. From the records we have, art slowly tapered off as less important before vanishing as we know it in the 6th century A.D. in Western Europe.
Things started to pick up with Giotto di Bordone in the 13th & 14th centuries. Artists looked toward the sculptors of ancient Rome to see how they captured the human form in stone and with paint. It took centuries to get it back until it was lost again in the 19th century with the industrial revolution.
The sculpture of Marcellus is proof that the Romans had dozens of artists to the likes of Michelangelo. What makes it so great? His physical anatomy looks real enough for you to believe it and move on with his story. His shoulders and muscles look as if they could be soft and his face looks as if he could be sad. He's believable--which is incredibly difficult to achieve with a block of marble.
9. Alexander and Diogenes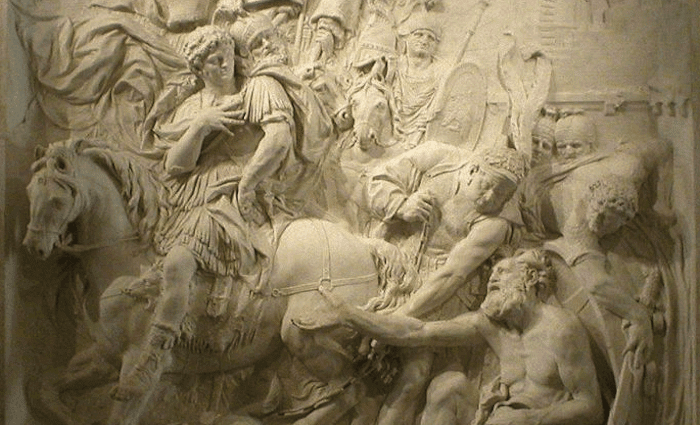 Pierre Puget | Carrar Marble | Dept. of Sculptures, Royal Collection
Art revived in Florence in the 14th and 15th centuries prior to traveling to Rome and the Popes in the 15th, 16th, and 17th centuries. The French would not have their moment in art until the 18th century. Rodin, often considered France's greatest sculptor and a father of modern art didn't emerge until the 19th century.
Pierre Puget was very arguably France's first great baroque sculptor that could "hang" with the Italians. His relief depicting Alexander the Great marching victoriously with his soldiers who overlook Diogenes the philosopher begging on the ground. Alexander depicted as humble stops and recognizes the philosopher who has a hatred for riches.
The scene would be created as a rulers reminder to be humble and ironically was immediately placed in storage at the Louvre without even being presented to King Louis XIV!
8. Milo of Croton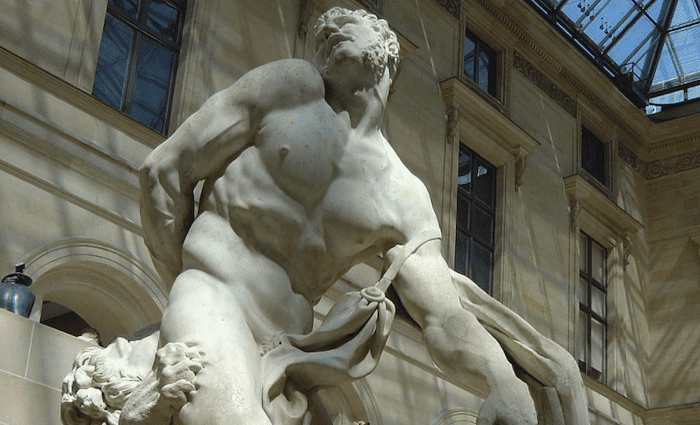 Pierre Puget | Carrar Marble | Dept. of Sculptures, Royal Collection
From the same sculptor, Puget, Milo of Croton depicts an athlete, possibly narcissistic, who wanted to test his strength by splitting a tree trunk with his bare hands. He trapped his hand in the tree trunk and was unable to release himself. Later, he was devoured by a lion.
You can tell Puget was slightly self-deprecating or at least wished that quality upon those who commissioned his works. He valued humility which was surprisingly valued by the ancients. Something he likely learned from the Baroque masters in Italy. He was said to have started a sort of French-Baroque movement named "Classicism". It is said to be the point in time when art transitioned north from Italy.
There is some truth in that but artists like Antonio Canova of the 18th and 19th centuries would surely argue that. Soon to come!
Paris Tours
Tours are one of the best ways to get to know the true history and secrets of major cities and attractions. Why? Local tour guides share a wealth of stories that will make your experience more memorable—often with skip-the-line access!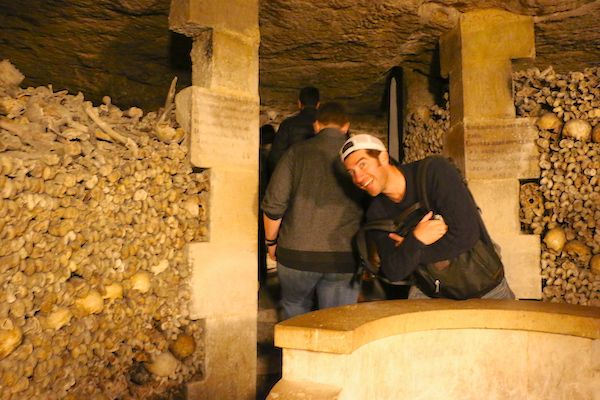 Best-Selling Tour
Privileged Access Paris Catacombs Tour with Secret Rooms
The Paris Catacombs are unlike most attractions you can visit since it's an underground burial ground with 6 million skeletons adorning the walls. Learn the deep history here with our English-speaking guide for an experience of a lifetime. Skip-the-line admissions included.





See Prices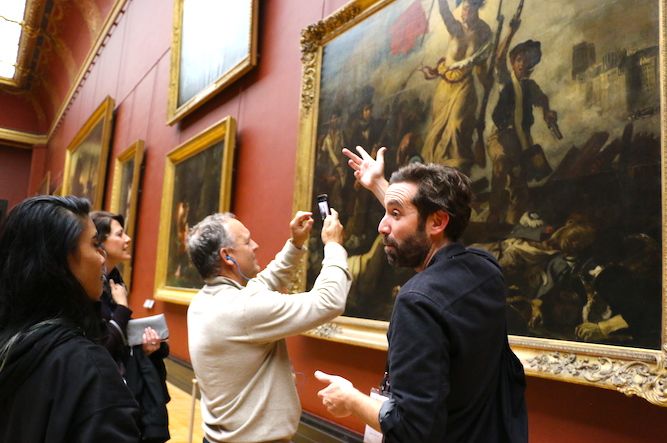 Top-Rated Tour
Royal Louvre Palace Tour with Mona Lisa & Crown Jewels
The Louvre is the largest art museum on Earth and the crowning jewel of Paris. It embodies the French vigor for life. Join a passionate, English-speaking guide for a tour of the most famous artwork. Skip-the-line admissions included.





See Prices
7. Venus de Milo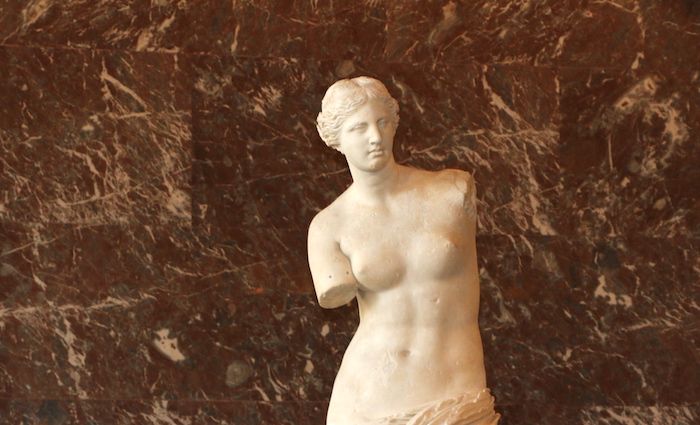 Artist Unknown | Island of Melos Greece | Marble | Sully Wing, Room 346
Venus de Milo is possibly the most famous and sought-after statues in the Louvre, which translates to Venus of (the island of) Melos (in Greece). The statue could be one of many goddesses including Venus. Our main challenge in understanding who she is lies in her arms which were never found.
Without historical records, it is normally easy to identify statues based on their symbolism. Mercury wears a hat with wings, St. Peter carries keys (who doesn't?), and Diana a bow. Venus, goddess of love, fertility, and of course sex is portrayed half naked which is why it is most likely here.
However, the Greeks worshipped Aphrodite which means the statue was named incorrectly after the Roman goddess although found in Greece. It is a popular conspiracy that she is Amphtrite who is a Greek sea goddess made into a goddess on the Island of Melos (Milo).
While possible, it is dismissed by many due to her supple curves and sexual nature. Regardless of who it is, the statue is considered one of the greatest on Earth from Roman or Greek Antiquity. It is featured on the very cover of Oxford's book, "Classical Art, From Greece to Rome." Need I say more?
6. The Slave(s)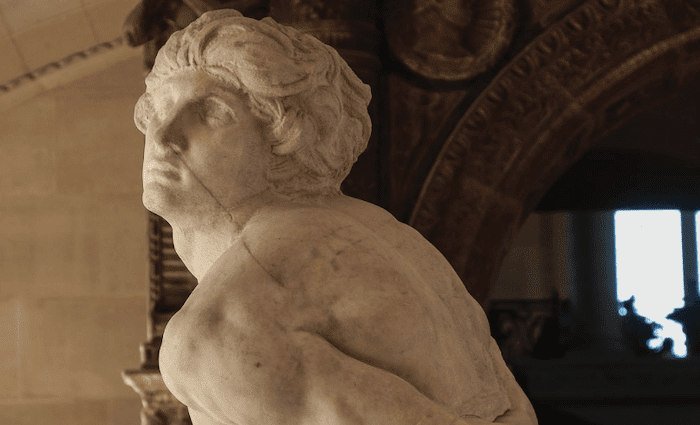 Michelangelo | Unfinished Sculpture | Gallerie Michel-Ange, Room 403
Michelangelo was commissioned by Pope Julius II to build his ambitious tomb but was not completely finished. He put tremendous effort into the tomb but the project was overly ambitious for Julius II's age and finances. The centerpiece is and a dozen other parts were completed and live a quiet life in Saint Peter in Chains Church of Rome.
The unfinished remains are scattered all over Europe and The Slaves by Michelangelo are exactly that.
They are extremely expressive statues depicting two slaves. One is the Rebellious Slave and the other is the Dying Slave. It is easy to tell them apart as the Dying Slave is shackled with arms behind his back. The Rebellious Slave is standing straight up at peace with death.
There is very little symbolism in these unfinished works to lead us to Michelangelo's intentions but it can be agreed that they are an expression of suppression in some form. Suppression of artistic freedom, suppression of sexuality, or of many things to come. The Louvre website made an interesting reference to Michelangelo's fear of what will come after his patron, Julius II's, death.
The room in the Louvre is named after Michelangelo which is truly incredible. Imagine you become so amazing at what you do in life that the world's greatest art gallery names a room after you containing your unfinished work!
5. Cupid & Psyche
Antonio Canova | Carrara Marble | 1797 | Dept of Sculptures
Antonio Canova is one of the greatest sculptors of all history. Had he lived in the 16th or 17 century he would have likely garnered much more fame when the market for great construction was larger. That said, his stunning works are dispersed in the world's great museums such as the Louvre and Hermitage (St. Petersburg).
The ancient story of Cupid & Psyche is unclear with wide variations but the general theme is that Pysche, female, represents the human soul. Cupid, male, represents our desires and the perfect union between these two "beings" is the perfect marriage of life.
The statue is not very old dating back a little over 200 years. You have to imagine that it was commissioned by an American Colonel, John Campbell, so it is more recent than most. Canova achieves an unreal softness of his statue that is unparalleled in his era. Its composition is of the same two figures as my number four choice which are located right next to each other.
4. Psyche Revived by Cupid's Kiss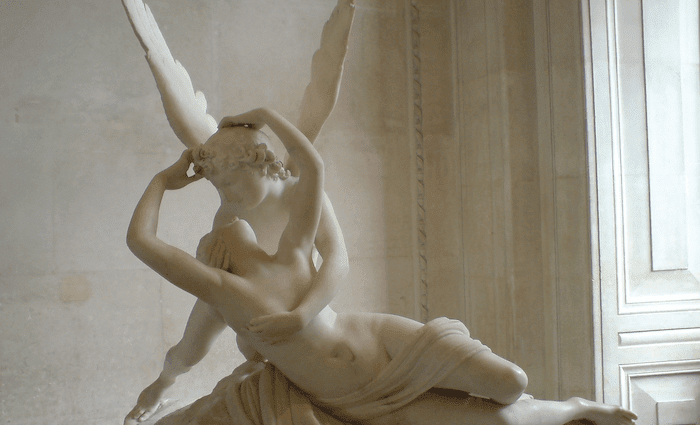 Antonio Canova | Carrara Marble | 1797 | Dept of Sculptures
In the same motion as the above sculpture, Canova created another version of the ancient legend. Proserpina was the unwilling wife of Pluto, the god of the underworld. Venus, the goddess of love, tasked Pysche to take a jar to the underworld and have Proserpina fill it up with the secret of divine beauty.
Venus warned Pysche not to look in the jar but what woman will carry a jar of divine beauty and not peek in? Unfortunately for Pysche, the jar was not filled with beauty but with "Sleep of Innermost Darkness". Pysche fell deep asleep only to found by Cupid her true love.
Cupid saw the jar next to her and Psyche asleep and knew what had happened. His heart was broken so he took her in his arms to give her one last kiss. Cupid's kiss of true love revived Pysche and Canova's statue adds life to the moment she awakes.
It is a truly stunning scene to witness for many reasons. Cupid's wings add confidence and strength to him as a figure when viewed from the front but urgency and fear when viewed from the back. Adding multiple viewpoints to a statue was something that came into popularity with Gian Lorenzo Bernini in the Baroque period a few hundred years prior. Canova is an obvious detached student of Bernini as that very element, along with many others, makes Psyche Revived by Cupid's Kiss so powerful.
3. The Three Graces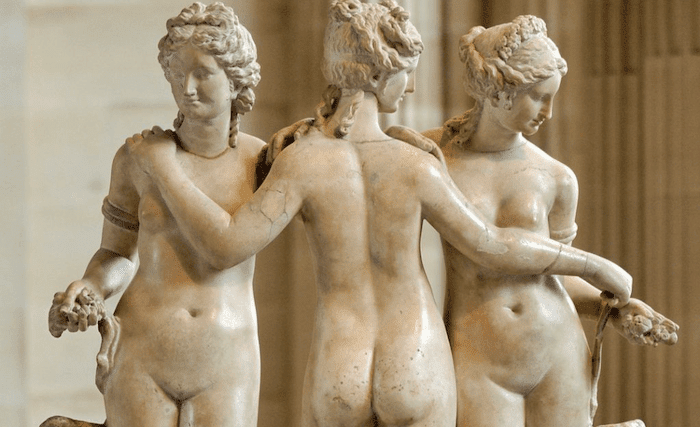 Ancient Roman 2nd C AD | Carrera Marble | Restored by Nicolas Cordier | Dept. Greek, Etruscan, and Roman Antiquities
Cardinal Scipione Borghese of Rome was a true patron of the arts who's collection of sculptors was unmatched. This is partly due to his dispersion of wealth on the art community and in part because his uncle was the Pope and he could intimidate anyone into bargain-basement deals.
He acquired the Three Graces in 1608 and had them restored by Nicolas Cordier who did a phenomenal job recreating the heads. The story of the Three Graces is of Ancient Greek mythology. Each Grace stands for either charm, beauty, and creativity. While the Greeks & Romans were civilizations of war, they also achieved a philosophical attitude that arguably has not been reached until recently with the exceptions of the Renaissance Medici of Florence.
The Three Graces represents the philosophical and artistic side of the Greeks & Romans. They are elegant, perfectly sculpted, and have an air of mystery and enchantment that keeps your attention.
2. Sleeping Hermaphrodite on Bed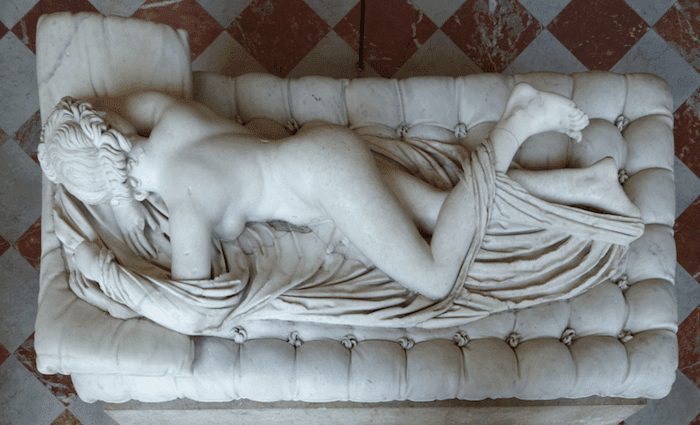 Unknown & Gian Lorenzo Bernini | p333
A hermaphrodite, in classical reference, is a female in appearance & swagger who possesses the "bits & pieces" of a male. Ancient Mediterraneans celebrated and sculpted the hermaphrodite as if she/he were a unicorn today. This can be seen in the hoards of statues dedicated to this sexual being built during antiquity.
There are many anthropological differences between our societies to explain why a hermaphrodite was so celebrated in the past and forgotten in modern times. The Romans and Greeks sculpted this figure with tremendous care which is seen in the details.
This particular hermaphrodite is of perfect composition in terms of believability other than the obvious syntax differences. If you walk up from behind you'll see what appears to be a beautifully soft woman of practically perfect proportions inviting you into bed with her. Then all of a sudden, surprise, there are some extra parts.
Bernini's Contribution
The bed was added by Bernini and compliments the sculpture as if they were sculpted together. It is important to note that the human figure is without comparison the most difficult things to create in art-form. This is because, as humans, we can immediately see if anything is out of proportion. The first step is getting the proportions correct.
After that, you need to make the composition human-like. The things, back, and bottom of the sculpture appear soft to the touch. This is complemented by the robe wrapped around her/him. It is 100% the same material but appears to be different.
The sculpture is ancient, likely a 2nd century AD copy of a Greek sculpture that would have been done originally in bronze. Gian Lorenzo Bernini, a Roman Baroque master only rivaled by Michelangelo his predecessor, would eventually add a bed to the figure. Just like it is difficult to make stone look strikingly like the soft thing of a woman, making stone look like a soft bed is equally difficult.
Check Out Our Best Versailles & Paris Louvre Tours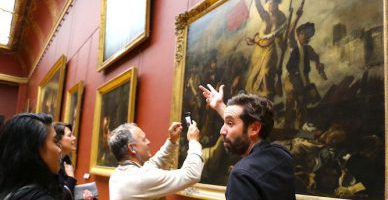 Top-Rated Tour
Royal Louvre Palace Tour with Mona Lisa & Crown Jewels
The Louvre is the largest art museum on Earth and the crowning jewel of Paris, which is why it's on everyone's bucket list. Don't be left out of an incredible opportunity! Join a passionate guide for a tour of the most famous artwork at the Louvre. Skip-the-line admissions included.





See Prices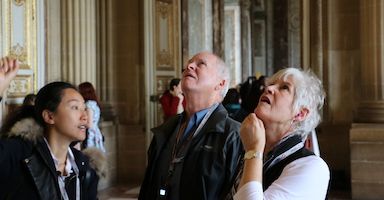 Likely to Sell Out
Skip-the-Line Palace of Versailles and Gardens Tour from Paris
Versailles isn't that difficult to get to by train, but why stress over the logistics? Meet a local guide in central Paris who will purchase your train tickets and ensure you get off at the right stop. Then enjoy a guided tour of the palace and the unforgettable gardens. Skip-the-line admissions included to the palace and gardens.





See Prices
1. Winged Victory of Samothrace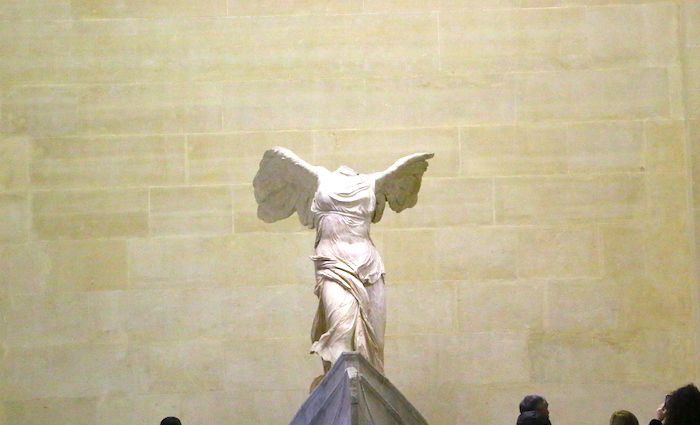 Artist Unknown | 190 BC | The Daru Staircase in Dept of Greek, Etruscan, and Roman Antiques
p 438
The Winged Victory of Samothrace is, in my opinion, the greatest sculpture in the Louvre which makes it one of the greatest in history. It is rivaled by few but likely the Lacöon Group in the Vatican Museums, and David in Accademia.
Ancient Sculptors vs Renaissance, Baroque, and Beyond Sculptors
It is important to note that the art of sculpting stone reached its pinnacle in Ancient Roman times around the 2nd century A.D. Yes, "our" era does include incredible sculptors such as Michelangelo, Bernini, and Antonio Canova who are arguably the three best sculptors of stone in the last 500 or so years. That said, there would have been 100s who could have equalled them in Rome in the 2nd century A.D.
You have to imagine that the Romans dominated Europe for a thousand years. When they were defeated in the 5th century by the Goths, they would have destroyed the city. The remains we have left would be the scraps left over, yet the bottom of this list is dominated by ancient sculptures.
Why is it the Best Sculpture in the Louvre
For me, Winged Victory of Samothrace is the best because it passes a few difficult tests.
The First Test
The first test, as always, is to see if the anatomy of the figure is believable to the eyes. It is an easy test that anyone can do since we do it every day in the mirror. If the figure looks real then the artist did a good job. If something looks "off" then the artist did a bad job. Even without arms or a head, Winged Victory of Samothrace has a perfect anatomical composition.
The Second Test
The second test is does it invoke strong emotion? Another simple test that anyone can do because we all have experienced emotions. This sculpture would have been fitted to the front of a warship to intimidate enemies so, yes. Its very creation was to say, "Even when we (the Greeks) crush the enemies we do so with unparalleled style and culture."
The Third and Final Test
The third test would be to decide if the artist has shown more skill than other sculptors which is easy to do with some instruction. Whoever sculpted the Winged Victory of Samothrace would have been the Michelangelo or Bernini of their time which can be seen in the details.
The body of the figure is visibly physical and sexual at the same time. The artist created that effect by giving her a strong presence. That is complemented by the transparency of her stone clothing. Nice her belly button and breasts are visible through her shirt (stone) which feels impossible.
Her wings are what is truly amazing and I will explain why. Because she passed the first test of a believable human anatomy you no longer think about structural integrity. Her wings are supported by bones, right? Obviously not. The artist took some considerable risks extended them so far out and would have had to have worked with a particular piece of marble to accomplish this.
Remember, the stone is heavy and this was created for the prow of a ship which is just incredible. The artists covered all basis here and achieved things that would not be matched until a thousand years after the Roman Empire (this is a Greek statue).
Louvre Tours
If you have read all the way through the article then you must have enjoyed the content! This blog is not meant to replace a guided tour but instead make it better. Check out our tours of the Louvre led by the most passionate guides in Paris.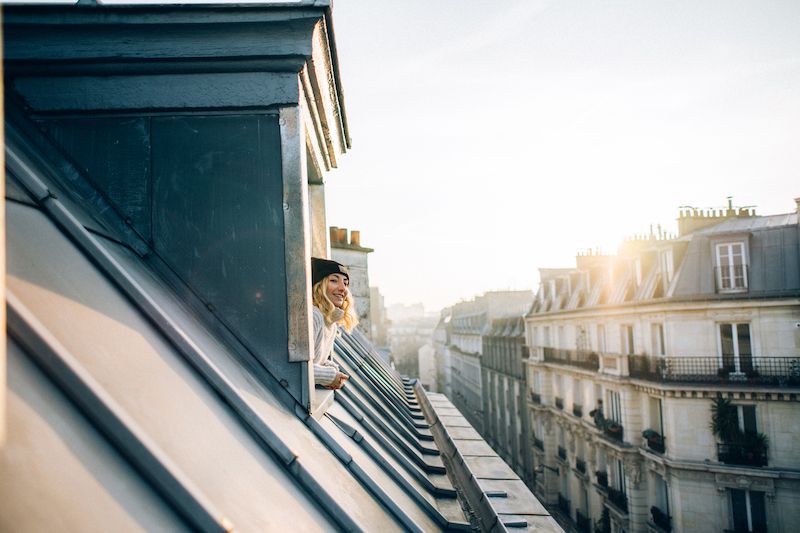 Find the best places to stay
Where to Stay in Paris
With a city as magnificent as Paris, it can be hard to find the perfect hotel at the perfect price. Explore the best hotels and places to stay in these incredible neighborhoods in Paris.