Planning to visit Versailles near Paris and want to know if a guided tour is worth it and right for you? This article will go over the benefits of a guided Versailles tour so you can decide if it is right for you!
---
Pro Tip: Take 10 minutes and look through our other articles on Paris and Versailles. There are great reads about how to visit attractions, what to see, and where to eat nearby. Bookmark the things you like on your phone so you can circle back to it while traveling.
What does it mean to "See Versailles"?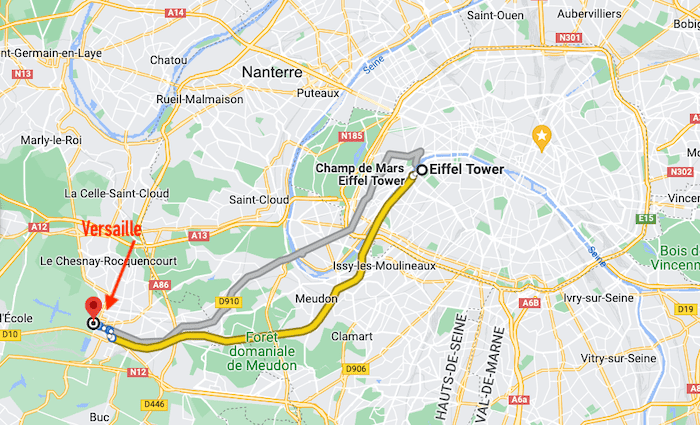 Versailles is one of those illusive monuments like the Vatican that is both a place and an attraction. Versailles is a small town outside of Paris, about 40 mins by train, that was founded as a hunting village. You can read more about the history of Versailles, but the town was founded around a royal palace which took a few hundred years to build.
When people say they are going to see "Versailles" they are referring to the "Chateau de Versailles" or Palace of Versailles which is a massive estate and cultural attraction. It functions the way the Louvre or Vatican functions except it has one of the world's most beautiful gardens attached to it.
When you say you are going to see Versailles, it means the Palace of Versailles which happens to be in the town of Versailles.
Areas of interest
Versailles is broken up into a few main areas. The two most important areas are the main palace or residence and the gardens of Versailles. Each of those two areas are broken up into many different sites, some of which require additional admissions.
Palace of Versailles
The Palace of Versailles should be your main objective. You'll definitely want to enter if you have not entered in the past. It is a massive complex fit for a king – pun intended.
Versailles Gardens
Versailles was originally designed a hunting lodge so as you can imagine the grounds are large. The grounds slowly became more and more elegant and refined. Today they are arguably more impressive than the palace itself in their own way.
Borgo & Trianon
The Borgo and Trianon are another smaller chateau on the same grounds as the main chateau. They are still more impressive than most houses even though they are designed to be a "get-away" from the main chateau which was designed to be a get-away from Paris. Sound lavish?
It was very lavish and much the reason why the impoverished classes eventually overthrew the French government – more than once!
Is a Tour of Versailles Worth It?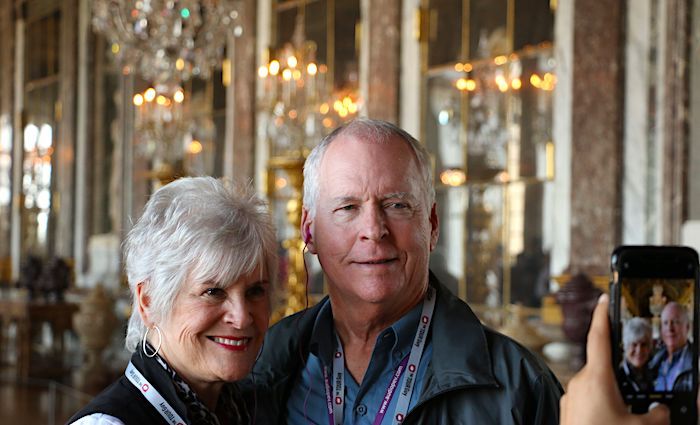 Short answer: Yes, you'll definitely want to visit Versailles with a tour. That could be a private Versailles tour, small group tour from Paris, or a tour that meets at the Palace of Versailles.
The more elaborate answer is that a monument like Versailles is so complex, beautiful, and complicated that a tour will improve your experience and make it more memorable. Imagine showing up and waiting in the massive queue that can form outside Versailles to wait for tickets. Bought tickets in advance?
Finding the physical entrance can be difficult and once inside, you know what will happen. You'll scurry through reading a few plaquards or looking for some snippets from your guide book. A live guide will point out interesting attractions once inside and ensure you see and understand the immense history and drama that took place here. Not only that, but they may myth bust the TV series Versailles!
Skip the Lines
Skipping the line at Versailles is a huge benefit. In my opinion, there are much better reasons to take a tour – especially if it is a high quality small group tour, but removing the guess work from entering is a large benefit.
All our Versailles tours include admission tickets, but be sure to read through carefully to ensure the tour you select includes what you want to see. Some tours only include the gardens and others the entire area. Some tours start in Paris and others start out front of Versailles. All things to consider.
Know Where to Spend Your Time
The right guide will ensure your time and energy is spent in the right place. It is very easy to walk past an area, room, painting, or under a fresco without recognizing its importance. There are also stories, some tragic, surrounding famous projects and buildings.
In the end, a guided tour will ensure you check your boxes and see everything you should see! When you leave you'll be certain you had the full experience.
Great Tour Guides
We run small group and private tours that are higher quality due to our great guides. Guides also enjoy our tours and activities due to how the groups are smaller. It is much easier to lead a group of 15 or 18 people than 35 or 50. Therefore, we tend to attract the top guides which are 90% of a great tour experience.
Also, we work directly with guides to help them improve their craft, English, story-telling, and anecdotes. Guides tend to be generally happier when companies like ours put the time and effort into advancing their product!
Most Popular Versailles Tours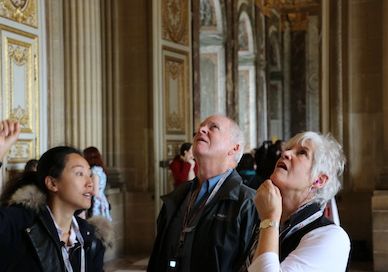 There are a few different Versailles tours, but here are the most popular ones.
This is our most popular small group tour which departs from Paris by train (tix included) and visits the Palace of Versailles & Gardens. It also includes return tickets on the train which you will take back to Paris on your own after exploring the gardens. For more specifics, see the Versailles tour page.
If you have a lower propensity for tours and like nature, this tour of the Versailles gardens is for you. I personally recommend doing our tour above which includes the palace, but this is also a great product. It includes round trip train transportation from Paris and ticket access to the Versailles Gardens (guided) and Palace (unguided). See more details on the Versailles Garden tour page.
An excellent opportunity to visit Versailles from Paris, transport included, with a private guide. The price is going to be higher than a small group tour but the overall experience will be superior if you have it in the budget. You'll find yourself more engaged with the guide and in control of what topics are covered.
If you are staying in Versailles or have your own transportation this is an excellent way to visit the site with a tour without starting in paris. See the tour details for more!
Other Popular Tours in Paris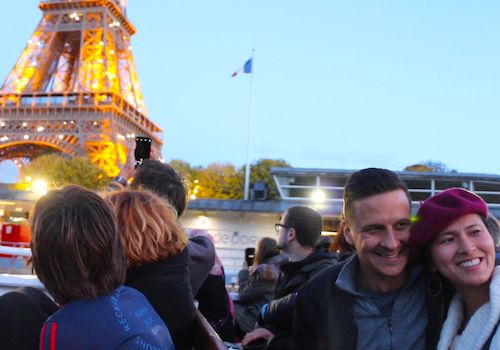 Best Selling
Privileged Access Eiffel Tower Night Tour with Champagne on the Seine
A magical experience aboard a luxury riverboat sipping champagne as the Eiffel Tower glows and sparkles just for you. After, enjoy elevator access to the 2nd level of the Eiffel Tower.





See Prices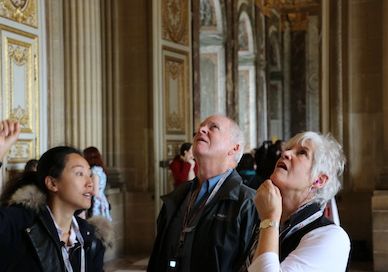 Likely to Sell Out
Skip the Line Palace of Versailles Tour from Paris

The golden palace of Versailles is a site to be seen and the stories for Marie Antionette and all the "Louie" Kings come alive with a passionate guide. Skip the line admissions and train tickets to/from Paris included!





See Prices