We know that you usually don't see "horseback riding" mentioned when discussing Las Vegas. However, just a little less than an hour away from the Strip lies a peaceful ranch where you can ride horses and check out some truly amazing scenery. Plus, there's breakfast included! Keep reading to learn our top three reasons why a morning horseback riding tour in Vegas is worth it.
---
Pro Tip: It's easier to organize your trip when you have all your resources in one place. Create a browser folder and bookmark this post along with our Las Vegas Guide for more planning resources, our top Las Vegas tours for a memorable trip, and check out other cool things to do around Las Vegas.
Why You Should Take a Horseback Riding Tour in Vegas
A little less than an hour's drive from the bustling Las Vegas Strip lies Desert Breeze Ranch, a peaceful place for horseback riding near Vegas! It's an ideal setting for anyone who's never ridden a horse or has experience and just wants to try it out in the desert of the Old West! The path is calm, and the ranch hands come along with you to help you as you ride.
The morning before your tour, your driver (who doubles as your cook) will call you to arrange a pickup time before your tour starts. The convenience of a hotel pickup with round-trip transportation from the Strip makes this ideal for any travelers, whether they have a car or not.

On the tour, we suggest wearing comfortable clothing with longer capris or pants. In addition, you'll have to wear closed-toe shoes for safety while sitting in the saddle. Children under 12 will need to wear a helmet (which is provided) and adults can wear one if they like.

The bonus? Breakfast is provided after your hour-and-a-half-long horseback ride. Since you'll be on the trail for a while, we recommend eating a small snack in the morning before you leave!

Backpacks are not allowed on the ride (can be left in the van), but a smaller fanny pack might be an ideal bag to bring if needed. Don't forget to bring a tip for the driver and ranch hands!
Not ready to book a tour? Check out top things to do in Las Vegas.
What Your Horseback Riding Tour Will Include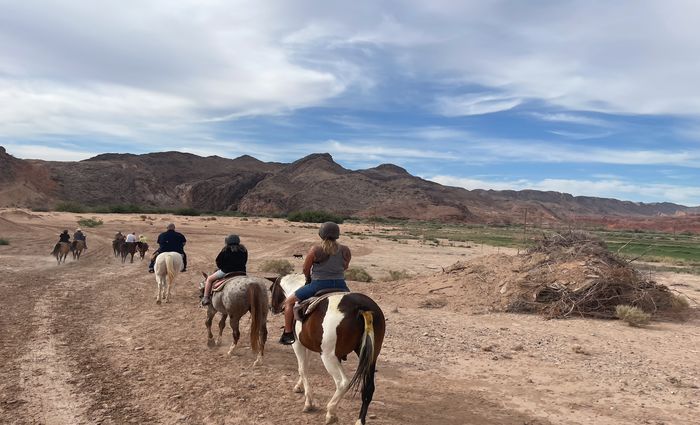 Hotel Pickup From the Las Vegas Strip
Your driver will pick you up from your hotel in the morning and drive you out to the ranch, telling you fun facts about Vegas along the way. The van is air-conditioned, so no worries if you are taking this tour in the summer!

If you want to ride in style, the driver also sells cowboy hats for $20 each. As we mentioned, we don't suggest bringing a backpack, although you can leave it safely in the van if needed. The van remains parked and secure at the ranch while you are on the trail and the driver is busy cooking your breakfast!

The driver will also provide you with cold bottled water. The saddles have pouches you can store the water in, so you can take it with you on your ride!
Scenic Desert Trail Ride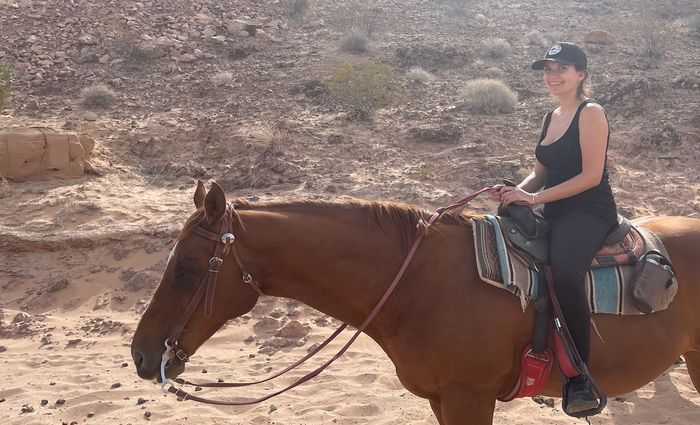 At the ranch, they have horses, a few dogs, and some llamas—yes, we said llamas! The llamas kind of do their own thing, so you won't see them much. However, you'll be able to enjoy an awesome horseback ride for around an hour and a half.

The horses walk and trot at a leisurely pace along the path, and there's ranch hands on horses riding with you the whole time. You may even be joined by some friendly dogs! We loved that the ranch hands even stopped the group to take our picture!

Although the ride is calm, the trail and scenery both change throughout the ride. You'll ride by mountains, farmland, and even a small stream! You'll also briefly cross over a rocky path shaded by trees, which is an epic place to take videos, if you can do so safely. Basically, the scenery will make you feel like you're the star of an adventure movie, albeit a calm one.
Western-Style Breakfast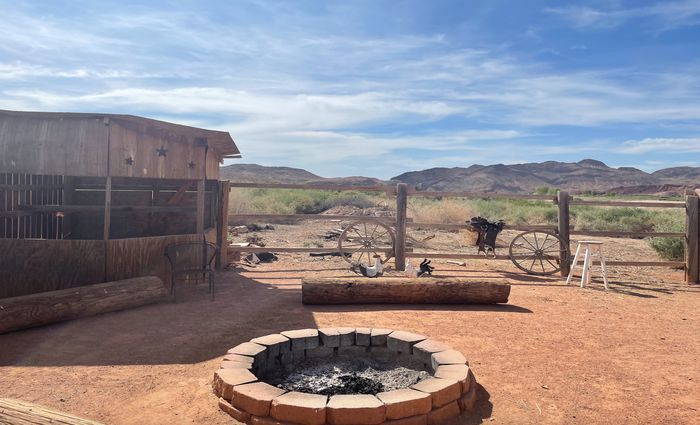 When you return from your horseback adventure, your driver will be waiting with a freshly cooked breakfast! You'll fill up on eggs, potatoes, pancakes, bacon, and other yummy breakfast foods. (If you don't eat eggs or bacon, they have vegetarian options as well!)

They will also have juice and coffee for you. If you have little ones in tow, hot chocolate is provided. During the winter months, you'll eat breakfast over a campfire in a rustic enclosed area. However, if you're taking the tour in summer time, you'll skip the fire pit and eat at picnic benches instead.

Once you're full from your hearty breakfast, it's time to head back to Las Vegas!
Why Horseback Riding in Vegas Is a Great Outdoor Activity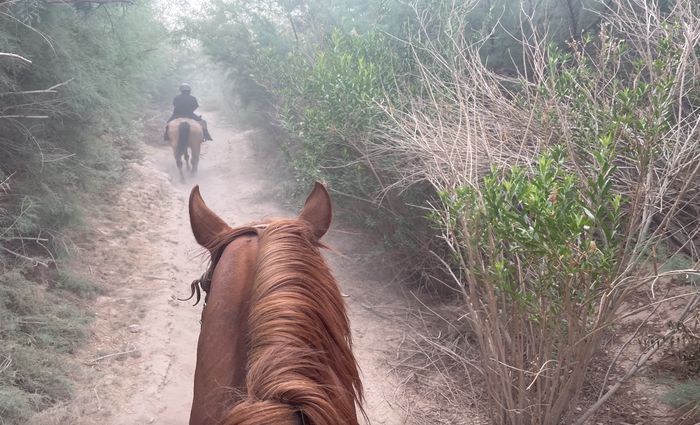 Okay, so now you may understand more about this horseback ride tour and why it's cool. But is it really worth taking time out of your Vegas vacation to go do it? Yes! We have a few reasons why!
It's a Unique Las Vegas Activity
Seriously, how many people do you know have taken a sunrise horseback ride in Vegas? Almost everyone can say they've seen a show or eaten at a buffet in Las Vegas, but not everyone can say they took a desert horseback ride while in Sin City!
You'll Have The Rest of the Day to Explore
The best thing about a morning tour is that you still have the rest of the day to hit a show, take in the sights of the Strip, or relax by a pool. You'll even have time to get a nap in! What's more, the tour is so early that it's not overly hot out while you're riding the horses.
Vegas can get extremely hot in the summer, so this is a serious plus! Still, remember to stay hydrated and drink plenty of water!
Tours Make It Easy To Visit
Although Desert Breeze Ranch is less than an hour from the Strip, you'll still have to deal with your own transportation and planning if you go on your own. With a guided tour, they offer round-trip transportation, so all you have to do is show up and enjoy!
You Will See A Side of Nevada You Wouldn't See Otherwise
Farms? Llamas? Riding a horse past an idyllic stream under the shady trees?! Yeah, you just wouldn't get all of that without this tour, and how many more memories will that make if you don't come out west very often?
Breakfast Is Included
If you have been to Las Vegas before, you know how expensive meals can be. Even a simple breakfast with eggs, potatoes, and bacon and coffee can easily cost $35 on the Strip. However, the breakfast after the ride is included with the price of the horseback ride, with no extra charge to you!
You can save money that you may otherwise spend on a pricey meal, and get a cool nature activity at the same time. (Do make sure to bring a tip for your driver and/or the ranch hands, though!)
It's A Family-Friendly Activity
While not every popular activity near Las Vegas is family-friendly, this one certainly is! If you're planning on visiting Vegas with the kids in tow, taking a desert horseback ride is fun for the whole family. If you'll be in Vegas with the fam, and you're unsure where to stay, check out our list of the best family-friendly hotels in Las Vegas.
Not ready to book a tour? Check out top things to do in Las Vegas.
Why Vegas Horseback Riding Tours Are Worth It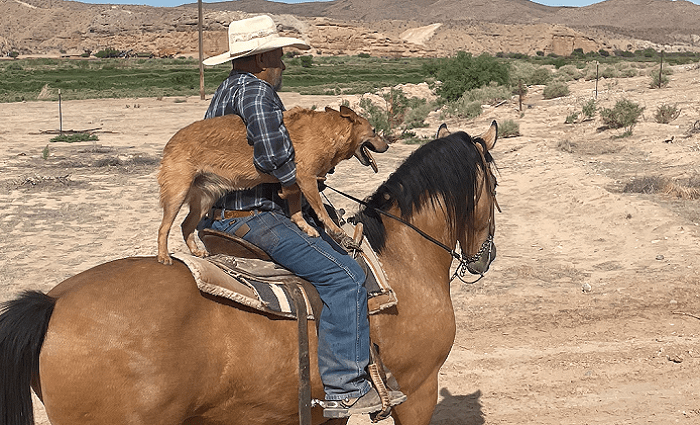 So now you want to go horseback riding, but is it really worth going with a tour group? Absolutely, yes! There are several reasons why taking a guided tour to this horseback riding experience is much better than going on your own.
The Tour Comes With A Hotel Pickup
With a tour, you don't have to worry about getting to and from the ranch yourself. Traffic can be no joke in Vegas in the summer. Although the traffic probably wouldn't be that bad in the morning, you'll still probably be tired after horseback riding, and the last thing you'll want to do is get behind the wheel. The guide will take care of all that for you.
You Won't Get Breakfast If You Go On Your Own
The western breakfast is not a service that the ranch usually provides. It is exclusive to this tour! Therefore, we suggest taking the tour for the full cowboy experience. Also, getting back from a horseback ride and having breakfast (and coffee) already prepared for you is a pretty awesome experience. You don't have to cook or clean up!
See And Understand More
Your driver/cook will be a longtime Vegas resident who knows a lot about all the sites you are passing. As you drive along and look at the sites, you will learn all about the history of Vegas.
Small Group Tour
The tour van only holds a small group, which is great for a tour. This way, you'll get the chance to interact with the guide more and learn more useful facts about Las Vegas and surrounding areas. You'll be able to ask your guide questions about what you're seeing and double-check about any cool facts you missed.
Stories And History
Not only do local tour experts know a lot of information about all of the stops on the tour, they are also a lot of fun! Along with telling you Vegas facts, your driver and cook is funny and entertaining. This is definitely not something you would get without a tour.
Good Value
With a guided tour, you don't have to through all the trouble of renting a car. You also won't have to wonder what you're looking at or why it's significant. Perhaps most importantly, you won't have to personally deal with the traffic heading back into Las Vegas! We said this before, but it bears repeating! All in all, a horseback riding tour is more than worth it for the price.
Not ready to book a tour? Check out top things to do in Las Vegas.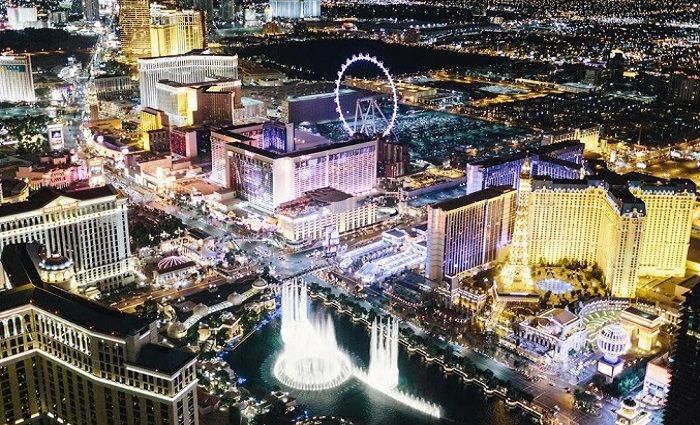 Find the best places to stay
Where to Stay in Las Vegas
Discover some of the most iconic and best places to stay in Las Vegas to make this trip the most memorable of all your trips to the Strip