Eating at a buffet is a quintessential "Vegas" thing to do. But with so many buffets and some obvious quality issues, it may be hard to choose. Here are the top buffets in Vegas by a Vegan (local from Vegas)!
---
Pro tip: Check out our list of the best hotels in Vegas because these hotels turn over each year, and no two locations are created equal.
The Top 5 Buffets You Have To Try in Las Vegas
Las Vegas is a place of indulgence. Sin City is known for being full of extravagant hotels, mind-blowing shows, and all things opulent. All-you-can-eat buffets are no exception! This short list of Vegas' best buffets was created based on quality, variety, and value for the price. We also have a few honorable mentions at the bottom of the list if you're still hungry.
Bacchanal Buffet at Caesars Palace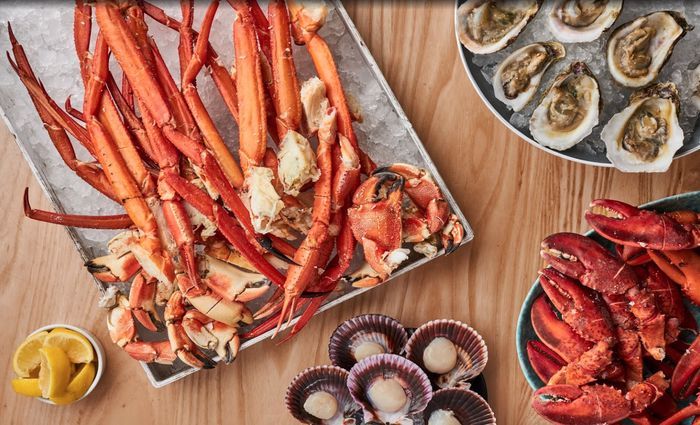 $$$$ | Nine Kitchens | Pool Views | Newly Renovated
Located inside Caesar's Palace, this is easily one of the most famous buffets in Las Vegas. With nine kitchens and three rooms, it's also the biggest one. Bacchanal Buffet serves Mediterranean cuisine, seafood, sushi, and classic American favorites, as well as many others foods. It also has plenty of vegetarian, vegan, and gluten-free options, as well as an extensive dessert section.

Bacchanal Buffet is also well-known for their brunch menu, which includes a juice bar and build-your-own-parfait station. They also have mimosas and other drinks, with all-you-can-drink available for an additional price. We suggest making a reservation, since there are often long lines here.

Hours: Friday though Sunday from 9 am – 3 pm for brunch; Daily, 4 pm – 10 pm for dinner
Price: Adults $54.99 – $74.99; kids $27.50 – $37.50
Address: 3570 S Las Vegas Blvd, Las Vegas
Garden Buffet at South Point Hotel Casino & Spa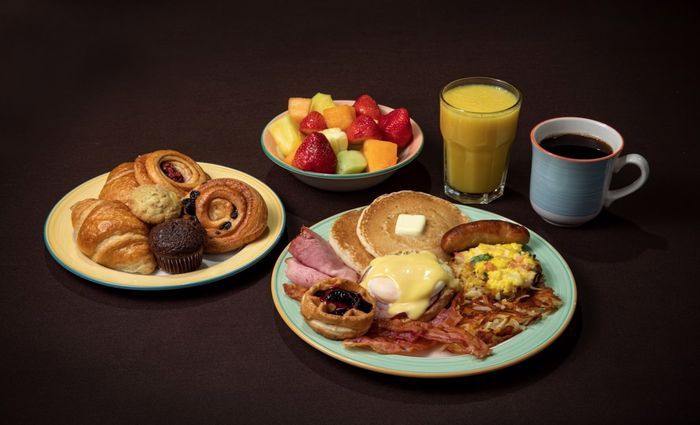 $$ | Affordable Choice | Amazing Service | Wide Variety of Cuisines
About a 15-minute drive from the south end of the Strip, South Point Hotel Casino & Spa is known for its affordable rooms, large array of amenities, and wide restaurant selection. Among the most popular of its restaurants is the Garden Buffet, which is even a hit among locals because of its affordability.
Although it may not be the absolute most delicious meal you will ever have in Las Vegas, you can choose from a wide variety of cuisines for a very budget-friendly price. Plus, the service is quick and friendly, which makes for a great experience.

Inside the Garden Buffet, you can find seafood, Chinese, Mexican, pasta, a salad bar, a large dessert selection, and even a carving station. They also serve drinks that are budget-friendly as well. Where else can you get a Bloody Mary for $2?! This buffet also has an amazing breakfast deal from 7 am to 10 am, Monday to Friday, which includes bottomless Bloody Marys.

For those looking for a buffet experience that's less expensive than the ones on the Strip, the Garden Buffet at South Point is the way to go. Reservations aren't required, but there may be a long line, so we suggest heading there early.
Hours: Daily, 7 am – 9 pm; Saturday and Sunday, 8 am – 9 pm
Price: Adults $13.95 – $25.95; kids half-price
Address: 9777 S Las Vegas Blvd, Las Vegas
Wicked Spoon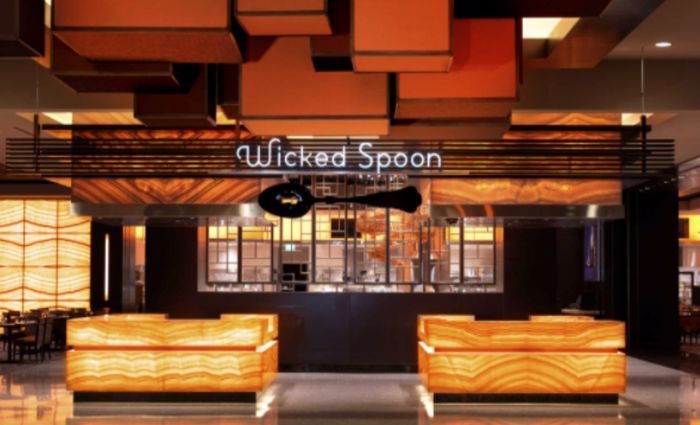 $$$ | Upscale Buffet | Great Service | Unique Options

Located inside of the Cosmopolitan, Wicked Spoon prides itself on adding a "twist on the traditional buffet." It's open for breakfast, brunch, and lunch only, so there is no dinner service.
Wicked Spoon is best-known for its crab legs, fried chicken, and gelato! Oh, and the fried chicken. Please note that if you or anyone in your party doesn't eat meat or dairy, there are limited options here.

And since you're in Vegas, so you may want a drink or two! Wicked Spoon has bottomless drink packages available for $21 per person on top of the buffet price. In terms of the food, we love the quick service and wide variety of items that aren't usually included in a buffet. (When's the last time you went to a buffet with gelato?!)
It can get very busy, and the line is typically pretty long. Make sure to arrive as early as possible!

Hours: 8 am – 4 pm, daily
Price: Adults $38 – $45; kids $19 – $25
Address: The Chelsea Tower, 3708 S Las Vegas Blvd Level 2, Las Vegas
The Buffet at Wynn Las Vegas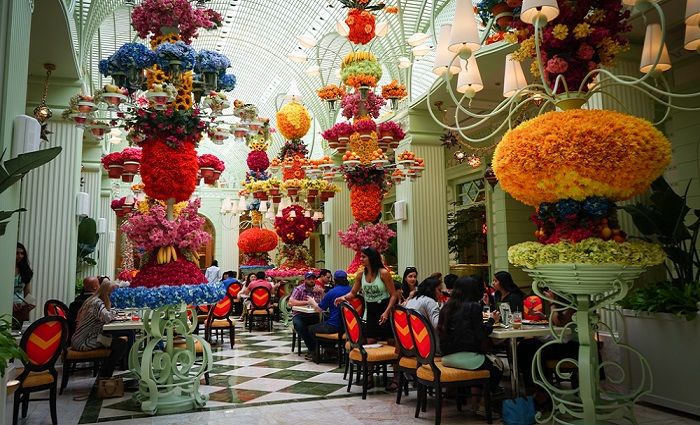 $$ | Great For Seafood | Photo-Worthy Decor | 16 Cooking Stations | Vegan Friendly

We love the fun decorations inside of this buffet, as well as the wide selection of cuisine options. The Buffet at Wynn boasts 16 cooking stations, where you can watch your meal being cooked in front of you! It's best-known for its seafood selection, including the famed Dungeness crab.
They also have snow crab legs served both cold and hot. Seafood aside, this buffet is also popular for its tasty pizza, desserts, taco bar, and new eggs Benedict station for breakfast.

The buffet also has some options for vegan guests, particularly in the dessert section. Non-dairy eaters love the vegan ice cream and vegan chocolate chip cookies! Like many other popular Vegas buffets, there is frequently a long line, so reservations are recommended. We also suggest you try to arrive as early as possible!
Hours: 8 am – 9 pm daily, closed Tuesday and Wednesday
Price: Adults $38.99 – $64.99; kids half price
Address: 3131 S Las Vegas Blvd, Las Vegas
Jjanga Steak and Sushi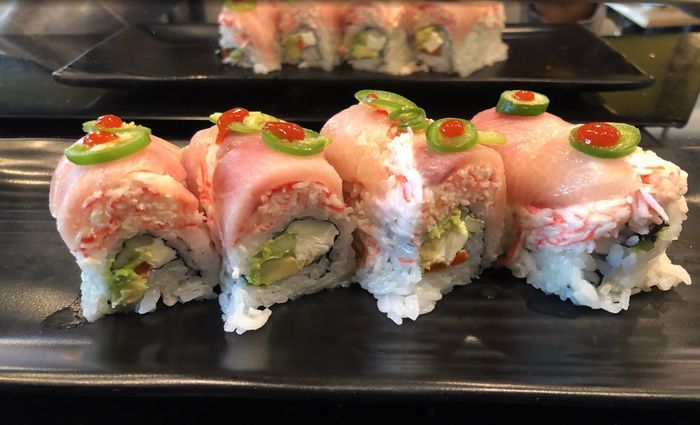 $$ | Japanese Restaurant | All-You-Can-Eat Sushi | Fast and Tasty
While it's not a traditional buffet, it felt wrong to leave out one of the most famous all-you-can-eat sushi places in Vegas. Besides, Jjanga was recently voted best sushi in Vegas, so we think it belongs here!
Jjanga's extensive menu has something for everyone, including gluten-free options. They also have inventive items such as sushi burritos, which are included in the all-you-can-eat deal. Their menu is separated into veggie rolls, spicy rolls, non-spicy rolls, and rolls without rice. We love this because it makes it extra easy to know what you're ordering!
Like almost every restaurant on this list, Jjanga's is extremely popular, so expect a bit of a line. If you want an affordable all-you-can-eat sushi restaurant while in Vegas, Jjanga's is the way to go!
Hours: Friday and Saturday, 11:30 am – 2 am; Sunday – Thursday, 11:30 am – 1 am
Price: Adults $24.95 for lunch; $29.95 for other times
Address: 6125 S Fort Apache Rd, Las Vegas
If you're still looking for a few other buffets that didn't make our list, you can also check out the buffet at Excalibur, MGM Grand, the Luxor, and the Bellagio.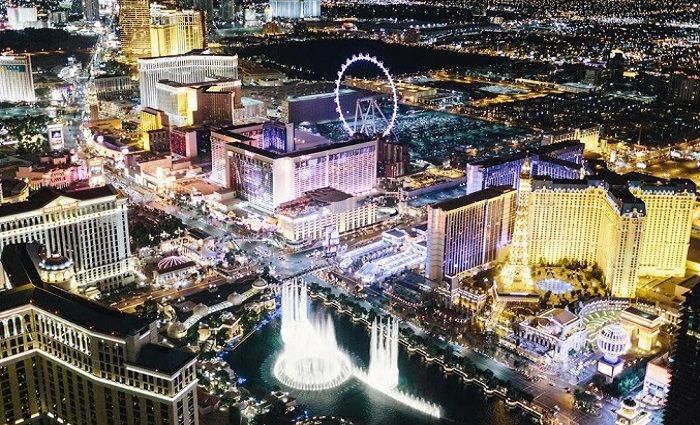 Find the best places to stay
Where to Stay in Las Vegas
Discover some of the most iconic and best places to stay in Las Vegas to make this trip the most memorable of all your trips to the Strip.