Hotels are a huge part of choosing how to spend your Las Vegas trip. Whether you're going out to eat, catching a show, trying your luck at gambling, or going dancing, changes are you're doing it in a hotel. There are so many hotels in Las Vegas that we know it can be overwhelming picking the ones to consider for your trip. So check out our picks for the 15 best hotels in Las Vegas.
---
The Top 14 Hotels and Places to Stay in Vegas
In Las Vegas, it's rare to find "just a hotel." Most of the hotels throughout Sin City are extravagant and provide their guests with an experience—not just a place to sleep. The majority of Las Vegas hotels also have exclusive nightclubs, beautiful pools, and five-star restaurants. Some hotels are designed to make you feel like you're walking down the streets of a European city, instead of just through the hotel lobby.

Of course, not everyone visiting Las Vegas can (or wants to) drop hundreds (or thousands) of dollars a night on a top-of-the-line hotel experience. So with a range of budgets in mind, we've rounded up the best hotels to consider when visiting Nevada's most famous city.
Pro tip: You can also find strictly luxury hotels here, or hotels found off the Strip here, or a guide to popular hotel resort fees here. Otherwise, let's explore our overall picks for the best hotels in Las Vegas!
Not ready to book a tour? Read more in our Las Vegas Guide.
Our Partnership with Booking.com. If you like our content, please book by clicking on our Booking.com links. The price is the same for you, and we get a small commission that helps support our blog. We've partnered with Booking.com because they have the most options, great prices, and a solid loyalty program. Just about every hotel is on Booking so our recommendations are not incentivized.
Bellagio Hotel and Casino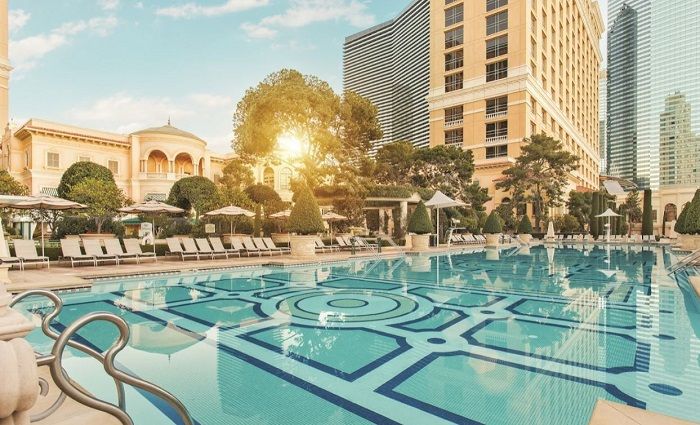 $$$+ | 5 Star | Home of the Bellagio Fountain | Families and Couples
The Bellagio is one of the most famous hotels in Las Vegas. It's home to the stunning Bellagio fountains, where the choreographed shows play every day. The Bellagio and its well-known fountains have been featured in many movies—and for good reason since there's nothing like it elsewhere. In addition, the lobby is decked out with Dale Chihuly blown-glass flowers on the ceiling, and there's also the exquisite conservatory gardens that get remodeled for every major holiday.
If you want a luxury experience while staying on the Strip, you can't go wrong with the Bellagio Hotel & Casino. You'll find standard rooms (that have nothing standard about them), suites, and penthouse suites if you've got money to spare on a villa that overlooks the Mediterranean pools.
ENCORE At Wynn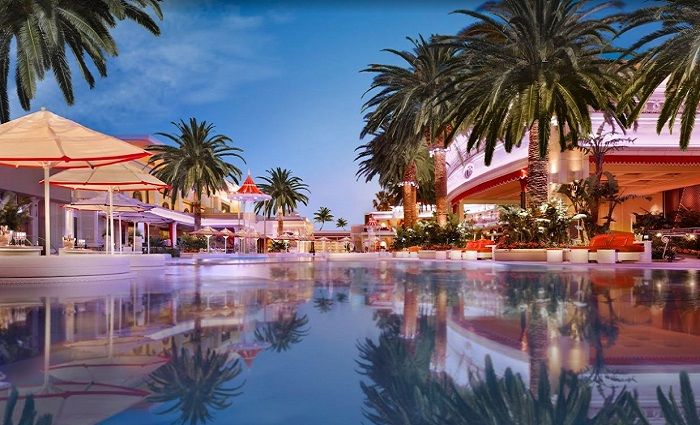 $$$$+ | 5 Star | Best Beach Club | Exclusive Amenities
Encore's pool club, luxury spa, and golf course make this a favorite among high rollers. Encore Beach Club is considered one of the best pool clubs in Las Vegas, welcoming world-famous DJs every weekend (and several times a week in the summer).
The non-partying crowd will enjoy ENCORE just as much for its exceptional customer service and high-class amenities. There's also a luxury shopping mall inside the store, featuring stores such as Chanel and Christian Louboutin. Guests also rave about the high-quality, beautiful rooms with amazing views of the city.
Horseshoe Las Vegas (formerly Bally's)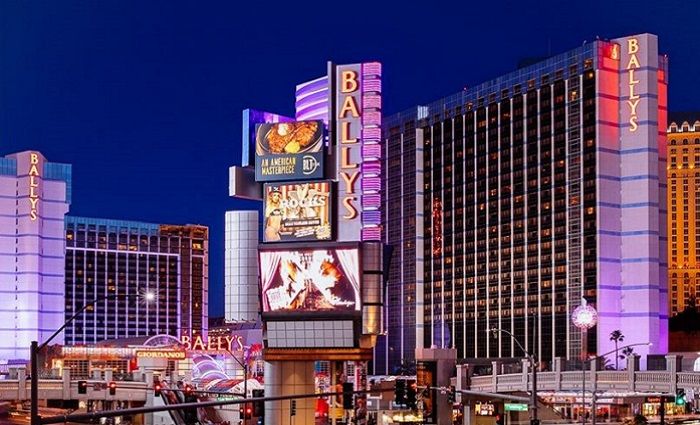 $$ | 3 Star | Freshly Remodeled Rooms | Rare Deep-End Pool | Affordable Stay

With their recently remodeled rooms, massive casino, and entertainment venues, you'll be surprised at the value you get at Horseshoe Las Vegas. What's more, this hotel is located near all the action of the Strip, without being hard on your wallet. The rooms are spacious and clean, and some have refrigerators inside. Some rooms also have adjoining doors, which is great for larger parties with adjacent rooms.

Horseshoe Las Vegas has lots of amenities as well. You can use the clean fitness center, play tennis on-site, go shopping at Horseshoe Las Vegas Avenue Shops, or treat yourself at the Salon at Horseshoe Las Vegas. Families with kids can visit Twilight Zone Mini Golf inside the hotel as well. Jump into the deep end of the Blu Pool when your day is done.

Location, photos, and booking
Paris Las Vegas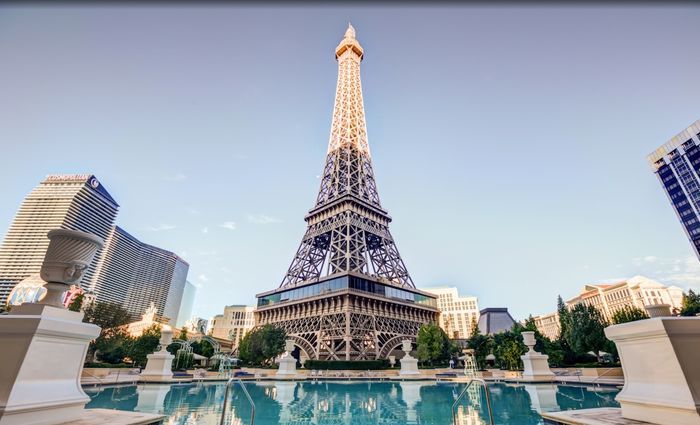 $$ | 4 Star | Eiffel Tower Model | Excellent Views & Great Location | Parisian Decor
If you can't splurge on a luxury hotel but you'd like to stay in the middle of the action, Paris Las Vegas is a great pick. It's located in the middle of the Las Vegas Strip and across from the Bellagio fountains, which makes it a clear winner on our list of the best hotels in Las Vegas.
Remember when we mentioned hotels that make you feel like you're walking through a European city? This is one of the ones we were talking about! Not only does Paris Las Vegas have an actual model of the Eiffel Tower (it even lights up at night and twinkles like the real one), but there's also a nightclub inside the Eiffel Tower: the Chateau Rooftop.
Finally, you'll love the rooms that have the elegant blue, white, and gold you'd expect of a fine Parisian hotel.
The Linq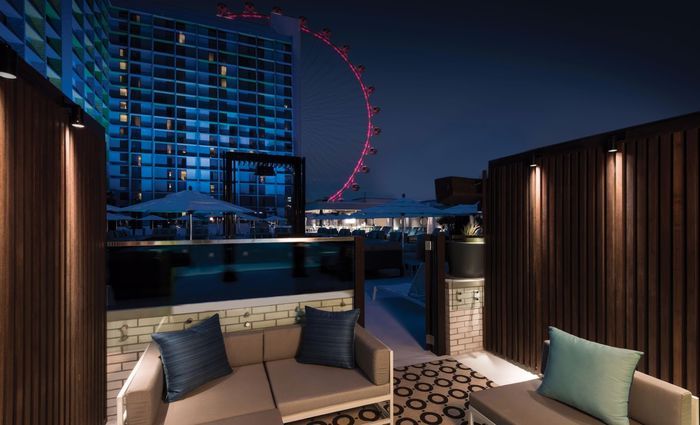 $$ | 4 Star | Home of the High Roller Ferris Wheel | Contemporary Vibes
The Linq is another centrally-located Strip hotel that's also kind to your bank account. Located right in the middle of the bustling Strip, the Linq is also where the famous High Roller is located. It's a 550-foot Ferris Wheel that gives patrons an incredible view of the city.
Behind the Linq is the Linq Promenade, which is a busy corridor of shops, restaurants, and bars with its own little fountain. Adrenaline-seeking Vegas goers can also try the Fly LINQ Zipline, which gives you an aerial view of the Promenade! People love the Linq for its good prices, unbeatable location, and large selection of nearby activities.

Location, photos, and booking
The Cosmopolitan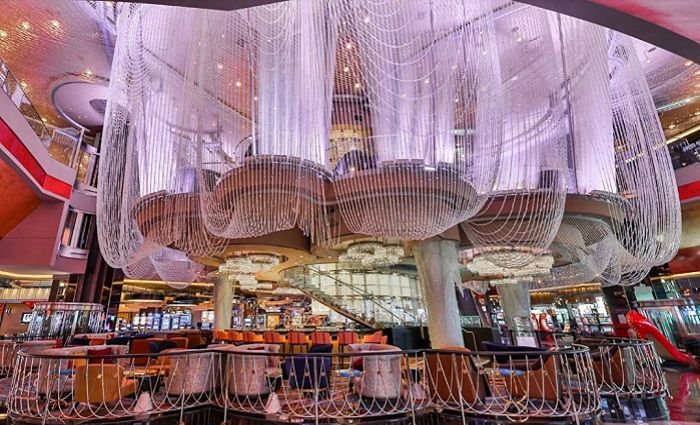 $$$ | 5 Star | Stunning Interior | Incredible Lounges and Rooftop Pools
The Cosmopolitan exudes luxury the moment you step into the casino. The famous, ideally located hotel is home to a beautiful purple chandelier that has a three-level lounge inside, as well as a wide variety of other restaurants. (Inside one of them is an upscale tequila speakeasy with amazing Mexican food—can you find it?)
The Cosmopolitan also boasts a rooftop pool with stunning Strip views. You can also get an amazing view of the Strip from most of the hotel rooms! The rooms are ultra contemporary with oversized bathrooms in some suites. We love the Cosmopolitan for the clean, spacious rooms, the restaurant selection, and the chandelier bar, as well as for the highly attentive staff.
Caesar's Palace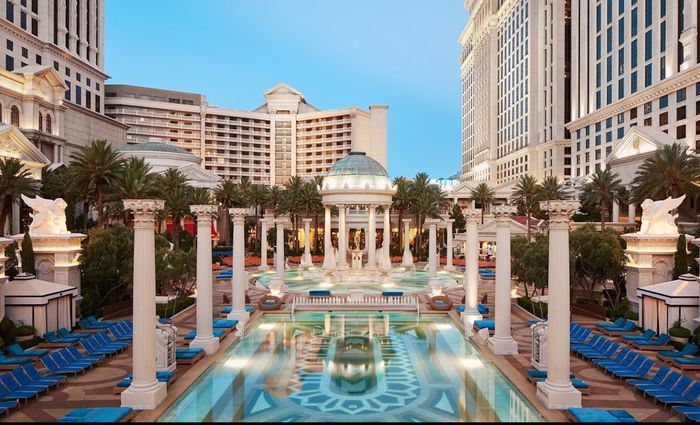 $$$ | 4 Star | Roman Empire-Inspired Decor | Amazing Pool
Caesar's Palace is another hotel designed to make you think you've been transported to Europe, but in this case, you'll feel like you're in Ancient Rome. This luxury hotel is full of Roman-inspired architecture and statues, as well as the daily Atlantis Show, which features a moving statue.
Inside Caesar's Palace you can also find Forum Shops, an upscale shopping mall that's one of the most popular in the entire country! Make sure you look up at the mural ceiling while you're walking down the walkway between the shops. No matter what time of day it is, the ceiling is painted to feel like you're under a beautiful blue sky!
Caesar's Palace also houses one of the most well-known casinos on the Las Vegas Strip, as well as an amazing pool modeled after the Roman baths. In terms of the rooms, the hotel features six different towers. Guests love the spacious rooms as well as the luxurious penthouse suites, all of which have 24-hour room service.
Bonus: You'll also find the ultra-luxurious Nobu hotel tucked away inside the property.
ARIA Resort & Casino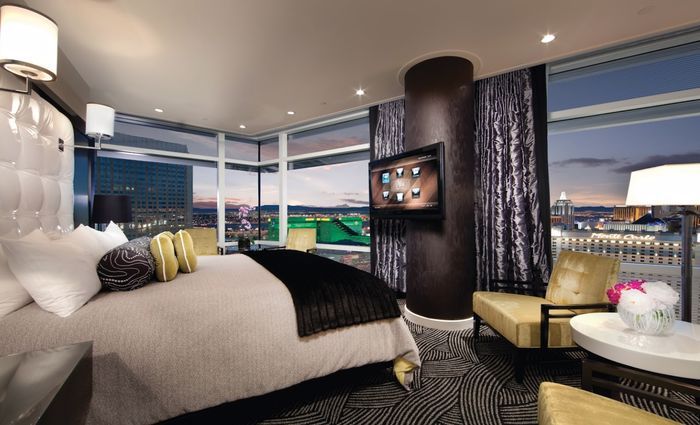 $$$ | 5 Star | Top Spa Destination | High-Tech Rooms
For those who love sleek contemporary designs and art, the ARIA hotel is a must. Beyond the spacious, impressive glass lobby, you'll also find amazing wall art and a soothing water wall. The rooms are spacious and have incredible views of the city. Most appliances within the room can be controlled with a touch of a button.
Most importantly, the spa has been awarded as the largest five-star spa in the U.S. and the Forbes five-star award. Channel your inner peace in the salt room or on the unique Japanese stone hot beds. The ARIA is also known for its incredible service, and you'll feel well taken care of at this hotel.
Mandalay Bay Resort & Casino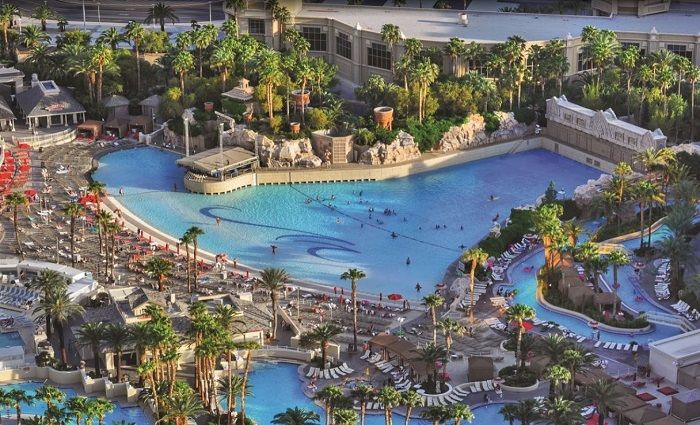 $$$ | 4 Star | Incredible Pool | Family Friendly
Mandalay Bay is a family-friendly Las Vegas hotel partly due to its calmer location at the south end of the busy Strip. It's also generally cheaper than other Strip hotels. However, the most popular thing about Mandalay Bay is its amazing pool! Spanning 11 acres, the pool selection at the Mandalay Bay includes sandy beaches, a huge wade-in tidal pool, and a lazy river. If your trip is adults-only, one of the Mandalay Bay's pools is "toptional."
Regardless of age, another popular feature of Mandalay Bay is the Shark Reef Aquarium. Housing more than 2,000 animals, this aquarium even allows interested patrons to dive with 30 species of sharks. Mandalay Bay is also home to the popular combination restaurant and live music venue House of Blues. There's no shortage of activities at this hotel! Oh, and the rooms are gorgeous with natural tones blended with water and stone elements alongside floor-to-ceiling windows.
Delano Las Vegas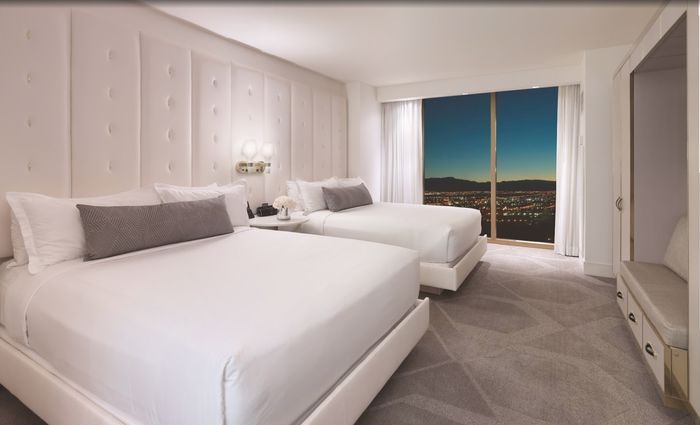 $$ | 5 Star | Family Friendly | Lounge with a Great View | Luxury Option
As part of the same complex as Mandalay Bay, Delano Las Vegas is another popular pick among families, as well as those who just want to avoid the hectic nature of the Strip. The casino inside Delano Las Vegas is not very close to the rooms, so families can enjoy more peace and quiet than in some other hotels. This hotel is also home to the Skyfall Lounge, an upscale cocktail lounge known for its fantastic view of the city.
Aside from the lounge and the hotel's peaceful nature, people prefer the Delano over other hotels because of the calm, spacious rooms. Guests especially love the large bath tubs that each room is equipped with! And as another perk, there is an exclusive pool for Delano guests only.
Rio All-Suite Resort and Casino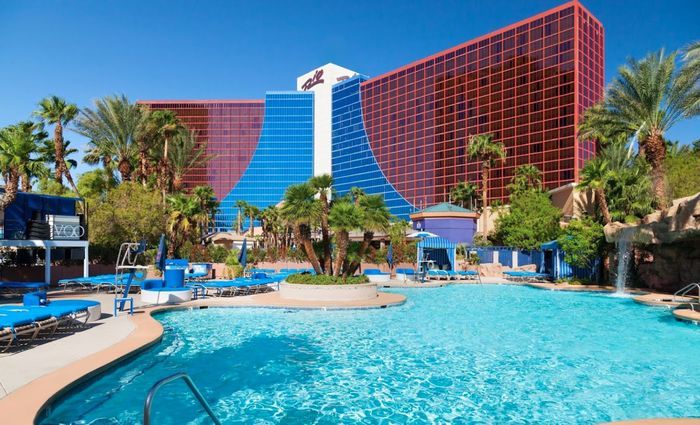 $$ | 4 Star | Affordable Accommodations | Free Parking
The Rio All-Suite Resort and Casino is close to the Las Vegas Strip without being in the middle of all the action. Depending on where you plan to spend your time along the Strip, the Rio is about a 5-20 minute drive away.
Since it's not on the Strip itself, the Rio is much more affordable than most hotels on the Strip, making it a go-to for Vegas visitors looking for a cheap hotel that's actually awesome. We will mention that the check-in process can take longer than expected here.
You'll find the Penn & Teller show, the VooDoo Beach Pools, and casinos here, which makes it a great value, even if it's not as flashy as other hotels on the Strip. But since every room is a suite, they're more spacious and include mini fridges, which you don't find in a lot of Vegas hotels.
Parking at the Rio is also free for guests, which is a huge plus since many hotels charge $15 or more per day! The Rio isn't for everyone, but if you love a cheap deal with a lot of value, it's a solid choice.
Downtown Grand Hotel & Casino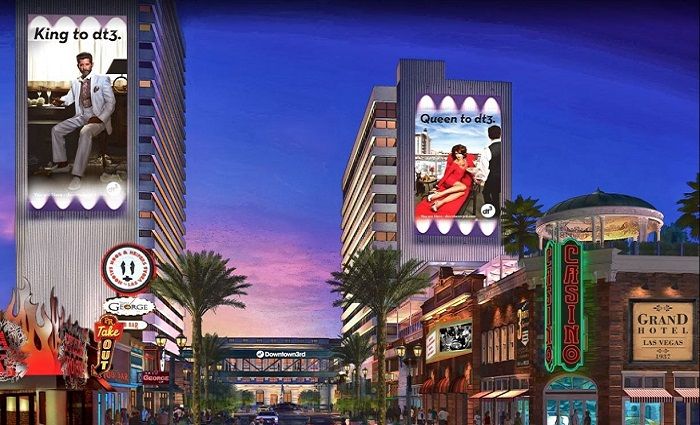 $$ | 3 Star | Massive Pool Deck | $1 Blackjack
The glitz and glamour of the Las Vegas Strip is fun to experience, but not everyone wants to stay there. Vegas vacationers who feel this way will probably love an affordable hotel in downtown Las Vegas like the Downtown Grand Hotel & Casino. This hotel is also the home of the Citrus Grand Pool Deck, a 35,000 square foot pool area that won an award for the best pool in downtown Vegas in 2020.
The Downtown Grand Hotel & Casino might not look super promising on the outside, but on the inside, the rooms are cute and spacious, and the common areas of the hotel are well-decorated. The rooms are also affordable, and at check-in, guests are given coupons and discounts for the on-site bars and restaurants.
Gambling guests will also love this hotel's Blackjack tables, some of which only cost $1 to play. Most tables at other hotels cost $15-$20, so this is a great bargain.
Circa Resort & Casino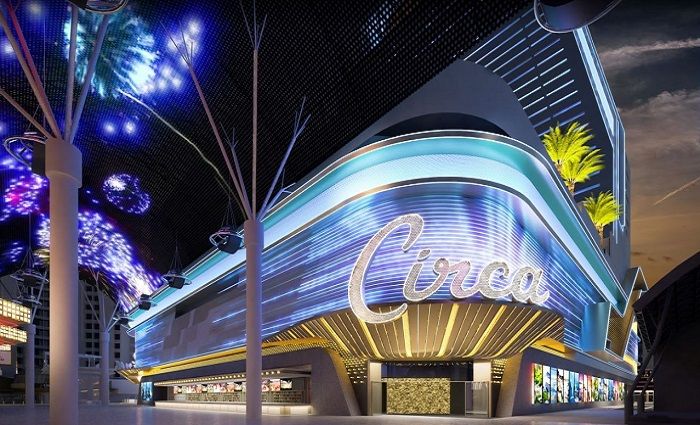 $$ | 4 Star | Adults Only | Home of Stadium Swim | Modern Rooms
Another one of the best hotels in downtown Las Vegas is Circa, which has only been open since October 2020 but has quickly become a downtown Las Vegas staple. The whole property only allows those who are 21 and older to enter, so don't be surprised if you get asked for your ID at the door.
Circa is largely sports-themed, so its casino is a popular place for sports betting. It's also the home of Stadium Swim, a pool club equally well-liked among sports fans and partiers. The pool features 40-foot by 143-foot screens that broadcast sports live while people swim, drink and lounge in the huge pool area.
Every room here has a seating area for extra space, and the walk-in showers are a nice touch of luxury.
South Point Hotel Casino & Spa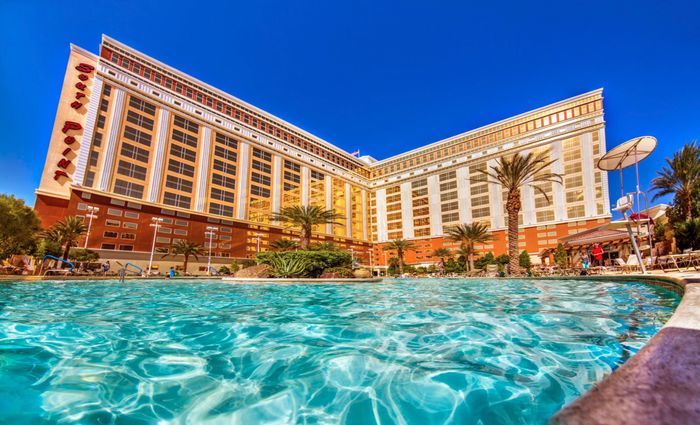 $$ | 4 Star | Affordable Stay | Many Amenities | Event Destination | Family Favorite
About a 15 minute drive from the south end of the Strip, South Point Hotel Casino & Spa is known for its affordable rooms, amazing amenities, and wide restaurant selection. Among the most popular of its amenities are its movie theater with 16 different screens, and its fun, affordable bowling alley!
It's also home to an equestrian center, which hosts many kinds of horse shows and rodeos throughout the year. (Cool right?! This place has everything!) Locals even love South Point because of the Garden Buffet.
Although it may not be the absolute best meal you have in Las Vegas, it's an affordable buffet with a wide selection of cuisines. For those looking for a buffet experience that's less expensive than the ones on the Strip, the Garden Buffet at South Point is the way to go.
Red Rock Casino Resort and Spa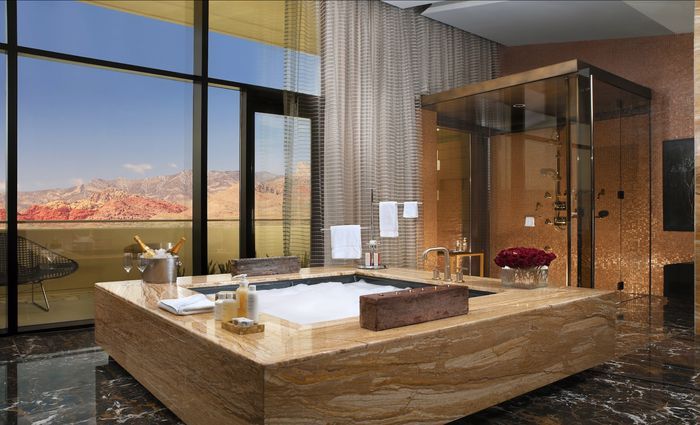 $$ | 5 Star | Attentive Staff | Desert Luxury
If you're coming to Las Vegas with the intention to spend a lot of time on the Strip, the Red Rock Casino Resort and Spa is probably not for you. But if you're looking for an upscale experience in a hotel with a wide variety of restaurants, you will love this resort. Not only is it known for its attentive staff, but it's also home to the Rocks Lounge, a popular place to watch live music as well as televised UFC fights.
One of the most popular amenities at this resort is the Red Rock Spa, which offers massages, facials and other luxury spa services. The Red Rock Casino Resort and Spa is also, of course, located very close to Red Rock Canyon, a prime spot for hiking and escaping the city for a few hours.
Not ready to book a tour? Read more in our Las Vegas Guide.