There is always something going on at the famous Las Vegas Strip. However, sometimes you want to take a break from the hustle and bustle and just relax. What's more, everything on the Strip is usually more expensive than other areas of the city anyway. You may be thinking: Isn't the Strip the only place to stay? Not at all! Read on for our list of best hotels off the Strip in Vegas.
---
Pro tip: Bookmark this post in your browser before your next Vegas trip! You can also check out our Las Vegas guide for more information, discover the best tours in Vegas, or plan your favorite things to do in Vegas.
The Top 13 Off-Strip Hotels in Las Vegas
What if you want to experience the Strip but don't want to spend all of your time there? That's completely possible! There are plenty of hotels outside of Vegas from which you can easily visit the Strip. However, there are also plenty of hotels that are in Vegas and located just off the Strip.

Restaurants and other attractions away from the Strip tend to be kinder to your bank account than those on the Strip. In addition, the hotels themselves are usually more affordable when they are not directly on the Strip. And you'll find many more hotel options with kitchens, mini-fridges, and microwaves on this list too, which is helpful for families coming to Vegas.
What's more, many of our favorite hotels outside of Vegas are still within a short driving distance to the Strip. Some of them are even easily walkable! That means you can relax in a quieter room but return to the action in no time. So, without further ado, here's our favorite hotels off the Strip in Vegas.
Our Partnership with Booking.com. If you like our content, please book by clicking on our Booking.com links. The price is the same for you, and we get a small commission that helps support our blog. We've partnered with Booking.com because they have the most options, great prices, and a solid loyalty program. Just about every hotel is on Booking so our recommendations are not incentivized.
Not ready to book a tour? Read more in our Las Vegas Guide.
Desert Rose Resort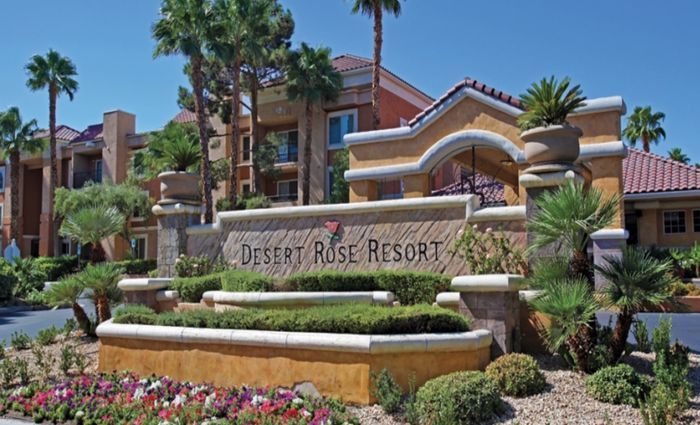 $$ | 4 Star | No Resort Fees | No Casino | Kitchenette in Rooms
If you're coming to Vegas with family, Desert Rose Resort is a great pick! This peaceful hotel has no casino, so it's ideal for a trip with your kids. What's more, it's just a 15-minute walk to the south end of the Strip (think: Mandalay Bay).
Therefore, you can enjoy a peaceful off-Strip stay without being too far from the action by foot or by Uber. We also love the clean pool area, which is great for lounging and escaping the Vegas heat. Plus there's a fitness center as well!

The suites at Desert Rose Resort come with a small kitchen and even a balcony which is extremely rare in Vegas! However, one of the best parts of this hotel is there are no resort fees. Many hotels in Vegas charge a nightly resort fee, which can make an otherwise affordable stay get a little pricey. If that sounds ideal, check out our dedicated blog post on hotels in Vegas with no resort fees!

Location, photos, and booking
Ellis Island Hotel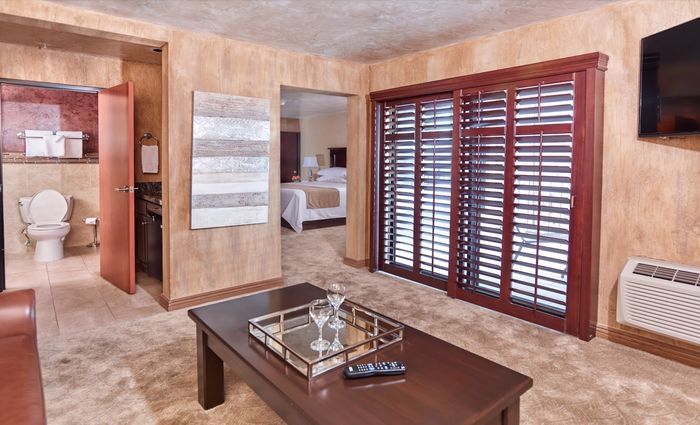 $ | 2 Star | On-Site Brewery | Affordable Stay | 24/7 Restaurant
If you're looking for a fun atmosphere, and want to stay close to the Strip, Ellis Island is a fantastic option. There's a brewery onsite, as well as a restaurant that's open 24/7. It is just a short 4-minute walk from Horseshoe Las Vegas (formerly Bally's), which is towards the middle of the Strip. The hotel also hosts frequent events, such as trivia nights!
The rooms inside Ellis Island come with comfortable beds and are kept clean. What's more, many of them include a mini-fridge, as well as a coffee maker! These amenities make it easier to prepare before spending a night out on the Strip.
Please note that the area can be a little seedy at night, so stick to the buddy system and walk as a group!
South Point Hotel Casino & Spa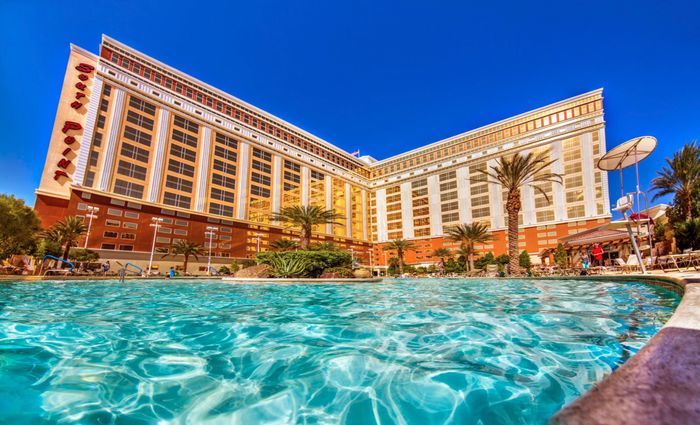 $$ | 4 Star | Affordable Stay | Awesome Buffet | Great For Families
About a 15-minute drive from the south end of the Strip, South Point Hotel Casino & Spa is known for its affordable rooms, amazing amenities, and wide restaurant selection. This hotel also boasts a movie theater with 16 different screens!
Also inside the hotel is an affordable bowling alley and a beautiful pool. What's more, guests and locals alike love the affordable Garden Buffet, as well as the many other restaurants located inside this hotel. There's even an equestrian center here, so national rodeo events are sometimes held here. This place really has everything!
Please note that there are no microwaves in the rooms, but the rooms are clean, large, and comfy! Many of them also do come with a fridge. Guests also love the friendly staff at this hotel.
The Platinum Hotel & Spa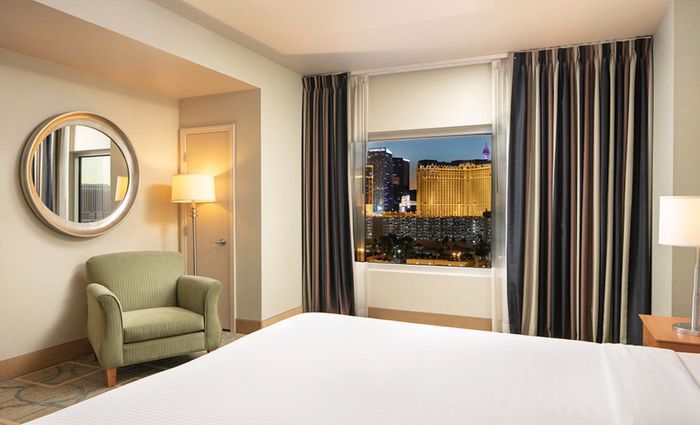 $$ | 4 Star | Smoke-Free Property | No Casino | Amazing In-Room Amenities
Located around 2 blocks east of the center of the Strip, Platinum Hotel makes you feel like you're staying in an apartment rather than a hotel. Each room comes equipped with a full kitchen. What's more, each room even has an in-room washer and dryer, which is unusual for Vegas hotel rooms!
The bathrooms inside the rooms are huge, and some have bathtubs with jets. The rooms themselves are very spacious, and guests report that the customer service is top-notch.
Another thing that sets the Platinum Hotel apart from the rest is the fact that there is no casino here. For families traveling together, this is a huge bonus to not have to deal with the noise and craziness of casinos. And perhaps best of all, smoking is also not permitted on the premises.
The Platinum Hotel is only a short walking distance from restaurants and casinos on the Strip, such as Bally's.
Desert Paradise Resort by Diamond Resorts
$$ | 4 Star | Free Parking | Free Shuttle to the Strip | Fully Equipped Rooms
This resort is located in a more residential area, about a 15-minute walk from The Orleans Hotel, or a 7-minute drive from the south end of the Strip. If you are in Vegas with your car, there's free parking here as well! But if you don't have a car, they have a free shuttle to take you to the Strip and back. Ask at the front desk about the shuttle times.

The rooms are fully equipped with a kitchen and a nice balcony. There's also a washer and dryer in the room, which is very helpful! As for the rest of the resort, it contains multiple swimming pools, as well as an on-site game room to keep the kids entertained.
Palace Station Hotel & Casino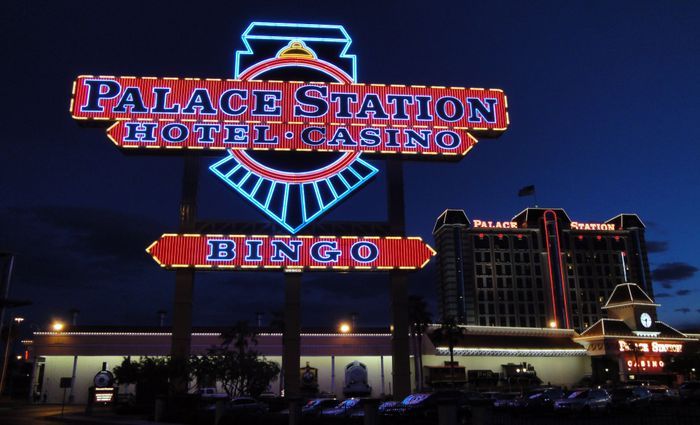 $$ | 3 Star | Newly Renovated Rooms | On-Site Activities | Wide Restaurant Selection
Palace Station Hotel & Casino is located around an 8-minute drive west of the north end of the Strip (think: Wynn Las Vegas and Resorts World). There are several different restaurants to choose from, including the popular Oyster Bar, which is open 24/7.

This hotel also has fun activities for hotel guests, like a bingo night with a DJ—a guest favorite. But perhaps our most favorite amenity at Palace Station is the in-house movie theater! Although there is no coffee maker or microwave in the rooms, they are clean and spacious. What's more, some have an awesome view of the rest of the city.
Towneplace Suites By Marriott Las Vegas City Center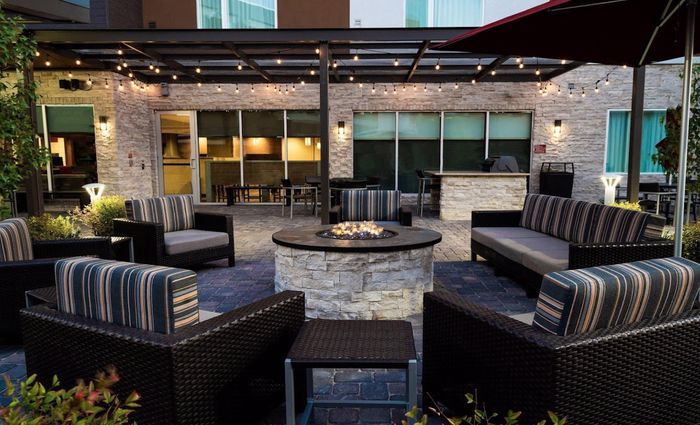 $$ | 3 Star | Free Continental Breakfast | Rooms With Kitchenette | No Resort Fees
A popular spot for business trips, this hotel boasts large, modern rooms and comfortable beds. There's no casino onsite, and this hotel has a quiet, calm atmosphere. What's more, it is only a 5-minute drive from the south end of the Strip and right off the Tropicana exit on the highway. One of the best features of this hotel is that it does not charge resort fees! What you see is what you get.
Each room includes a kitchenette with a full fridge, coffee maker, stove, and microwave! They also provide a free continental breakfast for guests, which is a huge perk. This is a newer property, and guests have been impressed with its cleanliness.
The excellent customer service is also enough to keep people coming back to this property over and over again. If you're in Vegas on business and want to avoid both the hectic Strip and resort fees, this is a great pick.
Westin Lake Las Vegas Resort & Spa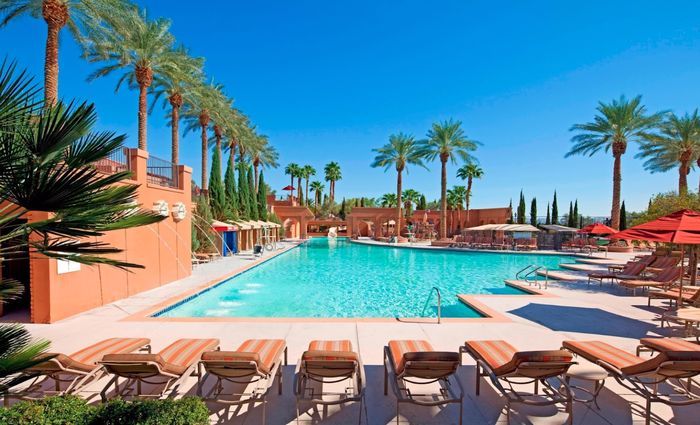 $$ | 4 Star | Water Slide | Water Sport Rentals | Lake Views
If you'd rather stay near a lake than in a city setting, this hotel is a great pick for you! Located right on Lake Las Vegas, this property is actually in Henderson, not Vegas. It's around a 30-minute drive to the Strip, but it has several attractions you won't find on the Strip: A water slide, an inflatable water park, and paddleboard rentals! What's more, the rooms have views of beautiful Lake Las Vegas.
If you plan to hit up the Strip at least once or twice, you'll want to have a car. But if you simply want to get away and hang out by a lake in a resort for a couple of days, this is an ideal location for a family vacation or a weekend couples getaway.
Holiday Inn Club Vacations at Desert Club Resort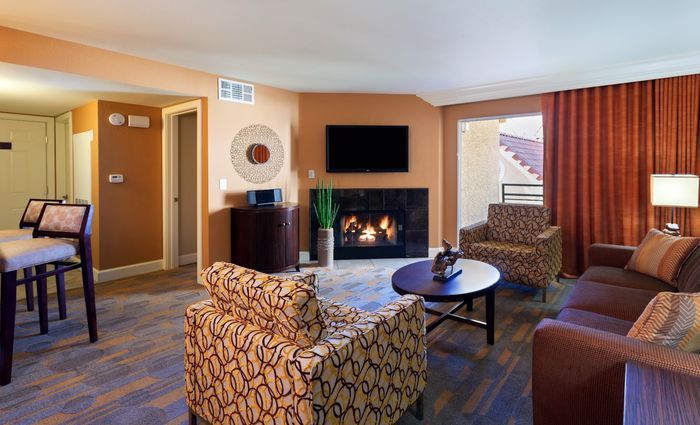 $$$ | 3 Star | Free Shuttle to the Strip | Amazing In-Room Amenities | Black-Out Curtains
Located around a 5-minute drive east of the Strip, Holiday Inn Club Vacations at Desert Club Resort has well-equipped rooms with a full kitchen! What's more, there are washers and dryers in-unit.
We know that this might sound like it's par for the course by now, since so many hotels on this particular list of off-Strip Vegas hotels have these helpful features. Trust us, though—most Vegas hotels don't have these amenities, so it's a huge bonus when they do!

What's more, this hotel also has a free shuttle that can take guests to the Strip. As an IHG hotel, Holiday Inn Club Vacations at Desert Club Resort strives for the maximum comfort of their guests, so the rooms are equipped with comfortable beds and black-out curtains.
Marriott's Grand Chateau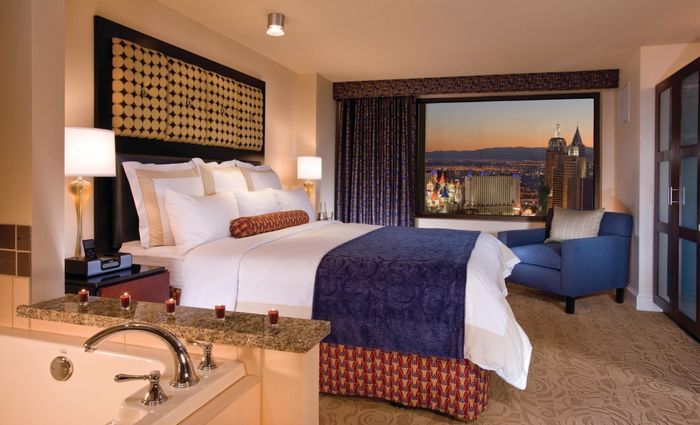 $$$ | 3 Star | No Resort Fees | Free Daily Activities | Rooftop Pool
Marriot's Grand Chateau is a short 6-minute walk from the Miracle Mile Shops at Planet Hollywood. What's more, there's no casino, so this is a great option if you're in Vegas with your family and still want to explore the Strip.
In addition, there are free activities for all guests every day! The activities are on the 5th floor and usually include games (such as bingo), and there are often prizes.

Another big plus is that this hotel does not charge resort fees! Additionally, many of the rooms come with a great view. The villas also have their own washer and dryer inside. One of the best features of this property is their rooftop pool, which includes a bar and an awesome view of the whole city.
Palms Casino Resort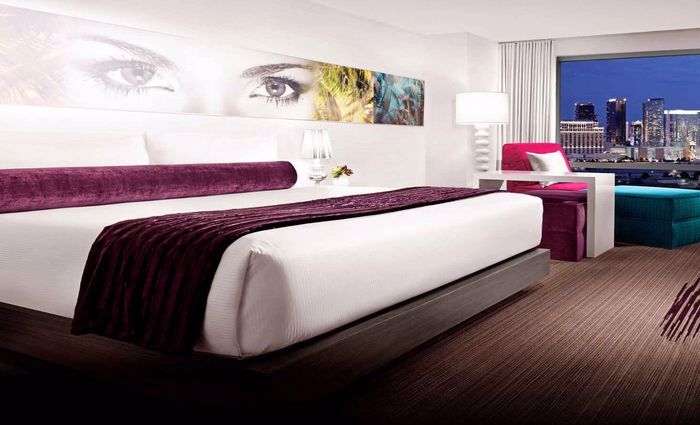 $$ | 4 Star | Free Parking | On-Site Rooftop Lounge | Spacious Rooms
This popular resort reopened in April 2022. Guests love the location, which is only a 5-minute drive from the center of the Strip. The rooms are spacious with comfortable beds and super nice bathrooms (can you say, spa tub?!).

There's free parking on-site as well, which is fantastic. Palms Casino Resort also houses APEX Social Club, a popular rooftop lounge. The lounge even made it onto our list of the best nightclubs and lounges in Vegas! We're hoping this popular lounge re-opens soon as well.
JW Marriott Las Vegas Resort & Spa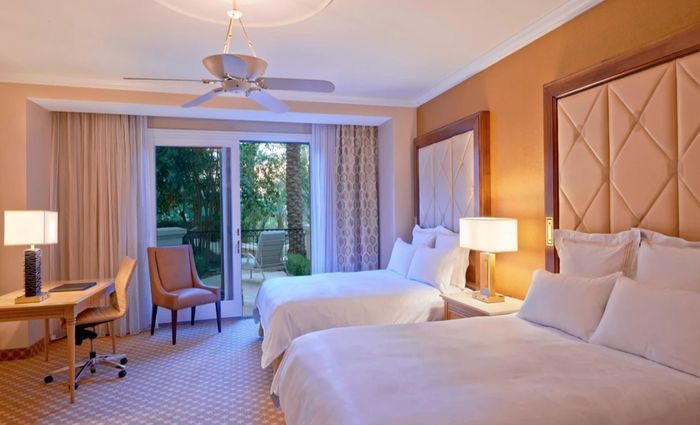 $$$ | 4 Star | Great For Families | Jacuzzi Tubs | Zen Garden
Thanks to this property's relaxed atmosphere and location, your family (or just you and your partner) will love this location. There is a casino onsite, but there is also a Zen garden here, which contributes to the laid-back nature of the property.
Guests love the clean, spacious rooms, excellent customer service, and the fact that the in-room bathrooms feature jacuzzi-style tubs! This property is located close to Summerlin, around a 20-minute drive from the Strip, and although they don't provide a shuttle service, it is not difficult to call a ride-share service in this area. However, though it's further from the Strip than other hotels, it's much closer to the Red Rocks if you're wanting to do some hiking.
Gold Coast Hotel and Casino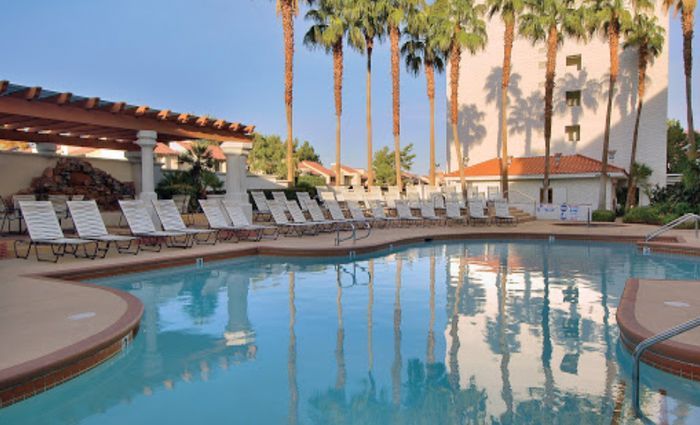 $$ | 4 Star | On-Site Restaurants | Affordable Stay | Bingo and Bowling Alley
You'll find the Gold Coast located on Flamingo Drive, just 10 minutes from the Strip. It's hard to get bored at Gold Coast Hotel & Casino. Not only do they host bingo games (for a fee), but they also have a bowling alley onsite!
If you're a gambler, you will enjoy the tables at the casino, which have a lower minimum than usual. This is because the Gold Coast Hotel & Casino is largely regarded as a local's spot. Additionally, there are several restaurants onsite, so you won't have to wander far.

What's more, the rooms are clean, and the staff will make sure you are taken care of. This hotel is on the older side with a number of updated rooms though. However, we think it's worth a stay because of the price, location, and unusual amenities such as the bowling alley!
Not ready to book a tour? Read more in our Las Vegas Guide.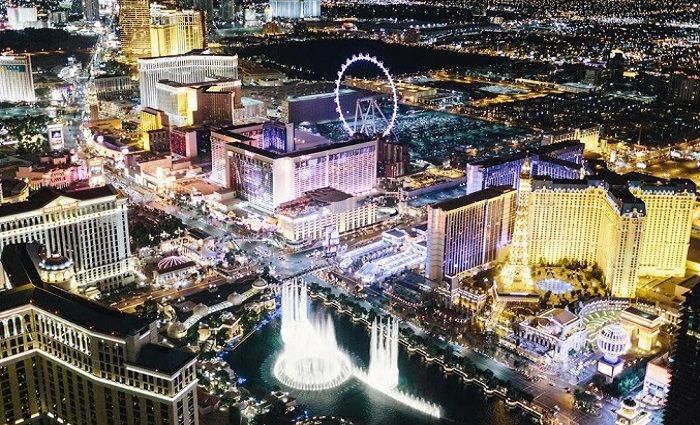 Find the best places to stay
Where to Stay in Las Vegas
Discover some of the most iconic and best places to stay in Las Vegas to make this trip the most memorable of all your trips to the Strip