Everyone knows that the Las Vegas Strip is full of glitz, glamour, and jaw-dropping shows. So what's Fremont Street all about? The center of downtown Vegas has its fair share of glitz and glamour, with a more old-timey feel. It's less interested in nice dress codes and probably a little easier on your wallet. Keep reading to find out all the fun things to do near Fremont Street!
---
Our Partnership with Booking.com. If you like our content, please book by clicking on our Booking.com links. The price is the same for you, and we get a small commission that helps support our blog. We've partnered with Booking.com because they have the most options, great prices, and a solid loyalty program. Just about every hotel is on Booking so our recommendations are not incentivized.
The Top 14 Things To See and Do Near Fremont Street in Las Vegas
Did you know that Fremont Street was the original Strip? This area was initiated as the original Las Vegas Strip and some of the first hotels were constructed in the area, such as the Golden Nugget. This iconic hotel opened in 1946 and is still around today!

We already mentioned that Fremont Street is the center of downtown Vegas. Well, the Fremont Street Experience is the center of Fremont Street! FSE refers to the five blocks of Fremont Street that is covered with a vibrant, flashing ceiling made of the worlds largest video screens. We'll talk more about this later! Under the covered ceiling, there are many stages that host live music concerts of all genres, especially in the summer.

Beyond these five blocks, you're technically still on Fremont Street, but it's not the same as what people consider the true "Fremont Street." The rest of downtown Vegas is a little less flashy but still full of amazing activities to check out. Keep reading to find out our favorite things to do near Fremont Street!
14. Stroll Down Fremont and Watch Live Street Performers
Throughout the five blocks that are considered the Fremont Street Experience, it is extremely common to see street performers entertaining the public around them. Musicians, magicians, dancers and more can be found all along the street. Fremont Street Experience is usually a crowded, bustling area, especially at nighttime over the summer.
There are also stages with live music and DJs throughout the area all year round. Simply walking around and looking at the different performances around you is a fulfilling Fremont Street activity in itself!

Address: E Fremont St, Las Vegas
13. Get a Slice of Pizza and a Beer for $7 at Evel Pie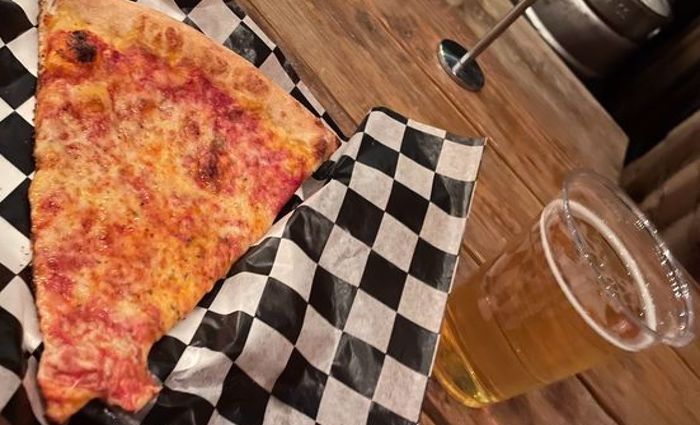 Located a couple of blocks away from the Fremont Street action is Evel Pie, an Evel Knievel-themed pizza place. This local's favorite serves pizzas by the slice as well as the whole pie. The slices cost between $4 and $6, but they have a deal where you can get a slice of cheese pizza and their draught beer of choice for $7 total! That's pretty good for a meal and a drink in Vegas!

What's more, the slices are huge. Although there are no set times or days for this deal, you can tell it's going on if it's displayed on the sign out front. Also, Evel Pie isn't the only restaurant we love near Fremont Street. Check out our other article about downtown restaurants to discover the other ones we love!

Address: 508 E Fremont St, Las Vegas
12. Play $1 Blackjack at the Downtown Grand Hotel & Casino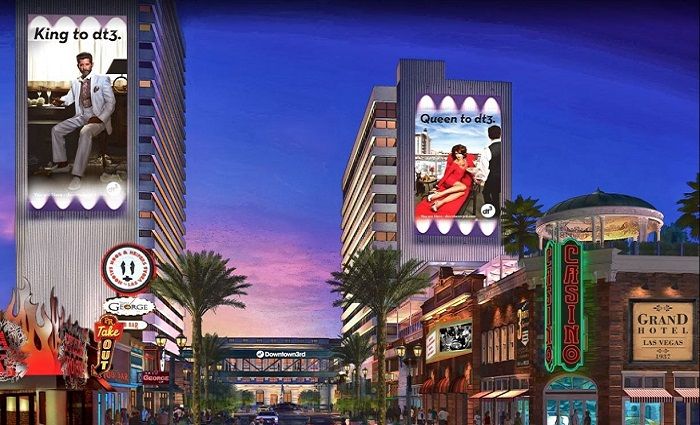 We love the Downtown Grand in general. Firstly, it's home to the Citrus Grand Pool Deck, a 35,000-square-foot pool area that won an award for the best pool in downtown Vegas in 2020! We also love the cute rooms and great vibe. What gamblers will love the most, however, is the fact that they have Blackjack tables with only a $1 minimum!

Most tables at other hotels cost $15-$20, so this is a great bargain. If you go earlier in the day, it is likely that only one or two $1 Blackjack tables will be open. However, there will be more tables available if you go in the evening or nighttime.

Location, photos, and booking
11. Dance to Some Live Music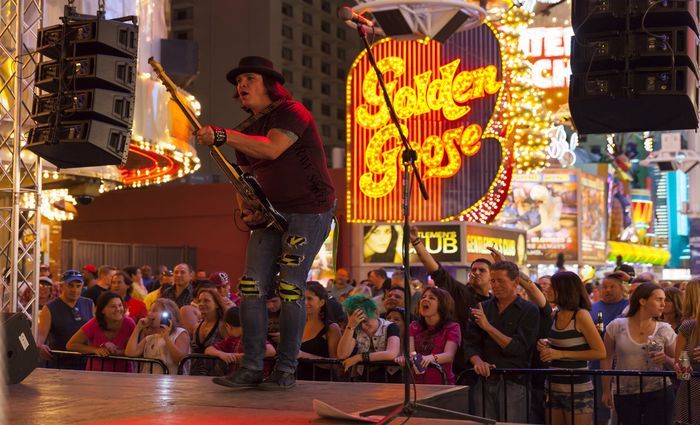 Did you know there's FREE live music going on every single night on Fremont Street?! Bands and DJs play all different types of music while passersby dance on the street. Fremont Street is like one huge free block party most of the time, especially in the summer!

Most of the bands who play at Fremont Street are local cover bands. However, in the summer and during holidays, some big-name acts hit the outdoor stage—always for free. Recently, Three Doors Down, Walker Hayes, and the Plain White T's all performed on Fremont Street.
Check out the Fremont Street events schedule to see what's happening when you're in town!

Address: E Fremont St, Las Vegas
10. Sing Your Heart out at Cat's Meow
This fun karaoke bar started out in New Orleans and now has a Vegas location as well. Cat's Meow is a large, spacious bar with a wide selection of karaoke songs. What's more, it is open for karaoke every single night of the week! The crowd is fun, upbeat, and ready to sing and cheer you on.

This is a place to go if you want to sing karaoke or just enjoy a party with your friends! There's an admission fee which ranges between $5 and $20. However, promoters stand outside the bar and walk up and down the street handing out coupons for a cheaper entry fee.

Address: 450 E Fremont St UNIT 201, Las Vegas
9. Stay at a Hotel with A Shark Tank Water Slide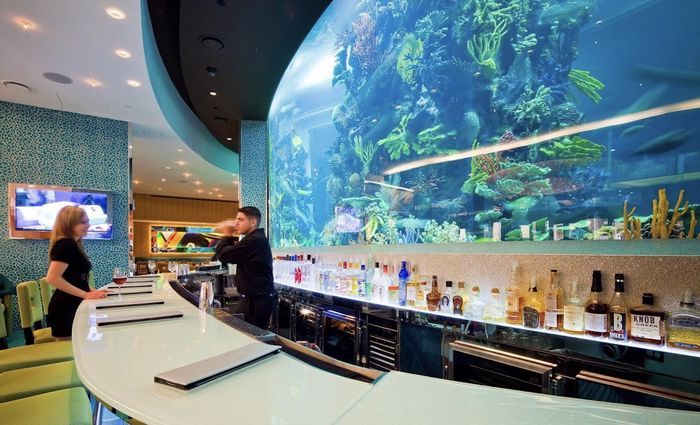 Earlier, we mentioned that the Golden Nugget Las Vegas Hotel & Casino has been around since the 1940s. But we didn't mention one of the coolest things about this hotel. The Golden Nugget features a waterslide that goes through a shark tank aquarium!
If you have kids who can handle the sometimes hectic experience of staying on Fremont Street, this is a great place to stay with them because of the waterslide. The pool also has an adult area for you to enjoy.

We also love that the hotel rooms come with free water. This is a must if you are visiting in the summer. It can get pretty hot! Check out our other favorite hotels to stay at in downtown Vegas!

Location, photos, and booking
8. Dance at a Rooftop Bar with a Hidden Speakeasy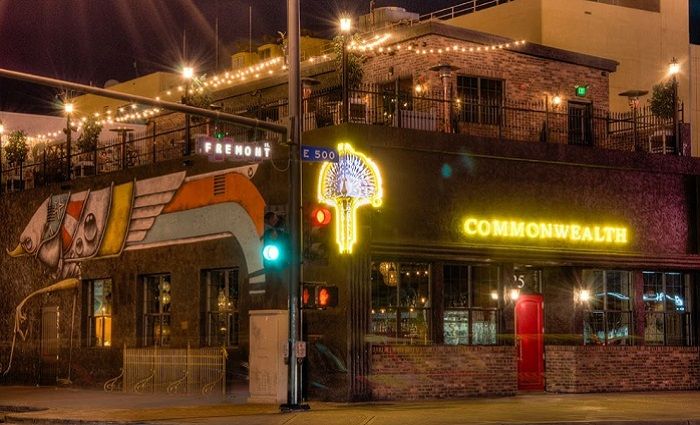 One of our favorite clubs in Vegas, Commonwealth contains both a trendy lounge and a rooftop with DJs spinning electronic dance music. But perhaps one of the coolest features is the hidden speakeasy called The Laundry Room! This speakeasy requires advance reservations, so plan ahead.
Once inside, the atmosphere is classy, and the drinks are delicious. This isn't your typical bar. Instead of ordering a specific drink or requesting a certain type of liquor, you instead tell the mixologist what flavor profile you're looking for.

We like the rest of Commonwealth as well, and you can enter without a reservation. Dance to EDM beats on the rooftop or hang out in the lower bar. We love the creative drinks they have here as well. We suggest trying the Willy Wonkas Hangover.

Address: 525 E Fremont St, Las Vegas
7. Eat at Oscar's Steakhouse
Located inside the Plaza Hotel and Casino, Oscar's Steakhouse is known for its amazing food and awesome service. Named for former Las Vegas mayor Oscar Goodman, this highly-rated restaurant doesn't have a dress code, but many patrons come dressed to impress anyway.

Most seats are in front of an amazing view of the bustling Fremont Street below. Guests say that they feel like they've stepped back in time to Old Vegas when dining at Oscar's. This place is popular, so you and your party should make a reservation, especially if you are coming on a weekend.

Address: 1 S Main St, Las Vegas
6. Watch the Praying Mantis Statue Dance And Shoot Fire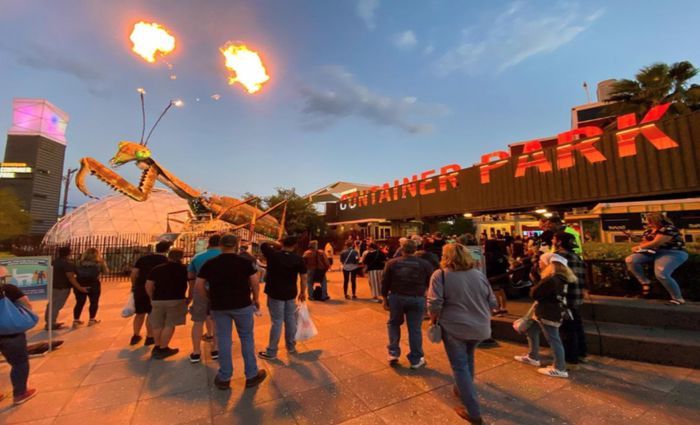 Yes, you read that correctly! And it's just as cool as it sounds! In front of Container Park sits a 44-foot-tall, fire-breathing praying mantis statue. After dark, it "dances" to popular songs, and shoots fire out of its antennae in time to the beat.

Every night at dusk, when the mantis begins its first show, drummers gather to "wake the mantis up" with music. This is definitely something that is unique to Vegas. All ages are welcome to check out the Mantis and dance to its tunes. Make sure to take videos to show all your friends back home!
Container Park is a cool boutique area that has open-air shopping and restaurants to check out before or after you watch this Vegas spectacle.

Address: 707 E Fremont St, Las Vegas
5. See Iconic Las Vegas Signs at the Neon Museum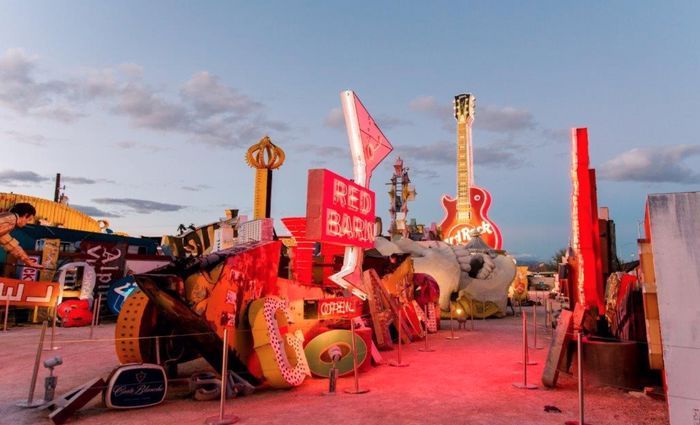 Located about a 20-minute walk from the Fremont Street Experience, the Neon Museum is our favorite outdoor museum full of classic Vegas signs. They don't let groups explore the museum on your own, so you have to book a tour in advance. Reservations are highly encouraged!
They offer both a daytime and a nighttime tour. Although this museum is kid-friendly, they suggest that kids 10 and older attend the day tour. The night tour is best suited for kids 12 and older, and it's easily the best way to view these vintage neon signs.

You can also catch their Brilliant! show, a 20-minute long showcase of some of their vintage signs. This show is extremely popular! You'll need separate tickets for the show and for the museum. The cost of visiting this museum ranges between $20 and $30 per person.

Address: 770 Las Vegas Blvd N, Las Vegas
4. Swim, Chill, and Watch Sports On the Big Screen at Stadium Swim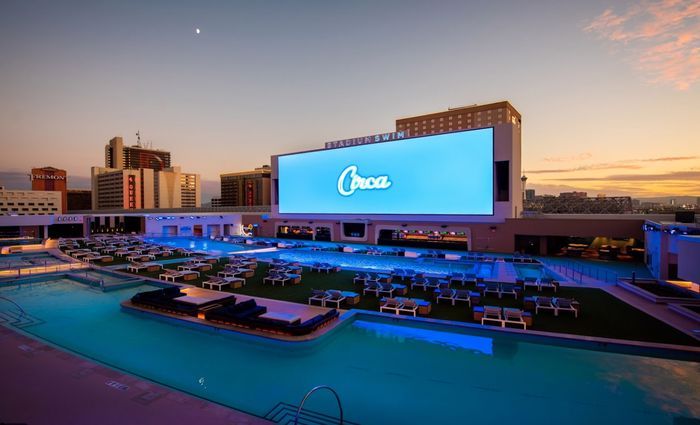 You don't have to be a sports fan or a hotel guest to enjoy this adults-only pool experience! Located inside of Circa Resort & Casino, Stadium Swim features a 40-foot by 143-foot screen display that plays live sports games. During commercial breaks, a DJ plays Top 40 hits while people dance in the pool and grab drinks from the bar. Stadium Swim is always full of sports fans and pool partiers alike!

The fee for non-guests to enter the pool is $20 or higher, depending on the season and time of day. The entire hotel, including the pool, is adults-only, meaning you must be 21 or older to enter. Therefore, you may be asked for your ID upon entry!

Location, photos, and booking
3. Explore Downtown Container Park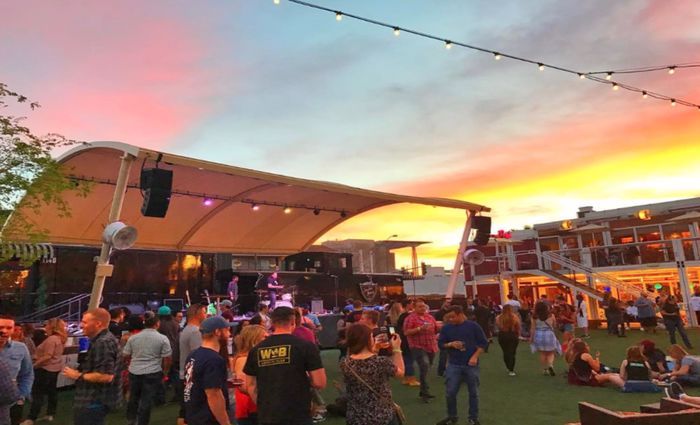 Container Park is an open-air shopping center that spans more than an acre! All of the buildings in the park are constructed out of repurposed shipping containers. Also, there are many restaurants, bars, and stores inside Container Park, making it a popular destination for eating and shopping. Additionally, it is home to a playground and treehouse that kids can play on during the day.

There's also a lawn area which hosts frequent events such as movie nights, country dance classes, or yoga. Sometimes they also have kid-friendly visitors, like clowns who will make balloon art for kids. The events vary in price.
Check out their calendar to see what's going on when you're in town. Although Container Park is a kid-friendly area, children are not permitted after 9 pm. We love Fremont Street, but the area can get a little gritty after dark, so this is probably for the best. Still, it's a fun place to check out!

Address: 707 E Fremont St, Las Vegas
2. Experience The Viva Vision Light Show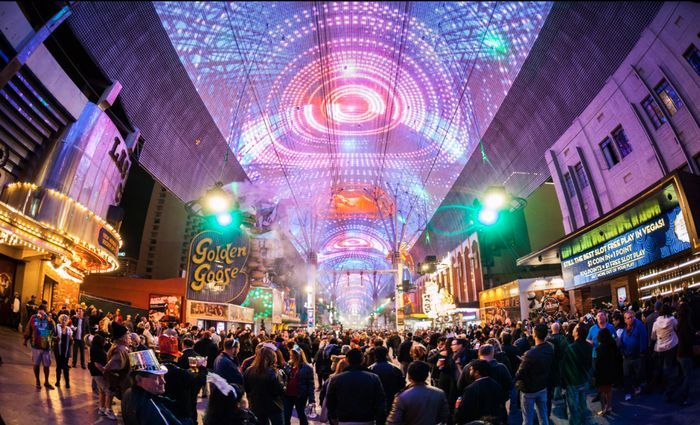 This is one of those things that you might have to experience for yourself in order to understand how cool it is! Every night starting at 6 pm, a light show takes over the Fremont Street Experience's covered ceiling that's actually the world's largest video screen. Stunning visuals set to popular songs amaze locals and tourists alike at the start of the hour, all night long until 2 am.

You don't have to do anything special in order to see the light show. All you have to do is go to the Fremont Street Experience anytime after 6 pm, wait until the top of the hour, then look up! The visuals are set to songs by popular musical acts like The Killers and Shakira. Check out the light show schedule here.

Address: E Fremont St, Las Vegas
1. See Fremont Street from Above on the SlotZilla Zipline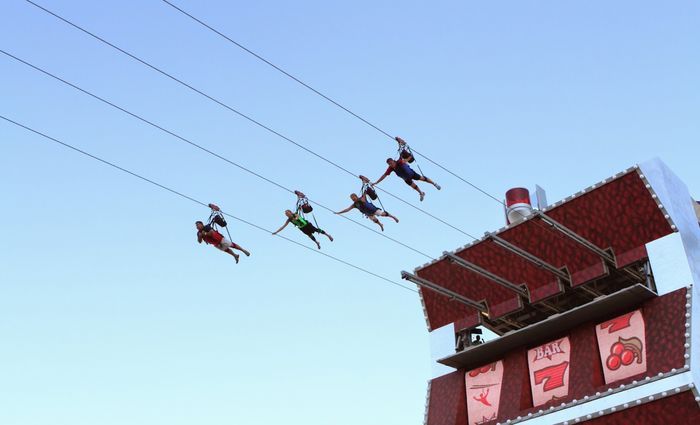 SlotZilla is the world's largest slot machine. Sitting at 11 stories high, this is one of the most "Vegas" attractions ever. What's more, people can zipline out of it! Hanging  77 feet above the ground, the SlotZilla Zipline allows countless visitors to soar over Fremont Street just under the entire video screen ceiling! This activity costs between $39-$59.

You can choose your zipline experience with SlotZilla. You can glide Superman-style at 11 stories above the street for 5 blocks, which is the classic way to ride this zipline, or you can opt for the Zip-Zilla experience, riding for just 2 blocks and only 7 stories above the street instead. No matter which height you choose, Slotzilla is undoubtedly an epic way to see Fremont Street, which is why it's our top thing to do near Fremont Street!
Address: 425 E Fremont St #160, Las Vegas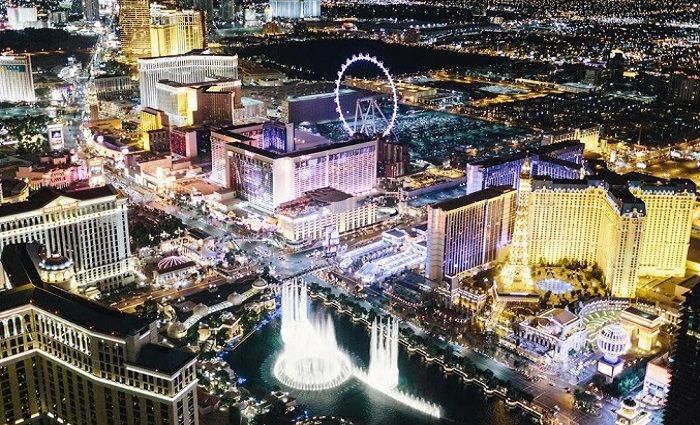 Find the best places to stay
Where to Stay in Las Vegas
Discover some of the most iconic and best places to stay in Las Vegas to make this trip the most memorable of all your trips to the Strip.