Everyone knows about the glitz and glamour of the Las Vegas Strip. Fremont Street is found in downtown Las Vegas, and it's a different area altogether with a very different vibe. If you are trying to save some money on your Vegas vacation, we recommend looking at a hotel in downtown Las Vegas instead. Hotels here are much more affordable, but you won't want to stay at just any of them. Read on to find out the best hotels near Fremont Street in Vegas.
---
Pro tip: Bookmark this post in your browser before your next Vegas trip! You can also check out our Las Vegas guide for more information, or just see our favorite things to do near Fremont Street and the best restaurants in downtown Vegas!
The Top 8 Hotels Near Fremont Street in Downtown Las Vegas
Most of the hotels in Vegas provide an experience for their guests. They are not simply just a place for guests to rest their heads at the end of the day! You are more likely to have heard of the hotels on the Strip. However, the hotels in downtown Las Vegas are no exception to this rule! (Well, there are some hotels we wouldn't recommend up here, but the hotels on our list offer the best experience.)

We're talking massive poolside TV screens showing sports games and $1 blackjack tables, just to name a view of the best things about these hotels! It's no wonder a few of these made it onto our list of the best hotels in all of Las Vegas!

For excellent people watching, live music, fun restaurants, and a more wallet-friendly experience, downtown Las Vegas is the way to go. You'll get old-school Vegas vibes next to trendy, modern experiences. Keep reading to find out our top picks for where to stay near Fremont Street in downtown Las Vegas.
Circa Resort & Casino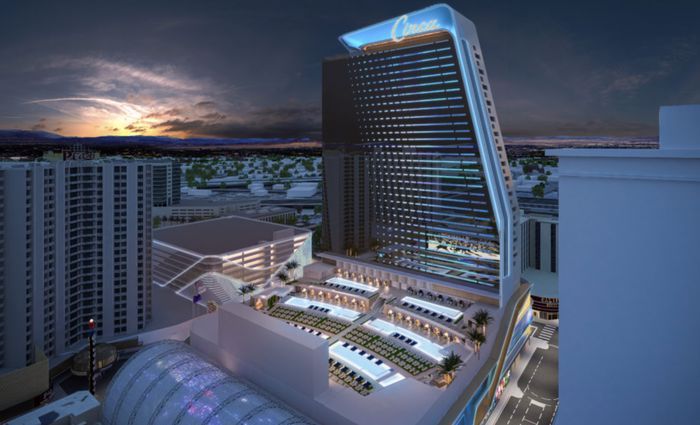 $$ | 4 Star | Adults Only | Home of Stadium Swim | Walk-In Showers
Established in October 2020, Circa Resort & Casino is already a Vegas favorite! For starters, its spacious, modern rooms are a hit among guests. People especially love the walk-in showers. The entire hotel is also adults-only, meaning you must be 21 or older to enter. Therefore, don't be surprised if you are asked for ID upon entry!

A popular place for sports betters, Circa is also home to Stadium Swim. This pool club features 40-foot by 143-foot screens that broadcast sports live while people swim, drink, and lounge in the huge pool area.
The fee for non-guests to enter the pool is $20 or higher depending on the season and time of day. However, Circa guests can go to Stadium Swim for free. No doubt this is one of the best hotels near Fremont Street!
Four Queens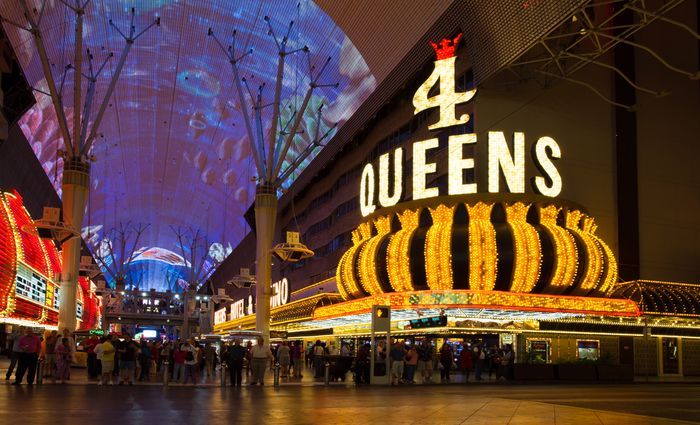 $$ | 3 Star | Budget-Friendly | Old School Vibes | No Resort Fees
If you've been to Vegas before, you likely know this struggle. You see a great deal on a hotel and you book it, only to discover it's actually more money than you thought because of the resort fees!
However, this will never happen at the Four Queens. This historic hotel is one of the only ones in Vegas never to charge a resort fee. Also, if you join the players club, you will also get free parking during your stay, which is another fantastic perk.
Please note that the Four Queens is located just two minutes on foot from the hustle and bustle of the Fremont Street Experience. This is great for people who want to be right in the middle of the action. However, you may hear some noise from the street waft into your hotel room, although this is the case for many hotels in this area. But the rooms at the Four Queens are clean and spacious, and most of them have a microwave and a coffee maker.
Downtown Grand Hotel & Casino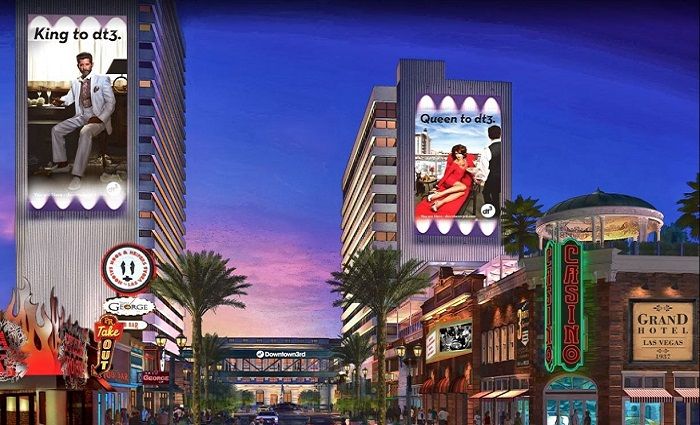 $$ | 3 Star | Stylish Yet Affordable | Massive Pool Deck | $1 Blackjack

We know that the Downtown Grand Hotel & Casino might not look super promising on the outside. Despite this, on the inside, the rooms are attractive and spacious. As an added bonus, they are also affordable! At check-in, guests are also given coupons and discounts for the on-site bars and restaurants, so your dollar stretches further here.
This hotel is also the home of the Citrus Grand Pool Deck, a 35,000-square-foot pool area that won an award for the best pool in downtown Vegas in 2020! Also, celebrities have been known to host events here, so check their events calendar to plan your stay at the same time.
Gamblers will also love the price of this hotel's blackjack tables, some of which only cost $1 to play. Most tables at other hotels cost $15-$20, so this is a great bargain. The Downtown Grand Hotel is one of the best hotels in downtown Las Vegas — and at a great value.
Plaza Hotel & Casino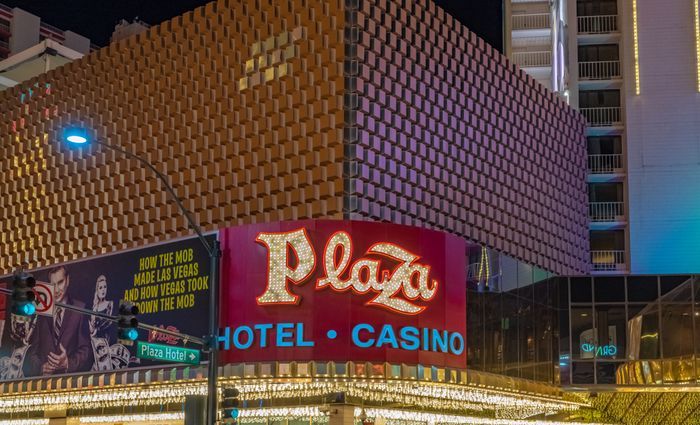 $$ | 4 Star | Great Food Options | Retro Feel | Affordable Rooms
You've likely seen the front of the Plaza Hotel in movies. It's known for its glittering sign out front! Additionally, guests love this hotel for Oscar's Steakhouse, the highly rated steakhouse named for former Las Vegas mayor Oscar Goodman. Aside from the steakhouse, the Plaza Hotel also has many other popular food options on-site as well. Hash House A Go Go is a brunch favorite for Plaza guests and locals alike!

The Plaza Hotel was established in the early 1970s, and you can still feel the retro vibe in the casino and lobby. The rooms are more modern and are spacious as well. Like many other of the best hotels near Fremont Street, you may be able to hear street noise at night. But if you're looking for somewhere affordable to stay right where the action is, this is an excellent pick!
The D Las Vegas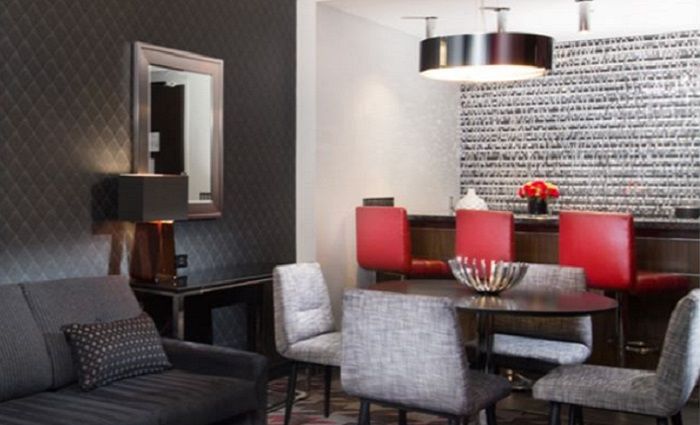 $$ | 3 Star | Home of the World's Largest Keno Board | Affordable Stay | Fun Bar and Casino
Gamblers will love the D, as it boasts the world's largest keno board! It also has a keno lounge, and games in the lounge are broadcasted onto the board in real time. If you are a keno player, you can watch your numbers on the screen as they are being drawn. Even if you're not big on keno, guests love the fun atmosphere inside the casino, as well as the bar on property. Named Longbar, the bar is — as the name suggests — one of the largest bars in Vegas!

Also, people love the clean, sleek rooms at this hotel, and they especially love their affordability. This hotel is also right next to where many of the free concerts are offered on Fremont Street. If you want to stay in a fun casino hotel near the Fremont Street Experience that's located right outside your front door, look no further.
Golden Nugget Las Vegas Hotel & Casino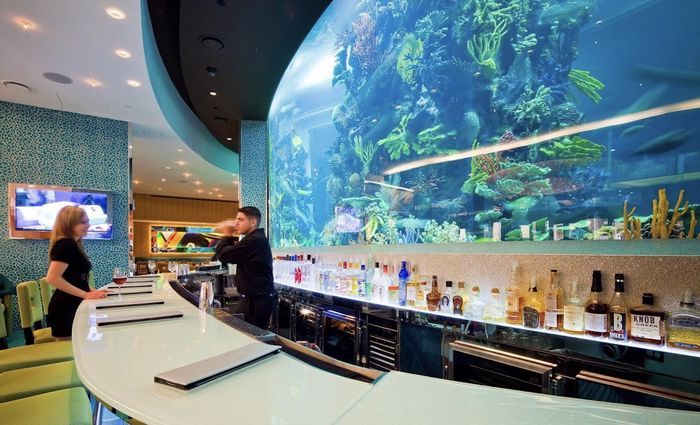 $$ | 4 Star | Shark Tank Water Slide | Many On-Site Restaurants | Modern Rooms
The Golden Nugget is a downtown Las Vegas classic. They're most famous for their waterslide, which goes through a shark tank aquarium! If you have kids who can handle the sometimes hectic experience of being right on Fremont Street, the waterslide makes Golden Nugget a top choice to keep them entertained. The pool also has an adult area for you to enjoy.

This hotel boasts close to 2,000 rooms, all of which are modern and spacious with comfortable beds. What's more, they also come with free water bottles, which is an amazing amenity if you are traveling here in the summer in the famous 100+ degree weather. Additionally, there are also lots of restaurants inside the hotel, including a few steakhouse options.
California Hotel & Casino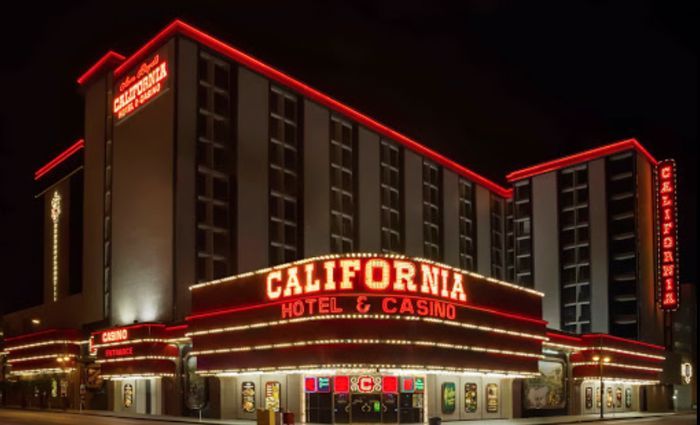 $$ | 3 Star | Great Customer Service | Many On-Site Restaurants | Inspired By Hawaii | Rooftop Pool
Affectionately known as "The Cal," this hotel is extremely popular among tourists from Hawaii. Inspired by the tropical island, California Hotel & Casino is full of restaurants like a steakhouse and other Hawaiian cuisines.
Additionally, the customer service here is above and beyond. Because of this, don't be surprised if the friendly staff greet you with a cheery "Aloha." The inviting Hawaiian culture of this hotel have earned Vegas the nickname "Hawaii's ninth island."
The rooms at The Cal are spacious and newly renovated. What's more, unlike many other of our favorite hotels on this list, it is tucked away from the hectic atmosphere of Fremont Street. It makes a great family-friendly place to stay near Fremont Street in downtown Las Vegas.
SAHARA Las Vegas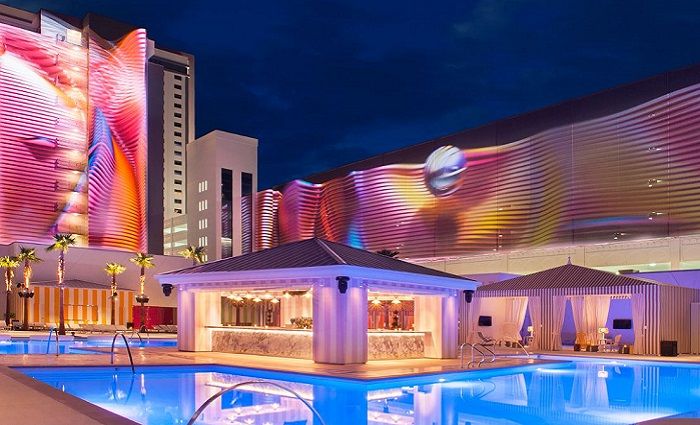 $$ | 4 Star | Affordable Luxury | Rooftop Pools | Halfway Point Between Fremont and the Strip
If you know Las Vegas, you're thinking, "Wait, but SAHARA isn't near Fremont Street!" It's not, but it's a short 10 minute drive to downtown Las Vegas from its location on the north end of the Strip. Therefore, the SAHARA is a fantastic hotel choice if you know you will be spending an equal amount of time on the Strip and on Fremont Street.
Besides, with its two iconic rooftop pools, how could we not include SAHARA on this list?! Speaking of the pools, you'll appreciate that one is adults-only, whereas the other is all ages. Rebuilt in 2014, the SAHARA has a few room choices. You can opt to stay in a room with one of three motifs: glamorous, trendy, or modern.
Guests love the friendly staff at SAHARA, and the great value of the rooms. You can stay in style, enjoy the rooftop pools, and still not break the bank. It may not be in downtown, but it's still our favorite hotel near Fremont Street.

Location, photos, and booking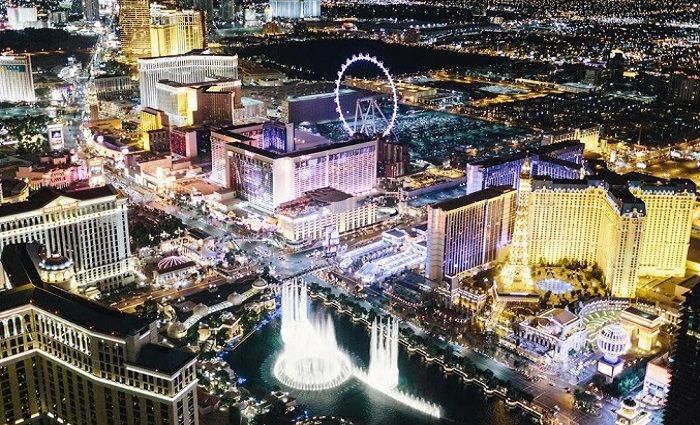 Find the best places to stay
Where to Stay in Las Vegas
Discover some of the most iconic and best places to stay in Las Vegas to make this trip the most memorable of all your trips to the Strip