So, you've planned a night of gambling and meandering in downtown Las Vegas, home of the famous Fremont Street. You know where you like to eat on the Strip, but downtown is a whole other ball game. Never fear! We know exactly where to find the best restaurants in downtown Las Vegas.
---
Pro tip: Bookmark this post in your browser before your next Vegas trip! You can also check out our Las Vegas guide for more information, discover the best tours in Vegas, or plan your favorite things to do in Vegas.
The Top 10 Places to Eat in Downtown Las Vegas
Before the iconic Las Vegas Strip became what it is today, downtown Las Vegas was the gambling center of the city. When Las Vegas officially became recognized as a city in the early 1900s, the first hotel popped up in downtown Las Vegas. (It's called the Golden Gate Hotel and Casino, and it's still open today!)
Now this area is a bustling hotspot of casinos, street performers, art, bars, and awesome restaurants. Whether you want vegan cuisine or a cheesy plate of nachos, you can find it downtown. Read on to find out our picks for the best restaurants in downtown Las Vegas that you should be hitting up on your trip!
Not ready to book a tour? Read more in our Las Vegas Guide.
Esther's Kitchen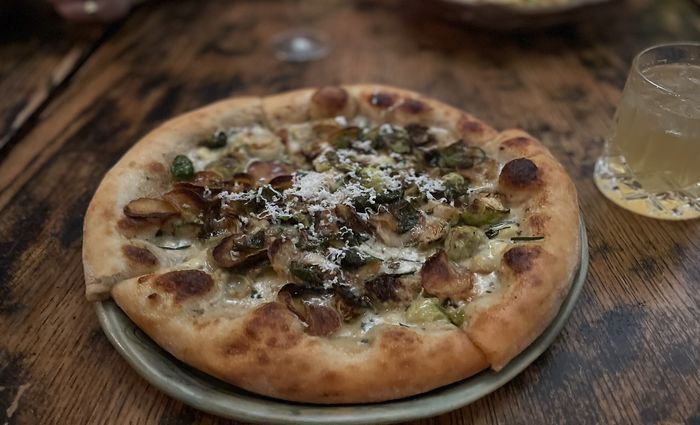 $$ | Italian With a Twist | Cozy Local Spot
Alright, alright. We know that Esther's is technically in the Arts District, but with food this good, we couldn't not include it. A mere five-minute drive away from downtown Las Vegas, Esther's provides a nice brunch or lunch in an environment with great service—without hurting your wallet.
We haven't had anything there we didn't absolutely love. All of their pastas, their house-made bread, and their Brussels sprouts pizza are worth that extra five-minute Lyft detour to stop at Esther's on your way to downtown.
Address: 1130 S Casino Center Blvd #110, Las Vegas
Tacotarian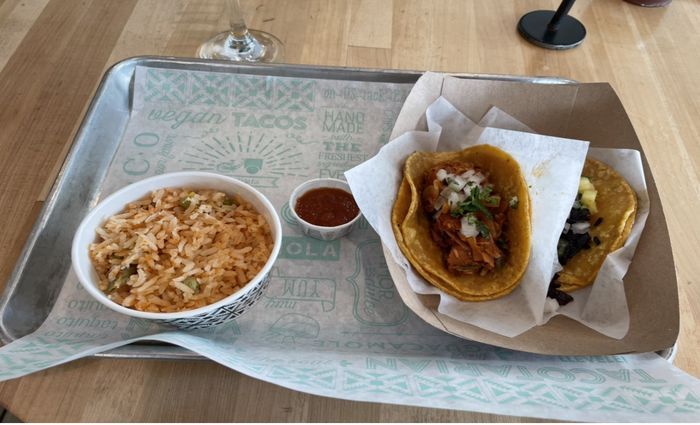 $ | Vegan Taco Spot | Instagram-Worthy Digs
While we're taking a momentary stop in the nearby Arts District, we would be remiss not to mention Tacotarian. It's a vegan Mexican restaurant, but that doesn't mean you can't take your meat-eating friends. Two of the most common occurrences in Tacotarian are patrons posing with the restaurant's many photo-worthy decorations, and delighted customers exclaiming, "Wait, this is vegan?!"
Tacotarian has many great taco options to choose from, but two of the most popular are the jackfruit "barbacoa" tacos and the Beyond Meat birria taco platter.
Address: 1130 S Casino Center Blvd #170, Las Vegas
Eureka! Discover American Craft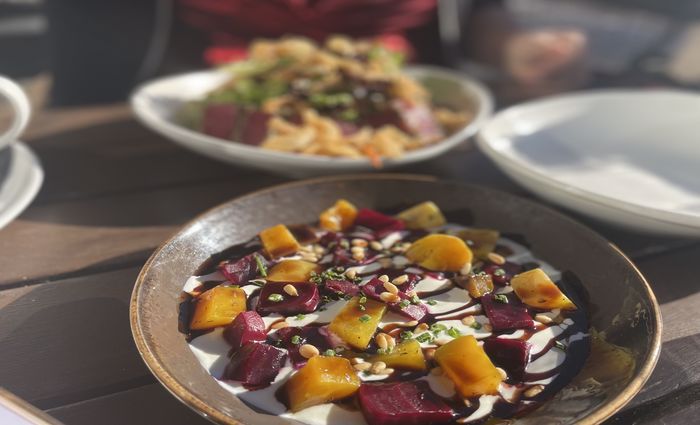 $$ | Burgers, Beers and Bites | Upbeat & Casual
Right in the heart of downtown Las Vegas you'll find Eureka! It's a small chain restaurant that can be found all over California and in a couple of other states, but this is the only one in Nevada. Eureka! is known for its burgers, but we think the true stars of the show are their vegetable sides.
Their crispy glazed Brussels sprouts, chargrilled cauliflower, and roasted beets and whipped feta (pictured) are worth a trip to Eureka! alone. They also have a decent happy hour, with bacon-topped Bloody Mary cocktails that only cost $6 on Saturdays and Sundays.
Address: 520 E Fremont St, Las Vegas
Not ready to book a tour? Read more in our Las Vegas Guide.
Evel Pie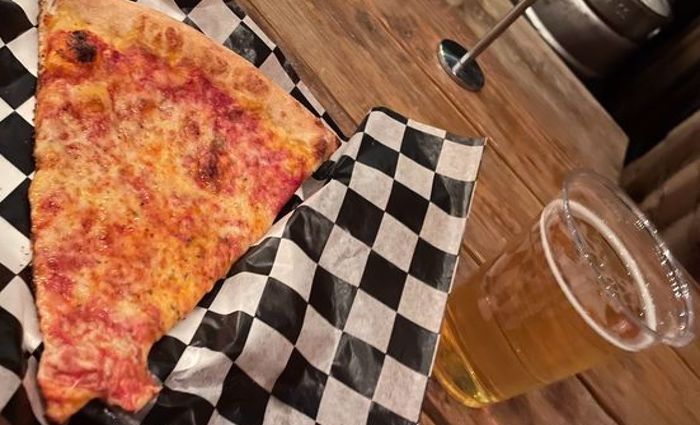 $ | Pizza | Punk Rock Atmosphere
This Evel Knievel-themed pizza place serves pizzas by the slice as well as the whole pie. They serve classic cheese, as well as speciality slices and pies, some of which are vegan or gluten-free. For cheese lovers, make sure to take advantage of their $7 beer and a slice deal. Whenever it's displayed on the sign out front, that's how you know the deal is happening!
During busy seasons, Evel Pie can get so crowded that the doorman will hand you a menu while you wait in line to speed the process along. Once you get your pizza, there are three seating areas to choose from: bar stools in front of the restaurant, their tables inside, or their enormous patio out back.
Address: 508 E Fremont St, Las Vegas
Nacho Daddy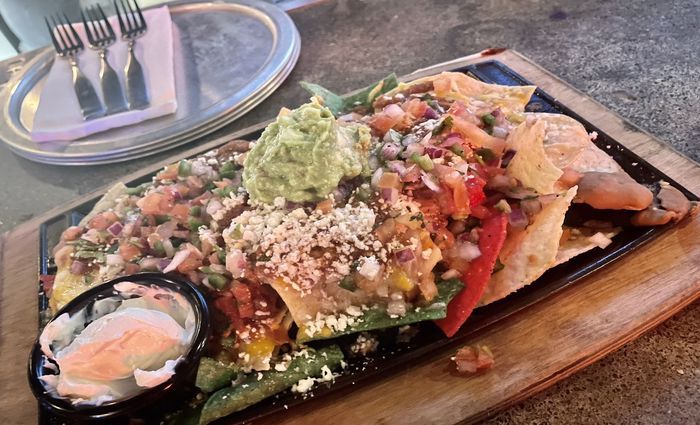 $$ | Mexican–American | Tacos & Tequila
Not only does Nacho Daddy have a hilarious name, but they also have a fun atmosphere and large portions, which makes it an easy choice for a best restaurant in downtown Las Vegas. Between their somewhat extensive vegan menu and their creative nacho plates (popcorn chicken nachos, anyone?), Nacho Daddy has something for everyone.
They also serve other Mexican entrees, such as tacos, if nachos are nacho thing (see what we did there?). You'll also find plenty of sports to watch on the TVs here if you want to keep tabs on your team while you indulge in guac and queso.
Address: 113 N 4th St, Las Vegas
Peyote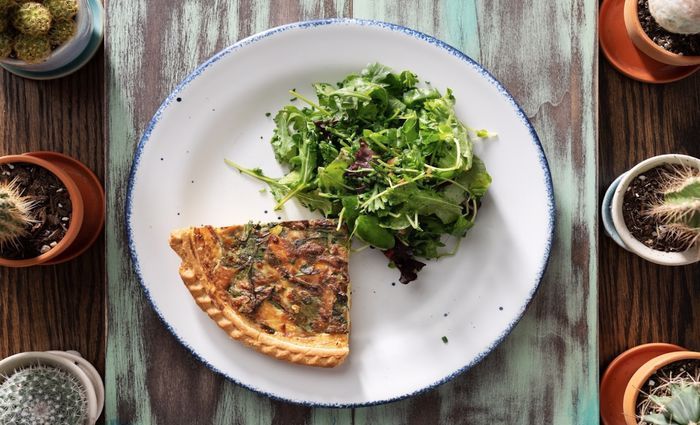 $$ | American | Cute & Trendy
Peyote's cute outdoor decor makes this an excellent brunch spot on a sunny day—of which there are many in this desert city. Expect friendly staff and good vibes here. The grill offers cook-to-order food, and you'll enjoy anything from the eggs Benedict to the chicken sandwich.
Peyote is a favorite for dinner as well, serving everything from wood fired steak to vegetable tempura. As a bonus, they also offer fun extras like psychic readings occasionally and a live DJ throughout the week.
Address: 1028 E Fremont St, Las Vegas
Not ready to book a tour? Read more in our Las Vegas Guide.
Le Thai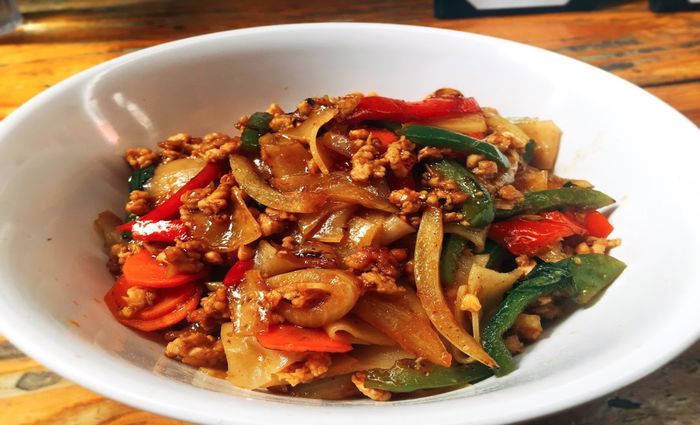 $$ | Thai | Cute Decor and Good Service
This fresh Thai restaurant is known for its friendly employees and great location. Le Thai is a hit among Fremont Street goers who want a break from the Fremont hubbub to enjoy a calmer meal nearby.
Among Le Thai's post popular dishes are their short rib fried rice and delicious three-color curry. We also think their Thai Iced Tea is absolutely delicious!
Address: 523 E Fremont St, Las Vegas
Pizza Rock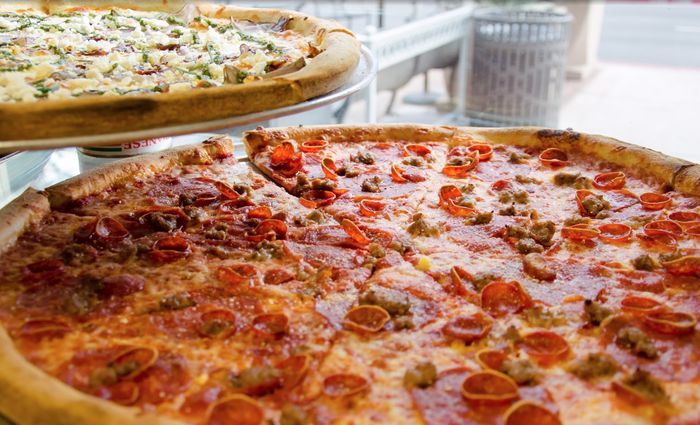 $$ | Gourmet Pizza | Fun Atmosphere
Owned by renowned chef Tony Gemignani, Pizza Rock serves several different types of pizzas. Whether you opt for Detroit style, Sicilian style, or any of the other many types they serve, we promise you won't be disappointed.

What's more, Pizza Rock boasts several vegan as well as gluten-free options for those with dietary restrictions. In addition, they serve salads and other Italian appetizers, so there is sure to be something for everyone! The often-busy Pizza Rock has beer as well, and is a fun place to go to catch up with friends.
Address: 201 N 3rd St, Las Vegas, NV 89101
Smashed Pig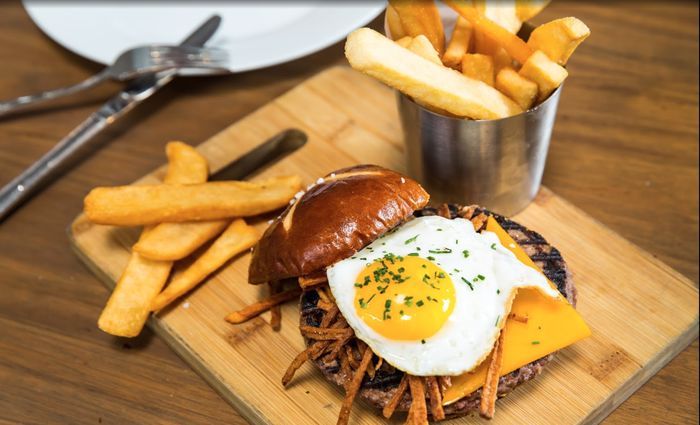 $$ | American | Popular Brunch Spot
If you want a downtown brunch spot with a fun atmosphere, The Smashed Pig is where it's at. Upbeat music, bottomless mimosas, and their famous Hangover Egg Sandwich make this the perfect weekend brunch destination, but The Smashed Pig has excellent lunch and dinner options too.
If you're in the mood for something sweet, don't miss their cinnamon-glazed monkey bread! This place has definitely earned a spot on our best restaurants in downtown Las Vegas list.
Address: 509 E Fremont St, Las Vegas
Park on Fremont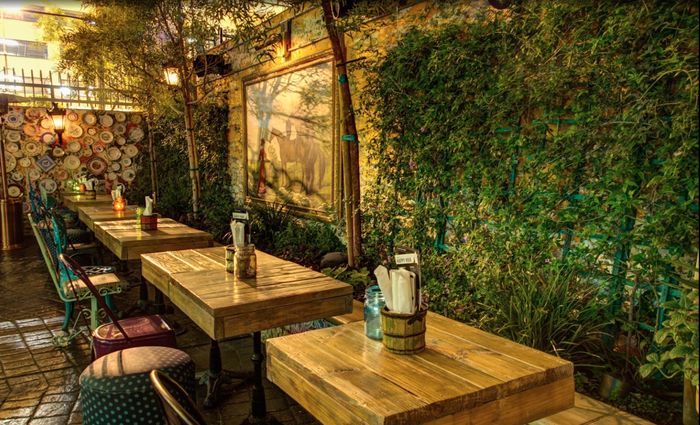 $$ | Breakfast & Brunch | Eye-Catching Decor
A hit among both the brunch and dinner crowd, Park on Fremont is known for its unusual, fun decor. Legend tells of a secret see-saw that only sleuthing patrons have been able to find! With both indoor and outdoor seating, Park on Fremont is a great destination for a meal any time of day.
Make sure to try their "garbage fries"! It's the perfect location to round out our list of best restaurants in downtown Las Vegas.
Address: 506 E Fremont St, Las Vegas
Not ready to book a tour? Read more in our Las Vegas Guide.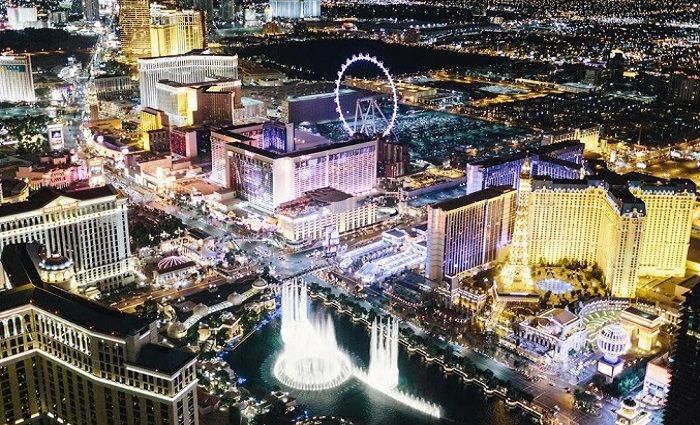 Find the best places to stay
Where To Stay in Las Vegas
Discover some of the most iconic and best places to stay in Las Vegas to make this trip the most memorable of all your trips to the Strip