Tourists have a range of interests and adventure levels. Some travelers would prefer to chill by the pool, while other adventurers want to get their adrenaline going. This guide is specifically for thrill-seeking travelers who want a bit of an adventure when they come to Sin City. Read on to plan the most memorable adventure activities in Las Vegas.
---
The Best Adventure Activities in and around Las Vegas
There are so many heart-pumping adventures to be had in Las Vegas and its surrounding areas. Vegas is close to many lakes and (obviously) deserts, creating lots of opportunities for water sports and off-roading adventures. Not only that, but there are actually lots of thrill-inducing activities you can do right here on the famous Vegas Strip or on Fremont Street!
Whether you'd rather rent a jet ski or bungee jump off of an iconic hotel, if you are seeking some adventure on your trip to Vegas, this list is for you. Keep reading to get inspiration for the top adventure activities in and around Las Vegas.
15. Hike Through the Valley of Fire
One of our favorite activities to do near Vegas is hiking through the Valley of Fire, which is located just 45 minutes out of the city. See ancient petroglyphs high up on the rocks, take epic photos of BeeHives rock formation, and admire the jaw-dropping views at Rainbow Vista. We also confidently bet that you have never seen anything like the contrasting colors at the White Domes.
It's not called the "Valley of Fire" for nothing. While many assume the desert is a boring place with nothing to see, the Valley of Fire will prove them wrong. Find out why by heading here for the day or evening, whether on your own or with a tour. If you schedule a tour around sunset, you will see why this epic location gets its name. Don't forget your hiking boots and water!
14. See Vegas from a Different Perspective on the High Roller Ferris Wheel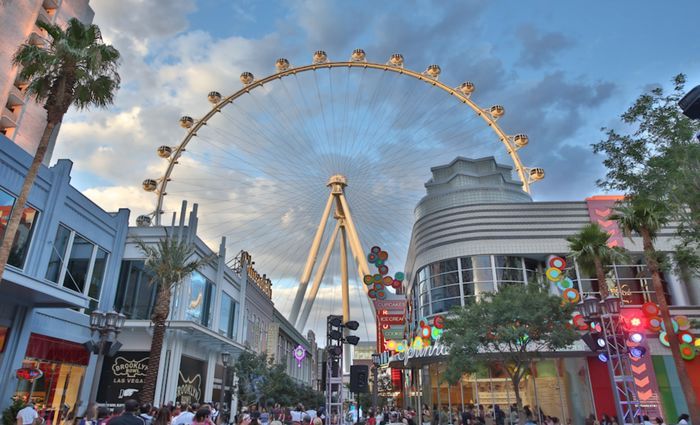 Located at the LINQ Hotel, the High Roller Ferris Wheel is for thrill-seekers who prefer their adventures on the slightly tamer side. There's no shame in that! The awesome Ferris wheel is called the High Roller, and it takes riders 550 feet into the air where they gaze down at the city lights below. This 28-cabin ride goes fairly slowly, so you'll be able to grab pics for the 'Gram. The High Roller is a fun activity any time of day, but it's especially impressive at sunset!
If you have young adventurers with you, they can join you for this ride as it is considered all ages. However, adults do have the option of purchasing a package that includes an open bar, so you can toast your friends to the Vegas views below you!

Address: 3535 S Las Vegas Blvd, Las Vegas
Cost: $23.50 – $34.75 for adults; $8.50 – $17.50 for kids; $60.00 for open bar
13. Get Upside Down on a NYC-Themed Roller Coaster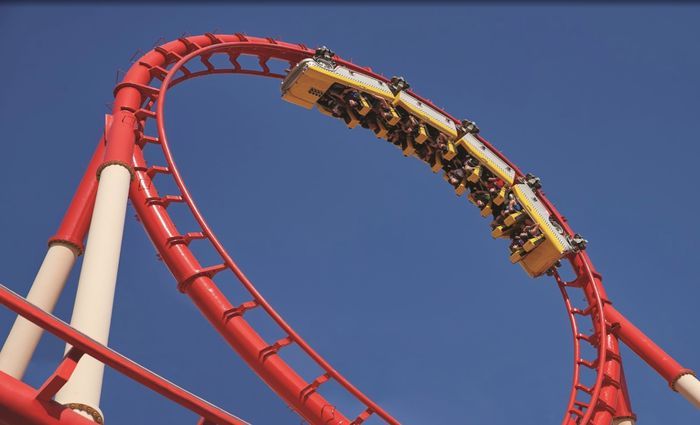 Attached to the New York New York Hotel & Casino, the Big Apple Coaster goes 64 miles per hour and features twists, turns, and a 203-foot drop! This iconic roller-coaster also treats its riders to a brief moment of dangling upside-down over the Las Vegas Strip!

Children are welcome to ride Big Apple Coaster as long as they are at least 54 inches tall (4-and-a-half feet). Every year, 1.4 million riders dare to try this coaster, making it a thrill-seeking favorite. Just don't eat a big meal right before riding!
The Big Apple Coaster is open Monday – Thursday from 1 p.m. until 9 p.m. and Friday – Sunday from 11 a.m. until midnight.
Address: 3790 Las Vegas Blvd S, Las Vegas
Cost: $19 – $23
12. Fly High Through Fremont Street on the Slotzilla Zipline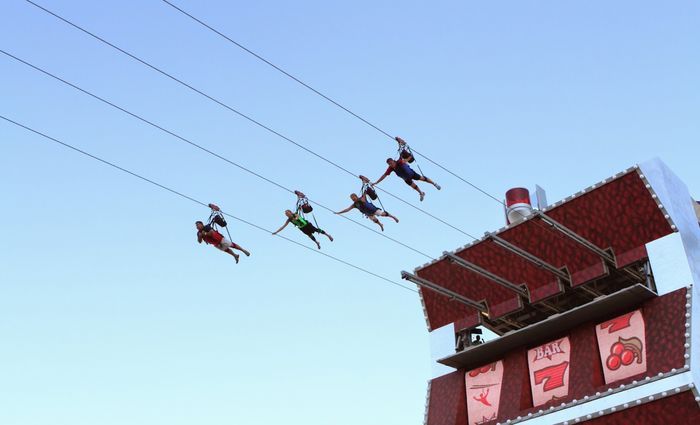 Downtown Las Vegas is home to the Fremont Street Experience, a mecca of fun activities where visitors explore downtown Vegas in unique ways. One of our favorite adventure activities here is the Slotzilla Zipline. Standing 77 feet above Fremont Street, the ride begins outside of the Fremont Street Experience before sliding under the largest video screen in the world.
You can glide Superman-style at 11 stories above the street for 5 blocks, which is the classic way to ride this zipline. Some thrill-seekers opt instead for the Zip-Zilla experience in which riders zipline for just 2 blocks and only 7 stories above the street instead. No matter which height you choose, Slotzilla is an epic way to see Fremont Street, which is why it's a must-do adventure activity in Las Vegas.

Address: 425 E Fremont St #160, Las Vegas, NV
Cost: $39-$59
11. Race Your Friends In Supercars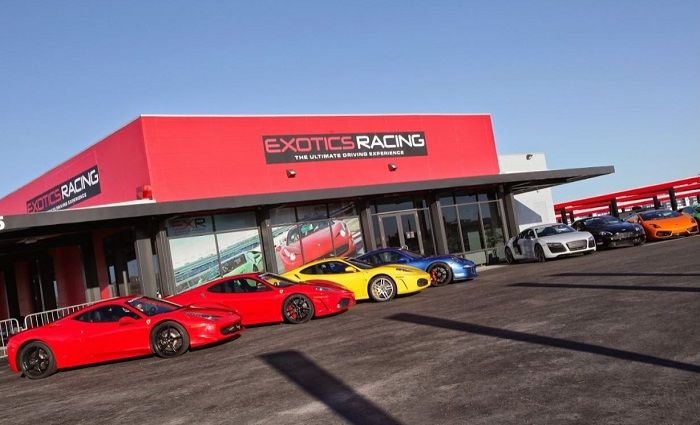 If you've ever wondered what it's like to race in a supercar, now's your chance! Get behind the wheel of a Lamborghini, Porsche, Ferrari, Mustang, or the supercar of your dreams with Exotics Racing. They have the largest collection of supercars in the world, so it's a safe bet you can drive that dream car!
If you want to experience the thrill of speeding in a supercar without having to get behind the wheel yourself, you can also book a seat as a passenger with a professional doing all the driving. If you have kids with you, they can explore the go-kart track while you take a spin in a Lambo. This heart-pumping activity is pretty popular in Vegas, so this would be a good one to plan ahead of time!
Address: 7065 Speedway Blvd, Las Vegas, NV
Cost: $299 for 5 laps
10. Ride Through the Desert on Horseback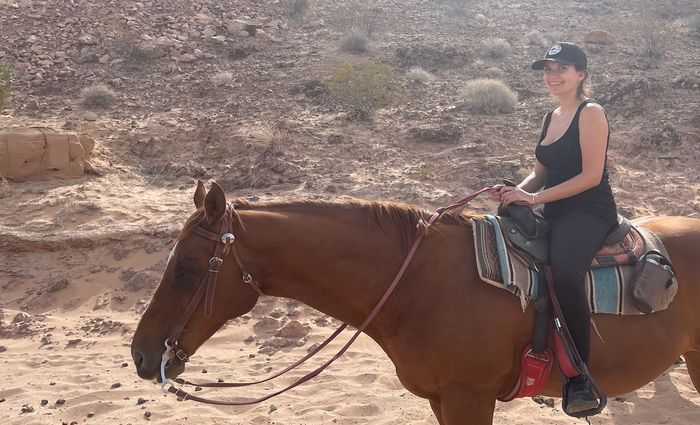 Live out your wild west fantasies by booking a horseback tour adventure through the desert! Start your day right by trotting through the peaceful desert with spectacular views of sunrise or sunset over the mountains! Never ridden horseback before? No worries! This tour is led by guides who are there to help you navigate even the more rugged terrain with a gentle horse who knows the way.

Since riding in the desert can get hot pretty quickly in the summer months, the best way to try this Vegas adventure activity is to book a sunrise or sunset tour. In both cases, that essential meal of the day is included, which makes the adventure even more memorable. When you're visiting this dusty western region, riding horseback is almost a rite of passage, so don't skip this fun activity!

Not ready to book a tour? Find out if a horseback riding tour in Vegas is worth it.
9. Snorkel With Stingrays
This activity is fun for kids and adults who are fascinated by the creatures of the ocean — even though you're in the desert. You can snorkel with stingrays at SeaQuest, and if you're lucky, you might even get a few stingray kisses! Also in the tank with you will be some other fish and sea creatures. SeaQuest will provide you with a wetsuit, but make sure you bring a swimsuit and towel!

This excursion is family-friendly, and there is no age requirement. However, please note that every adventurous snorkeler must be able to swim 100 feet. Younger adventurers who cannot swim can still snorkel with the rays, but they must stay with a supervising adult and wear a life jacket. Other fun activities include feeding animals and marine life here.

Address: 3528 S Maryland Pkwy, Las Vegas, NV
Cost: $49.99/person for a shared encounter; $249.95/group for a private excursion (up to 6 participants)
8. Jump or Dangle Off of the STRAT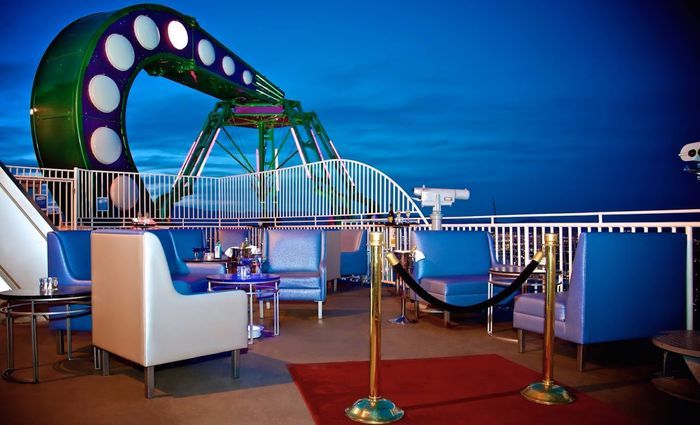 Sure, everyone who comes to Vegas has seen the iconic STRAT hotel. But have they ever jumped off it? Be the first of your friends to try this adventure activity in Las Vegas. Leap off the 829-tall building at SkyJump!
And if bungee jumping is not your thing, but you still want to experience the famous thrill rides? Strap yourself into the Big Shot and catapult yourself off the side of the STRAT, or opt for the Insanity ride and dangle off the side of the building.
Alternatively, you can propel yourself 27 feet over the edge with the X-Scream coaster that lurches to a stop in mid-air. Yikes! No matter which thrill you choose, the STRAT has rides that are sure to get your heart pumping.
All four thrill rides are open from 2 p.m. until 10 p.m. from Monday – Thursday, and noon to midnight Friday – Sunday.
Address: 2000 Las Vegas Blvd S, Las Vegas
Cost: $139 for SkyJump; $39 for each of the other thrill rides
7. Do Some Skydiving — But Indoors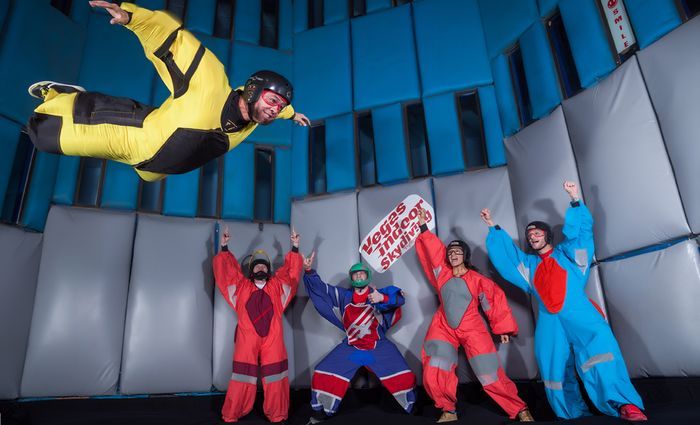 Are you into boosting your adrenaline but not super into jumping off of buildings or out of airplanes? This activity is for you! Vegas Indoor Skydiving allows you to experience the thrill of skydiving without involving any actual planes or serious heights. If you're curious about skydiving but not 100% sure about it, this is a great first step! Plus, it's super fun!

First-time flyers can pick the Learn to Fly package, which gives you an hour to learn indoor skydiving basics. More advanced or intrepid flyers can go with the Indoor Skydiving Experience package for a longer flight time at a higher price. This is another one where your young thrill-seekers can come along too!

Address: 200 Convention Center Dr, Las Vegas, NV
Cost: $85 for Learn to Fly, $149 for Indoor Skydiving Experience
6. Jet Ski Around Lake Mead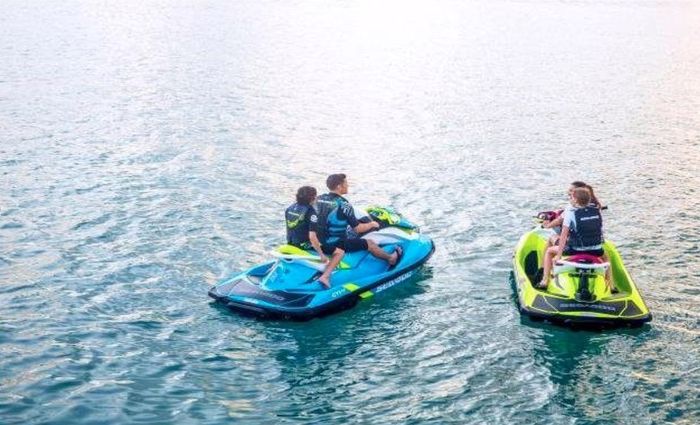 Formed by the Hoover Dam, Lake Mead is a reservoir about 24 miles from the famous Vegas Strip. It's one of our top picks for adventure activities away from the Strip craziness! Experience Lake Mead by renting jet skis to race your friends. You can spend the whole day here as you zip through the lake creating waves.

If another water craft is more your speed, Las Vegas Boat And Jet Ski Rentals also has power boats, wakeboard boats, and pontoon boats you can rent all day long in order to explore the lake. Whether you're a more cautious adventurer or prefer your jaunts to be full speed ahead, renting boats on Lake Mead is sure to be a good time for you and your group!

Address: 4375 S Valley View Blvd #G, Las Vegas, NV
Cost: $300 USD for a full day rental
5. Explore the Nellis Sand Dunes in a Dune Buggy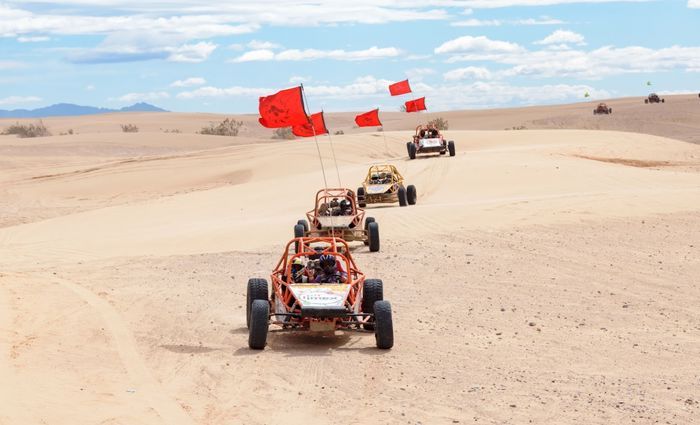 The Nellis Dunes Off-Highway Vehicle area is more than 10,000 acres of dusty terrain that you can explore by off-roading in a truck, ATV, or dune buggy! SunBuggy Fun Rentals lets you explore the Nevada desert in the best way using any of their off-roading vehicles.

If you have a need for speed, their website mentions that they offer "chase experiences," in which they encourage adventurers to "drive like you're trying to get away with something." You can select the Vegas Mini Baja Chase, which includes a Strip view from the top of the dunes, or dare to try their night chase. It's a nighttime race through the desert which is an adrenaline-pumping way to start the rest of your night in Vegas. There's a large variety of heart-pumping ATV and dune buggy tours offered, so pick your favorite and hold on!
Address: 6925 Speedway Blvd c106, Las Vegas, NV
Cost: prices vary — ATV tours start at $129
4. Explore a Cave in a Glass-Bottomed Kayak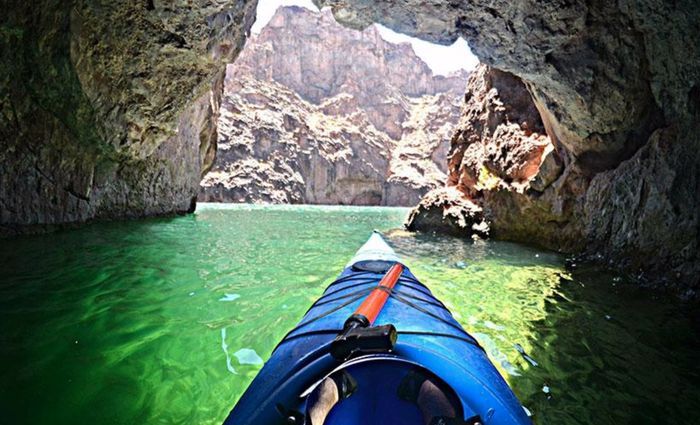 The beautiful Colorado River is fun to explore by kayak, but did you know it also contains a green cove that is only accessible by boat? Emerald Cove, located along Black Canyon, is situated right where the Colorado River runs along the Arizona and Nevada border.
There are steep canyon walls on both sides, making it hard to access. Because of the way the sunlight hits the algae in Emerald Cove, this magnificent natural phenomenon turns the water a vibrant emerald green, which we can only assume is how they picked the name, of course. We recommend a kayaking tour with a clear-bottomed kayak to see the water beneath you!

Address: Willow Beach, AZ
3. Shoot Guns and Ride Monster Trucks on Adrenaline Mountain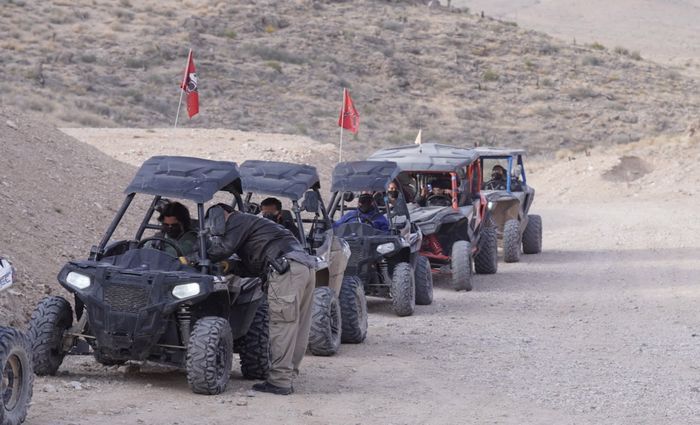 True to the name, Adrenaline Mountain is basically an adrenaline junkie's haven. Here you can shoot machine guns, go off-roading, get behind the wheel of a monster truck, throw axes, crush rocks, plus other fun adventure activities near Vegas. Adrenaline Mountain also gives you an opportunity to zoom past 100-year old mines and grab epic pictures to remember your awesome day.
Whether you'd rather be off-roading or shooting a target, there is something for every thrill-seeker at this unique destination. It's also a great spot for birthdays and other celebrations with a group — even weddings if that's your jam.
Address:15357 Kingston Rd, Sloan, NV
Cost: $145 for shooting, $225 for off-roading
2. Go ATV Off-Roading in Eldorado Canyon
This is easily one of the most epic guided adventures on this list. For starters, you get to take an off-road ATV tour around Eldorado Canyon. As if that wasn't cool enough, you also get to drive through cool cactus gardens and transport yourself to the 1800s as you explore the Techatticup Gold Mine. Your guide will share stories about what the miners went through and see the antique tools they used.

Throughout your off-roading adventure, you might even be able to spot some wild animals! After a full day of off-roading and exploring an old mine, fill up on lunch before heading back to the city. Please note that ATV drivers must be at least 16 years old, and those under 18 years of age must be accompanied by a parent or guardian.
1. See the Grand Canyon from a Helicopter's View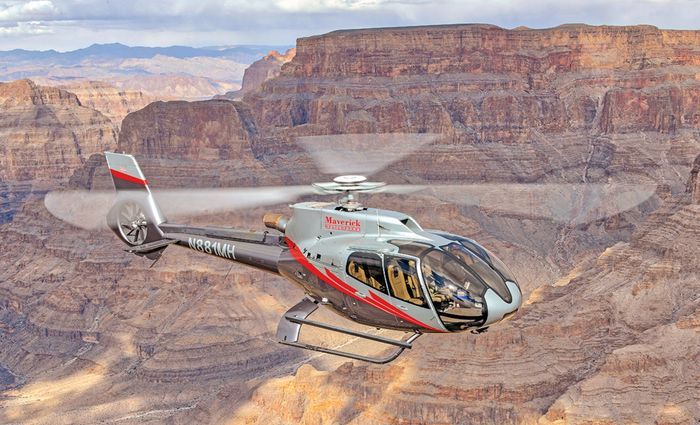 Everyone knows that taking a tour of the Grand Canyon is one of best things to do while visiting Vegas. After all, it's one of the seven natural wonders of the world and truly is breathtaking to see. But have you considered seeing it by helicopter? It's the fastest way to see the Grand Canyon from Las Vegas, and it's certainly the most epic.
You can take a helicopter tour of either the West Rim or the South Rim. No matter which one you choose, there is nothing like being 3,500 feet high up in the air witnessing one of the world's greatest natural wonders below you. Enjoy the breath-taking views as you soar above the canyon and stop for pictures along the canyon's edge. Those memories will last a lifetime!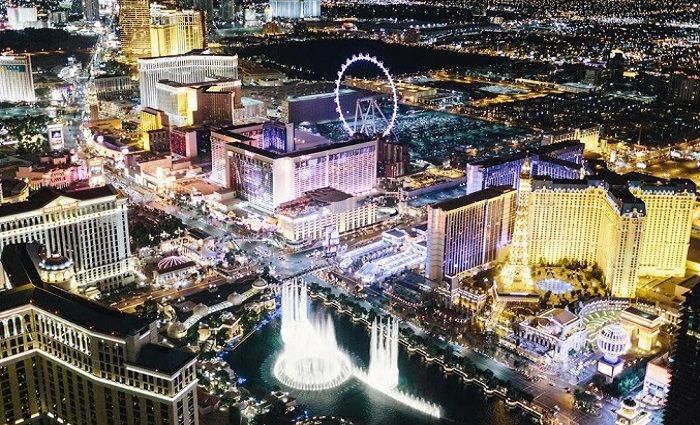 Find the best places to stay
Where to Stay in Las Vegas
Discover some of the most iconic and best places to stay in Las Vegas to make this trip the most memorable of all your trips to the Strip.