Alcoholic drinks and decadence are two things Vegas is well known for. Therefore, it makes sense that Vegas is full of decadent alcoholic drinks! From creative cocktails to brain-boggling beverages, this list is sure to have something to quench your thirst.
---
Pro Tip: It's easier to organize your trip when you have all your resources in one place. Create a browser folder and bookmark this post along with our Las Vegas Guide for more planning resources, our top Las Vegas tours for a memorable trip, and the best rooftop bars in Vegas.
11 Adult Beverages You Can't Miss in Vegas
Everyone knows that Las Vegas is one of the best food cities in the US. In addition, it's no secret that Vegas is full of unique bars and places to let loose. Many of these famed Vegas bars also feature unusual cocktails to top off your night in Sin City.
We rounded all of these different libations up into one easy-to-read list. Whether you prefer a mimosa or a martini (both with a twist), you are sure to find your perfect alcoholic beverage on this list. Friendly reminder to please drink responsibly, pace yourself and drink lots of water! If you're looking to have some fun in Vegas, definitely check out our cool Las Vegas tours.
Not ready to book a tour? Read more in our Las Vegas Guide.
11. A Cocktail in an Ice Cube Glass at minus5 ICEBAR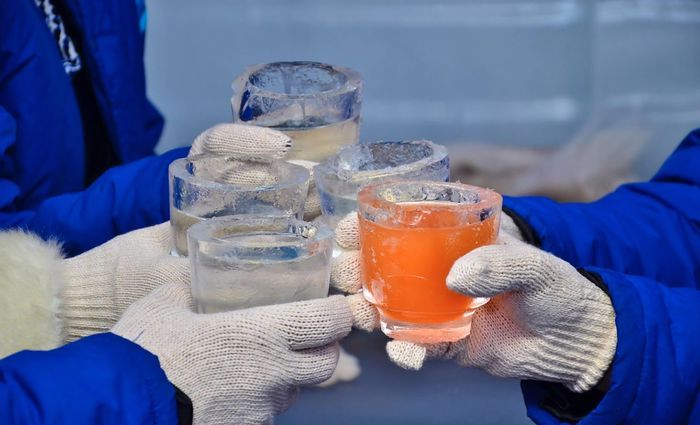 Although minus5 ICEBAR is a chain, we thought it was way too "cool" not to appear on this list! Everything in this chilly cocktail bar is made of ice—even the glasses! Each of the drinks here are served in an ice cube-shaped glass made of ice.
It's hard to narrow down a suggestion from their many tasty cocktails to enjoy in your ice cube glass, as they are all delicious. But maybe start with their rum-based "Ice in Da Coconut" drink. OK, you got us—part of the reason we like this cocktail is for the fun name!

Please note that minus5 ICEBAR is kept at -5 degrees Fahrenheit, so plan accordingly! They provide you with gloves and a parka to make your experience a little warmer, which is so ironic in this desert city. In addition, there are different package to choose from when you book your ticket and some include a fur coat. Regardless, we suggest you dress warmly to enjoy your ice cube cocktail!
Where to get it: minus5 ICEBAR (inside of Mandalay Bay)
10. Kuuipo at The Golden Tiki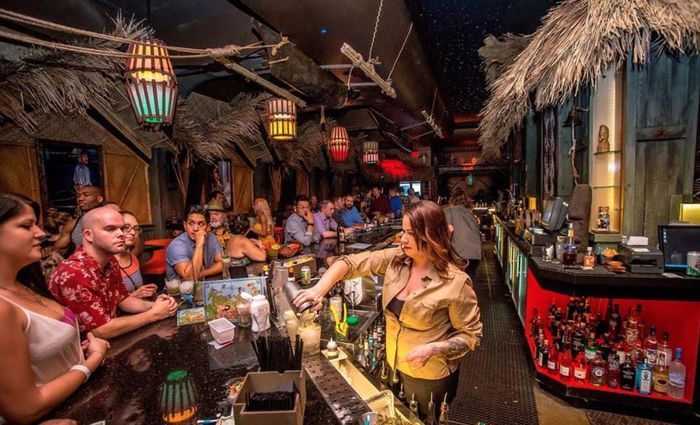 Otherwise known as "a tiki cocktail in a pineapple," a kuuipo is a Golden Tiki specialty. Popular with locals, this off-Strip tiki bar features a number of tiki cocktails, such as the Piranha Punch or the Painkiller (made with pineapple Dole whip). What's more, the interior of the bar is amazing.
With a realistic twinkling night sky ceiling above you, you'll feel like you're literally sipping cocktails on an island! In addition, the cocktails at this bar are reasonably priced. However, if you do elect the Kuuipo option, it comes to $38. But you can drink it out of a pineapple. Really. We think that's worth it.

Where to get it: The Golden Tiki
9. Nut Job at Vanderpump Cocktail Garden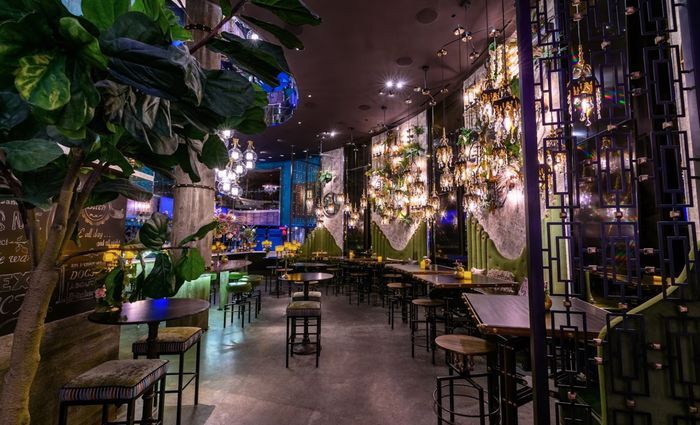 Located inside of Caesar's Palace, the elegant Vanderpump Cocktail Garden is home to many beautiful cocktails. In addition to being Instagrammable, they are also delicious. Our favorite is easily the Nut Job. This coconut mojito comes decked out with flaked coconut on the rim. Make sure to stop taking pictures of it long enough to drink one (or two)!

This place is well known for its photo-worthy, tasty beverages. Being owned by television personality Lisa Vanderpump helps with its popularity as well. That means there may be a line when you come. Please note that they don't offer reservations, but their beautiful coconut cocktails are worth a bit of a wait.
Where to get it: Vanderpump Cocktail Garden (inside of Caesar's Palace)
8. Super Mimosa at Mimosas Gourmet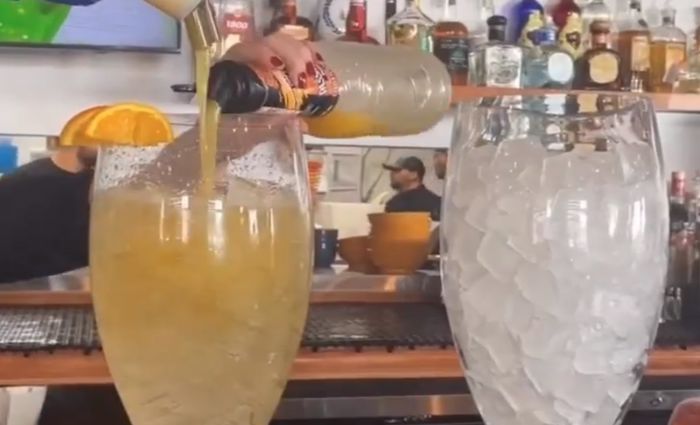 Why have a mimosa when you could have a super mimosa?! The aptly-named Mimosas Gourmet serves enormous mimosa goblets! Containing a full bottle of champagne, these "super mimosas" are great for sharing with friends for a celebration. What's more, they're available in the classic orange flavor as well as guava, pomegranate, lychee, and other fun varieties.

Even if you opt for a smaller size of mimosa, all of them come with sliced fresh fruit. The smaller ones are just as tasty as the huge ones but are for one person rather than to share. In addition, the atmosphere at Mimosas Gourmet is fun and boisterous and makes for a lively brunch.
Please note that this fun restaurant is located around a 15-minute drive west of the Strip, which is perfect if you've spent the day at Red Rocks.
Where to get it: MIMOSAS GOURMET VEGAS DURANGO
7. A Martini at Skyfall Lounge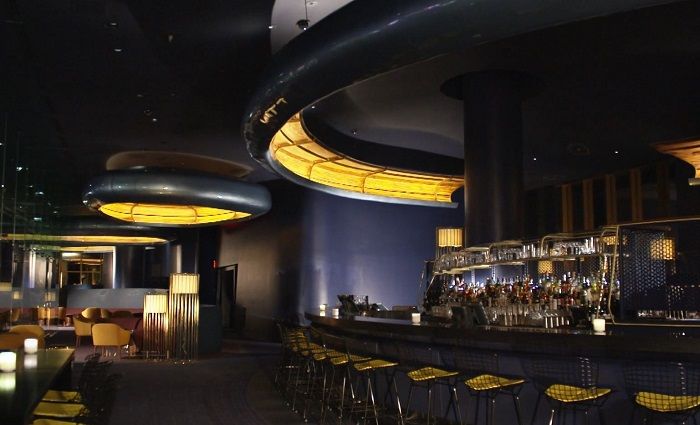 Want to enjoy a martini inside a James Bond-inspired lounge in Las Vegas? Of course you do—who wouldn't! Located inside the Delano Las Vegas, this sleek lounge will make you feel like you're in, well, the movie Skyfall. Head to the 64th-floor of the Delano and take a seat inside the lounge.
Or you can opt to sit on the open-air patio that overlooks the entire South Strip. Whilst you are gazing at the twinkling city lights down below, we recommend you toast to the view with a classic drink as sleek as the atmosphere: a martini! Shaken—not stirred!

Where to get it: Skyfall Lounge (Delano Las Vegas)
6. The Strip Cocktail at Skybar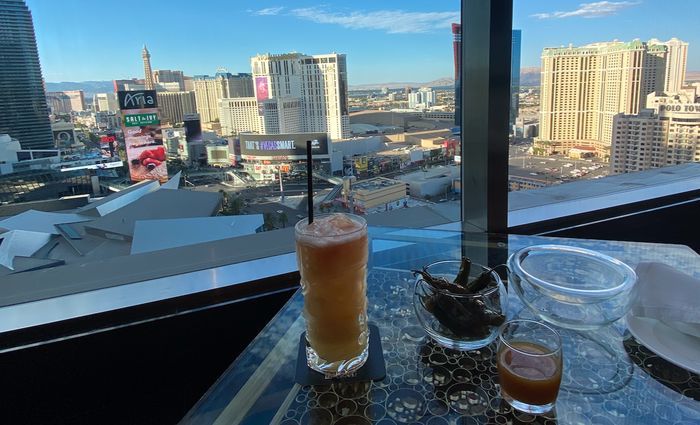 Not to be confused with Skyfall, Skybar is a lounge located on the 23rd floor of the luxurious Waldorf Astoria hotel. Skybar boasts one of the best views of the Strip, as well as having tasty cocktails. What's more, many of their cocktails are named after the history of Las Vegas and its surroundings!
We're partial to the one called The Strip, made with dry gin and house-made lemongrass syrup. After trying this drink, you can say you drank a Strip on the Strip overlooking the Strip! We dare you to say that five times fast!

Where to get it: Skybar (inside of the Waldorf Astoria)
5. Seasonal Color Cocktail at the Velveteen Rabbit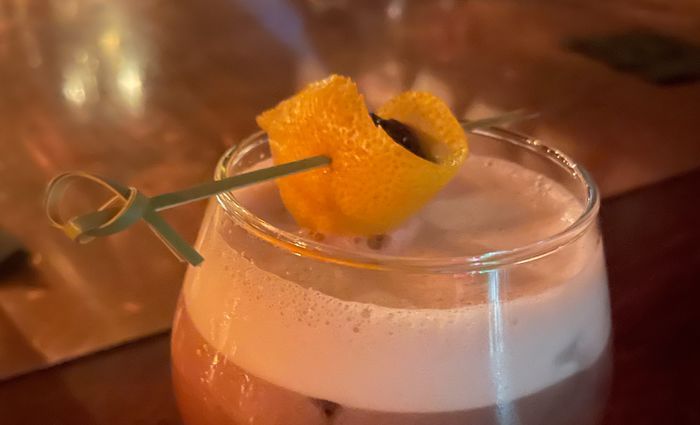 At this trendy Arts District lounge, patrons order a cocktail by its color instead of its flavor! The mixologists who work at Velveteen Rabbit create unique concoctions that you can't get anywhere else. Their cocktails have been known to involve unexpected ingredients such as black sesame, chili pepper, or whipped egg.
However, if you come here years or even months apart, you won't have the same cocktail twice. Velveteen Rabbit has a seasonal cocktail menu, so their offerings change every season!

If you're a true fan of the art of cocktails, you'll have to check out the Velveteen Rabbit. While you're at it, grab a nearby bite to eat at one of the best restaurants in downtown Las Vegas!
Where to get it: Velveteen Rabbit
4. Bathtub Fizz at The Underground at The Mob Museum
We love the Mob Museum in downtown Las Vegas. Did you know they are also home to a speakeasy called The Underground? This speakeasy features many great cocktails, but our favorite is the Bathtub Fizz: a gin-based cocktail served in a small bathtub-shaped container.
As the menu explains, during the Prohibition era, bootleg alcohol creators leased out stills to people so they could make liquor. The illegal liquor created from this process earned the nickname "bathtub gin." This is because the gin was typically mixed with water from peoples' bathtub faucets.
This Prohibition-era bar took it one step further by serving it in actual (unused!) bathtubs. A lot of the drinks on this list are IG-worthy, and this one is no exception! Make sure to take photos!
Where to get it: The Underground Speakeasy and Distillery
3. Giant Candy Martini at I Love Sugar
Yes, we know this is another chain. However, we think the giant candy martinis deserve a spot on this list anyway! These enormous martinis cost patrons $42. With crazy flavors ranging from gummy bear to cotton candy, these drinks are sure to satisfy your sweet tooth. They are also, of course, completely photo-worthy! How often can you enjoy a huge candy martini?

The candy martinis are found above the candy store I Love Sugar, inside the LINQ Hotel & Experience. We know $42 sounds like a lot for a drink, but trust us when we say they are huge!
Where to get it: I Love Sugar (Las Vegas)
2. Verbena at The Chandelier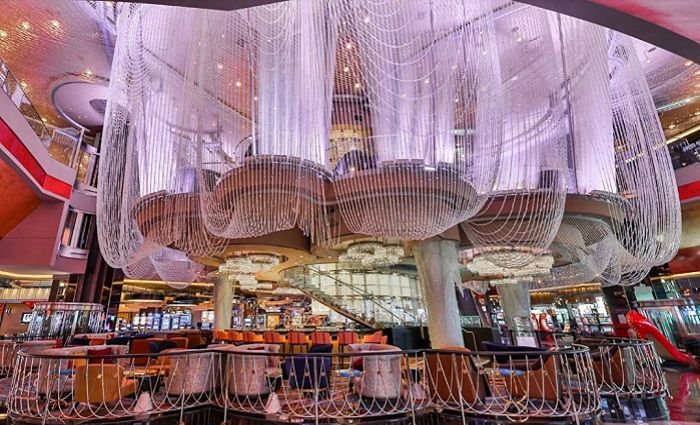 Did you know that the shimmering purple chandelier inside the Cosmopolitan Hotel is actually an upscale cocktail lounge? Simply called The Chandelier, this three-story lounge offers a different experience for its patrons on each of the three levels. However, the Chandelier is most famous for its creative cocktails inspired by Alice in Wonderland.
In addition, perhaps the most well-known drink is not even on the menu. The festive yellow Verbena is a tequila-based cocktail that features a "buzz button,." It's a plant known for numbing your mouth if you eat it. Try this crazy cocktail at your own risk!
Where to get it: The Chandelier (inside the Cosmopolitan Las Vegas)
1. Fat Tuesday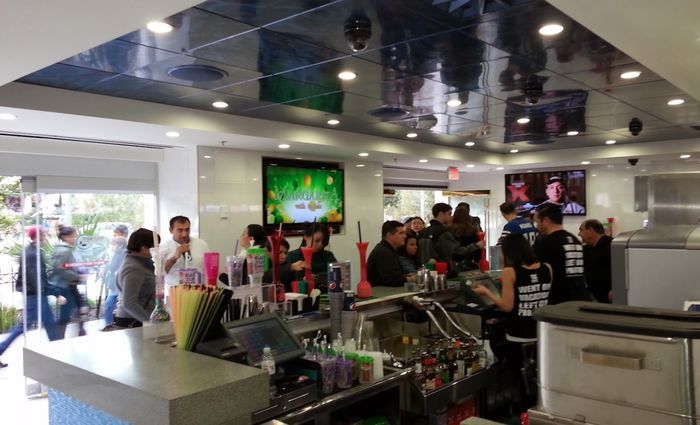 If you've been on the Las Vegas Strip for even a few minutes, you've noticed these tall frozen drinks! People love to walk up and down the Strip with these drinks in hand. Modeled after the New Orleans beverage of the same name, these beverages are now a classic Vegas cocktail.
They come in a range of prices and sizes. Some of them are even the size of a yard (36 inches long)! Of course there are smaller sizes, so there's no need to get one that large if you don't want to. Regardless of the size of the drink, this drink is very sweet. However, don't be fooled; the alcohol content is pretty high! Proceed with caution!

Pro Tip: This Fat Tuesday bar is attached to the Casino Royale Best Western Plus. This hotel is the only hotel on the Strip without resort fees! Check out the other ones in our blog post about hotels in Vegas without resort fees!

Where to get it: Fat Tuesday Daiquiri Bar, Casino Royale (and other Fat Tuesday stands all over the strip)
Not ready to book a tour? Read more in our Las Vegas Guide.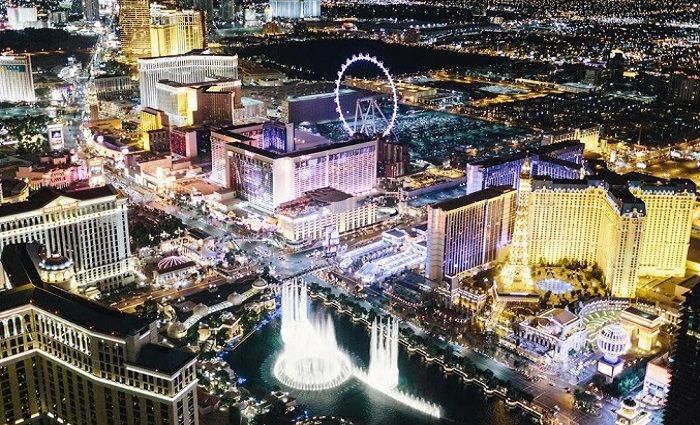 Find the best places to stay
Where to Stay in Las Vegas
Discover some of the most iconic and best places to stay in Las Vegas to make this trip the most memorable of all your trips to the Strip