Are you Edinburgh and want to taste the delights of Scottish cuisine? Then you've found the right article, because your local foodie has prepared the perfect list of the top fish and seafood to try in Edinburgh. From appetising fishes to delicious seafood selections, this list covers it all.
---
Pro Tip: Bookmark this article if you're hungry for a tasty food experience from Scotland's sea. Also, make sure to check out our article on the top foods to try in Edinburgh.
The Top 8 Fish And Seafood To Eat In Edinburgh
Scotland is home to some of the best foods from the ocean that are also world renowned. As a result, Edinburgh accommodates these delicious options by incorporating them into memorable entrees for both locals and tourists. You'll find plenty of great places to try these tasty seafood dishes.
This list will cover the must-have and best kinds of fish and seafood in Edinburgh. From oysters to smoked salmon to haddock, your palate will remember this trip to Edinburgh.
8. Sea Bass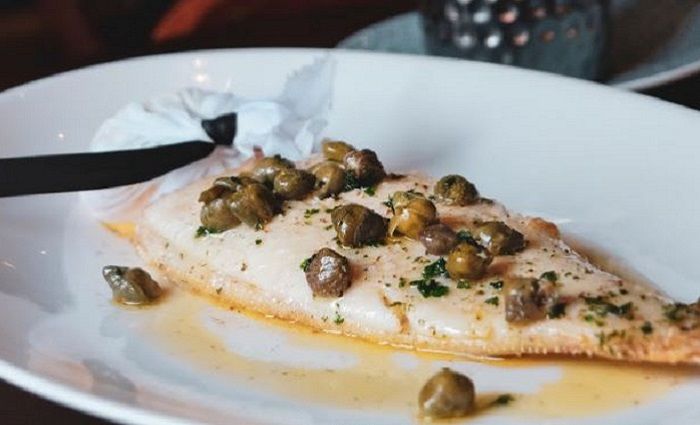 Edinburgh is a city full of fish to try, but one special fish stands out: sea bass. Sea bass suits everyone's palate for many reasons, primarily since this fish doesn't have an overly fishy taste. Sea bass is also rich in fat, plus it's meaty and high in protein so it's great for a filling dinner.
Certainly, you can try sea bass in many restaurants across the city. But I believe one of the top places to have this wonderful fish is at Cadiz. What makes Cadiz special is that it serves sea bass grilled, which is my favorite way to eat it.
Just as Edinburgh has become a blending of cultures, Cadiz intertwines a multicultural touch by mixing Scottish sea bass with a Spanish twist. It's called lubina con salsa verde, which I highly suggest you try. This particular dish includes grilled sea bass smothered in salsa verde, and served with creamy mash and broccoli.
Where to get it: Cadiz
7. Prawns and Shrimp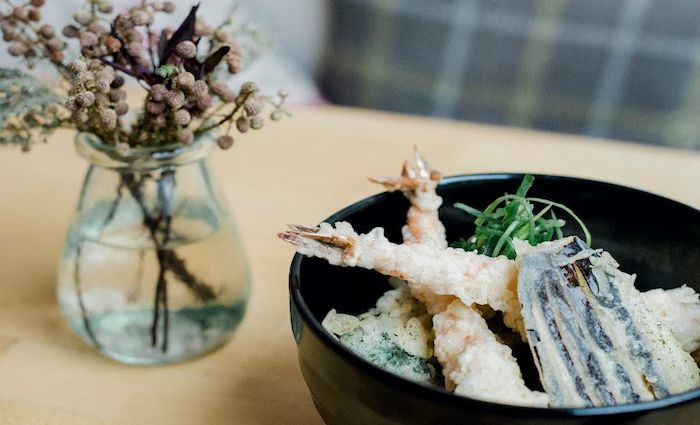 Seafood is enjoyed and consumed all over Edinburgh due to the close proximity to the sea, which is why we made this list of fish and seafood you must try in Edinburgh. There is a particular type of seafood that has become a favourite in the city: prawns and shrimp.
Prawns and shrimp are available throughout Edinburgh from local markets to fancy restaurants, making them easily accessible to every budget. With many places serving prawn and shrimp it's hard to choose the best place that serves them. I have two go-to spots which are Harajuku Kitchen and ShrimpWreck.
Both of these spots offer prawns and shrimp and cook them in the tastiest form. For example, if you're craving prawns or shrimp in a battered form with a Japanese flair, then Harajuku Kitchen is surely your cup of tea. I highly advise you to try Tempura Don here as they use larger tiger prawns here.
However, if you're craving juicy shrimp or prawns to feast on, I suggest having the shrimp bun at ShrimpWreck. It's a burger filled with battered king prawns and lots of toppings. I guarantee the shrimp bun is worth your time and leave you asking for more!
Where to get it: Harajuku Kitchen or ShrimpWreck
6. Scallops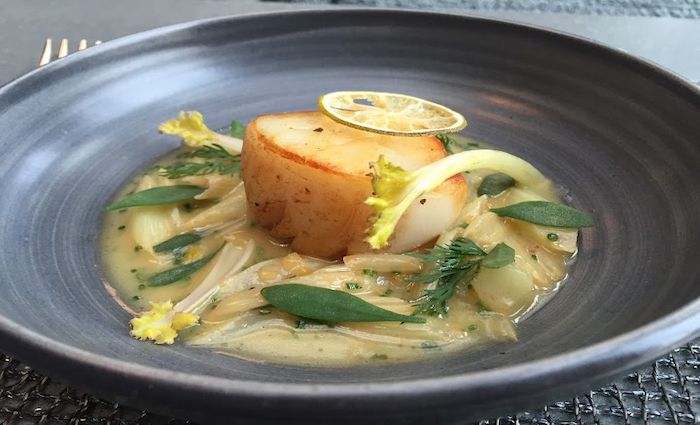 Firstly, scallops are a perfect way to try seafood without tasting the fishiness of the sea. Scallops taste exceptional, because they have a tender texture and are buttery and sweet in taste. Usually associated as a starter dish, scallops can be eaten anyway you like — just not overcooked.
Edinburgh is home to some of the best scallops found across the globe, so it stands to reason that scallops are a must-try food here. There are many restaurants, bars, pubs, and places that serve scallops as a dish, but I believe two places present scallops in the best way.
One ultimate scallop restaurant is New Chapter, which serves scallops with a modern European twist by adding bacon broth, black pudding, crushed celeriac, and pork belly terrine. These combinations mix Scottish taste with modern European cuisine for a memorable flavor. This scallop dish will make you crave it over and over again. Another place I suggest trying is The Kitchin, which is a Michelin-starred restaurant. The Kitchin's scallop is fancy and mouthwatering with its herb and white wine sauce.
Where to get it: New Chapter or The Kitchin
5. Mussels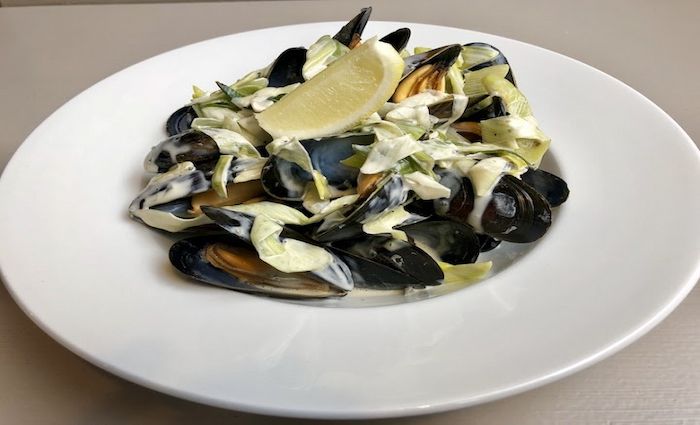 Edinburgh has amazing mussels, and you'll find multiple places to fire up your taste buds with this seafood dish. Mussels are an exquisite way to fill up your cravings for seafood. However, unlike scallops, mussels taste fishy and have a slight taste of the salty ocean. So if you don't enjoy having a fishy aftertaste, I don't suggest you having mussels, but if you're open to trying new foods, then give mussels a chance. It's worth the try!
Although there are many restaurants that serve this seafood dish, I have a particularly special place you should try. Mussel Inn Seafood is a delight to go to for mussels. One reason is because this award-winning restaurant specialises in mussels and serves them in beautiful ways. For example, you can have a hot seafood platter that's full of mussels.
But if you want the full Edinburgh mussel experience, I strongly recommend having mussel pots. You get a potful of mussels flavored Moroccan style, with blue cheese, plain, or with shallots and white wine.
Where to get it: Mussel Inn Seafood Restaurant
4. Lobster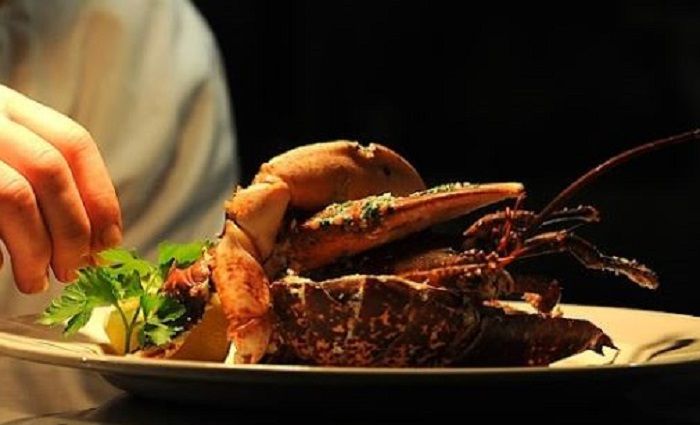 Found in many places around the world and enjoyed by many, lobster is a phenomenal seafood dish to try. Of course, I believe the lobster in Edinburgh is something else. Here in the city lobster is presented in many distinct ways, from authentic Scottish lobster to Scottish lobster with an Italian twist. Lobster is a must-try seafood in Edinburgh.
My ultimate favourite lobster dishes in Edinburgh are made with pasta. But the question remains: where are the top lobster dishes found in Edinburgh? There are a lot of places, but the best lobster is found in two locations: Locanda de Gusti and Fishers in the City.
I suggest going to one or the other depending on how you like your lobster. For example, if you like your lobster as a pasta dish you should definitely try Locanda de Gusti. They specialize in making lobster with pasta like their linguine and paccheri dish. Fishers in the City serves lobster in a couple of ways, including an authentic Scottish dish to surf and turf or a hot shellfish platter. All of the lobster dishes here are amazing and certainly recommended.
Where to get it: Locanda de Gusti or Fishers in the City
3. Oysters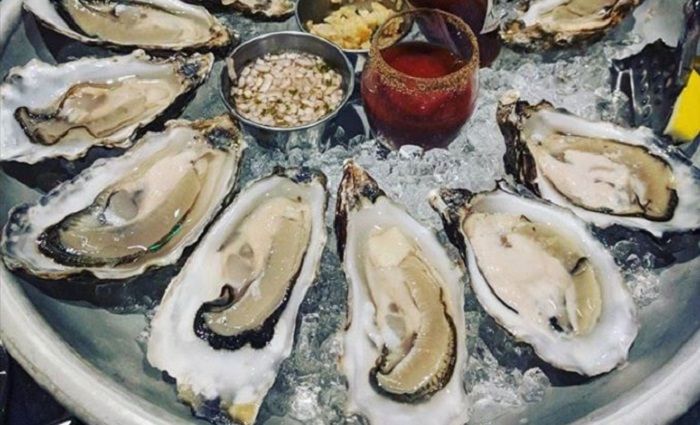 Similar to mussels, oysters also have a fishy taste, but they are a delicious seafood treat. On the other hand, unlike mussels, oysters taste creamy and have a slightly nutty undertone. Everyone has a different way in Edinburgh to consume their oysters, from squeezing a bit of lemon to using hot sauce or slurping them plain.
This seafood specialty is found across many places in the city, but, I don't advise having it just everywhere. One reason is because oysters have to be picked well, prepared carefully, and served with delicacy.
I have two specific places where I let myself go and get lost in oysters in Edinburgh. Firstly, I love the White Horse Oyster and Seafood Bar. This seafood restaurant serves a wide range of oyster dishes and all are equally mouthwatering. For instance, you can have a plate of oysters, tempura oysters, or try beef and oysters together.
The other spot I recommend having oysters at is The Ship on the Shore, because they some memorable selections of oysters. My favorite flavor is probably the bloody Mary oyster shot, since it's a fun twist on a beverage and food.
Where to get it: White Horse Oyster and Seafood Bar or The Ship on the Shore
2. Haddock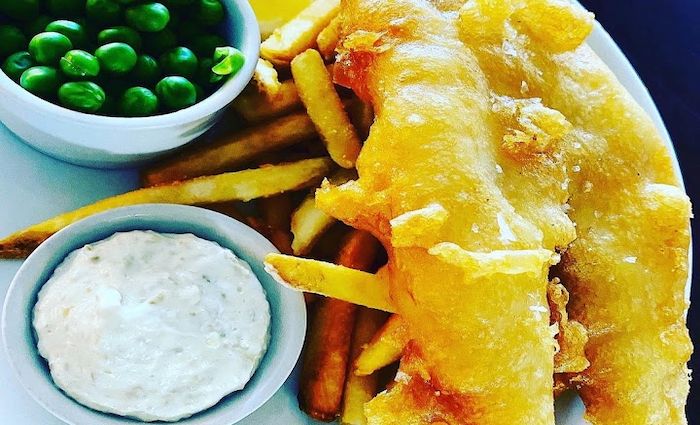 Haddock is a speciality in Edinburgh for many reasons. Haddock is part of one of the ultimate go-to foods in the city which is fish supper or fish and chips. Fish supper is one of the top foods here, and haddock is the main element of this scrumptious meal. This dish is made of a juicy fried haddock in a crispy batter served with a side of fresh chips.
Also, fish and chips is available almost anywhere in Edinburgh, but one of the best options to have this wholesome meal is at a local chippy. I have two spots that I enjoy for their delicious, authentic, fresh haddock and chips. These two places are The King's Wark and L'Alba D'Oro. Both of these chippies serve the best fish supper's in the city, and their haddock is a tasteful journey.
However, haddock is not only served as as fish and chips in Edinburgh. There are other ways that haddock is utilised here and Bertie's Proper Fish and Chips is a place that does it right. Bertie's serves haddock in many ways, such as fish pakora, fritto, and breaded haddock. All of these haddock dishes are tasty and make a joyful meal.
Where to get it: The King's Wark or L'Alba D'Oro or Bertie's Proper Fish And Chips
1. Smoked Salmon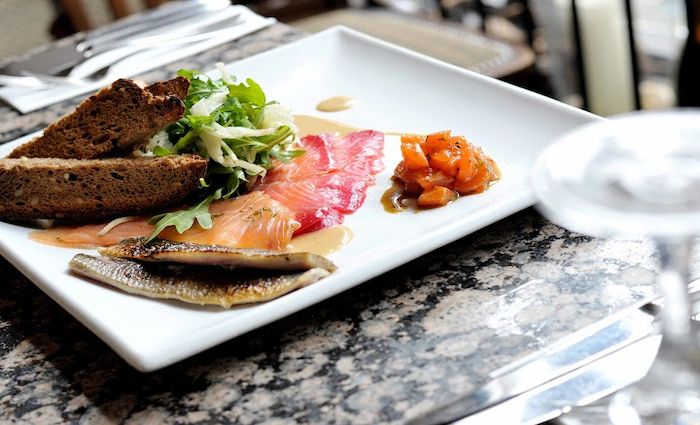 Scotland is world-renowned for its smoked salmon, so of course it's famous in Edinburgh too. Smoked salmon is doubtlessly the best fish selection in Edinburgh, due to its richness, taste, and delightful aroma. Smoked salmon is also viewed as a delicacy due to its price and special preparation of being smoked. However, I truly recommend having smoked salmon if you're in Edinburgh, because your taste buds will light with happiness and thank you later.
Edinburgh restaurants serve smoked salmon hot or cold, and it comes in many sizes and shapes. I believe there are two top spots that serve smoked salmon perfectly. One is The Ship on the Shore and the other is Fishers in the City.
The Ship on the Shore presents smoked salmon in a variety of ways including in a hot or cold salad, seafood platter, smokehouse platter, and more. I advise you to try the Ship's famous smokehouse platter, because it's worth the price and flavor!
Also, another smoked salmon spot I enjoy and suggest is Fishers in the City. Fishers serves delicious and creative smoked salmon dishes. For example, they have Anstruther smoked salmon, chilled seafood platter, and a smoked salmon dish. All of these smoked salmon options are delightful and satisfying.
Where to get it: The Ship on the Shore or Fishers in the City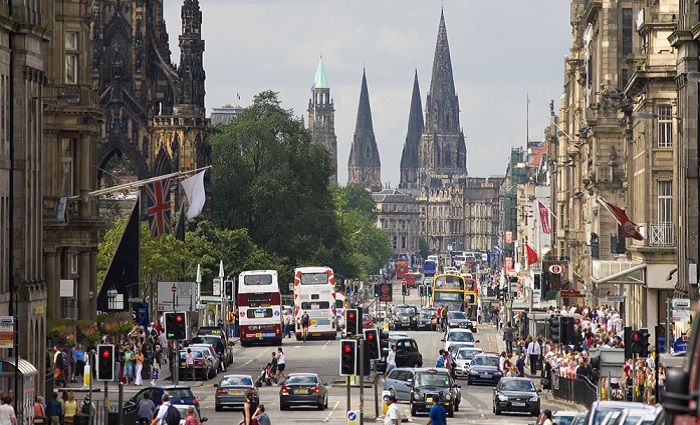 Find the best places to stay
Where to Stay in Edinburgh
Get to know the best areas to stay in Edinburgh. We've recommended our favorite hotels for those who love to stay in the busy city or out along the coast for more peaceful views of the sea.