Edinburgh is the cultural hub of Scotland comprised of numerous attractions and historic buildings. Although each town is different, they all are surrounded by the charms and historical background of the city. There are many accommodation options to stay in from luxurious hotels to mid-range selections, so we've put together our favorites for where to stay in Edinburgh.
---
Pro Tip: Bookmark this post in your browser so you can circle back to it while you decide on a hotel to go in Edinburgh. We update it frequently so you have the best recommendations for a wonderful stay and perfect accommodation that fits you!
Where To Stay in Edinburgh: Best Hotels and Neighborhoods
Travelling in Edinburgh can be a little complicated, because some streets don't allow cars or taxis. As a result, we recommended that you pick your hotel according to where you will spend most of your trip as you explore this historic city. Public transportation is available with buses, trams, trains, bicycles, and more, so don't worry if you didn't rent a car. We've divided this list of where to stay in Edinburgh by four crucial areas that are central, fun, and full of things to do.
Our Partnership with Booking.com. If you like our content, please book by clicking on our Booking.com links. The price is the same for you and we get a small commission that helps support our helpful blog content. We've partnered with Booking.com because they have the most options, great prices, and a solid loyalty program.
Old Town Edinburgh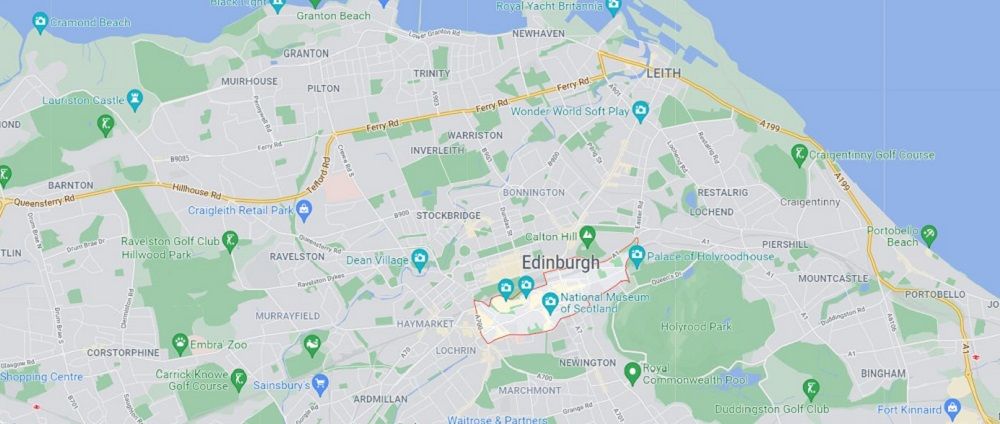 This area is where it all began for the city of Edinburgh, hence its name Old Town. As one of the most important treasures of Edinburgh, here you can find a vast range of things to uncover and explore. For instance, you can visit the Edinburgh Castle, the Scottish Parliament Building, the Royal Mile, and more. Old Town is deemed as one of the core centers for tourist attractions and local fun.
Everything is found here, too, from tasty culinary options to shops and many other fun activities. Old Town's location makes it really central and easy to locate to and you can walk everywhere here.
Why I Love Old Town:
Everywhere is historical and filled with memories
Where the City of Edinburgh first began
Central to many Edinburgh locations and attractions
Castle, gardens, fine dining, shops, and antique stores
Attractions Near Old Town:
Best Restaurants In Old Town:
The Witchery By The Castle
Howies
Wings
Oink
Whiski Rooms
The Devil's Advocate
Kanpai
Best Hotels In Old Town:
The Witchery By The Castle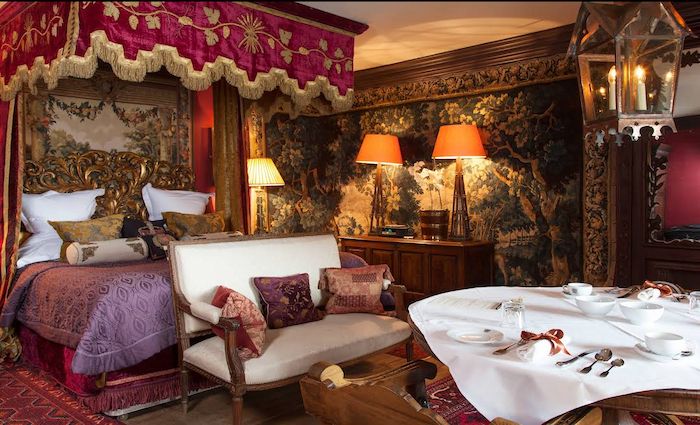 ££££ I 5 Star I Luxurious and Elegant I Gothic Design
We love how bewitching this hotel is with its design and ambiance. With to the hotel's dark, dramatic, and glamorous nine suites, this hotel enchants you with luxury. Plus, you can taste true Scottish cuisine at the Witchery restaurant located here.
The Balmoral Hotel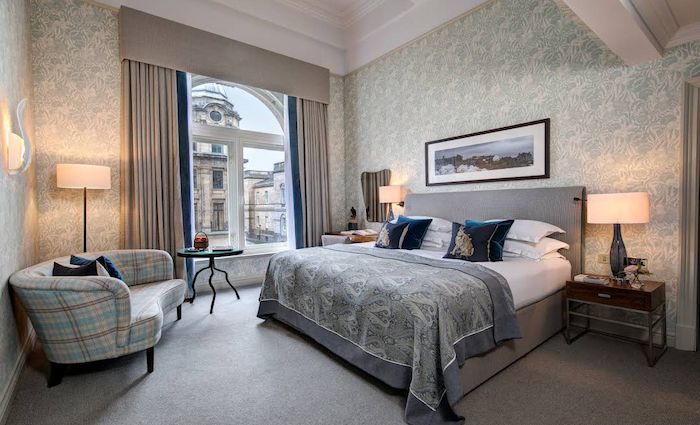 £££ I 5 Star I Michelin Star Restaurant I Fantastic Views
All the Harry Potter fans and foodies adore the Balmoral Hotel for its food and tribute to J.K. Rowling. We also love the amazing pool, sauna, spa, and Turkish steam room where you can treat yourself. Many of the Balmoral's rooms champion the historical attractions of Edinburgh Castle and Old Town itself.
The Scotsman Hotel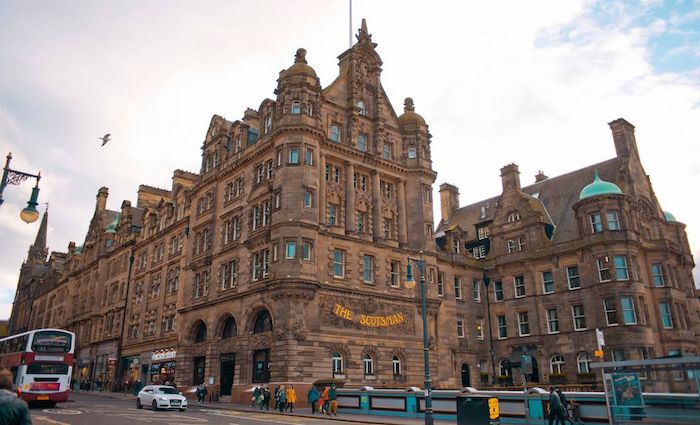 ££ I 4 Star I Scenic View I Huge Cinema
As the former home of the Scotsman Newspaper, this hotel boasts a rich heritage. Enjoy the on-site cinema with movies, ballet, and opera (no kids allowed), free Scotsman Newspaper, and immediate access to the train station. You'll love the marvellous Egyptian cotton sheets, which will make you sleep like a baby.
Heading to Edinburgh? Check out our recommendations for top things to do plus the best restaurants in Edinburgh!
New Town Edinburgh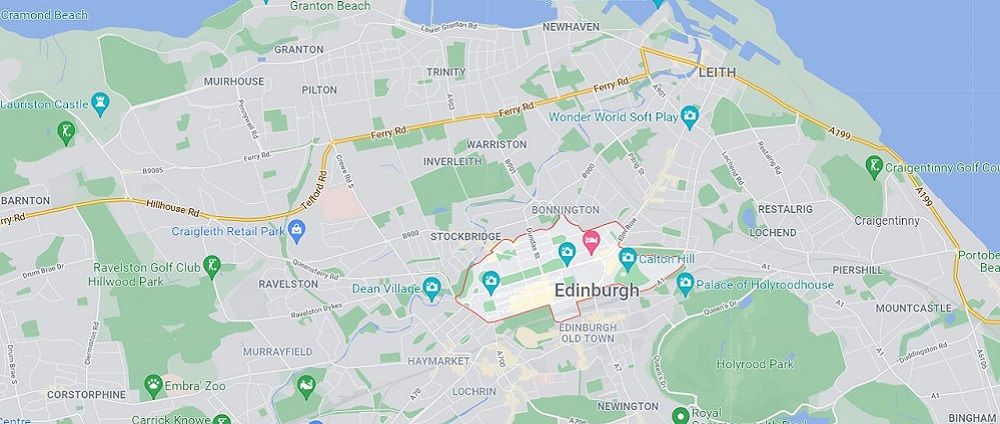 This part of Edinburgh reflects the lavish, fancy, and fun style of many locals who live and enjoy New Town. You can discover many personalities and individuals, for instance, bohemians, hipsters, tourists, and ritzy. Additionally, New Town is the social scene of Edinburgh thanks to the busy streets with bars, pubs, and restaurants.
Certainly, the presence of Princes Street in New Town makes this place even more central and a focal point for shopping. There are also various other things to do whether alone, with family, or with friends. For example: visit Princes Street Gardens, the Farmers Market, and more.
Why I Love New Town:
Elegant Neo-Classical architecture
Amazing streets to explore and visit
Lots of food options and great tastes to discover
It's located in the city center of Edinburgh
Attractions Near New Town:
Best Restaurants In New Town:
Dishoom
The Ivy On The Square
Café St Honore
21212
Fazenda
Badger & Co
Best Hotels In New Town:
Motel One Edinburgh Princes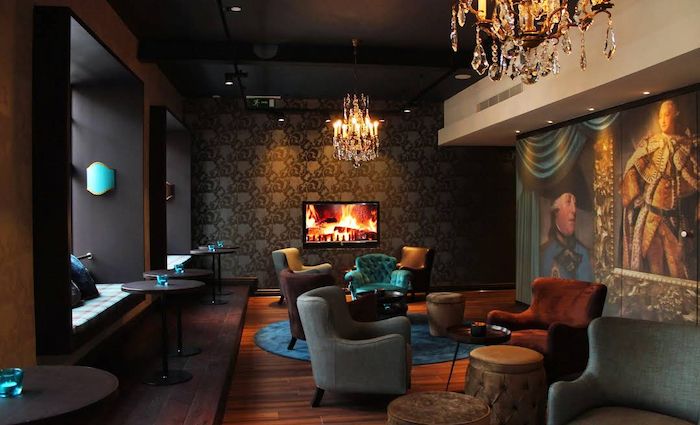 ££ I 3 Star I Budget Friendly I Pet Friendly
If you're seeking a budget-friendly hotel with great selections of things to do, Motel One is the best place to be. It's decorated with ravishing turquoise and beige colours, chandeliers, and artwork that will make you want to explore every area in the hotel.
Old Waverley Hotel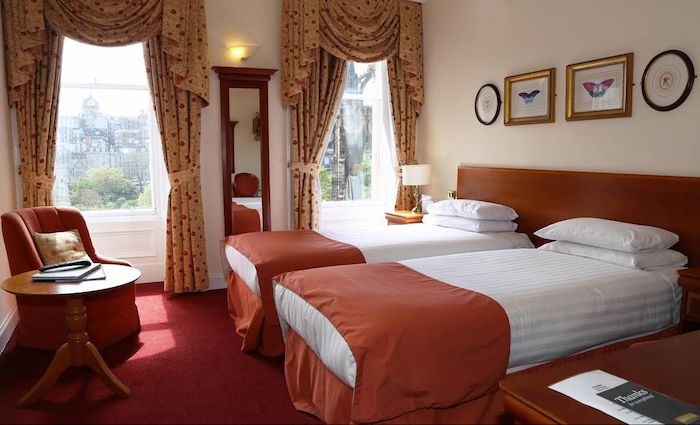 ££ I 3 Star I Sweet and Cosy I Victorian Charm
If you're looking for a cosy and charming stay at one of the top-rated hotels in New Town, then choose Old Waverley Hotel. You'll be treated to the best traditional Scottish hospitality. Also, many of this hotel's rooms provide amazing views of the nearby Edinburgh Castle.
Native Edinburgh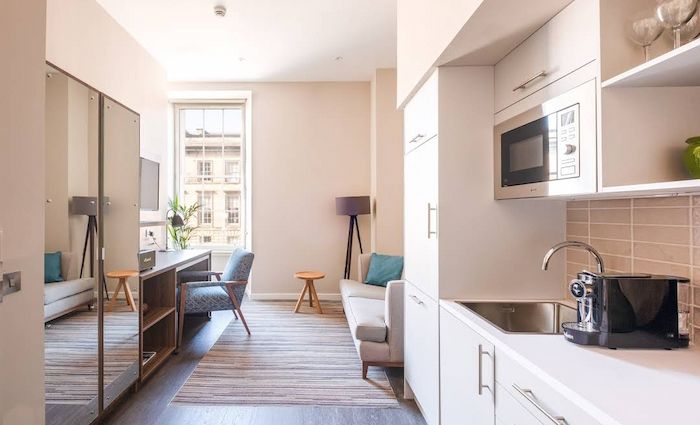 ££ I 4 Star I Modern and Chic I Apartments
This hotel has contemporary style that exudes a modern and chic design. Every room is a full-service apartment with kitchens, which is extra convenient. It's also ideal for walking to core destinations like Princes Street, Haymarket, and Waverley Stations.
Cheval The Edinburgh Grand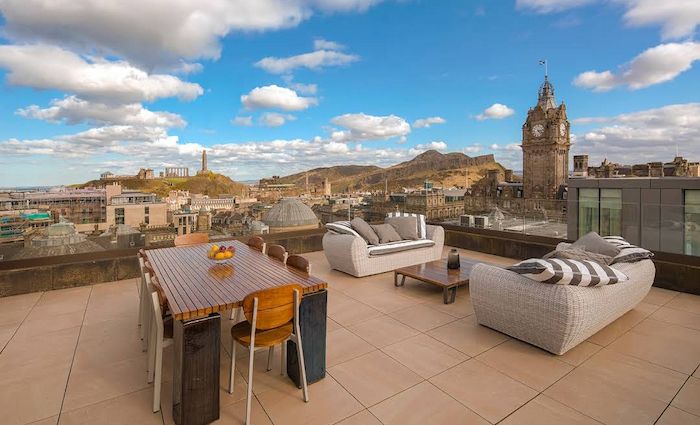 £££ I 5 Star I Iconic Rooftop I Slick Contemporary Design
Cheval the Edinburgh Grand remains one of the best hotels in New Town area. Partly due to the scenic rooftop that is like a scene from a cinema with a stunning view. The rooms are equally wonderful with calm decor and plenty of space.
Leith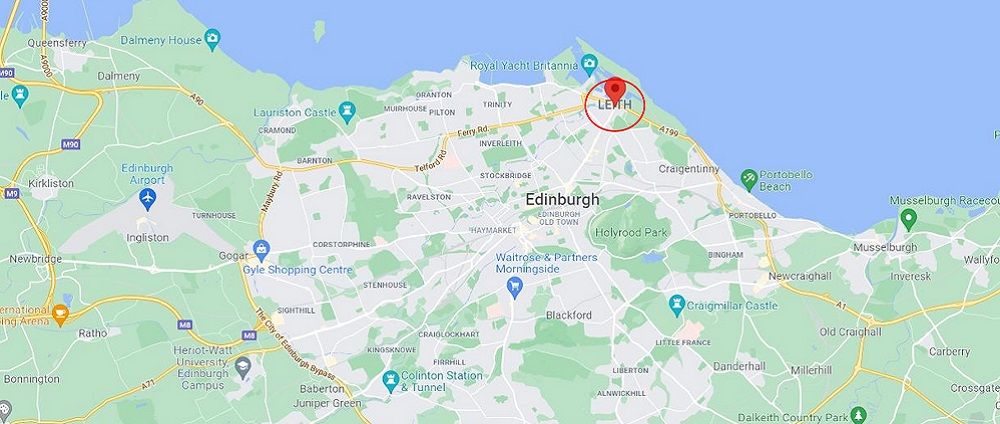 Leith is perfect for the younger crowd and for people interested in saving a little money, trying new alternatives, and enjoying vibrant shops. For example, if you love experiencing new cuisine options and adore seafood, Leith is a great place to stay in Edinburgh.
Additionally, Leith is full of fun activities to do from exploring the Leith Farmers Market to visiting the Leith Theatre. There is certainly something new to uncover for any individual and make lasting memories.
Why I Love Leith:
Close to beaches with many routes to walk and ride bikes
Full of second-hand shops, gift shops, and local shops
Cool neighbourhoods and beautiful port district to explore
Colourful life and welcoming locals
Attractions Near Leith:
Best Restaurants In Leith:
The Kitchin
Roseleaf
The Clock Café & Bistro
Toast
Fishers
Mimi's Bakehouse
Alby's
Best Hotels In Leith:
Malmaison Edinburgh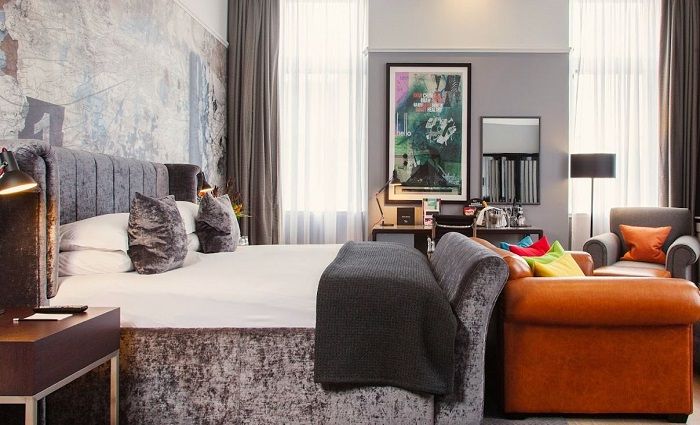 £££ I 4 Star I Classy Bar I Chic and Luxurious
Malmaison Edinburgh illuminates with spacious, hip, and cosy rooms, where you can indulge with contentment. Additionally, the hotel's bar is has a fun vibe with refreshing and colourful cocktail options that you can enjoy on the terrace.
The Hedges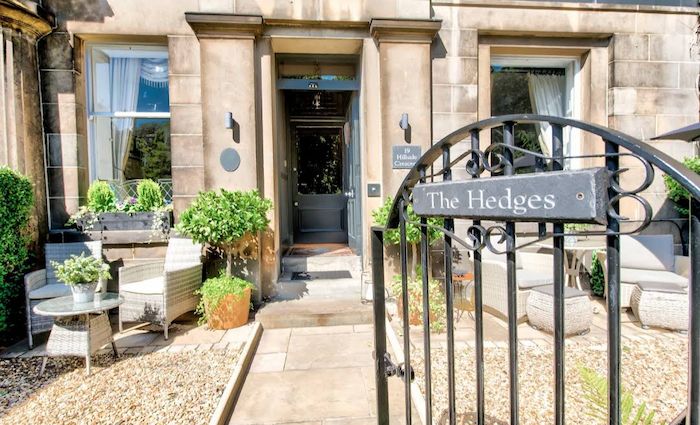 ££££ I 5 Star I Relaxing Patio I Adults-Only
With both traditional and contemporary vibes, the Hedges provides an ornate adventure. However, this is an adults-only accommodation so plan accordingly. We love the stonework and gardens here, plus the luxe rooms (many have fireplaces!).
Cairn Hotel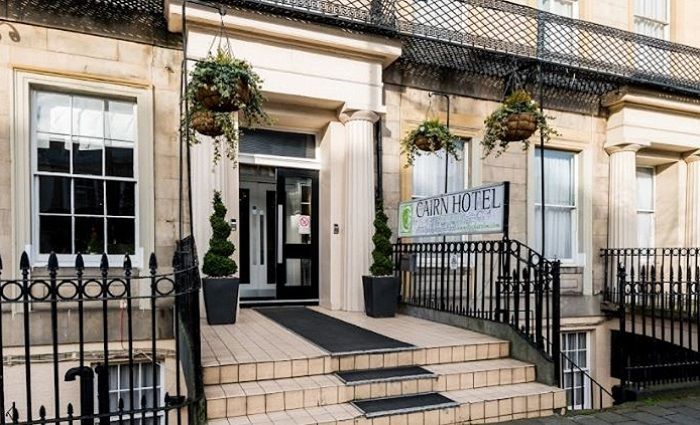 ££ I 3 Star I Simple and Modern I Comfy
The Cairn Hotel will charm you with its traditional Scottish elegance. The Cairn Hotel's exterior and interior is surrounded by contemporary and modern furnishings. This hotel is a pocket-friendly and welcoming place which makes it one the top hotels in Leith.
Heading to Edinburgh? Check out our recommendations for top things to do plus the best restaurants in Edinburgh!
Queensferry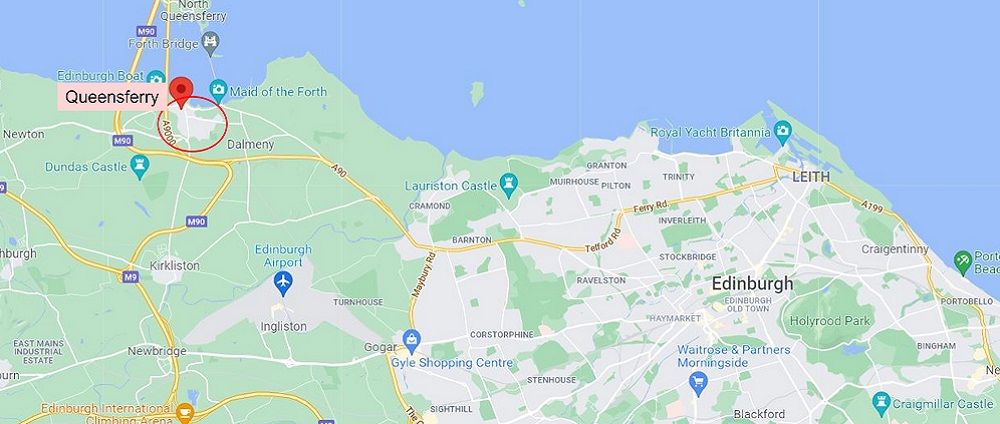 Queensferry, which is also known as South Queensferry, is located on the west side of Edinburgh—about 30 minutes away. This area is more relaxed and quite compared to the central parts of the city. However, this area is perfect for people who love the shoreside where you can walk, relax, and ride a bicycle along the sea.
Queensferry also has lots to offer from local shops, boutiques, and restaurants. The western part of Edinburgh is known for more affordable options for staying, eating, and visiting. Therefore, if you're looking for cheaper alternatives, Queensferry is a great location when considering where to stay in Edinburgh.
Why I Love Queensferry:
Located west of the city and very relaxing and safe
Shoreside with a beautiful sea smell
Lots of shops and boutiques
Historical ambience with churches, galleries, and museums
Attractions Near Queensferry:
Best Restaurants In Queensferry:
Maurizio's SQ
Queens Spice
Bamboo
Hawes Inn
Dakota Bar &Grill Edinburgh Forth Bridge
Ferry Tasty
The Anchor Inn
The Boat House
Best Hotels In Queensferry:
Dakota Edinburgh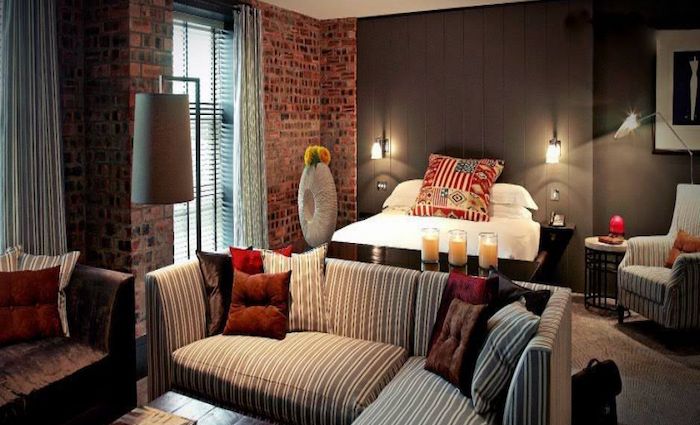 ££ I 4 Star I Sophisticated and Modern I Close to Airport
This is another chic, modern hotel to relax, rest, and unwind. Dakota Edinburgh is really close to the airport and the hotel offers a shuttle for convenience. The rooms have a dark, swanky ambiance and plenty of seating options.
Orocco Pier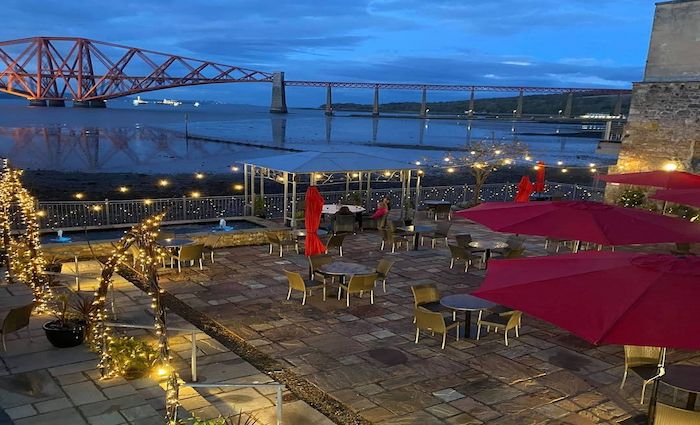 ££ I 3 Star I Boutique Style I Excellent View
If you prefer a stylish, boutique hotel, Orocco Pier is your place. I'tts perfectly located next to the Forth Bridge, which offers enchanting scenery. Additionally, this hotel offers indulgent fresh seafood at its seafood bar and fabulous cocktails.
Ravenous Beastie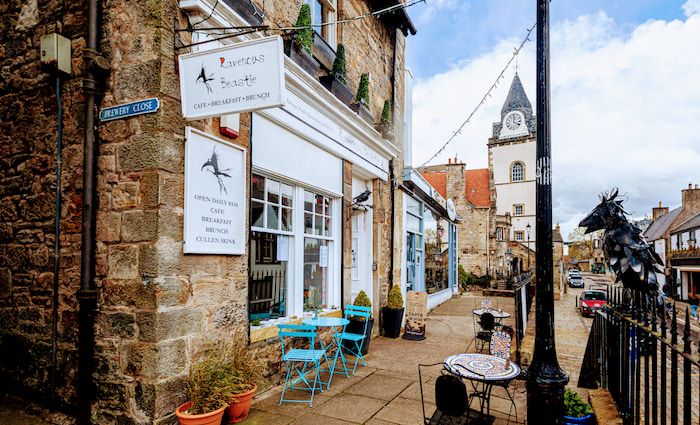 ££ I 3 Star I Award-Winning B&B I Scottish Experience
Ravenous Beastie is an award-winning boutique bed & breakfast with a lot to give. Have a full Scottish experience with Scottish smoked salmon and scrambled eggs and breakfast. Also, the rooms are comfy and snuggly and no two rooms are the same.