Are you in Edinburgh and wondering where the best restaurants are to eat? Don't worry, because your local foodie in Edinburgh has created an awesome list of the 10 best restaurants in Edinburgh. From Michelin-star-rated food to local Scottish cuisine, this list is mouth-watering.
---
Pro Tip: Bookmark this article in your browser so you can circle back to it when you're craving food in Edinburgh or planning your next trip here.
The Best Places to Eat in Edinburgh
If you're searching for interesting and scrumptious places to eat in Edinburgh you have arrived at the correct destination. This list covers all types of appetising cuisine from Japanese to Scottish—evidence of the multicultural environment present here. Including every price range from £ to ££££, this list won't disappoint with the best restaurants in Edinburgh. We've tasted these top places to eat in Edinburgh which range from luxurious food to cosy meals so they appeal to everyone.
The Witchery by the Castle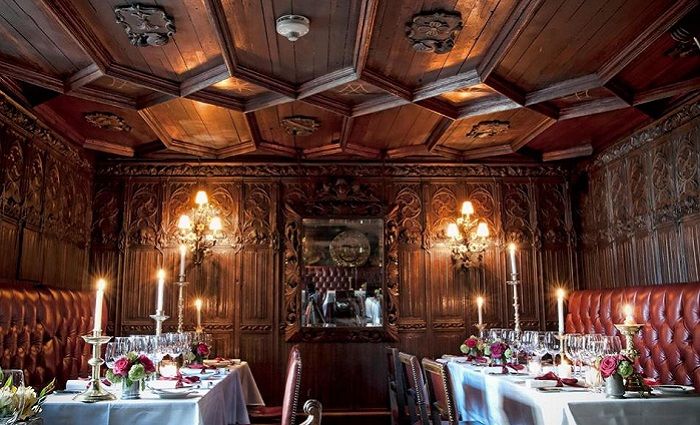 £££ I Upscale/Fine Dining I Scottish Food I Historic I Michelin Star
The Witchery is located in the heart of the historic ambience of Edinburgh where the gates open to the Castle. This restaurant holds a sixteenth-century design in its dining room and has an elegant Secret Garden room, which is dreamy. The menu is comprised of an award-winning a la carte menu and is available throughout the day.
Additionally, the cuisine includes delicious Scottish lobster, beef, lamb, haggis, and more. There is also afternoon tea with sweet treats and savoury treats such as Edinburgh Gin cured salmon on rye bread. Above all, the Witchery is definitely my top selection as the best restaurant in Edinburgh for a luxurious date night.
Address: 352 Castlehill, Edinburgh
Hours: Daily from 12 PM – 10:30 PM
Umai Sushi and Ramen Kitchen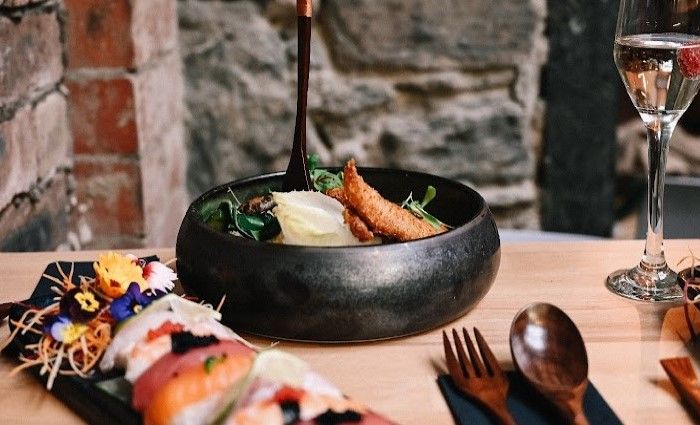 ££ I Great Atmosphere I Casual I Sushi and Seafood
This restaurant embraces Japanese food and Anime culture, yet intertwines the local essence of Edinburgh too. We also recommend this sushi and ramen kitchen since it has such a friendly atmosphere. Umai's menu is fresh and delicious, but don't expect anything too fancy. The restaurant incorporates the Totoro theme by adding the anime essence to the sushi and ramen.
Address: 6 Queensferry St, Edinburgh
Hours: Wednesday – Sunday, 12 PM – 10 PM I Closed Monday and Tuesday
MUMS Great Comfort Food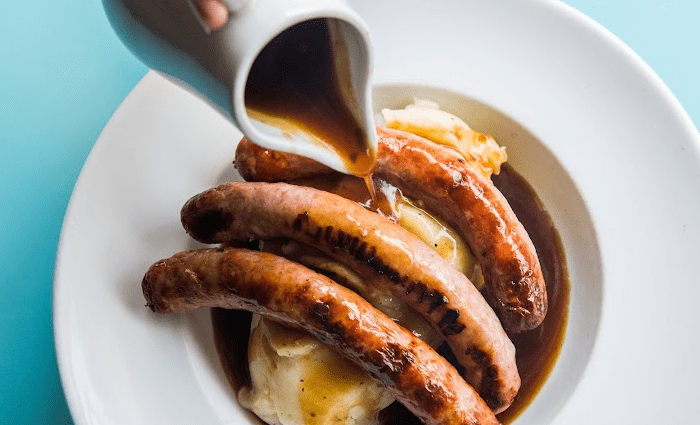 £ I British I Casual I Retro I Bar
Located close to Waverly Station, Edinburgh Castle, and the National Museum of Scotland this restaurant is perfectly positioned for a sightseeing afternoon. MUMS is an excellent place to either snack or have a filling dinner with various selections. MUMS has a variety of food from pies and stews to sausage and mash to puddings with lovely alcohol options. Certainly, the restaurant's retro design also creates a friendly and fun environment in which to eat.
Address: 4A Forrest Rd, Edinburgh
Hours: Monday – Saturday, 9 AM – 10 PM I Sunday, 10 AM – 10 PM
Cafe St Honoré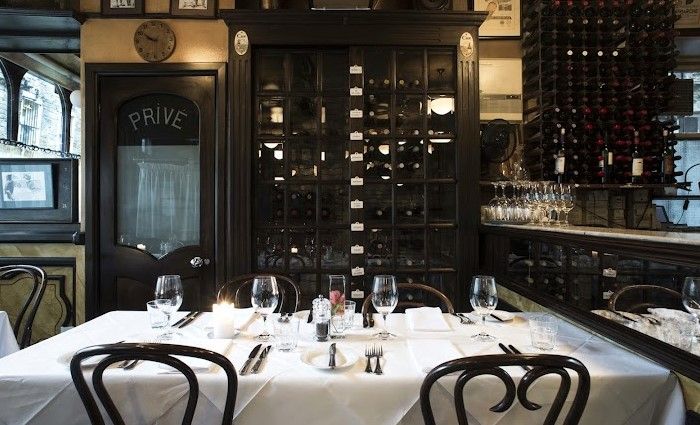 ££- £££ I French I Gluten-free I Dairy-free I Beautiful Design
Cafe St Honoré is centred in New Town and just two minutes away from Princes Street. Therefore, if you are at Princes Street you must visit this Parisian bistro and restaurant. The menu changes daily and serves fresh, dairy-free, and gluten-free menus which grasp everyone's attention. Also, the menu has a wide range of selections from Parsnip Soup to Confit Duck Leg. After that, you can wash down these tasty meals with the restaurants incredible wine list. Furthermore, for lovers of French food and wine, Cafe St Honoré is the correct place for you.
Address: 34 Thistle St N W Ln, Edinburgh
Hours: Thursday – Monday, 12 PM – 2 PM and 5 PM – 9:30 PM
Dishoom Edinburgh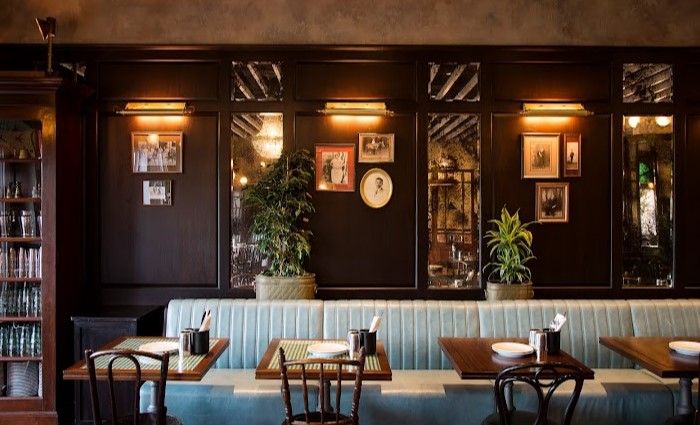 ££ I Indian I Comfort Food I Amazing Decor
Dishoom enacts the fabric of life in Bombay into its restaurant's atmosphere. For example, with the culinary experience here in Dishoom, one can feel the very Bombay life. The menu at Dishoom has many options such as breakfast, lunch, afternoon chai, dinner, and late tipples. There are also award-winning drinks present at Dishoom which makes this restaurant ever so tastier with its mesmerising Indian food.
Address: 3a St Andrew Square, Edinburgh
Hours: Monday – Thursday 8 AM – 11 PM; Friday 8 AM – 1 2AM; Saturday 9 AM – 12 AM; Sunday 9 AM – 11 PM
The Kitchin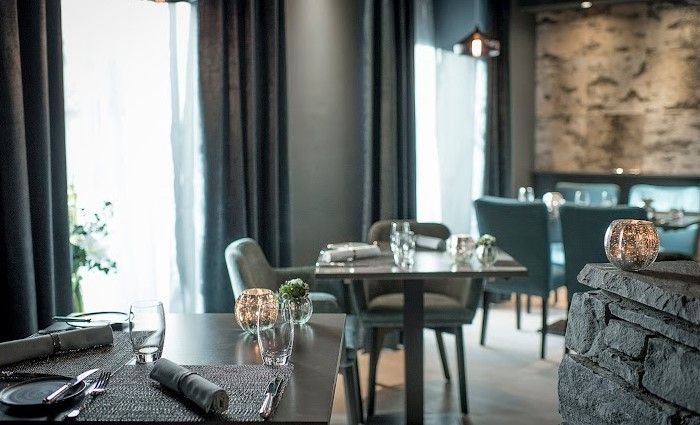 ££££ I Michelin Star I Fine Dining I Incredible Experience
The Kitchin is one of the best restaurants in Edinburgh for many reasons, but one fundamental reason is that the Kitchin still holds its Michelin status since 2006 along with many other awards. As a result, this restaurant follows the motto of "from nature to plate" which displays its creativity.
The Kitchin utilises French methods on its Scottish cuisine and produces fantastic food options. The menu is filled with delicious meat and fish which is brought in daily and shows its freshness. In short, if you crave a fine dining experience and delicious meat options, the Kitchin is the right place to eat.
Address: 78, Commercial Quay, Leith, Edinburgh
Hours: Tuesday – Saturday 12 PM – 2:30PM; 6 PM – 10 PM; Closed Sunday and Monday
Olly Bongo's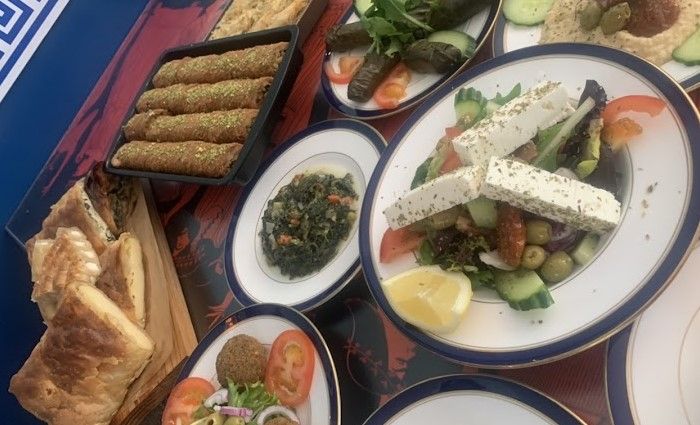 £ I Casual I Mediterranean I Family Friendly
Olly Bongo's is a family friendly and cosy restaurant located in the center of Edinburgh. For example, this restaurant is just a four minute walk from the National Museum of Scotland and many popular hotels. That means Olly Bongo's is the place to eat after your museum visit or when you want to eat somewhere close to your hotel.
This restaurant has a wide range of food from the Mediterranean region and shares its beautiful music too. While eating its comforting food, you can also try Turkish wine, Raki, and more Mediterranean drinks.
Address: 4 Teviot Pl, Edinburgh
Hours: Daily from 9 AM – 9PM
New Chapter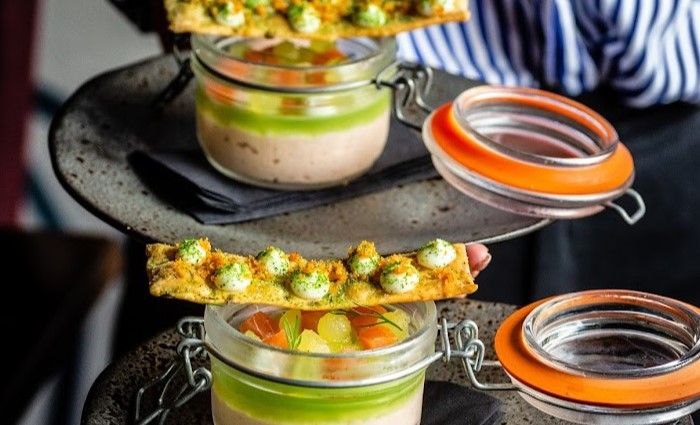 ££ I Family-run I Cosy I Modern European
Located in New Town, this restaurant is family-run and has a warm ambiance which makes it feel like home. Likewise, the service is polite, friendly, and warm, which makes a memorable experience. New Chapter creates amazing modern, European-themed cuisine with a twist each time. Furthermore, the Sunday roast meal at New Chapter is highly recommended if you want a full Edinburgh experience.
Address: 18 Eyre Pl, Edinburgh
Hours: Wednesday – Sunday 12 PM – 2:30 PM and 5:30 PM – 8:30 PM; Closed Monday and Tuesday
The Ivy On The Square Edinburgh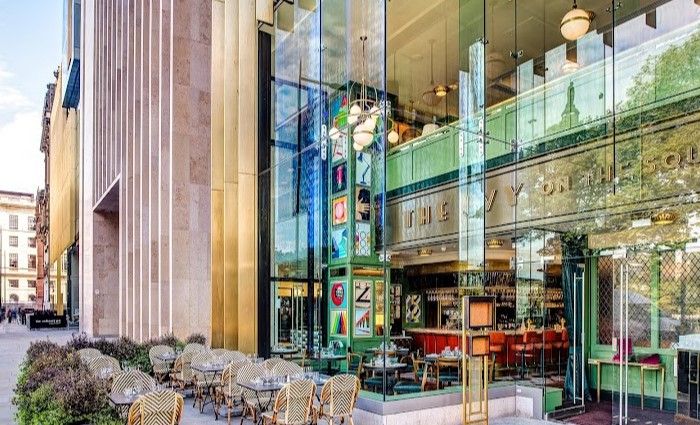 £££ I Art-filled I Outdoor Seating I British
The Ivy On The Square is one of the top restaurants in Edinburgh, due to its modern all-day British brassiere. However, its sophisticated atmosphere and location right next to Princes Street makes it even more precious. This flavour-filled restaurant has many menu options from vegetarian and vegan to a la carte and afternoon tea. Also, the menu is accompanied by a wonderful array of drinks, for instance, cocktails, wine, tea, and more.
Address: 6 St Andrew Square, Edinburgh
Hours: Monday – Thursday 9 AM – 10 PM; Friday – Saturday 9 AM – 10:30 PM; Sunday 9 AM – 10 PM
The Scran and Scallie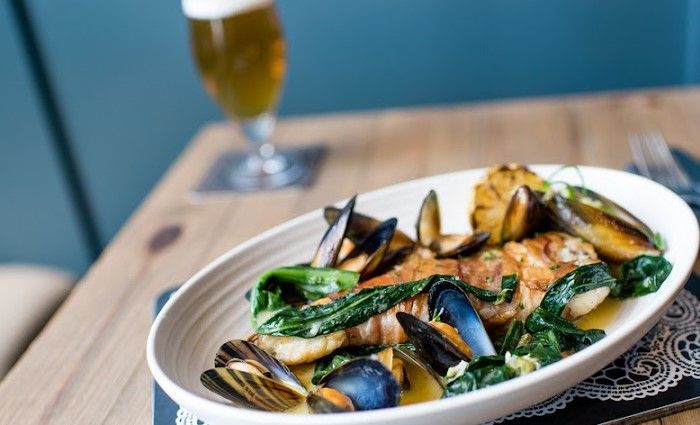 ££ I Scottish I Bar and Wine I Adventurous I Family Atmosphere
Open seven days a week, this restaurant has a warm, friendly, and family-like aura which is great. Additionally, since it's located on the calmer side of Edinburgh, this restaurant has a local feel which easily makes it one of the best restaurants in Edinburgh. Above all, the drinks are carefully curated and have a wide selection to pick from. But the menu is also delicate with seafood and Scottish cuisine, which complements well with the drinks.
Address: 1 Comely Bank Rd, Stockbridge, Edinburgh
Hours: Daily from 12 PM – 10:30 PM