Are you visiting Edinburgh and hungry for some delicious food? Certainly you're on the correct page, because your local foodie in Edinburgh has created a perfect food and drink list! From classic Scottish cuisine to Edinburgh's favourites, this list will make you crave for these tasty dishes and drinks. Here are the top foods to try in Edinburgh from comfort food to strong spirits.
---
Pro Tip: Definitely bookmark this article if you're planning to visit Edinburgh or just craving food to try out here! Also, make sure to check out our article on the best restaurants in Edinburgh.
The 12 Best Foods And Drinks To Try In Edinburgh
As the capital city of Scotland, Edinburgh holds the best culinary options to dive into. With the city welcoming new people each year, the food game here has flourished even further. That means it's easier and quicker to find delicious food and drink selections from almost any cuisine.
This list will cover the best and most-loved foods and drinks in Edinburgh from whisky to haggis and tarts. Although the Scottish classics are held dearest here, our top foods to try in Edinburgh also include other local favorites. Surely, you'll find several foods to love and remember!
12. Shortbread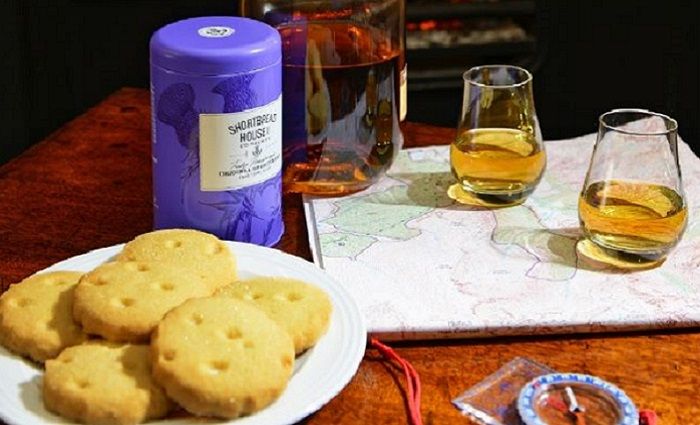 Shortbread is indeed a Scottish staple and enjoyed by many. This tasty biscuit comes in many shapes and sizes, but what makes shortbread so scrumptious is its sweet, buttery flavor. Shortbread goes well with almost any drink like tea, milk, or even whisky. This biscuit is a mouthful, and you'll find various shops and bakeries that sell shortbread nearly everywhere. As a local, I am passionate about where I get it.
Though all the locals sell tasty shortbreads, I have found one place that stands out. Shortbread House of Edinburgh is a bakery that sells authentic and mouthwatering shortbread—and it goes well with whisky too. The Shortbread House of Edinburgh has also designed other types of shortbread which I recommended. Try their chocolate or ginger shortbread too!
Where to get it: Shortbread House Of Edinburgh
11. Steak Pie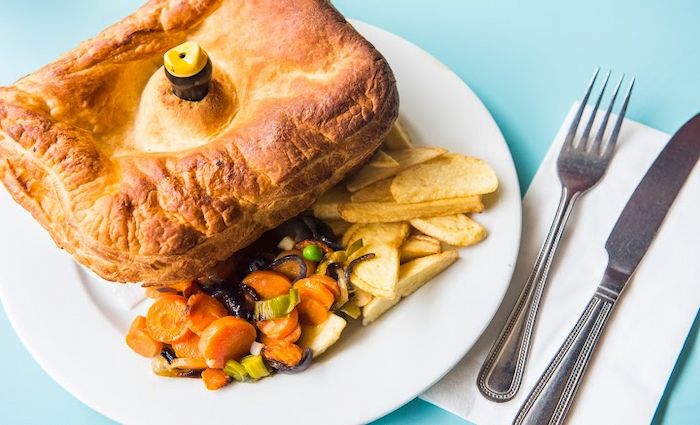 Although steak pie is traditionally enjoyed on New Years Day in Scotland, who says you can't have it year-round? This delicious pie is made from beef, fresh vegetables, topped with pastry, and served with thick gravy. It's often served with chips, vegetables, or mash, which makes this pie delightful to have anytime of year. No wonder it's a top food to try in Edinburgh!
Steak pie is loved by both locals and tourists in Edinburgh and is available in shops, pubs, and restaurants. However, I have two favourite places to find the best steak pie: MUMS Great Comfort Food and The Piemaker. Both of these places have steak pie that leaves you asking for more! And if you're a meatless eater, there are vegetarian and vegan options available which are equally delicious.
Where to get it: MUMS Great Comfort Food or The Piemaker
10. Scottish Porridge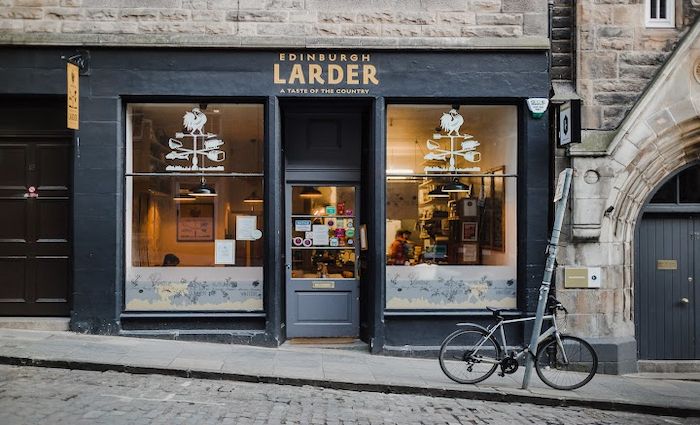 Porridge is simple yet each bite is hearty and filling. Although this delicious dish is an Edinburgh breakfast staple, it can also be savoured throughout the day. The basic ingredients of porridge are oats and milk or water, however the key is to garnish this dish with whatever you desire from fruits to biscuits.
Although you can make porridge at home, it never tastes the same as the porridge sold at Edinburgh's cafes. You can purchase porridge at almost any café, but my personal favourite is The Edinburgh Larder. Their porridge is truly something special and gorgeous to even look at with the colorful toppings they add! The Edinburgh Larder also offers porridge with non-dairy milks so anyone can enjoy Scottish porridge.
Where to get it: The Edinburgh Larder
9. Deep-Fried Mars Bars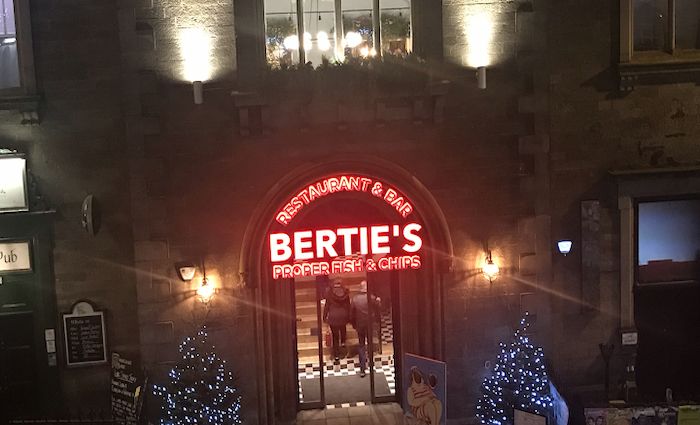 Mars chocolate bars are both a local and tourist favourite in Scotland and especially Edinburgh. However, what makes this gooey delicious chocolate extra special in Edinburgh is that it's deep fried! Deep frying a Mars bar gives it a distinctive taste that can be described as salty and sweet.
It's a local delicacy that's available at any chip shop in Edinburgh. But not every chip shop serves Mars bars with a particular oil that works best. The best deep-fried chocolate bar is deep fried in a separate oil and batter.
To make sure you get the best examples of this unique treat, head to Bertie's Proper Fish and Chips or Royal Mile Tavern. Definitely, both of these places are equally scrumptious and safe to eat at. You can pick which place you'd like to try depending on your location, or why not just try both?
Where to get it: Bertie's Proper Fish And Chips or Royal Mile Tavern
8. Scottish Whisky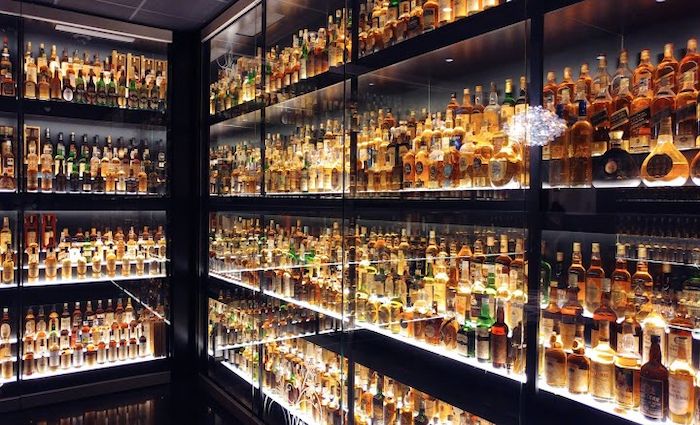 Scotland and Edinburgh is well known for its distillers and lovely alcohol selections. However, one particular drink surpasses the rest with its rich and luxurious taste. What is this drink you might ask? It's whisky!
As Scotland's national drink, whisky is easily a top food try in Edinburgh. Or drink, in this case. The city has many places to try whisky, but my top stop to indulge in the best whisky is The Scotch Whisky Experience. What makes this place the best is that it offers the full experience with hundreds of flavors, plus options for tastings and tours.
It's important to say that other pubs and restaurants also serve this delicious drink as good as the rest. So, whether at a local pub or at a fancy restaurant whisky is a must-try drink in Edinburgh!
Where to get it: The Scotch Whisky Experience
7. Traditional Scottish Breakfast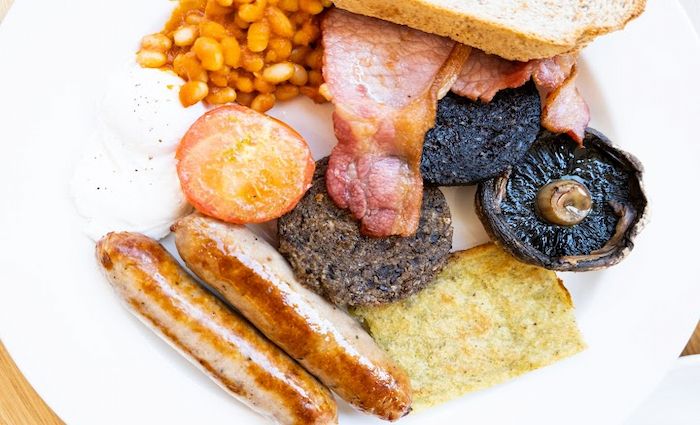 If you love a filling breakfast, then you certainly should have a traditional, hearty Scottish breakfast. Scottish breakfast is usually made with bacon, sausage, egg, black pudding, baked beans, tattie (potatoes) scones, mushrooms, tomatoes, and toast. I highly suggest also having tea—perhaps a Scottish milk and tea—with your breakfast as it's a match made in heaven.
Surely, you can enjoy a Scottish breakfast all over Edinburgh, but one place stands out with its freshness and authenticity. The delicious place I recommend is Loudons Fountainbridge. Although Scottish breakfast consists of a plateful of meat, Loudons also serves vegetarian and vegan options for this special delight. You should definitely have the full Scottish experience with this filling breakfast or brunch.
Where to get it: Loudons Fountainbridge
6. Tarts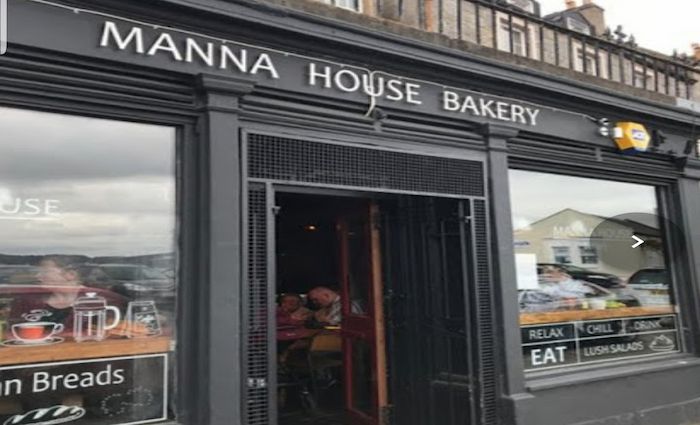 Tarts are a delicious way to treat your sweet tooth in Edinburgh. Similar to the city, tarts intertwine many tastes and different flavours too. Although tarts are French-inspired pastries, Edinburgh is a perfect place to have this delicious food as well. One reason is because tarts have gained a great reputation in Edinburgh as bakers have unofficially competed to raise the bar.
Certainly, there are several tasty spots you can buy this treat. However, I believe one of the best places to taste a tart is at Manna House Bakery and Patisserie. Manna House Bakery serves tempting tarts with many distinct flavors like baked egg custard or chocolate caramel and more. However, if you want to try an Edinburgh classic, I recommend the lemon meringue tart.
Where to get it: Manna House Bakery and Patisserie
5. Scottish Hog Roast Roll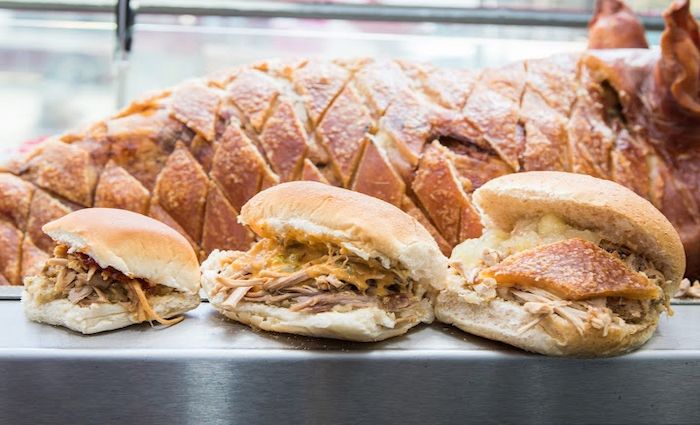 Rolls, especially meat-filled rolls, are a staple in Edinburgh for many reasons, particularly because it's delicious and practical to eat. With many people craving meat rolls, there has been a strong market in the city. Rolls come in a variety of shapes, sizes, and flavours. This top food to try in Edinburgh is the Scottish hog roast roll.
The ultimate place to purchase your Scottish Hog Roast Roll is at Oink. This place is known for scrumptious, fresh hog hoast rolls, and each bite is worth the wait. Also, you support Edinburgh's local farmers when you buy a roll here at Oink. What more can you ask for?
This delicious pork filled roll finishes fast so make sure you arrive early and order a few. Any drink goes well with this beauty of a roll, but the star of the show will be the roll. You'll find Oink on Victoria Street, so stop in here after your visit to Edinburgh's version of Diagon Alley.
Where to get it: Oink
4. Local Seafood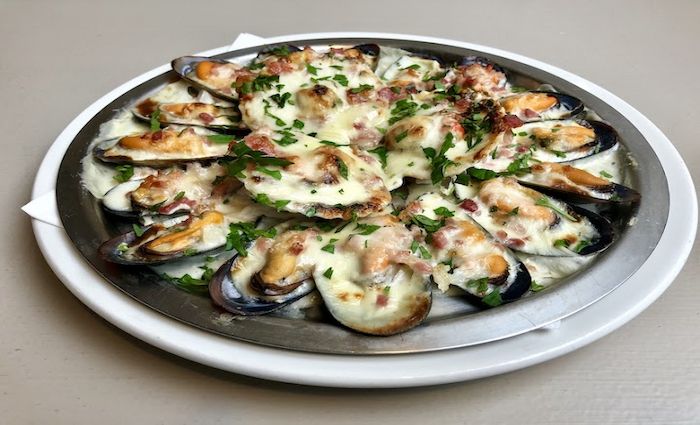 Seafood is one of the treasures of Edinburgh due to its freshness and abundance. Locals in the city also take great pride in their seafood, and they definitely should. It's worth it. Edinburgh's famous seafood usually includes smoked salmon, mussels, scallops, trout, oysters, prawns, cod, haddock, and more.
Seafood is literally found all across the city with a variety of tasty stops that serve it. But I have two favourite places that are my go-to spots. One is Fishers if you're out in Leith, and my other winner is Mussel Inn Seafood Restaurant.
Both of these restaurants specialise in seafood and are great at what they do! Fishers is an award-winning historic restaurant in a 17th-century watchtower, and their seafood platter is to die for. Mussell Inn is an award-winning restaurant with bistro vibes and lots of specials to offer new tastings. My absolute favourites are prawns and salmon, and I definitely suggest you try it too.
Where to get it: Fishers or Mussel Inn Seafood Restaurant
3. Cullen Skink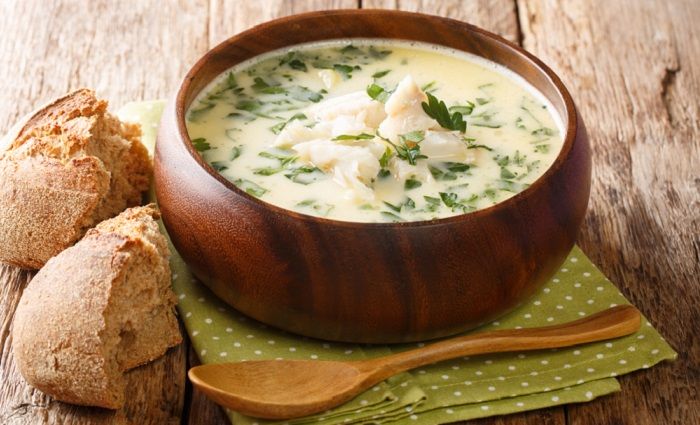 What is Cullen skink you might ask? Cullen skink is a wholesome Scottish soup made of smoked haddock, potatoes, and onions. This soup is thick and creamy and usually served with Scottish bread loaves. As a result, this soup is very filling and even can be consumed as a main dish. Cullen skink is definitely a top food to try in Edinburgh if you're here during one of our chillier months.
This creamy and fishy soup is really delicious and will take your taste buds on a fun journey. It's not uncommon for tourists who don't love soup to end up falling in love with this particularly fantastic dish.
Edinburgh is a hub for seafood and fish which makes it a must to indulge in Cullen skink here. There are many places to have your soup at, but I recommend one particular place called Teuchters Landing.
Where to get it: Teuchters Landing
2. Fish Supper or Fish and Chips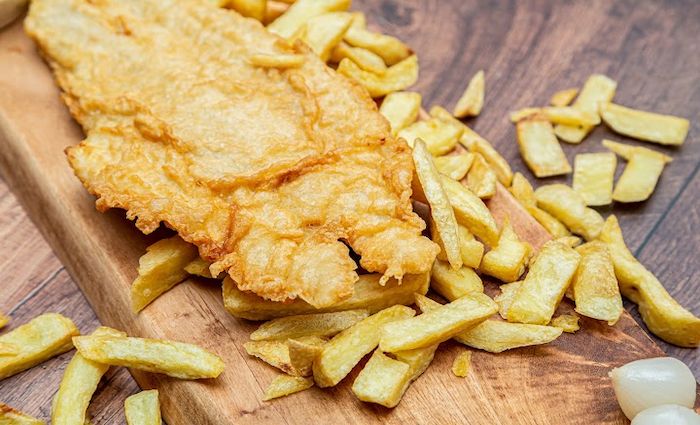 Fish supper, also known as fish and chips, is an absolute favourite for both locals and tourists in Edinburgh. This popular meal is juicy fried fish in a crispy batter served with fresh chips (otherwise called French fries). This mouthwatering dish is also great to combine with sauces. For example, the most popular sauces in Edinburgh are salt, vinegar, brown sauce, and red sauce. My favourite combination is combining salt, vinegar, and brown sauce.
Also, depending on where you try fish supper, it could be served with peas and buttered bread. This wholesome meal is available almost anywhere in Edinburgh, but the best place to try this top food is at a local chippy. These places excel in one thing: delicious, authentic, and fresh fish and chips. So, I suggest one wonderful chippy called L'Alba D'Oro.
Where to get it: L'Alba D'Oro
1. Haggis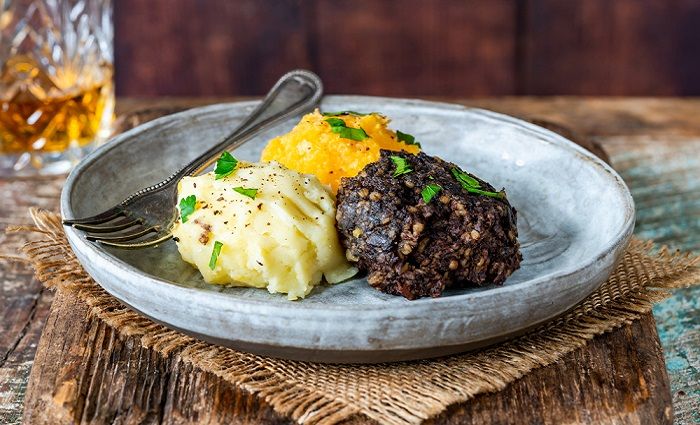 As Scotland's delicacy and national prize, haggis is an ultimate legend in Scotland. What is this famous and classic dish then? Haggis is usually served in the form of a pudding and is made of sheep's pluck, which is then chopped with flavor fillers like onions, suet, oats, and other ingredients. Sheep's pluck is usually the lungs, heart, and liver of a sheep, and it's sometimes rolled into a clean sheep's intestine before being cooked. Think of it like a hearty sausage that way.
Traditionally haggis is served with neeps (turnips) and tatties (potatoes). Over the years, this delicacy has taken on new forms like a haggis burger or even a vegetarian haggis. I suggest picking where to eat your haggis based on how clean and freshly it's prepared. Therefore, I have two great places to recommend.
Head over to Deacon Brodie's Tavern mainly because their haggis is perfectly traditional. The second stop I advise you to go is Greyfriars Bobby, which is equally delicious, fresh, and yummy. However, other places also serve good haggis, just make sure it's prepared well. No matter what, a trip to Scotland must include this top food to try in Edinburgh for the full experience!
Where to get it: Deacon Brodie's Tavern or Greyfriars Bobby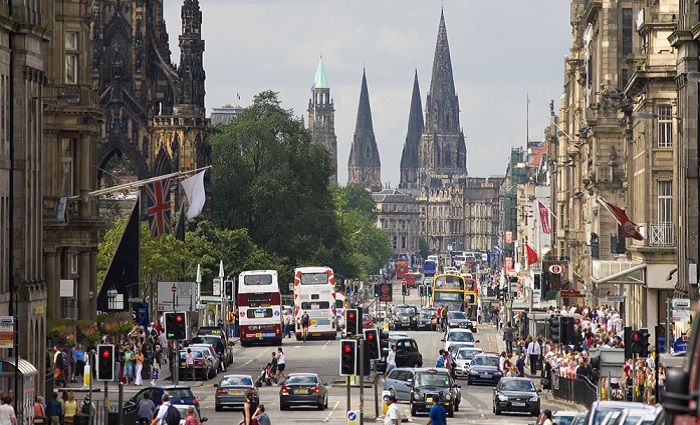 Find the best places to stay
Where to Stay in Edinburgh
Get to know the best areas to stay in Edinburgh. We've recommended our favorite hotels for those who love to stay in the busy city or out along the coast for more peaceful views of the sea.