Edinburgh Castle is both a local and tourist attraction for many people, and it ties together the long history of Edinburgh and England. In fact, this castle is one of the oldest places still standing in the British Isles – initially built in the 11th century and added upon later. Since it's a must-see on your trip to Edinburgh, here's how to visit the Edinburgh Castle, plus all you need to know about tickets, hours, and more!
---
Pro Tip: Bookmark this article as a helpful guide for your visit to Edinburgh Castle no matter when you visit! Also, if you want to see other top attractions make sure to check out our top things to do in Edinburgh.
 Edinburgh Castle Hours, Tickets, Tours, and Facts: What We'll Cover
How to Visit the Edinburgh Castle: Hours and Info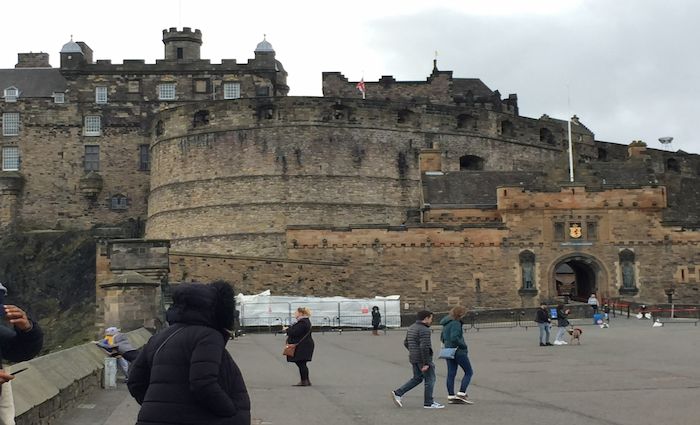 The Edinburgh Castle is open daily, but the castle's opening hours change according to the season.
Castle hours:
1 April – 30 September: Opens 9:30 am, closes 18:00 (6 pm)
1 October – 24 December: Opens 9:30 am, closes 17:00 (5 pm)
27 December – 4 January: Opens 10 am, closes 16:00 (4 pm)
5 January – 31 March: Opens 9:30 am, closes 17:00 (5 pm)
However, please keep in mind that you can't enter the castle starting one hour before the actual closing time in order to allow enough time to explore the castle before it's closed.
Castle closed:
The castle is closed on the following days:
December 25, Christmas Day
December 26, Boxing Day
Castle gun salute:
The one o'clock gun is fired every day at 13:00, so don't be alarmed by the sound. The gun is not fired on Sundays, Good Friday, and Christmas Day.
Pro Tip: You should make an online ticket reservation to guarantee entry. There is currently a limit on the number of visitors allowed inside, so booking ahead ensures you can get it.
National War Museum:
The National War Museum is free to visit after paying for entry to the Edinburgh Castle. It's located on the castle grounds and also has opening and closing hours that change each season.
The National War Museum is open daily.
National War Museum working hours:
1 April – 30 September: Opens 9:45 am, closes 17:45 (5:45 pm)
1 October – 24 December: Opens 9:45 am, closes 16:45 (4:45 pm)
27 December – 4 January: Opens 10:15 am, closes 15:45 (3:45 pm)
5 January – 31 March: Opens 9:45 am, closes 16:45 (4:45 pm)
The National War Museum closes to new visitors 15 minutes before the closing times above, so plan ahead.
Pro Tip: Note that The Royal Scots and The Royal Scots Dragon Guard Museums are managed by volunteers. As a result, there might be different opening times so check beforehand by calling or checking online.
Admission Tickets to Edinburgh Castle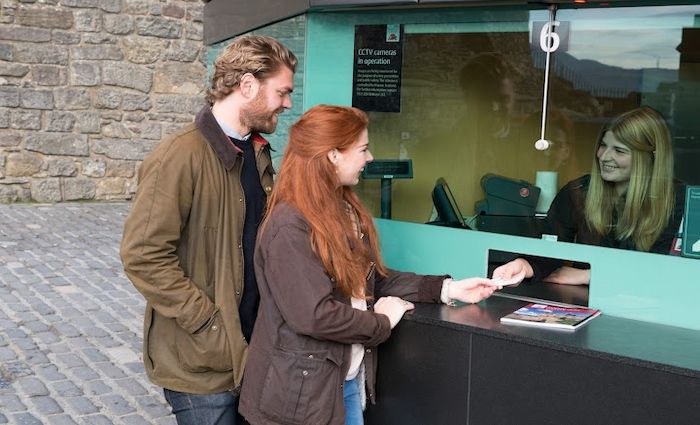 Admission Fee: Adult (16+) £15.50 | Concession (Seniors 65+) £12.40 | Child (5-15) £9.30 | Children under 5 are free (still requires a ticket)
Discount Ticket Options: Family Ticket 1 – £31 (1 Adult + 2 Children) | Family Ticket 2 – £45 (2 Adults + 2 Children) | and Family Ticket 3 – £53 (2 Adults + 3 Children)
Address: Castlehill, Edinburgh
Pro Tip: I recommend booking online to guarantee your visit and to plan exactly what you want to see. The easiest and safest way to purchase your ticket is from the castle's official website.
How to Get There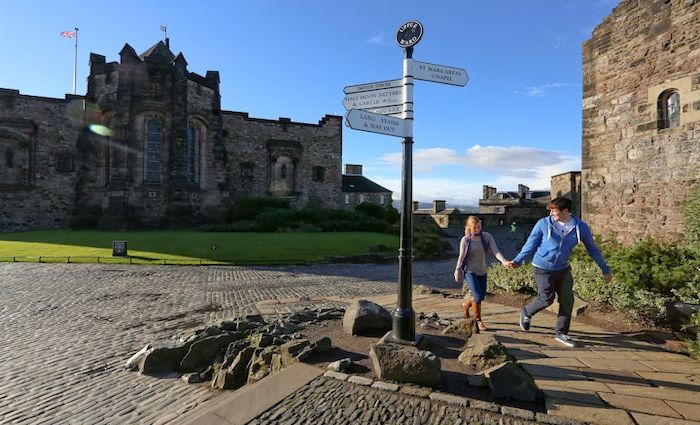 Edinburgh Castle is easy to locate from various parts of the city because it sits on a hill in the city. Since the castle is centrally situated, there are many ways to reach it, but car is the least recommended.
Here are a few transportation options:
By Tram:
Edinburgh's trams are easy to access and run every 7 minutes from early until late. The tram line runs from the airport to York Place in the city centre. The journey to Princes Street (Edinburgh's main shopping street) from the airport takes approximately 30 minutes, but once you're there, it's only a 10-minute walk to the castle. Check Edinburgh tram's website for exact times based on where you're staying in Edinburgh.
By Train:
The best two rail stations to take are: Waverley and Haymarket Stations, because they are the closest to the castle. Waverley is the city's main and most central station. It's just a short walk and the castle is visible from the station's exit.
Haymarket is an excellent alternative if you're travelling from west of Princes Street and located in the city centre. The walk is longer to the castle from here, about 20 minutes.
By Bus:
There are three main bus routes that are available and sensible to use. Firstly, the Airlink 100 express bus travels from the airport to the city centre. It takes about 25 minutes to reach Waverley Bridge which is located next to the main railway station. Visit Lothian Buses website for correct routes.
Some hop-on, hop-off bus tours stop at the castle as well. Moreover, you can use local buses on the following routes of: the Mound or George IV Bridge.
By Car:
There is no public parking available at Edinburgh Castle. Instead, you can either park nearby at on-street parking zones or car parks. The nearest on-street parking zones are: Castle Terrace and Johnston Terrace. Additionally, Castle Terrace NCP is the nearest car park area.
Pro Tip: I don't advise anyone to come with car, because it is hard to find a parking spot, and it can be crowded. Also, the car parks and zones have an entrance fee and hourly rate so come with cash or cards.
By Bicycle:
There is no bicycle rack present at the castle. However, bicycle racks are available at the following destinations: Victoria Street, Waverley Station, and Chambers Street.
Pro Tip: I don't recommend you to arrive on a bike because it's hard to carry and find a safe place for it.
Famous Monuments, Rooms, and Activities in Edinburgh Castle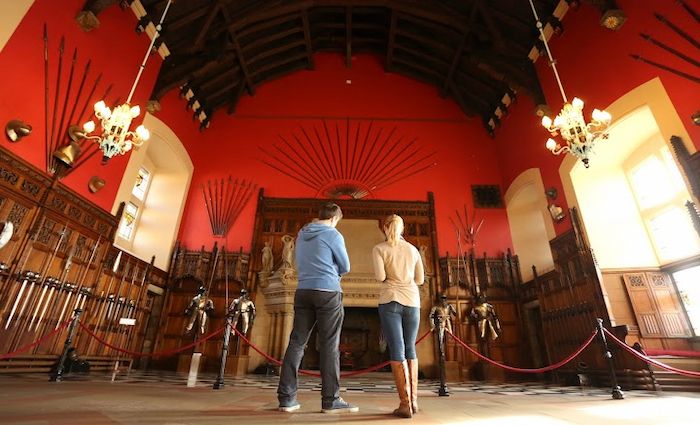 Great Hall
St Margaret's Chapel
National War Museum
The Royal Palace
Mons Meg
One o'Clock Gun
Prisons of War
The Royal Scots Dragoon Guard Museum
David's Tower
Scottish National War Memorial
There's a lot to see at this castle. You should spare at least 2-3 hours to see and explore all the attractions here!
More fun things to do at Edinburgh Castle:
You can shop at the Portcullis Shop which has fascinating gifts from Scottish crafts to scarves and more. Otherwise there's the Crown Gift Shop if you want to choose luxurious products and gifts from Scottish designers.
However, my favorite shop is Whisky and Finest Food Shop where you can indulge in an iconic Scottish drinking experience. For example, you can taste local Edinburgh Gin to Traditional shortbread to whisky fudge, and more delicious delights.
Many visitors love to eat at one of the two incredible cafes. First is the Tea Room, which is both a stylish and elegant place to eat at. I highly recommend having the Afternoon Tea here—the experience and price is truly worth it. Make sure to pre-book your Afternoon Tea experience online.
Also, the Redcoat Café is lovely to eat at. From seasonal products to hot food, this café has it all.
How to Visit the Edinburgh Castle: Tour Options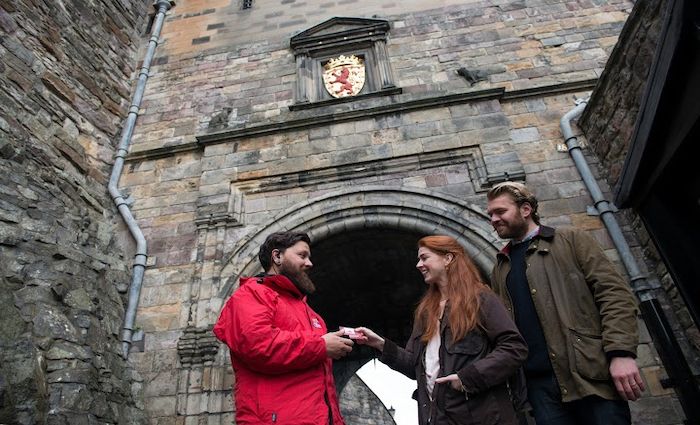 If you're planning a trip to Edinburgh and want to explore the Edinburgh Castle, I suggest booking a tour. Currently, with Covid-19 restrictions there are no guided tours of the castle, but there are still several informative tour options. Here are the top two:
Audio Guides:
What makes this tour the best is its affordability and excellence at making sure you learn everything you can on your trip to the Edinburgh Castle. The audio guide features the voices of famous people such as: Saoirse Ronan, Bill Paterson, and Andrew Gowar. They take you on a marvellous journey and inform you about the castle, the people, and the events that happened here.
Also, the audio guide is available in many languages which you can reserve at the ticket office or pre-book online. The audio guide can be accessed as a headset or you can use the guide on your own phone or tablet.
Prices for the Audio Guide Tour: Adult £3.50 | Concession (Seniors 65+) £2.50 | and Child £1.50.
New 3D Model:
Get to know the castle before you even visit! This free 3D model tour provides you with the relevant information to have before visiting here so you know your way around and where to find the things you want to explore. It is an online 3D digital tour of the castle produced by the castle to give visitors a better understanding of key points of interest here.
Interesting Facts and History Of The Edinburgh Castle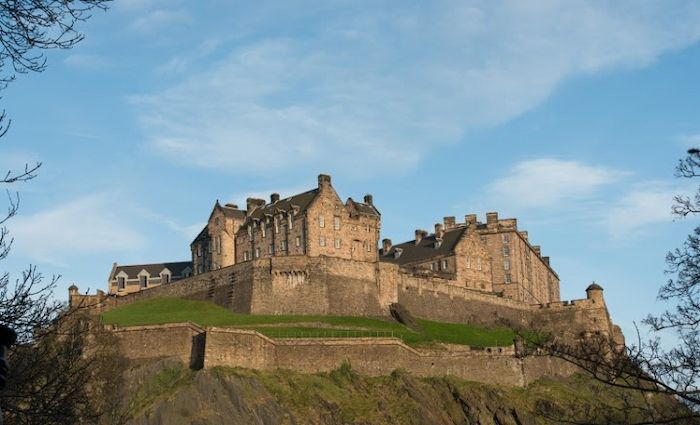 The Castle is situated on an extinct volcano that formed this castle rock and it dates back to the Iron Age.
The name Edinburgh was not known until the invasion by Angles in AD 638.
During the Middle Ages, the castle became headquarters for the sheriff of the city. Military troops were based here, along with the royal gun train, and the crown jewels were stored here.
King David I constructed many buildings here in 1130 such as the chapel, which was dedicated to his mother, Queen Margaret.
St. Margaret's Chapel is the oldest building in Edinburgh.
David's Tower was built in 1370 by David II.
Symbolises independence, power, and national identity.
Scotland's chief royal Castle in the Middle Ages.
The most besieged place in Great Britain.
Faced a lot of damage during the Wars of Scottish Independence.
The castle passed into the care of Historic Scotland in 1991.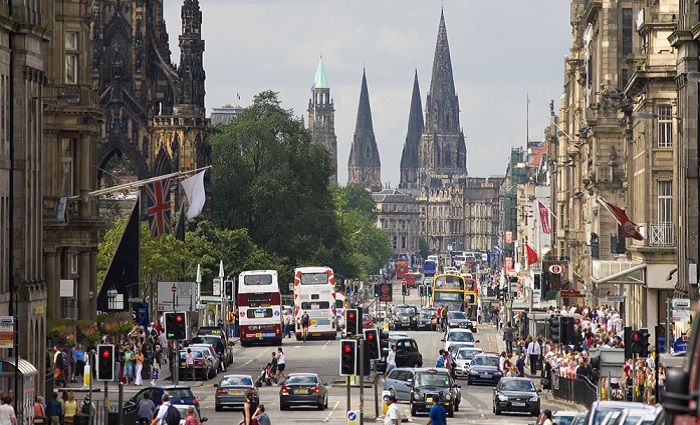 Find the best places to stay
Where to Stay in Edinburgh
Get to know the best areas to stay in Edinburgh. We've recommended our favorite hotels for those who love to stay in the busy city or out along the coast for more peaceful views of the sea.