Edinburgh is spectacular year round, but during Christmas, the city is truly worth seeing. During the festive season, Edinburgh is where the magic happens with its shiny, colourful atmosphere. But if you're wondering what there is to see and do around the holidays, wonder no more. Keep reading for this local's guide to spending Christmas in Edinburgh.
---
What to Expect at Christmas in Edinburgh
Christmas in Edinburgh has important significance for both locals and tourists. One reason is because it's the festive season where families and friends of Scots come to visit. Join the city filled with lights, music, and the Christmas spirit found in the ambiance of the streets of Edinburgh.
Like many cities in Europe, you'll find Christmas markets in the city to buy local food and goods. We also have activities that center around the nativity, carolling, and seeing holiday lights. Many of these activities happen at key locations around the city from the Botanical Garden to the zoo to the Edinburgh Castle. From foods to traditions, here is our guide to spending Christmas in Edinburgh and what you can expect.
Pro tip: Planning a holiday to Edinburgh? Then, bookmark this post to circle back to the best options of events and things to do here during Christmas.
Worship Events On Christmas in Edinburgh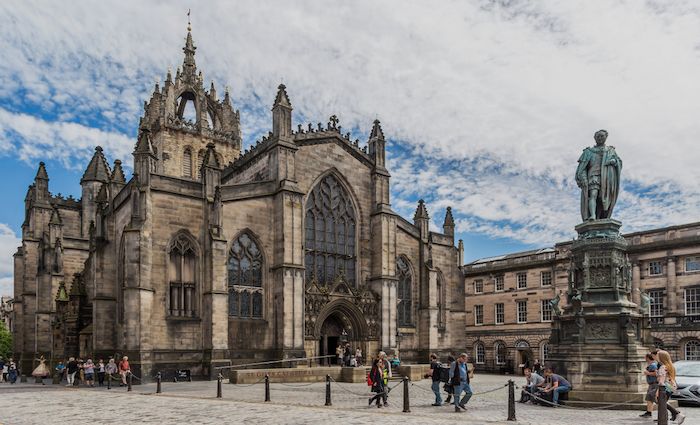 Firstly, Edinburgh has many churches that perform religious services, carolling, and more for Christmas. However, the most well-known church for worship and events related to the season of Christmas is St. Giles' Cathedral. St. Giles' is a part of the Church of Scotland and visitors flock to this beautiful old cathedral all year long.
However during Christmas, St. Giles' is even more crowded when people from all over the city come for the Candlelit Concert. This concert is touching and usually features religious-themed songs accompanied by church choirs.
Please note that this beautiful seated concert you need to buy tickets beforehand online. Tickets sell fast, so make sure to act quickly to book them.
What's Edinburgh Like at Christmas?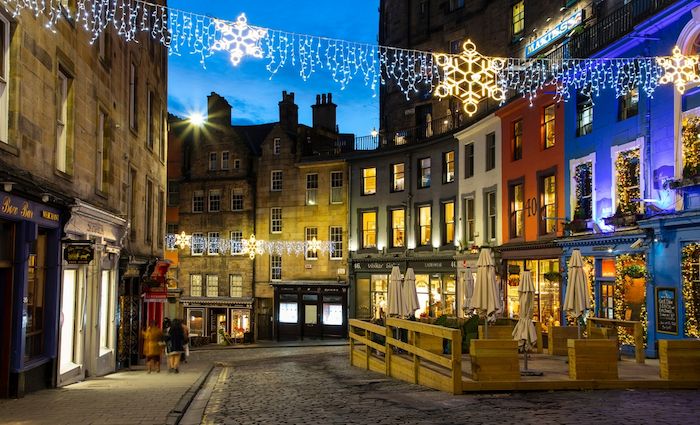 Christmas and Hogmanay (New Year's Eve) are major holidays in Edinburgh and are anticipated each year. As a result, locals and tourists crowd the city to enjoy the merry atmosphere and jolly environment present in Edinburgh. One important reason the city is filled with people even before Christmas is for the shopping.
Be prepared to see people packed with shopping bags, because Christmas shopping is a huge deal here and is part of the tradition. Another major tradition present in Edinburgh for Christmas is the decorations. Decorating is a large part of what makes Christmas magical and captivating here.
For example, you can see houses, shops, and streets filled with decorations and lights. Christmas trees are also a core part of this tradition and locals love putting trees in front of their houses, shops, and more. There is also an ice skating rink near Princes Street for kids and families to enjoy.
Christmas Markets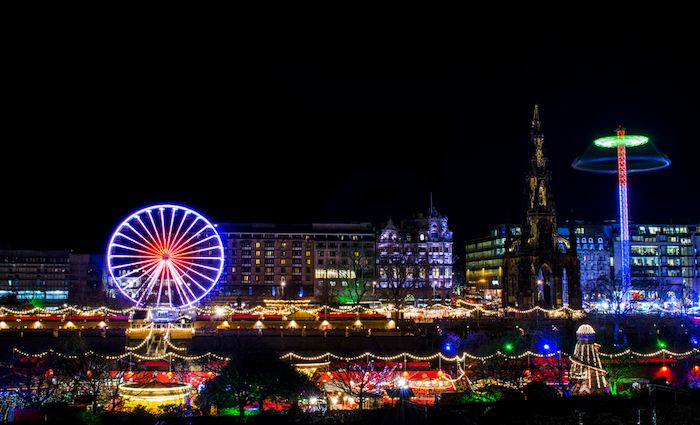 Certainly, Christmas is about joy, fun, and traditions, and the Christmas Markets in Edinburgh combine all of these elements. The most famous and main Christmas Market in the city is located at Princes Street Gardens. This magnificent market on Princes Street Gardens is rather large, and it stretches out to other locations on George Street, the West end, and more.
Moreover, there are huge selections of things you can find and enjoy here. For instance, there are many unique gifts and international foods you can try and treat yourself to. However, a top favourite is mulled wine, which goes great with the many German food options you can buy from here.
Christmas Shows and Events
What would Christmas be without festive shows? If you're a person who loves seeing local and seasonal experiences, then Edinburgh is definitely the spot to be during the Christmas season! The city is home to many Christmas shows and fun adventures to explore.
One of the best shows here to enjoy is Christmas at the Botanics, which is the Royal Botanic Garden and a key attraction to see in Edinburgh. The Christmas at the Botanics is a show filled with a festive light display where you can get lost in its dazzling space among the gardens.
However, that's not all Edinburgh also has other shows, too, like musicals or ballet that you can find at the Festival Theatre, King's Theatre, among other places. And Santa Claus is sure to make an appearance in town for the kids.
In other words, there's certainly something that will bring you Christmas joy in this city. Make sure to review their site to see upcoming events for the current year and to make an early reservation.
Christmas Traditions in Edinburgh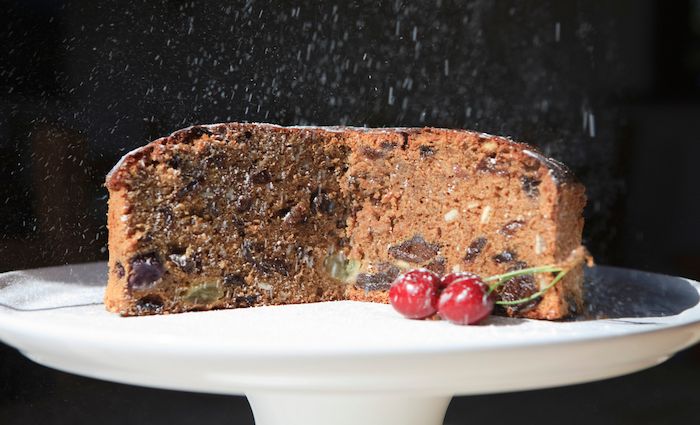 Christmas and Hogmanay are two days where worrying about gaining weight while feasting on your favourite food and drinks aren't a problem! This festive season is the best to indulge and fire up your taste buds. So hop into some comfy clothes and prepare for a tasty food and drink experience.
There are a variety of food and drinks that are part of Scottish heritage during this memorable season. On Christmas Eve, we tend to eat light dishes and not fill ourselves up in order to make room for Christmas Day.
On Christmas Day, indulge in plenty of hearty meat like pork, ham, beef, and more. But if you're more of a dessert person, I certainly recommend having clootie dumpling, also known as Christmas pudding. It's a traditional Scottish dessert pictured above.
Drinking is a big part of Christmas in Edinburgh too. For example, mulled wine, whiskey, hot chocolate, and more are wonderful options to try, and there will be plenty around.
We also have a few traditions that many families follow. Children write letters to Santa in December and put out biscuits and milk as a treat for Santa on Christmas Eve. Here we open presents on Christmas Day rather than Christmas Eve in other countries.
However, in Scotland, we generally put up our Christmas tree on Christmas Eve, and it makes for a magical evening spent together right before Christmas.
Things To Do in Edinburgh on New Year's Eve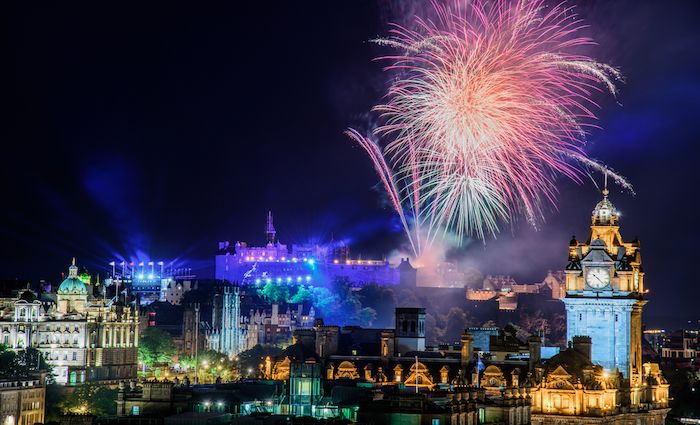 New Year's Eve Celebrations
Since New Year's is also important and it's right after Christmas, I decided to include important information about this holiday too! The first thing to know is that New Year's in Edinburgh and Scotland is known as Hogmanay, so don't be surprised if you hear that used instead. Be prepared for another magical season, because Edinburgh is known in the UK for its fun and memorable New Year's celebrations.
On New Year's Eve day, people generally prepare for the fun at night by eating light, drinking tea or coffee, and getting dressed up. However, the main events start during the late evening with Edinburgh's Torchlight Procession. The Torchlight Procession is a fun way to walk with torches, pipes, and drums and ring in the New Year with other people.
But if you're more of a party person, we definitely suggest going to the Hogmanay Street Party. Held on Princes Street, the Party is where you can have a brilliant time and watch the amazing fireworks while listening to popular music.
New Year's Day Activities
New Year's Day in Edinburgh is usually more calm, and people tend to relax and sleep in after all the fun the night before. However, that doesn't mean the fun ends here. Many locals of Edinburgh go to South Queensferry to attend and enjoy the Loony Dook tradition.
The Loony Dook is a wonderful event that many attend while wearing costumes. They run into the waters of the Firth of Forth estuary and splash around in the chilly water together in good fun. If you just want to see the spectacle and not join in, you're welcome to just watch the colourful display of people launching themselves in the sea!
Recommendations for Christmas in Edinburgh
Filled with amazing hotel options to pick from, Edinburgh has fun, cosy, and luxurious accommodations. However, the top hotels and rooms fill up fast during the holiday season, so make sure to book in advance. For great lists and information on the hotels in Edinburgh, take a look at our articles listed below.
We've also put together fantastic lists of foods to try and some of the best restaurants in Edinburgh. And if you're still looking for activities, don't miss all the places to stop if you're a Harry Potter fan, plus how to visit the Edinburgh Castle and the National Museum of Scotland.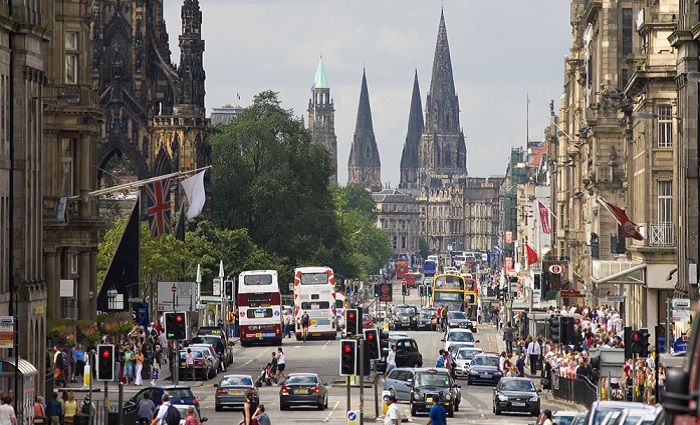 Find the best places to stay
Where to Stay in Edinburgh
Get to know the best areas to stay in Edinburgh. We've recommended our favorite hotels for those who love to stay in the busy city or out along the coast for more peaceful views of the sea.