Are you in Istanbul and wondering what to eat here? Then you're in the right place, because your trusted Istanbul foodie has produced a mouth-watering list! Covering Istanbul street food to Turkish local favourites, this list is sure to fill your belly with new flavors. Here are the top foods to try in Istanbul.
---
Pro Tip: Definitely bookmark this article if you're planning to travel to Istanbul or simply new craving food to try!
The 13 Best Foods And Drinks To Eat In Istanbul
Istanbul is the most populated city in Europe and connects both Asia and Europe together. As a result, there are many types of cuisine to discover and experience. Due to its massive, diverse population, many cultures have merged here, and this is highly evident with the variety of foods available as well.
The essence of foods and drinks that are available in Istanbul are truly authentic. The main reason for this is that many people who migrate to Istanbul are from other Turkish cities and towns. But the other immigrants who move here also bring their culture and roots with them, which is why you'll find so many food options in the city.
This list will cover the best and most cherished foods and drinks from kofte and börek to Turkish coffee and boza. Street food is a staple here, but so are hearty plates filled with richly flavored entrees. There's no doubt you'll find several foods to love on our list of the top foods to try in Istanbul.
13) Kestane (Roasted Chestnuts)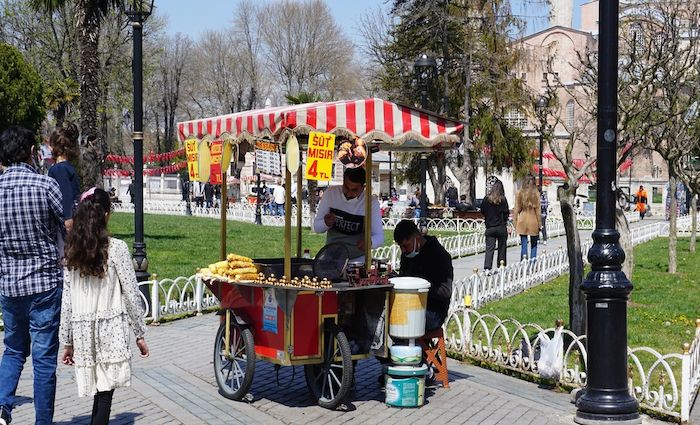 Kestane is a beloved food item in Turkey by many; however, kestane has a special place for people in Istanbul. This delicious food is part of the culture as one of the symbols of the city. For example, when a local thinks of Istanbul's winters, the first thing that comes to mind is eating warm kestane. It's a delicious roasted chestnut.
Though they're synonymous with Istanbul winters, this delicious street food is now available every season. I certainly recommend eating this sweet yet savoury bite roasted, and I guarantee you'll want to eat it this way.
Additionally, kestane is available on nearly every street corner in the city and usually sold by street vendors. But the best roasted kestane is found at the street vendors of: Beyoğlu, Eminönü, Sultanahmet, and Kadıköy. My favourite street to purchase kestane is on the famous Istiklal street.
Where to get it: Istiklal St, Beyoğlu, Istanbul
12) Islak Hamburger (Wet Hamburger)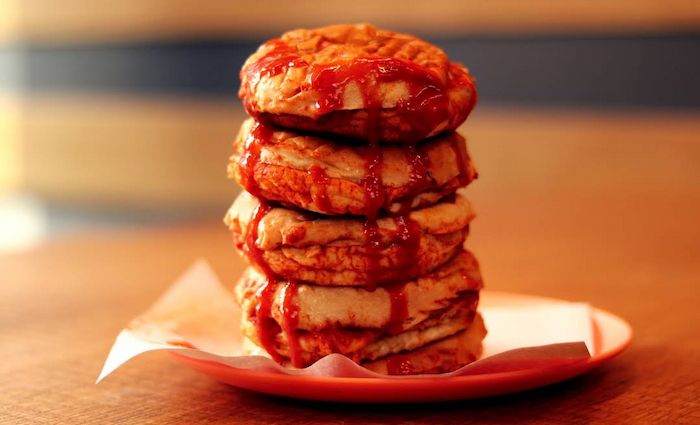 Islak hamburger is one of the most famous Istanbul street foods made out of a special tomato sauce bun and the burger is prepared in a griddle. I strongly suggest eating this hamburger after a few drinks, because this tasty hamburger soaks up all your troubles. However, this tasty hamburger is so good that it can even be eaten as a breakfast item!
But not every place serves tasty islak hambugers, and you shouldn't try the first place you set eyes on. If you're in the European side of Istanbul, you should go to the best: Kızılkayalar Taksim, which is authentic and spectacular. Don't worry though if you're not in the European side, because Kızılkayalar has a few branches across Istanbul, so find a nearby location.
Where to get it: Kızılkayalar Taksim
11) Lahmacun (Turkish Pizza)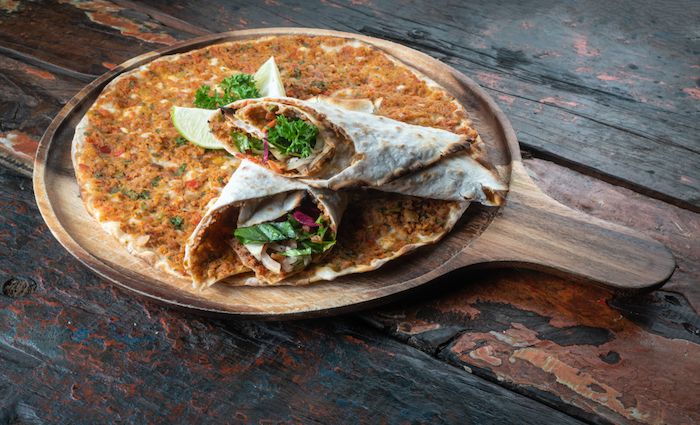 Also jokingly named Turkish pizza, lahmacun is made out of a round dough topped with minced meat and vegetables and various other herbs and spices. Lahmacun is a unique Turkish dish that originated in the southeastern regions of the nation. However, after a lot of the masters of the dish migrated to Istanbul, lahmacun has become a staple here.
Certainly, when you eat this treat I strongly recommend consuming it with ayran. Ayran is a yogurt drink that is savoury and sour. When combined with the flavor of lahmacun, ayran is like a match made in heaven.
The best place to find lahmacun is at Borsam Taşfırın. Located in the Kadıköy fish market area, their lahmacun is spectacular. One reason is because they cook lahmacun in a wood oven, and it's prepared by an authentic lahmacun master. Additionally, served with ayran, lemon wedges, garden rocket (arugula), and fresh onion makes it even tastier.
Where to get it: Borsam Taşfırın Bahariye
10) Boza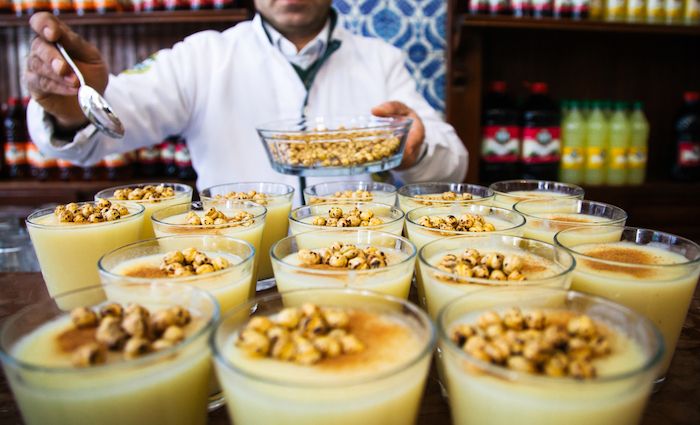 For many people living in Istanbul, boza holds a dear place, because it has been a traditional drink since Istanbul was founded. Therefore, boza has a long history and is very authentic to the city. It's easily a top food to try in Istanbul.
However, the question remains: what is boza? Boza is a fermented drink made from millet, semolina, water, and sugar. Ok, that doesn't sound amazing, but trust me. This incredible drink tastes floral, nutty, and sweet.
Although accessible year-round, I love consuming boza during the winter. One main reason is due to boza's health benefits and natural energy boost. For example, boza naturally contains B vitamins and lactic acid and doesn't contain gluten.
If you want to try boza, then your go-to location has to be Vefa Bozacısı. Vefa Bozacısı was founded in 1876 and is the most famous boza place not only in Istanbul but in Turkey too. Many people from around Turkey come here just to taste Vefa Bozacısı's boza. You can too!
Where to get it: Vefa Bozacısı
Heading To Istanbul? Explore The Top Things To Do In Istanbul to make sure you see top attractions and local favorites!
9) Kumpir (Baked Potato)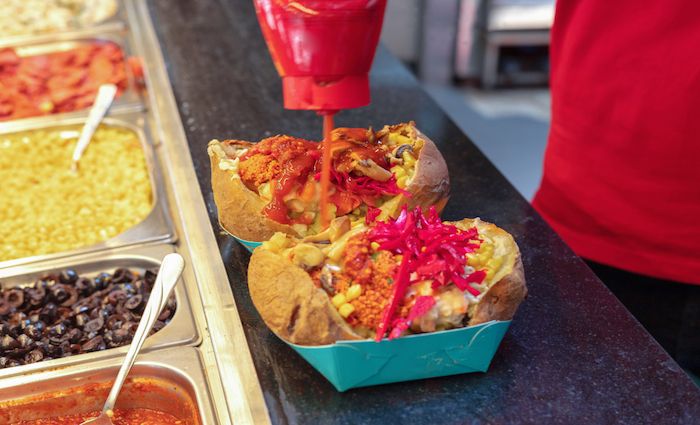 Kumpir is one of the most appetising forms of a potato. Kumpir is a must-try in Istanbul and is also a famous street food here. This tasty dish is baked in a special oven, then blended with local butter and cheese to make a rich flavor.
But what really makes this dish stand out is that you can customise your own kumpir according to your taste. For example, there are fun selections of toppings you can pick from. To name just a few of them: red cabbage, mushrooms, Russian salad, kısır (wheat salad), olives, tomatoes, and more. Also, you can pick a wide range of sauces to top your kumpir with like ketchup, mayonnaise, and so on.
The most well-known place to purchase kumpir is Ortaköy where both locals and tourists visit here for this treat. Any of the buffets in Ortaköy serve kumpir.
Where to get it: Ab'bas Waffle
8) Pilav (Turkish Rice)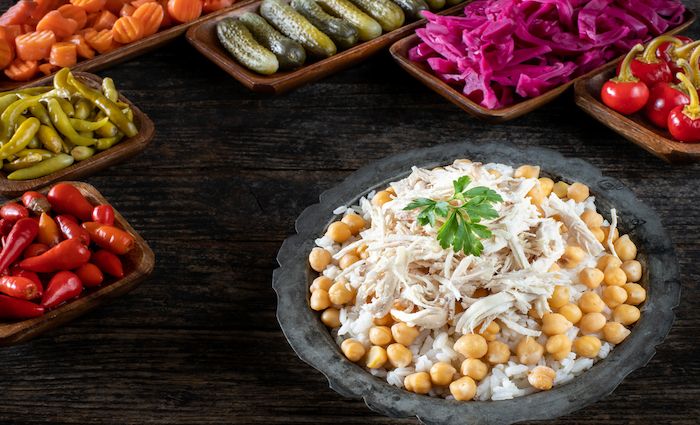 Firstly, like many places around the world, rice is consumed and treasured by many as a hearty, filling food. Turkey is one of those places, and Istanbul is the main place that eats rice as a street food. Pilav is available in Istanbul day or night and has a history of being consumed anytime of the day.
Although you can make pilav at home, it never tastes the same as the pilav sold at Istanbul's street vendors. (Why is that with all the best street foods?) You can buy pilav at any street vendor, but my favourite vendor is: Meşhur Tahtakale Pilavcısı.
Pilav is mixed with many different things, such as chickpeas, chicken, salad, and liver. However, the traditional pilav is made with chickpeas, and it's something special.
Where to get it: Meşhur Tahtakale Pilavcısı
7) Kokoreç (Grilled Lamb Intestines)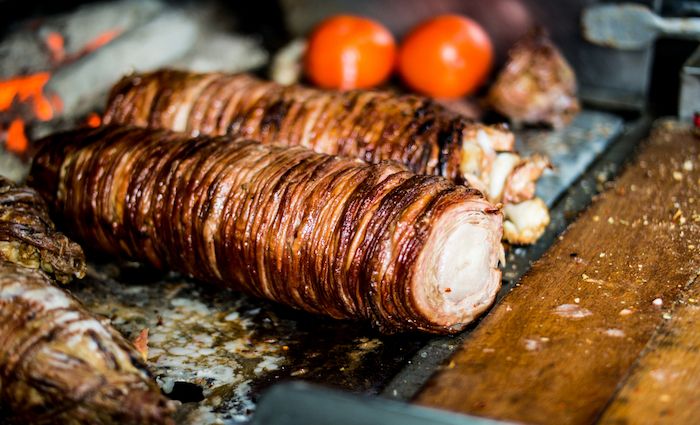 Don't skip this one if you're up for a surprising flavor experience! Kokoreç is made out of either sheep or lamb's intestines and seasoned with onion juice, salt, and pepper, then wrapped around skewers and baked in a hot fire. As a result, kokoreç is so deliciously appealing because of its aroma. It's so fragrant that you can smell it from meters away.
Most importantly, you must try kokoreç from a place in Istanbul that is known for its cleanliness. I highly suggest you try kokoreç at my favourite spot: Reks Kokoreç. Reks serves this speciality either stuffed in Turkish bread or as its own dish. Also, there are sizes you can pick from, such as: a quarter, half, whole, and so on.
Although you can have kokoreç anytime of the day, the best time is after having a couple of cocktails. While consuming this meaty dish you should have it with ayran (Turkish yogurt), because it goes so well together. This is a top food to try in Istanbul that you won't soon forget!
Where to get it: Reks Kokoreç
6) Börek (Filled Turkish Pastry)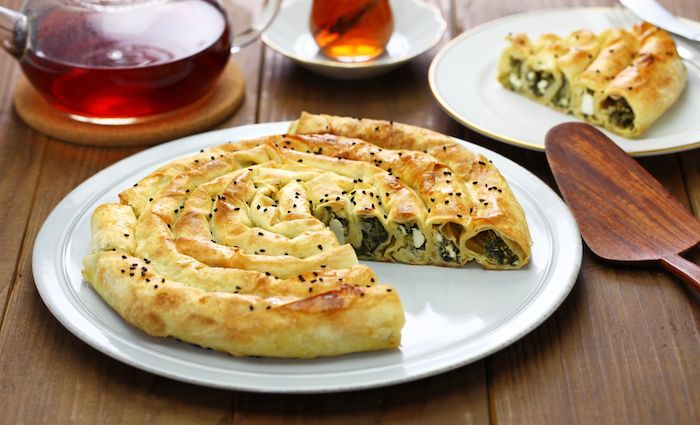 Börek dates back to the Ottoman Empire and has been a staple in Turkey for many years. Also, börek has many varieties, such as su böreği (water börek), sigara böreği (cigarette börek), and more. Istanbul is the most popular place to find börek. In fact, one type of börek is named after one of the districts of Istanbul called Sarıyer.
Sarıyer böreği is a delicious roll made out of flaky dough and prepared with a variety of fillings. For example, the most famous sarıyer börek is filled with minced meat. But cheese, spinach, and potato are some of the other options you can try. I suggest you eat sarıyer börek first and then try the other types of böreks.
Certainly, if you plan to try sarıyer böreği, you should eat where it originated from: Sarıyer! The best and authentic place for sarıyer böreği is Tarihi Sarıyer Börekçisi. In my opinion, this place serves the best Börek, because it's consistently tasty, fresh, and hot. Don't miss this top food to try in Istanbul.
Where to get it: Tarihi Sarıyer Börekçisi
5) Baklava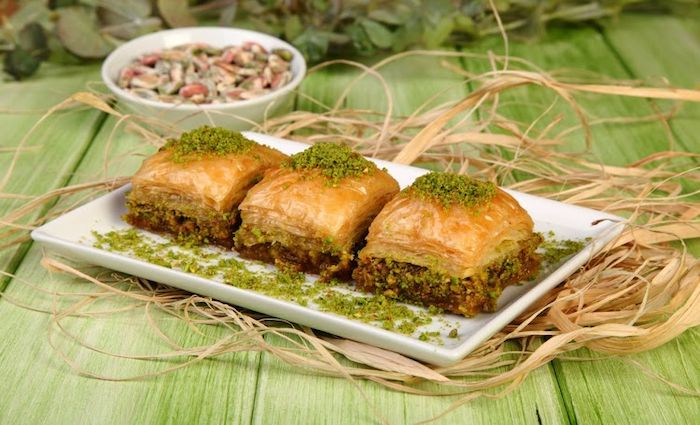 When one thinks about Turkish deserts usually the first thing that comes to mind is, of course, baklava. The delicious crispy layers of dough filled with pistachios, walnuts, or hazelnuts and the sticky honey or syrup melting with each bite. Yum. After picturing this description you would understand my mouth-watering experience with baklava. I highly advise trying all types of baklava, but my favourite is with pistachios.
Also, what makes baklava stand out in Istanbul is that many masters of baklava have migrated to the city, which makes Istanbul the ideal place to find the best baklava. You shouldn't eat baklava anywhere, because it's a special sensation that should be savoured at an authentic place where it's made properly and carefully.
As a result, I advocate Karaköy Güllüoğlu as one of the top in the business and a master at baklava. With many fresh selections to pick from, this store offers several types of baklava. For example, you can indulge in baklava with pistachios, baklava with walnuts, and many more choices.
Where to get it: Karaköy Güllüoğlu
4) Köfte (Turkish Meatball)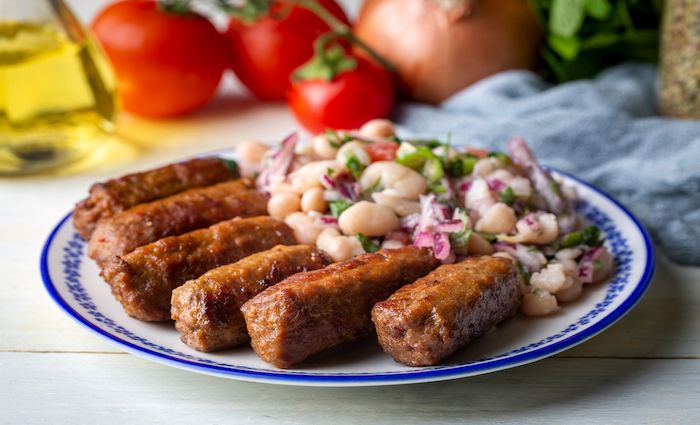 Köfte, especially köfte ekmek, is an indispensable part of Turkish culture. Köfte holds a special place for Istanbul and its street food culture. Two core reasons is because of its practicality, and that it's easily accessible in any of Istanbul's streets and restaurants. Istanbul's locals and tourists enjoy this taste day and night. For example, locals eat köfte before or after football matches and concerts.
Although, the original köfte is composed of ground beef, onions, parsley, and spices sometimes lamb, chicken, or wheat is used. There are also many kinds of köfte from Kadıbudu köfte (rice and minced meat köfte) to inegöl köfte (grilled, cylinder-shaped köfte) and more.
There are plenty of places to eat köfte, but I urge you to try it at: Tarihi Sutlanahmet Köftecisi Selim Usta. This place is authentic and serves one of the finest köftes in Istanbul. Additionally, köfte goes best with piyaz (Turkish bean salad), and either ayran (yogurt drink) or salgam (Turkish turnip juice) for a complementary drink.
Where to get it: Tarihi Sultanahmet Köftecisi Selim Usta
Heading To Istanbul? Explore The Top Things To Do In Istanbul to make sure you see top attractions and local favorites!
3) Balık Ekmek (Fish And Bread)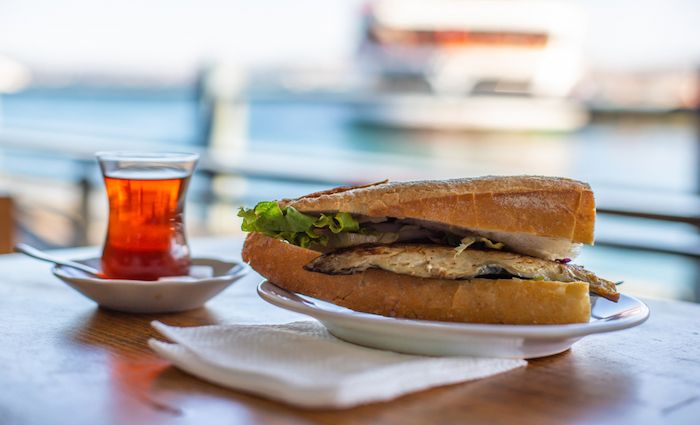 Istanbul city spreads over the Bosporus strait and is massive in its total area. Therefore, fish is central to the city's market and cuisine. Also, the fish is fresh, delicious, and safe to consume. There are a number of fishes available in Istanbul, but the top are uskumru (mackerel), palamut (bonito), and hamsi (anchovy).
There are tons of popular ways to eat fish here, however, the most loved by the city's locals and tourists is balik ekmek. The most known balik ekmek combination is with uskumru and seasoned with salt and pepper and garnished with onion, lettuce, lemon juice, olive oil, and wrapped with bread. You ought to consume balik ekmek with turşu suyu (pickle juice), because they go excellent together!
Certainly, while you're having your balik ekmek, I recommend eating it with a view of Istanbul's sea. The top places you can experience this combination are at Eminönü, Karaköy, and Kadıköy.
Where to get it: Fish Port Restaurant
2) Türk Kahvesi (Turkish Coffee)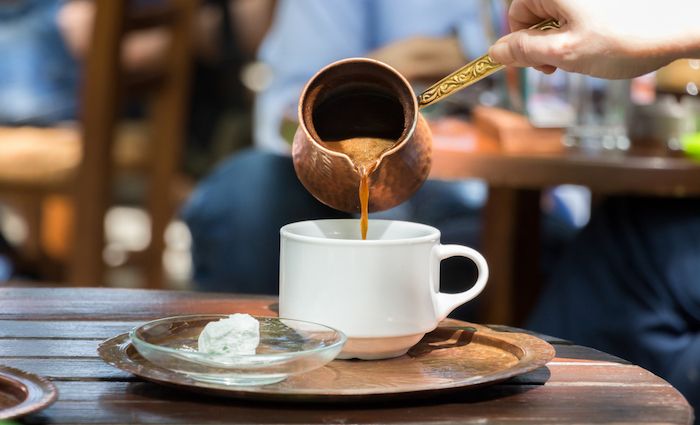 A popular Turkish proverb says, "Bir Fincan Kahvenin Kırk Yıl Hatırı Vardır" which translates to "A cup of coffee has forty years of sake." One can see the importance that Turkish coffee holds for this incredible culture, which is just part of why it's a top food to try in Istanbul.
Turkish coffee has a strong historical presence, because it has been here since the Ottoman Empire and has been prominent ever since. For example, this coffee is used in kız isteme rituals (asking for the girl's hand in marriage) and fal bakma (fortune-telling).
Istanbul is home to various coffee shops; however, I suggest having your coffee at an authentic place. For example, you can have true Turkish coffee at places like Pierre Loti and Bebek Kahvesi.
Traditionally, Turkish coffee is coffee prepared in a copper cezve using finely ground coffee. Turkish coffee has four ways it's usually served: Şekerli (with a lot of sugar), Orta Şekerli (medium sugar), Az Şekerli (a pinch of sugar), and Şekersiz (without sugar). This delicious cup of coffee is also served with lokum (Turkish delight) and will satisfy your sweet tooth.
Where to get it: Pierre Loti
1) Simit (Turkish Bagel)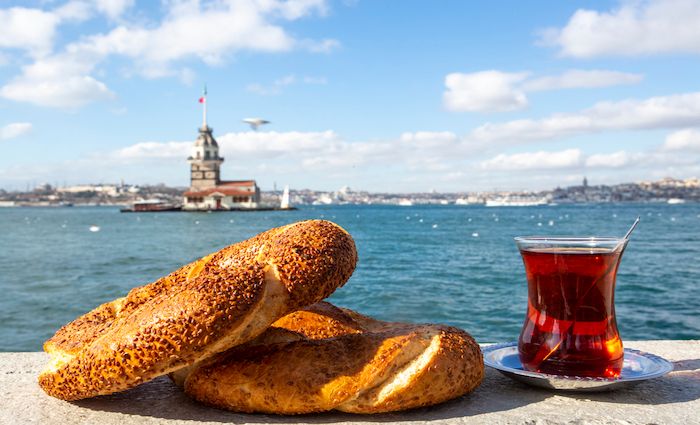 Simit is one of the street food delicacies that has become synonymous with Istanbul. This tasty treat is encrusted with sesame seeds, blended with molasses, and transformed into a bagel. I advise you to have simit either with ayran or Turkish tea depending on your palate.
Above all, simit is found everywhere in Istanbul at simitçi cafés, street vendors, bakeries, and more. You can find simit in every district in the city and the most popular are Karaköy, Istiklal, and Kadıköy. My favourite however is from the simitçi in Kadıköy and Üsküdar, because it's fresh, crispy, and warm.
Simit is available every time of the day in Istanbul and is really pocket friendly. As a result, simit is a top food in Istanbul that has embraced Istanbul's freedom and equality of any socio-economic status. Simit is a perfect way to fuel yourself on Istanbul's cold days or hot days since it puts a smile on your face with its delightful taste!
Where to get it: Tarihi Kuzguncuk Fırını