Granada has a distinctive cuisine with respect not only to its own region, Andalusia, but also the rest of Spain. Food is influenced by the relatively high altitude, its closeness to the Mediterranean tropical coast (also known as the "Greenhouse of Europe"), its free tapas culture, and the unique mix of cultures blending Roman, Greek, Jewish, and Arabic influences. Let's find out more about the best foods to try in Granada!
---
Pro Tip: If this article whets your appetite, check out our article on the best restaurants near to the Alhambra. And once you have left the table, get active again with our list of top things to do in Granada!
Best Foods To Eat in Granada
10. Dishes Common to All of Andalusia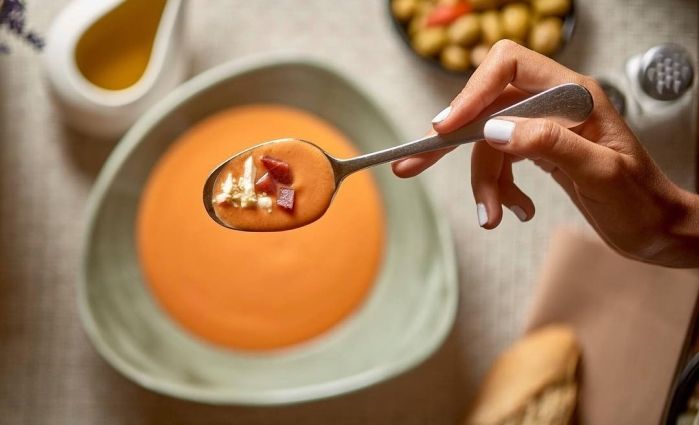 The cities of Andalusia and their citizens have many a long-standing rivalry. Who has the best football team? The most authentic flamenco? The grandest Moorish fortification, or alcazaba? Who serves the best tapas?
People will almost come to blows over which is the better beer. Malaga's Victoria, Cordoba's La Mezquita, Seville's Cruzcampo, or Granada's Alhambra? However, there are Andalusia-spanning tapas and dishes common to all cities, that have everyone in agreement.
One of these is rabo de toro, slow-braised bull or ox tail that has ancient Roman origins. This is because the tails traditionally came from bulls defeated in the bull-fighting ring.
Another Roman dish popularized in Andalusia is the cold tomato soup Gazpacho, and it's bready brother Salmorejo, which is topped with ham and boiled egg. These have many cousins, such as Ajoblanco, which replaces the tomatoes with ground almonds, and Porra, which is made from various crushed or ground main ingredients.
Of Arabic origins is Berejenas con Miel de Caña. These are battered and fried eggplant sticks doused in "cane honey", that is, cane sugar molasses that have the fragrance of caramel and the slight after-taste of licorice.
Served with the same sticky dressing are often fried artichokes of Jewish tradition. And another dish thought to be of Jewish origins is Albondigas, meatballs served in sauce, my favorite being that made of almonds.
Known as "poor man's potatoes", Patatas a lo Pobre, is a fry-up of thinly sliced potatoes, onions, red and green peppers and egg. Particularly satisfying in the winter months.
Finally, I'll include, for her sake, a dish that is my mom's favorite whenever she comes to visit. Though you'll find Huevos Rotos, right across Spain, these fries covered in runny "broken eggs" are elevated to new heights by the local cured ham, the omnipresent jamón serrano.
Where you can find them: Anywhere in Granada, but also Malaga, Antequera, Jaen, Cordoba and Seville. La Cueva de 1900 has restaurants offering Andalusian cuisine in every major town across the region. My favorite is La Cueva de 1900 is on the corner of the elegant square of Plaza Santa Ana.
9. Middle Eastern and Other Typical Sweets and Desserts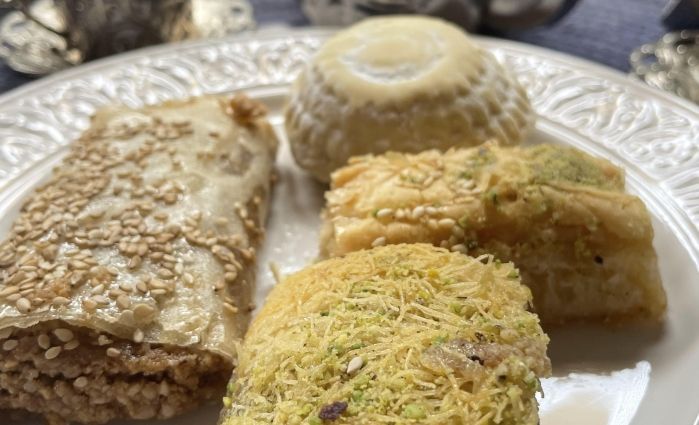 In no other city in Spain is the Middle East closer than it is in Granada. Tea parlors line the cobbled streets of the Calle Elvira and Calderería Nueva, and are scattered across the northern and eastern parts of town. And they serve all the most famous sweets you'd find anywhere in the Arab and Jewish world.
You've come to the right place if you're looking for almond, walnut and pistachio pastries. Or rose-water and honey syrup drenched delicacies. Or date-filled semolina butter cookies. Whether it's a Baklava or Ma'amoul, a deep-fried Pestiño, or a Sephardic Buñuelo, they're all here.
On the other hand, if you go to the entrance of the Catholic convent of Santa Catalina de Zafra, the cloistered nuns will sell you cookies and pastries through a rotating wooden barrel. Call out what you want, place your money down, and they will spin the barrel round with your sweets.
Then, you'd have to live here for years to try out all the different cream-stuffed pastries and deep-fried doughs you'll find on display at the bakeries in almost every street in town. Also because they change throughout the year to mark the many local festivities.
Finally, there's a sweet every local had in their snack boxes at school, the Maritoñi. Basically you're not Granaino, if you weren't brought up on the stuff. A biscuit sandwiching a layer of "angel's hair", that is, syrup-ed pumpkin fibers. You'll see little packets of it in every corner shop and supermarket in Granada. But possibly nowhere else.
Where to find them: Calle Elvira and Calderería Nueva are just across the road from the Cathedral. Along the beautiful riverside street of Carrera del Darro is the convent Santa Catalina de Zafra. Otherwise, anywhere in town.
8. Migas de Graná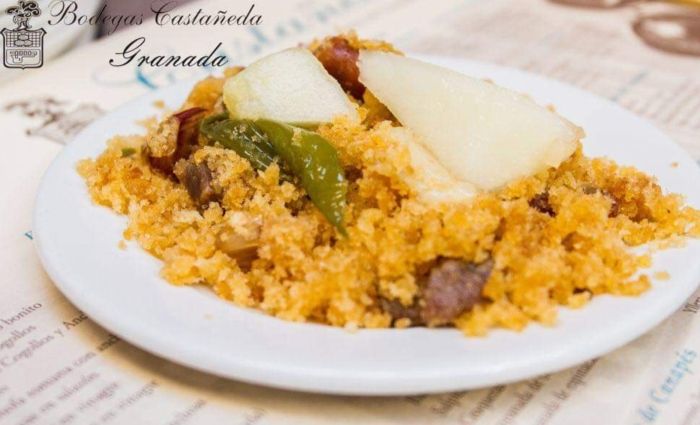 Bread accompanies every meal in Granada. For breakfast and brunch, grated tomato makes for a topping. At lunch, it's some cured ham or avocado from Granada's Tropical Coast. For dinner, it goes with anything and everything.
So locals buy a stick early in the morning, one before lunch at 2 pm, and yet another for dinner. But what happens to all this bread if people don't finish it? Well, it will sit in a bread bin for a few days. Then get chucked. Or fed to the pigeons in the square of the Plaza de la Trinidad. Or to the lake turtles of Federico Garcia's park.
However, come November or October, as the Sierra Nevada gathers snow on its peaks, it will sometimes rain for a week down in town. Home cooks, watching the torrential rain run rivulets down the window panes, suddenly have an idea.
They soak some leftover bread in water, squeeze out the excess, break it into pieces and fry it with garlic, green or red peppers, some kind of meat, perhaps some chorizo, bacon, or pork rind. And then they throw on some freshly-chopped winter melon, or perhaps some just-picked grapes.
That's possibly why, whenever it rains in Granada, they offer you migas as tapas. So if you see the skies begin to darken, head to your nearest bar and enjoy this delightful couscous-esque dish. At home, it brings the virtue of recycling into the kitchen. At the bar, it's simply scrumptious. As you share it between you, just don't argue over the last bits of chorizo.
Where to find it: An emblematic bar for those who frequent old city center is the beautifully decorated Bodegas Castañeda. There you'll find migas, a great variety of tapas and a fine selection of vermouths, as well as a rather dangerous house cocktail of wine, vermouth and vodka named after a little town a few minutes to the North-West of Granada, Calicasas.
If you're in Granada, don't miss the Alhambra! First, you gotta get tickets to get in. From there, you'll need to navigate this massive complex! Joining a small group tour is the way to go. You'll connect with a fun guide and walk away with a more memorable experience!
7. Caracolá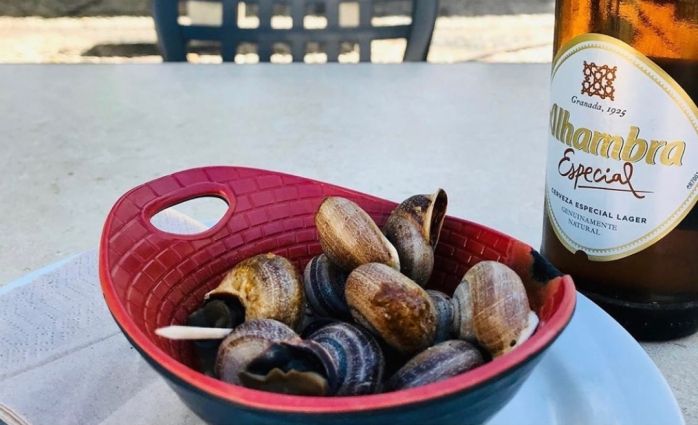 When you think of eating snails, you think of France. You think of "escargots". You think of garlic, butter, and parsley.
But people eat them all across Europe in fact. In Germany, Great Britain, Greece, Italy, Portugal, and, of course, Spain. As well as in North African countries such as Tunisia, Algeria, and Morocco.
Given the close connection of Granada with the Arab world, it may be of no surprise that, here, snails are prepared in a rich, dark, spicy soup just as they are in the mountains of Morocco.
The ancient Romans ate snails, as did the Greeks. But it was just as likely to have been Abu Abdallah Muhammad XII, a.k.a. Boabdil, last ruler of the Emirate of Granada, and his court, that left Granada with this exact recipe.
French chefs tease "escargots" from their shells, toss them in garlicky butter, and gently place them back where they came from.
In Granada, on the other hand, they cook them directly in their shells after a thorough washing. Then, into the pot go bay leaves, fennel, cloves, cumin, of course, some garlic, a touch of spicy pepper, and, quite often, a secret ingredient.
About 15 minutes later, the snails begin to puff out from their shells and are ready to serve in their steamy, spicy, earthy broth.
Where to get it: At the top of the Moorish quarter, the Albaicín is the delightful little square of Plaza Aliatar, with its black and white mosaic cobblestones, a couple of trees, and a fountain. On the left, with plenty of tables spreading across the square, is the family-run Bar Aliatar Los Caracoles, where they have prepared "carcacoles" for four generations. And they serve it with Granada's own beer, Alhambra 1925.
6. Habas con Jamón a la Granaina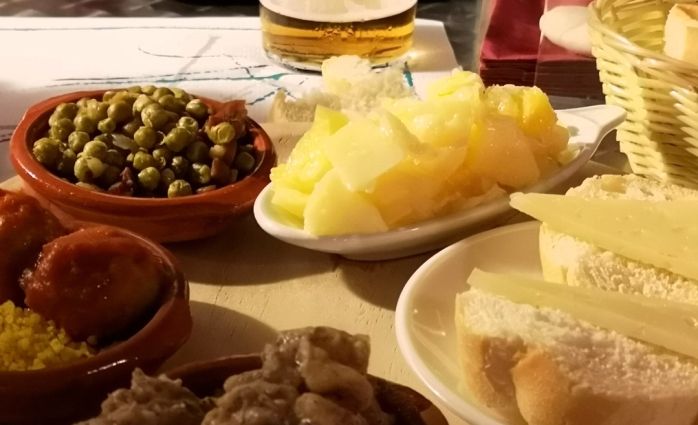 This broad bean and ham recipe is famous the world over. And is one of the reasons all kinds of tapas are served in those little red terracotta bowls.
The terracotta bowls are, of course, of Arabic origin. The beans and ham are ubiquitous. But few know that the origins of the dish are, in fact, Granaino.
Not only did the city's Arab connection play a part in its invention, but also its semi-mountainous position.
If you've visited at the height of summer, you may not believe that it can get pretty cold in winter. But nights are often cooler by as much as 40 degrees Fahrenheit, or 20 degrees Celsius.
That means that from November to March, city-center temperatures are often sub-freezing in the morning. And many houses are still without any form of heating, apart from a rudimentary system of a stove under the dining room table with a long-skirted tablecloth, called a "mesa camilla".
So, at lunchtime, what better way to warm the winter chills in your bones than with a steaming hot ensemble of tender broad beans, fresh spring onion, extra virgin olive oil, aromatic white wine, and the punchy flavor of ham. All prepared in the short order of a few minutes.
The beans come from the Vega, the plains to the south of Granada. The olive oil comes from the sea of trees on the undulating hills stretching to the north. However, the real secret to the extraordinary taste of Granada's Habas con Jamón, for me, is the white wine and Trevélez Serrano ham from the southern slopes of the overlooking Sierra Nevada.
Where to get it: They say that not a bar, café, restaurant or house in Granada goes without cooking Habas con Jamón in the winter months. Ask for it anywhere in town. Though the best time to eat it is late winter and early spring, that is, during the broad bean harvest! Sancho Original, at one end of the shopping district, is bound to have it. So too is Tocateja.
5. Tortilla de Sacromonte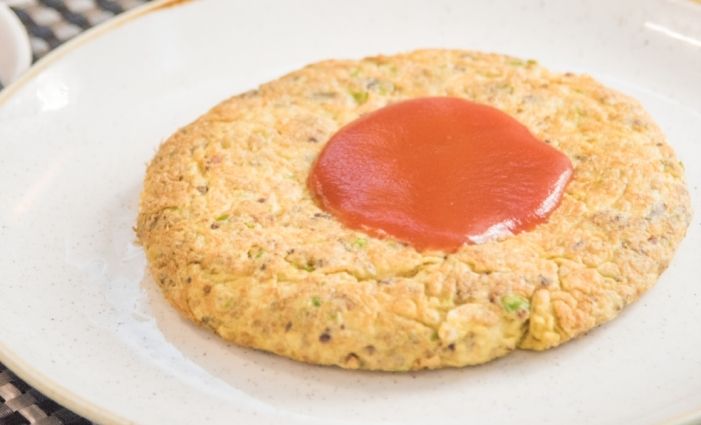 Spain's definitive comfort food is tortilla, the Spanish omelette. You'll find it everywhere. It's a deceptively simple two, at most three, ingredient recipe, but incredibly difficult to perfect.
The best will have a slightly crispy exterior and a gently oozing interior. Then, the seasoning has to be spot on. And every grandson or granddaughter is convinced that their abuela, or granny, makes the very best in the world.
The Tortilla de Sacromonte is somewhat different. Its history dates back to the 18th century. Legend has it that the night before the feast of the Saint Cecil, the Patron Saint of Granada, thieves ransacked the kitchens of the Abbey of Sacromonte.
The Abbot had planned a hearty dinner of roast lamb for the town's dignitaries. And he had no way of canceling on them as they began the trek up the steep hill of the "Sacred Mountain", from the center of town.
In desperation, the friar chefs whipped up an omelette, and threw in all that was left of the lamb. That is, the already removed brains and testicles, and a bit of marrow. They, then, added a few peas, and some grated stale bread, and they hoped for the best!
Later versions of the dish included walnuts, Trevélez ham, and even chorizo. However, that the recipe survives today, in its various interpretations, is testament to its resounding success on that bygone February 1st. Locals swear by it, and, indeed, eat it all year round, at any moment they feel like celebrating their proud heritage.
Where to get it: Los Manueles is a handful of restaurants offering everything locals keep closest to their hearts in terms of traditional cuisine. My favorite Los Manueles is in a little square just next to the Cathedral.
4. Pionono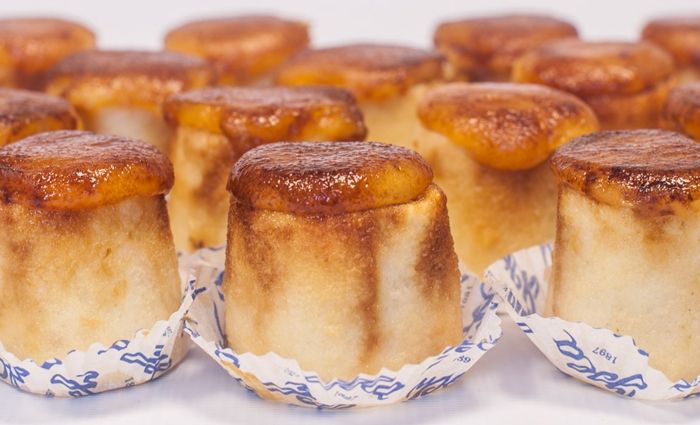 Just 10 minutes outside of Granada is the historic, walled town of Santa Fe. This is where the Catholic Monarchs signed the "Capitulaciones", essentially the contract with Christopher Columbus, which, eventually, led to the discovery of the Americas.
It is here, at the end of the nineteenth century that Ceferino Isla, invented the Pionono. A dessert that is now synonymous with the entire Province of Granada.
Isla dedicated his new dessert to Pope Pius IX, who had, some years before, finally confirmed, in dogma, the centuries-long belief of Catholics that Mary had conceived without "original sin".
Thus, Isla named his dessert "Pio Nono", Italian for Pius IX, and modeled the shape of the dessert on his portly, rather cylindrical figure. This translates into a roll of sponge, imbibed with cinnamon syrup and topped with custard cream, caramelized with a red-hot iron paddle, symbolizing the pope's skull cap.
After a satiating meal, and perhaps a coffee, nothing is better than topping off the feast with a short, sharp hit of sweetness. However much you have eaten, you'll certainly always find room to demolish a Pionono in just one bite or two!
Where to get it: You'll find Pinonos practically everywhere in Granada, but, if you want to honor the memory of the original inventor, why not visit any Ysla branch? This chain of cafés is run by the actual descendants of Ceferino Isla himself. You'll find the most central Ysla on the corner of Granada's main square of Bib-Rambla.
3. Remojón Granadino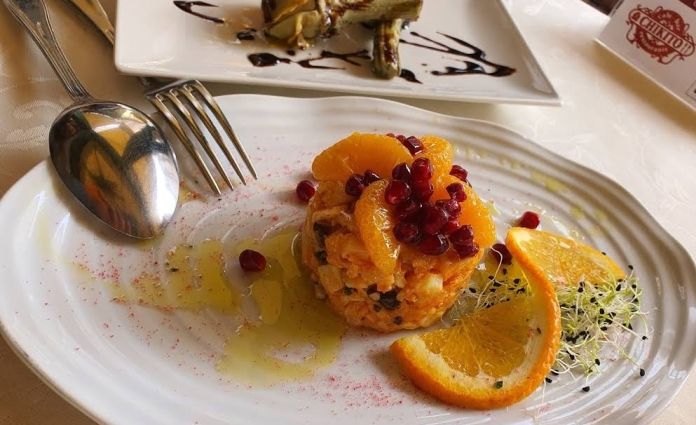 Remojón means a "big soak". But what is soaked in what you may ask? Why orange in olive oil is the answer. It's another extraordinary sweet and savory combination. And it hails once again from the Arab world.
However, the ingredients are strictly locally sourced. That means oranges ripened under the brilliant Andalusian sun. And the finest extra virgin olive oil, which has a spicy kick to it at the back of the tongue.
Again, there are many variations in the exact other ingredients of this dish, apart from the quartered orange and olive oil. Into the soak, most recipes throw freshly caught codfish, or washed salt-cod, chopped spring onion, whole or halved black olives, diced boiled egg, white wine or sherry vinegar, occasionally some potato, and a peppering of paprika.
The result is a fresh and nutritious one-of-a-kind summer salad that you'll be determined to try at home. Though nowhere will it taste better, juicier, and more revitalizing than in Granada itself!
Where to get it: Some bars serve it as a tapa in the hotter months, but you're sure to find Remojón, as well as all the other classic local dishes, at Bar-Café-Restaurante Chikito, right in the center of town. While you're there, don't forget to say hello to the world-renowned poet and writer Federico García Lorca, who quietly sits at a table in the corner, as a brass statue.
2. Breua de Pollo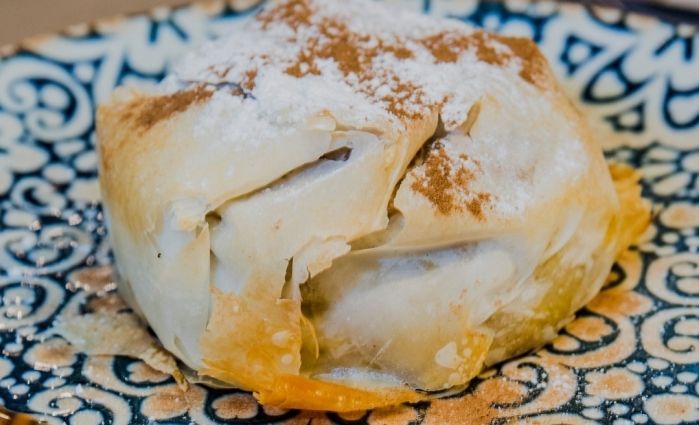 These parcels of flaky pastry encapsulating saffron and cinnamon-infused chicken are sweet and savory delightfully expressing Granada's Arabic inflections. Indeed, they are also extremely popular right across neighboring Morocco.
There are, however, numerous ways of preparing them. With family recipes proudly handed down from generation to generation. And top chefs are endlessly tweaking them to perfection.
And there are also various ways of calling them. Some say breua, particularly, if they are smaller. While others would call a bigger, pie-like version simply "pastels", or sometimes "pastela moruna".
What is common to all versions is, first, the crunchiness of the outer pastry. Then comes the mild yet exotic spicing of the chicken. That can come from saffron, ginger, coriander, mint, peppermint, and basil.
In any case, there's always the unique and surprising note of cinnamon. There's a certain nuttiness, often coming from pine nuts or almonds.
And, finally, various sources of sweetness come into play, such as raisins or sultanas, or sometimes dates, and the whole thing is inevitably sprinkled with dashings of confectioner's sugar.
Where to get it: The smart, boutique restaurant Biloba in the center of town prides itself on its "pastela". Another of the finest "breuas" I have ever tasted was in the terraced gardens of the hotel Parador De San Francisco, right at the heart of the Alhambra.
1. Jamón Serrano de Trevélez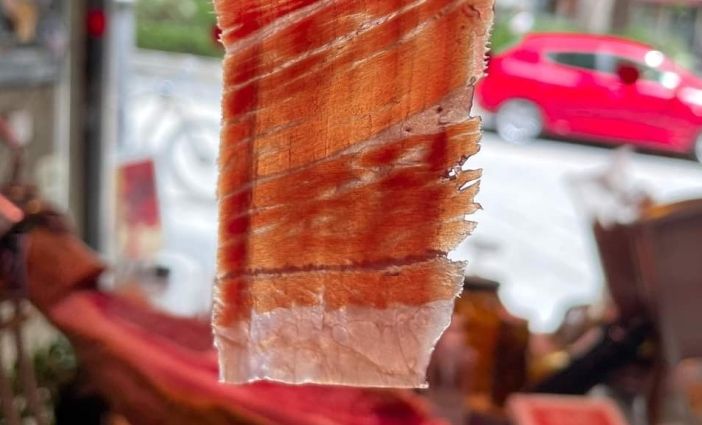 You can eat cured ham anywhere in the world, but nowhere like Granada and its province. You may be addicted to Italian Parma Ham or Portuguese Presunto, but that's only because you've never tried the Jamón Serrano de Trevélez. Once you try it, there's no going back!
So, arguably, the best-cured ham in the world comes from hills just outside Granada. From the group of villages, particularly Trevélez, clinging to the southern gentler slopes of the Sierra Nevada, that they call the Alpujarras.
Why is it the best? Well, it's a type of Spanish ham known as Serrano, that is, coming from the "sierra", or the "mountains". Trevélez's privilege in this regard comes from the fact that it is one of the highest and southernmost municipalities in Spain.
This means an extremely dry climate, with surprisingly cold winters and cool summers. Perfect for naturally air-curing legs of ham for longer periods of time, without any preservatives or additives, and a very little salt.
All this makes Jamón Serrano de Trevélez sweeter, pinker, and richer in flavor than any of its counterparts, anywhere in the world. And it makes sure it appeals to old and young alike.
Where to get it: Go and visit Ivan in his boutique, Ibérica, in the tree-lined boulevard of Carrera de la Virgen, right next to the magnificent Basilica of the Virgen de las Angustias. Ivan is a professional "cortador", or "ham cutter", and will artfully slice from a whole leg to your heart's content.