Granada is full of history and, as a result, offers visitors a rich cultural experience. Each of the city's neighborhoods has its own distinctive character, so it can be hard to know where to base yourself. To help you choose, our local expert shares the best areas in Granada, what to expect, and a selection of top hotels. Here's where to stay in Granada.
---
Pro Tip: Planning what to do on your trip to Granada? Bookmark this post in your browser so you can easily find it when you're in the city. Check out our Granada Guide for more planning resources, our top Granada tours for a memorable trip, and how to see Granada in a day.
Best Hotels and Places To Stay in Granada
Like the four directions of the compass, there are four main districts in downtown Granada. To the north are the whitewashed houses of the Moorish quarter—the Albaicín. In the east, is the hilltop fortress of the Alhambra and lush forest.
To the south lies the labyrinthine cobbled streets of the Jewish quarter—the Realejo. And to the west, you'll find the elegant shopping district of Centro Sagrario. Set apart from the center are the flamenco caves of the gypsy quarter called Sacromonte.
Each of these neighborhoods have their own distinctive character, which we'll briefly explore. We'll also share our top hotel recommendations in each area, so you can choose the best place to stay in Granada depending on your personal style and interests.
Our Partnership with Booking.com. If you like our content, please book by clicking on our Booking.com links. The price is the same for you and we get a small commission that helps support our helpful blog content. We've partnered with Booking.com because they have the most options, great prices, and a solid loyalty program.
Not ready to book a tour? Check out our Granada Guide for more info.
The Alhambra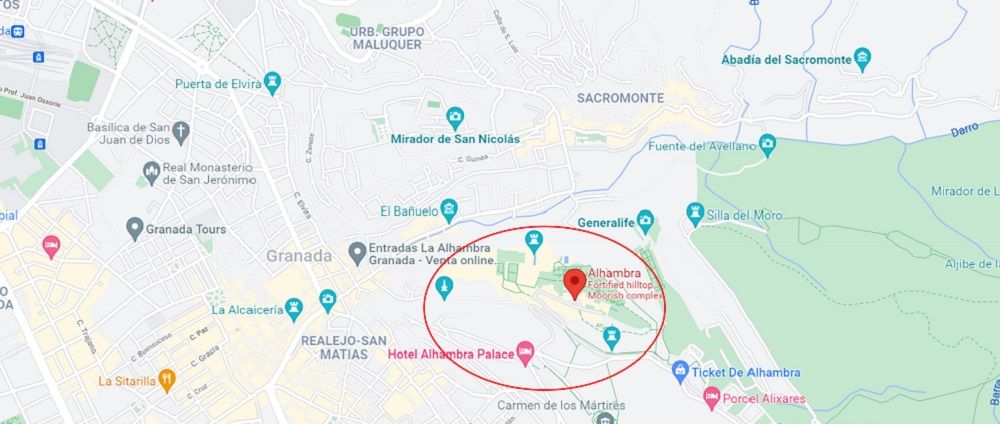 The citadel of the Alhambra was the last outpost of Arab-ruled Andalusia and is Europe's finest example of medieval Moorish architecture. This area is technically within the Realejo district, but it's an iconic area, so we've given it a place of honor in its own neighborhood designation.
Within the city walls—and just outside—there are a range of fabulous hotels that make visiting the hilltop monument a breeze. In this area of the city, luxury is key! It's a top place to stay in Granada if you want a memorable trip and easy access to visit the Alhambra.
Why I love the Alhambra:
Perfect for visiting the world-famous Alhambra
Luxury accommodation
Attractions near the Alhambra:
The Alhambra and the Alhambra Forest
Generalife Palace
Carmen de los Mártires
El Bañuelo
Hammam Al Ándalus
Best hotels near the Alhambra:
Alhambra Palace Hotel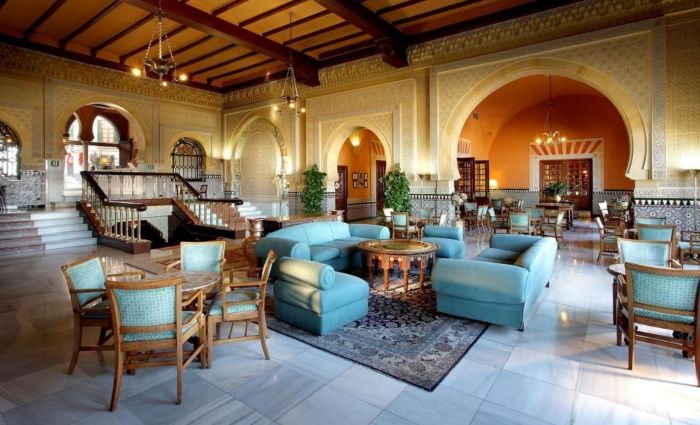 €€€€ | 5 Stars | Luxury | Grand Hotel | Near the Alhambra Forest
Likely Spain's oldest 5-star hotel and the first iron-structured building in all of Andalusia, this grand hotel is where the rich and famous have always stayed when they want to visit the Alhambra. But anyone can enjoy its colorful and opulent Arabesque decor, full concierge service, and easy access to the Alhambra fortress.
Áurea Washington Irving by Eurostars Hotel Company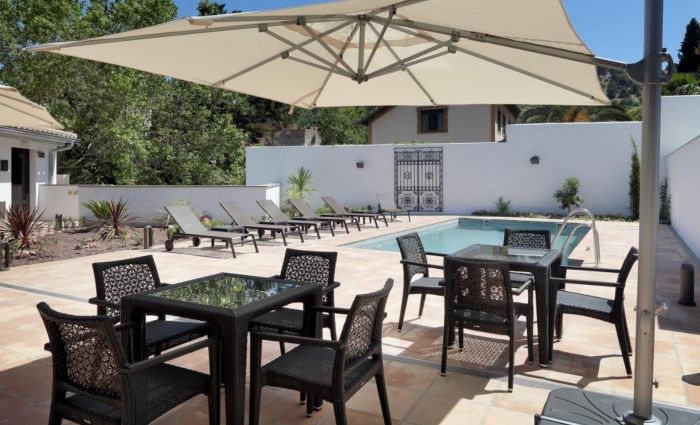 €€€€ | 5 Stars | Luxury | Modern Comfort | Pool | Sun Deck
If you're looking for superior, modern, business-class comfort, plus a pool to cool off in at the end of the day, this hotel hits the spot. It's situated just below the main entrance to the Alhambra in the Alhambra Forest.
Hotel Boutique Puerta de las Granadas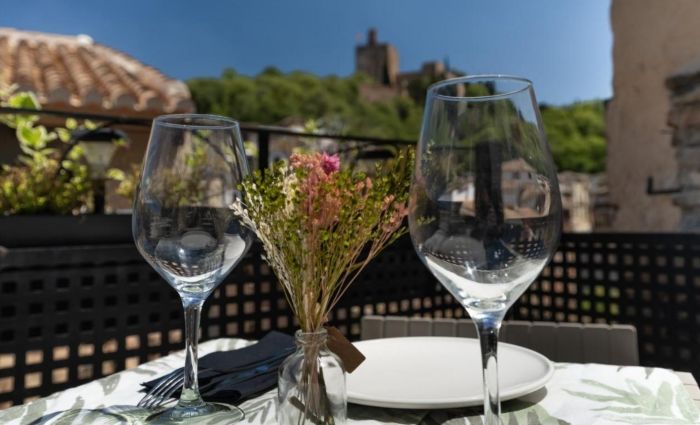 € | Modern Boutique Hotel | Rooftop Patio | Great Value for Money
This is everything you'd expect from a modern, boutique hotel. It has reasonable prices, cozy rooms, helpful staff, and a great location—at the entrance to the Alhambra Forest. The hotel also offers easy access to all the other areas of Granada on foot.
Parador de Granada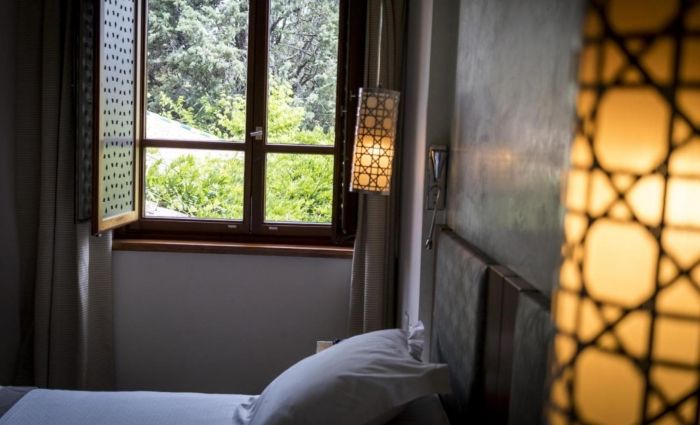 €€€ | 4 Stars | Excellent Restaurant | Historic Building | Close to the Alhambra
This hotel is a converted 15th-century convent right at the heart of the citadel. Enjoy all the luxury of contemporary rooms, a quiet courtyard, a renowned restaurant, and a terrace café set in the gardens of the Alhambra. With the monument just outside the front door, it doesn't get much better than this for the Alhambra experience.
Centro Sagrario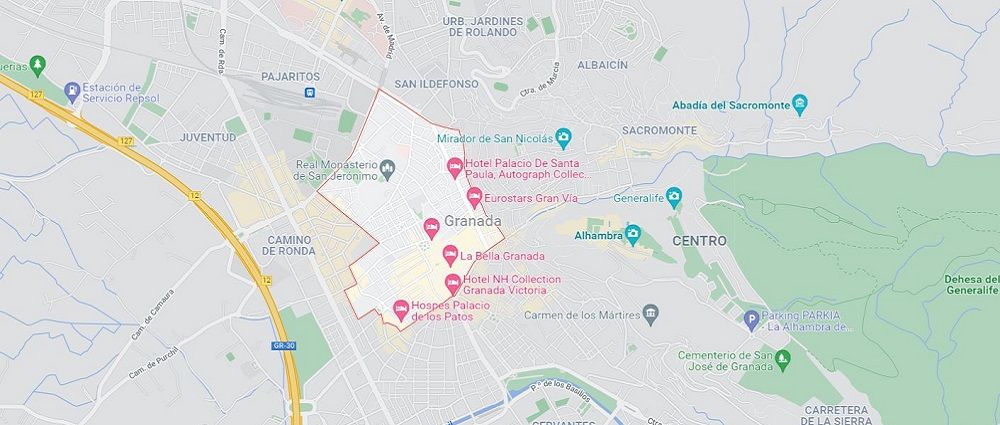 Centro Sagrario is Granada's true downtown area. It is the more modern Catholic city encompassing the crumbling Medina and an excellent shopping district. First of all, you'll find the magnificent Cathedral and Royal Chapel, and a never-ending series of elegant shopping streets and fountain-bearing squares.
Then, there are plenty of gold-adorned churches to visit, and as many tapas bars and restaurants as you could shake a palm tree at! Keep reading to discover where to stay in Granada's downtown city center.
Why I love Centro Sagrario:
Great for shopping
Stunning churches to visit
Lots of tapas bars and restaurants
Attractions near Centro Sagrario:
Catedral de Granada
Royal Chapel of Granada
Palacio de la Madraza
Plaza Nueva
C. Elvira (notable street)
Huerta de San Vicente and Federico García Lorca Park
Best hotels in Centro Sagrario:
Villa Oniria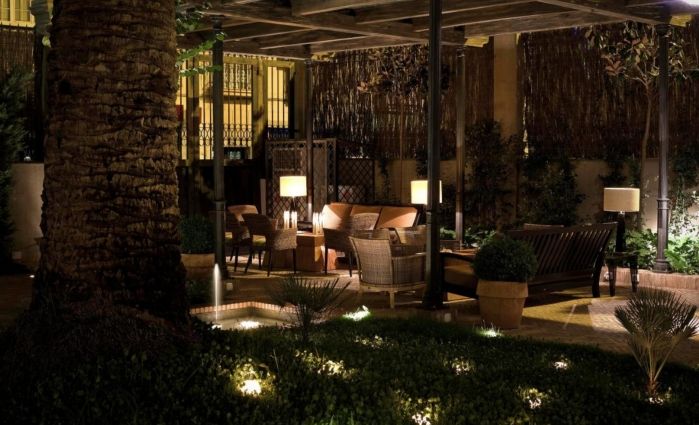 €€€ | 4 Stars | Superb Tasting Menu | Sauna | Valet Service
This converted 19th-century manor house has a beautiful little garden, comfortable rooms, a wellness center, and all the services you'd expect from a 4-star hotel. Also, you'll appreciate the up-and-coming top chef who offers a fantastic tasting menu at the restaurant.
Casa de la Catedral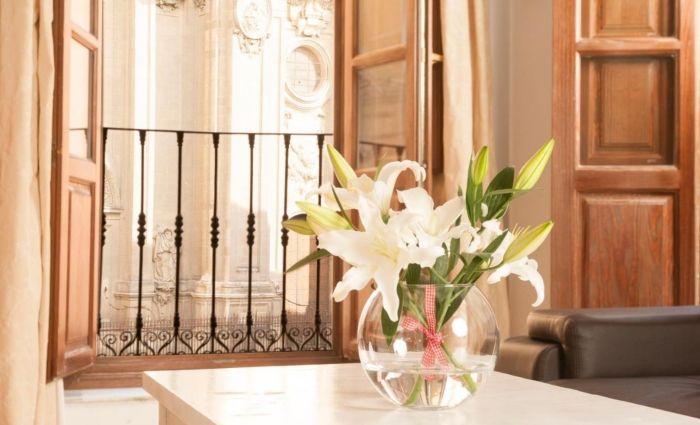 €€ | Relaxed Atmosphere | In Cathedral Square | Tapas Bar Discounts
Enjoy beautifully designed studio apartments with marvelous views across the small square to the imposing cathedral façade. The owners also run the excellent coffee and tapas bar in the square, and they offer discounts to hotel guests.
Hostel Nut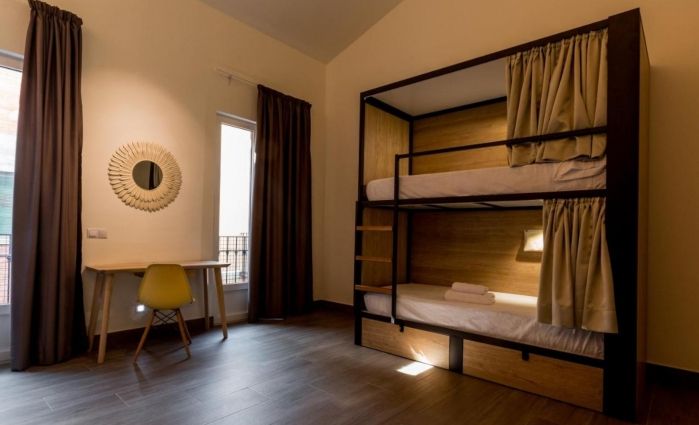 € | Hostel | Clean | Fresh and Modern | Near the Best Shopping
If you're looking for a cheap bunk bed in downtown Granada, but you're terrified of ending up in a shabby dive of a hostel, then you'll greatly appreciate Hostel Nut. Super clean and modern, this hostel is just off the main shopping street. Private double and quadruple rooms are available.
The Realejo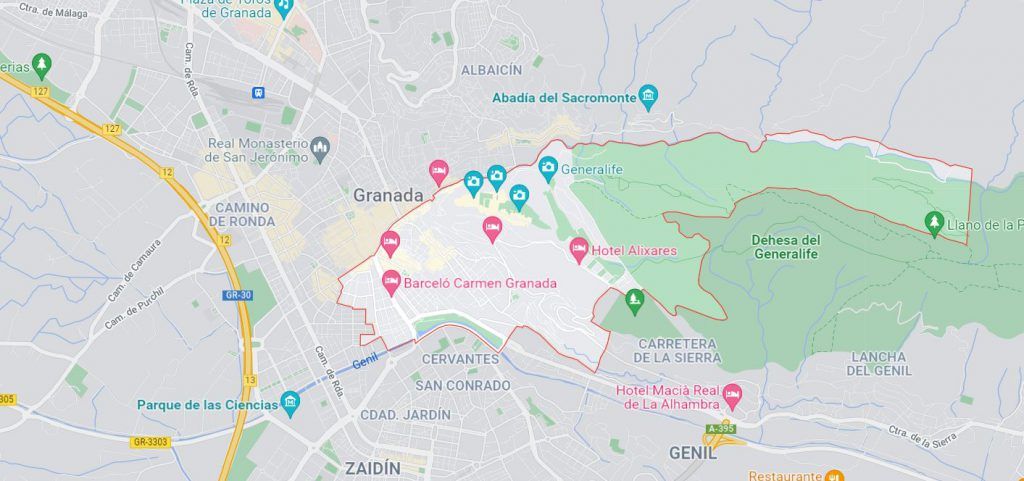 This is not only the old Jewish quarter but the hippest place to stay on the other side of the Alhambra Forest. There are narrow, black-and-white cobbled streets, just like the Albaicín, and plenty of great bars and restaurants. You'll find lots of budget accommodation and awesome examples of street art. So, get real in the Realejo!
Why I love Realejo:
A trendy yet lesser-known part of town
Lots of bars and restaurants
Street art and cool vibe
Attractions near Realejo:
Plaza Isabel La Católica
Museo Sefardí
Corral del Carbón
Alcaicería
Street art by renowned artist El Niño de las Pinturas
Best hotels in Realejo:
CANDIL SUITE Realejo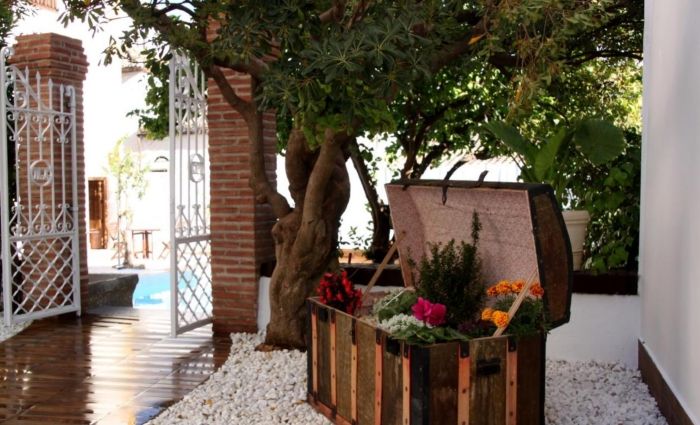 € | Classic B&B | Large Pool | Comfortable Rooms | Great Price
Some of the most luxurious hotels in Granada don't have an outdoor pool, which is just what you need after a hot day visiting the city. You'll be glad you booked this quaint B&B as you cool off in the water and lay under the shade of lemon trees in the heart of the Realejo.
Rooms Vita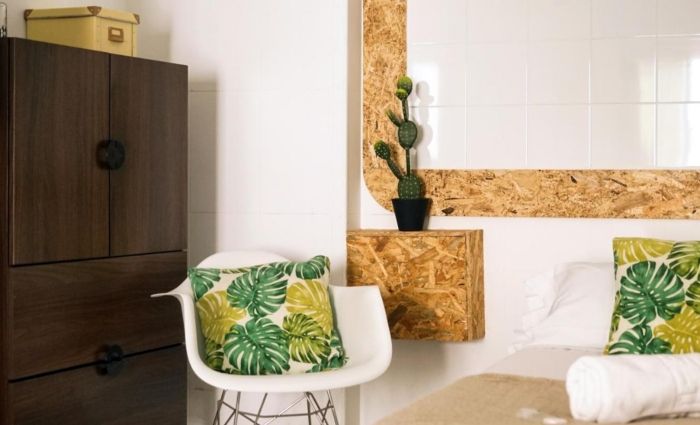 € | Hostel with Triple Rooms | Restaurant and Bar | Social Vibe
If you're looking to socialize and meet people, this Granada hotel is ideal. It offers colorful twin and triple rooms with private bathrooms. There's also a rooftop terrace with views of the mountains, a funky bar, a restaurant, a social area, swing chairs, and books to borrow.
Gar Anat Hotel Boutique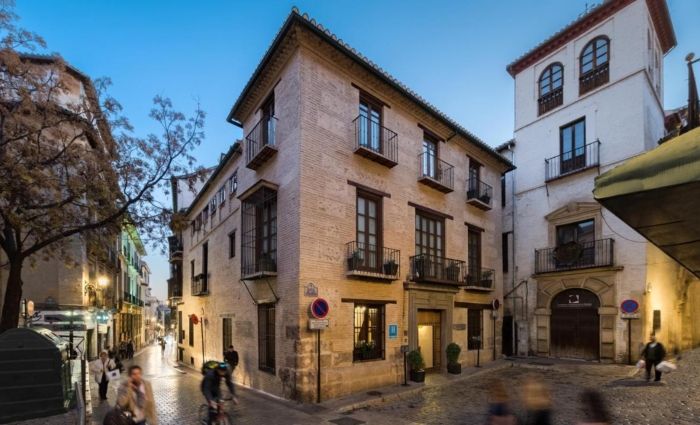 €€ | 3 Star | Historic Building | Great Location | Afternoon Tea and Cakes
This is a lusciously converted 17th-century hospital with contemporary styling. Enjoy spacious rooms with high ceilings, plus a great location on the more elegant side of the Realejo. At 5 pm, they offer afternoon tea and cakes, so you can take a welcome break before heading out again.
The Albaicín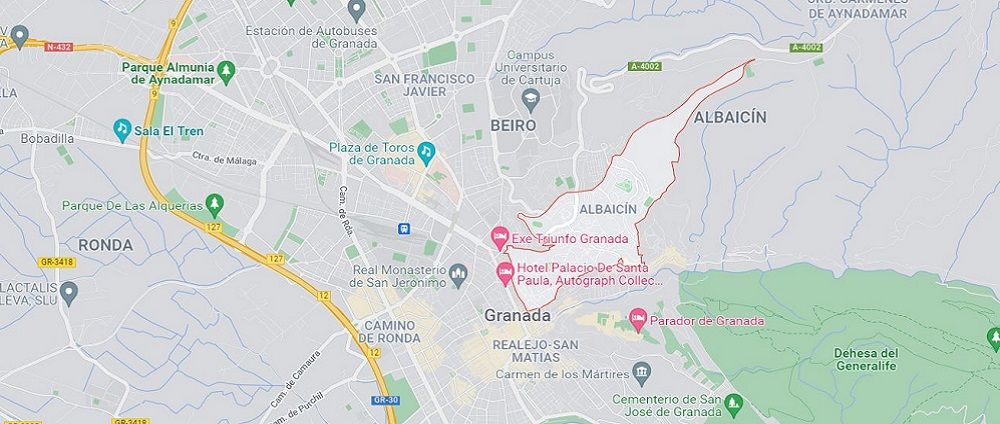 The Albaicín neighborhood is a UNESCO-protected World Heritage Site and retains the same Moorish character as it did in the Middle Ages. Narrow white and black cobbled streets lead you up higher to stunning viewpoints of the Alhambra fortress. This area has the breathtaking backdrop of the ten-thousand-foot Sierra Nevada mountains, plus the twinkling lights of the busy city below.
You'll find a great variety of tapas bars and restaurants offering amazing panoramas. There are also plenty of little craft shops and a hippy vibe. As you wander around, you'll be tempted to explore quiet jasmine-scented alleyways that will transport you to another time.
Most buildings maintain the Moorish architecture of rooms arranged with a central patio. And the best accommodation is either the most well-preserved or the best restored. There are many hotels and apartments to choose from and tend to be very affordable. So, here are the best places to stay in Albaicín, Granada.
Why I love the Albaicín:
Jasmine-scented streets
Moorish architecture
Viewpoints of the Alhambra and city
Attractions near the Albaicín:
Mezquita Mayor de Granada
Mirador de San Nicolás (viewpoint)
Ermita de San Miguel Alto (viewpoint and chapel)
Best hotels in the Albaicín:
Hotel Casa Morisca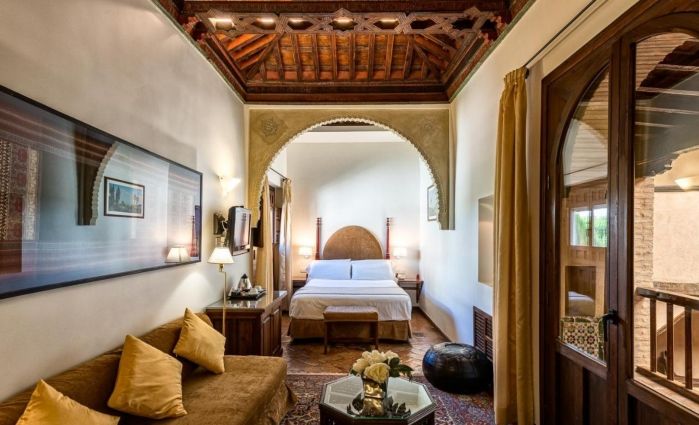 €€ | 3 Stars | Moorish Architecture | Some Alhambra Room Views
This is another fabulous medieval Arab house with rooms arranged around a central patio. The hotel's stone-tiled floors, arabesque arches, wooden balustrades, and wooden vaulted ceilings (with all the symbolism of the stars) will have you dreaming of the 1001 Arabian nights.
Casa Bombo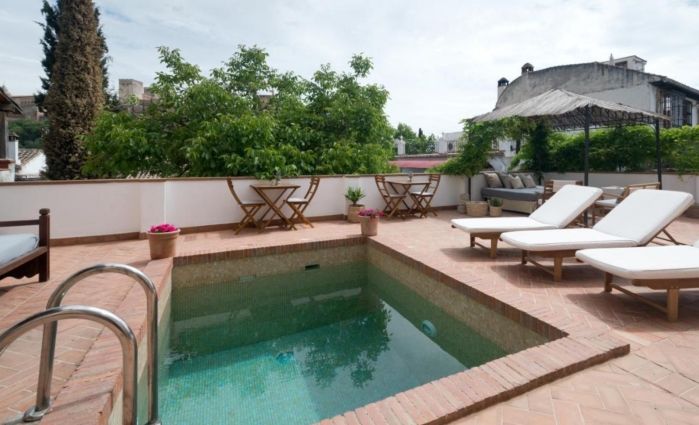 €€ | Stunning Views | Small Pool | Sun Deck | Alhambra Views
This is a fine example of a typical Moorish house in the Albaicín with rooms arranged around a central covered patio. The panoramic terrace has a small pool and stunning views of the Alhambra castle. All for a very reasonable price!
Casa Larga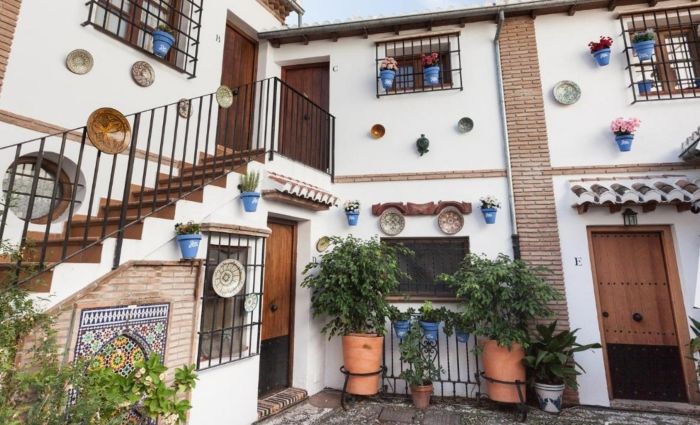 € | Whole Apartment | Excellent Location | Jacuzzi
This is a whole apartment just off the main square, Plaza Larga, at the heart of the Albaicín. Enjoy the bustling morning market there, buy some fruit and veggies, and cook at home. For a touch of luxury, enjoy the arabesque Jacuzzi.
Palacio de Santa Inés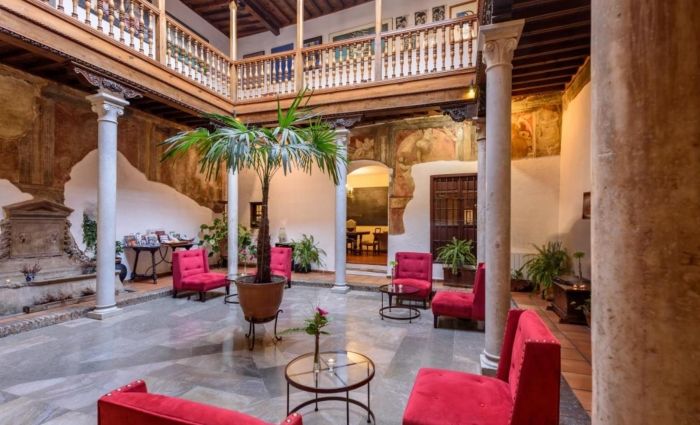 € | Quiet | Central Location | Historic Building | Alhambra Views
Hidden among the alleyways and near the river in the lower Albaicín is this little gem of a hotel in a 16th-century building. Superior rooms offer views of the Alhambra, which is just a short walk through the Alhambra forest or a quick taxi ride away.
Not ready to book a tour? Check out how to visit the Alhambra.
Sacromonte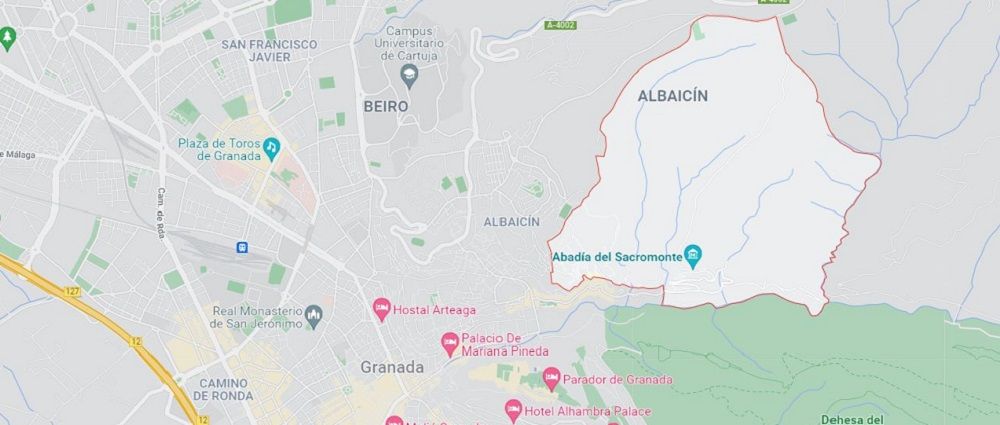 This neighborhood in Granada is like no other on the face of this planet. Set in the Valley of Paradise with truly enviable views of the Alhambra and the Sierra Nevada mountains, it's a village formed almost entirely of cave houses and Flamenco clubs dug out of the hillside.
Also, the gypsies who pioneered the art of Flamenco (making it world famous and a symbol of Spain's complex mix of cultures) still live here. They offer nightly shows and intensive courses in guitar and dance for those seeking a bit of ¡Olé! of the very highest caliber. For a true cultural experience, this area is the best place to stay in Granada.
Why I love Sacromonte:
Perfect place to discover Flamenco culture
Exceptional views of the Alhambra
Local vibes
Attractions near Sacromonte:
Best Hotels in Sacromonte:
Casa Cueva Lujo Sacromonte Con Vistas Alhambra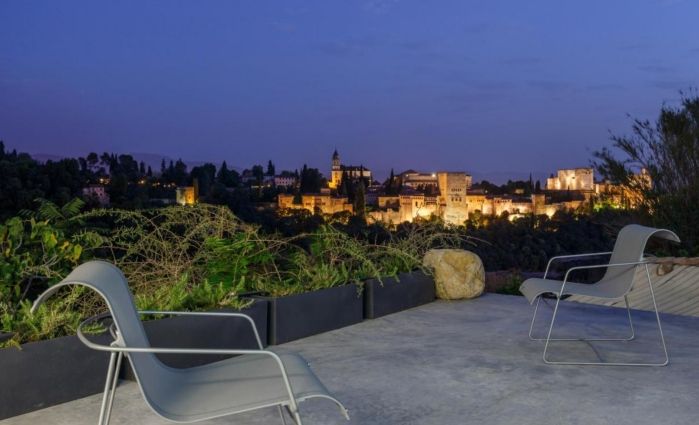 €€€€ | Luxury Cave | Exclusive | Privately Rented Property
This holiday home is a luxury cave home with views of the Alhambra. But it's no cave in the typical sense. Inside its brightly whitewashed walls, this home has spot-lighting, air-conditioning, flat-screen TVs, Wi-Fi, a fully equipped kitchen, four bedrooms, and three bathrooms with walk-in showers.
Cueva el Duende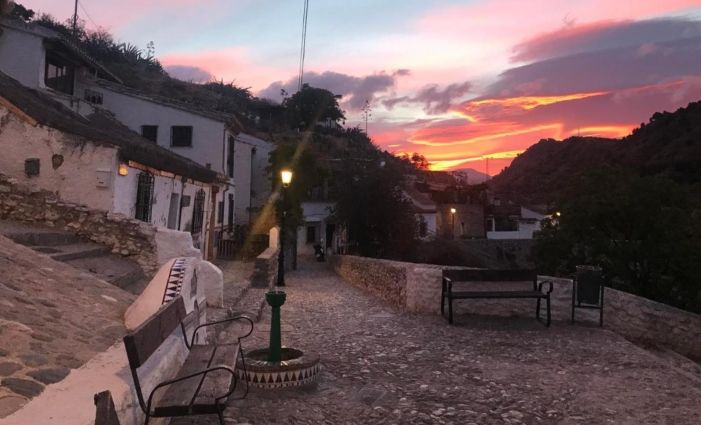 € | Cave Home | Live Like the Locals
Duende is a Spanish word that encapsulates the spirit of Flamenco culture. Here, in the heart of Sacromonte (the Sacred Mountain), you'll be much closer to living exactly how the locals live. Step out outside and behold the wonder of the sunset-painted Alhambra, and dive into a gypsy flamenco club to feel all the febrile power of el duende.
Apartamentos Monteclaros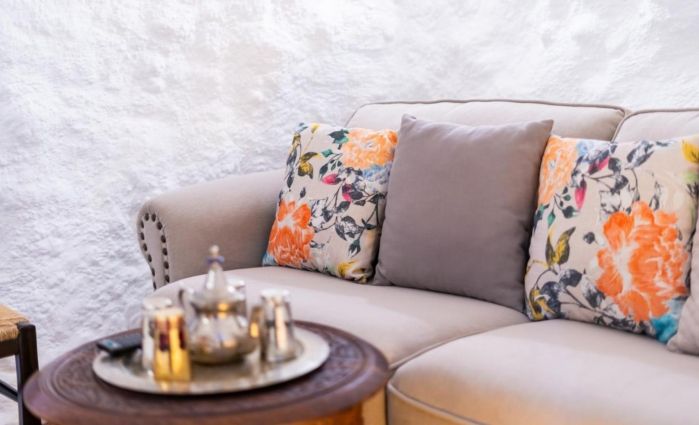 €€ | Caves and Apartments | Alhambra Views | Swimming Pool
Choose from a selection of clean and comfortable cave homes or apartments with Alhambra views. At the end of the day, cool off in the pool, then reach out with your hand—it almost feels like you can touch the Alhambra on the other side of the valley!
Not ready to book a tour? Check out our Granada Guide for more resources.