Granada's famous for its magnificent Alhambra. However, there's more to discover in this medieval town than its most prize historical attraction. For kids, adults, and solo travelers, our list of the best things to do in Granada will make your trip worth every memory.
---
Pro Tip: Planning a visit to the Alhambra in Granada? Bookmark this post in your browser so you can easily find it when you're there. Check out our Granada guide for more planning resources, our top Alhambra tours for a memorable, stress-free trip, and how to visit the Alhambra.
16 Coolest Things To Do in Granada, Spain
It's no secret that exploring Granada is a must-do when you visit Spain. The amount of Moorish history here alone is worth exploring. Once the seat of the Nasrid dynasty and the last Muslim stronghold in Spain, Granada boasts an impressive array of architectural wonders. But Granada is more than just a collection of beautiful buildings—it's a vibrant city full of life, energy, and character.
But Granada has much more to offer, including historic neighborhoods like the Albaicín, vibrant street markets, and world-class museums and galleries. Whether you're a history buff, a foodie, an adventurer, or a lover of the arts, Granada has something to offer everyone, including families! So don't wait—keep reading to discover the top things to do in Granada that should be on your list.
---
16. Let Your Kids Get Hands On at the Science Park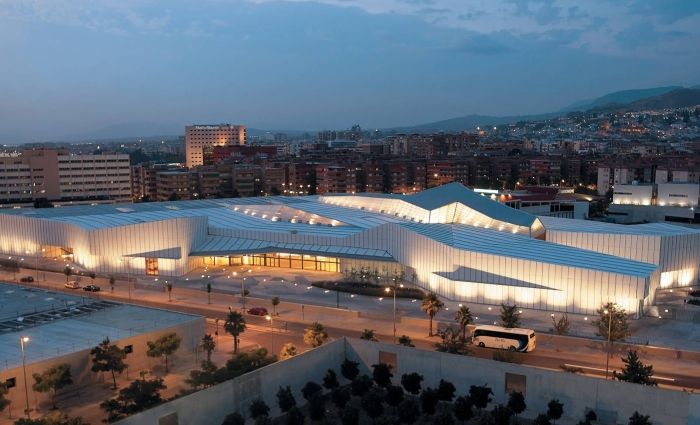 One of Granada's biggest attractions for families is the Parque de las Ciencias. It's a sprawling 70-square-kilometer park full of interactive science fun and one of the most visited museums in all of Andalusia. What I'm saying is, don't skip it if you're in Granada with kids—it's a must-do activity!
I recommend spending some time at the Explora exhibit, where younger kids can touch and play with the fun science stuff there. The Eureka and Perception Halls, the Human Body Pavilion and other permanent and temporary exhibition areas offer experiments with light, sound, motion, and technology that will stimulate older kids of all ages.
Is one of your kids a budding astronomer? In the giant, darkened dome of the planetarium, you'll be able to see a projection of over 7,000 stars! And if you head outside, you can explore puzzles, sculptures, games, a maze, a tropical butterfly house, a birds of prey demonstration, and a 50-meter-high observation deck. Whew!
Location: Parque de las Ciencias
15. Hunt for a Book and Read in the Shade of Lorca's Park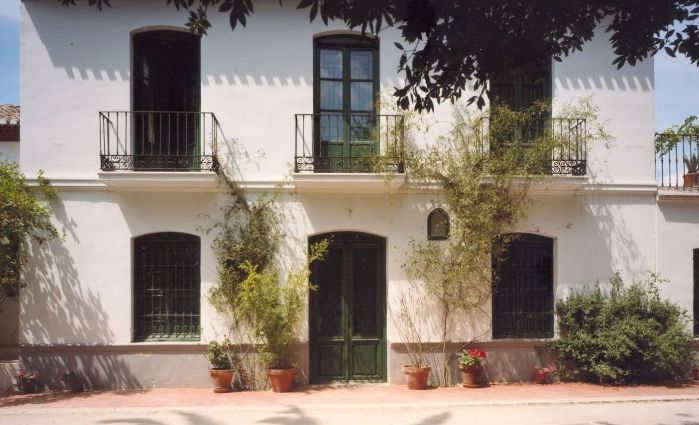 If you're a bookworm who loves legends and lore, make sure you read "Tales of The Alhambra". Washington Irving, the famed American author of "Rip Van Winkle" and "The Legend of Sleepy Hollow", wrote this collection of stories while actually living in the fortress of the Alhambra itself!
Another literary great who wrote about Granada is Federico García Lorca. He often wrote as a defender of the marginalized in society, be they women, black people, queers, or the gypsies of the caves that lived (and still live) in the caves above the city of Granada.
Probably Spain's most famous poet and playwright, Lorca grew up in a house just on the outskirts of town. In fact, you can visit the house, called Huerta de San Vicente, which they have preserved as a museum. You'll find it right in the center of the park named after the writer.
After visiting the museum, take a copy of one of his masterpieces and stretch out on the grass under the shade of a palm tree. You'll discover, like Lorca himself, that Granada is a great source of inspiration.
Location: Huerta de San Vicente
14. Create Your Own Intoxicating Perfume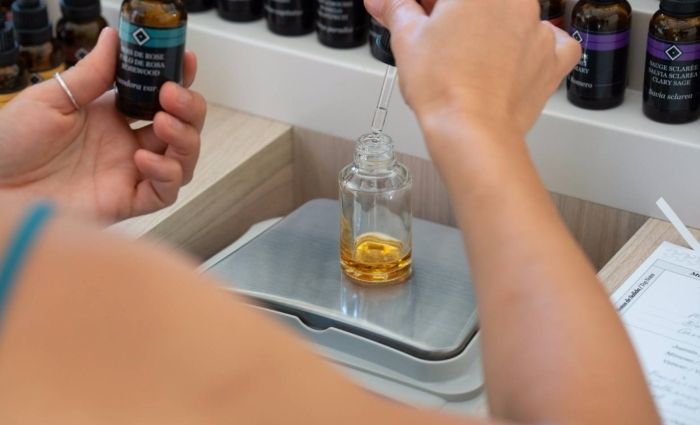 No, you're not suddenly in Paris, but it's probably not something you expected to do in Granada. That's what makes it even cooler to actually do and brag to your friends about when they envy your bottle of custom perfume.
So head to Patio de los Perfumes, a restored renaissance building dedicated to the fine art of creating perfumes. It combines a perfume shop, a museum, a patio full of fragrant plants, and a workshop to create your own perfume.
First, you'll learn which scents are most powerful and longer lasting, and which are more delicate, subtle, and fleeting. Second, you'll choose from among hundreds of distinct fragrances, such as tobacco, chocolate, vanilla, rosewood, cardamom, sandalwood, jasmine, vetiver, orange, pomegranate, and so on. Then, using graded pipettes, build your perfume up gradually from its base notes to its heart, and finally, its head.
Pro Tip: Be sure to stroll down Granada's most famous street from here: Carrera del Darro.
Location: Patio de los Perfumes
13. Spend the Night in a Cave
Above the city of Granada, thousands of caves decorate the hills. Nomads and gypsies flock from all over the world to spend some time in living for free in these chiseled out grottoes.
If you rock up to them with the right attitude, this flourishing international community of eco-minded artists and artisans will welcome you with open arms. Seriously. In any case, you'll see them often busk, dance, or sell their wares in the streets below.
And if that's not your style, you can also opt to find one to rent like a regular Airbnb though you won't find them online. Some come with Jacuzzis and flat-panel TVs, along with the usual rooms and bathrooms. There's even a cave museum, so you can learn all the history and culture of Granada's cave-dwellers.
So, why not come to Granada and actually try living in a cave? Whether it's for a season as a hippy taking a break from modern society, or for a week as tourist in unforgettable Fred Flintstone style luxury. Check out all our recommendations from the city center to Sacromonte in our neighborhood guide to Granada.
Location: In the hills of Sacromonte
12. Snap Pics of the Talented Street Art in the Jewish Quarter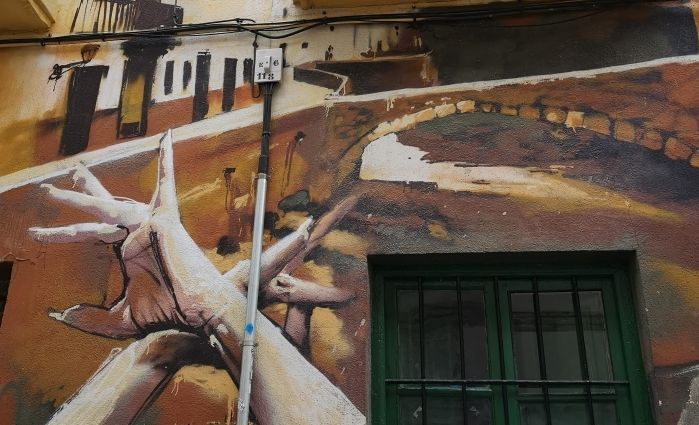 It's not all folklore and history here. There's also a strong tradition of street art in Granada. This is particularly thanks to one now-internationally-renowned artist who goes by the name of El Niño de las Pinturas.
Growing up in the Jewish quarter, the "Child of the Paintings" decided the shabby walls needed a little fresh life and decoration. His art has raised not only the street cred, but also the reputation and elegance of the entire neighborhood.
If you want tour them all intentionally, you'll find a map of the artist's most famous works on his website. However, there are many more around town, as well as plenty of works by other budding spray artists. Just see how many you can spot and snap!
Locations: A map of El Niño de las Pinturas' most famous works around Granada are on his own website.
11. Find the Perfect Hand-Made Gift at the Alcaicería Bazaar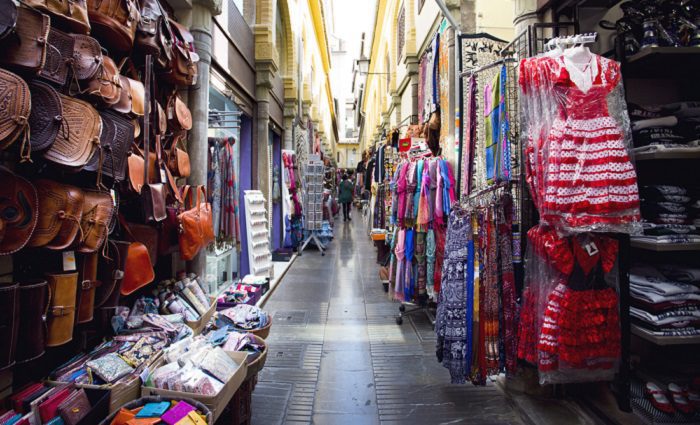 It wouldn't be a city with a Moorish history unless it had a bazaar. So if you want to do something that's become a bit touristy but has deep cultural roots, head to Alcaicería market. Yes, there will be rows of souvenir shops and endless things to buy inside.
I recommend staying out on the street where you'll see more authentic goods. Dresses, bags, sandals, spices, ceramics, shawls, jewelry, silks, nativity sets, toys, and so much more can be found here. I highly recommend looking for the jewelry boxes with delicate insets of wood mosaics and mother of pearl. Stunning.
Some goods are imported from Morocco and other African countries, so it's a chance to travel further without leaving Granada! It's a colorful walk through time as you see what's unique here in Granada compared to a street market in Sorrento, Italy.
Location: C. Alcaiceria
10. Taste Tapas for Free with A Glass of Wine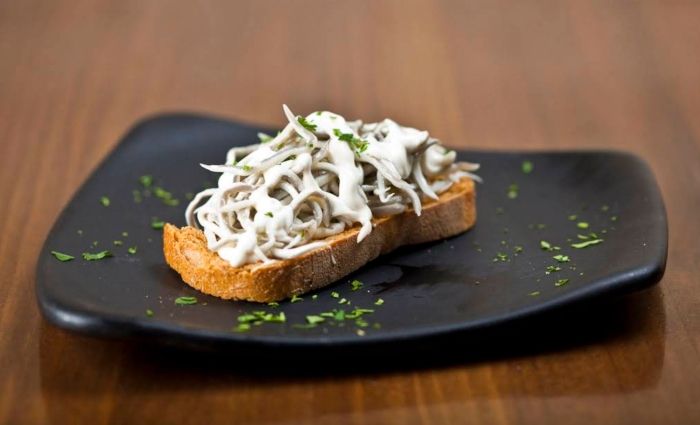 The original concept of tapas came about by using a simple piece of bread to tapear, or cover, your drink so flies wouldn't get on it. Then they started adding toppings to the bread, so as not to waste it. And the rest is delicious history.
Though they serve tapas throughout Spain, you'll have to pay for them in most places. Not so in Granada. They come freely with every glass of beer or wine you order! Here's a tip: tapas aren't free if you just order water, soda, or coffee, etc. Maybe with soda, but not always, so just ask "Hay tapa?" It has to be beer or wine.
With each refill of your beer or wine, another round of tapas will appear. Perhaps you want to choose your tapas, so you grab the menu. Well, it doesn't work like that. The waiter will think you want to eat full meal and won't bring you tapas. So start light before heading off to your full meal.
Location: Ras
9. Go Skiing in the Mountains Near Granada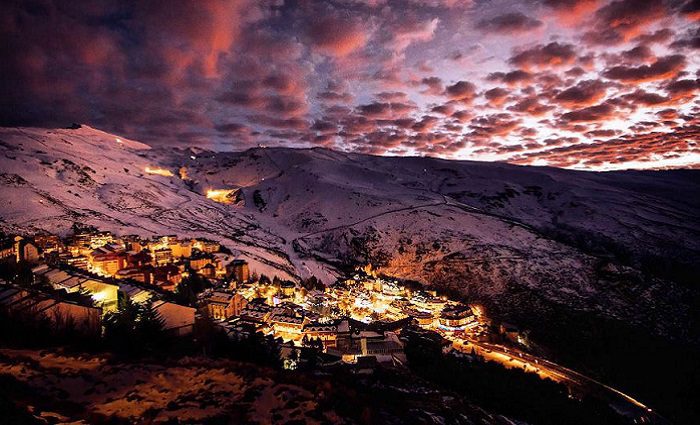 Yes, you read that right! You can ski near Granada and if you're here during the season and don't know that, you might be surprised to see so many people carrying skis through town. There's a ski resort just 45 minutes away!
On a clear day at the top of the Sierra Nevada ski resort, you can see the Alhambra in Granada as well as the North African coastline across the Mediterranean! Now that's something you can't do anywhere, which is why it's an incredible thing to do in Granada in the winter.
You can ski here from November to around mid-May. Towards the end of season, there's a tradition of everyone skiing down the slopes in their underwear or swimming suits. It makes for some great laughs.
8. Watch Flamenco Up Close in a Cave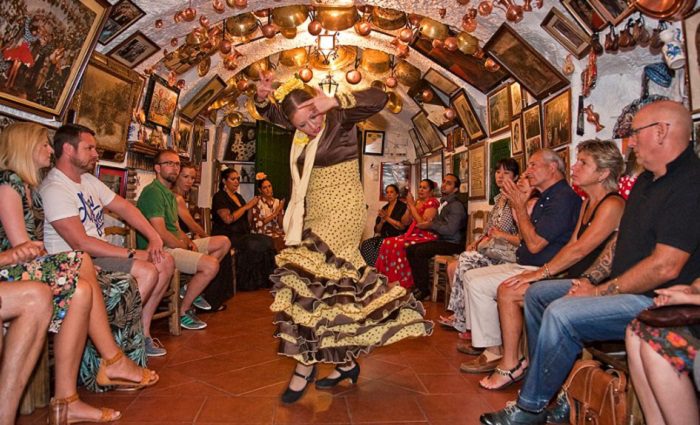 When you think of Spain, two things may immediately spring to mind, tapas and Flamenco. And you'll get plenty of it in Granada from guitar-making shops to bars that play the recognizable rhythm on an endless loop.
In the late afternoon, walk to the square of Plaza Nueva. There, you'll probably see a couple of dancers tapping it out on a square of heavy wood laid over the flagstones. There'll also be a singer, a guitarist, and a percussionist sitting atop a beatbox.
If you're looking to make a special evening of it, climb up to Sacromonte or the Sacred Mountain. Along the road clinging to the side of the Valley of Paradise, you'll find the flamenco caves dug deep into the hill. These clubs offer dinner and drinks, and a show so full of passion and pride, it'll be impossible to forget.
Locations: Plaza Nueva | Tablao Flamenco la Petenera (in Granada) | Zambra Maria la Canastera (in Sacromonte)
7. Get to Know Arabic Culture in Granada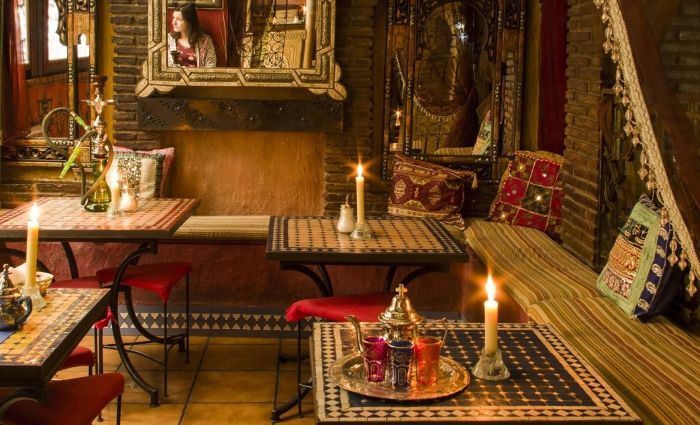 You can't get much more Spanish than Granada, but you also can't get more Middle Eastern without heading across the Mediterranean to Africa's coast. There are a few things you should definitely do in Granada to get to know it's current Moorish roots with historical influences.
Go to Corral del Carbón to see what used to be an inn arranged around a central market square to accommodate caravans of traveling tradespeople. It's suspected to day back to the 1200s!
You've probably gone to the Alcaicería bazaar already, so good job on that. Now go down the street to Palacio de la Madraza, which is a 14th-century Arab university that's more beautiful than just about any school I've been in. You can tour inside here and learn about the evolution of the school and Granada over time.
To explore Arab cuisine, walk a few minutes to Calle Elvira street. You'll find plenty of tea parlors serving mint teas, couscous, and honey- and rosewater-soaked Arab desserts. From there, you can go to the picturesque street of Calderería Nueva to chat with local shopkeepers after saying "As-salaam 'alaykum" or "Peace be upon you".
Locations: Corral del Carbón | Madraza | Calle Elvira | Calderería Nueva
6. Watch the Sunrise at Mirador de San Nicolás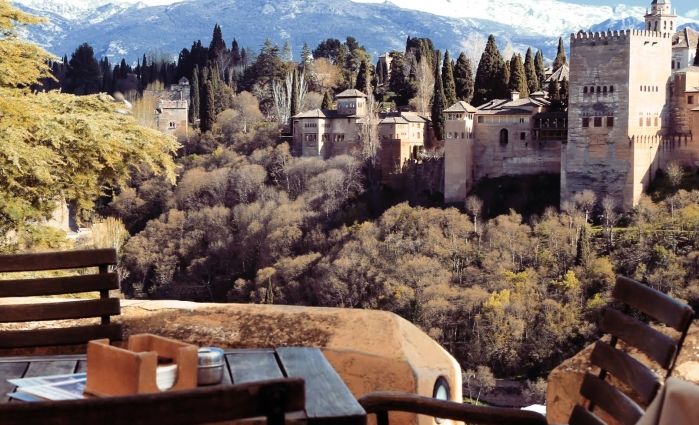 If you need something romantic to do in Granada, I recommend watching the sunrise at one of many viewpoints called mirador. The most spectacular of them all is the Mirador San Nicolás, which offers a truly unforgettable view of the city, the Alhambra, and the snow-capped mountains of the Sierra Nevada.
Head up there early in the morning to take it all in, and it'll take your breath away. Or be there at dusk for what Bill Clinton famously described as "The most beautiful sunset in the world". There's likely to be a gypsy guitarist sitting on the low wall, strumming away to set the scene.
Too early? Go anyway and order coffee at an elegant bar or restaurant nearby, offering a similar view. And if your partner is just a night owl, then grab a few cans of beer, and climb past the cave houses to the Mirador de San Miguel Alto to enjoy a more hippy vibe.
Locations: Mirador San Nicolás | Mirador de San Miguel Alto | El Huerto de Juan Ranas
5. Find a Moment of Peace in an Architectural Garden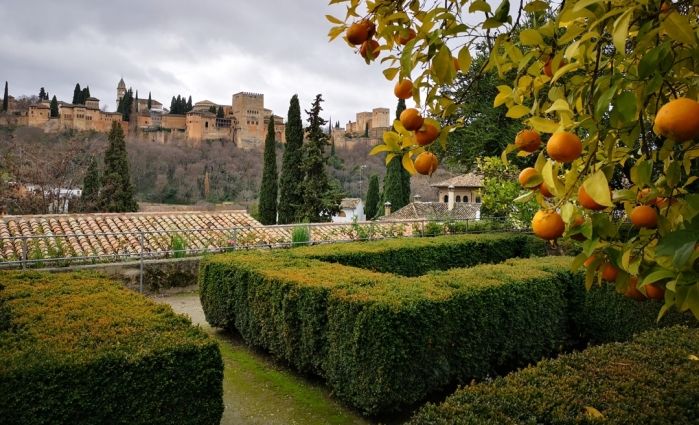 The etymological root of the English word "charming", a "carmen" is an ornamental walled garden typical of Granada. Generally, a little paradise of lush plants and trees arranged around some kind of pool or running water feature.
These oases are everywhere around Granada, and you can easily find accommodation that incorporates if not a carmen then a similarly styled patio. Here you can enjoy some well-earned peace and quiet, or welcome refreshments with your traveling companions.
Apart from the Generalife, there are other monumental gardens that are well worth a visit. First among these is Carmen de los Martires, a sprawling series of English, French and Spanish styled gardens, with views over the mountains and plains to the south of Granada.
Then there's Granada University's Botanical Gardens and the Carmen de la Victoria. You'll find others at Casa del Chapiz and Palacio de los Córdova, in addition to the gardens of the artists Max Moreau and, last but not least, Rodríguez-Acosta. Many are free to enter, and the perfect place to take a moment sitting on a bench in the shade of an orange tree.
Locations: Carmen de los Martires | Casa del Chapiz | Palacio de los Córdova | Max Moreau | Botanical Gardens
4. Try an Authentic Hammam Bath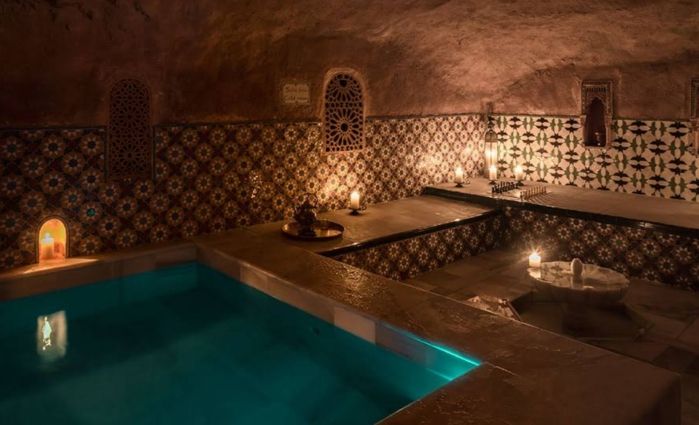 You may have admired the majestic Comares Baths in the Alhambra, or wandered through the 11th-century Bañuelo Baths down along the Darro River. But what was it really like in the times of the Muslim rulers of Granada? Or the Romans before them?
Well, you can get an idea by treating yourself to any one of the many hammams across town. You'll be greeted by a series of rooms with star-shaped skylights, and lined with tiles bearing colorful geometric forms. There'll be a large, heated marble slab on which lay, a steam-room, pools of water of varying temperatures and masseurs on hand.
As you cycle your way through the different rooms, help yourself to cups of mint tea and gradually feel your body and mind slip into the deepest state of relaxation. When you walk out, you'll be a new you!
Locations: Hammam Al Ándalus | Bañuelo Baths
3. Stand Beneath the Stunning Dome of the Granada Cathedral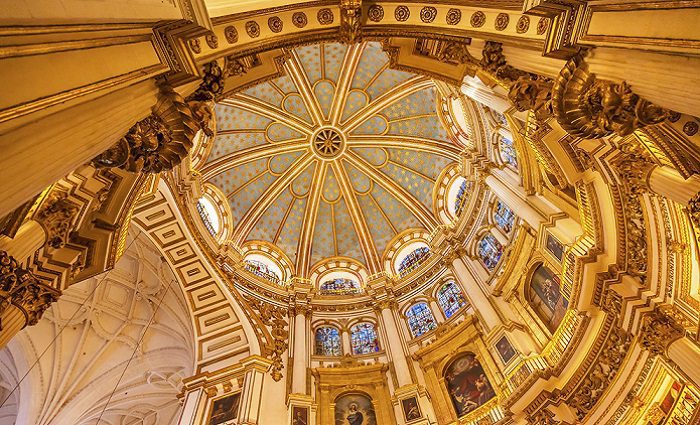 If you went to the Alcaicería market, you probably saw the towering cathedral nearby. So head on over because it's something you can't miss when you're in Granada. That dome alone is worth stepping into this Spanish Renaissance masterpiece!
There's a magnificence that can't be described when you walk into this towering cathedral that's actually the second-largest cathedral in Spain! The gold, the art, the details, the multiple levels, the altar, the dome. It's all incredibly special.
As with many things in Granada's history, this cathedral's origins begin in the famous year of 1492 and it evolved from a mosque to a Baroque masterpiece with multiple areas being built over time. The Royal Chapel is also worth exploring on these grounds.
Location: C. Gran Vía de Colón, 5 | Cost: €5 for adults, free for kids under 12
2. Find Solitude in the Gardens at Generalife
Everyone thinks the Alhambra is what are actually the Nasrid Palaces. It can be confusing since it's all in the same area. So just know that there's tons to explore up here and many palaces and gardens. Generalife is where you'll find the best pools lush green spaces.
Wandering alongside the long pools of water, you'll find it difficult not to want to dive in. Don't! It's been forbidden even in the time of the original Moorish inhabitants. Thankfully, there's lots of shade among the cypresses and rose bushes and even a stairway whose handrails stream with water.
For the ultimate thing to do in Granada, consider coming up here in the evening. As dusk settles and the lights begin to illuminate the green foliage, there's a romantic atmosphere that can't be ignored.
1. The Alhambra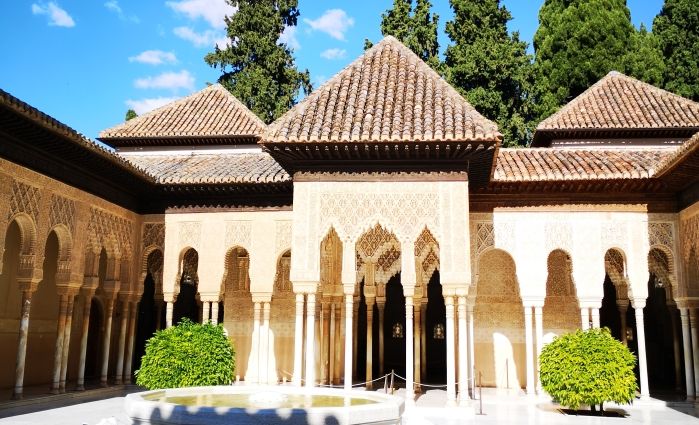 There is no place in the world quite like the Alhambra, which is why it should be obviously our #1 thing to do in Granada. Whether you see it is as a sprawling fortress complex, a series of palaces and gardens, or the remains of a great citadel, its architects built it as a paradise on Earth. Certainly, their design was to reward the senses of the pious and the worthy.
Everywhere, there is the gentle burble of running water and the sounds of nature and scents of herbs and flowers. While, the palaces, with their stuccoed geometric domes, lattice screens, and reflecting pools, seem to make light and dark even more intense.
Some might see the Alhambra as an example of the Muslim conquest of Christian territory, others as a symbol of the Christian conquest of Muslim lands. However, like the rest of Granada, what the Alhambra really has come to represent is not acculturation or assimilation of cultures, but an amalgamation. That is a chance for peace, for different cultures to appreciate the other and find common ground.
As the sun sets, and the walls glow a bright, warm red, you'll be glad you have visited this, one of the world's most famous and most visited monuments. It can be overwhelming to take it all in though, so be sure you're set to visit with a local guide to show you the way.
You'll be glad you have visited the sumptuous medieval Nasrid Palaces and the proud militaristic Tower of the Candle that veils over the city. You'll be glad you have taken the time to appreciate the Renaissance squaring of the circle that is the Palace of Emperor Charles V and its precious museum. And like Queen Isabella I of Castile, you may never want to leave.
Not ready to book a tour? Find out how to visit the Alhambra.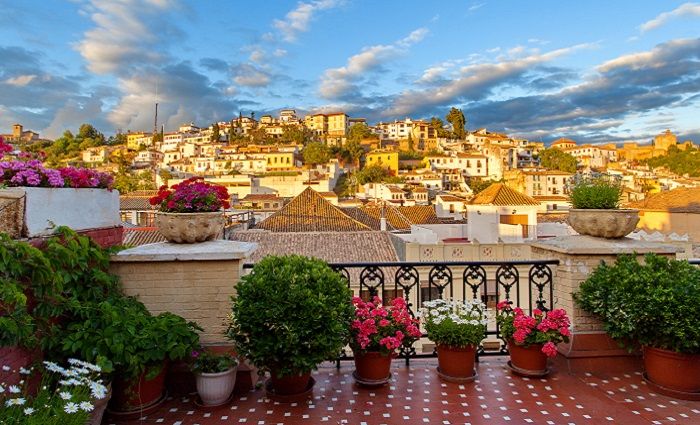 Find the best places to stay
Where To Stay in Granada
Granada, Spain, is worth visiting to see the massive Alhambra. Find out where our local experts recommend staying in this ancient city. You'll find great hotel deals that will make your stay memorable.