When it comes to discovering a new culture, eating and travel go hand in hand. In Vienna, you'll embark on the tastiest culinary journey with plenty of sweet and savory delicacies to discover. To help you enjoy the best of Viennese cuisine, our local expert shares the must-try foods in Vienna. Get ready to indulge!
---
Pro Tip: Planning your trip to Vienna? It's easier to organize your trip when you have all your resources in one place. Bookmark this post along with our article on the best restaurants in the city and the top things to do in Vienna.
11 Must-Try Foods in Vienna
Pardon me as I try to write this article without drooling about the food I'm writing about. What's fascinating is that Austrian cuisine developed as a mix of cuisines with influences from Italy and France and has imported food from everywhere in the Austro-Hungarian Empire. As a result, the Viennese diet today is a melting pot of traditions, featuring many dishes from Central Europe.
They are hearty meals rich in calories and saturated fats. Pork and beef are staples of the cuisine, but also chicken, turkey, and goose are popular choices. Whether it's soaked in gravy, pan-fried, or boiled in broth, it's a true paradise for meat lovers. Potatoes, root vegetables, and other carb-dense foods accompany them.
Above all, the tafelspitz and the wiener schnitzel are some of the national dishes you absolutely must try. Always, always, always leave room for something sweet in Vienna. From apple pastries to chocolate cakes and fluffy pancakes, there's a world of deliciousness to discover, and I'm excited to share my favorites.
Head to the typical coffee houses for the sweetest way to get to know the local culture! To help you enjoy the best Viennese cuisine, here are the top foods to try in Vienna.
11. Langos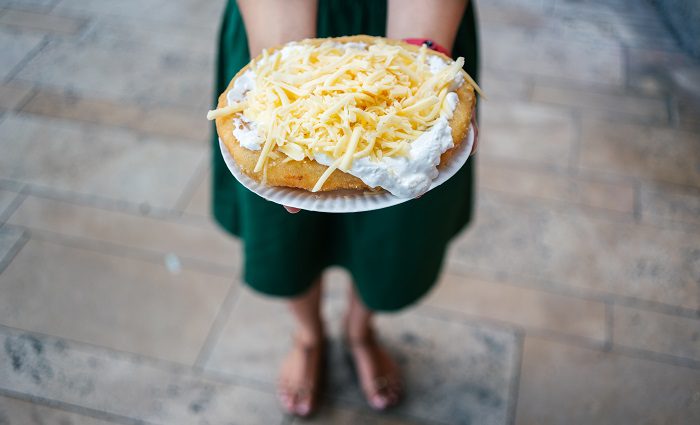 If you see a food truck or a stall with a langos sign, it's time for a snack. This delicious street food consists of a simple deep-fried flat bread coated in a garlic paste. It's a delicacy originating from Hungary, where it commonly comes with a variety of toppings.
You'll find it at any outdoor event, festival, or at the Christmas markets in Vienna, sometimes served with sour cream and cheese on top. If you don't happen to see any of it on your tour of the city, go to Prater Park where there are many langos stalls all year round.
They'll fry the dough in front of you and then spread the paste over this warm and crispy frisbee. Eating a much-bigger-than-your-face langos will make you sticky and greasy, but also very happy.
Where to get it: Prater
10. Almdudler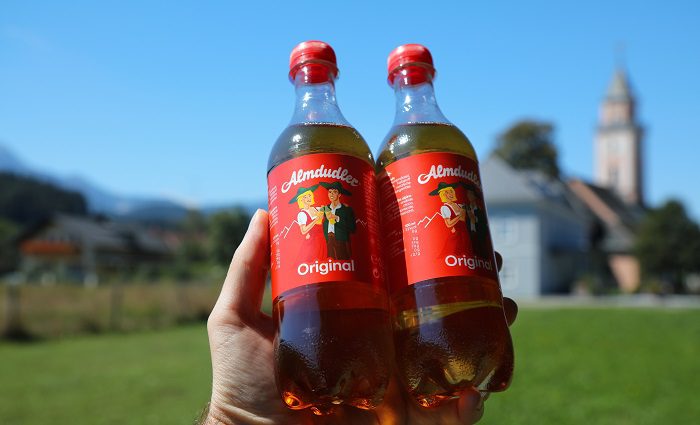 You don't simply have a coke in Vienna. You get an almdudler. This herbal lemonade is a national treasure in Austria. Sweetened and carbonated, this soft drink consists of apple juice and a blend of 32 natural alpine herbs.
It's a fruitier tangier ginger ale that's very refreshing with a peculiar herbal aftertaste. The iconic bottle featuring a couple in traditional attire makes for characteristic photo opportunities on your trip to Vienna.
9. Rindsgulasch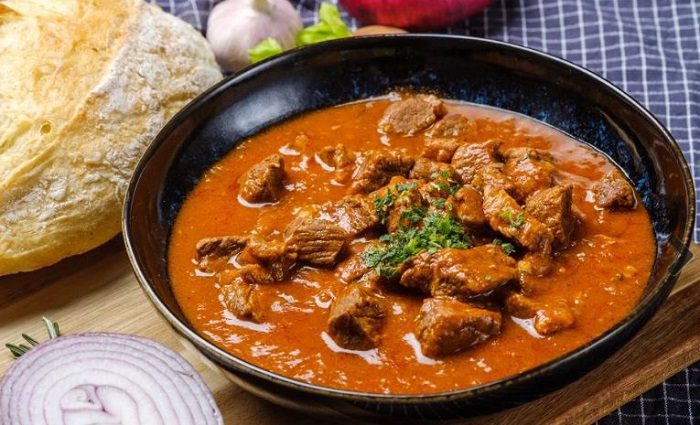 The rindsgulasch is another Viennese classic that you'll find on the menu at any traditional restaurant in town. Deriving from the more famous Hungarian goulash, the Viennese version consists of tender beef chunks soaked in a rich thick gravy, made from slow-cooking onions.
There are no vegetables or garnish, only melt-in-the-mouth beef to blow your mind. Sometimes, you'll get potatoes or a side of spaetzle, to soak up every last drop of the delicious gravy.
Where to get it: Gmoakeller | Reinthaler's Beisl | Restaurant Müllerbeisl | Weibel's Wirtshaus | Wirtshaus Herlitschka | Glacis Beisl
8. Pork Knuckle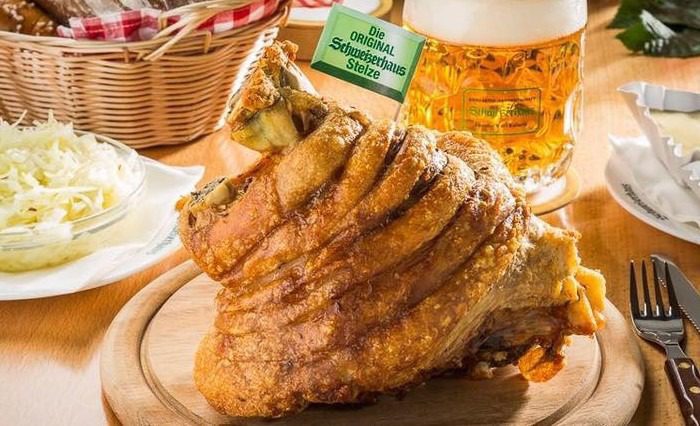 Known as stelze, a pork knuckle is basically the knee of a pig served on the bone. The crispy crackling skin encloses the most tender and juicy pork meat. And it's a lot of meat!
It typically comes on a wooden tray with mustard and pickled horseradish (take it sparingly), to be shared among two or three people. Head to a beer garden in Prater to best enjoy it, and get ready to pile up the beer mugs!
Where to get it: Salm Bräu | Schweizerhaus
7. Spätzle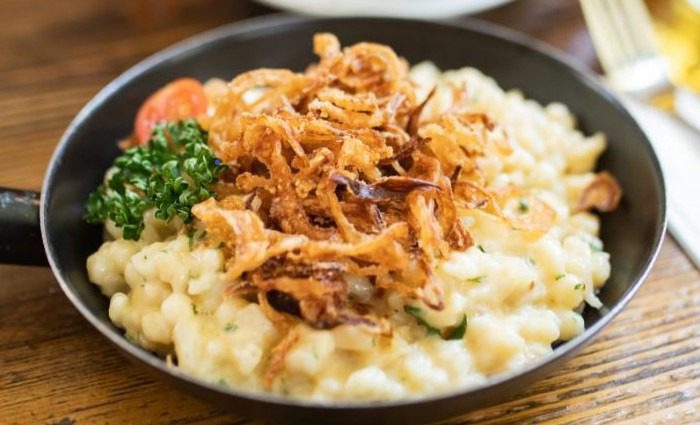 This simple dish of Austrian folk cuisine will probably be the only option you'll have at a beisl (traditional Austrian tavern) if you're a vegetarian. These tiny dumplings made of flour, water, and eggs, are often served plain as a side with many meat dishes like the goulash.
But they also come in more elaborate forms. In the Eiernockerl, they are cooked in a pan with eggs and onions and served with chives. This dish is usually served in the pot and accompanied by a green salad.
Another popular version is the Käsespätzle, which is baked in the oven with cheese and topped with fried onion. We might call it Austrian mac and cheese. It's pure delicious comfort food.
Where to get it: Gmoakeller | Reinthaler's Beisl | Restaurant Müllerbeisl | Weibel's Wirtshaus | Wirtshaus Herlitschka | Glacis Beisl
6. Kaiserschmarren at Demel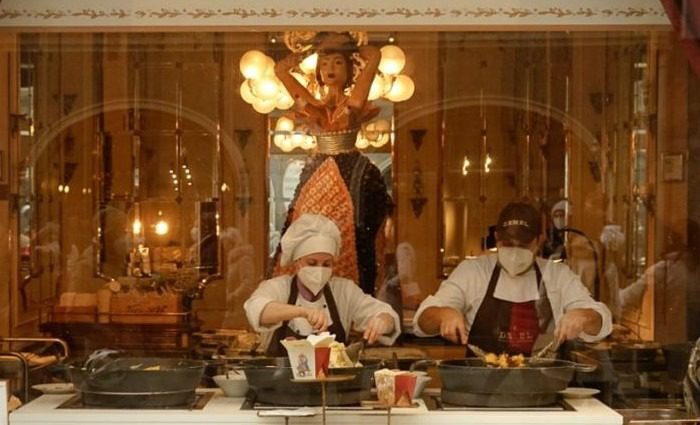 This not-too-sweet shredded pancake originated in Austria during the time of Emperor Franz Joseph I (it literally means the Emperor's scrambled dish). The egg batter is poured into a hot pan, stirred in butter, and caramelized with rum-soaked raisins.
The resulting fluffy pancake is then torn into bite-sized pieces and sprinkled with powdered sugar. It's served warm and accompanied by a fruit compote made from plums.
You can watch the best kaiserschmarren in town in the making every day in the window of Demel, the historic confectionery in the city center. You can also get them in a box to go, especially at the Demel kiosk in Stephan's Platz. Have a look around though, because you'll also find them in many other coffee houses and inns.
Where to get it: Demel
5. Frankfurter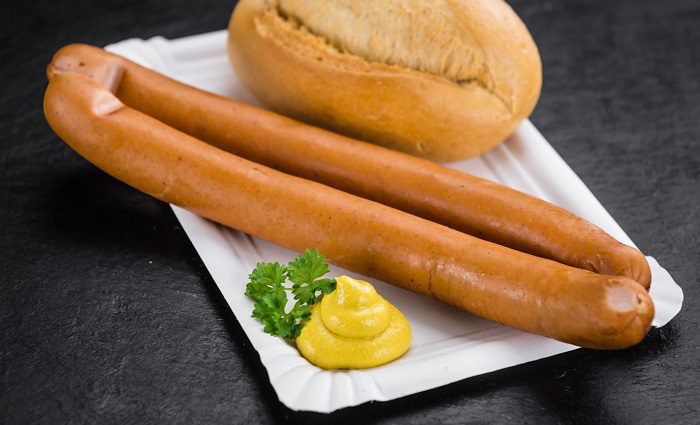 Essentially, this is a thin parboiled sausage made of beef and pork and cased in sheep's intestine. The Frankfurter doesn't sound as good as it tastes, but trust me—it's worth it.
This Viennese hot dog usually comes in pairs with a bun, accompanied by ketchup and mustard. It's the most popular sausage in Vienna! You'll find it at the traditional kiosks, usually at the tram stops or right outside the metro stations. It's also on the menu in many taverns and coffee houses.
Where to get it: Bitzinger | Zum goldenen Würstel
4. Äpfelstrudel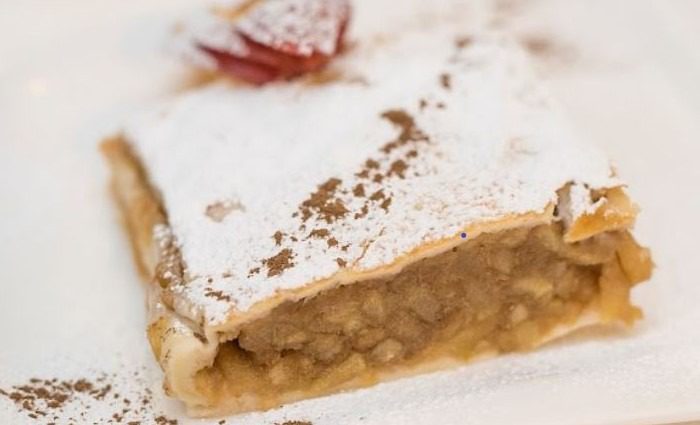 Austrians love apples. And they put it to best use in the äpfelstrudel. This rolled pastry encases in its many layers a rich filling of apples and raisins with a hint of cinnamon, rum, and sometimes nuts. It usually comes with a dusting of sugar and a delicious vanilla sauce—the more the better!
It's the national dessert, so you'll find it on the menu of every coffee house or restaurant in Vienna. Chances are you'll finish every single meal with at least one flaky rectangle of strudel. It's mostly fruit after all!
Where to get it: Hotel Sacher | Demel | Aida | Café Central | Café Landtmann | Café Mozart | Kaffee Alt Wien
3. Tafelspitz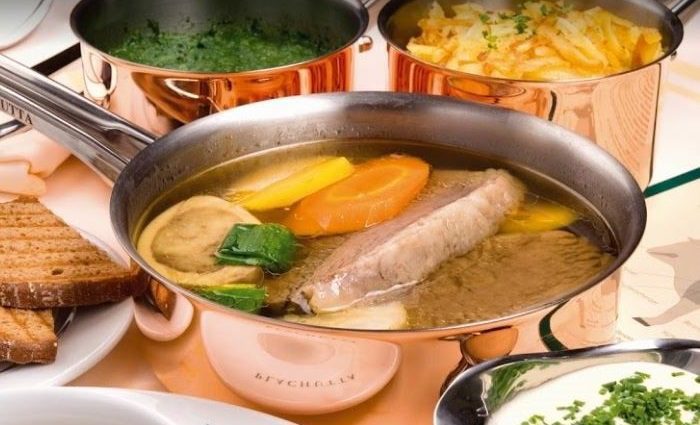 The tafelspitz is a national dish in Austria and the king of beef dishes in Vienna. If you're a meat lover, you'll appreciate that the beef cut is a well-aged piece from the bottom sirloin primal cut, known in the US as the tri-tip. And it comes out particularly tender after being gently simmered in a rich broth with root vegetables and spices like bay leaves and peppercorns.
In Austrian restaurants, there's a proper ritual to stick to when the tafelspitz is served. Diners are meant to eat it in courses. The broth soup is eaten first. Then, the marrow is removed from the bones and spread on bread like a jam. Finally, the meat and the vegetables are enjoyed. Head to Plachutta Restaurant for a tafelspitz ceremony you won't soon forget!
Where to get it: Plachutta
2. Sachertorte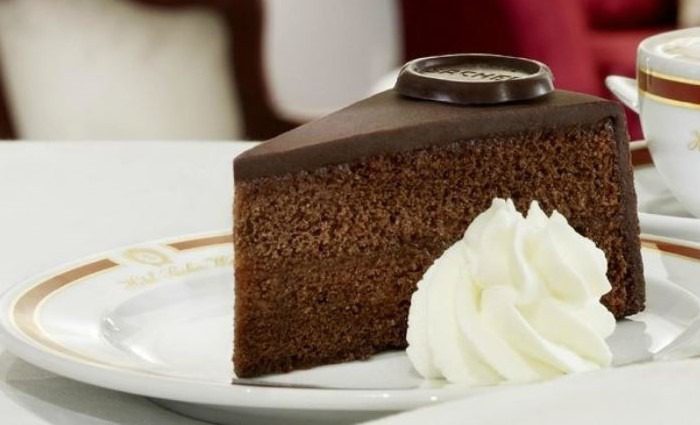 Having a sachertorte is like getting a slice of Vienna history. Austria's most famous dessert consists of a dense chocolate cake filled with a thin layer of apricot jam, coated in dark chocolate icing, and usually served with unsweetened whipped cream.
The original recipe is protected by trademark, but most confectioneries in Vienna have attempted to create their own version, which sometimes turns out better than the original! That said, Hotel Sacher is the only place where you can taste the authentic sachertorte, which comes with a trademark in chocolate applied on the cake.
The hotel produces over 270,000 pieces a year (they can travel and are packed in a very nice wooden box if you're thinking of a sweet souvenir). No wonder there's always a long line to get a seat at the Sacher Café. Whether it's here or anywhere else, just make sure you get your slice of sacher before leaving!
Where to get it: Hotel Sacher | Demel | Aida | Café Central | Café Landtmann | Café Mozart | Kaffee Alt Wien
1. Wiener Schnitzel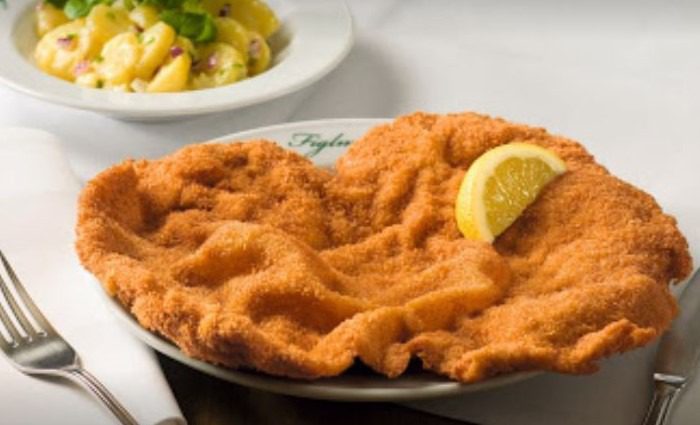 This simple and delicious cutlet will bring everyone together and it is the absolute must-try food on your trip to Vienna. The original version is made of a slice of veal, hammered until thin and tender, covered in fine breadcrumbs, and then deep-fried until golden brown. But the pork variant is also very popular and for a good reason.
As for the side, you'd better give up the fries and pair it with a more traditional erdäpfelsalat. This Austrian potato salad is made with cubed boiled potatoes, red onions, white wine vinegar, mustard, and chives.
It's difficult to find a place that doesn't serve schnitzel in Vienna, and most are delicious. However, Figlmüller is known as the home of the original Wiener Schnitzel and you'll find it in the city center.
Where to get it: Figlmueller | Gmoakeller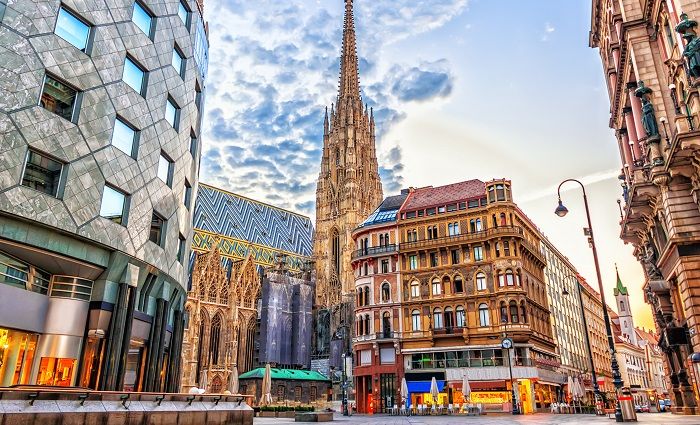 Find the best places to stay
Where To Stay in Vienna
From the old-world elegance of the Innere Stadt to the contemporary cultural hotspot of Neubau, we'll help you find the perfect place to stay in Vienna in this guide to the best hotels and neighborhoods.