Austria's capital is relatively small and easy to navigate, but it's difficult to know where the best places to stay are. Planning a short visit? Traveling with kids? Looking for underground nightlife? Our local expert gives you insight into the best areas to stay in the city based on your interests and budget. Read on to find out where to stay in Vienna
---
Pro Tip: Planning your trip to Vienna? It's easier to organize your trip when you have all your resources in one place. Bookmark this post along with our article on the best restaurants in the city and the top things to do in Vienna.
Where To Stay in Vienna: Best Hotels and Neighborhoods
Vienna is divided into 23 districts. District 1 or Innere Stadt is the historic city center. It's surrounded by the 3.2-mile-long Ringstrasse, which serves also as the tramway. All the other districts spiral outwards from the center. You'll find tourist attractions in the first nine districts, except for the Schönbrunn Palace, which is in District 13.
Every year Vienna ranks as one of the most livable cities in the world. This is also thanks to the size of the city and the exceptional public transport system. You can basically get anywhere in less than 30 minutes.
There's no place like Innere Stadt to soak up the imperial atmosphere the city is known for. But in most cases, staying in hotels surrounded by historic sights and dining out in the old town comes with premium prices and large crowds.
Venturing out of the city center, on the other hand, will give you more opportunities to get off the beaten track and get a taste of local life. Where you stay in Vienna will depend on your style, budget, and the experience you're after.
Every district in Vienna has its own personality and attractions. In this guide, we've picked our top three districts, plus what you can expect and hotel recommendations at every price point. Here's where to stay in Vienna.
Our Partnership with Booking.com. If you like our content, please book by clicking on our Booking.com links. The price is the same for you, and we get a small commission that helps support our blog. We've partnered with Booking.com because they have the most options, great prices, and a solid loyalty program. Just about every hotel is on Booking so our recommendations are not incentivized.
District 1: Innere Stadt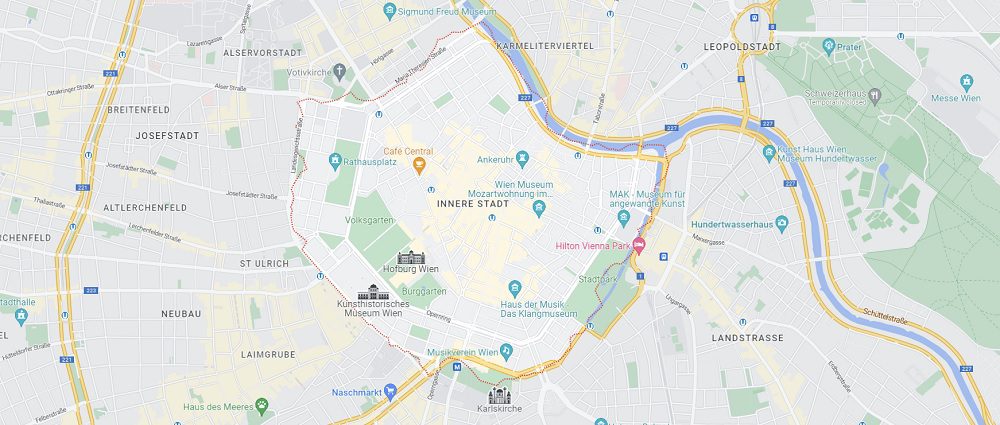 If you're visiting Vienna on a short trip, staying in the city center or Innere Stadt is a great option. You won't miss out on the top sights or the unique atmosphere of this historic city. The baroque charm and elegance of Innere Stadt add to Vienna's distinctive charm.
All the top attractions are within easy reach. You'll have churches, castles, museums, and shopping avenues at your fingertips. St. Stephen's Cathedral, Graben, the Hofburg, and the Albertina Museum are just some of the highlights in this area.
You'll get to enjoy the charming coffee houses and the historic theaters and concert halls, which hold events every day. There's no doubt you'll experience the best that the city has to offer.
It does, however, come with some downsides to consider. The area is packed with people, especially over the weekend and the Christmas season. Innere Stadt is also generally more expensive than anywhere else. There are some narrow streets that offer a more secluded and quiet stay and, if you choose wisely, you can still have a good local meal and nice accommodation at an affordable price.
Why I love Innere Stadt:
Lots of top attractions
Baroque architecture
Viennese coffee houses
Attractions near Innere Stadt:
Hofburg complex (Imperial apartments, Sisi Museum, National Library, Spanish Riding School)
St. Stephen's Cathedral
Albertina Museum
Vienna State Opera
Musikverein
Art Museum
Natural History Museum
Rathaus (City Hall)
Best restaurants in Innere Stadt:
Best hotels in Innere Stadt:
Hotel Kaiserin Elisabeth
€€ | 4 Star | Viennese Style | Top location | Delicious Breakfast
If you want to stay right in the city center without breaking the bank, look no further. Enjoy imperial elegance with modern facilities just a few steps away from Stephansplatz. If you upgrade to a superior room, you'll get a comfort package with slippers, a bathrobe, coffee, tea, and an espresso machine. At breakfast, they serve delicious Kaiserschmarrn, the famous scrambled pancake, a signature delicacy in Vienna.
Hotel Am Parkring
€€ | 4 Star | Panoramic Views | Great Location | Restaurant with Views
Located on the Ringstrasse, this hotel occupies the 11th to 13th floors of the highest building on the boulevard. The rooms are tastefully furnished with flat-screen cable TVs and a Nespresso coffee machine with free tabs and a tablet PC in every room. Dine at the hotel's Das Schick gourmet restaurant serving Austrian and Spanish cuisine with incredible views.
Hotel Sacher Wien
€€€ | 5 Star | Luxury | Iconic | Baroque Style | Great Location
Opposite the Vienna State Opera, this hotel boasts iconic status in Viennese history. It's famous for Sachertorte, a chocolate cake filled with apricot jam. From deluxe rooms to signature suites, each room offers a true taste of luxury. Crystal chandeliers, unique decor, lavish furnishings, and marble bathrooms with under-floor heating are just some of the features you can expect.
Hotel Kärntnerhof
€€ | 3 Star | Rooftop Terrace | Art Noveau Touches | Great Location
In a quiet side street only a 5-minute walk from Saint Stephen's Cathedral, you will find this lovely boutique hotel. The timeless design combines the Art Nouveau style with a twist of Italian elegance. The hotel's rooftop terrace is an oasis of calm in the city center of Vienna.
District 3: Landstrasse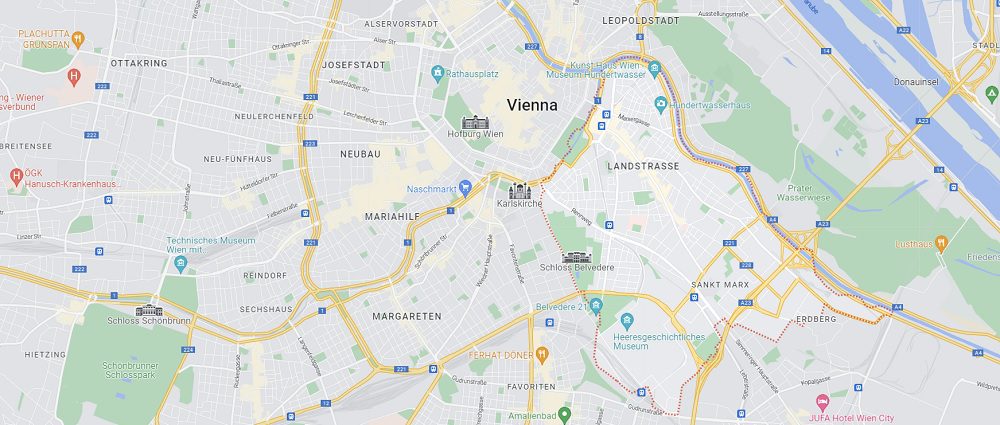 Vienna's District 3 or Landstrasse is an elegant and peaceful oasis, located within walking distance of the city center. Home to many embassies and beautifully decorated residential blocks, the area is popular for the Hundertwasser complex, an expressionist landmark in town.
This quirky apartment building, designed by Austrian artist Friedensreich Hundertwasser, enchants hordes of tourists with its uneven floors and mosaic of shapes, colors, and pillars.
This residential area also boasts many green parks and playgrounds, so it's a convenient and cost-effective option, especially for families traveling with kids. You won't find a very lively nightlife here but it is home to some of the top attractions in Vienna.
Landstrasse enjoys the benefit of a central location and a direct connection to the airport through the Wien Mitte transport hub. Less expensive than the city center and away from the tourist crowds, this area is the perfect compromise for a relaxing stay without being isolated. You'll definitely get the feeling of an authentic neighborhood.
You'll find very nice bakeries, busy shopping malls, and a neighborhood market on Langstrasse's main avenue. There will also be local people doing their groceries and chatting among the stands of fruit, cheese, and flowers.
You'll also find many nice options for a casual lunch, including a very popular würstelstand (hot dog stand). Take a seat at one of the tiny tables in the little square right in front of the metro station and watch the world go by.
Why I love Landstrasse:
Relaxing atmosphere away from the crowds
Central, but cheaper than Innere Stadt
Well connected
Playgrounds for kids
Elegant architecture
Danube Canal path
Attractions near Landstrasse:
Belvedere Palace
Karlskirche
Hundertwasser Haus
Stadtpark
Best restaurants in Landstrasse:
Best hotels in Landstrasse:
Mercure Grand Hotel Biedermeier Wien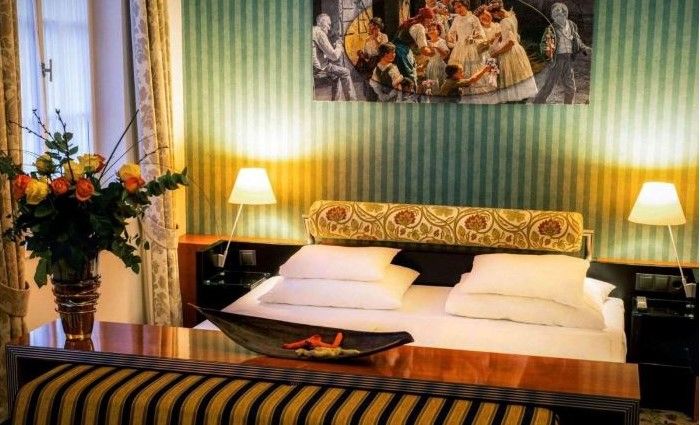 €€ | 4 Star | Terrace | Two Restaurants | Spa | Near Train Station
This Biedermeier-style hotel is located in the old Sünnhof Viennese passageway, steps from Wien Mitte train station. Each room has cable TV and, in many cases, a comfortable sitting area. There are two restaurants, offering international dishes and Austrian specialties. You can enjoy a breakfast buffet served on the cozy garden terrace.
InterContinental Wien, an IHG Hotel
€€ | 4 Star | Classic | Great Views | Spa | Restaurant
The functional façade of this hotel hides a cozy and elegant interior. Starting with the wood-panelled lobby, each space is a perfect blend of traditional and contemporary furnishings. The classic rooms have nice views of either the Vienna Concert Hall or the Stadtpark. The hotel houses a gym, a Viennese Café, and a stylish intermezzo Bar. There's also a Spa, a hairdresser, and a Restaurant Parlor. What more could you need?
magdas HOTEL Vienna City
€€ | 4 Star | Social Business | Green Hotel
This social business hotel offers people who have fled their countries training and a real chance to get a job in the hospitality industry. You'll be supporting this wonderful purpose and enjoy a cosmopolitan atmosphere. From the creatively upcycled furnishings to the photovoltaics on the roof, the water-saving fittings, and the organic toiletries, you'll love the eco-friendly details. There's even a vegan-friendly restaurant.
District 7: Neubau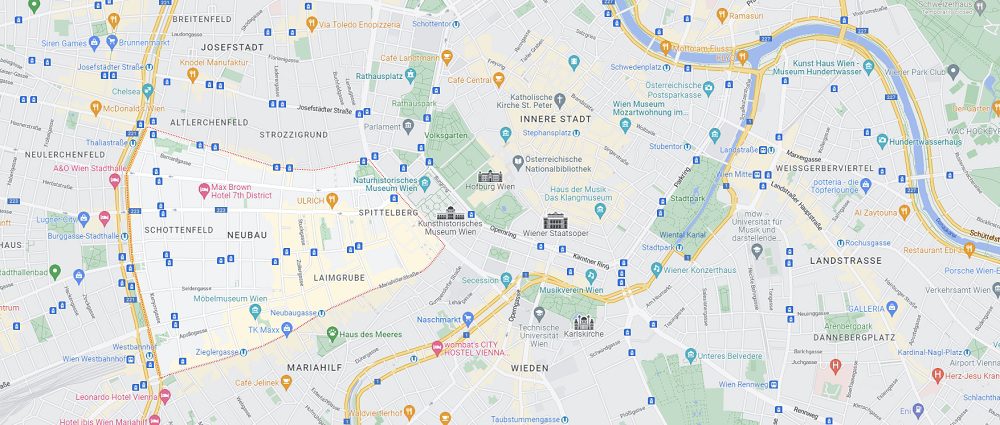 In this vibrant area of Vienna, you'll experience the coolest side of the city. Here, you'll find artisanal hipster roasters instead of the luxurious coffee houses and ethnic or fusion restaurants instead of the traditional beisl. There's some nice street art that will give you a break from the baroque pomp of the city center, and the underground nightlife is buzzing.
But you don't need to be in your 20s to enjoy the lively spirit of District 7 or Neubau. Besides the MuseumsQuartier, the neighborhood is bustling with off-the-beaten-track cultural spots, like the independent art galleries or the historic theaters and cinemas.
You'll enjoy plenty of opportunities to shop for handcrafted souvenirs and vintage treasures. Food-wise, there's a whole world to discover! You'll find specialties from everywhere, all concentrated in a few streets (Zollergasse, Kirchengasse, and Lindengasse), plus many great vegetarian and vegan eateries.
Look out for Spittelberg, a picturesque village with narrow cobbled streets where students and artists love to hang out. Here, you'll find arts and crafts shops, design studios, and ateliers with original fashion from local designers. But also funky bars and tiny cafés with gardens and courtyards.
The best part is that Neubau is well-connected to the city center—you'll be there in a 10-minute metro ride or a lovely walk across the Ringstrasse.
Why I love Neubau:
Hipster vibe
Off the beaten track
Multicultural dining scene
Nightlife
Attractions near Neubau:
MuseumsQuartier (Leopold Museum, MUMOK, Kunsthalle, Zoom Kinder Museum)
Volksteather
Mariahilfer Straße
Spittelberg Quartier
Art History Museum
Natural History Museum
Best restaurants in Neubau:
Best hotels in Neubau:
Hotel am Brillantengrund
€ | 3 Star | Trendy | Vintage Chic | Family Run
This family-run hotel has a Mediterranean-style courtyard where there's always a lot going on. Besides the delicious homemade specialties from the Philippines, exhibitions, readings, and concerts take place here regularly. Guests can also rent bicycles at the small workshop space or join one of the cycling tours to explore Vienna. The Westbahnhof, one of the biggest transport hubs in town, and the MuseumsQuartier are around 1 km away.
Hotel Gilbert
€€ | 4 Star | Stylish | Family Run | Green Hotel | Good Location
Greenery plays a major role at Hotel Gilbert. This pioneering project in sustainable building features a facade covered in evergreen perennials, tailored to Vienna's climate. The green inner courtyard with its Scandinavian flair is open to the public and is home to &flora, a restaurant-café resembling a flower shop. Located right across the MuseumsQuartier and the metro station, all top attractions are within easy reach.
Ruby Marie Hotel Vienna
€€ | 4 Star | Stylish | Lean Luxury | For Music Lovers
This hotel is about "Lean Luxury," which is laid-back comfort in spaces with character. Featuring a bar with a rooftop terrace, the hotel is located on the corner of Mariahilfer Straße, Vienna's main shopping street. If you're a music lover, this is the spot! There is free onsite guitar rental, every room features a sound system with Marshall amplifiers, and the hotel has its own online playlist you can enjoy.