Andalusian food draws influences from the many cultures that have graced the region over the years. It is also a cuisine where local produce dominates—from the mountains to the plains and the sea. With so many options, it may be difficult to know which gastronomical delights you simply cannot miss out on. So, here are the top foods to try in Andalusia.
---
Top Dishes To Eat in Andalusia
The majority of visitors to Andalusia head to the coast. There you will find every kind of seafood imaginable, cooked in a variety of ways. Head inland and the picture changes. With everything on the menu from wild boar and mountain goat to partridge and quail.
The diversity of produce ranks the Andalusian diet as one of the healthiest in the world. Tapas culture dominates the region's restaurants with locals preferring to share smaller plates. Larger meals are more common at family gatherings. Amongst the variety, there are a range of shared dishes found throughout the province, much like a common language. Are you ready to discover the flavours of Andalusia?
12. Churros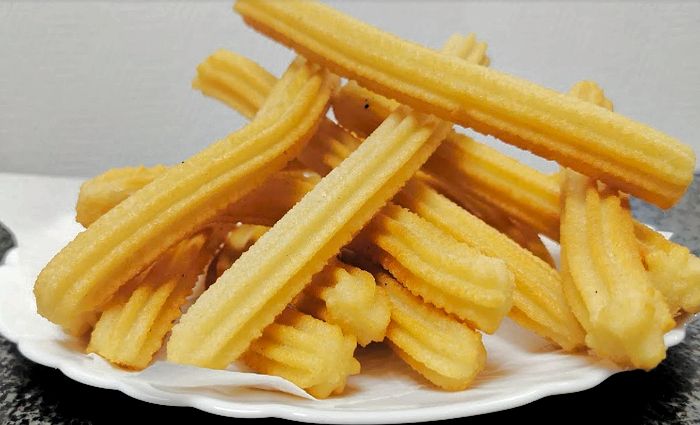 Churros are a popular breakfast snack made from a dough mixture. Churro makers pump the dough through a syringe-like tool into hot oil and fry them until crispy. The shape and length of churros vary across Andalucia. Varieties include de rueda—served in a spiral shape and de papas, which have a soft, potato-like texture.
In some areas, chefs sprinkle them with sugar or even cinnamon. It is normal to serve them with hot melted chocolate or coffee with milk. Check they are freshly made before you place your order, as frozen ones just aren't the same.
Where to get it: Churrería Hermanos García in Seville or Café Fútbol in Granada.
11. Berenjenas con Miel de Caña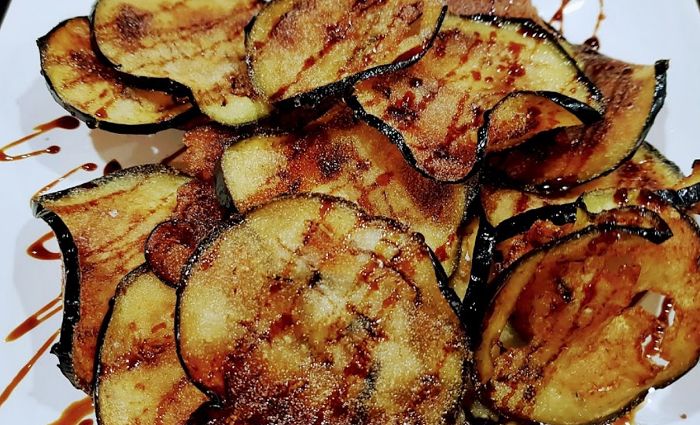 Eggplant is a staple in Southern Spain. In Andalusia, the locals coat them in flour and fry them in oil. Some chefs soak them in beer beforehand. They then drizzle them with miel de caña (honey) or molasses before serving. You might find them served straight, like potato fries, or cut into discs, depending on the restaurant.
This Andalusian classic has a North African influence with its sweet and savoury mix. You'll find them in most tapas bars in Andalusia.
Where to get it: Esquinita de Javi II in Granada.
10. Ajo Blanco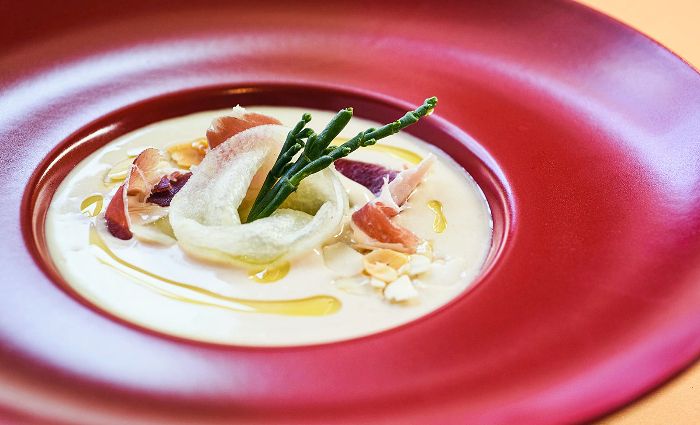 There are many cold soup dishes in Andalusia but this is one of the most popular. Ajo Blanco is made with bread, garlic, and almonds, and flavoured with vinegar from Jerez. The Andalusians like to serve their cold soups with garnishes and this one is no exception. Popular toppings include grapes, melon, and a drizzle of extra virgin olive oil. The dish originated in Malaga and Granada, but restaurants in other regions serve it too.
My favourite version of this dish is available in Sal Gorda in Seville. They serve it with cured Mojama tuna and sesame or as an accompaniment to oysters.
Where to get it: Sal Gorda in Seville and La Isleta de la Viña in Cádiz.
9. Migas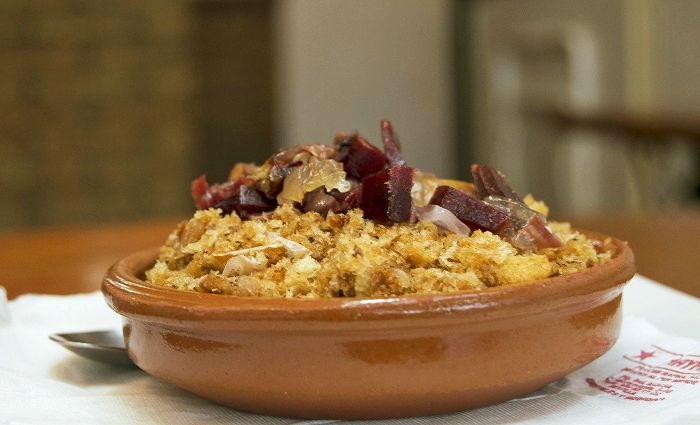 Migas means crumbs and is a traditional land worker's dish. It is sometimes made from leftover bread, but in the provinces of Granada and Almeria flour and water are the main ingredients. Locals fry the mix until it takes on a crispy texture. It is then combined with other ingredients according to local tastes.
You'll find meat varieties with chorizo and morcilla. Seafood varieties with sardines or other small fish. And even fruit versions with melon, orange, or apricot. Many villages have migas nights where locals cook up their best recipes over wood fires. Votes are cast to decide the winner. Once a breakfast dish, many bars now serve migas as tapas any time of day.
Where to get it: Mesón Las Migas in Seville.
8. Gambas al pil pil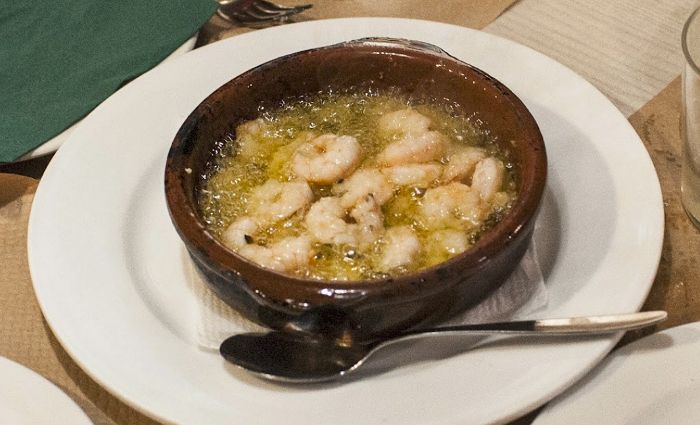 Seafood plays a big part in Andalusian cuisine. It is often cooked with just a few key ingredients like this delicious one-pot dish. Gambas al pil pil features prawns cooked in hot oil with garlic, chilli, and parsley.
The quick cooking time keeps the flavours fresh. Local chefs use cazuelas (clay pots) to make the dish and serve them straight to the table. A sizzling dish of gambas al pil pil is one of the most satisfying sights in an Andalusian restaurant.
Where to get it: Casa Lazo in Cádiz and Taperia de Sybaris in Malaga.
7. Montaditos de Pringas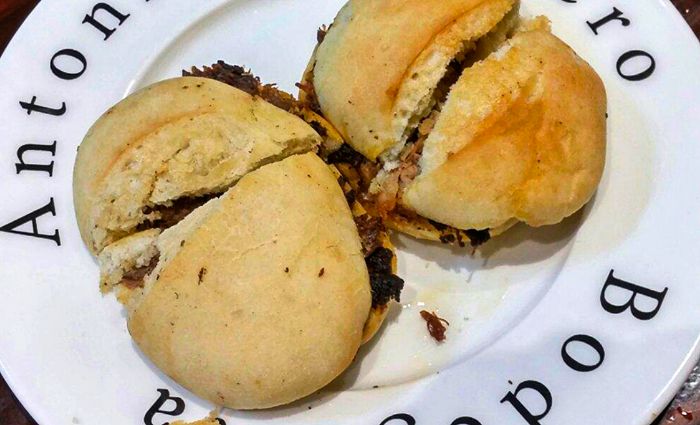 Head to Seville and you'll see pringas on the menu in most tapas bars. The name refers to a sticky pot of meat stew that includes pork, chorizo, and morcilla (blood sausage). Local bars serve it in bread rolls as a tapas dish. They may not be refined, but they are an integral part of the Seville food scene.
Everyone in the city has their favourite place to eat montaditos de pringas. But the real fun is in finding your own top pringas joint.
Where to get it: Bodeguita Antonio Romero Origen and Bodeguito Romero in Seville.
6. Tortillitas de Camarones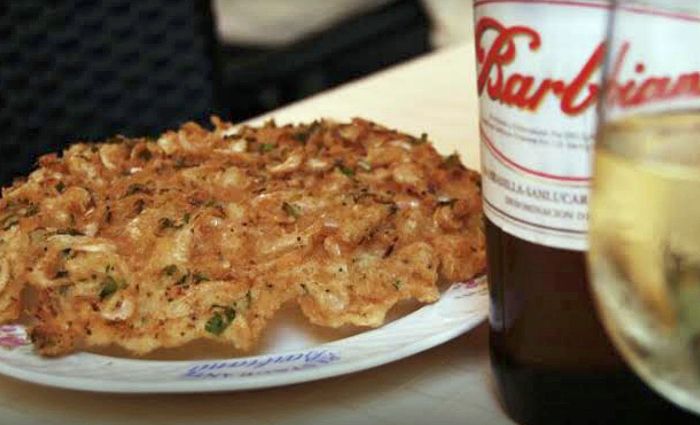 Tortillitas de camarones hail from Cadiz but are popular all over Spain. These shrimp fritters use a batter of wheat and chickpea flour mixed with onions and parsley. The tiny shrimps used are abundant on the Andalusia coast, and the local chefs cook them whole with the shells on. Almost every fish restaurant will sell these, often with alioli (garlic mayonnaise) on the side. But they are also a popular bar snack and go great with a beer.
Where to get it: Restaurante Barbiana in Seville or Casa Julio 1949 in Granada
5. Piononos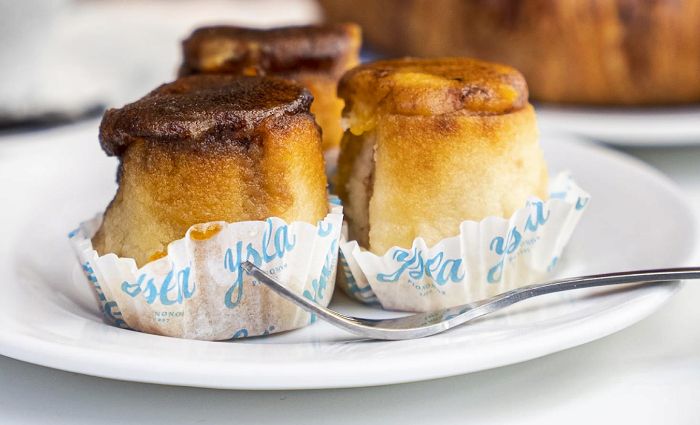 These classic pastries are associated with Santa Fe, a small town just outside Granada city. But you can buy them in cafes across the Granada province and beyond. The name of the sweet comes from Pio Nono, which is the local dialect for Pio Noveno (Pio IX)—the Spanish name for Pope Pius IX, who reigned in the 19th century.
These sweets are made from thin pastry rolled in syrup and topped with cream. They are quite small and often purchased in boxes containing six or 12 portions. The family-run cafe that invented the pionono in 1897, Cafe Isla, is still going strong with locations across Granada, Jaén, and Almería. Be sure to grab a box on your next visit.
Where to get it: Cafe Ysla in Granada.
4. Espetos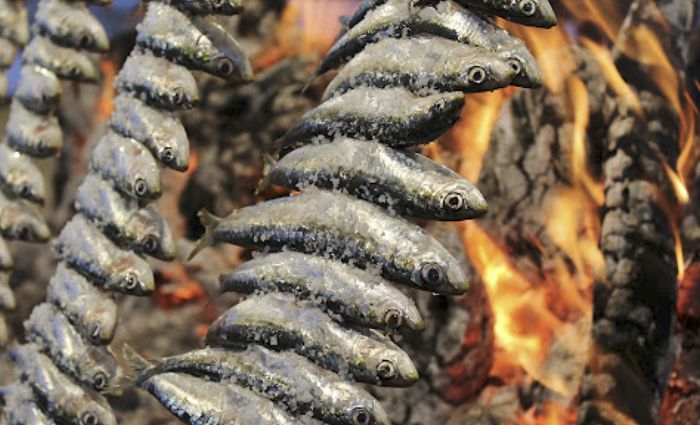 No holiday in Malaga is complete without a trip to the beach. Head there at any time of day, and you'll see sardines skewered on sticks being cooked over wood fires. This cooking method is as ancient as it gets and gives the fish a smoked flavour. Once cooked, the chefs will drizzle olive oil, lemon, and salt over the sardines before serving.
You can find them in many of the beach-side chiringuitos (snack bars) lining the coast of the Malaga province. Eating them by the sea just enhances the experience and is something you just have to do when visiting Malaga.
Where to get it: Restaurante La Caracola in Fuengirola, Malaga.
3. Olives or Extra Virgin Olive Oil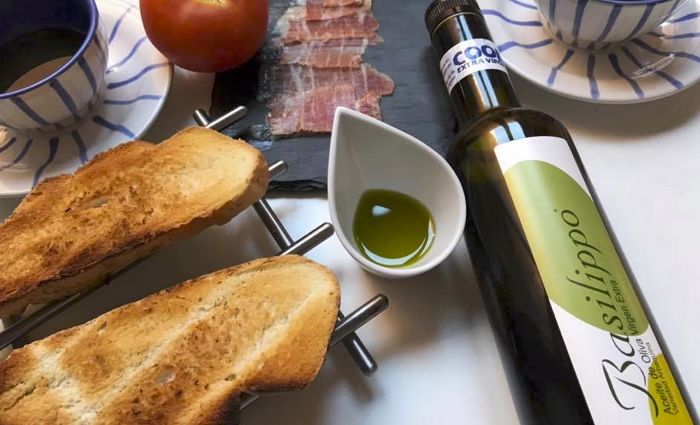 Spain is the world's largest producer of olive oil. Take a road trip from Malaga into the province of Jaen and you'll see why. Millions of olive trees decorate the landscape as far as the eye can see. Most olive factories offer tours and tasting events, where you can try some of the finest oil on the planet.
The locals often eat fresh bread drizzled with extra virgin olive oil and topped with salt. It is a real delicacy, and you should definitely try it. Olives are a staple tapas snack, and some of the best producers operate in Antequera near Malaga. The makers mix the olives with vinegar, garlic, and spices and supply them to bars across the region.
Where to get it: Basilippo Oleoturismo in Jaén
2. Jamon Ibérico de Bellota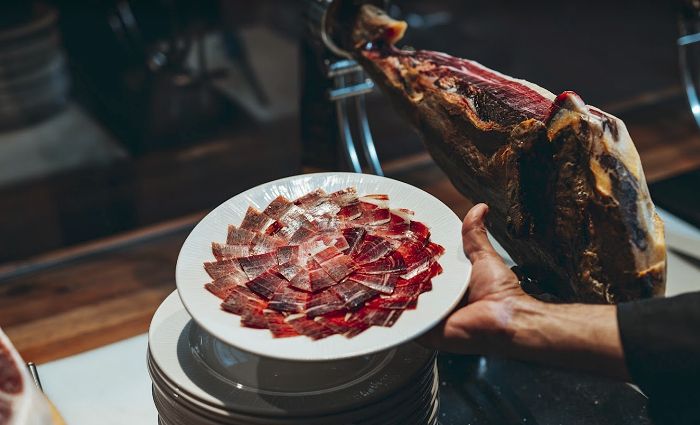 Spain is synonymous with ham. It is everywhere. You'll see cured ham legs hanging in bars and shops in every corner of the country. There are various types of ham available to suit all budgets. The finest hams carry a hefty price tag but enjoy elite status in the culinary world.
The best ham (de bellota) comes from acorn-fed pigs, bred on land close to the Portuguese border. Hams from chestnut-fed pigs are also coveted. The town of Jabugo in Huelva takes great pride in its Jamón Ibérico (Iberian Ham), which has its own denomination of origin status. You can order Jamon Ibérico in most bars and restaurants in Andalusia. It is best served with cheese and a glass of sherry.
Where to get it: El Pimpi in Malaga.
1. Gazpacho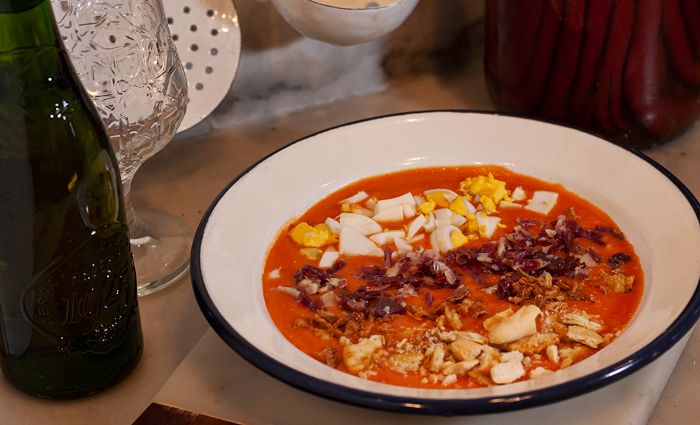 Gazpacho is Andalusia in a bowl. There is nothing more refreshing on a hot summer's day than a well-made dish of this cold tomato soup. It is the one dish you must try when visiting the region. Ingredients vary but include bread, tomato, cucumber, onion, peppers, garlic, olive oil, vinegar, water, and salt. Recipes may also vary from region to region.
There is no cooking involved to make the soup, but boiled eggs are one of many garnishes used along with tuna, ham, and cucumber. Gazpacho is best served over ice cubes with some fresh crusty bread on the side. In Cordoba, the locals prefer a thicker version called salmorejo. Again, this is topped with egg, ham, tuna, or salad. In Malaga, a thicker version known as porra Antequerana is also served.
You can get Gazapacho almost anywhere in Andalusia. But I love the fresh homemade version served in a glass in Casa Julio in Granada. They even give you free tapas to go with it! For a more traditional bowl, go to the excellent Ibéricos & Alhambra I, also in Granada.
Where to get it: Casa Julio 1947 or Ibéricos & Alhambra I in Granada.