Planning a trip to Sicily? You aren't the first! From the Phoenicians and Greeks, Romans and Arabs, the Spanish then the French. All, at some time or other, have laid claim to Sicily, making it one of the most culturally diverse regions of Italy. Sicily is the clue to understanding all of Italy. So to understand Sicily best, I'm here to guide you through the top foods to try in Sicily.
---
Pro Tip: You're going to want to circle back to this article since it's packed with local recommendations. Bookmark it in your browser on your phone so you'll have it on your trip. You can also check out our Where to Stay in Sicily article or our Top Things to Do, in fact, you should probably just bookmark our entire guide to Sicily.
What Should You Eat in Sicily?
Italian food is incredibly regional, and nowhere is this more true than in Sicily. The island's unique history and geography have created a local cuisine that is at once both Italian and exotic. Influenced by centuries of colonization, from the Phonecians to the Greeks and the Romans to the Moorish occupation, Sicily's food is a literal melting pot of cultures and a highlight of any visit. Get ready to loosen those belt buckles!
---
---
Top Foods To Try in Sicily
1. Arancini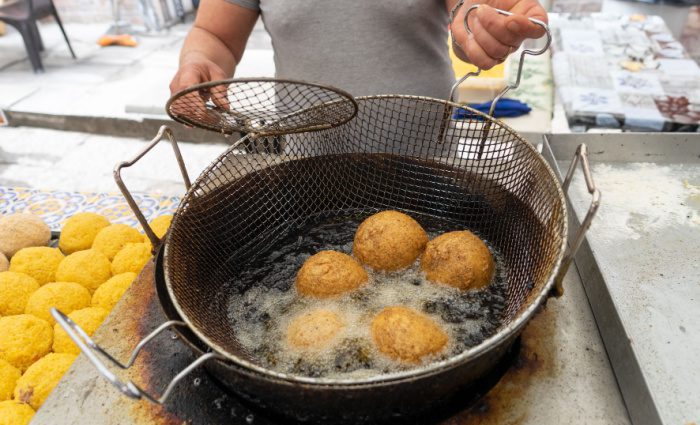 ---
Arancini' owe their legacy to the Arab occupation of the island in the 10th century, who brought with them rice and saffron. The locals invented this dish to use leftover rice and as an edible lunchbox for the delicious filling.
'Arancini' are essentially deep-fried breaded rice balls. But that description doesn't do them justice. Saffron-tinted rice wraps itself around a traditional rich filling of meat ragù with peas. This glorious golden sphere is breaded and deep-fried to crispy and finger-licking perfection.
A street food favorite, 'arancini' are found all over Sicily, especially in Catania and Palermo. More diverse fillings have been offered in recent years, so this can also make arancini a great vegetarian option.
Don't fancy doing the cooking while on holiday? Check out all our Sicily tours to find something for you!
2. Panelle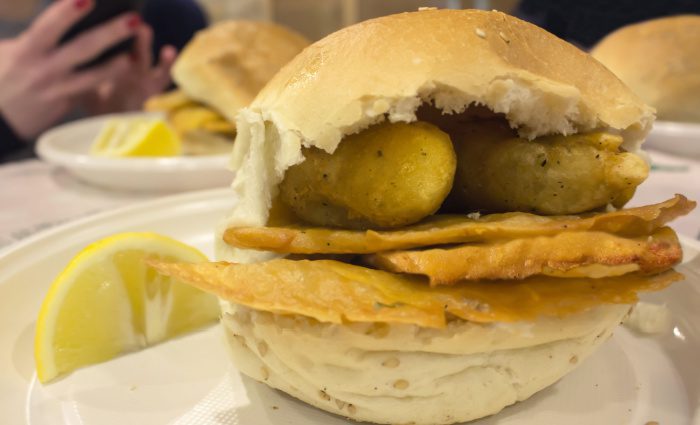 ---
Sicilians love their deep-fried food, and 'panelle,' little chickpea fritters, are a perfect example of how the Italians can take the simplest ingredients and turn them into something more than the sum of their parts. Bonus points this snack is vegan, dairy, and gluten-free!
Just three ingredients. Chickpea flour, salt, and water. That's it. Stirred together and cooked in a pot until thick, like polenta, the batter is then spread out on a tray to cool. Once set, they're cut into little squares, deep-fried, and served with a sprinkle of salt and a squeeze of lemon. You can have it on its own or sandwiched into a soft bread roll – equally delicious.
It's crispy and salty bliss. Eat whilst finger-burningly hot, sitting in a piazza with an obligatory ice-cold beer, and watching the world go by.
---
3. Stigghiola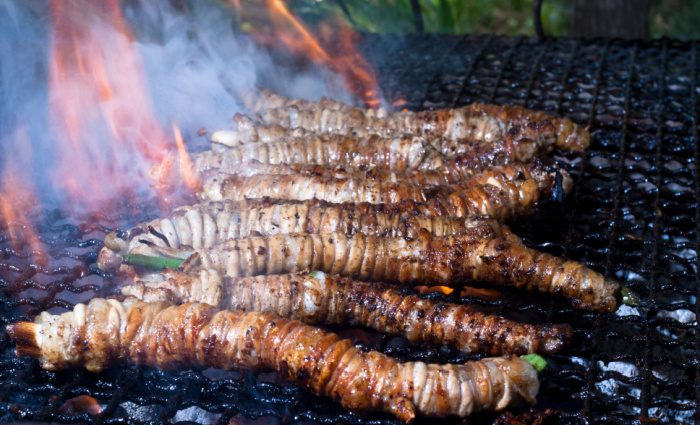 ---
'Stigghiola' is a unique Sicilian delicacy for the more adventurous foodie.
We can trace this dish back to the ancient Greeks, who used to create something similar. While today you can find variations throughout Sicily, it's most famous on the streets of Palermo.
'Stigghiola' marries the ideas of cucina povera and nose-to-tail eating into one meaty, smokey, succulent bite. Lamb or veal intestines are washed, seasoned, and wrapped around young fresh spring onions and cooked over charcoal on the open streets.
This is fast-food Palermo-style. Best eaten with your fingers as you wander through the streets of Palermo with the smell of barbecue hanging in the air around you.
---
Don't fancy doing the cooking while on holiday? Check out all our Sicily tours to find something for you!
4. Sfincione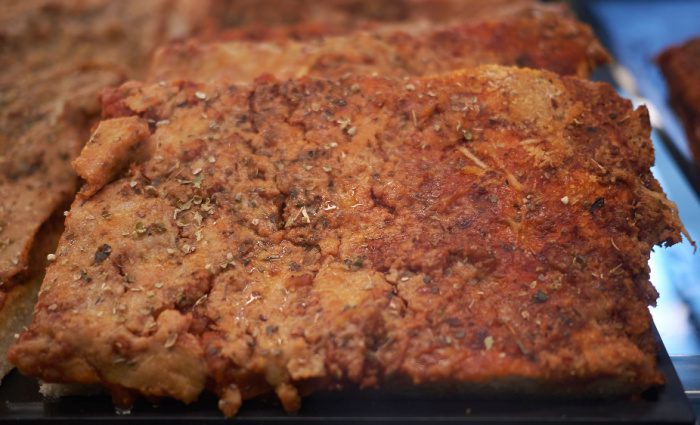 ---
'Sfincione' is Sicily's answer to pizza. And, just like everything else on this island, it is uniquely Sicilian.
Unlike its Neopolitan and Roman cousins, 'sfincione' is thicker and fluffier. It's more like a focaccia than a traditional pizza dough. The toppings, however, are always simple: tomato, anchovy, and the local, sharp caciocavallo cheese.
'Sfincione' is a perfect lunch-on-the-go as you wander the cobbled streets of Palermo, searching for your delicious Sicilian snack.
5. Pani Câ Meusa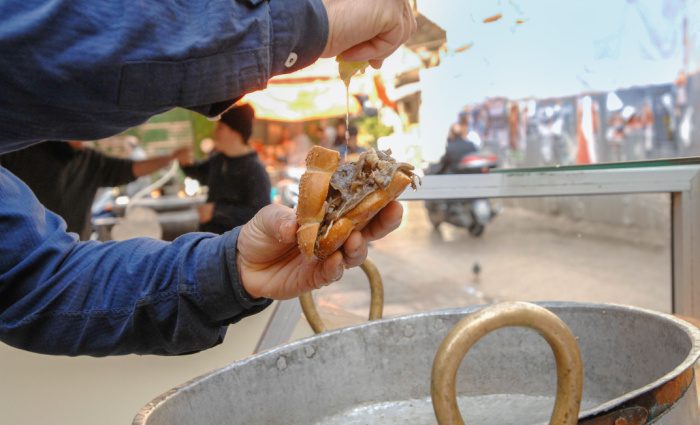 ---
There's no denying that this next one is for hard-core food lovers who like a challenge.
'Pani câ Meusa' is an iconic street-food sandwich commonly sold by specialized vendors called 'meusari' in Palermo's markets. The traders fill a soft pillowy bread roll with the spleen and lungs of veal that has been slowly simmered and then fried in lard. They top it off with caciocavallo cheese or a squeeze of lemon. A delicate sandwich, this is not.
For a simple sandwich, there is a rich, deep-rooted history here that we can trace back to the 15th-century Jewish community. Like many local impoverished communities, they sold prime cuts of meat to the wealthy. They kept the offal (organ meats) for themselves and then created this thrifty and nutritious snack.
It's a bold, in-your-face taste of Palermo and an experience like no other. Whether or not you'll go back for seconds is up to you.
6. Caponata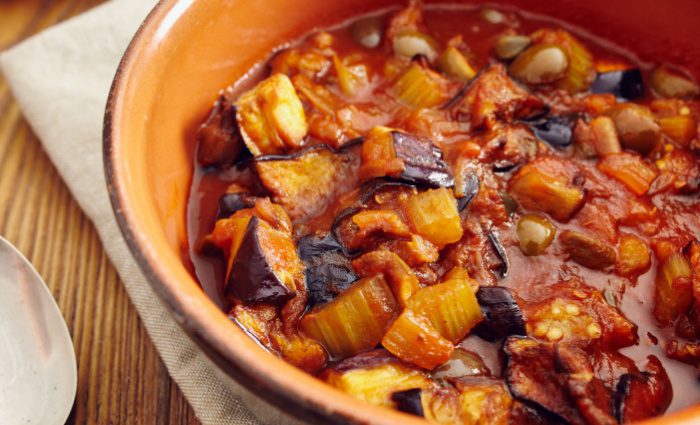 ---
'Caponata' is an ode to the best of Sicily's freshest produce. It's a sweet-and-sour medley of fried eggplant, celery, onions, and juicy tomatoes, with bright bursts of sour capers, olives, and vinegar. Add to this the sweetness of raisins, sugar, and creamy pinenuts. All cooked together with the best extra virgin olive oil.
Today this sweet-and-sour stew is served chiefly as an antipasto or side dish, but it was originally made during the summer months and jarred as a preserve for farmers and shepherds to take with them into the fields for lunch.
Delicious hot or cold, this should be a Sicilian staple on your island getaway.
7. Pasta alla Norma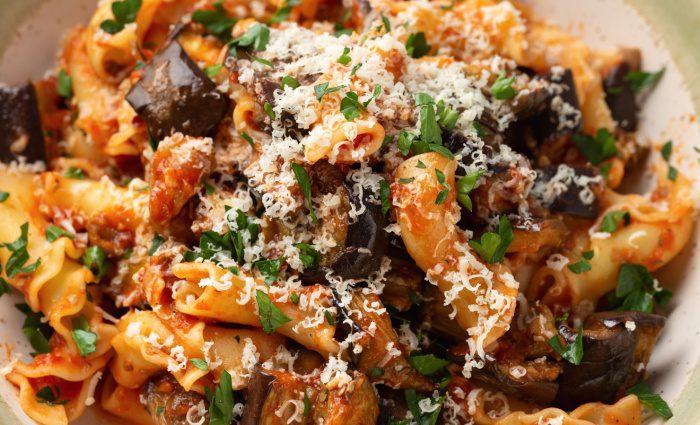 ---
This humble, homely pasta dish may just be Sicily on a plate. Fried eggplant paired with ripe tomatoes, garlic, oregano, basil, and local salted ricotta, make this dish an absolute 'must' on your Sicilian trip.
It was supposedly named for the composer Vincenzo Bellini, who wrote the opera Norma in 1831. Upon eating the dish for the first time, he declared, "This is the real Norma!" suggesting that this was a true masterpiece- just like his opera.
This meal begs to be eaten in a traditional Sicilian trattoria with locals and families buzzing around tightly packed tables on a sultry summer evening.
8. Pasta con le Sarde and Sardines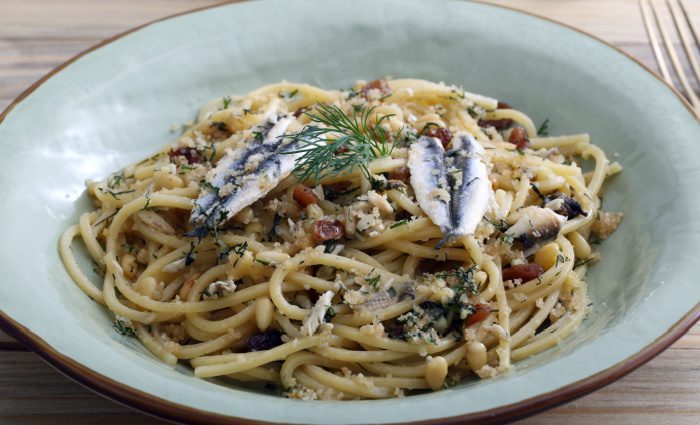 ---
Sicilians revere the humble sardine as a tasty antipasto, in pasta, or as a delicious stuffed roll (sarde a beccafico). This unassuming little fish makes big waves in Sicily.
Ultimately, the sardine shines as a superstar in one of the island's most famous pasta dishes – 'pasta con la sarde.' This dish is almost impossible to recreate outside its native land, so it is worth seeking out during your trip.
The freshest sardines, indigenous wild mountainside fennel, sweet raisins, and pinenuts make this pasta dish one that sings of Sicily's soul – humble yet exotic.
9. Busiate con pesto Trapanese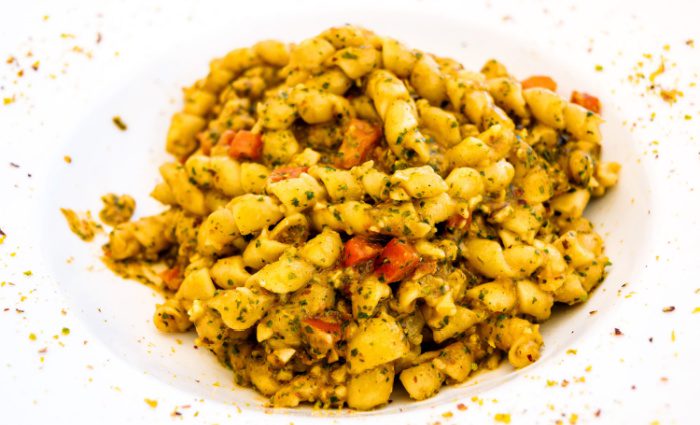 ---
Pesto is a famous, much-loved sauce, especially by kids. However, Trapani has a particular version of this beloved Italian staple that may become your next favorite kitchen condiment.
In Trapani, the locals took advantage of their local products – fabulous ripe, sun-ripened tomatoes, almonds from North Africa, sweet basil, and pungent garlic with local sea salt and black pepper. Pair it with the local old-school telephone cord-style 'busiate' pasta or whatever you fancy.
It's a fresh pesto that sings of summer. You'll want to eat all year long. Bonus points for this being a dish that you can easily recreate at home to bring Sicliy back from your vacation. So a top food to try in Sicily or at home.
10. Fish and Seafood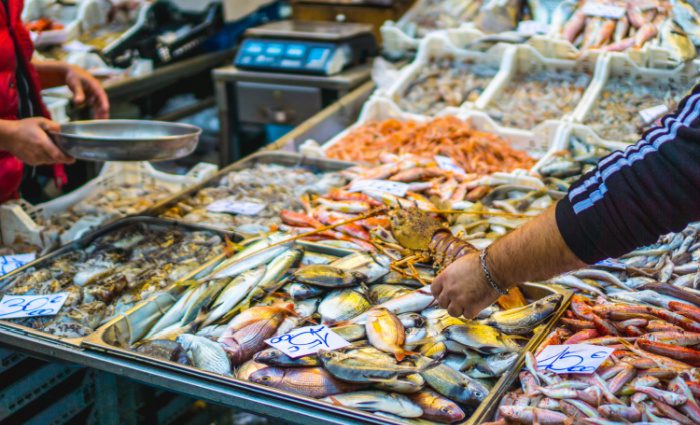 ---
It's hard to find yourself far from the sea in Sicily. Unsurprisingly then, fish and shellfish feature heavily on Sicilian menus.
Fresh grilled fish abound. From sardines and anchovies to sea bream and bass, stuffed cuttlefish to roasted octopus. The Sicilians adore their seafood. However, the love affair with the sea doesn't stop there.
Meaty tuna and swordfish are perennial favorites, especially 'involtini di pesce Spada,' or swordfish rolls. These are slices of swordfish rolled up around a stuffing of breadcrumbs, raisins, pine nuts, lemon zest, herbs, and occasionally some cheese; baked or pan-fried and served with a fresh squeeze of lemon.
While not unique to Sicily, it's also worth seeking out bottarga. This delicacy is dried and salted fish roe, usually tuna or mullet. It has a unique savory and umami-rich flavor that's salty and funky. You'll find it served grated over pasta. Imagine a classy fishy version of Parmigiano or truffles.
Shellfish lovers will not be disappointed, either. The fish markets overflow with clams, mussels, oysters, and even an unusual sea urchin delicacy available in the winter.
However, the absolute 'don' of Sicilian seafood must be the 'gambero rosso di Mazara.' This delectable red prawn, for which the town of Mazara is famous for fishing, is every gourmands' culinary dream. Found only at depths of 700 meters between Cyprus and Turkey, only a few fishermen know how to fish this rare treat.
Sicilians like to serve this crustacean as fresh and simple as possible – crudo, raw – so you can experience its full sweet fresh flavor. A once in a lifetime experience.
11. Couscous alla Trapanese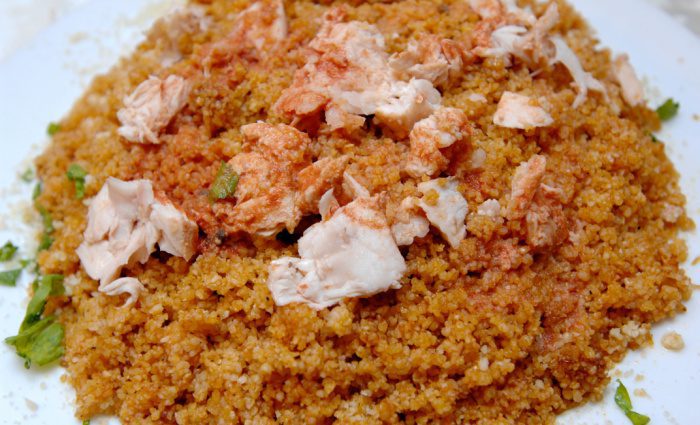 ---
Couscous is hardly the first dish that might spring to mind when you think of Italian food. Surely this is a dish that feels more at home in North Africa?
However, the people of Western Sicily around Trapani have preserved this delicious staple which owes its heritage to Sicily's Moorish occupation in the Middle Ages. While many local dishes use couscous, the most famous and distinctive is the version that hails from Trapani.
Here you will find a gently, warmly spiced fish stew with tomatoes and hints of saffron ladled onto a fluffy bed of soft couscous. Close your eyes, and you could just as well imagine yourself in a Bedouin tent in Tunisia as in a bustling Sicilian trattoria.
If this kind of food lights your fire, then you need to check out CousCousFest, in San Vito Lo Capo, which happens in September.
12. Cannoli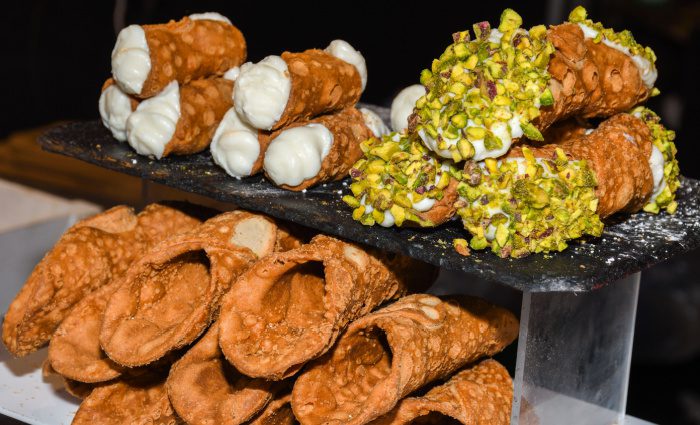 ---
You can't talk about Sicilian cuisine without mentioning one of its most famous (and for me) tastiest pastries – cannoli.
Even for those without a sweet tooth, that first bite into the crunchy shell of a cannolo with its creamy ricotta filling is pure food nirvana.
For the uninitiated, cannoli are deep-fried tubes of dough, a bit like cannelloni. In fact, the name derives from canna, a short cane or reed that the cannolo was originally wrapped around to make the tube. Once fried, the crispy shell is filled with sweetened ricotta, and toppings are added on either end. Usually, chocolate chips or candied fruit. A delicious diabetes-inducing mouthful.
If you want to eat your cannoli like a local and avoid the tourist traps, then steer clear of places that pre-fill their cannoli. The crunchy shell gets soggy and sad if left sitting in the window. Follow the locals and find a pastry shop that fills them as you order. Trust me; you won't regret it.
13. Granita or Gelato with Brioche
---
Gelato is, of course, Italy's ice cream. No visit here would be complete without it. In Sicily, however, there are some standout combinations to look out for. My favorite is 'pistacchio di Bronte,' a local Silcilian-grown variety of pistachio that is the best pistacchio gelato you will ever have.
Granita is Italy's answer to shaved ice. But with attitude. This simple preparation is essential to beat Sicily's summer heat. The most iconic flavor is 'granita di mandorle,' or almond flavored. Sweet, milky, and refreshing, this icy treat is a summer savior.
Sicily's iced summer treats are often accompanied by a sweet and milky brioche bun, enhancing the overall experience. You can eat your brioche on the side or even stuff it with gelato to create the naughty breakfast of your dreams. Yes, in Sicily, you really can eat gelato for breakfast.
14. Cassata (Minne di Virgine)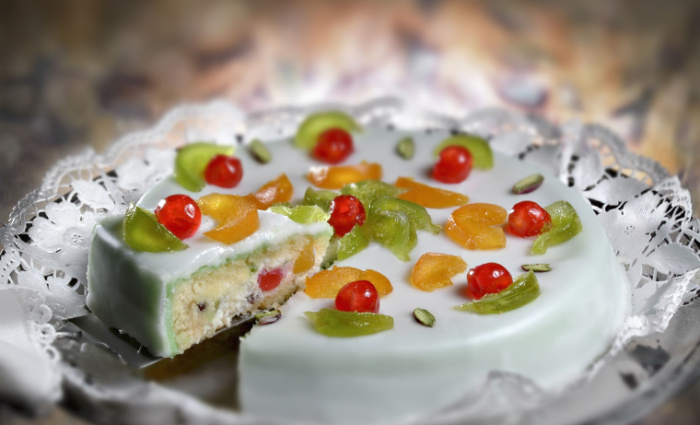 ---
If you've ever wondered what Liberace's favorite dessert looked like, then cassata might be it. This is no shrinking violet of a dish.
This fabulous construction includes a booze-soaked sponge cake layered with a sweet ricotta filling, candied fruit, and chocolate chips. This epic cake bomb is encased in marzipan and iced in fetching shades of pink and green.
It's a palimpsest of Sicilian culture, mixing Phonecian, Greek, Arab, Roman, Norman, and French influences. It's also tooth-achingly sweet.
A variation on this dessert worth hunting down is the 'cassatella di Sant'Agata,' also known as 'minni di virgini,' or 'virgin's breasts.' You can find these in pastry shops around Catania during the feast of St. Agnes in early February. According to legend, Agnes was a third Century Christian martyr who had her breasts cut off as part of her torture. Catholic art often shows Agata with her breasts perched on a plate, so the Sicilians naturally honored the saint with a perky pastry in her honor.
It looks just like a traditional cassata. However, it's a smaller individual cake iced into little white domes with a red cherry on top – to look like a virgin's breast.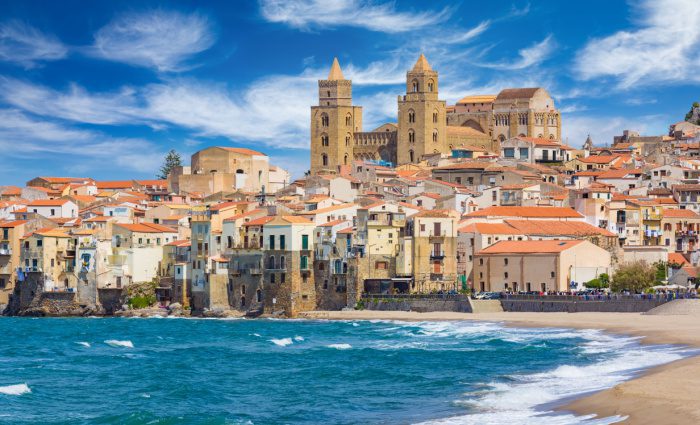 Find the Best Places to Stay
Where To Stay in Sicily
Sicily is one of Italy's hottest destinations this year. Find our guide to the best places to stay in Sicily!
---