If we talk about typical Czech food, forget about dieting. Czech food is a bit heavy and full of calories—and delicious. We bulk up on calories to stay warm and fueled for the long, cold winters we have here. Here are some of our top foods to try in Prague.
---
The Best Foods and Drinks You Must Try in Prague
Traditional Czech food is part of our cultural heritage and has been preserved from generation to generation. In addition, our local gastronomy is varied and influenced by other Central European countries. It's characterized by pork and its derivative products, but you'll find plenty of other meats and foods such as venison, lamb, beef stews, poultry, cheeses, sausages, smoked meats and fish, buns, and fresh vegetables.
Are you excited to try Czech food? Here, I recommend the top foods to try in Prague, including my favorite dishes. We'll start with soups and drinks, then specific foods and treats to try.
11. Czech Soups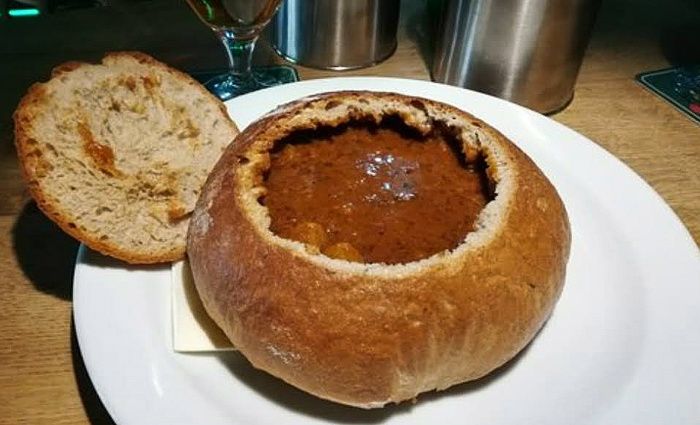 In the Czech Republic, we also consume many varieties of soups to which we add fresh tubers, vegetables, or meats. Try a Czech soup, when you come to Prague. Some of the best are:
Kulajda
This delicious soup is thick with a characteristic flavor of dill. It is also made with mushrooms, potatoes, cream, and hard-boiled eggs.
Noodle Soup With Liver Meatballs (Polévka S Nudlemi A Játrovými Knedlíčky)
This is a very popular, strong-flavored soup. Often eaten in Czech homes, you can also order it in local restaurants. What goes into this soup? Beef broth, pork, or beef liver meatballs, rounded out with vegetables and homemade noodles.
Cabbage Soup (Zelňačka)
Fermented cabbage is the main ingredient of this soup, which is ideal for the cold winter days here. We often add sausages, vegetables, and cream.
Goulash Soup (Gulášová polévka)
Goulash soup is very delicious. But eating it out of a bowl made of bread is even heartier—not to mention more fun! Meat, spices, and potatoes go into this dish, which is often a main meal, especially when served in the bread bowl.
Where to get it: Potrefena Husa.
Czech Drinks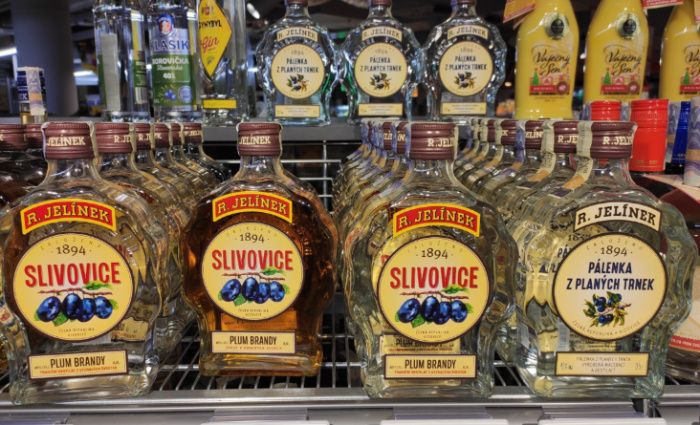 I must mention two typical Czech drinks. The Czech Republic is best known for its production of beer—Czechs consume the most beer per person in the world! There are two traditional spirits that you must also try when you're here in Prague.
Slivovitz (Slivovice)
The real slivovice is made from plums and produced mainly in Moravia. Sold commercially, it contains a 40 percent alcohol content. But the real Slivovitz—the one produced for domestic use in private distilleries and whose quality is incomparable—contains over 50 percent alcohol content.
Becherovka
Becherovka is a traditional Czech liqueur made from a secret mixture of herbs and spices. It has a unique flavor, and you can drink it as a shot or in cocktails. However, we Czechs often have it as a digestive liqueur after a meal, since it was created with that intent.
10. Chimney Cakes (Trdelnik)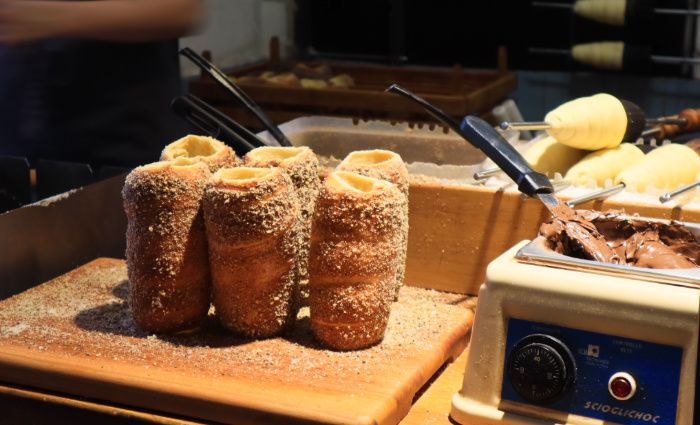 If you are walking through the Old Town of Prague, stop to try these irresistible spiral-shaped dough rolls covered with sugar and nuts. You will see this sweet pastry everywhere, but one of my favorite places is in a small place near the Charles Bridge.
The chocolate walnut trdelnik is the best, although many Czechs either love it or hate it. We also eat these rolls with nuts, and nowadays you can taste them filled with ice cream. The trdelnik technically originated in Romania and spread throughout Hungary, Slovakia, Poland, and Austria. They are especially popular in the Czech Republic, which is why they are often considered a Czech food.
Where to get it: Good Food Coffee & Bakery
9. Bread Dumplings (Buchty & Koláč)
There is nothing more irresistible to me than a delicious buchty or koláč . These fluffy Czech buns are made from rich sourdough and baked to perfection.
In the past, these buns were not baked but cooked in a pan and prepared with basic ingredients. Over time, more varieties and ingredients were added, as well as different fillings, which meant they had to be baked. These days, you'll find cheese, poppy seeds, or fruit inside the buns. Some bistros even offer cream to dip the buns in—delicious!
Where to get it: Kus Koláče or Cukrář Skála
8. Fruit Dumplings (Ovocné Knedlíky)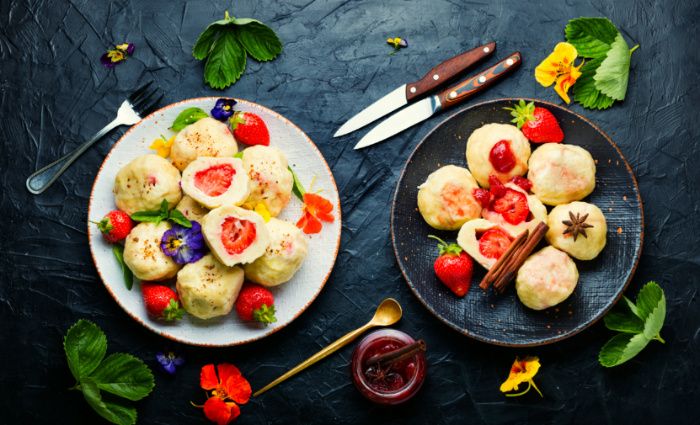 This is one of my favorite dishes because it consists of sweet dumplings made of sourdough filled with seasonal fruits such as strawberries, blueberries, and apricots. They are a fun food to try in Prague, so don't miss them.
In the past, these dumplings were often eaten in our villages when there was a shortage of meat. We filled them with any fruit that could be found in the forest or even in our gardens. The fruit dumplings are steamed or cooked in boiling water and served on a plate with a little butter or cottage cheese, or even sprinkled with poppy seeds. By the way, they are popular in Germany, Austria, and Slovakia as well.
Where to get it: Knedlín
7. Open Sandwiches (Chlebíček)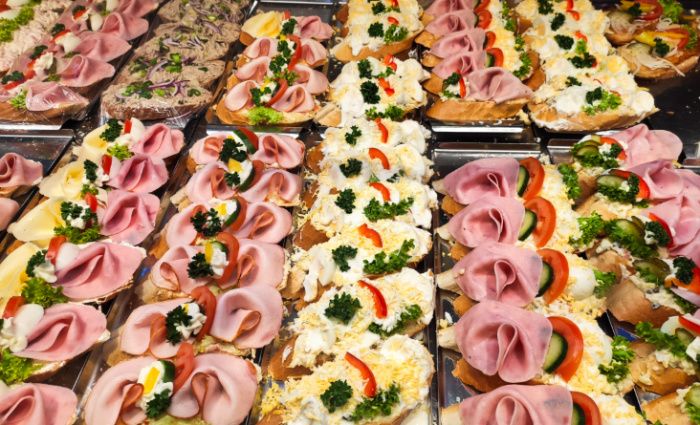 Open sandwiches are a traditional Czech snack. They are also the protagonist of new year's celebrations in Czech homes. The tradition of Prague delis began in 1916. At that time, they started serving sandwiches on National Street (Narodni trida), where the famous Jan Paukert delicatessen was located.
Eventually, other delis in Prague started offering these sandwiches, and they grew in popularity all over the country. There's now a wide variety of sandwiches, but the most classic comes with ham, egg, pickle, and butter or vegetable spread. You'll also find them made with smoked meats or fish, cheese, truffles, vegetable salad, vegetables, sausages, and homemade mayonnaise.
Where to get it: Ovocný Světozor, Sisters Bistro v Dlouhé, and Libeřské lahůdky
6. Fried Cheese (Smažák)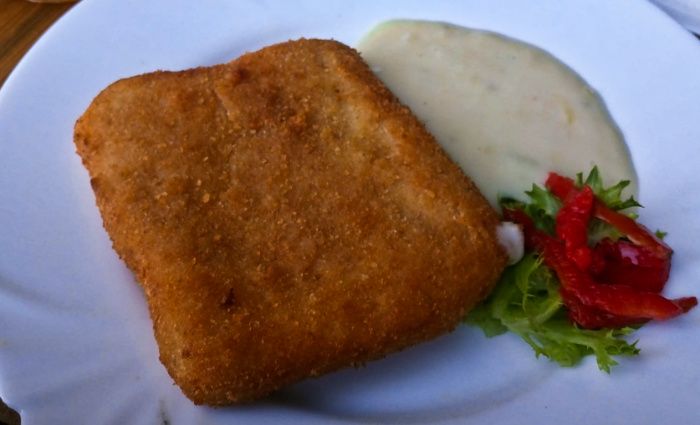 Fried cheese is an inexpensive dish and one of my favorites. You'll find it in bistros, fast-food restaurants, and cheap local restaurants. Even though it is a high-calorie meal, it is filling and definitely worth trying.
To make fried cheese, we traditionally use Edam or Gouda. We cut the cheese into slices of approximately 1 centimeter and fry them in plenty of oil, which then comes with tartar sauce and French fries or boiled potatoes.
Where to get it: Lokál
5. Pork Knee (Pečené koleno)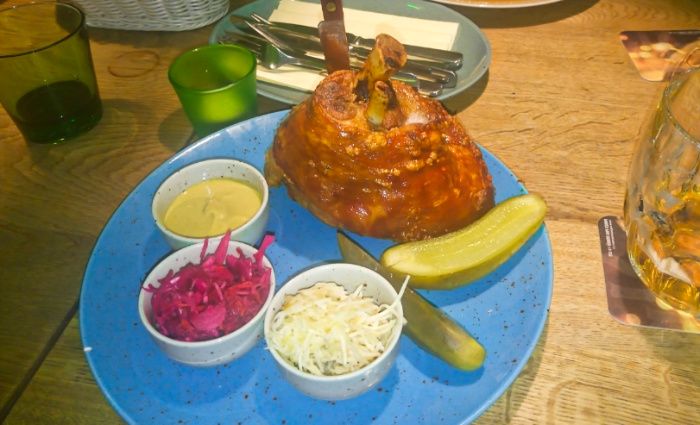 Pork knee has become a very popular dish in Czech cuisine. Many local restaurants serve a juicy portion of marinated and baked pork knee. This food originally comes from Germany, but the Czech version of baked pork knee comes with a serving of bread, mustard, horseradish, and pickles.
Where to get it: Restaurace "Otevřeno" or U Parlamentu
4. Roast Duck With Cabbage and Dumplings (Kachna Se Zelím A Knedlíkem)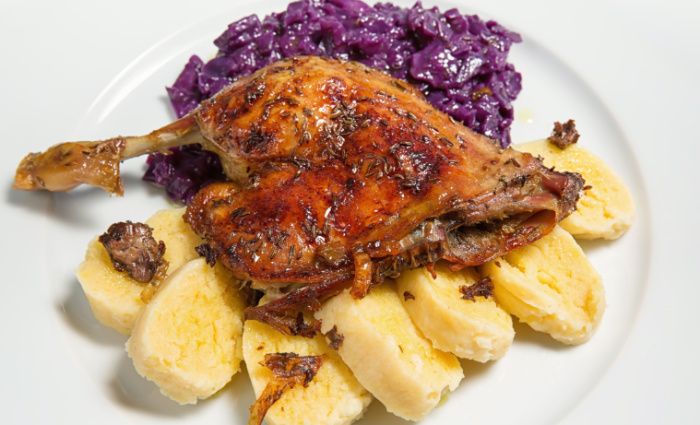 If you asked me for a recommendation for an excellent local dish, I'd go for this one. Duck with stewed cabbage is a classic Czech dish that you cannot miss.
I recommend accompanying it with a Czech beer in order to better digest the duck. In local restaurants, you can also try the spiced duck leg, which is roasted and accompanied by stewed cabbage and bread or potato dumplings.
Where to get it: Pilsnerka Národní or Restaurace Mincovna
3. Goulash (Guláš)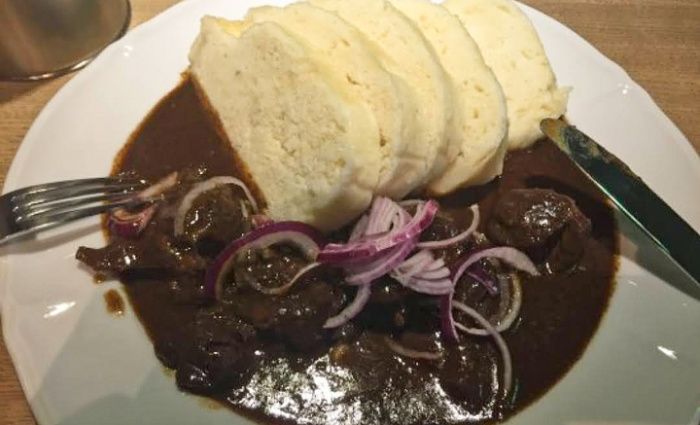 Goulash is Hungarian in origin, but it is consumed throughout Central Europe and is a popular dish here in Prague. But there are certain differences between the countries when it comes to its preparation.
Hungarian goulash is often prepared as a beef soup with some carrots and small balls of dough. In the Czech Republic, we prepare it with a thicker sauce and eat it with knedliky (dumplings). Goulash is often prepared with beef cut into pieces, but in the Czech Republic, it is also made with pork or other meats. It is seasoned with paprika, lots of onion, and spices.
Where to get it: U Parlamentu or Restaurace Mincovna
2. Beef Tenderloin With Cream Sauce (Svíčková Na Smetaně)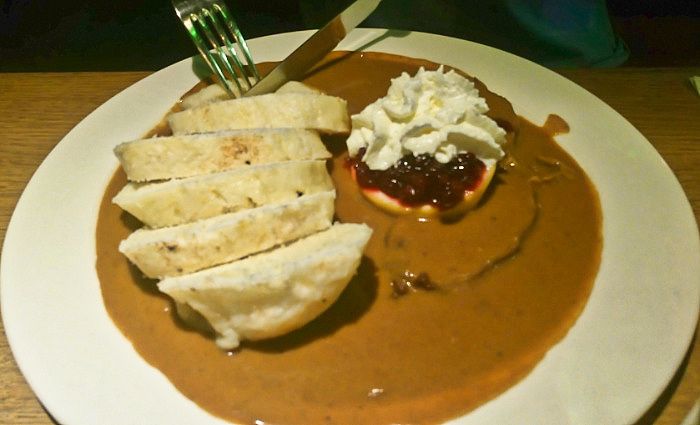 Beef tenderloin with cream sauce is the king of Czech foods. To prepare this special dish, we roast beef sirloin to perfect tenderness, then serve it in a tuber sauce with cream on top of the meat. Sometimes we put jam (blueberries or other berries) on top or have a portion of dumplings on the side.
Where to get it: Potrefená Husa or Restaurace Mincovna
1. Pork, Dumplings, and Sauerkraut (Vepřo Knedlo Zelo)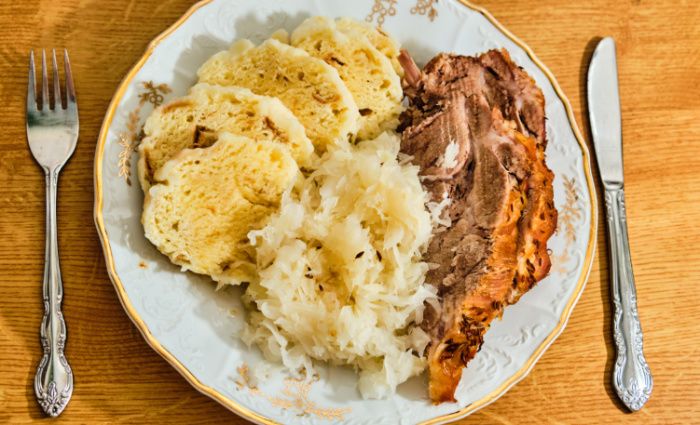 If you ask what the typical Czech dish is, I will tell you that it is roast pork with sauerkraut and dumplings. Even though similar dishes are popular in countries such as Austria and Germany, we consider this to be our Czech national dish.
It doesn't matter to us that it's high in calories because protein is delicious and essential. So when you come to Prague, you must try it. The foundation of this meal is slices of roast pork that we eat with knedliky (dumplings) and white or red sauerkraut. Potato dumplings are a tasty alternative.
Where to get it: U Parlamentu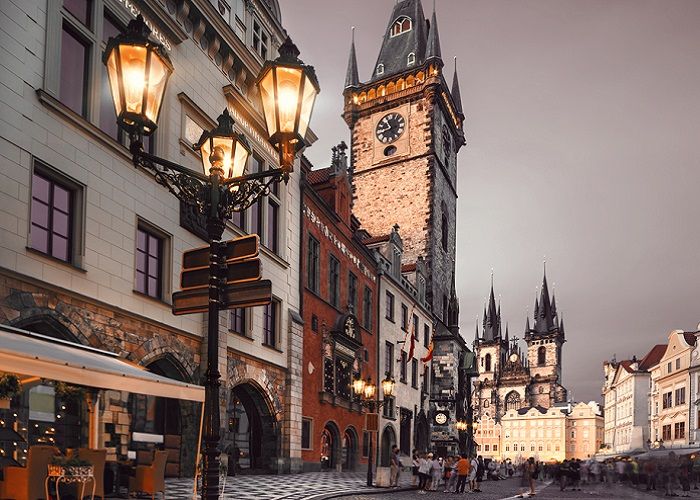 Find the best places to stay
Where to Stay in Prague
Prague has a rich cultural history that is seen in both the Old Town and New Town areas of the city. Plan where to stay in this magnificent old city in the best neighborhoods.