Are paella and ham your first visions when you think of Spanish cuisine? Prepare to be surprised. Madrid's food scene is as eclectic as its architecture. The city has many must-try foods that combine staple recipes and haute cuisine. As a longtime resident in this historic town, I know and love its comida. Here is my list of the top foods to try in Madrid during your stay.
---
12 Must-Try Foods in Madrid
Far from the sea and the ocean, Madrid relies mainly on meat, legumes, and sea products that resist long transfers for its gastronomy.
Though it is a metropolis, Madrid hasn't forgotten its culinary traditions. Hearty recipes and fried dishes from the past coexist with ethnic and international foods. This unique combination has led to the creation of gastronomic quarters all over the city center.
You will mostly likely find traditional foods in the old city center areas, near the Royal Palace of Madrid and Plaza Mayor. For modern and international dishes, the best neighborhoods are Malasaña and Chueca. To try ethnic foods in Madrid, I would go to the quarter of Lavapiés, where you'll find Indian and African restaurants serving delicious food. Finally, head to the northern areas, like the Salamanca quarter, for more sophisticated and fancy plates.
To help you enjoy the most incredible flavors of Spain's capital, I have listed the top foods to try in Madrid. You cannot miss!
Pro tip: Bookmark this article on your phone browser and check it out while in Madrid! You can also discover the best areas to stay in Madrid this year.
12. Gallinejas and Entresijos (Lamb Tripe)
Gallinejas and entresijos are an only-for-the-brave kind of food. These are a truly popular dish that locals enjoy when they're feeling up for a surprising flavor. This deep-fried tripe can be served as tapas or as a sandwich.
The dish may be the most Madrilenian food ever, as it is consumed only in the region. Despite their popularity, only a few traditional restaurants and bars serve entresijos and gallinejas.
Where to get it: Casa Enriqueta, El Mirador de San Isidro, or Casa Ricardo (in October a reservation is required)
11. Caracoles a la Madrileña (Madrilenian Escargots)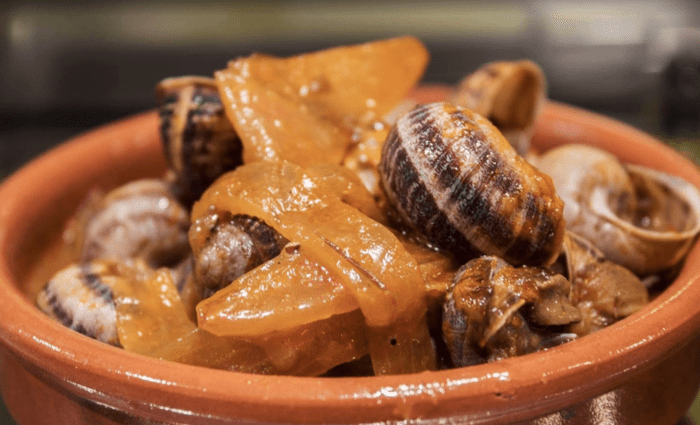 Another typical Madrilenian tapas is slow-simmered escargots with sauce and chorizo or other Iberian sausages. Far from being a fancy restaurant dish like French escargots, they are served in traditional taverns and bars and eaten using toothpicks.
Every place has a slightly different recipe, and they're all secretive about it. But two things unite them: The dish is savory, and you won't be able to stop dipping your bread in the sauce.
Where to get it: Casa Amadeo los Caracoles, Restaurante Casa Jorge, or Caracol de Cadalso
10. Squid Sandwich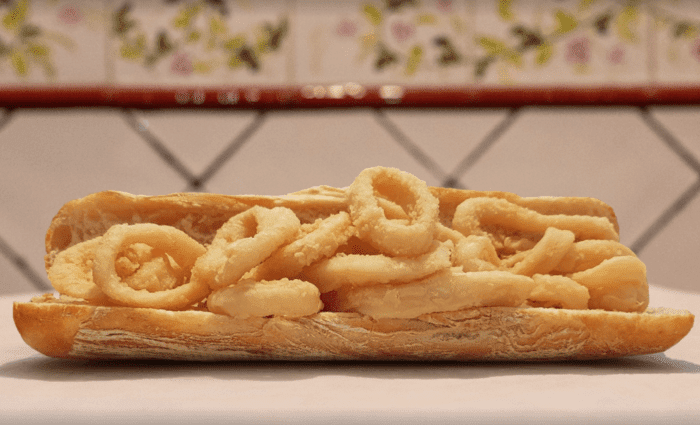 There is such pleasure in this super affordable treat! And it will not let you down during your hard-touring days. The squid sandwich is Madrid's most famous and most traditional street food, and you can have it all year round.
The secret to its perfection is the combination of soft, warm bread and crunchy squid covered in breadcrumbs. You can have it with mayonnaise or leave it unadorned.
Where to get it: La Campana or La Ideal
9. Empanadas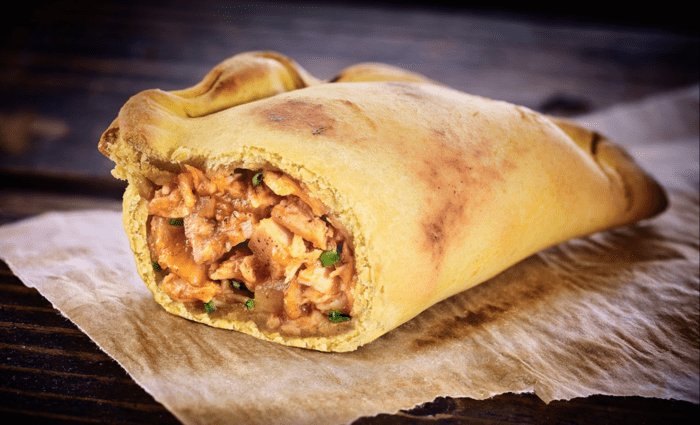 Empanadas are also considered street food, but it isn't unusual to also see them on Spanish tables. There is no family reunion or holiday meal without empanadas. You will see them in menus as a starter, and sometimes they are cut into small pieces and offered as a taster.
Spanish empanadas follow the Galician recipe from northern Spain, with fish or meat as a filler. Argentinian empanadas are also very popular in Madrid and are easier to eat on the go.
Where to get it: Empanadas Las Muns (Argentinean) or Casa Gallega (Galician)
8. Cocido Madrileño (Madrilenian Stew)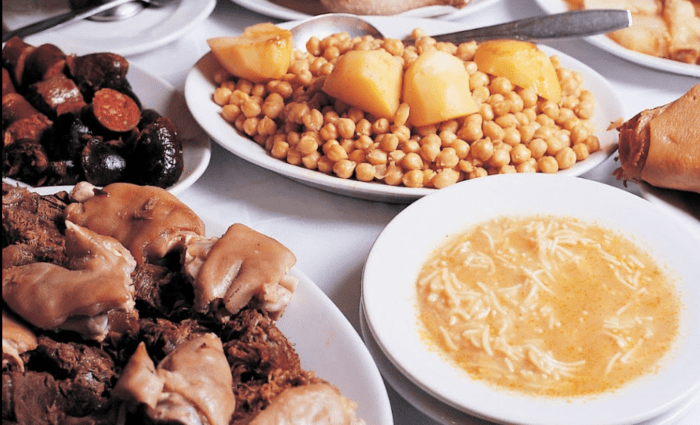 Think of how it feels to enter a warm place and eat a hot meal on a cold day. That's how comforting cocido is. The stew contains chickpeas and a variety of vegetables and meats. All the ingredients are slowly cooked and served separately alongside noodles in stock. You can mix everything on the plate to your taste.
Cocido is available only in winter. You may see it served in a traditional clay pot, which makes it even more fun to eat. But I must warn you: It is so filling, and fulfilling, that you may want to take a siesta after eating it.
Where to get it: Malacatín or La Bola
7. Churros and Porras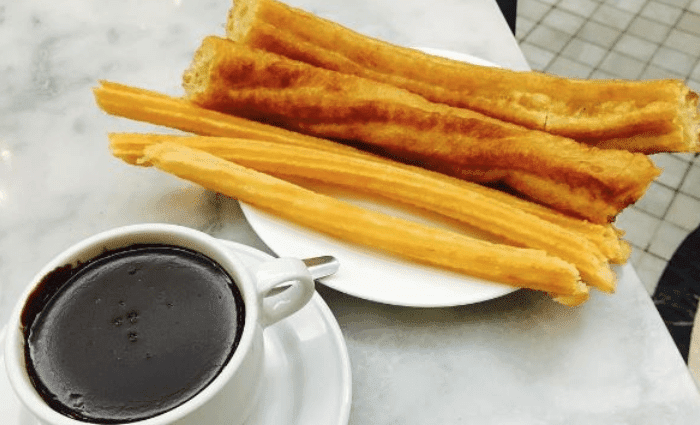 If you have a sweet tooth, churros and porras will be the highlight of your trip. Both are delicious and simple fried dough, occasionally sprinkled with sugar. Churros are long and thin, while porras are larger and sometimes filled with chocolate or cream.
You can eat them for breakfast or as an afternoon snack, paired with hot chocolate or coffee. Make sure your churros are freshly made and warm. Yum!
Where to get it: Chocolatería San Ginés
6. Croquetas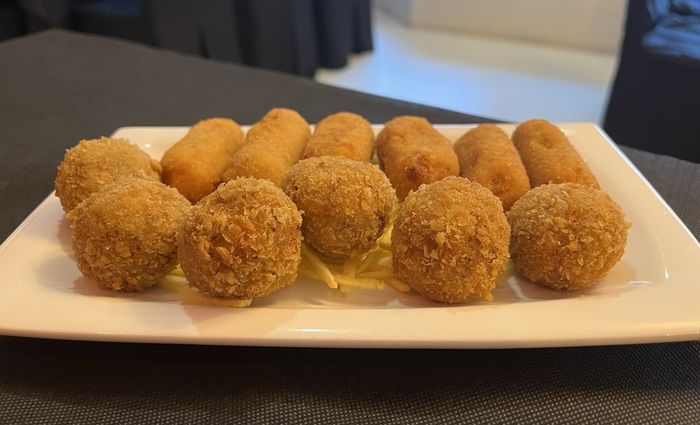 A friend once told me that every meal should come in the shape of a Spanish croqueta (sometimes called croquettes). That's how good they are. Croquetas are a fried mix of béchamel and different fillings. Croquetas with ham are the most famous tapas, but they can also contain fish, blue cheese, and even cocido leftovers, all worth trying.
Every bar serves croquetas, but not all get them right, which is crunchy on the outside and creamy on the inside. The good thing is that you can try croquetas in almost every bar or restaurant and come up with your own list of winners.
Where to get it: Casa Julio, Bar Melo's, or Santerra (fancy)
5. Huevos Estrellados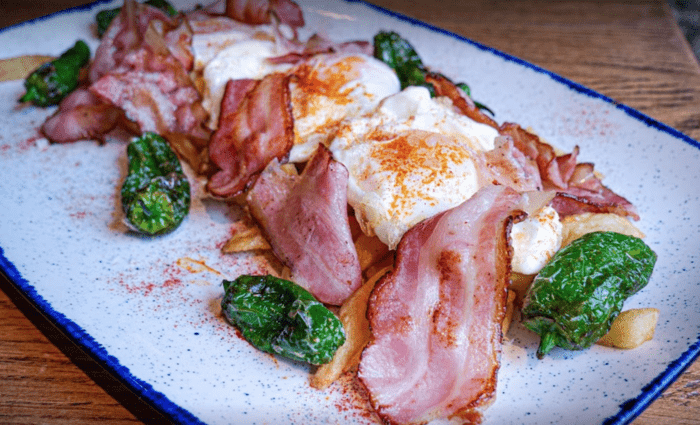 Who doesn't like fried eggs and fries? Here's why huevos estrellados are so popular. The eggs are laid on potato wedges and have Spanish ham on top. Some restaurants add a fancy twist like grated truffle. The trick is to cook the eggs till their edges are crispy. This method is so crucial that there is even a name for the edges: puntillas.
To make this dish, you have to cut and blend all the ingredients so that the potatoes absorb the yolks. Little green peppers called pimientos de padrón are the usual side for huevos estrellados. If you have them, there's another top food in Madrid to add to your list, because they are delicious tapas by themselves.
Where to get it: Casa Lucio, Taberna Sidrería El Fontán Canalejas, or Venta el Buscón
4. Paella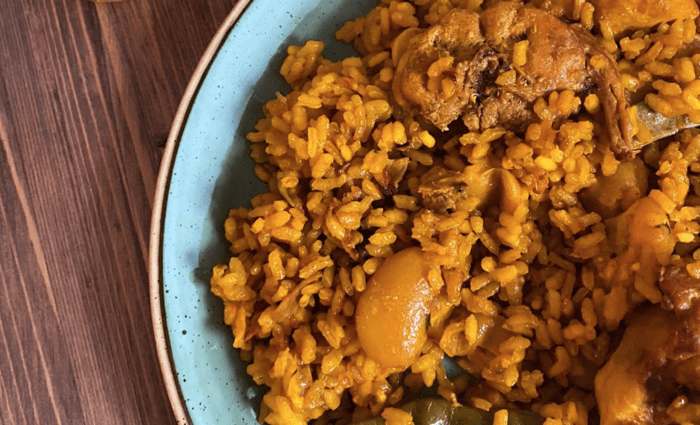 Controversial statement alert: You can eat paella in Madrid. I can already hear Valencianos yelling at me, and they are right—paella does taste better in its hometown. Even if you are not heading to the east coast during your trip, you won't regret having tried it here.
Just avoid tapas bars in tourist areas. They usually serve frozen paella, so it won't be worth your money. Head to a Valencian restaurant or arroceria instead. And remember, the original paella recipe contains chicken or rabbit. If you prefer something fishier, try my favorites: the arroz negro (rice with squid ink) or the arroz del senyoret (rice with seafood).
Where to get it: Restaurante La Barraca or Bar La Gloria
3. Patatas Bravas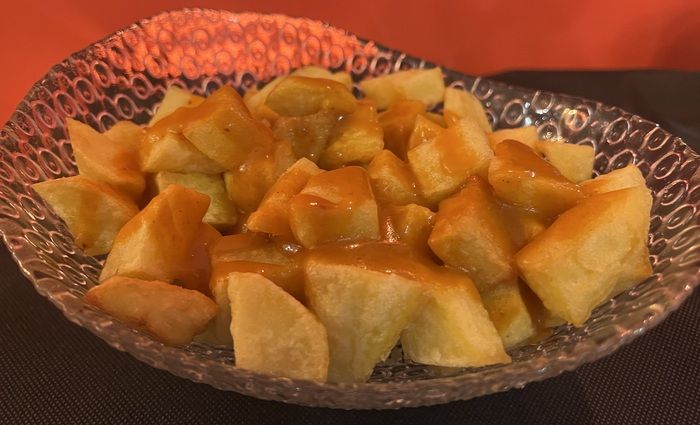 Patatas bravas are fried potato slices served with hot sauce or aioli (garlic sauce). They are so popular that there is an actual debate over who invented them. A joint in Madrid has even registered the bravas' sauce as a trademark!
Almost every restaurant and tapas place has patatas bravas and is not likely to get them wrong. My advice is to have the sauce on the side if you are very sensitive to spicy food. If you are not, trust the experience—everyone loves them.
Where to get it: La Sucursal Chamberí
2. Spanish Tortilla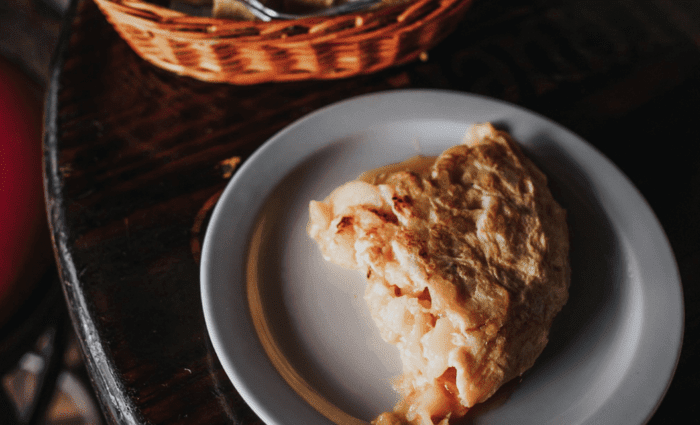 When you talk about the tortilla, tread carefully. Everyone in Spain has an opinion about it. The tortilla is so popular that you can have it everywhere, and everywhere someone will be complaining about it. The truth is that a perfectly cooked tortilla is like heaven.
I like the traditional recipe with potatoes and onion and prepared medium-rare. It should be soft but not runny. Once you try it, you'll want to have a slice of it every day!
Where to get it: Bodega La Ardosa
1. Ibérico Ham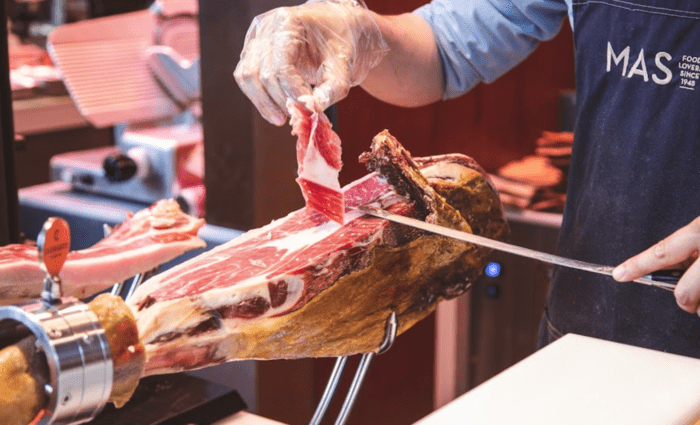 And here comes the winner, the best food to try in Madrid: jamón Ibérico or de bellota. Everything about eating delicious Ibérico in Spain is unique from how it's cut before serving to its fantastic flavor in the mouth. As enthusiastic as I am about it, I also have to warn you: Ibérico is a delicacy that can be pretty expensive and very savory.
Pro tip: If you want to taste a traditional Spanish breakfast of tomato and ham on toast, go for Serrano ham instead. The flavor is more delicate, better for breakfast or in a sandwich.
Where to get it: Mercado de San Miguel or Museo del Jamón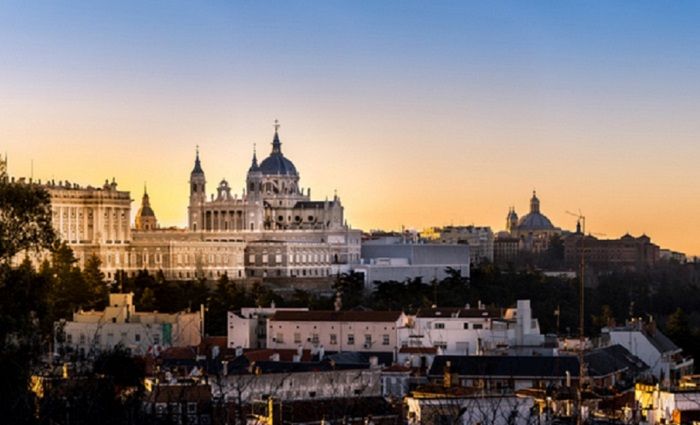 Find the best places to stay
Where to Stay in Madrid
Madrid is a vast city with many areas to stay in, including beyond the downtown area. Choose a hotel near the top things you want to see in this beautiful old city.