If you're headed to Barcelona, you're in for a gastronomic treat! With a vibrant local food scene and an eclectic blend of cultural influences, traditional dishes, and new culinary interpretations, the food is as interesting as the art and attractions. Here are the top places to get Spanish tapas in Barcelona to help you on your mission to taste a little of everything.
---
Pro Tip: Planning your trip to Barcelona? It's easier to organize your trip when you have all your resources in one place. Bookmark this post along with our Barcelona Guide for more planning resources, our top Barcelona tours for a memorable trip, and how to see Barcelona in a day.
Where To Get the Best Spanish Tapas in Barcelona
Catalan cuisine is the result of thousands of years of experimentation and human interaction. As you try food in Barcelona, you'll see how prevalent the Arabic influences still are in local cuisine—as they are in the art and architecture. Some of the basic food products used have Arabic origins, such as rice, eggplant, spinach, and some citrus fruits.
Ordering Spanish tapas (small portions of Spanish dishes) is a great way to try a lot of different dishes in this rich cuisine. They're served both hot and cold. 
The most popular tapa in Barcelona is also the most basic, the pa amb tomàquet (bread with tomato). This delicious dish is often served with other food combinations. Try it with serrano ham, Spanish omelette, or grilled vegetables for example.
To guide you on your exploration of Spanish tapas in Barcelona, we've recommended a few restaurants where you'll not only enjoy local flavors but you'll also get to know a bit of the history. Ready to eat tapas? Vamos!
If you love food and travel, you'll love going on a food tour! Check out our local food tours in Barcelona—they're a great way to explore a new city and eat good authentic food.
Not ready to book a tour? Check out our best Barcelona tours to take and why.
Restaurante Can Culleretes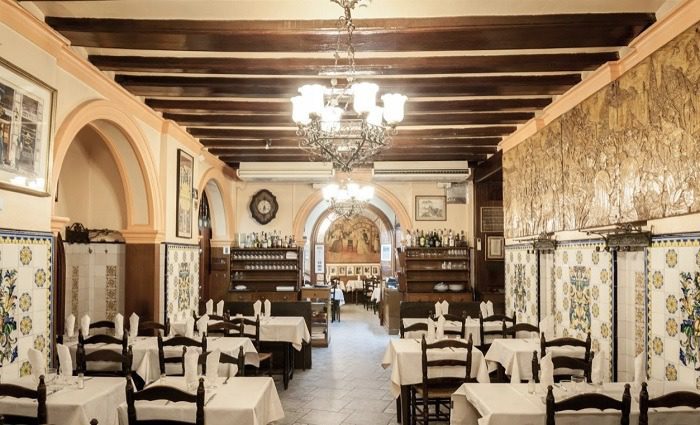 €€ | Traditional Catalan Cuisine | 18th Century Restaurant | Great Tapas
This is the oldest restaurant in the city of Barcelona and the second oldest in all of Spain. Can Culleretes has been serving food since 1786. The restaurant itself could be considered a museum since its walls are furnished with historical artifacts, old paintings, and pictures of local and world celebrities that have visited the restaurant.
The family that currently takes care of this unique restaurant has owned it since the late 1950s, guaranteeing quality food, tradition, and expertise. They have a classic tapas menu but have also adapted to new industry demands. At Can Culleretes, you'll enjoy both the old and the new with exceptional quality.
Address: Carrer d'en Quintana, 5
Xiringuito Escribà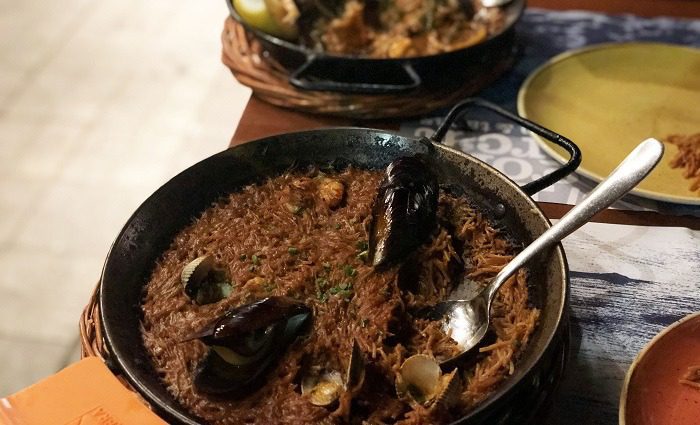 €€€ | Mediterranean Seafood | Sea Views | Paella
Located outside the city center, Escribà serves amazing rice dishes with exclusive views of the Mediterranean sea. The restaurant is located in a structure built for the 1992 Barcelona Olympic Games in the neighborhood called Olympic Villa.
This restaurant belongs to the Escribà family. Here, they are dedicated to the art of rice. You'll enjoy a rich menu that combines local appetizers with special rice dishes and paella. Its location provides a unique atmosphere and the perfect setting to enjoy sunsets by the beach while enjoying cocktails.
Address: Av. del Litoral, 62
7 Portes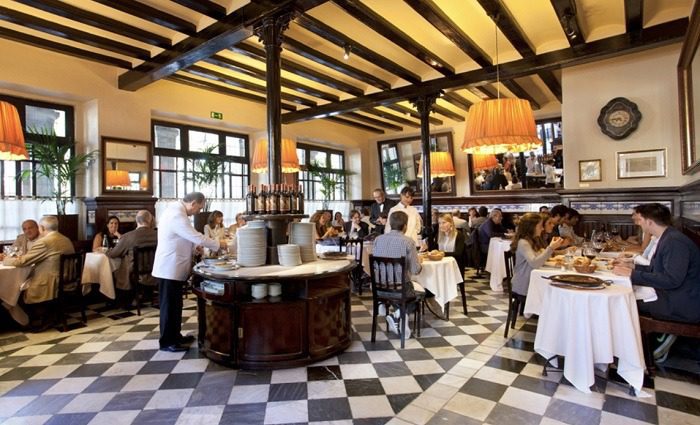 €€€ | Traditional Catalan Cuisine | 186 Years of History | Seafood and Paella
7 Portes or 7 Doors, is another historical restaurant that belongs to Barcelona's cultural and gastronomic heritage, located between Barri Gòtic and Barceloneta. This restaurant was first built around the mid-19th century by a local businessman. This building had eight doors, but the last of them was exclusively used by him and his family to enter their building—hence the name!
After almost two centuries of serving locals and visitors, this restaurant offers a mix of traditional tapas with innovative dishes. Here, you'll find amazing rice dishes, fresh fish, and light salads.
Address: Pg. d'Isabel II, 14
Granja la Pallaresa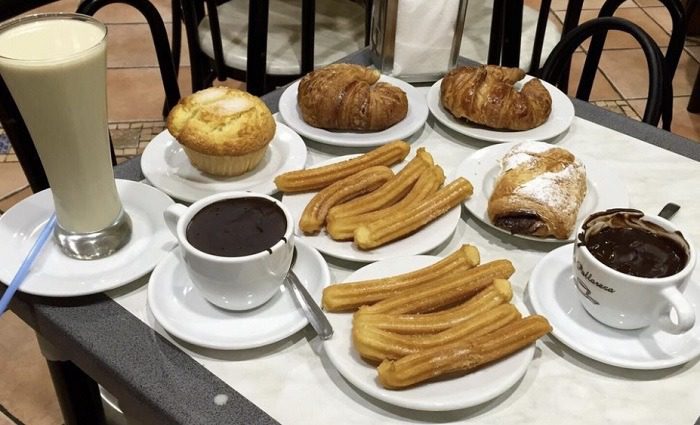 € | Bakery and Café | Historical | Churros and Hot Chocolate
To end on a sweet note, head to this bakery to taste the most delicious sweets in Barcelona. After a long day of sightseeing, this place offers a comfortable space to rest and taste sweet homemade desserts.
La Pallaresa is famous for its crema catalana, xurros, and many other delicious treats. But the most famous of them all is el suizo, the Swiss hot chocolate topped with cream, which has been happily eaten for more than a century by Barcelonans. Try dipping the xurros in the chocolate for heaven on Earth!
Address: C/ de Petritxol, 11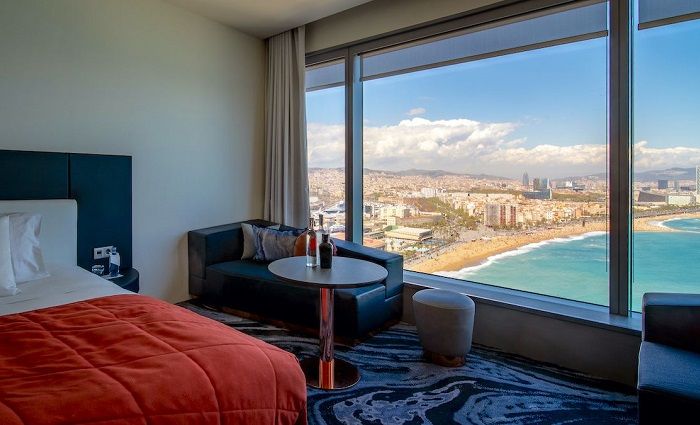 Find the best places to stay
Where To Stay in Barcelona
A great hotel at a great price has become the norm in this internet era. Our article explains what areas are the best in Barcelona so you can get a great deal on the perfect location!