Barcelona has become a culinary center that satisfies all sorts of appetites. These "small plate" tapas have adapted to new times and to new customers living or visiting Barcelona, offering dishes with influences from all around the world. Besides monuments and touristic attractions, Barcelona owns a unique cuisine, with impacts from French, Spanish, Arabic and other Mediterranean cultures, a part of the city's heritage.
---
History and Food
The current Catalan cuisine is the product of thousands of years of experiments and human interactions. Maybe, the most influential culture that is still present in this cuisine is the Arabic culture.
As seen in the previous post on Gaudí, Arabic culture has been very present in art and architecture, but also in food. This influence is still present since basic food products have Arabic origins, such as rice, vegetables like eggplant and spinach, as well as citric fruits.
Spanish food is associated with tapas, which are any small portion of Spanish cuisine and are served both hot and cold. The most basic and popular tapa offered in Barcelona is the so-called "pa amb tomàquet" (bread with tomato), which offers different types of food combinations. This bread can be mounted with serrano ham, Spanish omelette, grilled vegetables, among other delicious accompaniments. Besides this bread-based food, Barcelona offers amazing dishes to hungry visitors.
American fruits and vegetables also shaped Barcelona's cuisine and brought new products that were mixed with the existing ones. This was the case of the flagship food, "pa amb tomàquet", but there are other examples where American vegetables brought amazing new flavours that have ended up being star dishes in Barcelona, such as "butifarra amb seques", Catalan sausage with white beans, or American beans – a delicious combination!
Recommended Restaurants
To taste Spanish tapas in Barcelona, we recommend a series of restaurants where you will be able to meet local flavours and its history. The majority of historical and traditional restaurants in Barcelona are located in its city centre, but modern neighbourhoods in Barcelona also offer a rich gastronomic variety.
Can Culleretes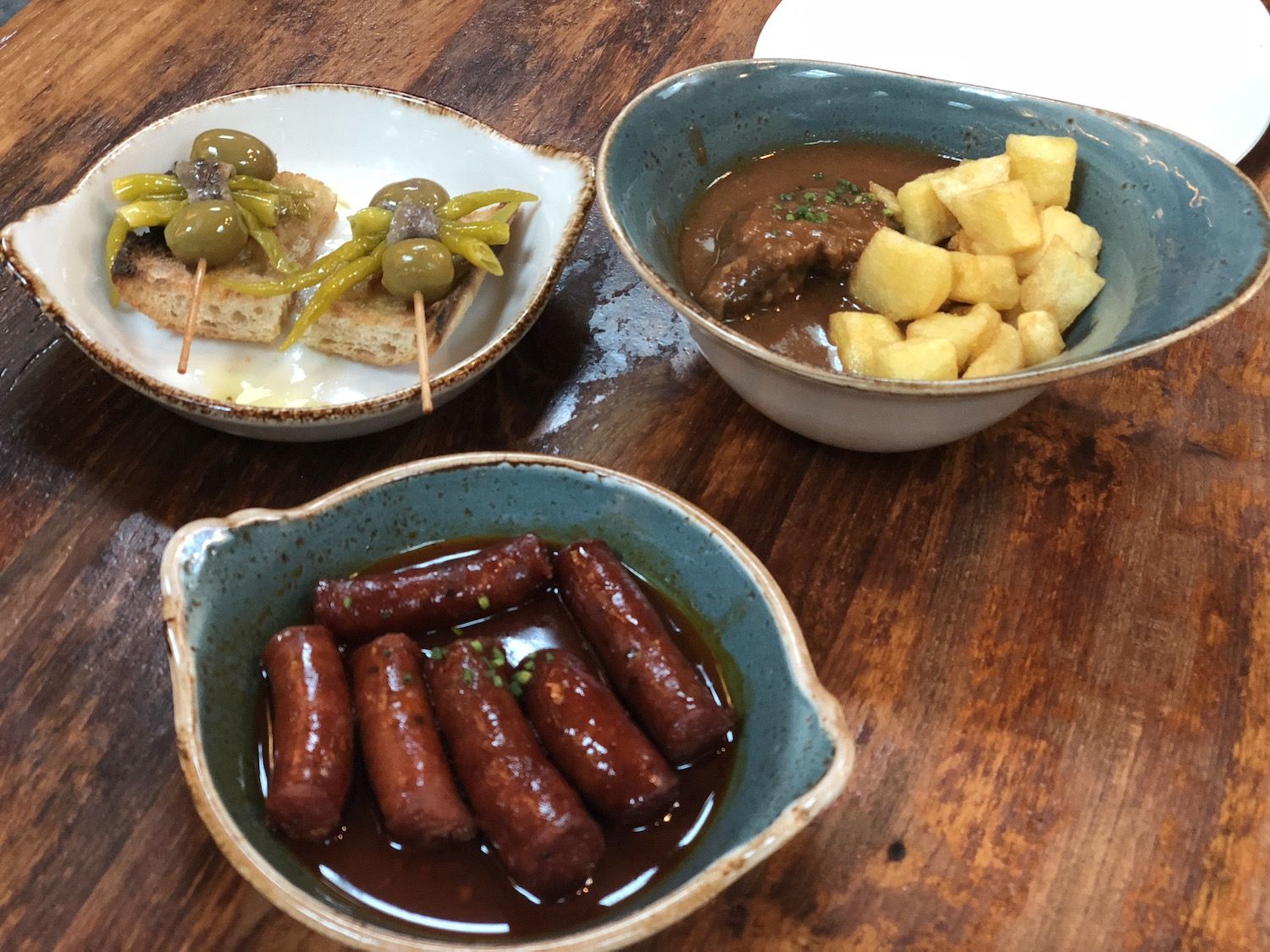 This is the oldest restaurant in the city of Barcelona and the second oldest of all Spain. Can Culleretes has been serving food since 1786. The restaurant itself could be considered a history museum since its walls are furnished with historical artifacts, old paintings, and pictures of local and world celebrities that have visited this restaurant.
The family that currently takes care of this unique restaurant has owned it since the late 1950s,  guaranteeing quality food, tradition, and expertise. This restaurant has conserved a classical tapas menu but also adapted to new industry demands. At Can Culleretes, you will find professionals that take care of both local and tourist clients and will be happy to share their traditional cuisine with you.
Escribà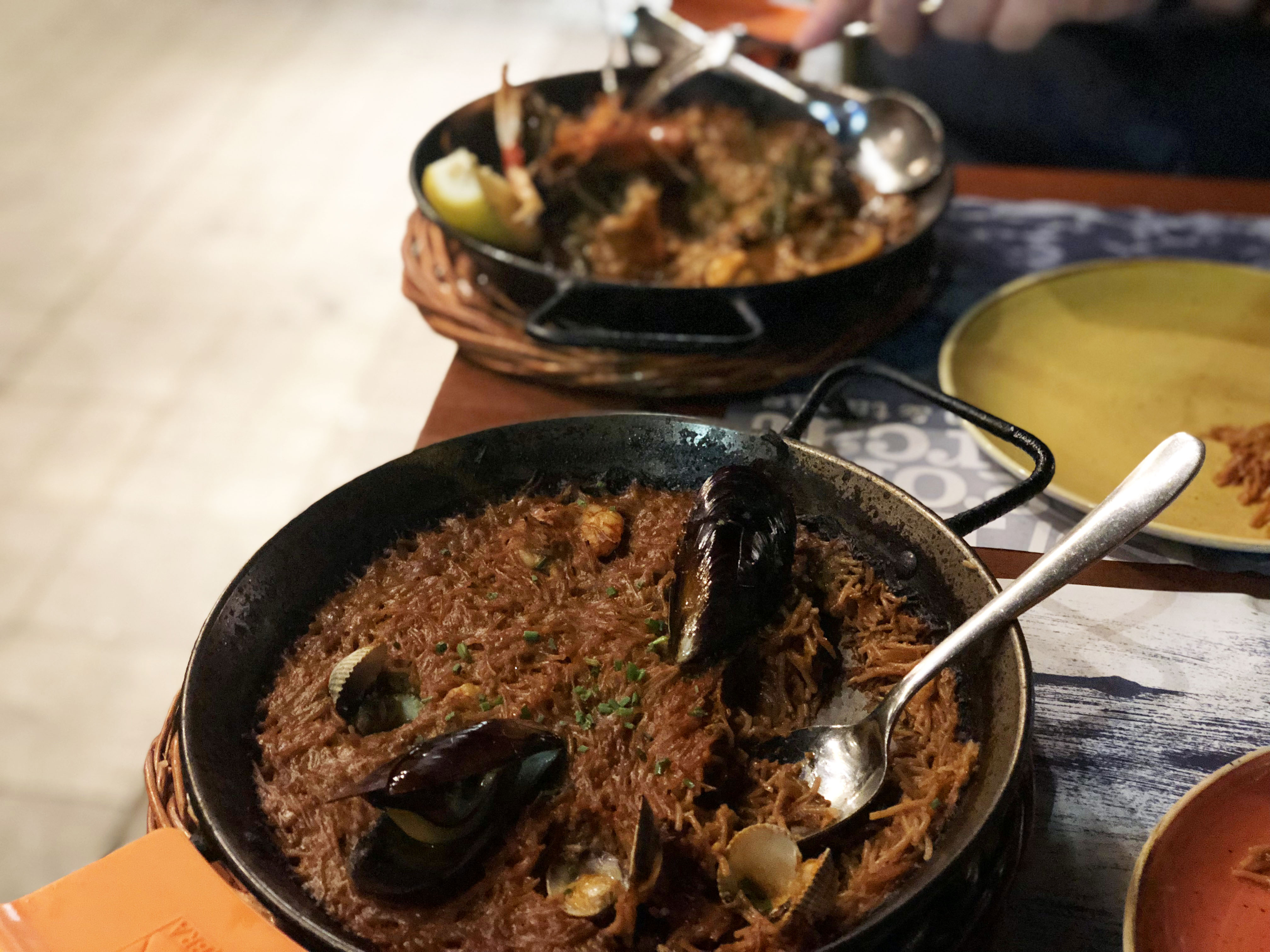 Located outside the city centre, Escribà offers amazing rice dishes alongside exclusive views of the Mediterranean sea. The restaurant is in a structure built for the 1992 Barcelona Olympic Games in the neighbourhood called "Olympic Villa", constructed to host the Olympic athletes.
This restaurant belongs to the Escribà family, dedicated to the arts of the rice, and you will enjoy a rich menu that combines local appetizers with special rice dishes and paella. Its location provides a unique atmosphere to enjoy sunsets next to the beach while enjoying cocktails.
7 Portes
"7 Portes", or 7 Doors, is another historical restaurant that belongs to Barcelona's cultural and gastronomic heritage, located between Barri Gòtic and Barceloneta. This restaurant was first built around the mid-19th century by a local businessman, who established a café within his own building. This building had 8 doors, but the last of them was exclusive for him and his family to enter their building, hence the name.
After almost two centuries feeding locals and visitors, this restaurant offers a mix of traditional tapas with innovative dishes. Here you can find amazing rice dishes, alongside fresh fish and light salads.
Granja la Pallaresa
To conclude our recommendations, in this bakery you can taste the most delicious sweets from Barcelona. After a long day seeing the sites of Barcelona, this offers a comfortable space to rest and taste sweet home-made desserts.
La Pallaresa is famous for its crema catalana, xurros, among others. But its most famous product is el suizo, "Swiss" hot chocolate topped with cream, which has been happily eaten for more than a century by Barcelonans. Try dipping the xurros in the chocolate for a delicious treat!
---
I Want More Barcelona!
If you want us to arrange the entertainment in Barcelona (and beyond!), contact our Trip Planning Team to coordinate an unforgettable Italian experience.
Check out our step-by-step guide about how to do Barcelona in a Day. If you'd rather let us guide you, check out our guided Barcelona tours.