No trip to Madrid would be complete without having the ultimate tapas experience! However, finding a nice place to eat with excellent food can be challenging in such a popular city. As a long-time resident, I can help. I have created this list of my favorite places to eat tapas in Madrid, from traditional to contemporary cuisine. Get ready to enjoy every bite!
---
The Top Places To Eat Tapas In Madrid
Eating tapas is among the most fun things to do in Madrid. It is an excellent way to try different dishes and a great way to connect with Spanish culture, where sharing a meal is the norm. Tapas can be a small portion of anything, from a charcuterie plate to a small burger. Sometimes, menus indicate two prices: one for tapas and one for raciones, which are larger portions of the same.
In this list, you will find my favorite places to eat tapas in Madrid. It's important to keep one thing in mind: the capital is not all about tradition. So I have included historical bars and more contemporary concepts for those of you who want to explore beyond typical Spanish food. The list includes a variety of experiences from ordinary bars to markets and eye-catching restaurants. But they all have one thing in common: they serve the best tapas in Madrid.
El Anciano Rey De Los Vinos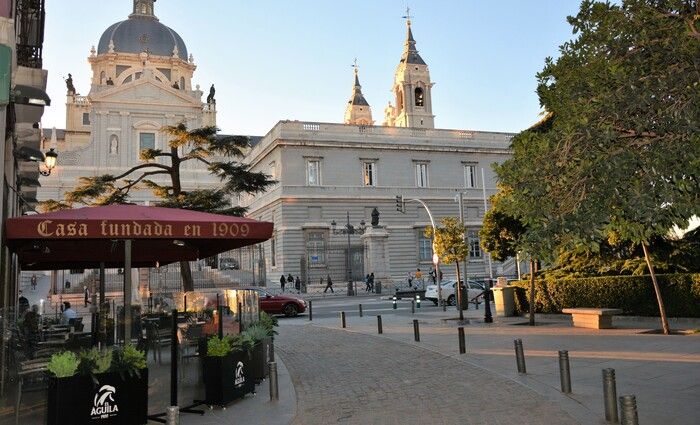 €€ | Views of The Royal Palace | Traditional Cuisine | Vermouth and Tapas | Outdoor Seating
This is the best option for a quick stop while visiting the Royal Palace. The tavern from 1909 is all about traditional decor and Spanish cuisine.
It's a fantastic place to taste artisanal vermouth at the bar or sat at one of the outdoor tables, overlooking the Royal Palace. And, of course, you need to pair your drink with tapas like fresh anchovies in vinegar, ali-oli potatoes, and canapés—it's a place for travelers who are not scared of strong flavors.
Address: Calle de Bailén, 19
Not ready to book a tour yet? Check out our guide to all things Madrid for more info.
Bar Cruz – Casa De Las Navajas
€ | Rastro Flea Market Area | Best For Aperitif or Quick Tapas | For Seafood Lovers
Let me get this straight: this bar is not a place to go for its beauty or for a relaxing experience. The decor is a little sloppy, but the food is unbeatable. You can count on it being one of the best places to eat tapas in Madrid, especially if you love seafood.
They have the best fresh seafood tapas, which are flavorful and reasonably priced. The triptych of deliciousness to me is zamburiñas (small scallops), berberechos (cockles), and the navajas (razor clams), which the place is named for. Try to get a seat outside; the front square is lovely.
Address: Calle de las Maldonadas, 1
Pro Tip: The area hosts the famous Rastro flea market, so there is no outdoor seating on Sundays, and the place is usually crowded. Pass by during the week for a more relaxed experience: the area's antiquities shops will be open and you can find hidden gems with fewer customers.
Inclán Brutal Bar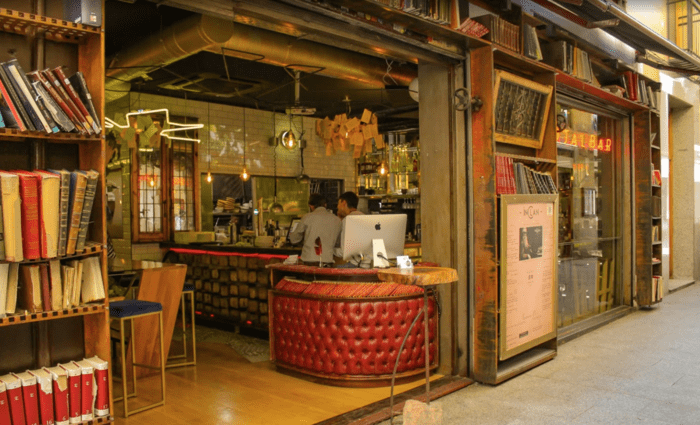 € | Iconic Street in Barrio De Las Letras | Fun and Colorful | Tapas and Cocktails with a Twist
In the famous play Luces de Bohemia, the main character reflects on the distorting mirrors in the Callejón del Gato. It is 1920, and the author Ramón de Valle-Inclán describes in the scene the aesthetic of the Esperpento, a new grotesque literary style.
Nowadays, the mirrors are still in front of the Inclán Brutal Bar. And the place is on point: colorful and exaggerated. The saturated style is a must-see, everything from the decor to the tableware and food presentation. It is also one of the best cocktail bars in Madrid.
Address: Calle de Álvarez Gato, 4 (commonly known as Callejón del Gato)
Sala de Despiece
€€ | Fancy Nightlife Area | Original and Fun Concept | Innovative Cooking Techniques
Sala de Despiece is one of the most original and modern concepts you can find in Madrid right now. They have two locations: a tapas bar in the fancy Chamberí quarter and a new space in the city center, near Gran Vía. Both places mimic a traditional butcher's market stand, from the cold white decor to the food presentation.
The menu goes from veggies to fish to the best cuts of meat. They experiment with a lot of cooking techniques to enhance every dish. So prepare to find raw food, low temp, grilled, deep-fried, torched tapas, and more.
Pro Tip: Calle Ponzano (listed below) is the hot street to find and eat tapas in Madrid. It is less than one mile long and has more than seventy bars! Not all of them are worth a visit, but it is a good area if you want a tapas tasting experience in a trendy environment.
Address: Calle de Ponzano, 11 (Chamberí) | Calle de la Virgen de los Peligros, 8 (City Center)
Juana La Loca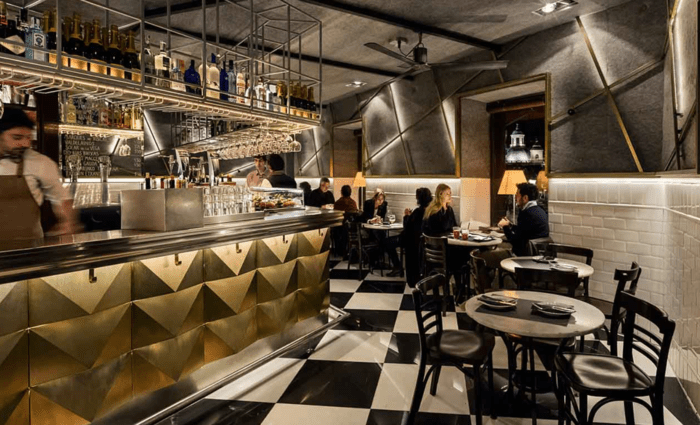 €€ | Comfortable Spot in La Latina Quarter | Pintxos and Gourmet Dishes
Halfway between traditional and international cuisine, this pintxos bar and restaurant is full of character. It is among my top three places to eat tapas in Madrid's La Latina quarter. The food is delicious and the presentation is on point. It's perfect for an informal dinner with friends or a romantic date.
The selection of pintxos is a must-try. These bites on bread, traditional from northern Spain, are perfect for a tapas and drinks experience. Try at least the truffled confit egg—it will surprise you. The dishes are as original as the tapas. I love the risotto with wild mushrooms, but you will not be disappointed by the other options. Everything is yummy!
Address: Plaza de Puerta de Moros, 4
La Perejila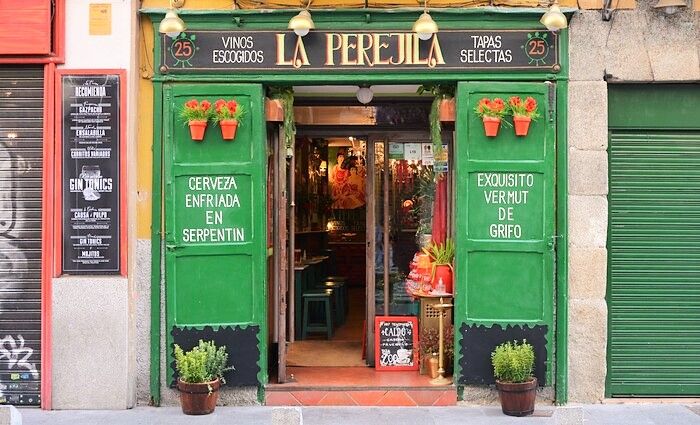 € | La Latina Central Street | Southern Tapas Bar | Artisanal Vermouth and Tapas From Andalusia
Although there are new areas to eat tapas in Madrid, the La Latina quarter keeps up. La Perejila is a tiny Andalusian tapas bar that raises the standard among all the bars on the main street. Spanish people head here to drink artisanal vermouth and wine at the bar while enjoying the music and the festive spirit that the place emanates.
It is not somewhere you go to have a quiet lunch or dinner: it has just a few tiny tables and is usually crowded, especially on weekends. But the queue is worth it because all the tapas are delicious! I typically order the meatballs in winter and the salmorejo—a cold soup from Cordova—during summer.
Address: Calle de la Cava Baja, 25
Mercado De La Cebada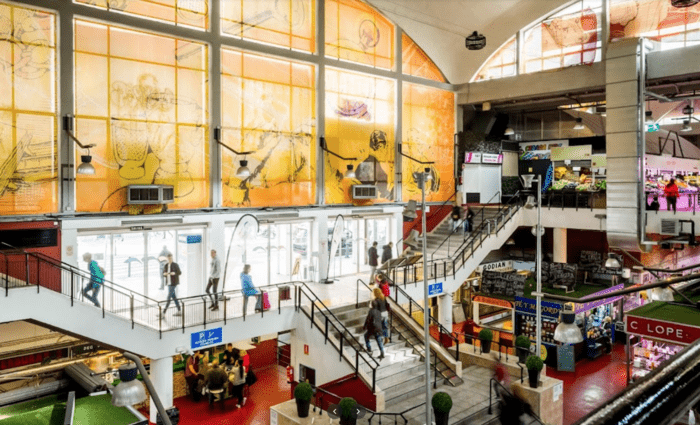 € | Central Location in La Latina Quarter | Tapas and Seafood | Farmer's Market Experience
La Cebada is my go-to place for an informal tapas lunch with friends. It is also where I buy my groceries, so my enthusiasm is genuine. Being a real market, it is not fancy. The real deal starts at lunchtime on Saturdays when people hit the market for beer or vermouth and taste fresh products.
My favorite plan is to buy fresh seafood at the fish stand and pair it with fried pimientos de Padrón (small green peppers) and a slice of tortilla. But if you want something more substantial, the grill stand has the best meat and burgers. There are also bars and international delis.
Address: Plaza de la Cebada
Casa Lucas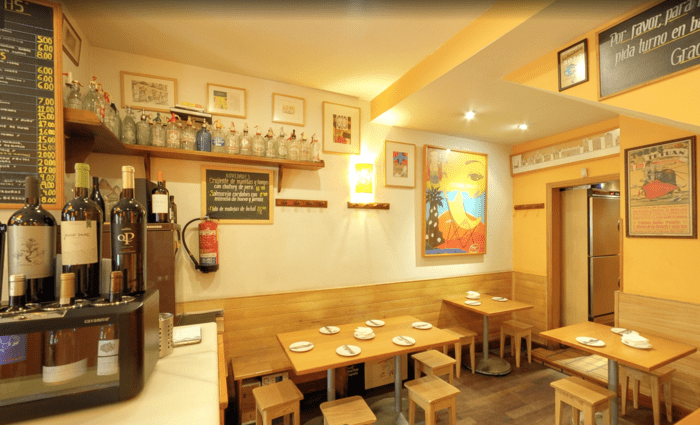 €€ | Tapas Restaurant in La Latina | Tapas, Pintxos, and Raciones | Great For Wine Lovers
Also in La Latina quarter, Casa Lucas is a tiny restaurant that serves pintxos, cold and hot tapas, and raciones (small dishes). It appears in many travel guides such as Le Routard and Lonely Planet, and it is the perfect fit for a tapas lunch or a quiet dinner.
It is among my favorite places to dine because of the food and the mood, which is sophisticated without being pretentious. The Casa Lucas's squids with bacon and the deboned oxtail are a must-try. And if you want to try a glass of local wine, this is your place!
Address: Calle de la Cava Baja, 30
Bodega La Ardosa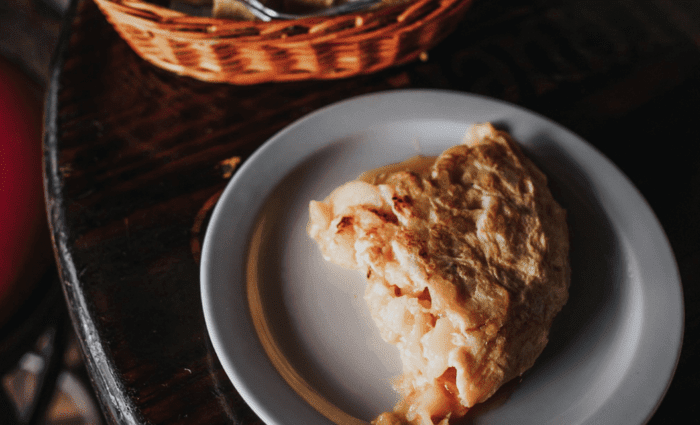 €€ | Central Location in Malasaña | Best Tortilla and Croquetas in Madrid | Irish Beer and Local Vermouth
Everyone loves croquettes. But if you haven't tried La Ardosa's red prawn croquetas, you are missing out! They are the perfect tapas to pair with a cold beer or a glass of local wine. Also, their tortilla is the best in the city, in my opinion. But this is not the only reason why I love La Ardosa.
The tavern is a pleasure for the eyes. It opened in 1892 and still has some of the original decor. From the tall bar tables, everything around you speaks of Spain. It is a place to stop for artisanal vermouth or a beer and a quick bite to eat. Authentic and heart-warming, it is among my top places to eat tapas in Madrid.
Address: Calle de Colón, 13
Poncelet Cheese Bar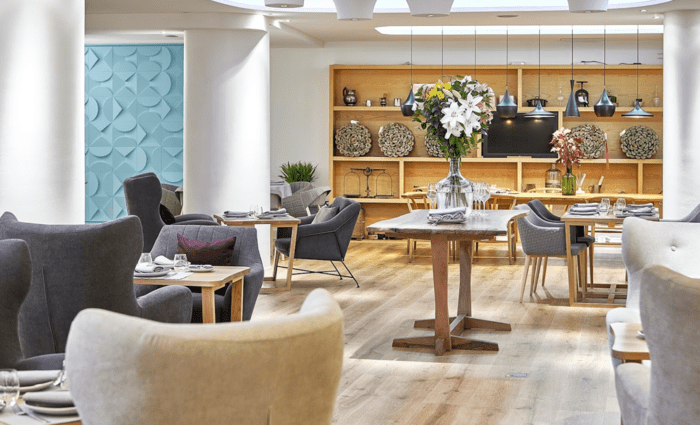 €€€ | Near The Museum of Natural Sciences | Cozy and Bright Interiors | Michelin Guide Mention
Cheese is a controversial food: you love it or hate it. But if you can't resist a good cheese board, not only is this your place but Poncelet takes it to the next level. The menu includes more than 130 types of artisanal cheese from all over the world and original dishes that combine cheese with meat and fish.
I love the bar that reminds me of a sushi bar and the beautiful vertical garden. And of course, the food, which fits the bill if you are seeking a gourmet dinner or a fun tapas experience designing your own cheese board. Perfect for a new—and less traditional—tasting experience.
Address: Calle de José Abascal, 61
Mercado De San Miguel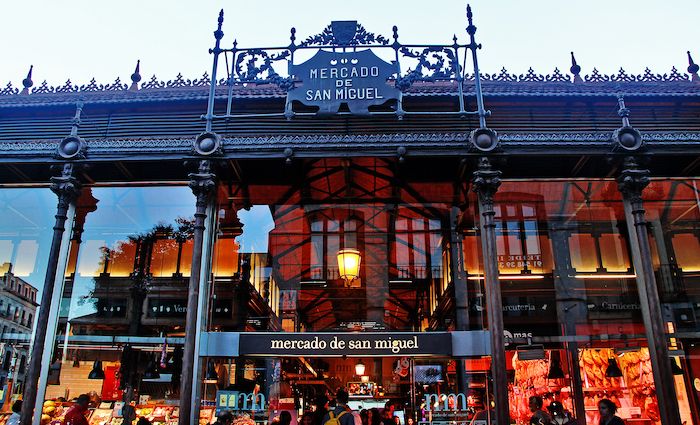 €€ | Next To Plaza Mayor | Must-See Place | Gourmet Tapas and Drinks | Fun Market Experience
The Mercado de San Miguel doesn't need that much introduction. It is renowned and deserves a visit even if you are not hungry. The building is a food market from 1916 turned into a food court, where each stand showcases the best products from every corner of Spain.
You need to see it as a gourmet experience, as it is slightly overpriced. However, the wide offer of food and drinks makes it impossible not to find what you like, and it is open till late at night. My first choice is always fresh oysters with a glass of wine at the Pinkleton & Wine stand. But I have also tried octopus, Spanish ham, and all sorts of tapas: every bite is excellent!
Address: Plaza de San Miguel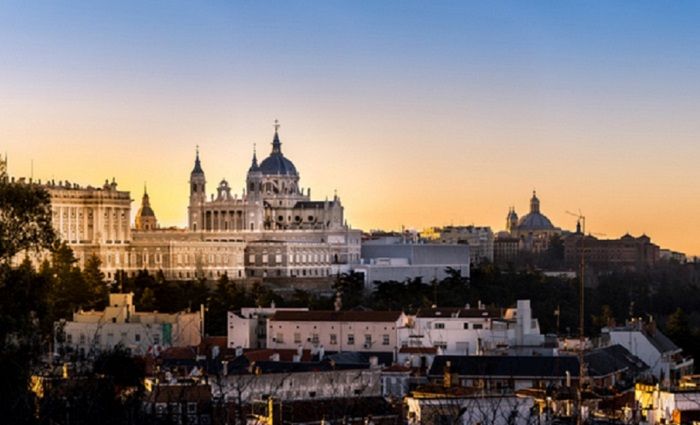 Find the best places to stay
Where to Stay in Madrid
Madrid is a vast city with many areas to stay in, including beyond the downtown area. Choose a hotel near the top things you want to see in this beautiful old city.