Heading to Barcelona but not sure where to stay? We get it. Finding a great hotel at a great price in the right area can be difficult and stressful. But you're in luck since we created a guide of the best hotels and places to stay in Barcelona for your upcoming trip!
---
Pro Tip: Bookmark this article and our page dedicated to planning your trip to Barcelona in your internet browser. Then you can circle back to it while you plan. Also, check out our tours in Barcelona.
Where to Stay in Barcelona: Best Hotels and Neighborhoods
Barcelona is an amazing city that should be on anyone's list for a Spanish vacation. It's probably the most cosmopolitan city in Spain, and definitely filled with a rich history of art and culture you can experience for yourself. The main attraction is probably the Sagrada Família, which is a stunning cathedral that is still under construction.
But you can also experience a patriotic sardana dance with locals who embrace their heritage to this day. And if you're conversational in Spanish, you might enjoy learning some Catalan dialect as Barcelona is deep in the Catalunya region. Finally, art lovers will enjoy the Picasso Museum and Antoni Gaudi's Park Güell, which is one of the most beautiful private parks.
Now that you're excited to visit, you still have to decide where to stay in a busy city like Barcelona. Choosing the perfect area can make or break a trip, so we've broken down this article into our top four areas to help you choose the right Barcelona hotel.
Keep reading to discover why I recommend these areas and the best hotels (with several price points). Or you can check out the video below that walks you through our favorite areas to stay in Barcelona.
Bari Gothic Quarter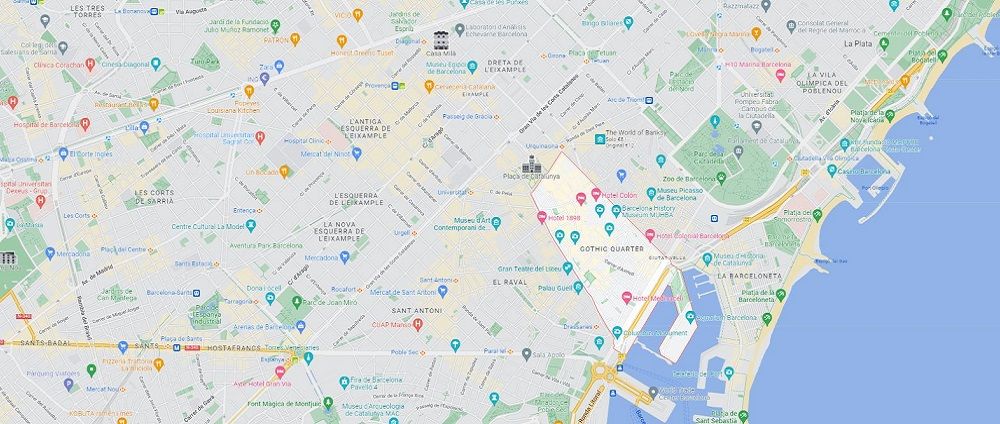 The Bari Gothic Quarter of Barcelona is arguably the most desirable area to stay in the city, which is why it gets so much foot traffic. It's close to many of Barcelona's most popular attractions and has tons of great restaurants—another reason why people love it.
The Gothic Quarter shares a border with La Rambla and El Raval (listed below), and it's my favorite area to hang out in Barcelona during the day because of all the action. Staying in the Gothic Quarter comes at a higher cost, but Barcelona is far less expensive than other cities like Paris or Rome.
I love staying in the Gothic Quarter if I'm just traveling with my wife as we like to shop and go out for drinks at night. The area has some cool hotels, which is why many travelers have the area on the top of their list. Be aware that the area can be a bit seedy at night, but it's safe enough to enjoy during the day.
Why I Love the Gothic Quarter:
Amazing historic feel
Great restaurants and nightlife
Great for younger crowds
Close to beaches of Barceloneta
Top Attractions in the Gothic Quarter:
La Rambla (Shared with El Raval)
Barcelona Cathedral
Picasso Museum
Citadel Park
Placa Reial
Best Hotels in Barcelona's Gothic Quarter:
Eixample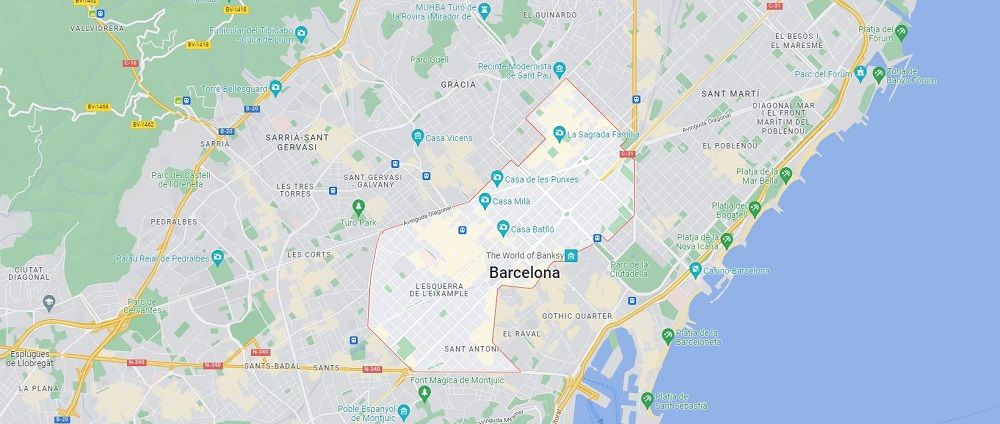 If I am headed to Barcelona with my family, I prefer to stay in Eixample. The entire neighborhood is nice and there are some super posh areas too. It is far enough from Ciutat Vella that the busy nightlife doesn't bother us, but it's ideally located for exploring the city on foot.
As you can see in the map above, Eixample district is massive, so the idea that you should "stay in Eixample" is like saying, "Stay in Barcelona." My recommendations for staying in Eixample refer mostly to the areas around Passeig de Gràcia between Plaça de Catalunya and Plaça Cinc d'Oros. It's close to the Gothic Quarter border, so you get the best of both areas.
Pro Tip: "Eixample" is pronounced eye-SHAM-plah.
Why I Love the Eixample:
Slightly more low-key than Ciutat Vella (Family Friendly)
Passeig de Gracia Shopping!
Upscale & Spacious Hotels
Clean with Beautiful Architecture
Top Attractions in Eixample:
Casa Milà
Casa Batllò
Sagrada Familia
Best Hotels in Barcelona's Eixample Neighborhood:
El Raval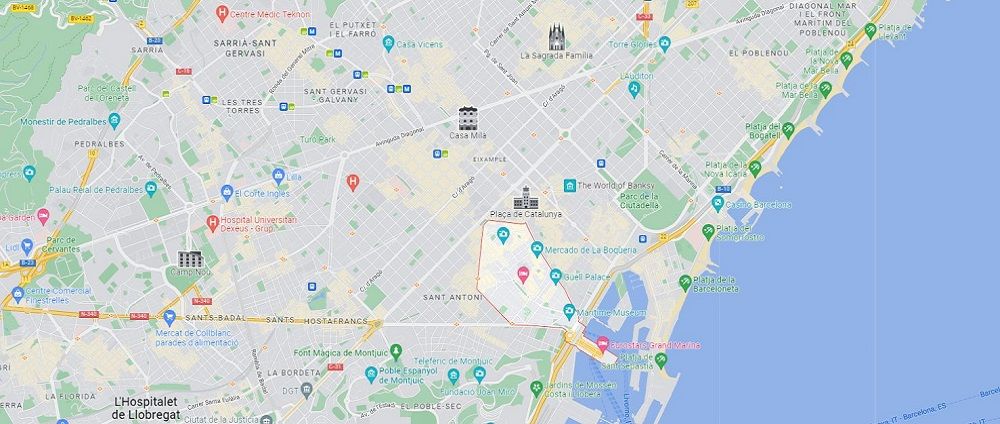 El Raval is another area that's full of life and things to do. It's a great Barcelona neighborhood for younger travelers, couples, and the more adventurous tourists. If you like to party and are not bothered by evening nightlife, then this is definitely the place for you. You can always ask if your preferred hotel has great soundproofing too.
You'll find a lot of university students here, so you can expect a growing foodie scene too. This is also home to a great arts scene plus a contemporary art museum and a harbor where you can find medieval boat replicas. Talk about old meeting new!
Why I Love El Raval:
Great nightlife
Close to Gothic Quarter
Great restaurants for foodies
Bohemian arts scene
Top Attractions in El Raval:
La Rambla (Shared with Bari Gothic)
El Gatto de Bottaro
La Boqueria Food Market
Bar Marsella (Hemingway & Picasso loved this bar – opened in 1820)
Barcelona Museum of Contemporary Art
Best Hotels in Barcelona's El Raval Neighborhood:
La Barceloneta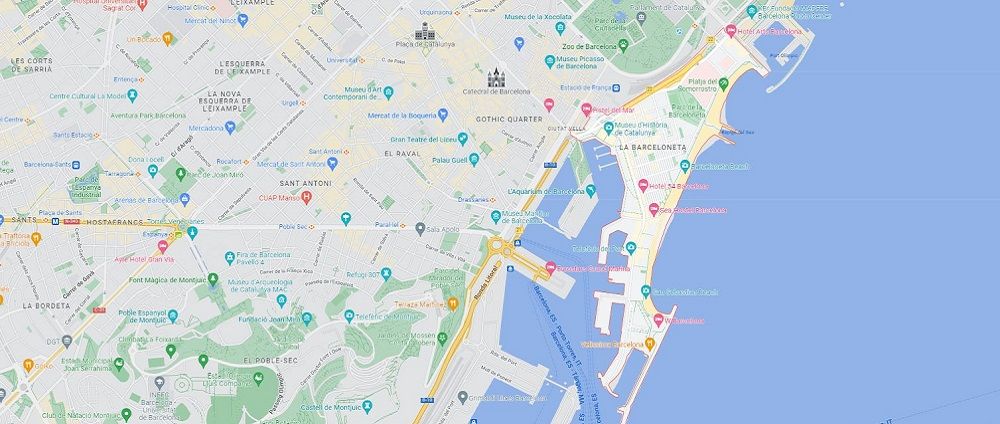 La Barceloneta is the place to be if you prefer an active nightlife, beach vibes, and chill days. You're not too far from the main attractions in the Gothic Quarter or Eixample, but you can be right on one of several beaches. La Barceloneta is known for delicious seafood restaurants that have the freshest fish available since it's also where you'll find the harbor.
There are a few family-friendly beaches to enjoy, as well as a clothing-optional beach if that appeals to you. Definitely stop in at a chiringuitos (beach bar) for a refreshing drink to enjoy on your lounge chair.
But if you're looking for a little activity, then rent a bike and lazily pedal along the beach bike bath and find the Christopher Columbus statue. For a laid-back vacation in Barcelona, the beaches of La Barceloneta is a top place to stay.
Why I Love La Barceloneta:
Gorgeous beaches
Barcelona harbor
Fresh seafood restaurants
Tons of clubs and nightlife
Top Attractions in La Barceloneta:
The beach
Christopher Columbus statue
Family-friendly or clothing-optional beaches
Beach bike paths
Best Hotels in Barcelona's Beach Neighborhood: