Barcelona is really big. It's the second-most-populous city in Spain. This makes it nearly impossible to see all the sights without a plan in advance. Luckily, we have several tours to make your Barcelona vacation one that you won't soon forget! Here are the best Barcelona tours to take.
---
Pro Tip: Planning ahead will help your trip run smoothly, so consider bookmarking this page in your browser. Also, check out our guide to Barcelona—it has helpful information about restaurants, hotels, and activities.
Should You Take a Tour of Barcelona?
Barcelona is a great city to visit, which shows in the number of visitors here each year. This is due to the density of cultural attractions, great food, beautiful landscapes, and really fun people. That said, what should you do when in the city?
Well-organized small group tours are a great way to introduce yourself to a city and learn things that you wouldn't learn on your own. Tours take a lot of the guesswork out of visiting attractions and you get great knowledge from a local.
Meeting locals comes with many other perks such as picking their brain about other great places to visit, restaurants, and where to go out at night. A tapas bar that locals love is going to be so much better than a tourist trap. These are just a few reasons why taking a tour in Barcelona is totally worth it. Here are some of our best Barcelona tours and some reviews from real customers!


The 6 Best Barcelona Tours To Take
Food, culture, and architecture are at the top of the list of types of tours to take in Barcelona. But since this beloved Spanish city is also on the Mediterranean Sea, we couldn't ignore the many opportunities to enjoy sailing around the city. From tapas to Sagrada Família and Park Güell, there are plenty of options to fill your itinerary for Barcelona below.
1. Unbeatable Barcelona in a Day Tour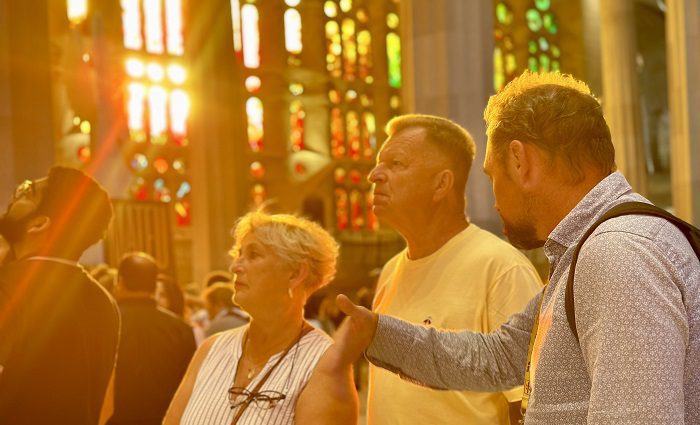 Have a limited amount of time in Barcelona? No problem. This tour combines our Park Güell and Sagrada Família tours to make sure you get a jam-packed, best-of-the-best excursion of the most popular sites.
In just a few hours, you'll see celebrated architect Antoni Gaudí's greatest works, including skip-the-line tickets to Casa Battló and Sagrada Família. This day tour is the perfect option to check every Barcelona must-see attraction off your itinerary list.
2. Skip the Line Sagrada Familia Tour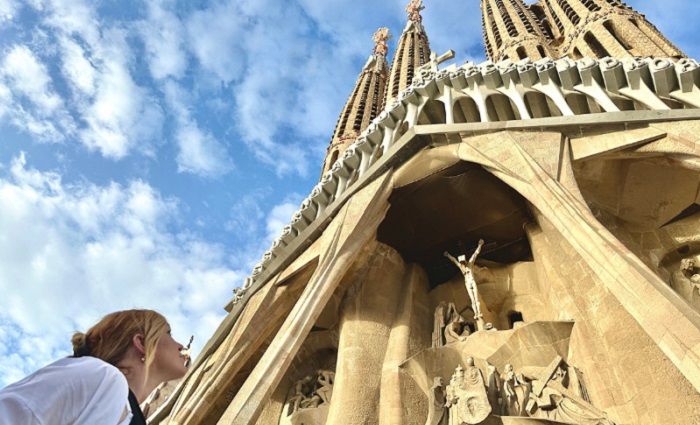 The Sagrada Família is not only one of the most celebrated buildings in Barcelona but in the entire world. With its highly decorative towers, this church is one of the most visited buildings due to its unique design. You can look at the architecture and have no idea the stories behind it, or you can go with a super knowledgeable guide who brings it to life.
Due to its popularity, the tower is typically plagued by long lines and even longer waits. What's worse is that tickets often sell out quickly, meaning you might waste time in a line for nothing. The solution is to book ahead with a tour group to ensure guaranteed access and a memorable visit. Best of all, with us you'll skip the line and save your vacation time!
3. Barcelona Food and Wine Tour with a Local Sommelier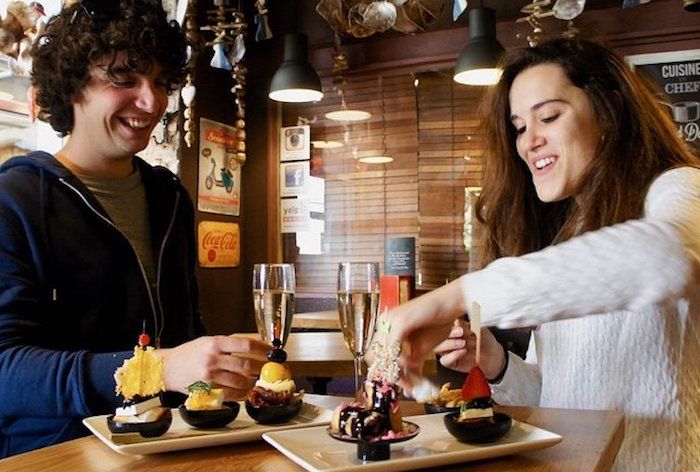 Eat your way through Barcelona with this fun and popular food tour. Centered around the vibrant neighborhoods of Poble Sec and Sant Antoni, this tour includes a variety of local, authentic cuisine, including Barcelona's best tapas and a traditional Spanish dinner at a Barcelona bodega. These aren't your typical bodegas; these are beautiful restaurants brimming with vibrancy, culture, and local food.
Before you think this tour is all about the food, trust us that you'll wash it all down with traditional Spanish vermouth and cava (sparkling wine). With your local sommelier guide, explore some wine pairings. By the end of this tour, you'll have tasted your way through Spanish history, and learned quite a few things along the way. It's, hands down, the most in-depth food tour in Barcelona and not one to miss.
4. Montserrat Day Trips from Barcelona to the Monastery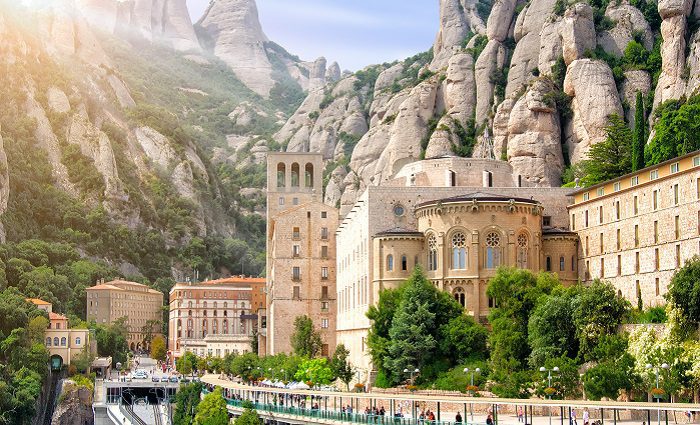 If you're visiting Barcelona and want to get out of the city for a little bit, this is the tour for you. Away from the traffic and bustle of the city, atop the Montserrat mountain, sits an 11th-century monastery dedicated to Our Lady of Montserrat.
This trip includes air-conditioned transportation from the city, tickets for the cogwheel train to the monastery, and breathtaking views of Barcelona and the sea. Along with the beautiful vistas, check out a local market filled with fresh goods. Maybe even take time for a short hike. On the longer tour, you'll have time to ride the second funicular beyond the monastery too!
5. Barcelona in Half a Day on an Electric Bike
Walking tours are fun, but e-bike tours are another kind of fun. If you enjoy seeing even more of a city than you can explore on foot, then a Barcelona e-bike tour is one to consider. You won't even have to work super hard since e-bikes come with pedal assisted technology to help you cycle easily through the city—hills or no hills.
This tour takes you past the famous Sagrada Família, and through the Gothic Quarter before seeing Olympic Village and Port Vell for incredible views of the Mediterranean. In just half a day, you'll explore more of Barcelona's top areas so you can really get to know this beautiful city.
6. Barcelona Scenic Cruises by Sailboat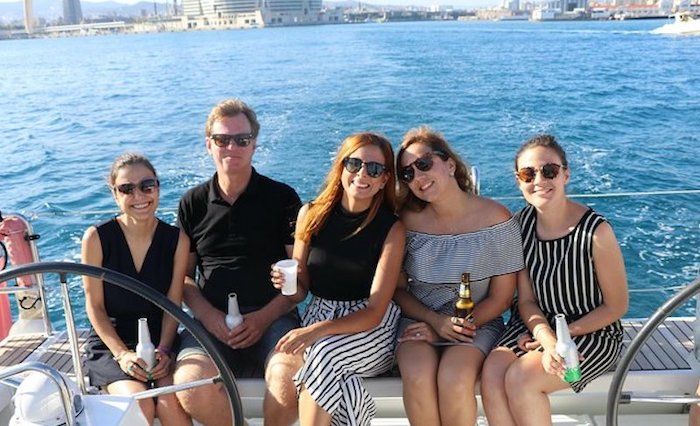 Part of the attraction to Barcelona is the warm weather and coastal views which is why cruises are so popular there! While we love historical tours and activities, its nice to take a breather on a sailboat with a cold beverage in hand.
We have partnered with locals who run small group and great cruise experiences along the coast of Barcelona. Many activities include drinks, stops for swimming when the weather is appropriate, and snacks. Check out all our watersport activities in Barcelona!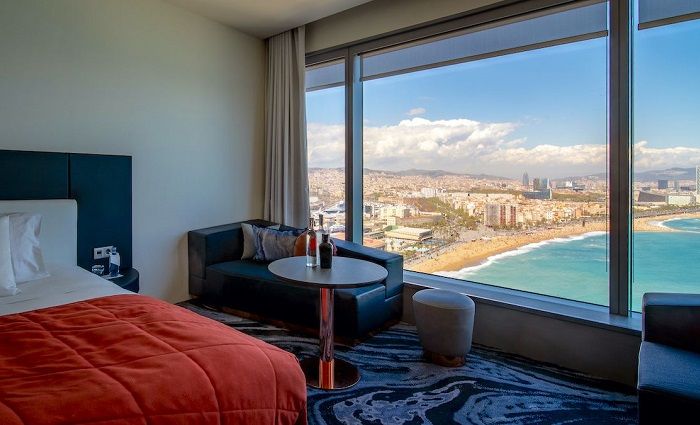 Find the best places to stay
Where To Stay in Barcelona
A great hotel at a great price has become the norm in this internet era. Our article explains what areas are the best in Barcelona so you can get a great deal on the perfect location!