Whether it's your first or third time to London, if you haven't made the trek out to Stonehenge, it's time to fix that. Booking one of the best Stonehenge tours is the perfect way to see these fascinating rocks up close without having to worry about how to get there. Plus, tours of Stonehenge from London usually include other cool stops along the way, like Windsor Castle or the Salisbury Cathedral. Find out which tour is right for you!
---
Pro Tip: Planning what to do on your trip to London? Bookmark this post in your browser so you can easily find it when you're in the city. Check out our guide to London for more planning resources, our top Stonhenge tours for a memorable trip, and how to visit Stonehenge.
Should You Take a Tour to Stonehenge?
Short answer: Absolutely. Even if only to eliminate the hassle of arranging your own tickets and transportation to this incredible place outside of London.
Stonehenge sits about 90 miles west of London, so you'll need a plan to get there. Most people opt for a guided tour since they won't have to worry about driving, navigating, or obtaining their own tickets. We definitely recommend doing the same, but with a small group so you have more opportunities to get to know your guide and fellow travelers.
You'll learn much more about Stonehenge, Windsor Castle, Bath, Avebury, West Kennet, Salisbury Cathedral, and much more if you book a day trip with a local guide. And depending on your preference, you could even book an early morning or evening entrance at Stonehenge when the general public has left. These are unique opportunities to see the Inner Circle of Stonehenge that you won't forget!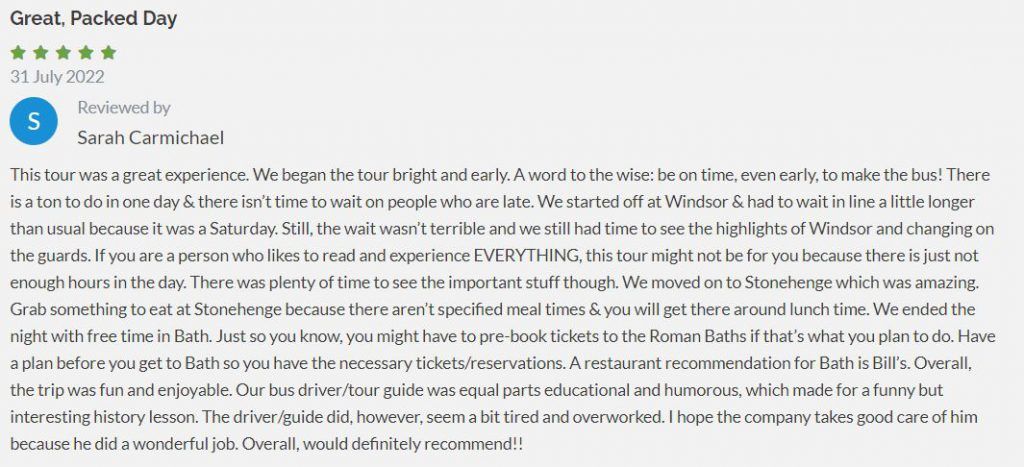 Not ready to book a tour? Check out our Stonehenge Guide for more resources.
Three of the Best Stonehenge Tours
The origins and construction of the rocks at Stonehenge are technically unknown, but there are plenty of theories and legends. Aliens, giants, Druids. Your driver-guide will share all of these as you ride along the English countryside. All of these tours include stops at Stonehenge, so you'll just need to decide what time of day you want to visit and what other sites interest you the most.
You can opt for a self-guided tour (tickets included) at Windsor Castle or time at Avebury to see the ancient manmade mound that's the size of an Egyptian pyramid. Or perhaps you'd love to see an original copy of the Magna Carta that shaped the future for the rights of all mankind. Check out the best Stonehenge tours below and choose what's best for you!
1. Windsor, Stonehenge, and Bath Day Trip from London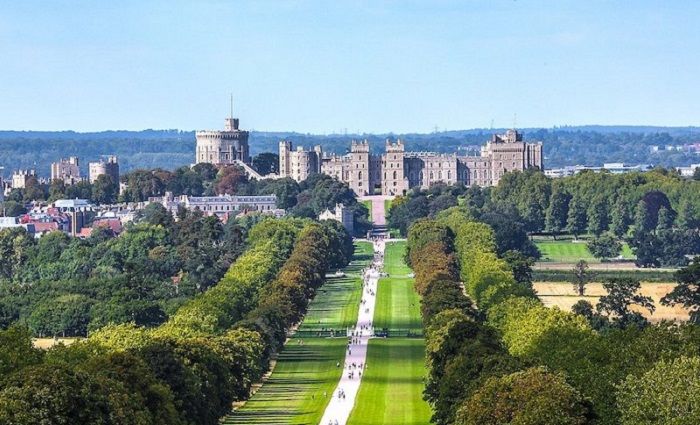 Windsor Castle
Your first stop out of London is Windsor Castle—the late Queen's favorite residence. There are 13,000 acres here, and you'll have tickets to enter the castle to explore the areas open to the public. This is a self-guided tour as no tour guides are allowed inside. Not to worry! Your driver-guide will have prepped you with plenty of information about what you'll see here and why it's such a beloved castle for the royal family.
Stonehenge
Then you'll head to Stonehenge where you'll get to walk the road leading to these famous ancient ruins. Dating back some 4,000 years, these rocks have an intriguing history that is still yet to be determined. Why and how these structures were built remains a mystery, not to mention by whom. Yes, it's just a bunch of rocks, but they're 20-ton rocks on average, positioned perfectly in a strange circle for some purpose. It's worth seeing in person!
Bath
While the baths at Bath were used by the ancient Celts, they weren't beautified and built up until the Romans arrived. They are how the city came to be named, and it's worth planning ahead to get tickets to see them. This tour offers free time in this city so you can explore whatever interests you most whether it's the Roman baths or the Jane Austen Museum.
Highlights:
12 hours
Round-trip transportation from London
Entry to Windsor Castle
Entry to Stonehenge during the day
Free time in Bath (explore or pre-book an activity)
Not ready to book a tour? Check out our Stonehenge Guide for more resources.
2. Early Access Stonehenge Morning Tour from London with Inner Circle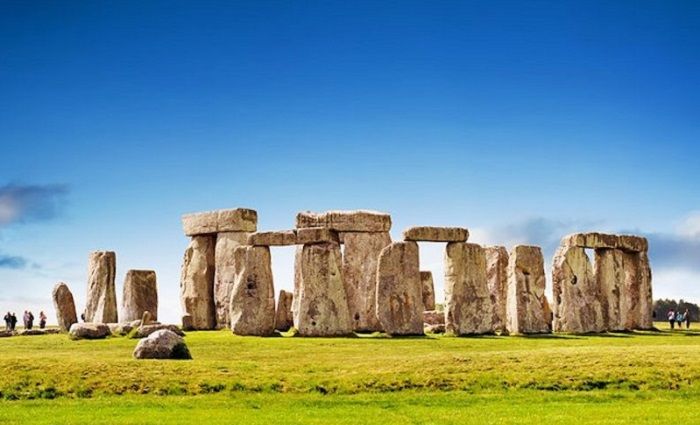 Early-Access Stonehenge
This tour leaves London super early so you can arrive at Stonehenge for an exclusive, early-access entry before it opens to the general public. This means you'll visit the Inner Circle of Stonehenge around sunrise as your guide shares all we know and suspect about Stonehenge. The morning light and solitude make this an extra special experience for any early bird looking for a day trip to Stonehenge.
Salisbury Cathedral
A stop at Salisbury is up next. This historic town lays claim to two impressive things for native Britons: a cathedral with the tallest spire in England and an original copy of the Magna Carta. This document laid the foundation for human rights around the world. You'll have time to eat lunch here and explore a little of this ancient town before heading back to London in the afternoon.
Highlights:
9.5 hours
Round-trip transportation from London
Exclusive, early-access to Stonehenge
Guided tour of Inner Circle (not available to general public)
Visit to Salisbury Cathedral and Magna Carta
Not ready to book a tour? Find out if London tours are worth it.
3. After Hours Stonehenge Inner Circle Tour from London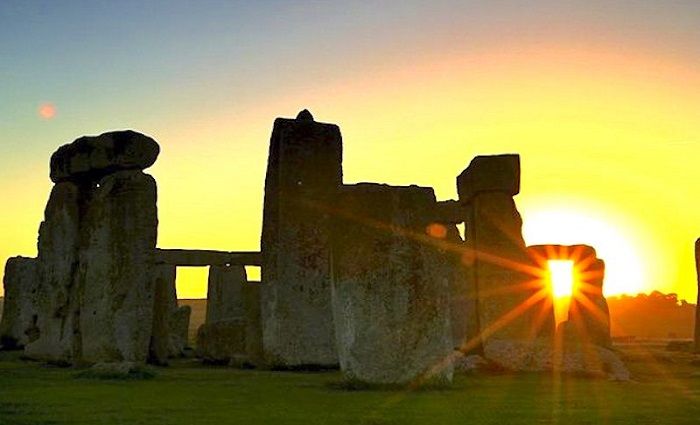 Silbury Hill and West Kennet
Depart London in the mid-morning and head to Silbury Hill to see another mysterious piece of Britain's past. A Neolithic man-made mound that's roughly the size of an Egyptian pyramid and about 4,000 years old! And at West Kennet Long Barrow, you'll see ancient burial grounds that date back even further about 5,000 years. That's old!
Avebury
You might not know that Avebury also has some monolithic rocks that resemble Stonehenge on a smaller scale. They're another great stop that add to your overall "ancient ruins of Britain" experience on this Stonehenge tour from London. Plus, you'll have free time to enjoy lunch in Avebury and explore this charming little town before moving on.
Stonehenge Inner Circle
Your last stop is what you've been waiting for: an after-hours entrance to Stonehenge. What you might not know is that the Inner Circle is closed to the public during the day, so you can only receive guided access here before or after the regular opening hours. That makes this sunset Stonehenge tour even more special and memorable. You'll be mesmerized by the dwindling light in the late hours of the day as you explore Stonehenge without the crowds.
Highlights:
11 hours
Round-trip transportation from London
Visit to Silbury Hill man-made mound
Visit to burial grounds in West Kennet Long Barrow
Explore Avebury and the monoliths
Exclusive, after-hours access to Stonehenge
Guided tour of the Inner Circle
Not ready to book a tour? Check out our Stonehenge Guide for more resources.