Finding the right hotel in London can make or break your experience. The city itself is massive with over 9 million people in the greater London area. Every area is also different. We've done London too many times to count and we're going to serve you our favorite hotels on a silver plater. Here are the best hotels and apartment rentals in London for 2022!
---
While this list most definitely includes London's most expensive hotels it does not ONLY include the most expensive ones. We have four categories covered in this order:
Our Partnership with Booking.com. If you like our content, please book by clicking on our Booking.com links. The price is the same for you and we get a small commission that helps support our blog. We've partnered with Booking.com because they have the most options, great prices, and a solid loyalty program.
The Best "Super Expensive" Hotels In London
These are the poshest, most luxurious, and accomodating accommodation in London. These hotels are for C-suite execs, movie stars, 13-year-old genius coders, and Russian Oligarchs.
"Super Expensive" Prices: Expect to pay over $450 for standard rooms in these hotels which is just the tip of the iceberg for what you can spend. Many of these hotels have epic suites which can be priced beyond $30k/night and offer amenities you didn't even know you wanted.
In one hotel they guarantee Neil Armstrong or Lance Armstrong, whomever you prefer, will tuck you in at night. I made that part up, but I bet you could ask the hotel manager to do so and they would.
That obviously will vary, so click the "Booking" link which will take you to Booking.com to see prices.
Mandarin Oriental Hyde Park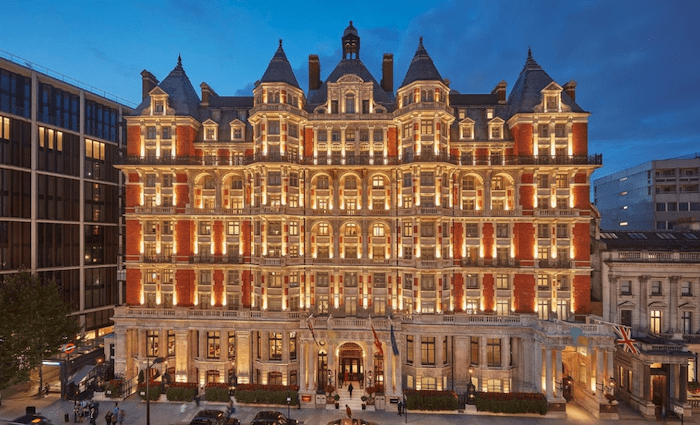 5 Star | €€€€+ | Hyde Park | Contemporary Design | Indoor Pool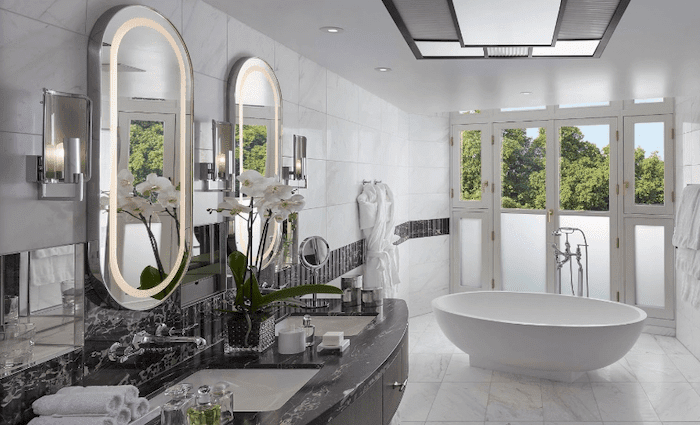 The Mandarin Oriental Hyde Park is one of the most beautiful man-made buildings on the face of the Earth, especially at night when it is lit up. The building has a victorian design with bold colors that simply look amazing day or night, but especially night! It is located a block from Hyde Park which acts as an extension of this hotel and a wonderful green space to enjoy during your stay.
Inside, you'll find contemporary and updated finishes throughout the building which is inline with the Mandarin Oriental's international design theme.
Rooms are spacious with unique and beautiful bathrooms which will shock and amaze.
Shangri-La Hotel at The Shard London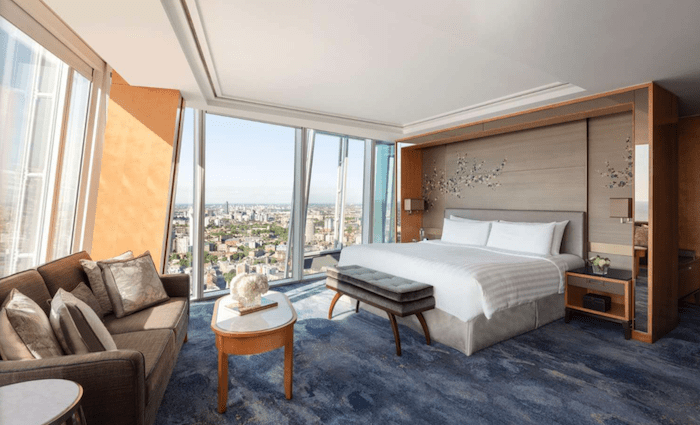 5 Star | €€€€+ | The Shard | Modern & Refined w/ Victorian Touches
The Shangri-La hotel chain, like many of the other luxury staples, simply crushes it at the Shard property. If you are unfamiliar, the Shard or Shard of Glass is a massive glass skyscraper emerging from the London skyline and the Shangri-La is inside.
The building is completely contemporary along with all of its impressive rooms. Floor-to-ceiling windows is the general theme which is a massive draw to the hotel and likely why they can charge $700/night.
Their most impressive suite is 232 sqm/2021 sqft and will cost you about $14k/night.
The Savoy Hotel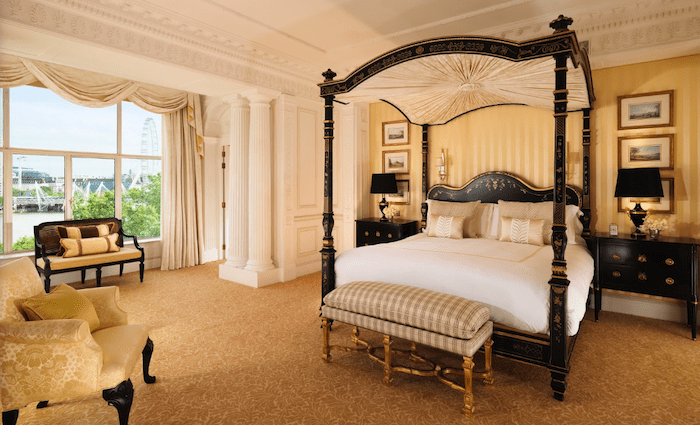 5 Star | €€€€+ | City of London/Covet Garden | Royal Luxury
It is really hard to describe a hotel like The Savoy with words and do it justice. The hotel is royal, everything inside it is expensive, and every detail is opulent. I wonder if the queen herself has it this good.
The location is also striking. You have views of London's waterways, the London Eye, and many monuments. You'll feel in the middle of everything!
Claridge's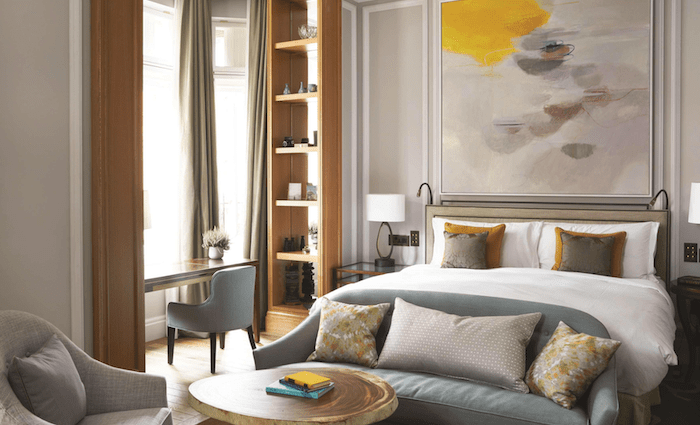 5 Star | €€€€+ | Mayfair | Modern & Refined w/ Victorian Touches
If anyone invented being "refined," it was likely the British and the rule book is presumably inside Claridge's. The soft comfortable colors combined with a mix of modern & victorian touches make this Mayfair hotel a delight.
You'll find yourself close to high-end shopping, great food, Hyde Park, and London's high-class neighborhoods. An easy choice if you have the budget of a sultan!
The Four Seasons Park Lane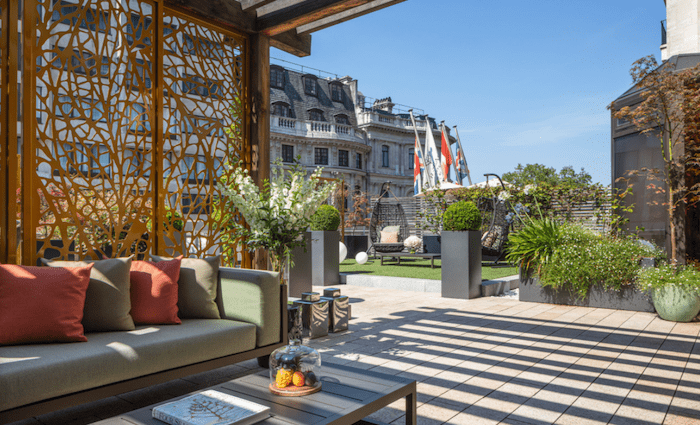 5 Star | €€€€+ | Mayfair | Modern & Refined w/ Victorian Touches
I really love the Four Seasons in general as it is a symbol for luxury. Hotels are always decorated in a contemporary style and up to date to impress visitors and draw back the high-end clientele.
The hotel is right between Hyde Park and the Green Park of Buckingham Palace which gives a truly rural effect for being in the middle of a sprawling metropolis.
While you can likely land a standard room, which is anything but standard, for $700/night you'll have to dish out $5k+ for the smallest suite. They don't list out pricing for the larger ones. Needless to say, if you stay here don't brag about flying first class because every else flew private ( ;
Location, Photos, & Booking Park Lane
Location, Photos, & Booking Trinity Square
Hotel Café Royal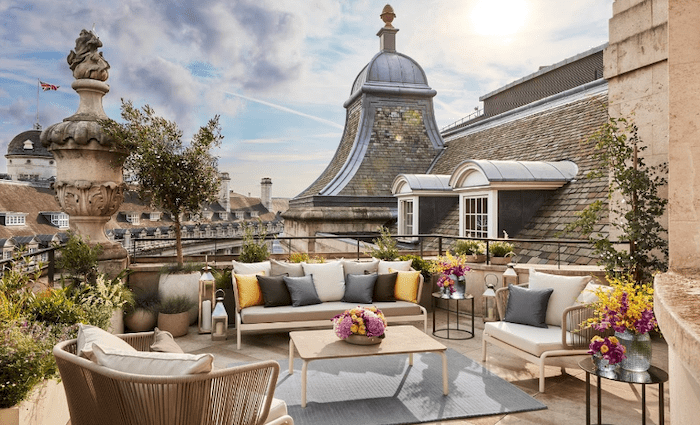 5 Star | €€€€+ | Perfect | Regent St | Indoor Pool | Family Friendly
Hotel Café Royal is possibly the best designed hotel I have ever seen. Their rooms are so beautifully designed that I find myself asking why I don't live there. Once you look at the price per night, it appears pretty obvious that very few could afford that but that doesn't change how amazing this hotel is.
While not many family's could afford it, they offer some great deals on adjoining rooms for longer holidays and staycations at their property which is why this also lands on my family-friendly hotel list!
The Best "Expensive" Hotels In Barcelona
The "Super Expensive" category is likely limited to venture capitalists, the founders of Facebook, Cristiano Rainaldo, Oil Tycoons, and lotto winners. That said, the "Expensive" category is possibly attainable for other more modest professions like doctors, lawyers, and astronauts, or professional athletes.
"Expensive" Prices: While the prices of hotels change rapidly, expect these hotels to range from $300 to $449 per night for a range of rooms. That obviously will vary, so click the "Booking" link which will take you to Booking.com to see prices.
Number Sixteen
5 Star | €€€€ | Kinsington | Design Hotel | Great Coutryarrd | Family Friendly
If you don't know Kensington, it is one of the "poshest" neighborhoods in London if not the world. Number Sixteen is a quaint hotel with unique rooms and comforting colors. Each room has its own character full of rich design and excellent use of colors and prints.
Theey also have a "magical" courtyard which will make you feel like you are at a retreat in the countryside. This is a great pick for anyone looking for a small but great hotel in a fantastic area.
The Kensington Hotel
5 Star | €€€€ | Kensington | Modern & Refined | Family Friendly
The Kensington Hotel is a beautifully decorated property in Kensington which is an ideal place to stay in London. The hotel is well kept and very luxurious. It is a boutique property which means you'll find less people there.
While they don't position themselves as a family hotel, there are many integrated touches that make this good for families. They have rooms with 3 beds and add small touches, like a stuffed animal, to make children comfortable. Great choice.
The Langham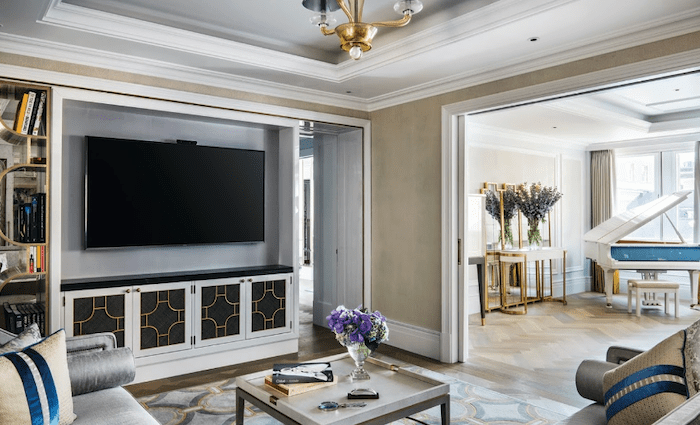 5 Star | €€€€ | Marylebone | Classic Luxury | Indoor Pool
The Langham is in every sense of the phrase a really beautiful hotel. Everything about it is beautiful. Its in a beautiful area, the rooms are beautiful, the pool is beyond beautiful, and the common areas are beautiful. Also, the price is beautiful which may not last past 2021. This is why it is in my incredible hotel deals in London post.
This all said, it is still an expensive hotel, but if you have the money then you can get an amazing value here!
The Bloomsbury Hotel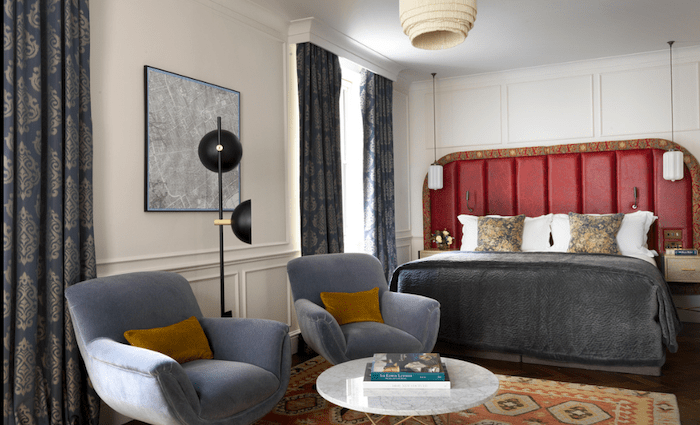 4 Star | €€€ | Theatre District/British Museum | Modern
The Bloomsbury is a wonderfully decorated hotel situated right near the famed British Museum of London. There is a lot of uniqueness to this property which is home to a great restaurant and bar. Lots of plant life and good vibes here!
The Best "Mid-Range Lux" Hotels In London
London, in general, is an expensive city, and the hotels often leave you wondering what you spent your money on. This category will include luxurious and nice accommodation that is almost affordable for super-successful people.
"Mid-Range Lux" Prices: While the prices of hotels change rapidly, expect these hotels to range from $200 to $300 per night for a standard room. That obviously will vary, so click the "Booking" link which will take you to Booking.com to see prices.
Treehouse Hotel London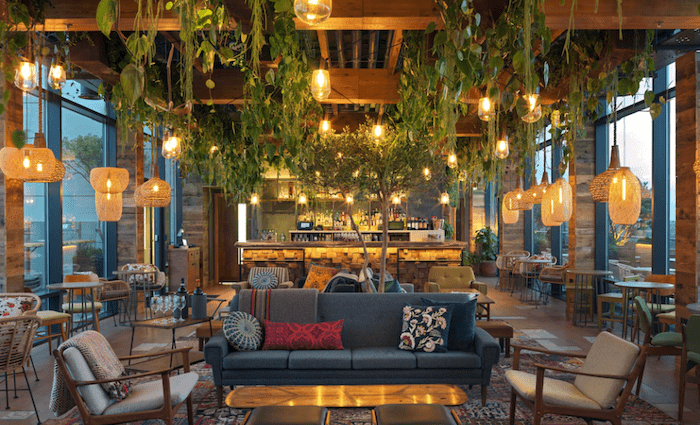 4 Star | €€€ | Industrial + Nature Vibes | Marylebone | Great Rooftop
The Treehouse Hotel is a very literal description for this Marylebone hotel. I doubt the art world would accept my new "design description" but I would describe it as "Industrial Nature Vibes" and why not? The place looks like a contemporary Brooklyn apartment building was overrun by a safari.
I have not stayed here yet, but I think it's going to be my next hotel of choice when I film in London. The place just looks and feels so cool that I have to check it out. I doubt they cater to children, but the atmosphere with all the greenery will put this on my Family Friendly Hotels List.
The Mandrake Hotel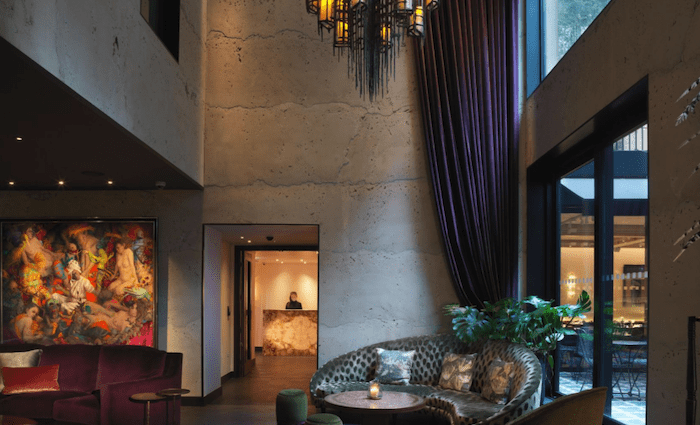 5 Star | €€€ | Central London | Contemporary
A contemporary, luxurious, and romantic hotel in central London makes this a top pick if I am traveling with my wife (check out top romantic hotels in London). The dark colors and ambiance combined with contemporary design really makes this hotel a treat.
Prices are also very reasonable which will land this on my hotel deals for 2021!
Sofitel St James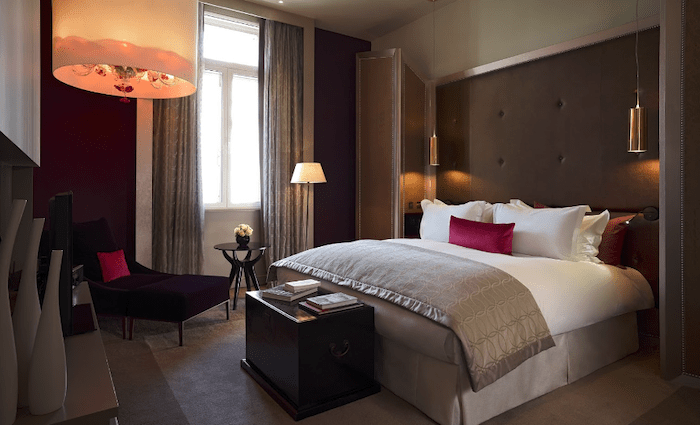 5 Star | €€€ | St James | Grand
The Sofitel is awesome if you are looking for a grand hotel with a lot of upscale common spaces. It is an excellent hotel chain so you are likely to have a great stay. The location is also ideal.
The Best "Low-Cost" Hotels In Barcelona
Barcelona makes this category so easy since there are so many amazing hotels at incredibly low prices in this city. Spain in general is a lot less expensive than other parts of Europe which makes Barcelona so attractive as a destination.
"Low-Cost" Prices: While the prices of hotels change rapidly, expect these hotels to range from $100 to $175 per night for standard rooms.
Pricing will obviously vary, so click the "Booking" link which will take you to Booking.com to see prices. Anything below $100/night is a crapshoot. If you want even cheaper, you can also go to Booking.com and look for the cheapest hotels in the center.
The Hoxton Holborn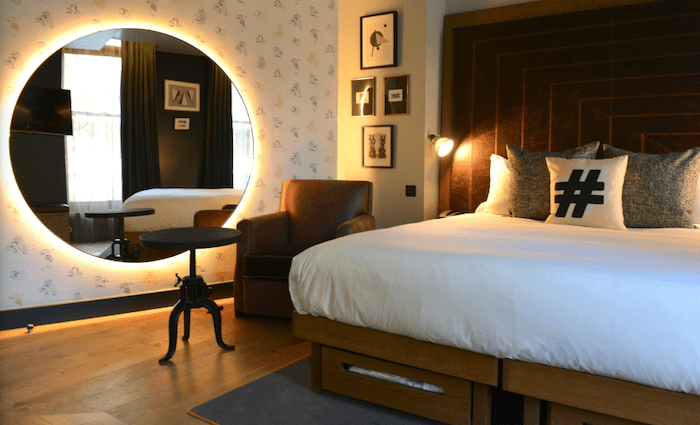 4 Star | €€ | British Museum | Modern
A visually appealing modern hotel in downtown London that will work with a budget without sacrificing style. This is a great option for romantic couples who want to stay inside a budget but have a great ambiance.
At the same time, this hotel is priced great for business trips or family vacations. All-in-all a great choice in central London! I recommend a typology upgrade to get some extra space.
The first link goes to the hotel described here, but I have linked to another London location that this same hotel group owns in Shoreditch.
Location, Photos, & Booking Holborn
Location, Photos, & Booking Shoreditch
St. James Court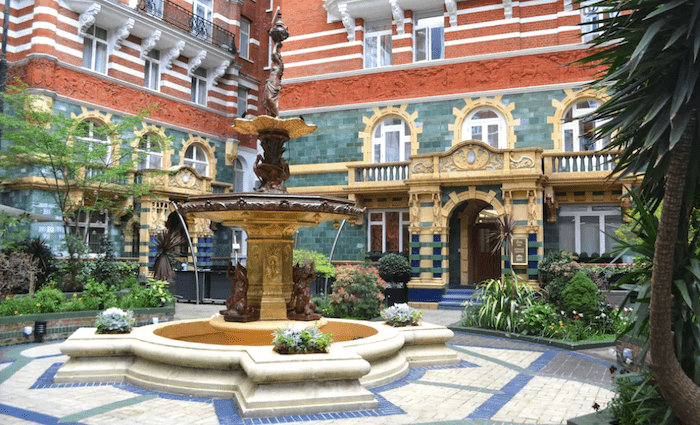 4 star | Buckingham Palace | Contemporary | Family Friendly | Indoor Pool
It is very hard to argue why anyone would stay anywhere other than the St. James Court Hotel. It is a beautiful hotel with clean, nice, and stylish rooms. The courtyard outside will put a smile on your face each easy and they have an indoor pool.
The Rembrandt Hotel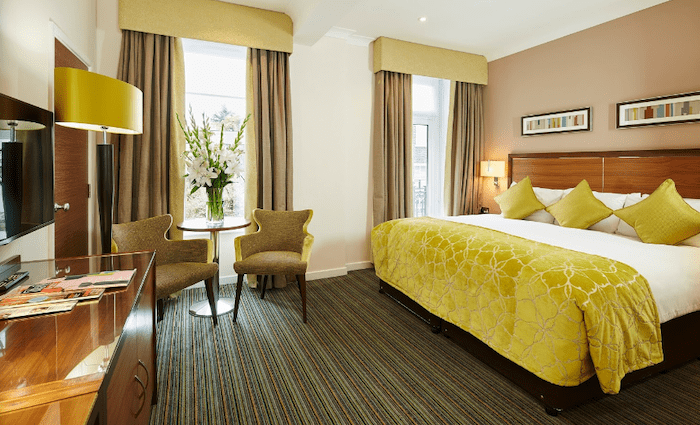 4 Star | €€ | Clean & Comfortable | Family Friendly | Indoor Pool
Great location, clean sheets, and inexpensive. The Rembrandt Hotel has a pretty "corporate hotel" feel but for the price, it is a great option. I would likely stay here on a business trip or stop-over with the kids. You can use the extra budget to get a larger room to spread out!
They also have an indoor pool which will land the Rembrandt hotel on my family-friendly hotels in London and hotels with indoor pools lists.