You've heard of the Tower of London as the fateful prison of famous people like Sir Walter Raleigh and Anne Boleyn, but did you know there are 18 acres and multiple buildings to explore here? Visiting the Tower of London takes time and can be underwhelming if you're unsure what you're looking at. A guided tour is the best way to experience this historic site, so these are some of the best tours of the Tower of London to take.
---
Pro Tip: Planning what to do on your trip to London? Bookmark this post in your browser so you can easily find it when you're in the city. Check out our guide to London for more planning resources, our top London tours for a memorable trip, and how to see London in a day.
Should You Take a Tour of the Tower of London?
Short answer: Yes, a guided tour is the best way to explore these extensive grounds that contain the mysteries of 1,000 years of history.
The Tower of London, also just called the Tower for short, has a long history dating back to the 11th century under William the Conqueror. From that time to now, the grounds and buildings have been a fortress, a prison, a palace, an arsenal, a museum, and even a bit of a zoo with a bizarre collection of animals. Above all, there are legends and folklore that abound here from ravens to Beefeaters (the fancy guards).
Did you know there are also ancient Roman walls here? Yep! You'll learn about those and so much more as you visit the Tower of London on your epic trip to England.. Since you know you need a guide to help you understand everything you explore here, check out some reviews of our awesome guides before choosing from one of the best tours of the Tower of London below.


Not ready to book a tour? Check out our Tower of London Guide for more resources.
Two of the Best Tower of London Tours
There are 18 acres of grounds here at the Tower of London, though you won't be able to explore them all. Among the many sites to see are Traitor's Gate, King James I bedroom, Bloody Tower, White Tower, Beefeater's Quarters, the crown jewels, and much more. Sound like a lot? Don't worry, there are ice cream carts inside to refuel yourself!
Most importantly, it means you'll want to plan your visit carefully since lines can be long to enter the Tower and the Jewel House. Your local guide will watch for the best time to jump in the line to see the crown jewels to maximize your time here. Find out which Tower of London tour is right for you!
2. Tower of London Storytelling Tour with Thames River Cruise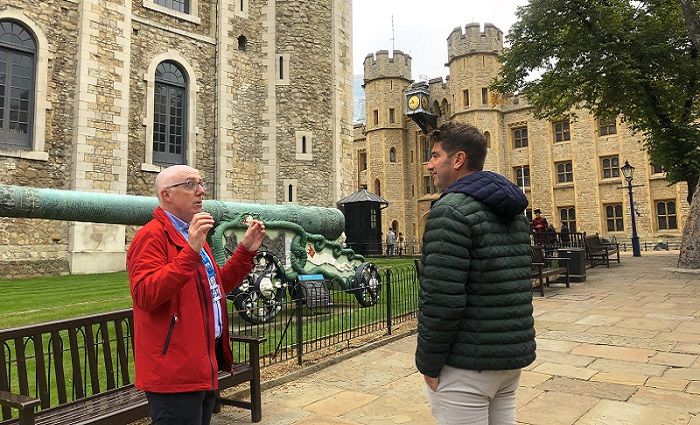 Thames River Cruise
After starting in the famous Trafalgar Square, you'll head to the River Thames for a river cruise on a large boat that gently glides through the river. It makes a few stops on the way, but you'll have plenty of time to see London's modern skyline with St. Paul's standing proud among the skyscrapers. And you get an up-close view of the London Eye, Shakespeare's Globe Theater, and so much more before disembarking at the Tower.
Tower of London
Now it's time to step back in time at the Tower where England's history is deeply entwined. Decisions that affected the path of the empire were made and executed here (literally). You'll walk the original walls where soldiers fought off invaders, the canal where prisoners were floated in, the bedroom of an ancient king, and much more.
In fact, did you know there's a supposedly haunted apartment here in the Beefeater's Quarters? Listen to your guide explain the crazy stories behind it. But what you might really be interested in is the Jewel House. This is where hundreds of years of British crown jewels (and many other extravagant items like massive punch bowls) are found.
Highlights:
3 hours
Group entry to Tower of London
Guided tour of the walls, grounds, and many buildings
Entry to the Jewel House for the crown jewels
Free time to explore the grounds or nearby Tower Bridge
Not ready to book a tour? Check out our Tower of London Guide for more resources.
1. London in a Day Tour with Westminster Abbey and Tower of London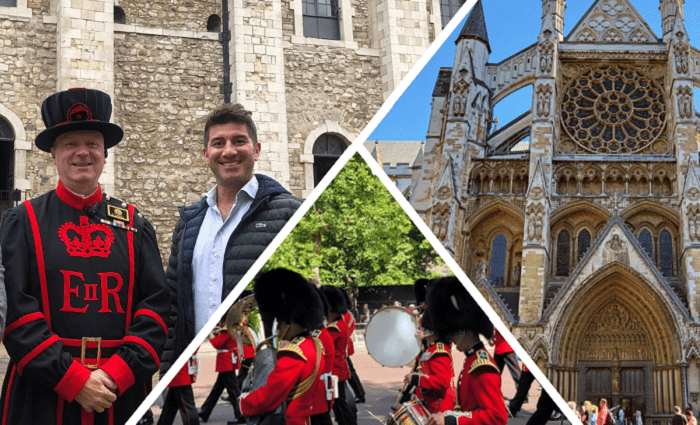 London is a great city to explore, but many of the sites are spread across long distances. That's why we created this epic London in a Day tour. You'll be amazed at just how much you're able to see as you follow the steps of your licensed, local guide. We hire the best guides in London to make sure you have an incredible experience when you book one of the best Westminster Abbey tours that includes other top attractions in London.
Westminster Abbey
Your day starts at Westminster Abbey with skip-the-line tickets and a guided tour of this ancient church. It's the site of famous churches, funerals, and every British coronation ceremony since 1066 AD! There's a lot to discover so you'll appreciate having a guide who knows exactly where to spend your valuable time here.
Changing of the Guard at Buckingham Palace
Next you'll head over to the Mall to watch the Changing of the Guard ceremony (certain days) or the Horse Guard. You'll get more than a moment's view of this famous event, since your guide will lead you through the entire process at Buckingham Palace.
You'll likely have time to see Downing Street, the famous home of Britain's Prime Ministers before heading to Trafalgar square to choose where to eat lunch. (And get off your feet for a bit!)
River Thames Boat Ride
Next, a ride down the River Thames is the perfect way to see London from a new angle. Pass by several cool landmarks as you float the same route that ancient merchants used for thousands of years. You'll travel to your next stop: the Tower of London.
Tower of London
Here your guide will unveil the deep history of Britain's oldest fortress that has Roman origins! Get to know the history of Thomas Moore, Anne Boleyn, Henry the VIII, Walter Raleigh and more. Plus, step into the museum where the ostentatious crown jewels are kept. This tour makes all of this easy to do and incredibly rewarding too.
Highlights:
7 hours
See the best of London's top attractions in a single day
Skip-the-line entry at Westminster Abbey
Changing of the Guard ceremony (certain days)
Pictures of Buckingham Palace
Free time for lunch
Transportation to Tower of London included
Quick entry to Tower of London
Entry to see Crown Jewels
Free time to walk across Tower Bridge at the end of your tour
Not ready to book a tour? Find out if London tours are worth it.