Stonehenge is one of the UK's most popular archaeological attractions. With so much of its amazing history to take in, it can get a little overwhelming, especially with all the planning travel entails. However, if you are seeking to visit, we'll make things a lot easier for you by providing information on how to get tickets, travel to the site, and also a brief history.
---
Pro Tip: You might want to bookmark this article in your browser so you can circle back to it when you are ready to finalize your plans for Stonehenge. It is full of information that will make planning easier!
Stonehenge Overview:
What We'll Cover
Stonehenge Opening Hours And Admissions
Opening Hours
Stonehenge is open seven days a week, 9.30 am to 5.00 pm (9.30 am to 7.00 pm in June, July, August). You can gain entry every day throughout the year apart from Christmas Day.
Admission Price
Furthermore, there are different pricing for peak, off-peak and standard tickets. As you'd expect, peak time is the most popular time, so the most expensive. Therefore, off-peak (Monday to Friday) has the cheapest tickets because of the lower demand during the working week.
Off-peak: Adults £21.50, Concessions £19.40, Children £12.90 Family Admission £55.90. 
Typically, the weekends are standard-priced: Adults £23, Concessions £21, Children £14 and Family Admission £60.60. 
And finally, advance booking is not a necessity. However, you are more likely to get a cheaper price and guaranteed entry if you do so. Note: the prices given above are the cheaper online prices. The last time to buy tickets at the Stonehenge site is 4:30 pm during the summer season (June, July, and August) and 2:30 pm in autumn, winter, spring. 
Pro Tip: Stonehenge can get very busy between 11 am and 2 pm and on bank holidays. So those who want some peaceful time for reflection at the historic monuments should visit at other times. 
How Much Time To Budget For Stonehenge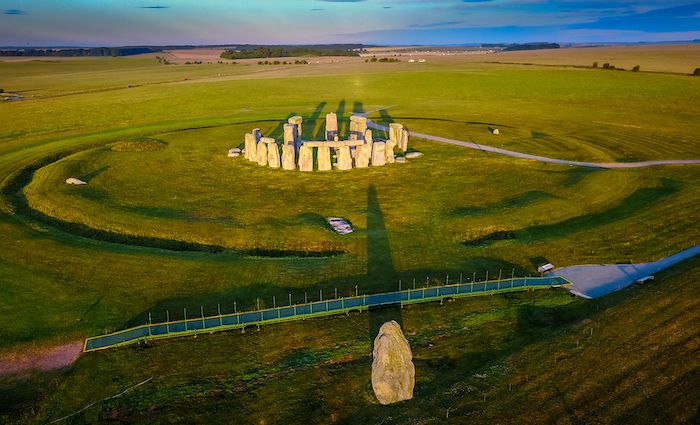 Short Answer: about 5.5 hours
Stonehenge is 90 miles away from London and it takes 1.5 – 3 hours to travel from London to Stonehenge, depending on your method of transport. You will also need 2.5 hours for your time spent on the archaeological site.
Bus/Coach
A bus/coach can take up to 3 hours to get to Stonehenge and they leave from Victoria Coach Station (London) any time after 6 am. Alternatively, we offer an attractive tour option with transportation included along with stops at Windsor Castle and the city of Bath.
There'll be no visitor queues for you during this day trip, and you'll have an expert guide at hand. You get to learn about the historic castle residence of the British royals and also the Roman baths that gave Bath its name.
Train
There is no direct bus or train to Stonehenge, so our tour option will cut out a lot of the travel hassle that you'd experience with trains or rented cars. If you still wish to travel by train, Stonehenge is on Salisbury Plain in the county of Wiltshire, so you can take a direct train from London Waterloo to Salisbury station.
Regarding train frequency, expect two to three an hour and the journey takes 1 hour 30 minutes. However, Salisbury station is 9 miles away from Stonehenge so you must factor in an additional cab or bus to the site.
Rented Car
Those who want to travel by rented car must consider London's heavy traffic and its congestion charges which may make that option less attractive. Also, in England cars are right-hand drive and move on the opposite side of the road to many countries, so that may also be a little confusing. 
We'd only advise renting a car if you are going to explore the English countryside for several days, then it will be quite handy and cost effective. The journey to Stonehenge can be as fast as 1 hour 40 minutes or as long as 2 hours 30 minutes depending on traffic.
Travelling From the Visitors Center
On arriving at the Visitors Center on your own, your booking details will be checked at the admissions point. You can then view the center's interactive exhibits and artifacts and then visit Stonehenge or vice versa. You then need to catch a shuttle bus to the site. They are quite regular and the journey takes 5-10 minutes. 
Alternatively, you can walk from the Visitor Centre and explore the National Trust's ancient landscapes. Along the way, you will see other amazing prehistoric monuments including Bronze Age burial mounds. Also, there are information panels with further details about the monuments and sites that lie ahead.
Moreover, you can obtain a Stonehenge walkers' map from the Visitors Centre with info on the walking routes and key points along the way. The walking distance from the Visitor Centre is 2 kilometers (1.3 miles) and will take you 20-40 minutes.
Pro Tip: You are advised to travel lightly, without much luggage. This is because once you get to the Stonehenge site there isn't a cloakroom or anywhere to keep luggage.  And remember, you can stay as long as you like at the site but have to return to the Visitors Centre by the 5:00 pm closing time.
What To See at Stonehenge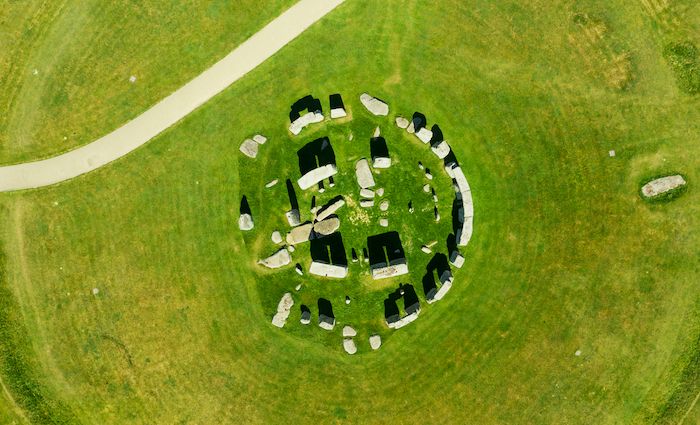 You could easily describe Stonehenge as a "bunch of rocks in a field" because that is what they are, but the experience is actually surreal. This is especially the case when you know what to see and the story behind them. Here are some of the things you should look out for while visiting:
Stonehenge Stone Circle
Stonehenge Exhibition (Visitor Centre)
The Landscape Walking Trail
Bronze Age Burial Mounds
Woodhenge
The Cuckoo Stone
Durrington Walls (Henge Monument)
The Cursus
Stonehenge Tour Options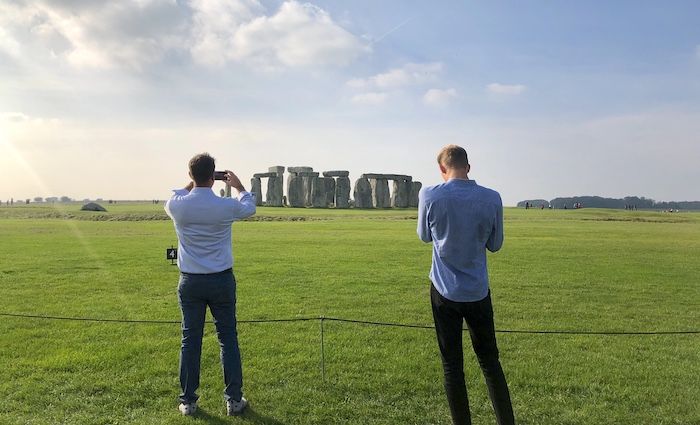 If you are planning a trip to Stonehenge, our guided tours are an attractive option. You can learn more about these prehistoric monuments and their World Heritage Site status from our reliable and knowledgeable guide. It will prove to be a valuable addition to your Stonehenge experience.
Windsor Castle, Stonehenge and Bath Day Trip from London: This option is a full day trip to the English countryside. You'll see Stonehenge up close, receive a guided tour of Windsor Castle, and enjoy free time in the city of Bath.
Pre-Opening Stonehenge Tour from London: Leave from London before sunrise and enjoy early-access to Stonehenge before the general public. Then visit the nearby town of Salisbury where you'll find an original Magna Carta on display.
After Hours Entrance to Stonehenge Tour from London: Get familiar with ancient history with stops at the mound in Silbury Hill, West Kennet Long Barrow, and Avebury. Finish off with a stop at Stonehenge after the general public has left for the day.
Stonehenge Facts & History
It was first built over 5,000 years ago during the late Neolithic Age. The structure that we see today is the result of additional henge structures erected over thousands of years – with the last stone added in 1,500 BC (early Bronze Age).
The stone circle in the middle of the henge landscape was built in 2500 BC.
Stonehenge has an unusually high number of prehistoric monuments.
The stone circle is made of very large sarsen stones (weighing 25 tonnes) and smaller bluestones (2 to 5 tonnes). Because of the size of these stones, it is regarded as an unbelievable feat of engineering that prehistoric Britons were able to erect a structure such as this.
Archaelogists believe the saracen stones were transported on wooden sledges from a rocky area 32km away. However, the nearest bluestones are in Wales, a country in the UK 225km away from Stonehenge.
There are many theories about its function. English Heritage claim the structure marks the movements of the sun, perhaps for farmers to map the cycle of the seasons. But many leading British archaeologists say it was a place of healing – an early ceremonial stone hospital. Furthermore, it's been proven that during the Bronze Age it was used for funeral ceremonies.
In 1986, Stonehenge was made a UNESCO World Heritage Site.

Places To Eat Nearby
Stonehenge is set in a secluded rural heritage site on Salisbury Plain so there are few restaurants and cafes in the immediate area. However, you will inevitably need to eat so we will provide details about the nearest options. Also, why not have a read of 10 places to eat in Stonehenge for other options.
Stonehenge Visitor Centre Cafe
As you'd expect, this is the closest eatery to the stone circle site. Their food is locally produced and includes many light snack options such as soups, hotspots, sandwiches, sausage rolls, and salads. Vegetarians are also catered for.
Address: Stonehenge Visitor Centre, Salisbury SP4 7DE | Hours: Mon-Sun, 9.30 am – 5.00 pm | €€
Stonehenge Inn
The Stonehenge Inn is a good choice because it offers greater food variety and a better atmosphere than the other restaurants and cafes closer to the site. Also, you get to see their delightful mini replica of Stonehenge. They have a pub food menu for both adults and children. Some dishes have henge-themed names like The Dunken Druid, Messy Mesolithic, and Messy Druids Burger.
Address: 2 Stonehenge Rd, Durrington, Salisbury SP4 8BN | Hours: Mon – Fri, 12 noon – 9.30 pm, Sun, 12 noon – 9.00 pm | €€
Jubilee Cafe
Chinese food is served here so expect dishes such as fried rice, chop suey, chow mein, duck, and roast pork. Also burgers, pies, and vegetarian options.
Address: The Parkway, Larkhill, Salisbury, SP4 8PY | Tel: +30 01980 652831 | Hours: 4.30 pm – 10.30 pm, Daily | €€