Don't just stand outside and look for the full-mast flag that means the monarch is home—go in! Buckingham Palace is the British Royal Family's official residence and even you can visit. That said, it can be tricky and you'll need to plan ahead. To help you out, I've put together this guide with info on tickets, tours, what to see, and the palace's history. Here's how to visit Buckingham Palace.
---
Pro Tip: Planning what to do on your trip to London? Bookmark this post in your browser so you can easily find it when you're in the city. Check out our guide to London for more planning resources, our best Buckingham Palace tours for a memorable trip, and the top things to do in London.
Visiting Buckingham Palace:
What We'll Cover
Witnessing the Changing of the Guard at Buckingham Palace is one of the most iconic things you can do in London—after visiting the palace itself, of course.
As the official London residence of the British monarch since 1837, it is replete with all the opulence you would expect of kings and queens. If it's on your bucket list, you'll find out what you need to know about how to visit Buckingham Palace in this guide. Here's what we'll cover:
Buckingham Palace Opening Hours and Tickets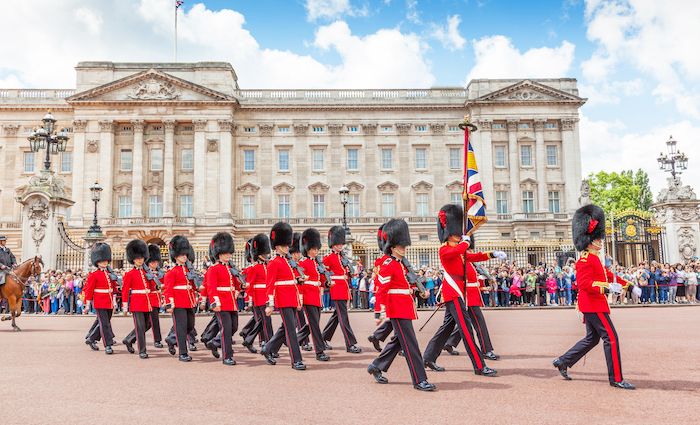 Opening Hours:
Visitors have access to the Buckingham Palace State Rooms and the Palace Garden for several weeks throughout the year. But for obvious security reasons, these can only be palace guided tours. Available dates vary based on the tours that the palace offers, but here's what's happening in 2023.
Palace-guided tours: Fridays, Saturdays, and Sundays from November to May. Tours usually start at 4:00 pm on Fridays, and 11:00 am through 2:30 pm on Saturdays and Sundays.
Summer tickets: July 14 – September 24, with State Rooms closed on Tuesdays and Wednesdays. Tickets have a timed entry so you'll want to book ahead, but the palace is open from 9:30 am to the last admission at 5:15 in July and August, and 4:15 in September.
The Changing of the Guard ceremony takes place outside the palace building but within its gates. The public can view this ceremony without a ticket around 10:40 to 11:00 am every day. This time is not exact and is also dependent on weather. The ceremony only happens everyday in June/July and on Mondays, Wednesdays, Fridays, and Sundays for the rest of the year.
Tickets and Tours:
Tickets must be booked online or booked here for a guided tour that includes the area around Buckingham Palace.
Palace-guided tours in the winter and spring:
Adults: £90
Family guided tour: ages 5-17 is £49.50, under 5 is free
Summer Buckingham Palace tickets if purchased in advance:
Adults: £30
Young adults (18-24): £19.50
Child (5-17): £16.50
Disabled: £16.50
Under 5: Free
Families: automatic discount for 1 adult and 2 children or up to 2 adults and 4 children
Pro Tip: Your tickets can be validated for up to a year if you ask a Warden to stamp it before leaving!
Address: Buckingham Palace
Not ready to book a tour? Check out our article on the best London tours to take and why.
How Long To Spend at Buckingham Palace
Short Answer: 2.5 hours for the State Rooms or 4.5 hours for the Royal Day Out
There are 19 State Rooms (the palace has a total of 775 rooms) so a meaningful visit will take a few hours. You'll have access to several of the most ornately decorated rooms with treasures from the Royal Collection, paintings by old master artists, expensive sculptures, and elegant English and French furniture.
Also, you get to see the opulent and historic Throne Room. You might agree as I do that the White Drawing Room is even grander than the Throne Room. Find out for yourself!
What To See In Buckingham Palace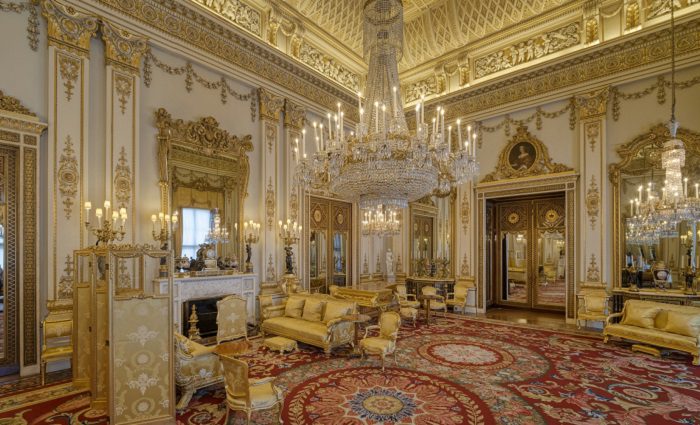 On your visit to the royal residence, make sure you see these incredible rooms and sights. There's a lot of history and opulence to take in as you see Buckingham Palace. For a more detailed list with history, check out our article on the top things to see at the palace.
The Changing Of The Guard
The Throne Room
The Queen's Gallery
The White Drawing Room
The Palace Garden
Treasures Of The Palace
The Ballroom
The Gold State Coach
The Diamond Jubilee State Coach
The Grand Staircase
Buckingham Palace Tour Options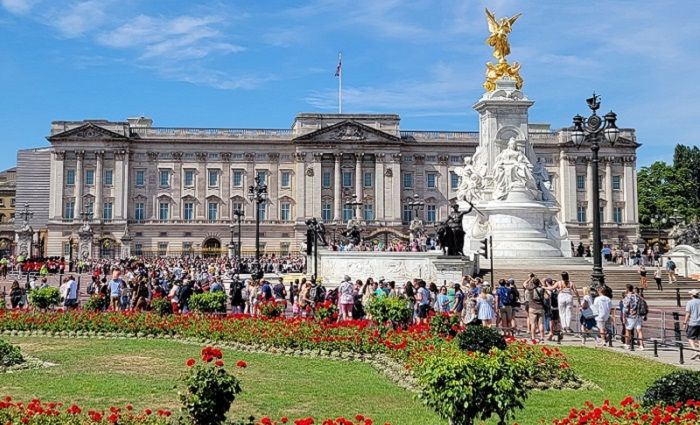 Guided tours to see Buckingham Palace, the Changing of the Guard, and other important areas around this royal area are the best way to get to know this historic site. We offer several top-rated tours that you can choose to make your vacation in London the best ever.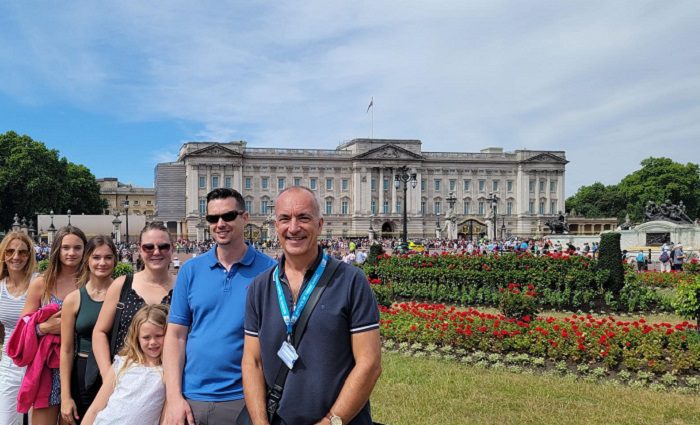 Anyone can take an audio-guided tour, but if you book this tour, you get the special attention of a tour guide who knows incredible stories you won't hear on that audio guide. Plus, you'll first explore the serene St. James Park where you'll hear about it's transformation from a swampland to a deer park and a quiet oasis.
You'll feel like you know the royals even better after exploring the Mall where official processionals and the Changing of the Guard have happened for centuries. Rest assured that your guide will get you to the right door at Buckingham Palace after entertaining you with stories of what you'll see inside.
See tour itinerary, price, and description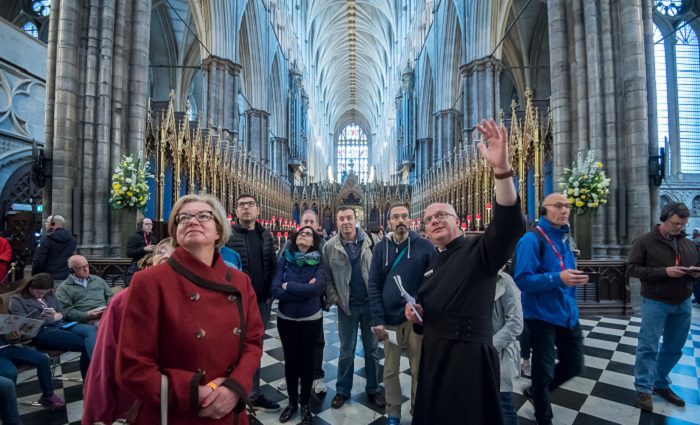 Clients love our skip-the-line access to the famous Westminster Abbey where they can enjoy a few minutes of quiet time with their guide in the nave of the abbey before the public enters.
There's more to see at Westminster than you think, so having a knowledgeable guide to lead you through the Quire, Poet's Corner, and more, is extremely helpful. And if the Changing of the Guard happens on the day of your tour, they'll be sure to help you see it from several vantage points.
See tour itinerary, price, and description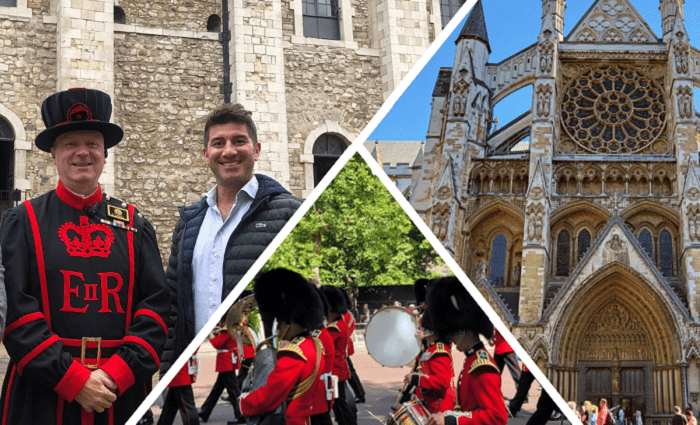 Our top-selling London tour is a must-do when you're traveling to the heart of the United Kingdom. Your local guides are highly qualified and can share an unreal amount of cool facts and stories about London's iconic sites and history. Starting at Westminster Abbey, you'll be amazed at just how much of London you can see on foot and on a Thames river cruise.
Your skip-the-line tickets help you maximize your time, and your guides know where the best spots to see the Changing of the Guard are found. Your final stop at the Tower of London brings London's more grisly history to life. It's the perfect place to end your busy day tour of London!
See tour itinerary, price, and description
Not ready to book a tour? Find out if sightseeing tours in London are worth it.
Facts and History of Buckingham Palace
The palace has a total of 775 rooms, 19 of which are state rooms open to the public.
There have been many properties on the site. From 1698, however, it was known as Buckingham House and was the home of the Duke of Buckingham, where it gets its name.
In 1761, it became known as the Queen's House after George III bought it for his wife Queen Charlotte.
It became a palace for the first time in the 1820s when George IV had it lavishly restructured fit for a king.
The royal family made it their official residence in 1837, and Queen Victoria was the first royal to officially live there as head of state.
The palace entertains 50,000 invited guests a year. Also, it averages 578,000 paid visitors a year.
The Changing of the Guard ceremony happens daily at 10.45 am. King Henry VII made them the official Royal Body Guard 500 years ago.
During World War II, the palace was repeatedly targeted but survived nine bombing raids. The Royal Family refused to move out despite concerns for their safety.
The palace is heavily protected but in 1982 an intruder called Michael Fagan broke into the Queen's bedroom while she was sleeping. When she awoke, they had a brief chat before she fled the room and raised the alarm.
Places To Eat Nearby
The good news is your dining options are plentiful, but you'll need to choose wisely. You can dine like royalty on Buckingham Palace Road, very close to the palace. Or, on the same stretch of road, there are sandwich bars with a more laid-back atmosphere and casual dining.
Take your pick of traditional British fare or more exotic cuisines. Here are a few suggestions, but if you'd like more options, also check out our guide to the best restaurants near Buckingham Palace.
The Laughing Halibut: £ | Takeaway—Grab some old-school fish and chips to take away or take a seat inside. It's a great place for a quick lunch with good reviews.
Bon Gusto: ££ | Italian Cuisine—Fancy a change from British grub? Try this Italian restaurant with a selection of meat, seafood, and pasta dishes. There are also soups and Mediterranean salads.
The English Grill: ££££ | Traditional British Fare—This restaurant promises you'll dine like royalty. Indeed, it is ornately decorated with regal furniture and furnishings. You can enjoy traditional afternoon tea in a garden overlooking the Royal Mews. Also, the range of steak, salad, and dessert dishes (to name a few) are product-sourced from the same Royal suppliers as Buckingham Palace.