You've seen Westminster Abbey on TV for famous weddings, funerals, and other ceremonies, but have you ever visited? The long lines can make for a slow and crowded visit, so booking a guided tour with skip-the-line access is a good idea. Here are some of the best Westminster Abbey tours you can take in London.
---
Pro Tip: Planning what to do on your trip to London? Bookmark this post in your browser so you can easily find it when you're in the city. Check out our guide to London for more planning resources, our top London tours for a memorable trip, and how to see London in a day.
Should You Take a Tour of Westminster Abbey?
Short answer: Definitely, since there's literally 1,000 years of history to discover here!
The history of Westminster Abbey starts around 785 A.D. with a small monastery that became a church in 1065. Multiple remodels and renovations later, we have this magnificent abbey that has held Britain's coronations since William the Conqueror.
It's also famously been the site of Kate Middleton and Prince William's wedding, the oldest son of Britain's beloved Princess Diana. And it was here at Westminster where Diana's funeral captured the attention of nearly 2.5 billion people around the world. And that's just recent history! It doesn't include other notables like Stephen Hawking, Sir Isaac Newton, George Frederich Handel, and many more who are buried here.
Long story short, there's a lot to see, explore, and learn about at Westminster Abbey. Booking with a guide who is passionate and ultra-knowledgeable about London's famous church will make your trip much more meaningful.
It elevates the experience from a photo session to a learning experience of cool stories and facts. Not to mention the benefit of skip-the-line tickets! Here are some of our recent reviews about Westminster Abbey tours.


Not ready to book a tour? See our Westminster Abbey Guide for more info.
Two of the Best Westminster Tours in London
The most complicated thing about visiting Westminster is navigating the lines and crowds. Although, we'd also argue that there is just so much to see here that the history is also fairly complicated to discover on your own.
That's why we always recommend seeing famous monuments with licensed guides. Their expertise and passion for the history of places like Westminster elevates your visit. With stories, anecdotes, and fun facts, they'll be sure to make your trip entertaining, enlightening, and rewarding.
We offer two tours of Westminster Abbey that you can choose from. One is dedicated to a tour of the church, while the other includes the church in a full day of touring London. So check them out below and see which Westminster tour is right for you!
2. London Walking Tour with Westminster Abbey and Changing of the Guard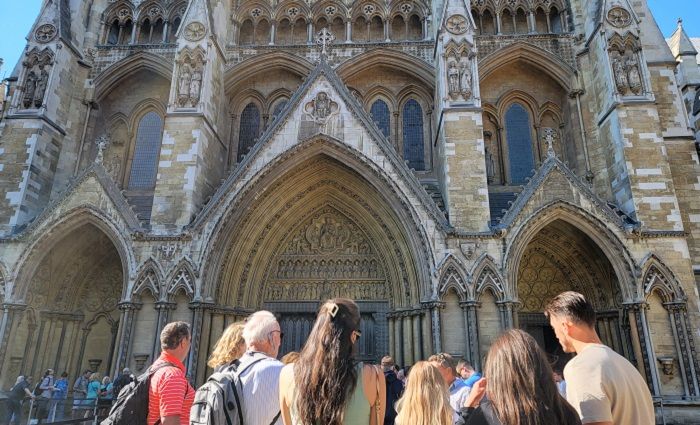 Westminster Abbey
Clients love our skip-the-line access to the famous Westminster Abbey where they can enjoy a few minutes of quiet time with their guide in the nave of the abbey before the public enters. This is the oldest part of the entire church, and your guide will share its unique history as you stand in near-quiet solitude here.
With over 3,000 people buried here over the centuries, it's hard to decide exactly what to see and who you're looking at. This is where your guide will come in handy as they take you to the Poet's Corner and other notable tombs that are the highlights you can't miss. And of course, you'll see the famous coronation chair at the High Altar across from the Lady Chapel.
Changing of the Guard at Buckingham Palace
Finally, you'll also get a chance to see the famous Changing of the Guard ceremony. This happens every day in June and July, but only on Mondays, Wednesdays, Fridays, and Sundays the rest of the year. Your guide knows just how to help you see the most of this auspicious event.
Highlights:
3 hours
Skip-the-line entry to Westminster Abbey
Guided visit of Britain's most famous church
Changing of the Guard ceremony (certain days)
Pictures of Buckingham Palace
Not ready to book a tour? See our Westminster Abbey Guide for more info.
1. London in a Day Tour with Westminster Abbey and Tower of London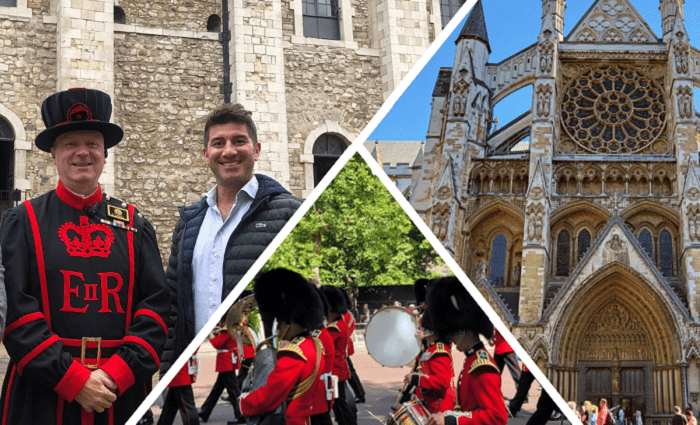 London is a great city to explore, but many of the sites are spread across long distances. That's why we created this epic London in a Day tour. You'll be amazed at just how much you're able to see as you follow the steps of your licensed, local guide. We hire the best guides in London to make sure you have an incredible experience when you book one of the best Westminster Abbey tours that includes other top attractions in London.
Westminster Abbey
Your day starts at Westminster Abbey with skip-the-line tickets and a guided tour of this ancient church. It's the site of famous churches, funerals, and every British coronation ceremony since 1066 AD! There's a lot to discover so you'll appreciate having a guide who knows exactly where to spend your valuable time here.
Changing of the Guard at Buckingham Palace
Next you'll head over to the Mall to watch the Changing of the Guard ceremony (certain days) or the Horse Guard. You'll get more than a moment's view of this famous event, since your guide will lead you through the entire process at Buckingham Palace.
You'll likely have time to see Downing Street, the famous home of Britain's Prime Ministers before heading to Trafalgar square to choose where to eat lunch. (And get off your feet for a bit!)
River Thames Boat Ride
Next, a ride down the River Thames is the perfect way to see London from a new angle. You'll travel to your next stop: the Tower of London.
Tower of London
Here your guide will unveil the deep history of Britain's oldest fortress that has Roman origins! Get to know the history of Thomas Moore, Anne Boleyn, Henry the VIII, Walter Raleigh and more. Plus, step into the museum where the ostentatious crown jewels are kept. This tour makes all of this easy to do and incredibly rewarding too.
Highlights:
7 hours
See the best of London's top attractions in a single day
Skip-the-line entry at Westminster Abbey
Changing of the Guard ceremony (certain days)
Pictures of Buckingham Palace
Free time for lunch
Transportation to Tower of London included
Quick entry to Tower of London
Entry to see Crown Jewels
Free time to walk across Tower Bridge at the end of your tour
Not ready to book a tour? Find out if London tours are worth it.