London is a fascinating and historic city, but you might not immediately recognise it as the home of quality cuisine compared to other more celebrated international food hubs. However, you'll be pleasantly surprised by the delicious dishes available in our capital: both traditional favourites loved by the nation and must-try specialties that even some Londoners have yet to taste. For your consideration, here's my list of the top foods to try in London.
---
Pro Tip: Planning what to do on your trip to London? Bookmark this post in your browser so you can easily find it when you're in the city. Check out our guide to London for more planning resources, our top London tours for a memorable trip, and how to see London in a day.
The Best Foods and Drinks To Try in London
I am a London expert, born in London and lived here all my life, so I can guide you through the foods I believe you will love. English cuisine is very different from other European foods such as Mediterranean or Nordic, but no less delicious. Hopefully, this list will give you a meaningful introduction to our national favourite dishes and highlight London's best bites.
14. Jellied Eels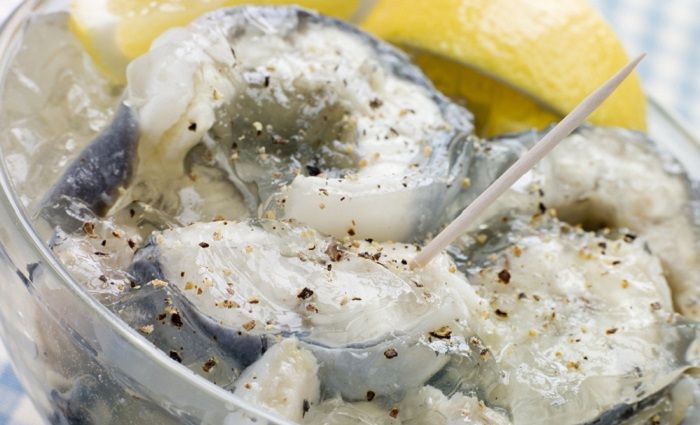 This dish first appeared in London's East End in the 18th century. The poorer working-class communities relied on it as a nutritious and affordable meal. Also, they could catch the eels themselves as they were freely available in London's most famous river, the Thames.
Eel is now something of a cockney (East End) delicacy, particularly because few jellied eel shops remain today. It's chopped and served in a spiced fish stock which forms the jelly. While vinegar is the traditional and preferred condiment, chili vinegar has emerged as a favourite over the years.
Where to get it: F Cooke Hoxton in Hoxton, East London
13. Fish and Chips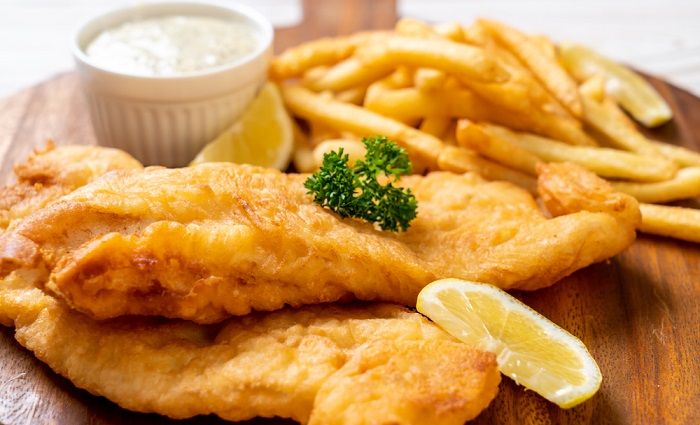 The traditional chip shop (or "chippie") may be fading out, but fast-food shops and even fine-dining restaurants continue to serve this national favourite. Its name gives it away: the fish is typically cod fried in a heavy golden batter, then served with fried potato chips. But other white fish such as haddock and pollock are also commonly used.
You'll find classic British fish and chips in attraction centres like Leicester Square and Tower Hill. Local chip shops away from these centres serve larger fish for a cheaper price and pride themselves on the generous size.
Where to get it: Great British Fish & Chips in Tower Hill
12. Roast Beef Wellington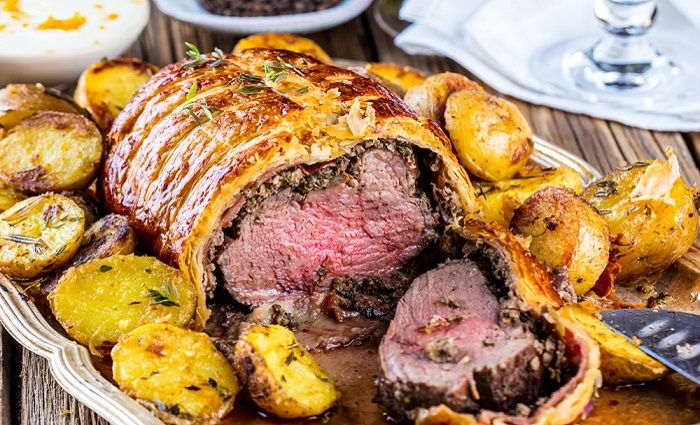 Stories vary, but it's widely believed that this dish gets its name from the British military commander and prime minister Arthur Wellesley, the Duke of Wellington. His namesake meal is an entire fillet steak covered in pâté with mushrooms or duxelles – a combination of mushrooms, onions, and shallots. The mixture is baked into a shortcrust pastry that complements the tender cut of the meat.
Celebrity chef Gordon Ramsay revived its popularity by promoting its culinary qualities and featuring it on his menus. Moreover, many customers say it is his greatest dish!
Where to get it: Gordon Ramsay Bar And Grill in Mayfair
11. Toad in the Hole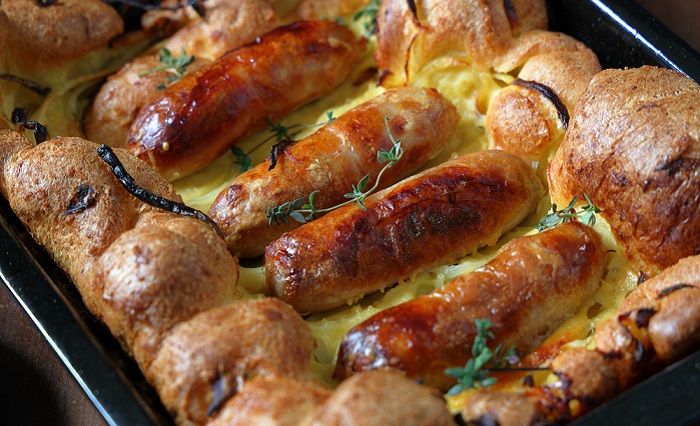 This batter pudding dish has a very strange name but contains no amphibians—frogs, toads, or otherwise. It originated in the UK in the 18th century but no one is quite sure how it got its name. What we do know is that it's a delicious and filling mix of sausages in a Yorkshire pudding batter (Yorkshire pudding is another classic British dish).
Like many historic English dishes, toad in the hole was a useful way of making food last longer in poorer working-class communities. Today, it's a much-loved treat with well-preserved serving rituals, such as the soaking of the crispy batter with onion gravy. It's more widely eaten in the north of England, where its Yorkshire pudding base originated. In the south, the batter is usually softer and more buttery.
Where to get it: Bistro Union in Lambeth
10. Bubble and Squeak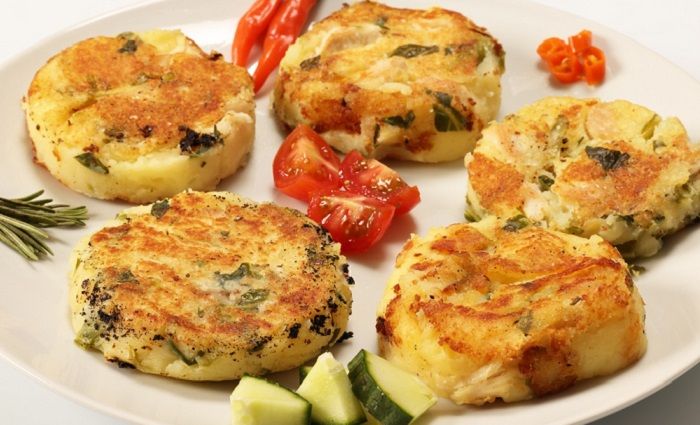 Some London historians claim that bubble and squeak gets it odd name from the noises you hear while frying the ingredients. It is essentially a vegetable cake made from a mixture of mashed potatoes, cabbages, Brussels sprouts, and kale, all cooked in a frying pan. Londoners use vegetable leftovers to make this dish.
The combination of healthy vegetables and waste reduction makes it quite appealing to the environmentally conscious, but really all diners owe it to themselves to try this classic British vegetable cake. Because of its smaller size and easy-on-the-stomach ingredients, it's often found on breakfast and lunch menus.
Where to get it: Bubble And Squeak Cafe in Dartford
9. Bread and Butter Pudding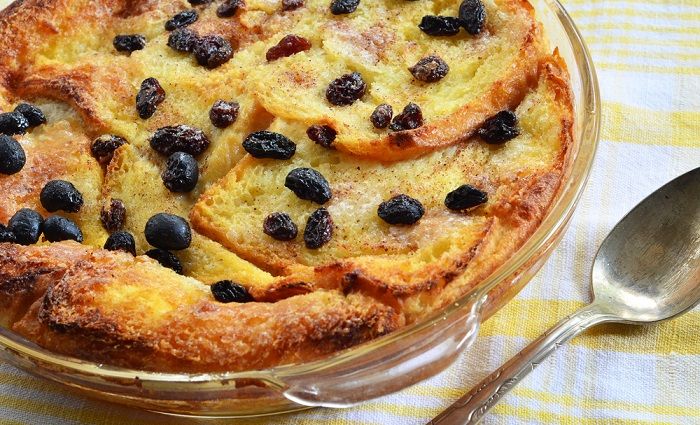 Britain has a long tradition of unusual names for their favourite dishes, so you'll be delighted to find that this baked dessert is actually made of buttery bread. Slices of buttered bread are covered in raisins and egg custard, then seasoned with vanilla, nutmeg, or cinnamon, and baked in an oven.
This dessert has an exquisite custard centre, sharing similarities with French toast. Interestingly, you can use stale bread, bread crusts, and expired, hardened bread rolls as the bread base.
Where to get it: Sweet Boulangerie & Patisserie in Clerkenwell
8. Shepherd's Pie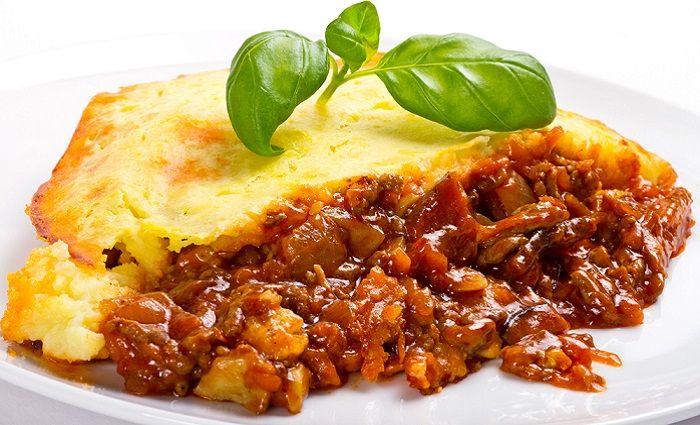 We Londoners love shepherd's pie: delicious layers of minced lamb or mutton, mashed potatoes, vegetable filling, and cheese topping. Many notable English dishes from the 17th and 18th centuries were the result of families trying to make the most of their leftovers, and this dish is no exception. Its creamy, cheesy topping and mince and veg filling established it as a firm favourite rather than a budget meal.
Book and film fans fuss over its feature in Harry Potter. There are several mentions, but the most quoted one is in Chapter 7, as Harry's school detention with Gilderoy Lockhart approaches. And don't get it mixed up with a similar English dish, cottage pie, which uses beef filling instead of lamb or mutton.
Where to get it: The Windmill in Mayfair
7. Eton Mess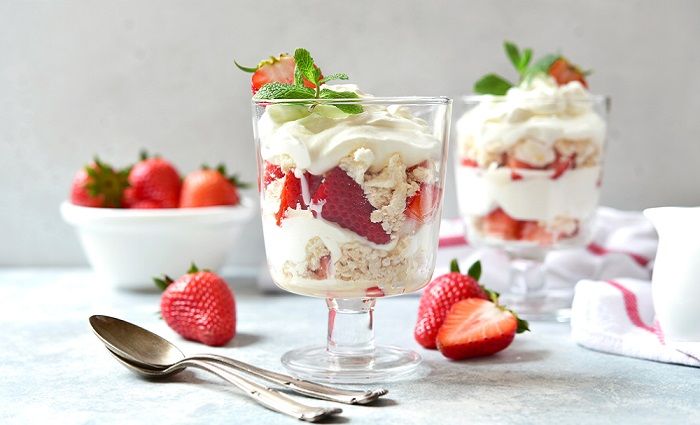 This posh treat is said to have originated at Eton College, where it was available at the school's tuck shops (snack shops). To this day, it is served at the annual cricket match between Eton and Harrow, the UK's top schools. However, its high-class origins don't necessarily translate to its look. It's a "mess" in name and nature.
But it's a rather delicious mess of strawberries, raspberries, cherries, whipped cream, and meringue. Contemporary versions are more aesthetically pleasing. While it's more difficult to find this dessert compared to others, it's worth the effort to discover what the delicious fuss is all about and to compare the sculptured and more messy versions.
Where to get it: Aviary in Moorgate
6. Banoffee Pie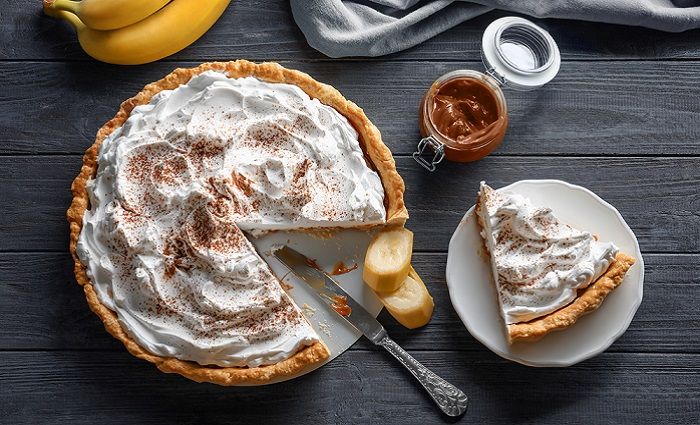 An English dessert with condensed milk as an essential ingredient is certainly intriguing. Equally intriguing is its crushed digestive biscuit base (or a pastry base alternative). Banoffee pie is a mouthwatering combination of cream, bananas, caramel sauce and, of course, condensed milk.
Restaurateur Nigel Mackenzie is credited with inventing this dessert in 1971. And Banoffee pie is so quintessentially English that it had a memorably feature in the "quintessentially English" romantic comedy Love Actually.
Where to get it: Savoir Faire in Bloomsbury
5. Scotch Egg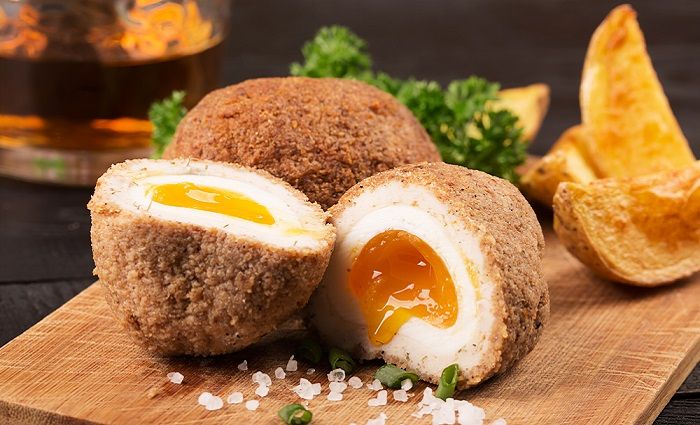 The name of this snack suggests Scottish roots, but it is commonly associated with Yorkshire, England. Still, the exact origins of Scotch egg – a boiled egg cooked in a breadcrumb layer of sausage meat – are much debated.
Innovative food traders around Shoreditch and Borough Market have produced their own artisanal versions that are a moister, better-seasoned version of the original. However, the originals are easier to find due to their popularity, and most London supermarkets sell them.
Where to get it: Scotchtails in Borough Market
4. Sticky Toffee Pudding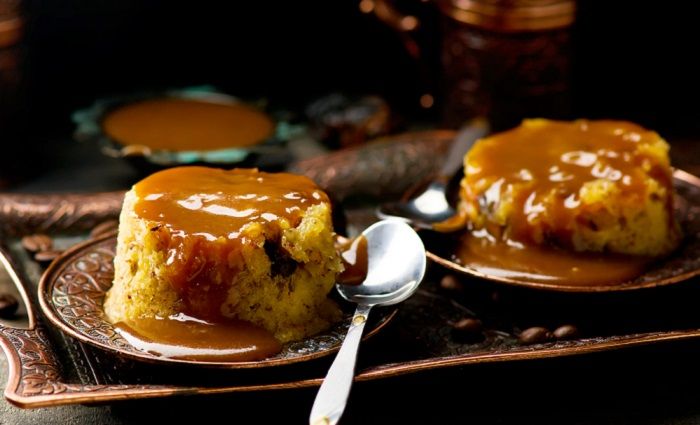 This delicious dessert is a dark sponge cake made from chopped dates. The name excites the tastebuds to expect an indulgent pleasure – and it lives up to its name. It's moist and has a syrupy, almost melt-in-the-mouth quality. Also, any serving would not be complete without the toffee sauce topping.
Sticky toffee pudding is served with either vanilla or caramel ice cream, whipped cream or custard. Among its celebrity fans is the Duchess of Cambridge, Kate Middleton, who claims it's her favourite dessert.
Where to get it: The Abingdon in Kensington
3. Sunday Roast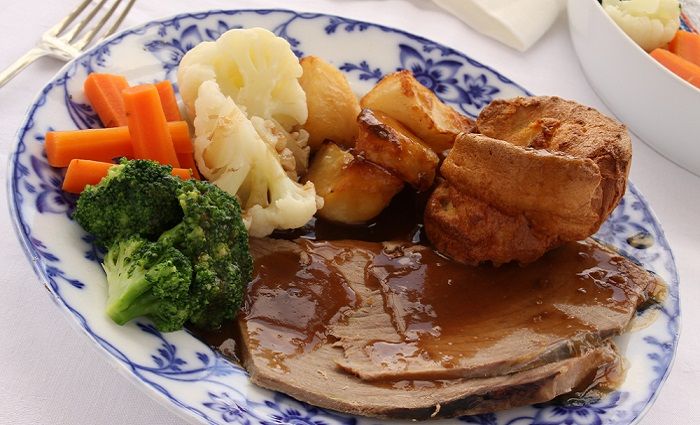 Traditionally served on Sunday, this family meal has a special place in the hearts of the British. There are variations, but it is essentially roasted meat, Yorkshire pudding, and vegetables; among them roasted potatoes, parsnips, carrots, boiled broccoli, Brussels sprouts, and peas.
Those trying it for the first time might not pick up on the social history element. The underlying appeal of the Sunday roast speaks more to tradition and memories of family than it does to its culinary qualities. I guess it depends upon the atmosphere of the dining environment. It's certainly not an acquired taste—just an acquired experience.
Where to get it: Blacklock Shoreditch in Shoreditch
2. Afternoon Cream Tea With Scones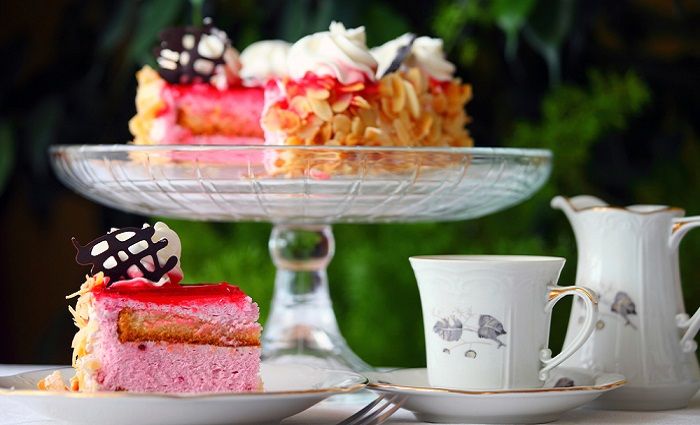 The elegant, high-society origins of the afternoon cream tea experience date back to the 19th century. Back then, it was a key feature of nobility dining. The upper class introduced it as a filler meal for those who felt hungry before dinner. The finger-sized cucumber sandwiches and cakes of the period are firm favourites today.
Ideally, you'll order Earl Grey tea and scones with clotted cream and fresh strawberries. You can also choose among elegant-looking cakes and pastries that bring Victorian high society to mind. Afternoon cream tea is usually taken at 3:00 pm.
Where to get it: Fortnum & Mason in Piccadilly
1. Full English Breakfast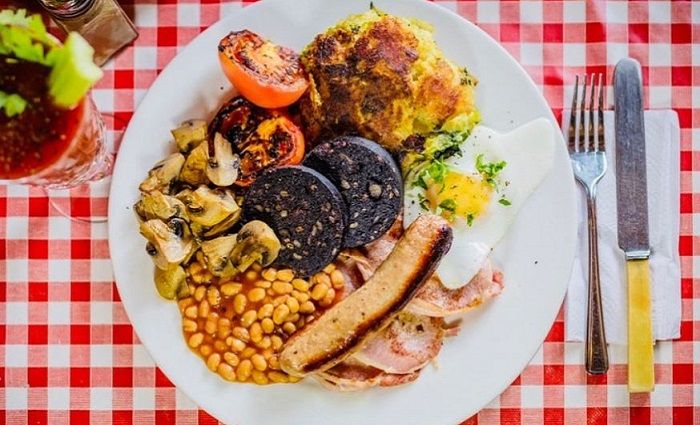 Sausages, bacon, baked beans, fried eggs, tomatoes, and mushrooms are the traditional core of a full English breakfast, but it would not be truly complete without black pudding and hash browns. The very English cuppa (cup of tea) completes the meal, though some choose coffee, cappuccino, green tea or herbal tea.
Indeed, there are healthier variations of the breakfast. Some cafés serve avocado rye bread toast, kale, spinach, or rosemary sweet potatoes in place of the traditional fried ingredients. Whichever one you choose, it's so popular that it would be difficult to find a London cafe that doesn't serve it. The truly complete full English breakfast—hash browns, black pudding, and all—is more often found away from the big city centre, closer to residential streets and local communities. 
Where to get it: Terry's Café London or The Sportsman (away from the city centre)