It is undeniable is that French cuisine is one of the best in the world, but so rich is its history of its food that to truly understand Paris you need to dig deeper. A food tour immerses you in the culture of a city, but which one is for you? Check out our guide on the best food tours to take in Paris this year and why.
---
Pro Tip: Looking to enjoy the best food in Paris? Bookmark this post in your browser so you can easily find it when you're in the city. We recommend joining our Le Marais Food Tour to enjoy some local delicacies including falafel, oysters, and champagne. Also, check out our guide to Paris for more planning resources and the top things to do while in Paris.
Should You Take a Food Tour in Paris?

---
Short answer: Absolutely!
French cuisine is one of the world's finest (though personally, I'd put Italian at the top of the list). Fine dining and Paris go hand-in-hand. Many gastronomic words used in common parlance derive from French. Restaurant goes back to the 15th Century, deriving from the French verb' restaurer,' to restore oneself. The word Café, from the Arabic for vigor, Kaweh, which morphed into café via French explorers returning from the Ottoman Empire in the 17th Century. Even the word menu originates in French, meaning small, detailed.
So, If oysters, champagne, falafel, and beef bourguignon make you swoon, then you've found yourself in the right place. Food tours are all about immersing traveler's into the local culture and history. On a Paris food tour, you'll hear the history of Paris told through food, but more importantly, you'll get a taste of Paris's best culinary experiences.
---
With our food tours of Paris, we have tried to curate a list that caters to just about every foodie. You'll find cheese and wine tastings, curated meals, and a day trip to the Champagne region. Our most popular food tours of Paris and why are as follows:
---
Ultimate Taste of Paris Food Tour in Le Marais
Local Cheese and Wine Tour in Latin Quarter
Chef Led Food Tour of Paris' Montmartre District
Paris Food Tour in Le Marais
Private Day Trip from Paris to Champagne
---
1. Ultimate Taste of Paris Food Tour in Le Marais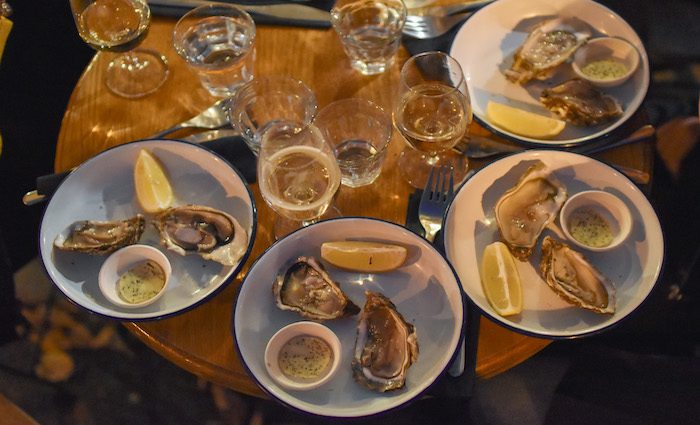 ---
Did you know that no other tour company includes oysters and champagne on their Paris food tours? This makes the Le Marais food an ideal choice for French foodies!
It's best to come hungry since you'll indulge in the delicacies of France, including oysters, cheese, falafels, and more. You'll explore the diverse, historic Le Marais district, making four stops at some of Paris' secret food highlights.
You also taste truly authentic champagne and some fabulous local and Bordeaux wines as you enjoy the company of your newfound foodie friends!
Highlights:
A walking tour of Le Marais
Normandy oysters and champagne
French cheese and wine tasting
Falafel street food in the Jewish Quarter
A Tasty crepe
A fun foodie guide
Maximum group size of 12
---
Not ready to book a tour? Read more about Top Foods to Try in Paris
---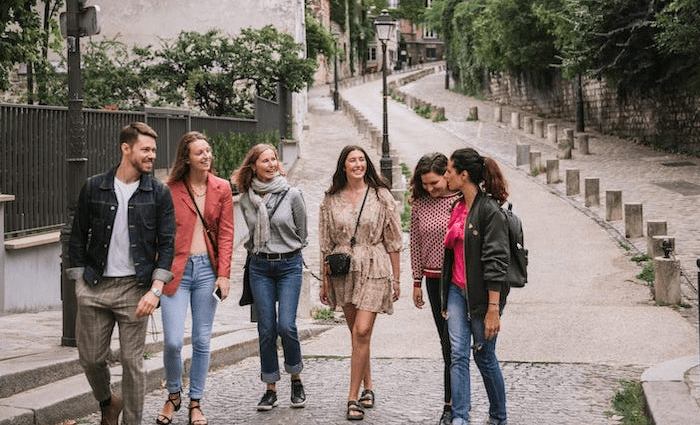 ---
Craving a genuine French culinary experience but need the connections to call in a favor? Well, with this tour, we've got the hookup. We've joined forces with Chef PJ and his team of gastronomic experts so you can join them in tasting Montmartre's finest delicacies.
You'll explore the famous Montmartre, a renowned culinary heaven. As you stroll along charming streets, your guide will delight you with witty stories and fascinating fun facts.
The tour allows you to indulge in a three-course feast with wine-pairing and learn about some of Paris' most iconic sites, like the Moulin Rouge and the famous 'I Love You' wall.
Just as you think the night can't get any better, you'll follow Chef PJ on a dessert tour. Chocolate fanatics and macron lovers of the world rejoice!
Highlights:
Three-course feast at PJ's restaurant
11 food samples at 4 local food stops
Wine pairings
Sample traditional French sweets
Admire Moulin Rouge
Explore Montmartre neighborhood
Visit the "I Love You" wall
Stop for pastry and coffee
---
Not ready to book a tour? Read more about Top Foods to Try in Paris
---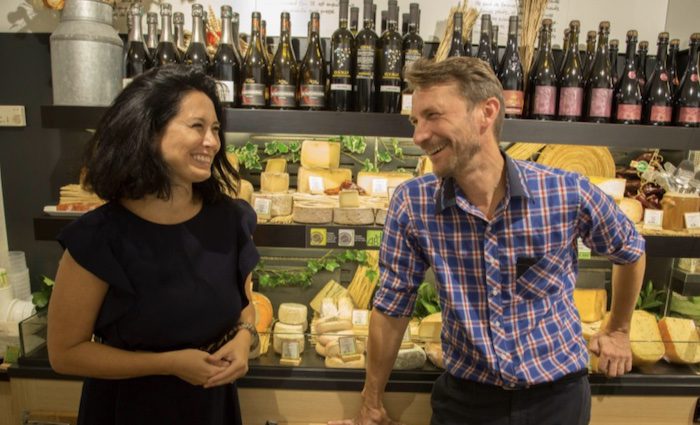 ---
Eager to indulge in farm-fresh cheese expertly paired with French wine while in Paris, but finding it overwhelming to navigate busy markets and packed restaurants? That's why we've enlisted the help of local guides and sommeliers, Catherine and Alex, who will take you on the ultimate culinary journey. After enjoying the lively atmosphere of Mouffetard Market, you'll head to a quaint restaurant tucked nearby. Here, you'll meet Alex, your chef and sommelier for the experience, who has prepared a unique French tasting experience exclusively for you and your fellow foodies.
Enjoy a collection of French farm cheeses, aromatic artisanal bread, and three hand-selected wines while Alex, your chef and sommelier, shares unique insights and top secrets for tasting wine the French way.
Highlights:
French farm cheeses
Artisanal bread
Wine pairings
Surprise dessert
Mouffetard Market
Latin Quarter
Parisian-style tasting experience
Expert, English-speaking guide
---
Not ready to book a tour? Read more about Top Restaurants in the Latin Quarter
---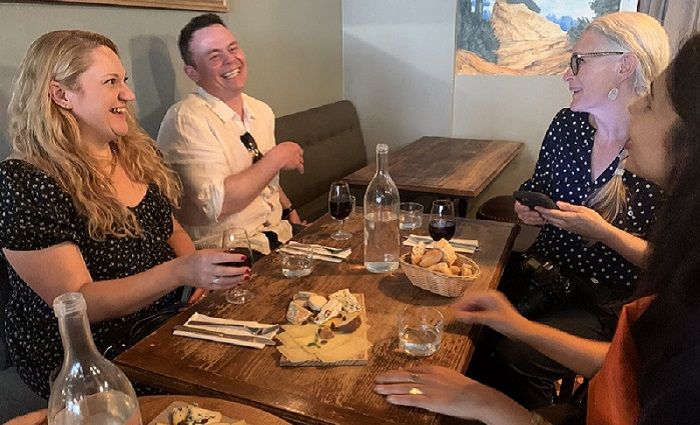 ---
Embark on a culinary journey through the lively streets of Le Marais, where you'll uncover the neighborhood's celebrated food scene.
During this culinary adventure, you'll delight in six dishes at six distinct locations, including savory crepes and sumptuous boeuf bourguignon. Yet, that's just the beginning. Your taste buds will be treated to falafel, freshly baked baguettes, delightful pastries, and locally sourced chocolate and cheese that defy description. Naturally, no visit to Le Marais would be complete without a visit to a wine cellar to sample fine French red and white wines.
As you meander through the bustling streets between tastings, your knowledgeable guide will escort you to renowned landmarks like Musée Carnavalet, Place des Vosges, and Jardin des Rosiers-Joseph-Migneret.
This tour is perfect for those wanting to learn more about the district's history and strong culinary scene.
Highlights:
Explore streets of Le Marais
Visit six dining locations
Indulge in six unique dishes
Sip wine in a wine cave
Admire Saint-Paul-Saint-Louis
Try falafel at a local spot
Sample delectable pastries
Food-obsessed local guide
Maximum group size of 10
---
Not ready to book a tour? Read more about Le Marais
---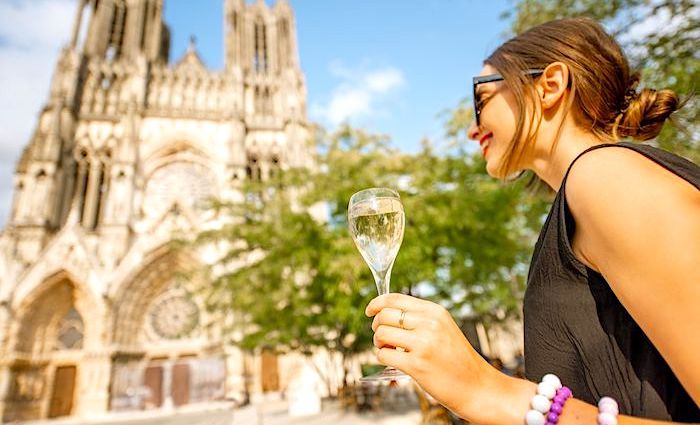 ---
If you want to escape Paris's hectic nature and get to the countryside for the day, this tour is for you. Travel arrangements are taken care of. You'll be whisked away by luxury transportation to France's Campagne region.
From the Reims Cathedral and Abbey of Hautvillers to Taittinger Champagne and Épernay, you'll sample some of France's best champagnes. And you can drink all you like since you're not driving yourself!
Before you get some bubbles in you, visit the Reims Cathedral in the capital city of the Champagne region. The site of dozens of coronations, the Notre Dame de Reims, has even witnessed a crowning in 1429 that Joan of Arc attended.
Then, enjoy a tour of the champagne cellars to learn more about how the wine is produced from 288 hectares of vineyards.
Stop for lunch and free time in Epernay before visiting a second vineyard. Fully fed and probably a little tipsy, head back into your private transfer, take a nap, or watch the French hills roll by as you are transported in luxury back to Paris.
This tour is the perfect day trip for anybody wanting to experience the Champagne region in style!
Highlights:
Round-trip, private luxury transportation from Paris
Tastings at two champagne houses
Free time in Épernay for lunch
A visit to the famous cathedral in Reims
---
Not ready to book a tour? Find out Where to Stay in Épernay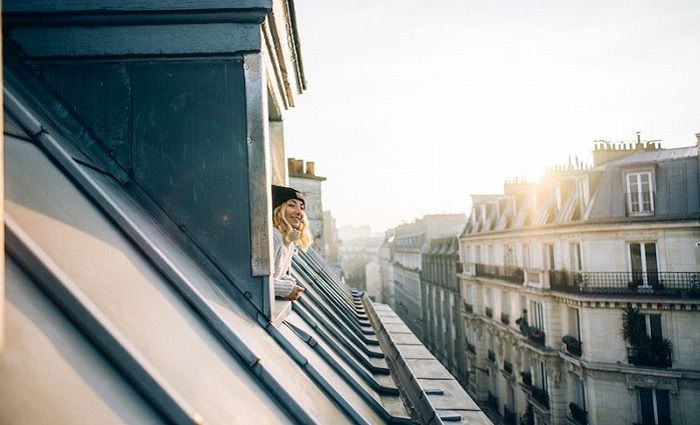 Find the best places to stay
Where To Stay in Paris
With a city as magnificent as Paris, finding the perfect hotel at the perfect price can be hard. Explore the best hotels and places to stay in these incredible neighborhoods in Paris.
Explore More of the Blog