Tired of aimlessly searching the internet for dining options? Or worse, traipsing through the city center hoping to stumble upon an eatery gem? Here is what I, a local Londoner and self-proclaimed foodie, think are the best restaurants in London that you should try! This list will remove your guesswork so don't forget to bookmark it in your browser!
---
Pro Tip: If you're planning a trip to London, consider bookmarking our dedicated London page with articles on Westminster Abbey, Stonehenge, and more!
The Top Places to Eat In London
Haugen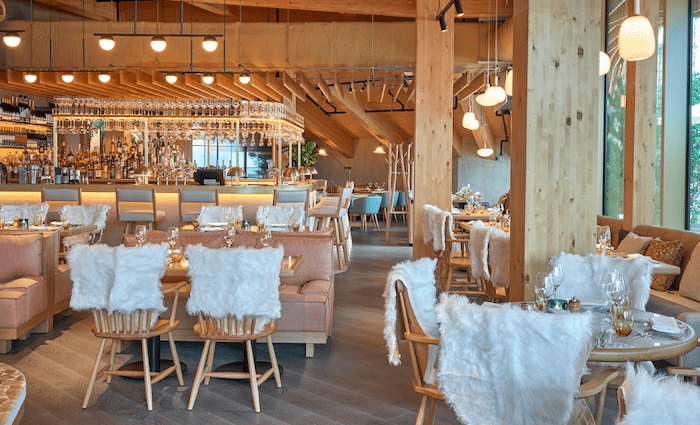 €€ | Rooftop Bar | Fine Dining | ArcelorMittal Orbit Sculpture | Westfields
Haugen has barely been open a few months and locals are already comparing it to both the Palace of Versailles and the Tower of Babel! It's not as illustrious as either, but the size and architecture make it a jewel in the hip new E.20 postcode district. If you're not from London, E.20 encompasses both the Queen Elizabeth Olympic Park and Stratford Westfields in East London.
Haugen hosts an Alpine-inspired menu of elegant dishes. This makes it one of the classier options during your tourist traipse through the new district. That said, you're never far from East End tourist attractions such as the ArcelorMittal Orbit sculpture, which is the longest and tallest tunnel slide in the world.
Both towering attractions – the restaurant and the sculpture – are in the Olympic Park. This is an excellent option for anyone looking to get out of London's centre and explore a more local version of London!
If you have a head for heights then Haugen's heated open rooftop might appeal. The restaurant has a very showy al fresco emphasis; its heated terrace winds around the exterior on every level. The food and alcohol are a bit pricey but I say it's worth it on a romantic trip!
Address: Endeavour Square
Hoppers Soho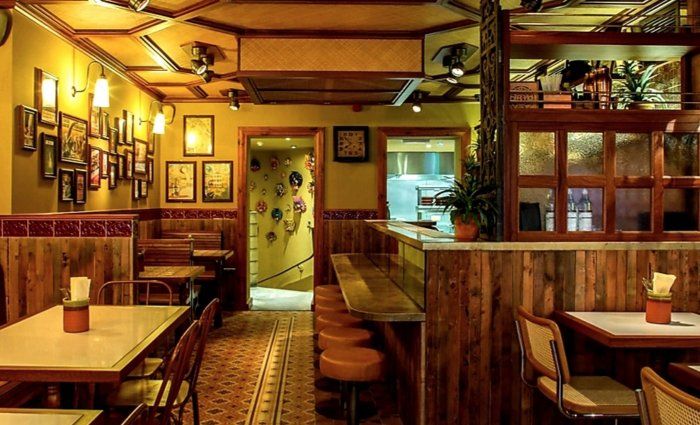 €€ | Sri Lankan Street Food | Busy | Trendy | Soho
This award-winning Sri Lankan street food restaurant is right in the heart of London's tourist center. There's a lot of competition for great restaurants in London's West End so it's significant that Hoppers has made a few newspaper headlines because of its unique appeal. Notably, It has a cramped, busy atmosphere – no frills here.
Although the servings are pretty small at the price, the Sri Lankan and Tamil Nadu dining experience are worth the West End prices. Interestingly, the restaurant is modeled on the toddy shops of Sri Lanka, which are roadside bars and kitchens which serve especially spicy curries. Hoppers servings are milder for the international palate.
Address: 49 Frith St, London
Coq d' Argent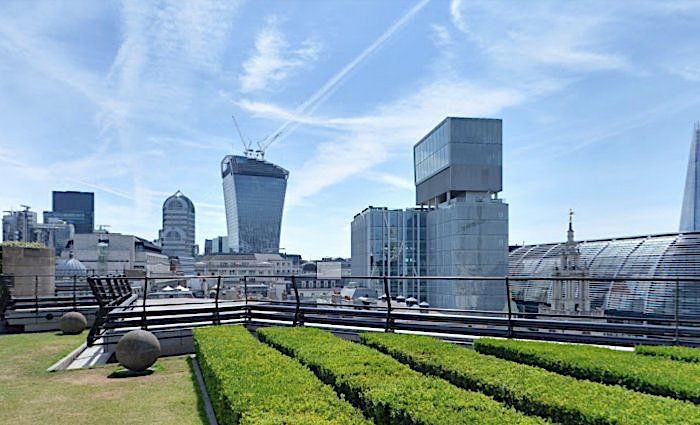 Classy | Rooftop Dining | Business | French Cuisine
This French restaurant is one of the most luxurious rooftop restaurants in London. Despite this, the entrance is a very plain and secretive elevator that takes you a few floors up and opens out into the restaurant. So it's actually a best-kept secret – a restaurant that sells itself without trying.
Notably, it's in London's financial centre so it attracts businessmen and wealthy entrepreneurs. If seeing mainly diners in expensive suits doesn't put you off then their gourmet-style dishes in elegant and delicious portions are worth the visit. The wine list may seem pricey but the sommeliers are helpful and not snobby about income brackets despite the high-class vibe.
Address: No.1 Poultry, London
Riverside Café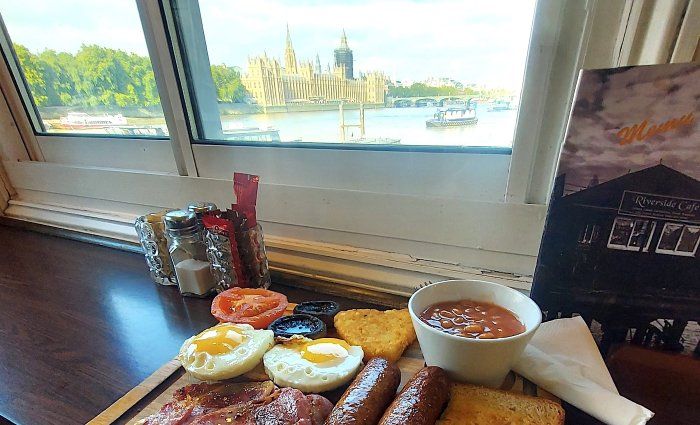 Family-friendly | Outdoor Seating | Houses of Parliament | River Thames
This is a must-visit for tourists sightseeing in Westminster, the UK's political center. Above all, this traditional cafe serves the best English breakfast in the area and there are also amazing views over the River Thames towards the Houses of Parliament and Big Ben. In comparison, similar cafes cannot match the combination of great views and tasty food even though they may be closer to the parliament buildings.
It has vegetarian and vegan options and also pasta and pizza on the menu but remember you are really paying for the all-around vibe and amazing atmosphere, not food variety. In addition, It's run by just one person (sometimes two) but quite cozy and down to earth for this very reason.
Address: Lambeth Pier, Albert Embankment
Viet Ngon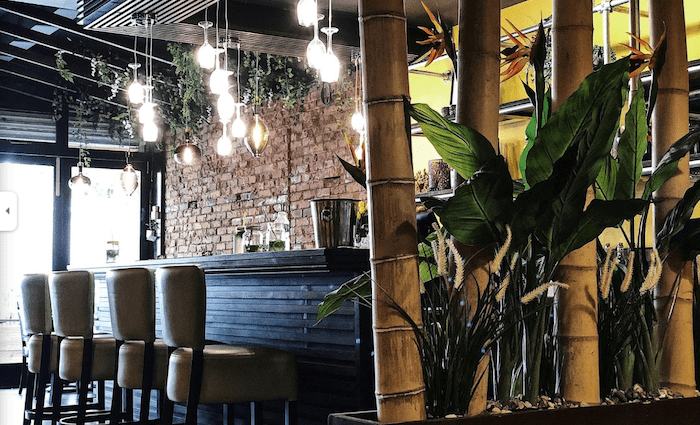 € | Vietnamese Street Food | Casual | Local favorite
This Vietnamese street food restaurant is located outside London's main tourist centres but is well worth the visit. One of the obvious benefits of such a location is more affordable dishes but that's not the main reason it is widely recommended. Notably, Viet Ngon has a great word-of-mouth reputation for value for money, excellent service, and providing a unique gastronomical experience.
There's a wide selection of main dishes but also a focus on the Vietnamese specialty of salads and soups. Every dish is delivered with care, mouthwatering simplicity, and Southeast Asian authenticity. Price-wise, everything is well within most budgets, with prices ranging from £11- £20.
Address: 145 Stroud Green Rd
Eli's Restaurant – South Kensington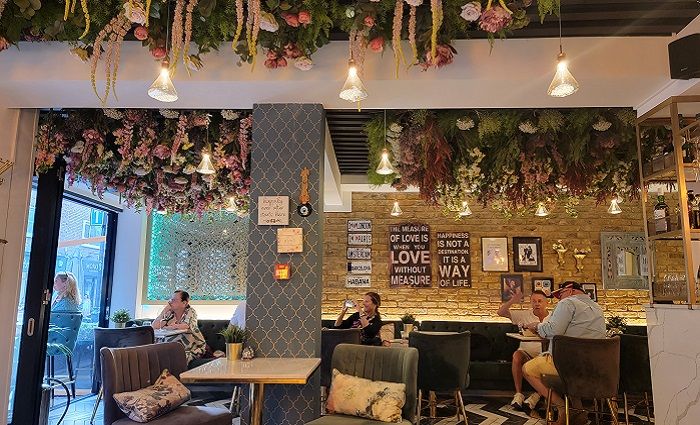 €€ | Mediterranean | Quiet and Cozy | Indoor/Outdoor Seating
If you're around Kensington, there's a sweet little street with a handful of restaurants not far from the South Kensington Station. Eli's Restaurant might not be an exciting name, but there's a lot to be excited about in terms of the food and the ambiance. You can sit out on the patio if the weather's nice, or stay inside under the flowering ceiling that's oh, so cozy.
The food is fresh and the menu has quite a number of tasty options. And there are more options than you'll find on their website, too! I recommend the lamb couscous dish that comes packed with flavor and tender chunks of lamb. Or try any of their famous rotisserie chicken dishes. You won't leave hungry!
Address: 6-8 Bute St, South Kensington, London
Savoy Grill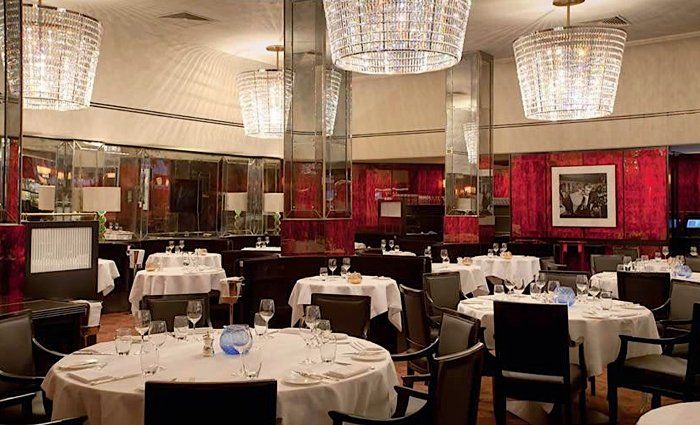 €€€ | Upmarket | Celebrities | Royalty | Michelin | Gordon Ramsay
Movie icons like James Dean, Marilyn Monroe and Marlon Brando once ate here and it is famous for its celebrity and royal diners. However, the less-star struck amongst you will appreciate this is a Michelin-star restaurant, regardless of whether it is run by celebrity chef Gordon Ramsay. It's based in The Strand, in Central London which is ideal if you want tourist sites, nightlife and West End shopping close by.
Expect high-end English and French dishes with a regal quality. Specials-wise, overseas visitors might seek out the high-class English game such as venison, pheasant and grouse but are more likely to find steak mains or roasts on the menu. Their signature dish is the Beef Wellington.
Address: Strand, London
The Oystermen Seafood Bar & Kitchen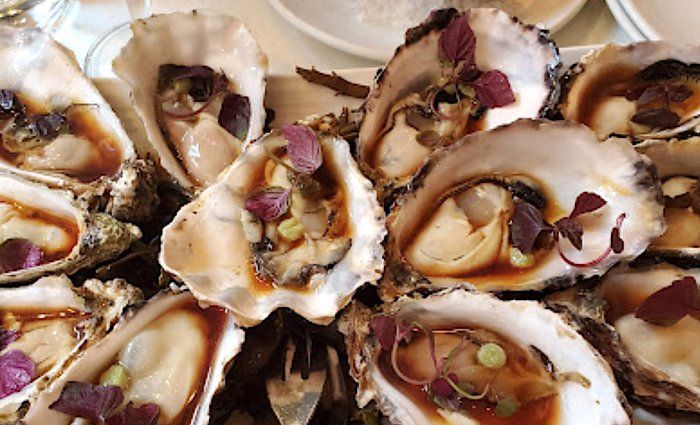 Seafood | Family-friendly | Michelin | Covent Garden | West End | Theatreland
Despite the name, it's not just Oysters served up by this Michelin-starred, Italian-owned restaurant but a wide variety of seafood. But the restaurant is not known for its other comforts and has basic bench seating. Despite this, it has a warm and welcoming family vibe and is close to the West End's theatreland.
Their sea bass, sea bream, and Devon brown crab dishes are customer favorites – and also their headline Oyster dishes. And to top this, there's the added benefit of watching these Michelin-starred chefs preparing the meals before your eyes.
Address: 32 Henrietta St
Ma Petite Jamaica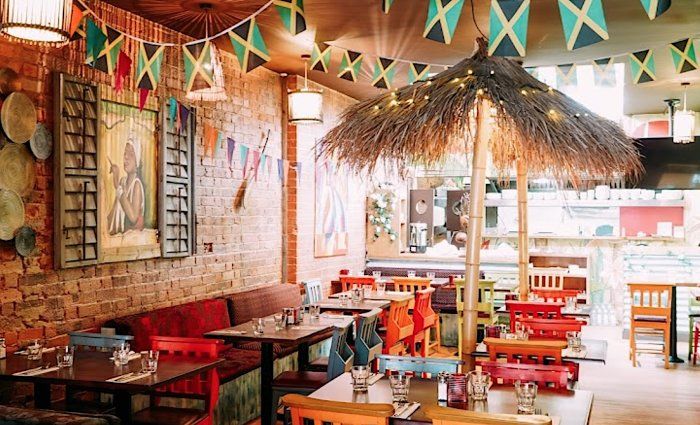 Family-friendly | Caribbean | Nightlife | Live Music | Camden Town
This small restaurant in a quiet secondary street has popular appeal despite being in a competitive tourist district like Camden. Fortunately, it is close to Camden's famous nightlife therefore it is an ideal stop-off point before clubbing or seeing a band.
They serve Caribbean specials such as curried goat, oxtail soup and cassava mash. Budget-wise, it's competitively priced and you'll find none of their mains cost over £16.
Address: 4-6 Inverness St
M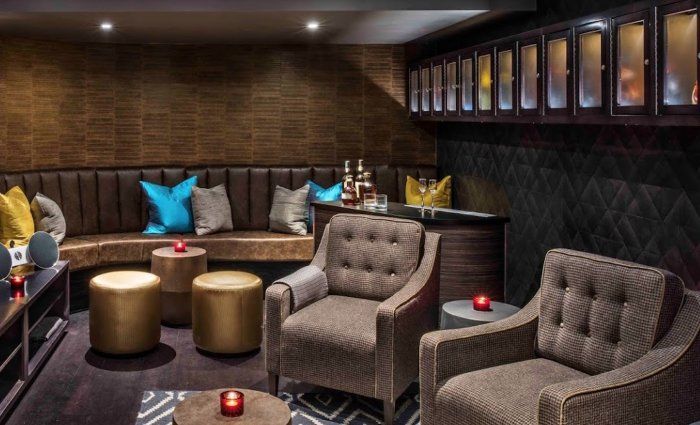 €€€ | Upmarket | Classy | Formal | Business
This multi-award-winning restaurant is so dignified and sophisticated it can seem a little off-putting for those with limited budgets. If you are seeking that dining experience to impress someone special then this is the place for you.
The dishes come in small gourmet proportions and are prepared with an expert touch, also there's an impressive wine selection. All this considered, the high prices are no surprise but it is a match for the quality.
Address: 60, 2 & 3, Threadneedle Walk
Ceviche Soho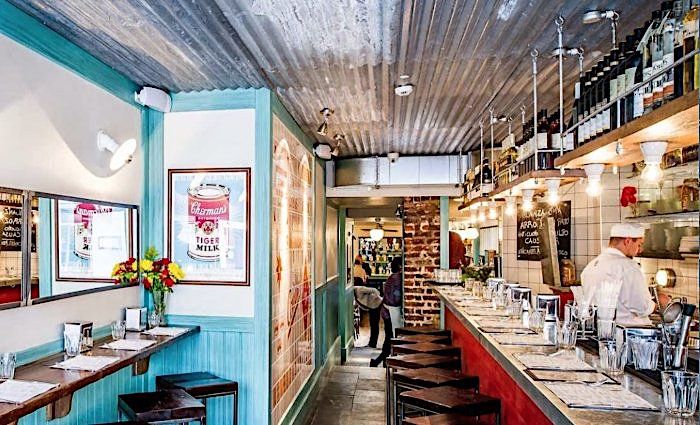 € | Seafood | Family Friendly | Peruvian Street Food
One of London's finest Peruvian restaurants Casita Andina closed in recent years but its sister restaurant Ceviche Soho has since successfully regained many of the previous customers. The Casita Andina's appeal was its cramped, best-kept secret atmosphere and delicious dishes, but its relatively high prices may have contributed to its closure.
However, Ceviche has discarded the Casita Andina model by down-pricing its modest menu and focusing on street food. You'll not find anything priced over £16.50. Interestingly, the dishes do not have the gourmet-style touches of the Casita Andina but there's a large selection of ceviche dishes (raw fish or shrimp marinated in citrus juice and chili).
Address: 17 Frith St, London W1D 4RG