Chelsea in West London is a must-visit for anyone looking for the finest in food, fashion and culture. We've put together a list of our favorite restaurants in Chelsea to help you plan your next visit.
---
Pro Tip: Bookmark this article in your browser if you are planning to get fancy in Chelsea. Otherwise, don't miss our dedicated online guidebook for London. Content that is so good you'll jump at the idea of taking our London tours!
The Top 10 Places to Eat in Chelsea, London
Lots Larder
€ – €€ | Open Early | Baked Pastries
What a great way to start the day! If the smells of homemade pastries and fried potatoes aren't enough to get you through the door of this lovely Chelsea café, then the prices definitely will. It's a small café, but it's perfect for a cozy cup of coffee before visiting the Chelsea shops.

You can get a plate piled high with gravy-covered mash, eggs made the way you want, and a side salad for about £7, making it one of the most affordable places in the area. You can also head here for lunch for their excellent baked salmon and crab cakes, served with a side of slaw and cooked spinach.
Address: 34 Burnaby St, Chelsea
Hours: Monday – Friday: 8 AM-5PM, Saturday: 8:30AM-3:30PM
The Goat
€€€ | Cocktails | Relaxing Atmosphere
An excellent place for a cocktail and a conversation, The Goat matches a unique interior décor with an experimental flavor brought to all of their drinks. Exposed brick, wall-to-wall murals and plenty of couches decorate the cozy interior. Pull up here for a break during a long day of walking around, or when you need a nightcap to share with friends.
The beef tartare with gherkin and truffle is our recommendation for a starter. It pairs excellently with one of the Goat's signature cocktails, like the Champagne Colada, which consists of Rum, champagne and tons of coconut. Come here on Sundays for their Sunday Roast, which includes a set menu of roasted beef, slow cooked pork belly and Yorkshire pudding.
Address: 333 Fulham Rd, Chelsea
Hours: Mon – Tues & Thurs – Fri: 8am – 6pm, | Wednesday: 8am – 7:30pm, | Saturday: 9am – 5pm, Sunday: 10am – 4pm
Bestro
€€€ | Modern | Experimental
One of the varied restaurants in Chelsea, Bestro puts considerable effort into offering diners a wide range of familiar foods with a twist. The interior matches the spirit of the menu, combining a rustic aesthetic with splashes of color and imagination.
To begin, we recommend the grilled octopus tentacle with chickpea puree and pomegranate. Sure, it's a little out there, but trust us. Followed with the Miso glazed stone bass fillet, or the croissant burger, you'll be happy you made the trip.
Address: 386 King's Rd, Chelsea
Hours: Tuesday: 5–10PM, Wednesday-Saturday: 12-10PM, Sunday: 12-5PM
Talad Eatery
€€ | Thai | Homestyle
Thai food in the heart of London. What could be better? Talad Eatery serves an all-day menu offering coffee and pastries for breakfast, grab & go lunch bowls, and affordable traditional Thai dinner. Full of greenery and natural light, Talad Eatery makes for a refreshing oasis in the heart of Chelsea.
The specialty here are their traditional offerings from northern Thailand. Of course, you can always grab the Pad Thai (it's great!), but we'd recommend the Hung Le Chicken Curry. It's tangy, sweet and just spicy enough. Their green curry is excellent as well, and only costs £10.
Address: 533 King's Rd, Chelsea
Hours: Monday-Saturday: 11AM–9PM
Bluebird
€€€ | Modern European | Dinner and Cocktails
Bluebird is one of the trendiest restaurants in Chelsea. They serve up a wide range of modern European options, along with excellent cocktails. The interior is classic-meets-contemporary: leather couches, cozy incandescent light, along with exposed girders and plenty of plants.
Bluebird offers a number of daily specials, and we'd recommend anything they offer really. It's all great. If you're heading here for brunch, then the avocado & poached eggs with coriander pairs well with the Aperol Spritz. For dinner, try the Five Spice Creedy Carver duck breast, which comes with roasted cauliflower and pickled blueberries. It's delicious!
Address: 350 King's Rd, Chelsea
Hours: Monday-Sunday, 9AM–10PM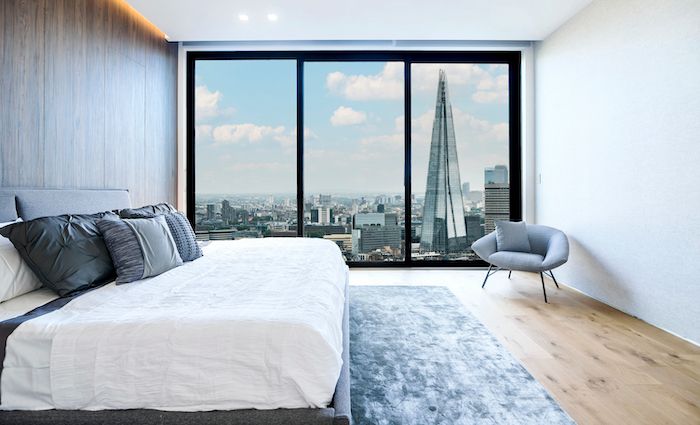 Best Hotels in London
Looking for the best hotels in each price range? We divided up the best hotels into 4 categories for London.
Super Expensive
Expensive
Kind of Expensive
Low Cost
Granger & Co.
€€€ | Australian Fusion | Unique
Have you ever had Australian food? If you're anything like us, then your visit to Granger & Co. will be your first foray into this eclectic culinary tradition. Updating the diner look for the 21st century, this restaurant feels both comfortable and high-class. Whether you sit at the bar, or on one of the soft suede couch booths, it's a nice departure from the stuffier restaurants in Chelsea.
Granger & Co. offers a hodgepodge of delicious options, reflecting the multicultural makeup of Australian culture. If you'd like to keep things simple, the grass fed beef burger with smoked ancho chili will certainly fill you up. However, we'd recommend the crispy duck with kumquat. It's like a little bit of Sydney sunshine, even on the grayest of London days.
Address: 237-239 Pavilion Rd, Chelsea
Hours: Monday-Saturday: 7AM–11PM, Sunday: 8AM–10:30PM
The Five Fields
€€€€ | Michelin Star | Modern British
Well-deserving of its Michelin Star, the Five Fields is one of the best restaurants in Chelsea for those looking for a high-end dining experience. Under the direction of chef Taylor Bonnyman, this restaurant brings a careful touch to modern British cooking. They base their offerings around the seasonality of their ingredients, so its always fresh and delicious.
Whether you arrive to the Five Fields for lunch or dinner, you'll be greeted by an attentive staff and an intimate, warmly lit interior. Their tasting menu is always changing, but often includes the finest truffles of the season and freshly caught seafood. You'll definitely want to pair this with one of the fine wines they have in stock, like their 2004 Saint-Julien Bordeaux or one of their refreshing sherries. Of course, you can't go wrong asking your waiter for a recommendation. Everything here is outstanding!
Address: 8-9 Blacklands Terrace, Chelsea
Hours: Monday – Friday: 10AM to 6PM
Phat Phuc Noodle Bar
€ | Vietnamese | Hidden Gem
Cheap, easy, authentic and delicious, Phat Phuc Noodle Bar hits every mark with flying colors. Tucked away in a small courtyard off Sydney Street, it's easy to miss. Yet if you're looking for some of the best Pho in London, then it's definitely worth looking for.
This no-frills spot does things simple, and after a tough day of exploring London that's sometimes exactly what you need. Try the Pho Ga, a chicken Pho soup with rice noodles that only costs £8! If soup isn't your thing, then the stir fry with prawns is excellent. Grab an order of pork buns to share. You'll be happy you did!

Address: The Courtyard, 151 Sydney St, Chelsea
Hours: Monday-Sunday: 11AM–7PM
Big Easy
€€ | BBQ | Open Late
Another lowkey spot where a little bit of money goes a long way, Big Easy BBQ is a little slice of Americana in the heart of London. Open until 9:30 PM every day of the week, it's great spot if you've pushed off dinner and aren't looking for anything too fancy. The cozy yellow lights strung across the ceiling and the chestnut tables and chairs are a welcoming sight to the weary traveler.
Pit-cooked Barbeque is the specialty here, and these guys don't mess around. The baby back ribs practically falls off the bone, and the pulled pork has tons of zing. We'd recommend the deluxe Taste-O-Rama, which features a sampling of BBQ chicken, ribs, pulled pork, brisket and sausage. Served with a side of cole slaw, this food just hits the spot. It's one of our favorite restaurants in Chelsea!
Address: 332-334 King's Rd, Chelsea
Hours: Monday-Sunday: 5–9:30PM
Wulf & Lamb
€€ | Vegan | Creative
And just in case copious amounts of meat isn't your thing, we'll finish off this list with our favorite vegan restaurant in Chelsea, Wulf & Lamb. Located on Pavilion Road, this place features an airy dining room with a tall gabled roof, giving a relaxed, spacious feeling. It's what you would expect from a modern Vegan place, hip and trendy with just the perfect amount of flash.
For starters, the Gyoza dumplings stuffed with smoked tofu, kimchi and mushrooms serve as a great introduction to the experimental-but-familiar offerings on the menu. For your entrée, the creamy linguine with plant-based parmesan is our recommendation. Their veggie burgers are fantastic too, and are piled high with cashew aioli, sauerkraut and plant-based cheese. Good vegan food can be hard to come by, but Wulf & Lamb makes it easy and delicious!
Address: 243 Pavilion Rd, Chelsea
Hours: Monday-Friday: 10AM-9PM, Saturday-Sunday: 9AM-9PM


If you're visiting London, you have to visit Chelsea. While you're there, make sure to have this list bookmarked. There are so many things to try!