Stonehenge is as beautiful as it is mysterious and is one of the most popular attractions in the UK. After you've spent your day trying to unlock the secrets of this prehistoric monument, you're bound to work up an appetite. Here's our list of the best restaurants near Stonehenge.
---
Pro Tip: Planning what to do on your trip to London? Bookmark this post in your browser so you can easily find it when you're in the city. Check out our Stonehenge guide for more planning resources, our best Stonehenge tours for a memorable trip, and the top things to do in London.
Top Places To Eat Near Stonehenge
If you plan to visit Stonehenge from London, you'll definitely want to find somewhere to eat before or after exploring this mythical site. Read on for the best restaurants near Stonehenge.
Reeve the Baker
££ | Bakery Café | Open Early
If you want to beat the crowds on your Stonehenge visit, then you'll want to get up early. Luckily, Reeve the Baker opens early too, serving fresh breakfasts to Stonehenge visitors every day. Located in Salisbury behind a white brick façade, this cozy café is a great place to enjoy a coffee and pastry early in the morning.
Everything here is made fresh daily and made from fresh ingredients from local farmers. By the time Reeve opens its doors, they're ready to serve baguettes, scones, muffins, and cupcakes that are still warm from the oven. We recommend keeping things simple here with a blueberry scone and a cup of coffee. If you're a little more hungry than that, the sandwiches here are great. Try the BLT!
Address: 9-11 Salisbury St, Amesbury
The Bridge Inn
€€€ | Microbrewery | Beautiful Views
For the views alone, the Bridge Inn is worth a visit. Located beside the river Avon, this gastropub offers a beautiful view of the Salisbury countryside that you can enjoy from one of the rustic wooden tables dotting the shore.
Whether you head here for lunch or dinner, you can choose from a wide array of homestyle British cooking and some more creative options. The Pie of the Day is our recommendation if you're looking for something authentically British and made with care.
It comes stuffed with potatoes, veggies, and a rotating selection of local meats. In every bite, you can tell all the history and technique that goes into this cooking. Served with a pint of homemade beer, the offerings here are top-notch.
Address: Upper Woodford, Salisbury
Our Best Stonehenge Tours from London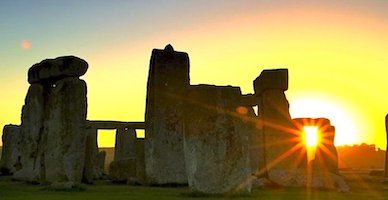 Top-Rated Tour
After Hours Entrance to Stonehenge Tour from London
See one of the world's most mysterious and impressive ancient sights without the crowds. At Stonehenge, your friendly expert guide will take you inside the inner circle in the evening. In addition, visit the Neolithic ruins of Avebury, West Kennet and Long Barrow to examine the great history of pre-Roman Britain.





Starting at $155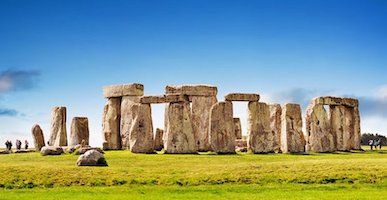 Top-Rated Tour
Pre-Opening Stonehenge Tour from London
Avoid the crowds and enter the inner circle of the Neolithic grounds at sunrise. With transportation included from London, explore one of Britain's most treasured sites. One of the Ancient World's most impressive and mysterious locations, the structures at Stonehenge are at least 4000 years old.





Starting at $155
Not ready to book a tour? Check out our best Stonehenge tours to take and why.
Siam Smile Thai Kitchen
££ | Thai | Hidden Gem
One of our favorite Asian restaurants near Stonehenge, Siam Smile is a welcome break from the excellent British-oriented cuisine in the area. Located inside the tucked-away Antrobus Hotel on Church Street, it's easy to miss. Yet, adventurers willing to make the effort will be greeted by an elegant interior, made only more so by the abundant Thai decor.
You may be tempted to go with Thai mainstays like Chicken Pad Thai or Green Curry. Siam Smile does a great job with them, but a deeper dive into the menu is what we recommend. The Gal Yang Chicken, for example, features grilled marinated chicken with garlic and herbs, served with a sweet chili sauce. This dish takes a bit longer to prepare (25-30 minutes) than other options on the menu, but it's definitely worth the wait. It's tender and bursting with flavor.
Address: 15 Church St, Amesbury
Stones Café
£ | British | Comfort Food
Cheap, easy, and authentically British, Stones Café attracts locals and visitors alike looking for simple food done right. This little spot is located inside a brick-lined storefront. And though the interior is small and sparsely decorated, the lack of pretension brings a charm of its own.
Looking to pick up something quick and easy that'll keep you full for your trip to Stonehenge? You can grab a jacket potato here, filled with cheese, beans, ham, coleslaw, and chili for only £4.
Maybe you're looking for something a bit more "sit down." Stones Café is a great place to sit and enjoy afternoon tea. For only £8, you can get a cup of tea, two scones, three finger sandwiches, and three mini cakes. It's nothing fancy, but it's easy to see why the locals love it!
Address: 3 High St, Amesbury
Tandoori Nights
£££ | Indian | Open Late
The old-school 19th-century exterior and slanting brick roof may not seem the most obvious place for a fantastic Indian restaurant. Inside, however, is the fantastic Indian spot Tandoori Nights, which is one of our favorite restaurants near Stonehenge.
The menu here is simple and inviting. Stuffed to the brim with vegetable, chicken, lamb, and duck options, it can be a little overwhelming. We decided on the lamb, cooked in the Malaya style with mild spices and pineapple, and were not disappointed. Visitors looking to take on a spicier option should try the chicken Pathia, which combines sweet and sour in a scorching hot dish.
Address: 26 High St, Amesbury
Tinga
££ | Mexican | Lively Atmosphere
If you're in the mood for Mexican food and fantastic cocktails made with premium tequila, this is the spot. The atmosphere is lively and the decor is vibrant and uplifting. Their dishes are equally vibrant in their presentation. You'll love trying their tacos with good music in the background.
If you're brave enough, try the grasshoppers. If that's not your style, there are plenty of mouth-watering desserts to cap off what will certainly be a bright and lively dining experience in Salisbury.
Address: 2-4, Salt Ln, Salisbury
Wagamama
££ | Japanese | Modern Interior
A trendy Japanese spot that won't break the bank, Wagamama is where you go when you want a meal that's sure to hit the spot. Located behind a modern glass storefront, the welcoming atmosphere features long communal tables and a kitchen window to watch the chefs prepare every dish with care.
What makes Wagamama stand out from other Asian restaurants near Stonehenge is the emphasis on high-class cooking without the high-class prices. You can get a steak bulgogi, marinated for hours and served beside miso-fried aubergine on a bed of soba noodles for only £15. The sticky pork belly is amazing too. Tender and spicy with a splash of citrus, omakase barely gets better than that.
Address: 8-10 Bridge St, Salisbury
A Date With Thyme
££ | Café | British
Visiting Stonehenge, you can really work up a sweat. A Date with Thyme provides weary travelers with a relaxed atmosphere that's just perfect after a long day of walking. The abundance of natural light and wooden decor give this lovely nook an airy atmosphere.
If you want to get a sense of everything they have on offer here, the £25 sharing boxes are your best bet. Included inside are freshly baked quiches and bread, meats, cheeses, chutneys, brownies, and salad. It's great to share with friends, especially if you're looking for something light in the middle of the day.

Address: Unit 6, Stonehenge Walk, Amesbury
Baroushka
££ | Lebanese | Authentic
With its tasteful decor, influenced by the Lebanese roots that form the basis of its excellent cuisine, Baroushka is one of the best Middle Eastern restaurants near Stonehenge. Emphasizing the comfort of its diners, the interior features cushioned seats and couches beneath beautiful light fixtures. It evokes a feeling of a faraway land in the middle of Salisbury.
There are enough options on the menu here for two (or three) visits, but if you're only in town for a little while, here's what we recommend. Start off with the Red Sea Calamari, tastefully fried in a Mediterranean coating and served with sumac mayonnaise. Cooked this way, the squid remains tender without losing any of its flavor.
If you're traveling with others, then try the Sharing Baroushka Grill, featuring an assortment of meat skewers and sauces. Though for the lonely traveler, the Lamb Meshweeh is fantastic. Featuring chargrilled lamb medallions, seasoned with zaatar and served with roasted baby potatoes and harissa, it's heaven on a plate.
Address: 90 Fisherton St, Salisbury
Not ready to book a tour? Check out our best Stonehenge tours to take and why.
Cosy Club
££ | Intimate | Café Atmosphere
It's all in the name. This Salisbury spot takes its comfortable café atmosphere up to 11, making it one of the warmest, comfiest restaurants near Stonehenge. It has a playfully decorated interior featuring mounted elk and carefully painted cabinetry, couches, and padded stools. It attracts diners young and old looking for a cozy spot for afternoon tea.
We definitely recommend heading here for brunch. The Cosy Club Breakfast comes in at £8.50 and includes grilled smoked back bacon, Cumberland sausage, mushrooms, and a fried egg on sourdough toast. It's filling, affordable, and most of all, delicious. The Shakshuka here is excellent too and goes great with some additional Feta and Chorizo. Next to a cup of coffee, it's some of the best brunch around.