Planning your stay in Madrid and deciding what to put on the map can give you a headache. But trust me, visiting the Prado is a non-negotiable. As a Prado-obsessed, Madrid resident, I have summed up the crucial info to fit a trip to the biggest museum in Spain into your stay. Check out the opening hours, transportation, and all you can expect from a visit to the Prado Museum.
---
Visiting the Prado Museum: What We'll Cover
The Prado Museum, or Museo Nacional del Prado, is home to the most magnificent collections of art in Spain, and it's on our list of the top things in Spain you have to see before you die. Any visitor to Madrid really must stop here to witness the incredible and moving artwork from renowned artists. In this article, I'll cover all the key information you need as you plan how to visit the Prado Museum.
Pro tip: To best remember how to visit the Prado Museum, bookmark this article in your browser to get back to it when you are in Madrid. Also, check out the best things to do in Madrid and where to stay around the city!
Prado Museum Hours and Info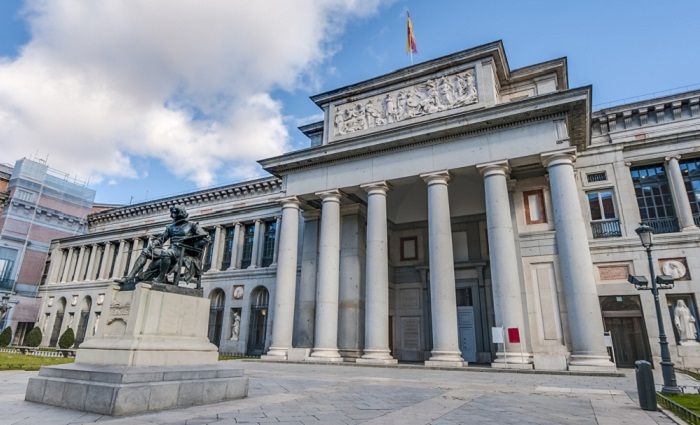 The Prado Museum is open daily, except for some bank holidays.
The Prado Museum is open:
Monday to Saturday: 10 am to 8 pm
Sundays and Bank Holidays: 10 am to 7 pm
January, 6th; December, 24th and 31st: 10 am to 2 pm
The Prado Museum is closed:
December 25th: Christmas Day
January 1st: New Year's Day
May 1st: Labor Day
Tickets to The Prado Museum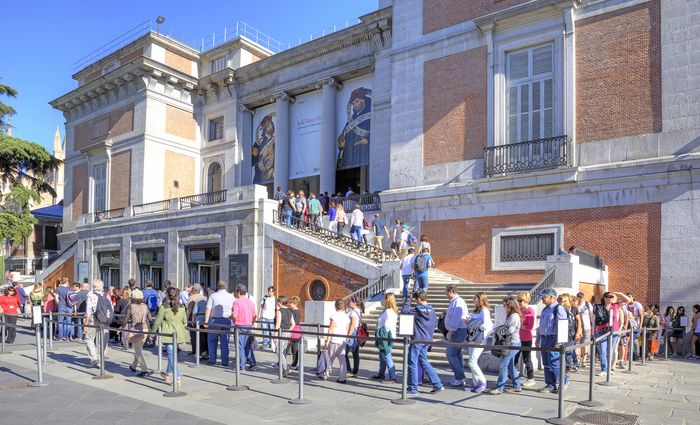 Online booking is available on the museum websites at least 45 minutes before your visit. Of course, the box office at the main entrance also sells tickets and usually has availability for hours that appeared unavailable online.
Admission fee:
Adults (18+) €15
Reduced price (Seniors 65+, EU Youth Card or International Youth Travel Card) €7,50
Free entry for minors under 18; students under 25, and a 33% discount for people with disabilities
Free entry:
Monday to Saturday: 6 pm to 8 pm
Sundays and Bank Holiday: 5 pm to 7 pm
October 12th and November 19th: All day
Temporary Exhibitions: 50% discount is available for tours during the last 2 hours of the day.
Private access to the museum for groups: Additional €50 per person. Only groups from 9 to 30 members with their guide and without public access hours.
Other options: If you plan to visit more museums in the area, buy the Abono Paseo Del Arte. It is a combined ticket to see the Prado, the Reina Sofía, and the Thyssen-Bornemisza Museums at a special price.
Address: Calle de Ruiz Alarcón 23, Madrid
Pro tip: You might find a long waiting line during the weekends' free-entry hours. I suggest booking online if you are short on time and don't want to miss it. Also, plan what you would like to see: the Prado Museum is huge, and you can spend hours there.
How To Get To The Prado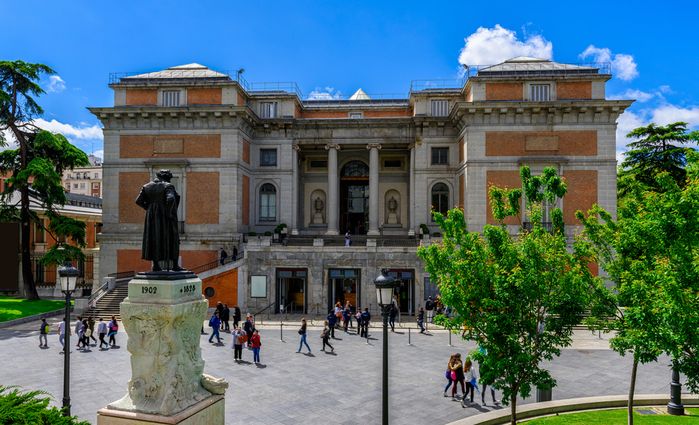 The Prado Museum is in Madrid's city center, and it is easy to get there by car and public transportation:
Metro
Metro is the easiest way to get to the Prado from anywhere in Madrid. The nearest metro stations are Estación del Arte (Line 1) and Banco de España (line 2), about half a mile from the museum.
Bus
The bus stop Museo Del Prado-Jardín Botánico is in front of the museum and is connected by bus lines: 001, 10, 14, 27, 34, 37, 45, C03, N10, N11, N12, N13, N14, N15, N17, N25, N26, and N9.
Train
Depending on your location, the suburban rail Cercanias is also a good option. The closest station to the museum is Atocha, about half a mile away from the Prado museum entrance. Cercanias lines connected to Atocha are: C1, C2, C3, C4, C5, C7, and C10.
Car
There's paid parking all around the area. However, traffic can get crazy in Madrid, especially on boulevards like Paseo del Prado. I always suggest moving on foot or using the metro while in the city center.
Bike
If you are comfortable biking in traffic, Madrid has 30 electric bike stations available to rent around the city. The rental is by time—one or two hours—and costs around €2-4. Each bike station has a parking meter to buy the tickets and collect your bike. You can then leave it in any other station. There is one station beside the Prado/Plaza Murillo.
Famous Artworks and Rooms In The Prado Museum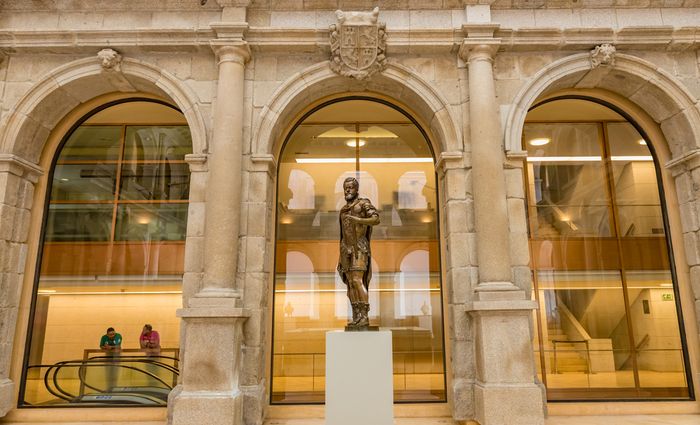 The Prado Museum has the most extensive collection of Francisco de Goya's artworks and many Italian and Flemish paintings. The rooms cover three floors plus the basement, which hosts the museum's development exhibition.
Ground floor rooms:
Sculpture
Goya
Sorolla
Raphael
Hieronymus Bosch 'El Bosco'
19th Century art
Medieval art
Temporary Exhibitions
First floor rooms:
Goya
Rubens
Murillo
Velázquez
El Greco
Ribera
Titian
Poussin
Second floor:
Goya
Rembrandt
Rubens
Clara Peeters
Pro tip: Choosing the itinerary for your visit depends on your interest and amount of time you have. You can't miss out on Goya's Black Paintings: "Pinturas Negras." Also, I would check his "The Third Of May 1808." Another painting that I can spend hours looking at is "The Garden of Earthly Delights Triptych" by Bosch. It is mindblowing.
Prado Museum Tour Options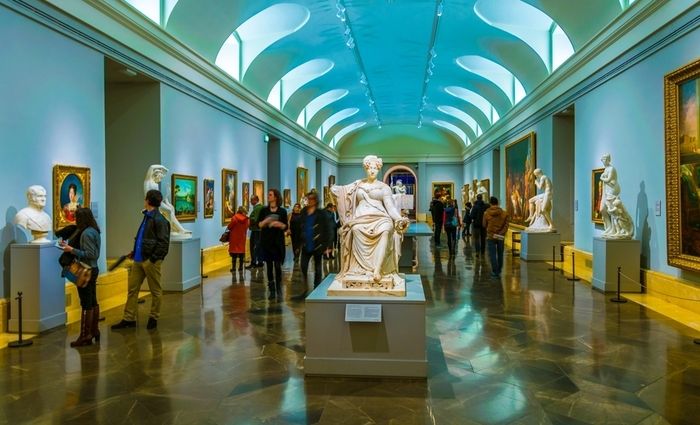 Art museums are some of the great treasures of man's creations on Earth. But visiting museums on your own typically lacks the full experience since you won't understand the story, metaphor, or history of the piece you're looking at. At the Prado, audio guides are available for temporary exhibitions only, so you're left on your own for most of this museum too.
The best alternative is to book a tour with a local guide who has a deep passion and understanding of the art at the Prado Museum. We work with expert guides who have backgrounds in art history and know how to bring out the most interesting facts about art to keep visitors engaged. Without their guidance, you could skip right past a rather unremarkable piece of art that has a truly remarkable past.
Most importantly, you can skip the line when you book with a tour company. It's the best way to avoid wasting your valuable vacation time standing in lines. Click the link below to book today.
Facts and History of the Prado Museum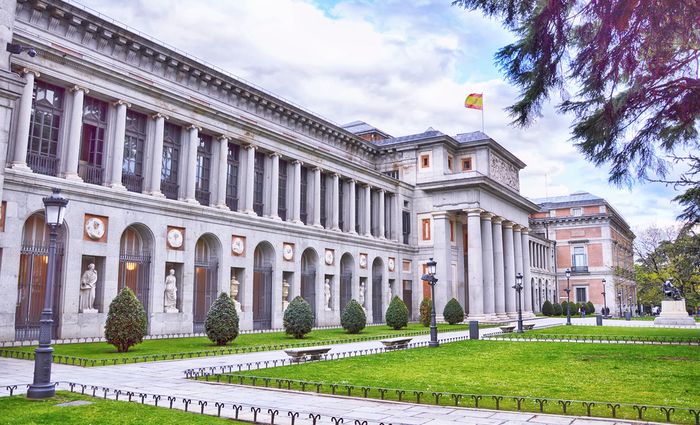 To get you excited for your trip, here are some interesting facts about the Prado Museum and its history, thanks to the Museo Nacional del Prado website.
The building was designed in 1785 to house the Natural History Cabinet.
It opened to the public as an art museum only in 1819.
Before being known as Prado, the museum was named Royal Museum of Paintings and Sculptures and National Museum.
The opening catalog declared 311 paintings.
The museum has acquired over 2,300 paintings and many sculptures, prints, and drawings in the last 200 years.
The number of artworks increased so much in the 19th and 20th centuries that it was necessary to expand the building several times.
The Prado buildings complex also included the Casón, an original ballroom part of the Buen Retiro Palace, now disappeared. From 1981 to 1992, the Casón also lodged Pablo Picasso's painting "Guernica" which is now shown at Reina Sofía. Currently, the building hosts the Prado Library and the museum's study center.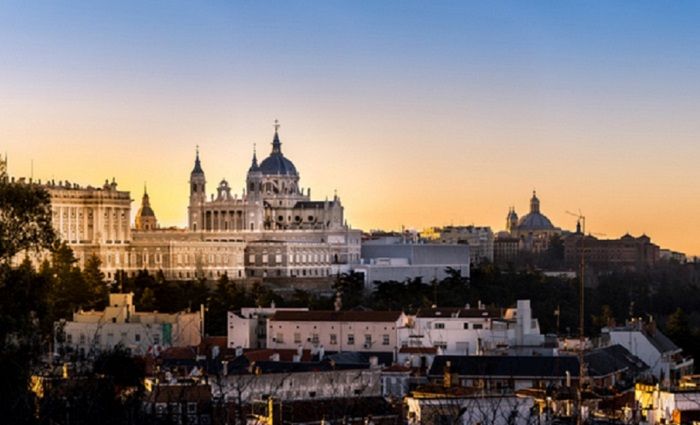 Find the best places to stay
Where to Stay in Madrid
Madrid is a vast city with many areas to stay in, including beyond the downtown area. Choose a hotel near the top things you want to see in this beautiful old city.