Spain is a huge country with lots of history, culture and beautiful nature. For too long Spain endured the stereotype of being a sunshine and beach kind of destination. Well, no more! Besides, this country has so much to offer. So we have gathered these recommendations from the viewpoint of a native PhD historian and tour guide. This list will highlight different regions of Spain and activities for all kinds of travelers to get to know Spain in the best way for you. So what are you waiting for? Dig in!
---
Pro Tip: If you are planning a holiday to Spain, definitely bookmark this article! This way you can easily return to this page to explore the best things to do here while planning ahead.
19 Things to See in Spain
19. San Fermin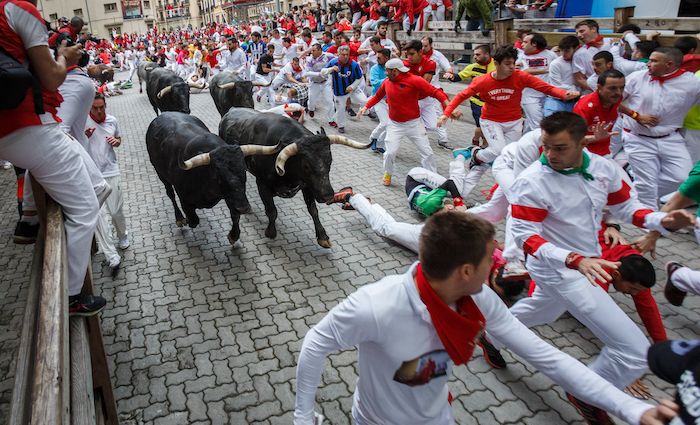 Pamplona | 6th-14th July | Festival
Many tourists come to Spain every year to enjoy our culture, ambiance and festival lifestyle. With thousands of festivals every year, it is hard to pick one. However, San Fermin is a popular one for people seeking unique adventures and thrilling experiences.
While I don't endorse animal cruelty or bullfighting, San Fermin is a lot more than the running of the bulls and bullfighting. Some events and parades are Spanish traditions worth exploring and unique experiences that you won't obtain anywhere else in the world.
18. La Torre del Oro (Seville's Golden Tower)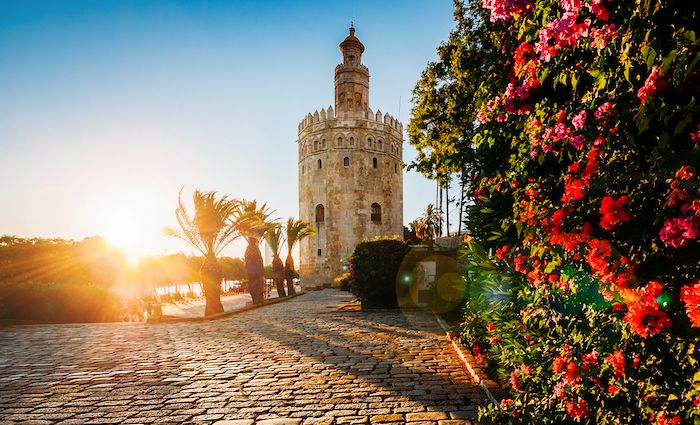 Seville | Guadalquivir River View | Military Defence
Picking one monument out of all Seville has to offer is like trying to find a needle in a haystack: impossible. However, la Torre del Oro is iconic on the Sevillian landscape, and you will not be able to take a photo of the river without encountering it. It is also a monument of great historical and architectural importance. This defence tower was crucial during the Almohad rule of Al-Andalus in Spain as it allowed them to control the river.
The Guadalquivir has always been vital for Seville and its prosperity. In addition, the tower is a remarkable architectural piece with its dodecagonal shape and it currently holds the naval museum, which shows the importance of Seville, the river, and maritime culture for Spain from the middle ages until the discovery of America. Finally, if you get to the top, you will have some of the best views of the river and the city.
17. Ordesa Y Monte Perdido National Park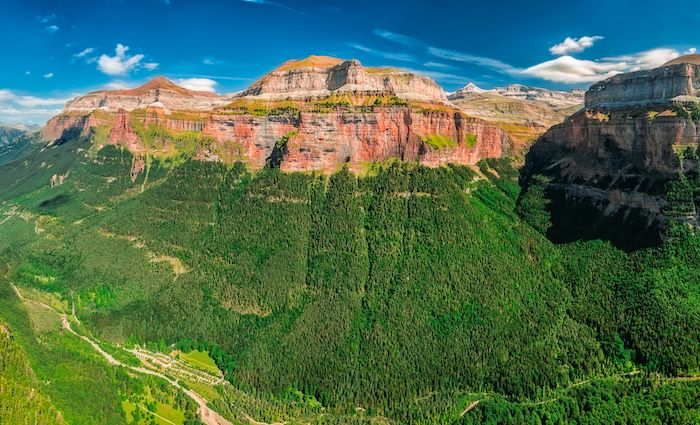 Huesca | National Park | Trekking
The Spanish Pyrenees area is a great touristic call for thousands of people every year. Ordesa Valley and Monte Perdido (The Lost Mount) is a national park and a unique biodiversity area protected by Unesco.
Moreover, it is a top destination for hiking and enjoying the characteristic and abundant karstic landscape of the north of Spain. This area has some amazing waterfalls such as Cola de Caballo, easy nature routes for the whole family, and proper difficult hikes that go into the 1000-2000 m of height.
Finally, if you enjoy active and outdoor tourism, there are lots of companies and places that will cater to your needs whether this is horse riding, rafting, or even canyoning!
16. La Dehesa (Extremadura)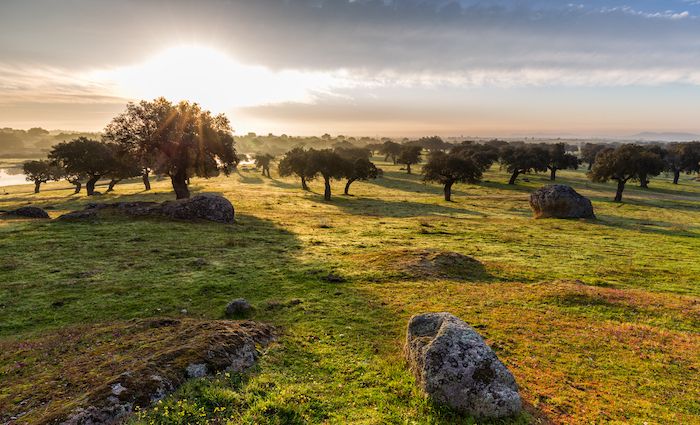 Extremadura| Mediterranean Landscape | Iberico Ham
This may seem like an odd pick if you are not familiar with Spanish history and culture. However, the region of Extremadura has this native Mediterranean landscape that has enabled one of the best ambassadors abroad of Spanish culture: jamon serrano (Serrano ham).
These Mediterranean landscapes designed for grazing and other agricultural activities are the home of the Iberian pig from where we get the best jamon. The landscape is dominated by plateaus and oak trees that produce the acorns that feed these pigs. This is quintessential Spanish southern natural beauty, culture, and lifestyle.
15. Altamira and the UNESCO Caves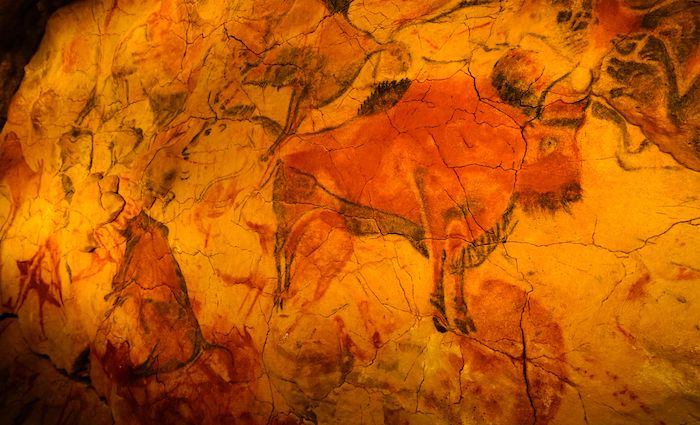 Cantabria | Paleolithic Art | Geology
Cantabria has the most outstanding caves with paleolithic art in Europe. In fact, Altamira is considered on par with Lascaux in France. However, the actual cave of Altamira with its famous bison paintings has limited visitors, and you will be extremely lucky to get access. Shortly after its discovery in the 19th and 20th centuries, it was damaged by careless and massive tourism.
However, there is a replica and a museum nearby the cave itself, which is a great way of still enjoying the beauty of Altamira without damaging its contents. Moreover, there are another 9 caves that are also Unesco patrimony that you can learn about in Cantabria, and that will enamor those with a passion for art or geology equally.
14. El Prado
Madrid | Art Museum | Neoclassicism
El Prado is one of the most important art museums in the world. It contains iconic pieces of Spanish art from the middle ages to modern times. But, this is a huge museum where you can spend the entire day, and it may even be a bit overwhelming.
Therefore, if you are short of time or don't know what to see at El Prado, I'd recommend that you visit the rooms with the art with Velazquez and Goya. Don't go without seeing Bosch's The Garden of Earthly Delights, Las Meninas by Velazquez, and La Maja by Goya.
Finally, the exterior of the building itself is also great, and the front entrance to the building is one of the best examples of Spanish neoclassicism.
13. Los Herederos del Marques de Riscal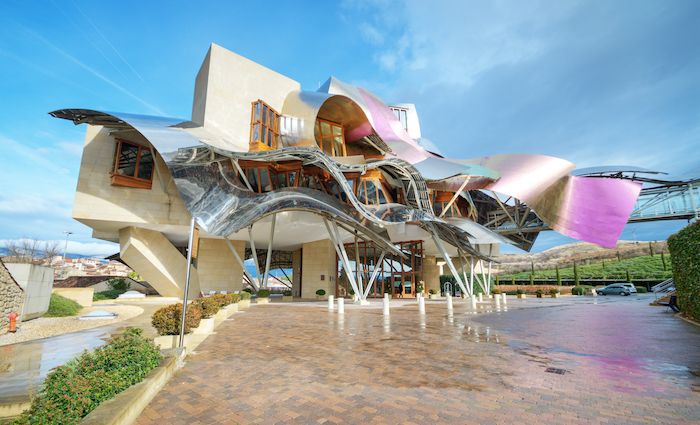 Alava | Winery| Modern Architecture
This winery is located in Elciego, a community in Rioja Alavesa (Basque Country border with La Rioja). It has a state of the art facilities and literal architectural art, designed by the famous architect Frank O. Gehry.
It is known as the city of Wine, and you can visit the facilities to learn about its history, vineyards, and wine. In addition, Marques de Riscal pride themselves in being the first-ever bottled Rioja wine in Spanish history.
12. Bolonia Beach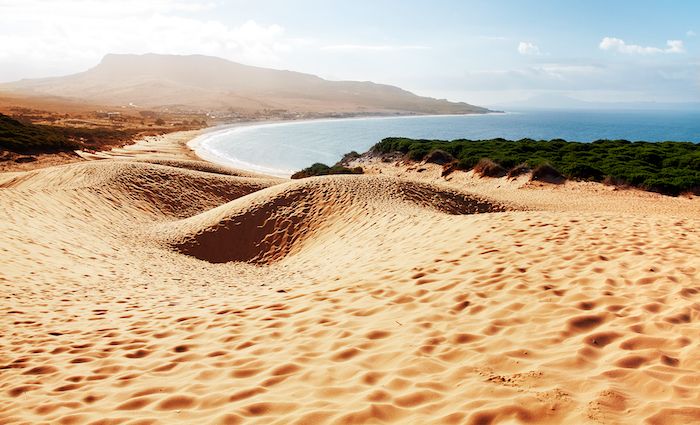 Free | Andalucia | Beach
Tarifa has some of the best beaches in Spain, and Bolonia keeps on being no.1! Bolonia beach is nearly 4 km long and has some mesmerizing dunes. These are at the Estrecho Natural park, so don't miss them.
Being on the Atlantic coast of Spain, Bolonia is a popular destination for water sports lovers. Moreover, Bolonia has its own Roman ruin! This is the settlement of Baleo Claudia, which was an important enclave for the trade with north Africa. Amongst the ruins, you can see the remains of a garum factory (fish sauce), the basilican, and the theatre.
11. Doñana National Park
Huelva/Cadiz/Seville | Marsh Landscape | Archaeology
Doñana is one of the largest national parks in Spain. Moreover, it covers an area of 543 km2, although only 135 km2 are protected. You will be able to see some very unique landscapes, including the delta of the Guadalquivir river, marsh environments, and dunes. Besides, it is home to some unique biodiversity that you can't find anywhere else in Europe.
If you are lucky, you may see Spanish endangered species such as the Spanish imperial eagle or the Iberian lynx. In addition, Doñana is also very important from an archaeological perspective as the historical record shows this would have been an area for Phoenician and Greek colonies and a centre of a mysterious native Spanish civilization called Tartessus.
10. Avila Walls
Avila | Medieval History | Night View
These are the most complete and best-preserved town fortifications in Spain. They were built between the 11th and the 14th century. Furthermore, the fortification covers an area of 31 hectares, a total of 2516 metres of a continuous wall.
Moreover, the walls have 9 gates and 88 semicircular towers, which include the apse of the cathedral itself. Besides, you can walk a part of the walls, and if you leave Avila through a countryside route, you will reach the best spot from where to see the whole of the city wall. If you wait until nighttime, you will see the walls illuminated. I cannot recommend this experience enough because the view is amazing.
9. Old Town Toledo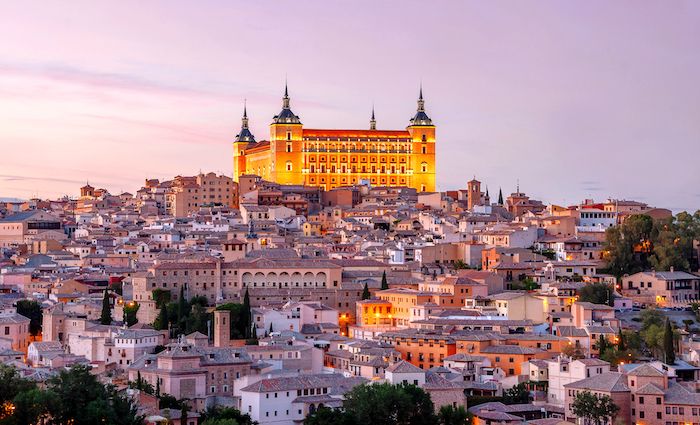 Toledo | City Walk | Toledo Steel
The old town of Toledo is part of the UNESCO World Heritage list. Furthermore, there are over 20 monuments of historical significance in Toledo. Therefore, I will select just a few highlights. Firstly, the Alcazar at the top of the city holds the army museum and some of the best views of Toledo and the Tagus river.
Secondly, the Gothic cathedral is one of the best examples of this style of architecture in Spain. In addition, you cannot miss the El Greco museum or Santa Maria la Blanca. This is the oldest synagogue still standing in the whole of Europe. Finally, make sure you stop in one of the many forges of the famous Toledo steel.
8. The Mosque-Cathedral of Cordoba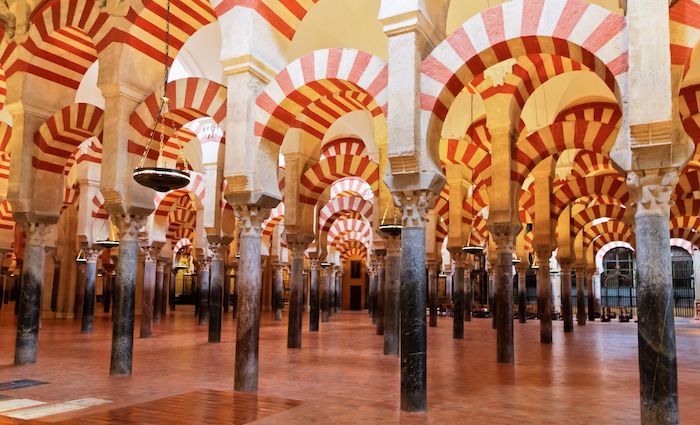 Cordoba | Religious Building | Al-Andalus
This building reflects the importance of religion, of any kind, in Spain for centuries. Moreover, there is evidence for a Roman temple and a Visigothic church in this same spot before the Muslim conquest of Spain in 711. The mosque was built in the 8th century during Umayyad rule in Al-Andalus (Moorish Spain).
It was the heart of the city and it is considered one of the most influential buildings in Moorish architecture. However, it became a Christian church in the 13th, although it remained largely Muslim in design until the 16th and 17th centuries. You can see these additions and transformations in the Capilla Mayor.
7. La Ciudad de las Artes y Las Ciencias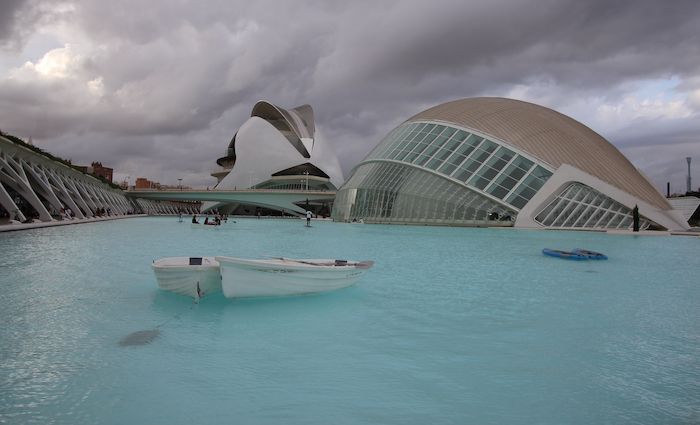 Valencia | Family Holiday | Modern Architecture
This is a huge complex of buildings in Valencia and the largest of its kind in Europe. Here you can admire modern architecture, science, and the arts. The buildings include:
L'Hemisfèric (planetarium and IMAX cinema)
Museu de les Ciències Príncipe Felipe (science museum)
L'Umbracle (like a mini botanic garden with sculptures)
L'Oceanogràfic (the largest oceanographic centre in Europe!)
Palau de les Arts Reina Sofia (opera house)
Montolivet Bridge (best place for views of the complex)
Assut de l'Or Bridge (cable-stayed bridge best point of access to the complex from the other side of Valencia)
L'Agora (covered plaza for events).
The architects were Santiago Calatrava and Felix Candela. It cost €900 million, and it took over a decade to finish it.
6. Santiago de Compostela Cathedral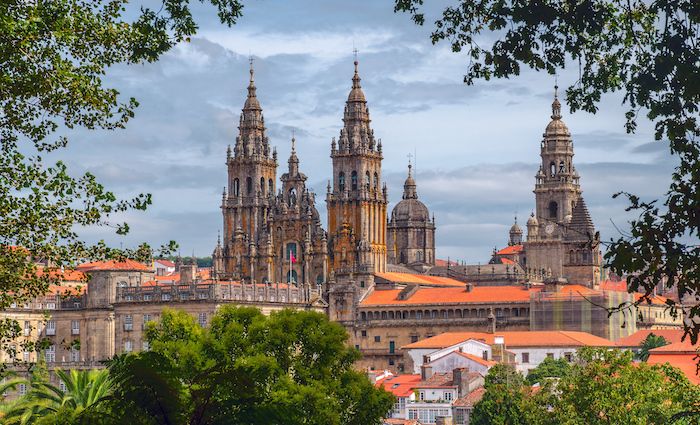 Santiago de Compostela | Romanesque | Legend
Correction: Archcathedral Basilica. Santiago has this special title as one of the three remaining churches in the world built over the tomb of an Apostle. Legend says that Saint James the Apostle (Santiago in Spanish) came here to Christianise Spain.
Allegedly, they found his tomb in the 9th century. After that, pilgrims began to flock, and the church was built to keep the remains of the saint intact. Since then, of course, the famous Camino de Santiago ends at the cathedral. Finally, when you visit, remember to look at Portico da Gloria. This is a Romanesque portico with special features of Spanish medieval art.
5. Teide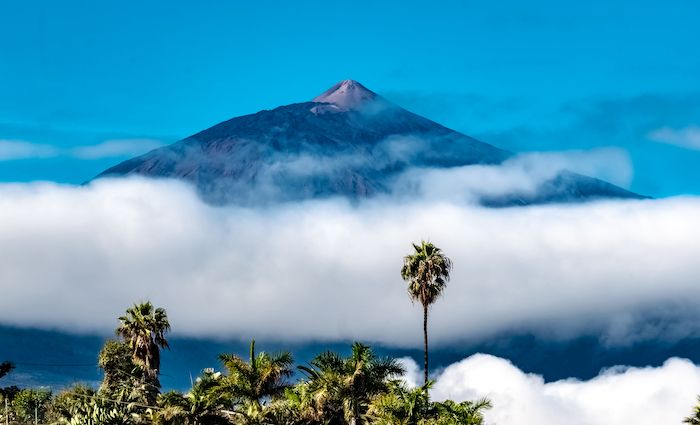 Tenerife | Holy Mountain | Active Volcano
Sunshine? Check. Nature? Check. Volcano? You couldn't ask for a better one. Teide is the highest mountain top in Spain (3715 m). Moreover, from the ocean floor, it measures 7500 m making it the 4th highest volcano in the world. Also, the views from the top are incredible.
Moreover, you can soak in the Canarian beauty protected in Teide's National park. In addition, Teide is the sacred mountain for the Guanche people: the native population of the Canary Islands. So, if you visit, please embrace this holiness. Finally, remember that Teide is still an active volcano so take care during your visit.
4. Segovia's Roman Aqueduct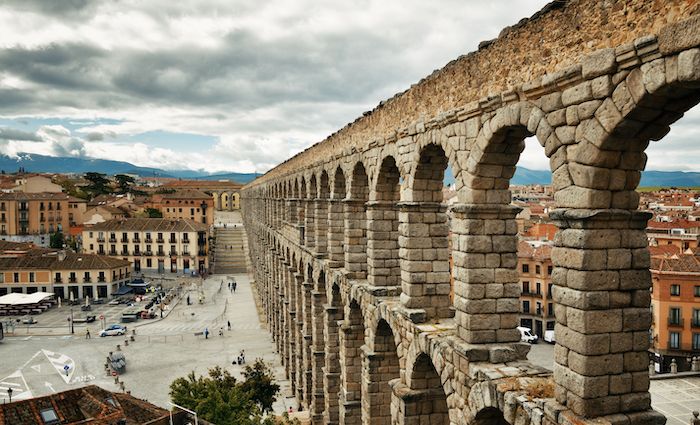 Segovia | Roman History | Photography Lovers
If you like Roman history, you may know Spain was an important Roman province. Well, Segovia has you covered! It has one of the best-preserved Roman aqueducts in history. Besides, the walk to the city centre of Segovia is a magical experience because of this monument. Make sure to get to the lateral viewpoint of the aqueduct to take some fantastic panoramic photos.
3. Santa Maria de Montserrat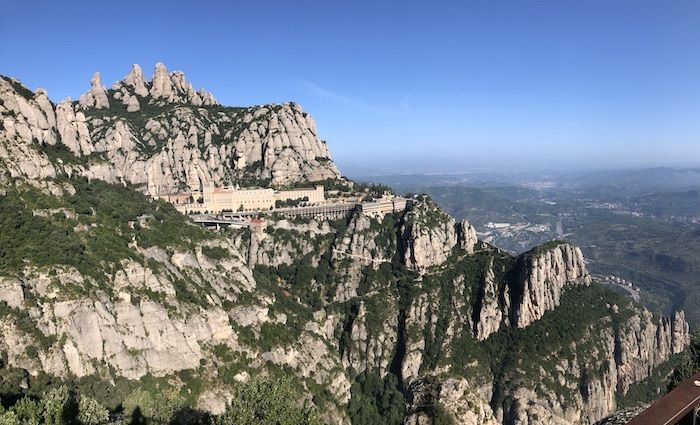 Barcelona | Benedictine Monastery | Black Madonna
This impressive Benedictine abbey is famous for the Virgin of Montserrat. This Virgin is also called "La Moreneta" because it is one of the Black Madonnas. The monastery and the virgin date to the middle ages. However, their exact origins are surrounded by legends.
In addition, Montserrat is an important monument for Catalunya and Spain because of its history of violence during the Spanish Civil War. Finally, if you want to make the most of your visit here, do take the cable car to the abbey and then the funicular to the top of the mountain itself for some amazing views.
Getting to Montserrat takes some research and effort. Also, once you get there what do you do? Take out the guesswork with a guided day trip to Montserrat from Barcelona
2. La Alhambra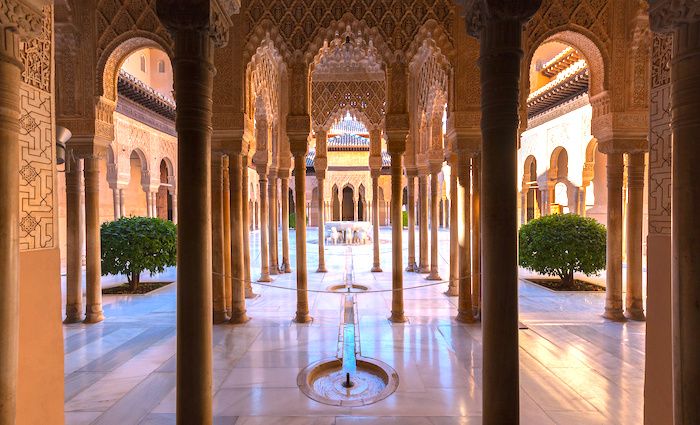 Granada | Islamic Architecture | Unesco
You simply cannot come to Spain and miss out on our beautiful Western Islamic architecture. And the Alhambra is the most representative piece of this style of art. However, do not underestimate the amount of time it will take you to enjoy this building.
Therefore, we recommend that you admire the Alcazaba and the Palace of Charles V. Then ensure to stop by el Generalife as well as the gardens. And of course, don't miss the Court of the Lions, and take an epic selfie in the Hall of the Abencerrajes with that honeycomb ceiling.
Want to ensure you get inside the Alhambra? Book a tour with admissions included — not to mention, this massive complex is best visited with a guide!
1. La Sagrada Familia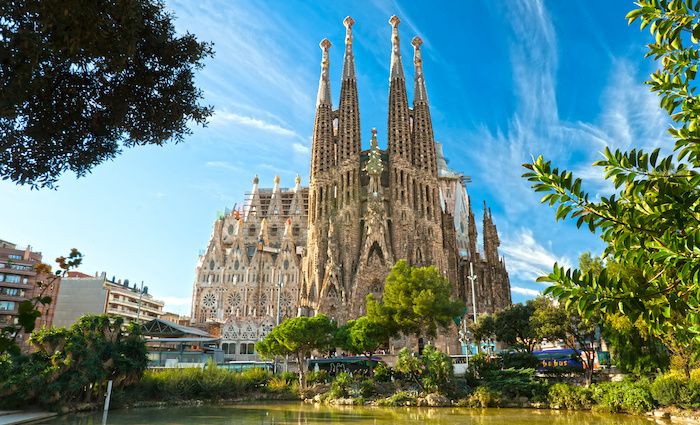 Barcelona | Gaudi | Unfinished Building
This is one of the most iconic monuments of Barcelona, and if you can only pick one, perhaps one of the most representative pieces of Gaudi. Moreover, it is a monument like no other because this basilica isn't finished yet! Firstly, admire the spires with the newly added stars.
Secondly, take in the complexity of the carvings of the Nativity Facade. You will be bewildered by the lack of 90-degree angles in this whole place.
By looking at the monument you will understand the importance of Catalan culture in the 19th and 20th centuries. Finally, you will have a great foundation in Catalan Modernisme architecture to help you understand the rest of Barcelona.
Want to ensure you get inside the Sagrada Familia? Book a tour with admissions included — not to mention, this massive unfinished masterpiece is best visited with a guide!