For too long, the north of Spain has been neglected by tourists unaware of the rich experiences that await in this area of smaller towns that are full of life. Well, no more! As a native PhD historian and tour guide, I've put together my top recommendations for which towns should be visited by tourists looking for a new perspective of Spain. This list will highlight different small towns to visit in northern Spain, plus activities of all kinds no matter how you like to travel, so dig in!
---
12 Small Towns to Visit in the North of Spain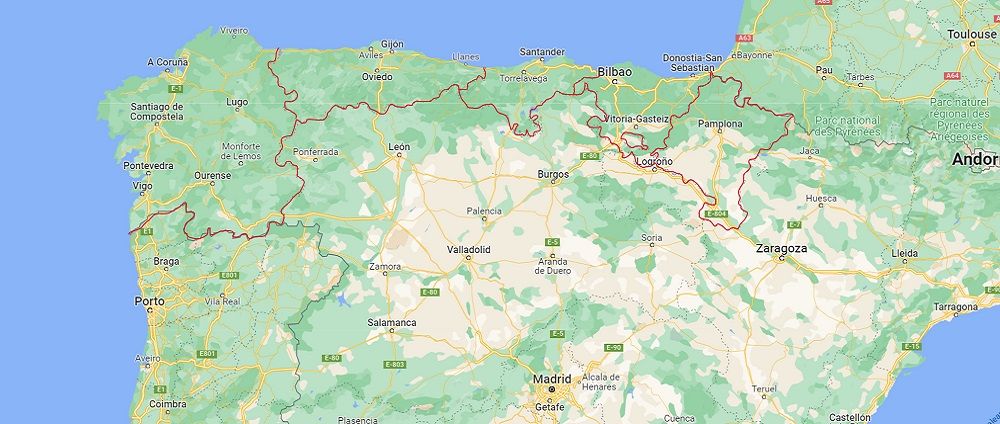 In Spain, there is not a specific geographic area designated as "the north." So, for the sake of consistency and to give you a truly local view, I have stuck with what we northerners of Spain consider to be the northern region. This corresponds with the "Celtic fringe" of the Iberian peninsula which includes the regions of Galicia, Asturias, Cantabria, Pais Vasco (Basque Country), and Navarra. These are highlighted in red in the map.
Basically, I'll be including all the regions that are wedged between the Cantabrian sea and the mountains before the plains. However, there are some other territories that historically have belonged to the north and I have included some of those here.
Finally, with small towns, I mean cities and urban spaces of 250,000 inhabitants or less. I have tried to highlight some places that are a little bit off-the-beaten path. This way you get the most authentic experience of the north.
Now that you understand the area we'll be exploring, let's take you to my land and that of my neighbours! Discover below the best small towns to visit in northern Spain on your next trip to this historic country.
12. Reinosa (Cantabria)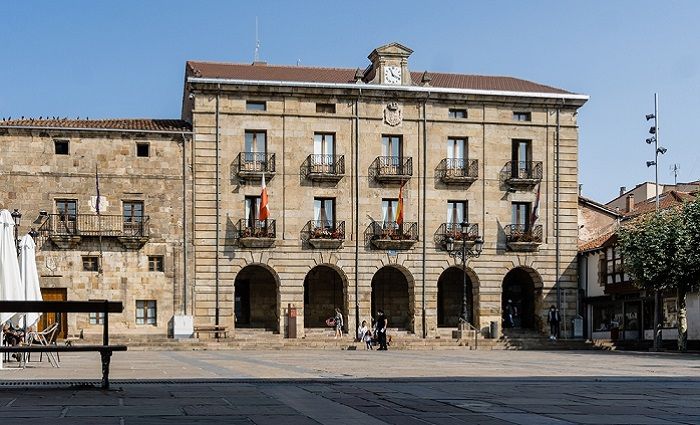 Rural Town | Active Tourism | Eat Pantortillas
I can talk about my homeland Cantabria nonstop, but I settled for Reinosa because it is a fairly unknown town. It is the smallest town on this list (just about 10,000 inhabitants). So for people looking for off-the-beaten-path, secluded places, and lots of outdoor activities, Reinosa is the place to go.
It is only a few minutes by car from Fontibre where the Ebro river starts. That makes it perfect for tourists who love water sports, canoeing, or even rafting. Moreover, Reinosa is one of the gateways to the Cantabrian Mountains, so it is also ideal for skiing, snowboarding, trekking, hiking, and mountaineering. And if that isn't enough, Reinosa has one of the best golf courses in the region (Nestares) with 18 holes, a PAR 72 and 6,250 meters to play on.
But if you decide you also want to explore the local history, then you're still in the right place. Reinosa has been a border town for centuries, so it is full of monuments and ruins. The rural manors will impress you, and so will the roman ruins, Cantabrian castros, and other castles that are nearby. Be sure to enjoy some traditional Reinosa pantortilla (sugared pastry) while you're in Reinosa!
Pro tip: If you like, you can visit the San Pedro de Cervatos, which is an ancient monastery with rather naughty sculptures.
Location: Reinosa, Spain
11. Lugo (Galicia)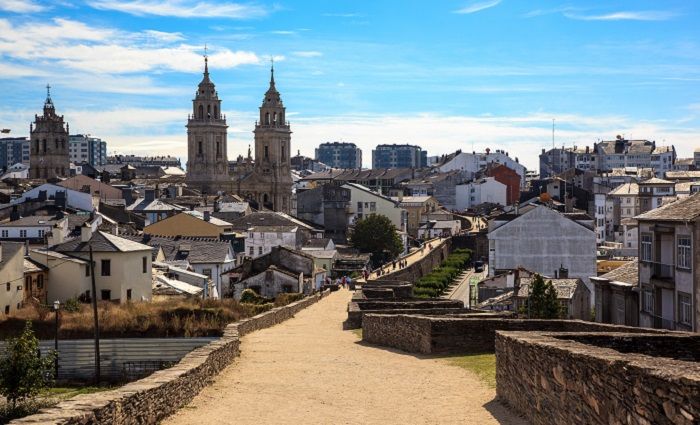 Roman Walls | UNESCO Site | Re-enactment Festival
Lugo is a small town of just less than 100,000 in Galicia, according to Britannica. There is one main reason Lugo is famous and should be on your travel list: it is the only town in the world still completely surrounded by a perfectly preserved Roman wall.
This was no small feat! The wall is over 2,000 meters and has 71 towers. The walls date from the 3rd century and are part of the UNESCO World Heritage list. In addition, the bridge that crosses the river Miño—the main river of Galicia—also dates back to Roman times.
If you're an ancient history lover, Lugo is a must-visit. I definitely recommend visiting in late June as the city hosts the Arde Lucus. This is a cool Roman festival that usually has nearly half a million visitors and lots of activities showcasing the Roman history of the area.
Location: Lugo, Spain
10. Logroño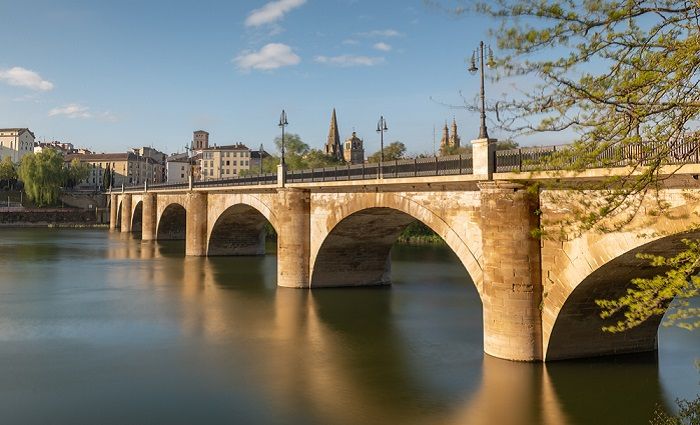 Wine Tourism | Tapas and Pinchos | Nightlife
Logroño is the capital of La Rioja, a small region wedged between Castilla, Pais Vasco, and Navarra. Unfortunately, if it wasn't for the wine, most people (even Spaniards) would probably forget it exists! But that's even more of a reason to explore these lesser-known places.
One of the best things to do in Logroño is to eat. In fact, there are over 50 tapas bars here to enjoy some wonderful Rioja wine. The best places for eating around Logroño are the streets that connect at the many squares around the city, especially Plaza del Ayuntamiento and Plaza del Mercado.
For those who like to go out or enjoy the nightlife atmosphere, Logroño won't let you down. Between the streets of Calle del Laurel and Calle San Juan, you will party like a local and have some of the best pinchos (grilled kebabs) and tapas in the country. Here are also a few recommendations of traditional food to try in Logroño: patatas a la riojana (potato stew with chorizo), pochas con cordornices (bean stew with quail), and anything made with lamb—particularly the lamb chops.
And if after all the eating and drinking, you got an appetite for some culture, read on! Make sure to visit the stone bridge and the Concatedral de Santa Maria la Redonda. The name concatedral reflects that the cathedral status is shared with other locations in La Rioja. I bet you've never visited a place like that! Finally, visit San Blas Market to take some local goods and crafts home with you.
Location: Logroño, Spain
9. Avilés (Asturias)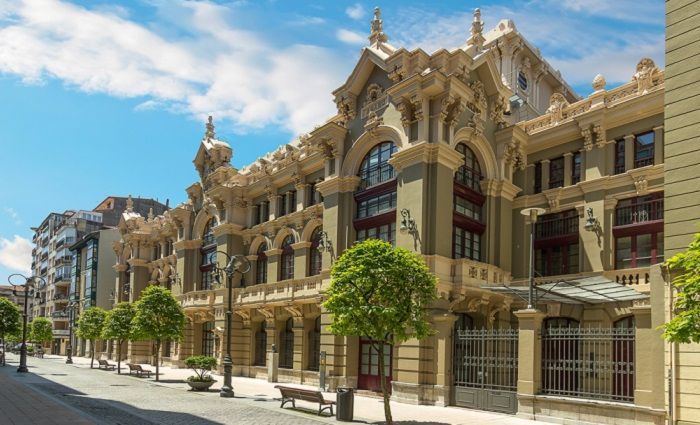 Folk Festival | Historical Monuments | Asturian Gastronomy
Avilés is the third-largest city in Asturias, and there are many reasons you should visit. But one particular event deserves your attention: the Interceltic Festival. It is a folk festival advocating for Celtic heritage and folk culture of northern Spain and other European regions that share this cultural past.
Those other areas include Brittany, Scotland, Wales, and Ireland. This festival takes place in the summer months, and you can enjoy all traditions, from gastronomy and craft to sports and music in one place.
Aside from the festival, you should see the Oscar Niemeyer International Cultural Centre, one of the most notorious landmarks in the city. It's a modern work of art that looks unlike the ancient buildings here. In addition, visit the town hall square and the gardens of Palacio de Ferrara before seeing the church of St Thomas of Canterbury and the Palacio Valdés Theatre.
This last one is the gorgeous 20th-century building pictured above, and the perfect venue to enjoy a good play, opera, or ballet. Finally, you cannot come to the seashore without enjoying the views from the port and eating some delicious seafood.
I sincerely recommend you find a restaurant serving fabes con almejas (beans with clams), and enjoy one of the many local wines as Avilés is a prolific wine region in Asturias.
Location: Avilés, Spain
8. Oviedo (Asturias)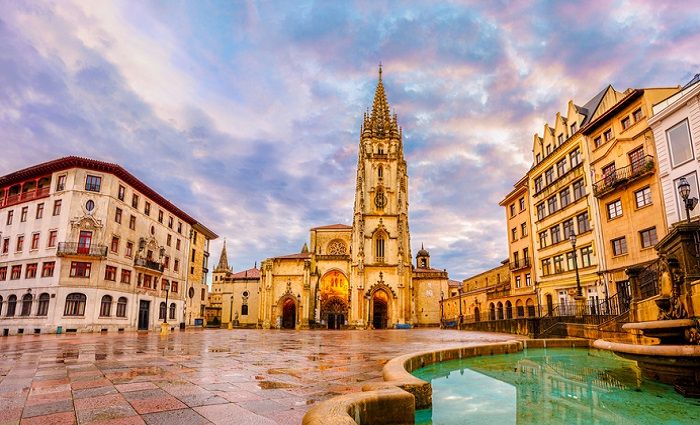 Pre-Romanesque Architecture | Arts and Sports | Asturian Cider
Oviedo is the capital of Asturias and has a rich architectural legacy that goes all the way back to the 8th century. In fact, in Oviedo, you can visit breathtaking pre-Romanesque monuments such as the churches of Santa Maria del Naranco, San Julian de los Prados and San Miguel de Lilo.
All of these are UNESCO sites and because of their age, they have some very unusual architectural features. That means you won't find buildings like this elsewhere in the country. Even Oviedo's cathedral (pictured above) dates back to the 8th century!
Moving into modern times, Oviedo is also the location for the Princess (formerly Prince) of Asturias Awards at the Campoamor Theatre. Some previous winners of these awards are Bob Dylan and Woody Allen. Fun fact: many scenes from Vicky Cristina Barcelona were filmed here in Oviedo.
And of course, the biggest celebrity to ever come from the area, Fernando Alonso (the F1 pilot) has his museum not far from the city, so automobile and racing fans will be right at home. Finally, make sure to stop for a nice glass of acclaimed Asturian cider in many of the bars around the city centre.
Location: Oviedo, Spain
7. Ponferrada (Castille)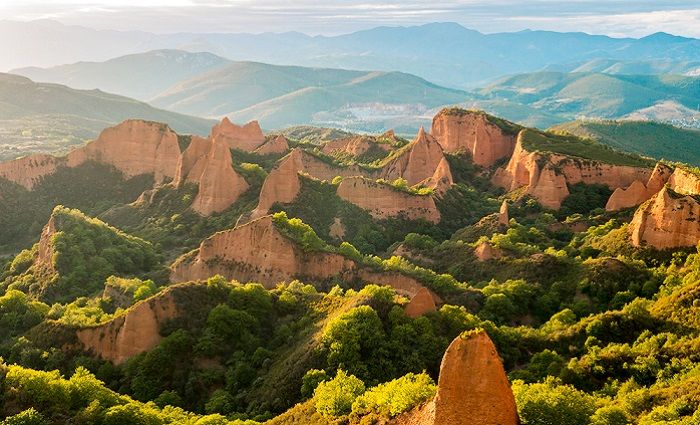 UNESCO Site | Templar Castle | Green Tourism
Ponferrada, which is in the community of Castilla y Leon, is a small city of around 70,000 inhabitants. Although Castilla is not traditionally considered part of the north of Spain, its history is closely related to this region.
In fact, before Roman times, the people who occupied this area were the Astures, so it has a Celtic and definitely northern heritage. The reason why the Romans came to this area is actually related to one of the most amazing things you should see when you come to Ponferrada.
This is the area of El Bierzo and Las Medula, the most important gold mine in the Roman Empire, which is an incredible landscape now protected by UNESCO. Ponferrada is located in the Camino and not far from Santiago itself. The historical heritage of the city will interest anyone who likes learning about the Middle Ages.
In fact, there is a huge templar castle spanning 16,000 square meters that's been well preserved. And an unusual but cool place to visit in Ponferrada is the Radio Museum that tells the story of the radio in Spain. Finally, due to its stunning landscapes, Ponferrada a great destination for people into green tourism, cycling, and skiing.
Location: Ponferrada, Spain
6. Pamplona (Navarra)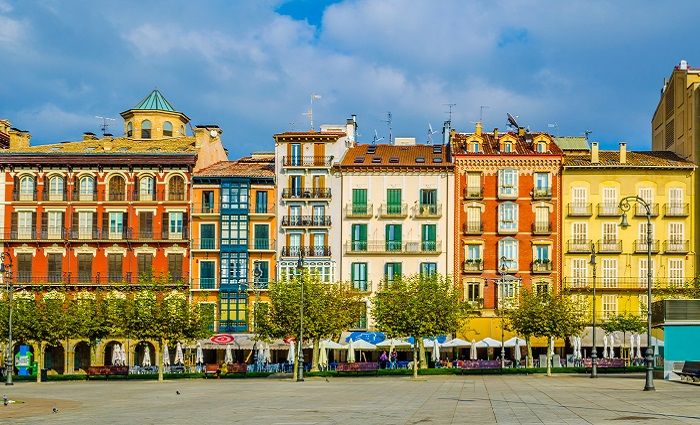 San Femin | Fortress | Active Tourism | Running of the Bulls
Pamplona is perhaps most famous for the San Fermin festivities of running with bulls down its busy streets. However, there is so much more to this city. Pamplona has a rich history because it has always been in a very dynamic area of Spain. The Navarra region was an independent kingdom for some time, plus it has ties to the French crown, the Basque territory, and the rest of Spain, so it's an area of merging cultures.
There are many medieval churches worth seeing in this city including its cathedral and the church of San Lorenzo. You'll also find amazing Baroque buildings like the town hall, which is photo-worthy.
However, one of the most impressive sites to visit in Pamplona demonstrates its legacy as a contested territory. You can still see the remains of the impressive medieval star-shaped fortress called the Citadel of Pamplona. This location became one of the most important forts for Spain on the western side of the Pyrenees. Navarra and Pamplona have seen much war since the early modern period, so fans of military history will enjoy this stop.
Pamplona is found on the river Ebro and close to the mountains, which is perfect for those into active tourism, hiking (El Camino route goes through the city), and cycling. Did you know that the five-time Spanish champion of the Tour de France, Miguel Indurain, came from Pamplona? Yep!
And as always in the north of Spain, you will be delighted by great food. The pintxos scene in Pamplona is super strong. They're small appetizers on a toothpick or skewer, by the way.
Location: Pamplona, Spain
5. Vitoria-Gasteiz (Basque Country)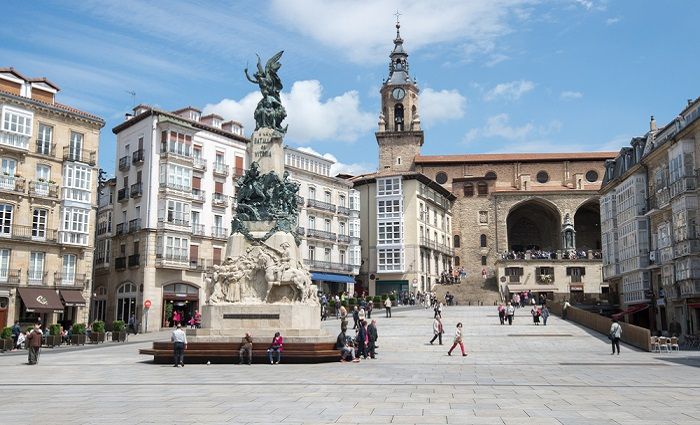 Wine Tourism | Perfect for Walking and Accessibility Friendly | Green City
For those who aren't locals, Vitoria might come across as the forgotten Basque city. Admittedly it's not as big as Bilbao, and it is not by the sea with such gorgeous views as San Sebastian. But do not underestimate the interest behind this city. For starters, if you love wine, Vitoria is the gateway to the Rioja Alavesa—one of the best and most prolific regions in Spain for Rioja wine.
The best thing you can do when you arrive here is to walk around. The city is perfect for long strolls any time of the day and despite any weather. Moreover, Vitoria is actually one of the most accessible cities in Spain and even Europe. So any travelers with accessibility considerations will find this a paradise to visit.
It is also one of the greenest cities and has won the title of European Green Capital 2012, according to the city's website. The old city centre of Vitoria is very well preserved, so it will transport you back to the middle ages in a flash.
The list of attractions and monuments is pretty long. However, make sure you see the cathedral of Santa Maria, as it contains some Rubens and van Dyck paintings inside. Then check out the Artium Museum for contemporary art before wandering Los Arquillos road.
Also add Ataria, the interpretation centre for the Salburua wetlands to your list. Finally, spend some time walking the Green Belt with its formidable parks that will help you connect with nature even when staying in a city.
Location: Vitoria-Gasteiz
4. León (Castille)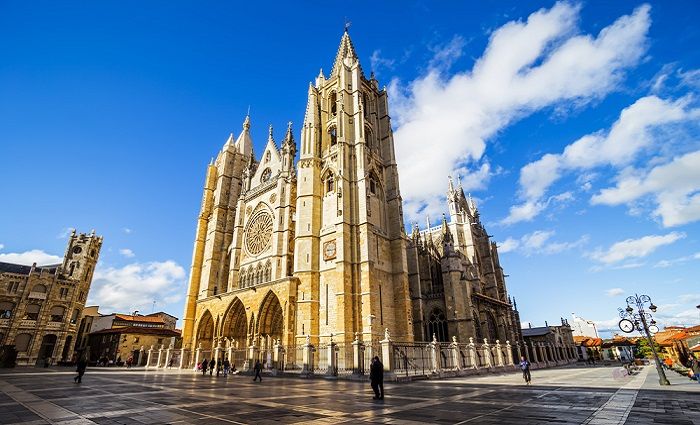 Comfortable Urban Space | Medieval Monuments | Something for Everyone
León is the capital of the province of León in Castilla y León. Although it is not the traditional north of Spain, this city is also very closely linked to northern history and territories. In fact, León used to be part of the Kingdom of Asturias for a while.
Moreover, Leon is a great city to visit for those who still want to feel the urban space without being crowded. The city has just over 200,000 people, and it is full of history. It is because of its rich medieval past that we are blessed with many monuments in this city.
One important location to visit is the Basilica de San Isidoro (the burial place of the old kings of Leon) which is just as important of a stop as the Gothic-style cathedrals. In fact, I dare say León has one of the most beautiful cathedrals in Spain (pictured above) called the León Cathedral. Those of you, like me, in love with stained glass windows will live some your best moments here.
The Convent of San Marcos is another important medieval building to see, as well as the city walls and the many noble palaces. But the history of León goes beyond the middle ages. As an example for the Antoni Gaudí lovers, do not miss Casa Botines, one of his prominent buildings that houses famous Spanish artwork!
In addition, León has great green spaces as the course of two different rivers determines its landscape. That means you and your significant other can enjoy brilliant picnics and bridge walks at night. But remember, this is just an introduction to León. The delightful gastronomy, festivities, museums, and art galleries will enchant you whatever your taste.
Location: León, Spain
3. Santiago de Compostela (Galicia)
Galician Culture | Historic Old Town | Santiago Cathedral
There are many reasons why you might come to Santiago. Perhaps come to try delicious pulpo a la gallega (Galician style octopus) or tartas de Santiago if you have a sweet tooth and like almond desserts. Maybe you want to visit one of the many local venues where you can enjoy Galician culture, hear some traditional Galician pipe music, or perhaps dance some traditional muiñeiras.
But I suspect you probably came all this way for the elephant in the room: Santiago Cathedral and the famous Camino de Santiago. Whether you've come here as a pilgrim or simply to enjoy one of the most beautiful walks of my home country, Santiago will receive you with open arms.
As you enter Praza de Obradoiro as I fondly remember doing as a child (my family is also Galician), you will understand why this has always been an important city for Spain. Here we have what's known as one of the most beautiful hotels in Europe, Hostal Dos Reis Catolicos, which used to be a royal residence for the Catholic Monarchs in the 15th century.
Then the Pazo de Raxoi building is also notable as the Galician government building, though it's currently the Galician Xunta. Moreover, you could explore the Colexio de San Xerome. This is one of the university buildings that has great importance considering the university in Santiago is one of the oldest universities in continuous operation in the world.
And, finally, the Santiago Cathedral or Cathedral of Santiago de Compostela. Please take a few moments to take in its imposing majesty and walk around it to observe the breathtaking Portico da Gloria. You can learn more about this cathedral in our other about must-see places in Spain.
Location: Santiago, Spain
2. San Sebastián (Basque Country)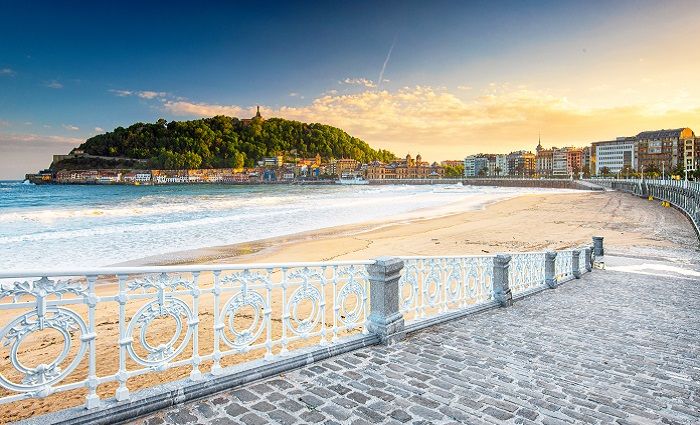 Seaside and Surfing | Arts Hub | Basque Gastronomy
San Sebastián is the capital of Gipuzkoa in the Basque Country. It is known for La Concha beach, which is a stone's throw away from the city centre, and Zurriola Beach that always attracts surfers from all over the world. Along the bay, you will also see the silhouettes of Mount Urgull and Ulia, which you should walk to and enjoy the small hike for those incredible views.
Furthermore, San Sebastián also hosts the International Film Festival and Jazz Festival, which take place every year and give a lot of fame to the city. In fact, San Sebastián was co-named the European Capital of Culture in 2016 along with Wroclaw, Poland. Moreover, it is a very convenient location because it is only 30 minutes away by car from the French border.
Although there has been a settlement in the area since ancient times, San Sebastián has become a prominent town in the last 200 years, particularly during the 19th century. You can see some beautiful buildings from that period along the seafront and in the city centre which will enchant you.
As with most places in the Basque Country, San Sebastián is the place to be if you are a foodie. Why? Well, it has the highest number of Michelin-starred restaurants in Spain. Some famous establishments are Arzak (boasting new Basque Cuisine), chef-named restaurant Martín Berasategui (the most-awarded Spanish chef with 12 Michelin stars), and Restaurant Akelarre (which got its third Michelin star in 2007).
Whatever your reason to visit Sanse, as we say in the north, you will not be disappointed.
Location: San Sebastián, Spain
1. Santander (Cantabria)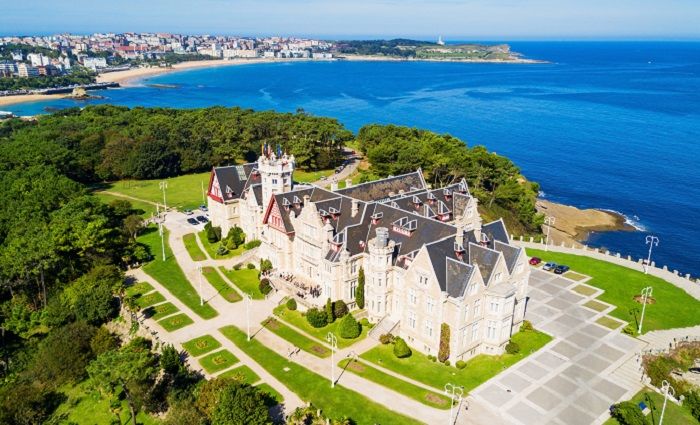 Most Beautiful Bay | Perfect Northern Hub | Culture and Nature
Did you know we have one of the most beautiful bays in the world in Spain? Santander is one of the most picturesque towns in northern Spain. It's the capital of Cantabria, so the major airport is close to the city centre.
Better yet, it's only one hour away from Bilbao, and two hours from San Sebastian, Gijon, and Oviedo. Santander is also the gateway to the rest of Cantabria and full of nature, history, and good food! The city isn't overcrowded, and you can walk nearly everywhere.
The city still has a lot of charm, despite the fire it suffered in the early 20th century. Don't skip a visit to the medieval crypt and cathedral here. And the archaeological museum (MUPAC) contains amazing artefacts from our UNESCO site caves!
You can walk along Paseo Maritimo to enjoy the bay all the way to the area of Puerto Chico (the little port), which is our lovely marina. Also by the seafront is the Centro Botin art museum by Renzo Piano that happens to have perfect views of the bay.
Also keep an eye out for Palacio de Festivales where the FIS (International Festival of Santander) takes place every year. This is one of the oldest music festivals in Spain, bringing some of the best operas, ballets, and plays of the world to the city.
In addition, you cannot miss a visit to the Magdalena Peninsula. It has beautiful woodlands beaches and the Palacio de la Magdalena (pictured above) which used to be a royal residence. Finally, enjoy walks around El Sardinero and stop for some rabas. They're our Cantabrian take on fried squid/cuttlefish. And I'm just getting started. Come over and see for yourself!
Location: Santander, Spain