Madrid is surrounded by ancient towns with royal palaces, Roman aqueducts, alcázars full of Moorish history, and so much more. There's so much to see just a quick day trip away! But if you don't know the area or what to see, the guesswork can be time-consuming and stressful. We'll take care of that for you! Our local expert has put together this list of the best day trips from Madrid.
---
Pro Tip: Planning what to do on your trip to Madrid? Bookmark this post in your browser so you can easily find it when you're in the city. Check out our Madrid guide for more planning resources, our best Madrid tours for a memorable trip, and how to see Madrid in a day.
15 Fun Day Trips From Madrid
The capital is full of attractions that'll keep you very busy. But if you're staying in Spain for a week or so, don't miss out on the opportunity to explore a bit beyond Madrid. There are some incredible places and attractions nearby you can add to your itinerary that'll give you an unforgettable glimpse into Spain's long and culturally diverse history.
To help you put together your day trips, I have selected the top destinations for you. Most of the sites on this list are essential pins on the UNESCO World Heritage map. Plus, I added some unexpected natural destinations in the middle of Spain. The travel times by car are calculated from the city center and don't exceed two and a half hours. The only exception is the overnight stay at the top of the list.
If you'd rather not stress over the details, check out our epic day trips from Madrid. We take care of tickets and transport while you see multiple destinations, travel through gorgeous scenery, and explore some of the top attractions near Madrid in one day trip—with a local guide! Ready to discover the best day trips from Madrid? Vamos!
15. Go Hiking in the Old Kingdom of Patones de Arriba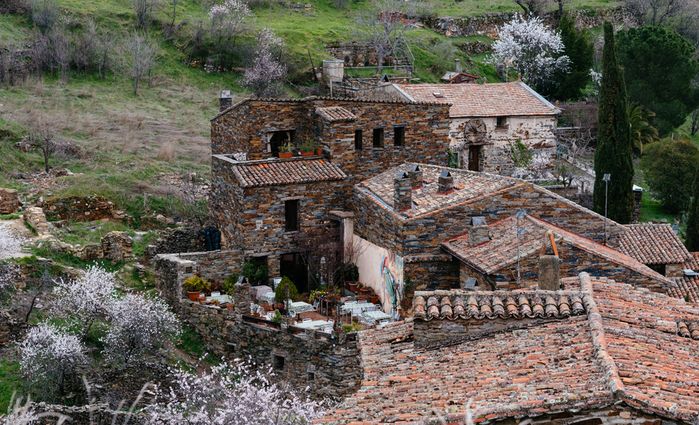 1 hour (44 miles) | Charming Small Town | Family Friendly | Hiking
The history of this small town is quite interesting. Patones sits on a mountaintop, so isolated that it was considered a de-facto independent kingdom until the 18th century. In the past, most residents moved to newer areas nearby, leaving Patones frozen in time.
The slate of the walls and roofs gives Patones the characteristic dark tones of the pueblos negros, the black towns located throughout Madrid and the neighboring region of Guadalajara. For a nice day of hiking, start from the Senda del Barranco, a family-friendly eco-path that doesn't require advanced hiking skills.
How to get there: Patones de Arriba
14. Walk In The Purple Lavender Fields of Brihuega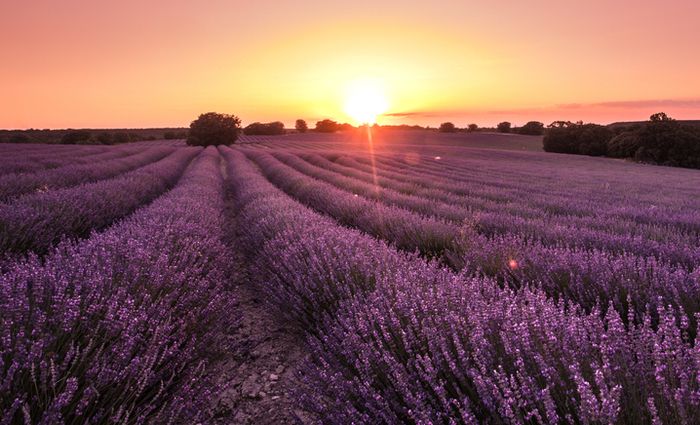 1.25 hours (60 miles) | Seasonal Trip | Totally Instagramable
Can you imagine 1,000 hectares of lavender in full bloom? That's what you'll find in Brihuega. The town has one of the most extensive lavender farm fields in Europe.
Reaching full bloom in July, the city hosts events and festivals to celebrate and the town center is equally lovely. Add it to your map if you're traveling in summer. You'll get home with tons of beautiful photos!
How to get there: Brihuega
13. Hike, Bike, and Taste Chocolate in the Lozoya Valley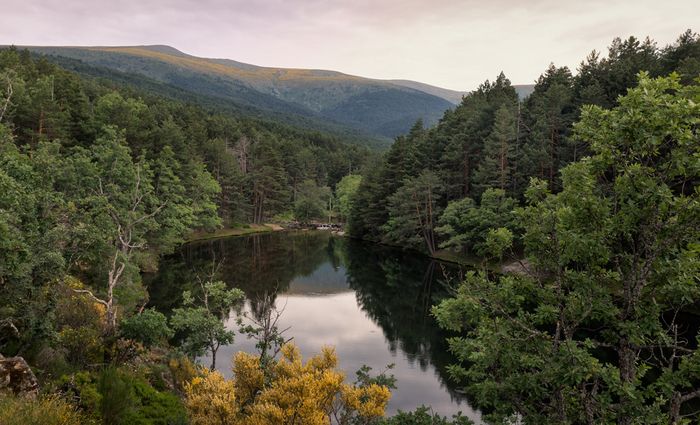 1.5 hours (50 miles) | Protected Natural Area | Trekking and Chocolate Tasting
A misty woodland is not what you might expect to find near Madrid. But if you're looking for an excuse to get lost in nature, visiting the Sierra is a good one. The pathways in the Lozoya Valley are clearly marked and perfect for trekking and biking. It also contains ornithology and geological diversity-protected areas.
The Finnish Woodland and the Purgatory Waterfalls are among my favorite sites in this area. Nearby, you can also visit the Monastery of Santa María de El Paular and the Natural Chocolate Factory of Rascafría.
How to get there: Rascafría
12. Follow Don Quixote's Windmill Route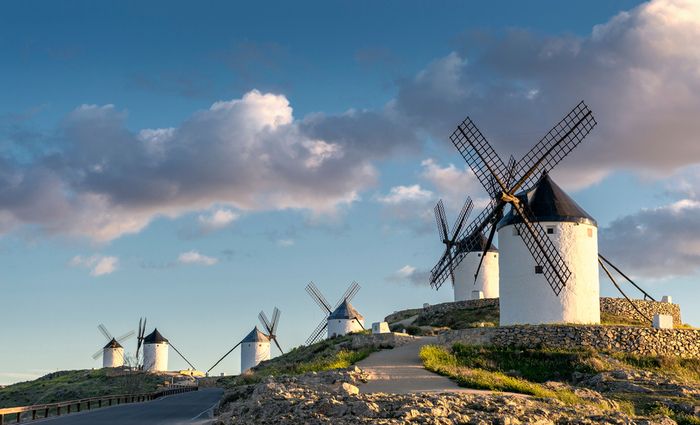 1.5 – 2 hours (82 – 100 miles) | Historical Route | Cheese Tasting
Follow the steps of Don Quixote fighting the giants along the Castilla-La Mancha windmill route. The itinerary includes several towns, but I have two favorite stops.
Consuegra has 12 windmills lined up on a hill near the castle of La Muela. Some of them are original and open to visitors. The walk is easy, and there's a parking area close to the last windmill, which has the best views over the hill.
Next, head to Campo de Criptana. The restaurants just beside the windmills make for picturesque dining. I have tasted great food here, like the famous Manchego cheese, and enjoyed the sunset over the windmills. It's the beauty of simplicity for me!
How to get there: Consuegra | Campo de Criptana
11. Dive Into the Spanish Golden Era at Alcalá de Henares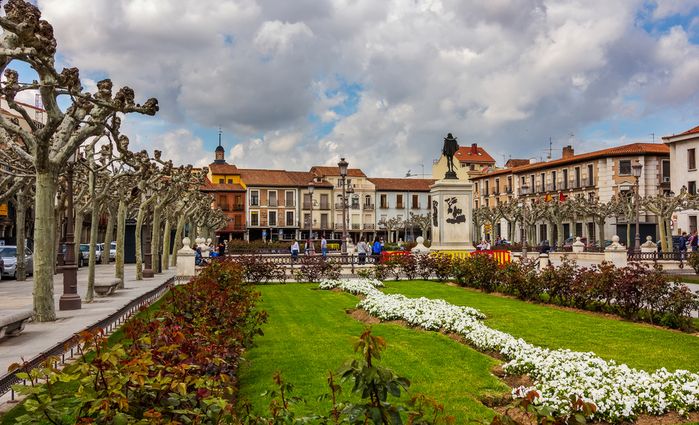 50 minutes (25 miles) | UNESCO Site | Birthplace of Cervantes
Like every university town, Alcalá de Henares has a unique vibe. From the 15th to the 17th centuries, Spain's golden era, the most renowned literates studied in this prestigious university, one of the oldest in Europe. Its buildings, such as the Colegio Mayor de San Ildefonso, have extraordinary artistic value.
The other two fantastic spots are the Moorish-inspired Cisneros Palace and the Gothic cathedral. Alcalá also has a lovely city center where you can take a walk, eat al fresco, and enjoy the Plaza de Cervantes.
How to get there: Alcalá de Henares
10. Meet the Royals of the Past at San Lorenzo de El Escorial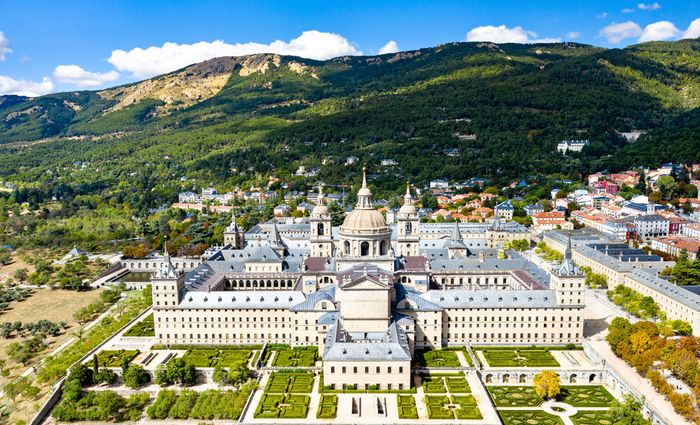 1 hour (35 miles) | UNESCO Site | Royal Palace | Italian and Flemish Art
Built during the 16th century, El Escorial was conceived as a monastery and burial place for the royal family. The Royal Site is a massive building complex that includes a church, the pantheon with the kings' and queens' vaults, a library, two royal palaces, enormous halls, gardens, and the Cottage of the Prince.
It's an excellent tour choice for families because it's easy to park and get around on foot. Also, the town has lots of bars and traditional grill restaurants. The weather here can be very windy. Dress accordingly, especially in the cold season.
How to get there: Royal Site of San Lorenzo de El Escorial
Not ready to book a tour yet? See our Madrid Guide for more info.
9. Taste Madrid's Finest Wines in San Martín de Valdeiglesias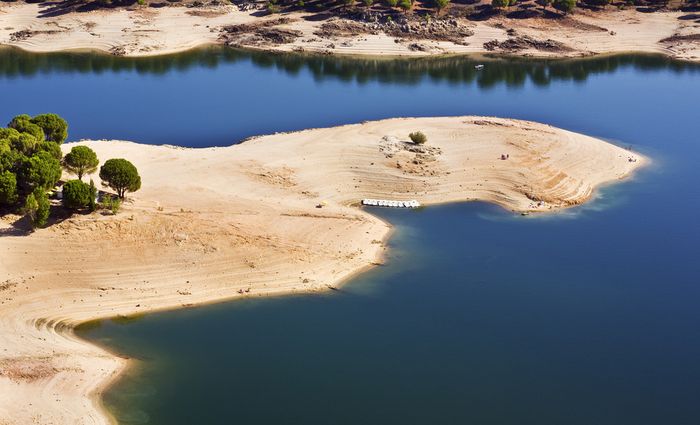 1 hour (46 miles) | Wine Tasting Tour | Swim, Hike, and Wine Tasting
Not many know that Madrid produces fine wine. An excellent day trip for visiting its regional wine cellars is San Martín de Valdeiglesias, where you can enjoy tastings and vineyard tours.
Come during the summer to enjoy the open-air classical music concerts and all kinds of events. And, to cool down during the hottest days, take a dip in the reservoir of San Juan. It's just 15 minutes away by car.
How to get there: San Martín de Valdeiglesias
8. Experience the Religious Fervor of Holy Week in Chinchón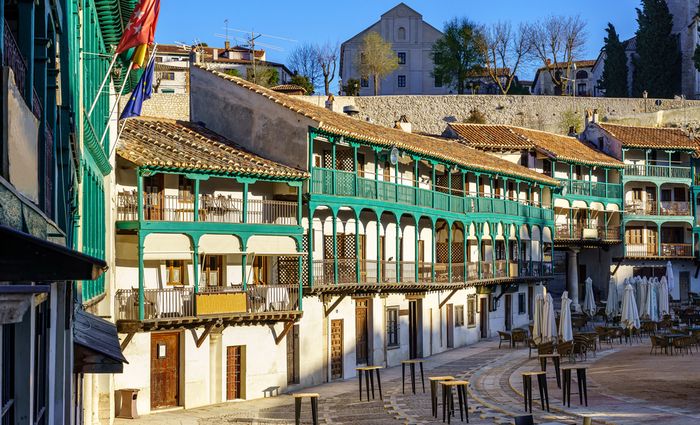 50 minutes (37 miles) | Spanish Easter Folklore | Local Product Tasting
This is one of the loveliest day trips from Madrid. Chinchón is small, so don't expect a day packed with activity. That said, the destination is excellent for visiting wine cellars, tasting local products, and relaxing in one of the loveliest squares in Castille.
Visiting the Plaza Mayor in Chichón is like jumping back in time. Its atmosphere is truly unique. During Easter, the Passion of Christ is enacted live, and it's a powerful way to experience the Spanish fervor of Holy Week, known here as Semana Santa.
How to get there: Chinchón
7. Discover the Best Preserved Roman Aqueduct in Segovia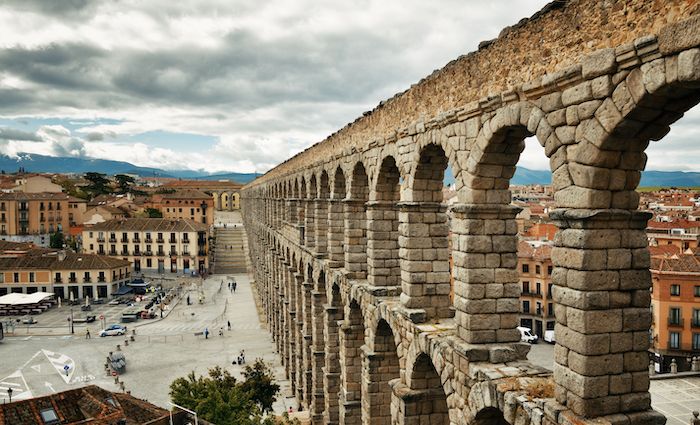 1.25 hours (56 miles) | UNESCO Sites | Roman, Moorish, and Spanish Architecture
The Roman aqueduct in Segovia, with its 167 arches, is one of the best preserved in Spain. It is a quintessential city postcard, but the city holds plenty more attractions. The Alcazár and its tower have great views over the city. Two of my favorite spots are the cathedral and the Jewish Quarter, an excellent area to taste traditional dishes.
There are enough monuments in the city center for a one-day trip. If you're up for an additional tour, the Royal Palace of La Granja de San Ildefonso is just 15 minutes away by car. You can learn more about this famous area in our history of Spain.
How to get there: Segovia
Not ready to book a tour yet? Check out the top things to see in Segovia.
6. Feel Like a Medieval Knight on Ávila's City Walls
1.5 hours (69 miles) | UNESCO Site | Historical With Great Gastronomy
If you fancy medieval architecture, Ávila is the perfect outing. Its strategic position led to the building of these magnificent city walls—the Muralla de Ávila—between the 11th and 14th centuries. These are the best-preserved medieval walls in Spain. You'll feel like a real knight as you walk along them! What's more, the walls meet accessibility requirements.
Ávila has plenty of significant buildings. The churches outside the city walls are also part of the UNESCO World Heritage site and deserve a visit. Ávila is one of the top must-see places in Spain here.
Pro Tip: Taking pictures of the walls is a must! Leave Ávila through a countryside route and you'll reach the best spot. Afterward, have a T-bone steak and patatas revolconas, with paprika and bacon. Both are Ávila's famous dishes for a happy belly.
How to get there: Ávila
Not ready to book a tour yet? See our Madrid Guide for more info.
5. Stroll Like a Royal in Aranjuez's Gardens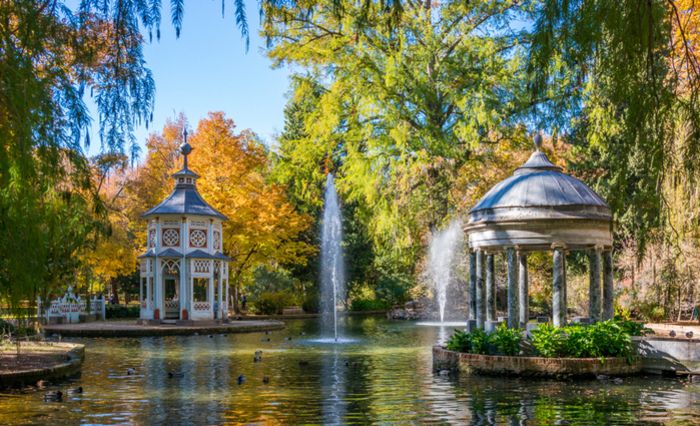 50 minutes (31 miles) | UNESCO Site | Cultural and Natural Spots | Family Friendly
Aranjuez is among the most leisurely day trips from Madrid. It's very close to the capital and accessible by a 40-minute direct train ride. The city started to grow in the 18th century when the Bourbons' traveling court started doing extended stays here.
The city's past as a royal residence left its mark in its extraordinary architecture. For the best tour experience, visit the Royal Palace and the Casa del Labrador. Also, don't skip the gardens along the river Tajo. They are stunning!
How to get there: Aranjuez
4. Look for the Hidden Signs in Salamanca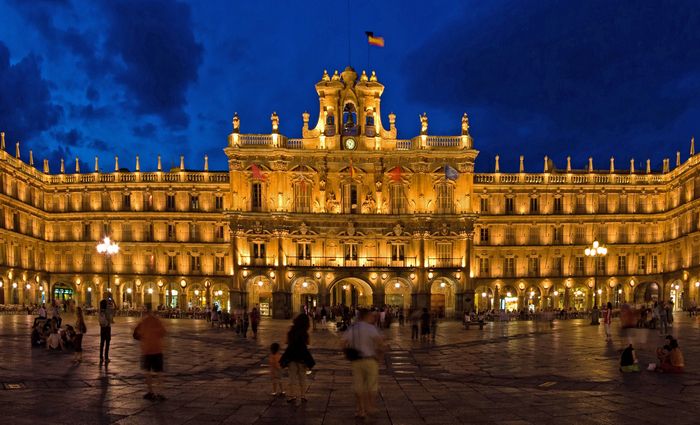 2.25 hours (133 miles) | UNESCO Site | Amazing Architecture | University Nightlife Vibe
Salamanca can be a day trip, but I suggest spending the night if you have the opportunity. The city has many attractions that deserve a prolonged stay. Also, it's breathtaking at night.
The most exciting spots are within the city center, but some peculiar things are not on the map. An astronaut and a dragon eating ice cream are among the decorations carved on the cathedral's door. Those fun details were added during the most recent renovations to the cathedral. Look for the rabbit also. Many visitors believe touching it brings luck, which is why it has grown so dark. Yet another quirky addition is a frog hidden within the university's facade.
Want to be even more amazed? Head to the Zara clothing shop in Plaza del Liceo. The building was originally a convent from the 18th century and its interiors were retained. Stunning!
How to get there: Salamanca
3. Explore a Medieval Fortess in Cuenca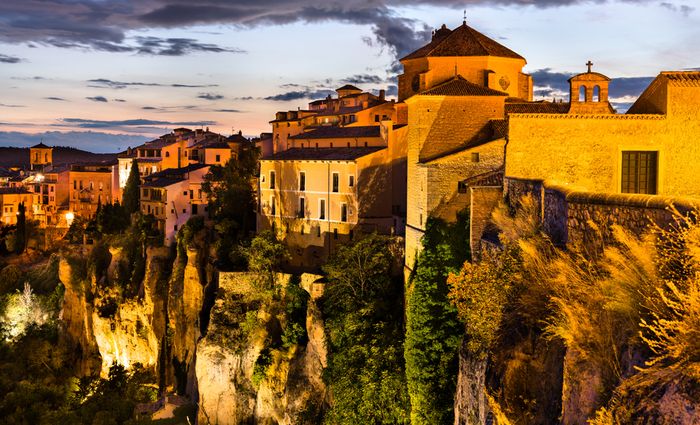 2 hours (105 miles) | UNESCO Site | Medieval City | Breathtaking Landscape
Cuenca is a living image of medieval fortresses of the past. It's magically placed atop a steep spur, affording views of all the gorges around it. In addition to the cathedral, don't miss the three Hanging Houses. They are the last standing of their kind.
Take the walkway that runs behind the San Pablo bridge from this point. It leads into the canyon at the river's mouth. The route has a beautiful view of the convent and a jail from Inquisition times. Along this path, you'll see hocinos, old rural houses used by farmers.
Pro Tip: The San Pablo Bridge is the best spot in Cuenca for photos. The views are stunning!
How to get there: Cuenca
2. Embrace the Architectural Melting Pot in Toledo's Old Town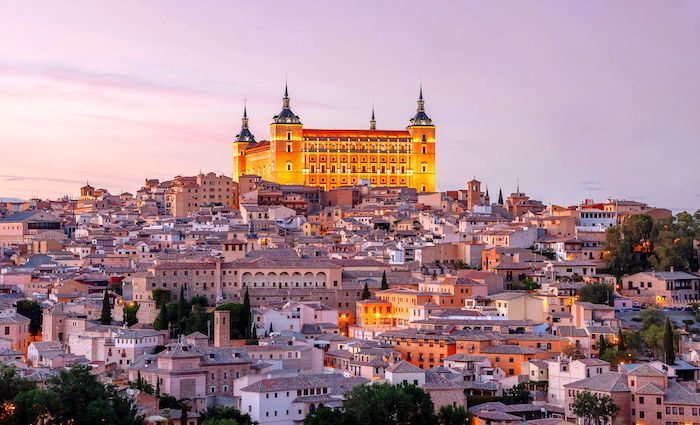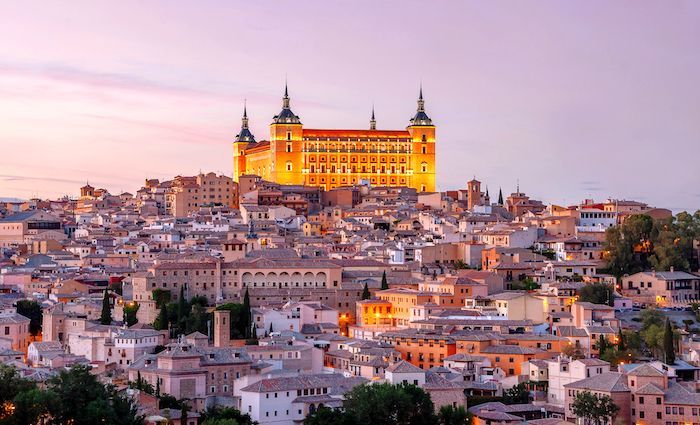 1.25 hours (47 miles) | UNESCO Site | Great Historical Value | Moorish Architecture
Toledo is one of my favorite day trips from Madrid. Romans, Visigoths, and Moors ruled this city in the past, and each left an extraordinary impact on its eclectic architecture.
Of the many historically significant monuments in Toledo, the Alcázar is a must-see. It overlooks the city from the top of the old town and has excellent panoramic views. Then visit the Gothic cathedral and the El Greco Museum. Also, drop by Santa Maria la Blanca, the oldest standing synagogue in Europe.
I also recommend a visit to one of the many steel forges. Toledo's steel was prized among past rulers. Today, reproductions of swords and armor are created here for major Hollywood productions.
How to get there: Toledo old town
Not ready to book a tour? Discover the top things to do in Toledo.
1. Explore, Swim, and Eat in Beautiful Valencia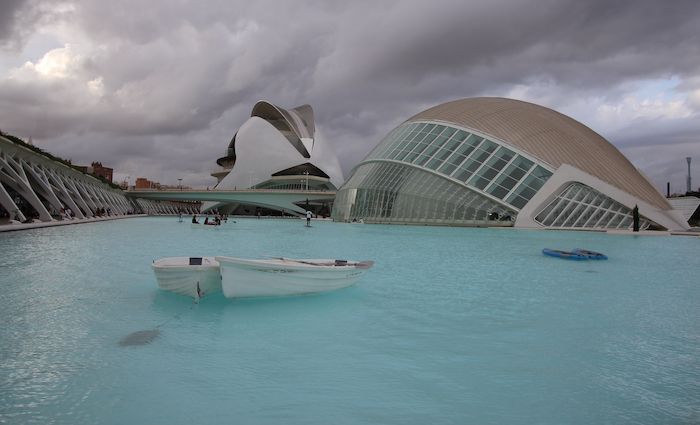 3.75 hours (224 miles) | UNESCO Site | Sea Activities | Great Art Scene, Gastronomy, and Nightlife
How about a trip to the sea? Yes, this will take longer than a day trip, but an overnight trip to Valencia will be unforgettable. The city's must-see attraction is the futuristic architecture of the Ciudad de las Artes y las Ciencias. The vast complex, designed by Valencia's own Santiago Calatrava, is a set of six buildings, one of which is the biggest aquarium in Europe.
Valencia's historic center is home to top attractions including a fish market and the Gothic Valencia Cathedral and its Miguelete bell tower. Visit the Barrio del Carmen for a laid-back afternoon stroll. If you're an art lover, the Museum of Fine Arts is the second-largest art gallery in Spain.
After all this touring, relax at the beach. Cabanyal, Malvarrosa, and Patacona are all close by and accessible by bus. Wilder beaches like El Saler, Devesa, and Garrofera require a car or bike to get there.
Pro tip: Valencia has the best nightlife and is also the birthplace of paella. Make time for both.
How to get there: Valencia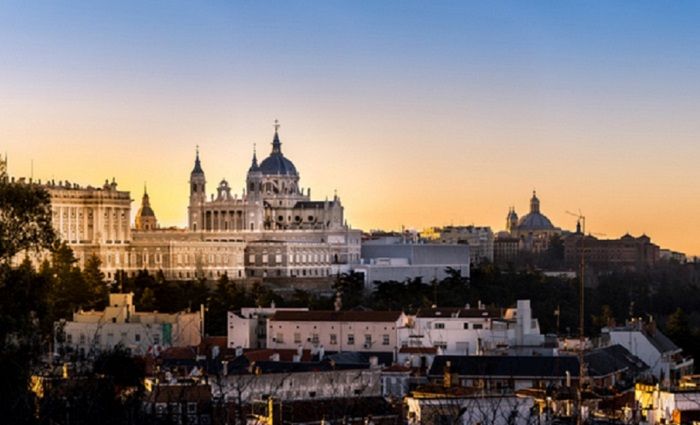 Find the best places to stay
Where To Stay in Madrid
Madrid is a vast city with many areas to stay in, including beyond the downtown area. Choose a hotel near the top things you want to see in this beautiful old city.