Finding the right hotel in Álava can really add to your experience in your quest for a wine holiday in Basque Country. There are hotels in vineyards with amazing views and incredible rooms, and there are also hotels that are too far from the action or in a boring area. Trust this local to help you find the best hotels in Álava, Spain.
---
Pro Tip: Don't miss our other hotel recommendations for León, the Gipuzkoa province, and the Basque region, plus the most important things to see around Spain.
The Top Hotels in the Álava Province of Spain's Basque Country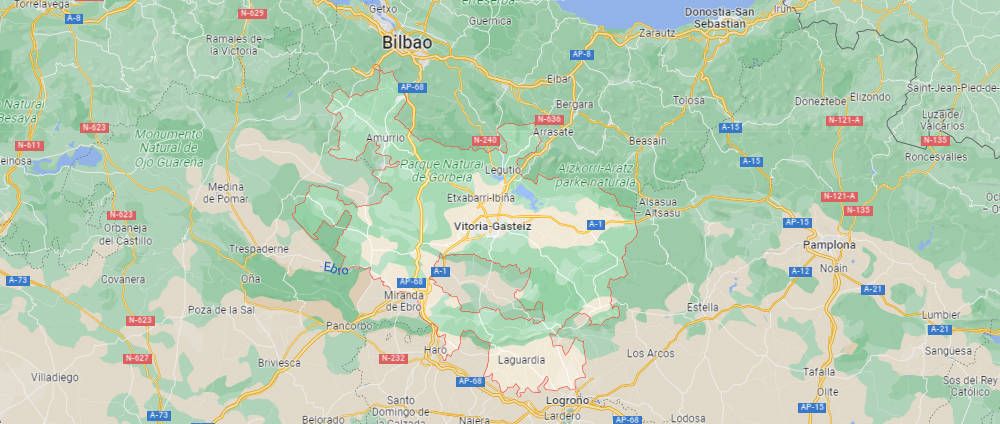 Álava is one of the three provinces in the Basque Country of northern Spain. It is most famous because of its rioja wines, vineyards, and gastronomy. The capital of this province is Vitoria-Gasteiz, or just Vitoria, which is known for its historic heritage and pintxos (bite-sized snacks).
But there is more to see in Álava. Here you will find mountains, medieval towns and ruins, and much more. There is rich history to explore here, but the question is where to stay as you explore this beautiful region? I've included many of the best hotels in Álava, Spain to help you plan your trip to any of these small towns in northern Spain.
While this list most definitely includes Álava's most expensive hotels, there are other options to suit all budgets. We have four categories covered in this order:
Our Partnership with Booking.com. If you like our content, please book by clicking on our Booking.com links. The price is the same for you, and we get a small commission that helps support our helpful blog content. We've partnered with Booking.com because they have the most options, great prices, and a solid loyalty program.
The Best "Expensive" Hotels in Álava
Have a few hundred euros per night to spend on a spectacular place to stay? This part of the list is most definitely for you. These are the poshest, most luxurious, and accommodating hotels in Álava. Expect incredible amenities and top-notch service.
Expensive prices: Expect to pay over €200-300 per night for the standard rooms in these hotels and more for the high-end suites. That will obviously vary, so click the link which will take you to Booking.com to see current prices.
Hotel Marques de Riscal (Elciego)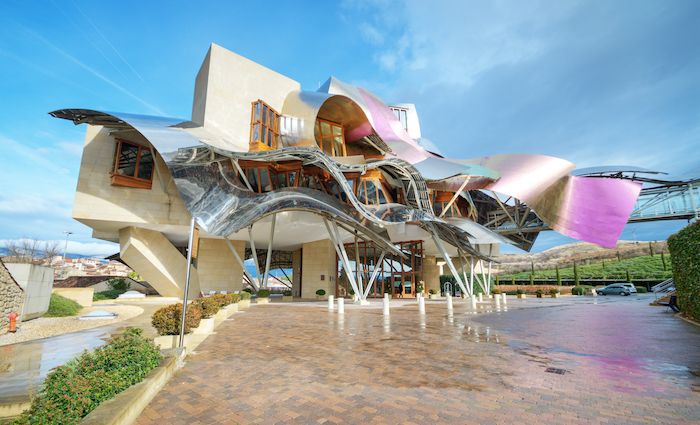 €€€€ | 5 Star | Luxury Hotel | Hotel at Vineyard
This state-of-the-art winery has its own hotel on the grounds designed by famous architect Frank Gehry. This is the ultimate luxurious experience: you'll stay in neoclassical, avant-garde inspired rooms, baths made out of Italian marble, bedside tables that look like clouds, and much more. The more expensive the room, the bigger the extravaganza!
Further services included in the hotel are: a vinotherapy spa, an auditorium for 100 people, and four restaurants to choose from. The winery and the hotel are in Elciego which is a quaint medieval town. You can learn more about the winery and its history in my post about the best things to see in Spain.
Hotel Palacio de Luko (Luko)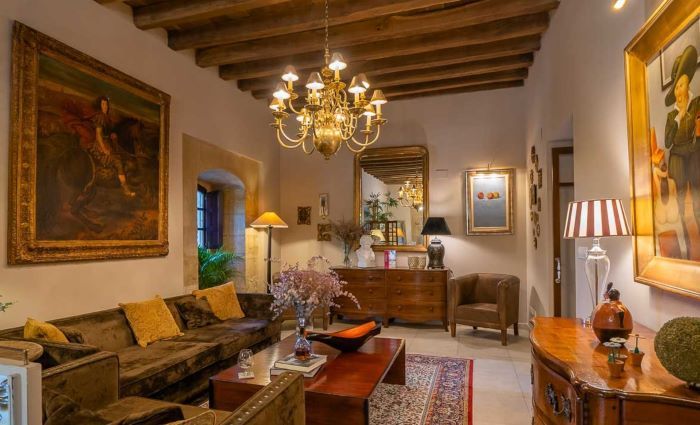 €€€€ | 4 Star | 15th-Century Building | Perfect for Corporate Events
You know me, I can't resist a good medieval building turned into a hotel. And in this case, Palacio de Luko might be even older than the 15th century, however it was rebuilt at that time into the familiar structure that we see today. The combination of traditional masonry work and wooden features will charm you instantly so you feel at home.
The rooms are very spacious, regardless of whether you are booking the standard room or one of the suites. And the rest of the facilities of the palace are very apt for events from weddings to corporate events. In fact, this accommodation specialises in providing these kind of services, which is quite handy as it is only 5-minutes away from the Álava Technology Park.
Hotel Silken Villa de Laguardia (Laguardia)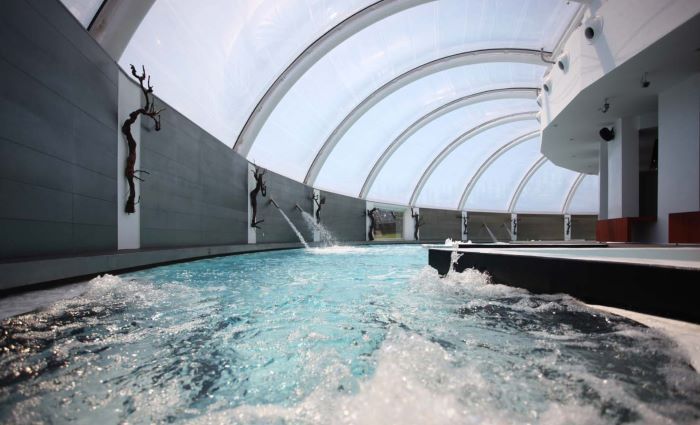 €€€€ | 4 Star | Spa | Close to Rioja Border
The Silken at Laguardia is surrounded by wineries and vineyards everywhere, so this is a great accommodation for those coming to Álava to enjoy a little enotourism (wine holiday). However, it is worth mentioning that Bodegas y Viñedos Artadi y Bodegas Campillo as some of the best vineyards to explore if you are staying here.
The hotel itself has luxurious amenities, including a 1,000-square-meter spa with an incredible hydro-pool that you see above. Keeping on with the wine theme, you can receive wine and olive oil treatments at their facilities as well. It also has an amazing terrace, gym, eternal swimming pool, kid activities area, and a bike rental service.
Palacio de Samaniego (Samaniego)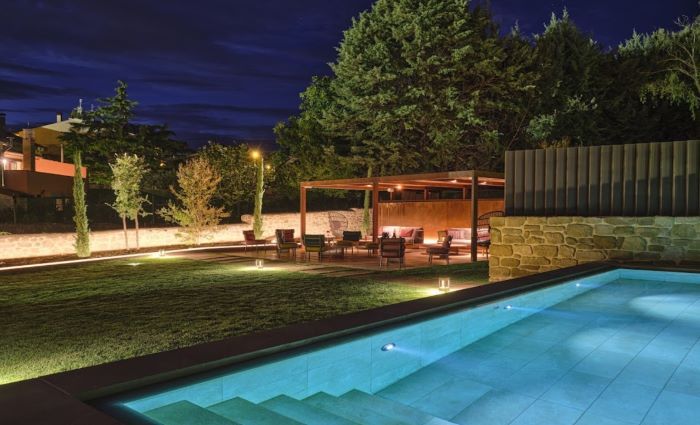 €€€€ | 5 Star | Boutique Hotel | A Rothschild Palace
If you want to experience luxury, where better than to stay in a palace? Particularly when the property is under the protectorate of big names such as Ariane de Rothschild, you know this will be the experience of a lifetime.
This building is now an exquisite boutique hotel with only nine bedrooms, so the experience is guaranteed to be quiet and intimate. All their rooms are named after different types of grapes in honor of the legacy of Rioja region and its wineries.
Moreover, the restaurant follows a traditional Basque-French cuisine menu where you will eat to your hearts content. Moreover, the renovation of this palace was done with the environment in mind, so there is a minimal carbon footprint with geothermal energy where possible for their water features.
Finally, the palace includes access to a gym, an outdoor terrace with a swimming pool, and its own wine cellar.
Parador de Argómaniz (Argómaniz)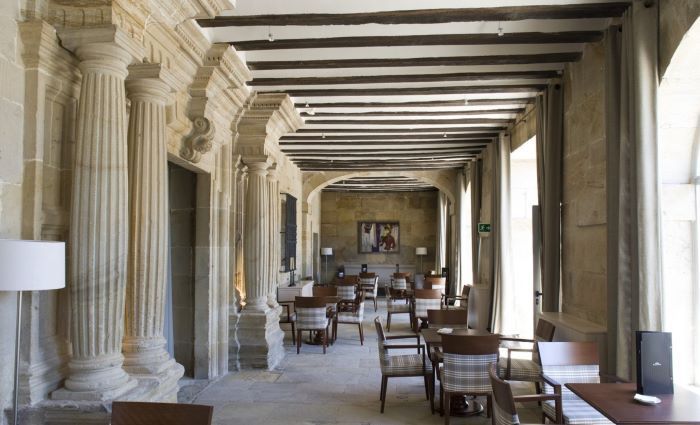 €€€€ | 4 Star | Parador Hotel | Renaissance Palace
This is a parador property, which is a Spanish hotel of the highest quality that is recognised as a building of historical or cultural importance. In this case you will be staying in a stunning Renaissance palace, just a few miles away from Vitoria and from the Gorbea mountains. The setting and surrounding inspire peace, so if you are running away from the everyday stress or the noises of the city, this is the accommodation for you.
A must when you stay at any parador is to try out their restaurant. Here, the restaurant will delight you with traditional dishes of the region of Álava. And of course, please try the wine with some of the local cheeses, I promise it will not let you down!
The Best "Mid-Range Luxe" Hotels In Álava
These rooms will suit the budgets of even more travelers, but they are still not the cheapest. This category will include comfortable, nice accommodations that is anything but cheap, yet still ensure an enjoyable stay.
Mid-range luxe prices: While the prices of hotels change rapidly, expect these hotels to range from €100 to €200 per night for a standard room. That will obviously vary, so click the link which will take you to Booking.com to see current prices.
Eguren Ugarte (Laguardia)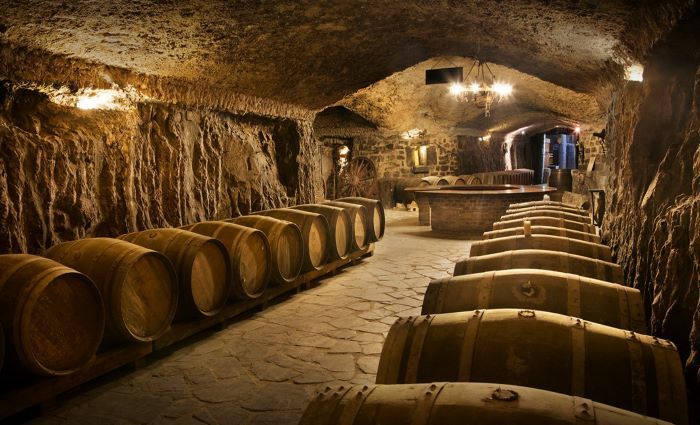 €€€ | 1 Star | Signature Hotel | Hotel at Vineyard | Breakfast Included
Don't let the 1 star fool you. This small, quaint signature hotel is located within its own vineyards in an amazing landscape surrounded by hills and mountains. This is the perfect location for people wanting to engage in wine tourism at a mid-range luxury hotel.
There are only 15 rooms here, so it is a tranquil place to rest and enjoy the experience. The rooms are decorated with warm colours to complement the wooden features that connect with the landscape around you.
Moreover, all reservations include breakfast so you can just wake up and eat without worrying about the logistics. Finally, other services provided by this hotel include charging ports for electric vehicles, a reading room, and two different restaurants: one serving traditional cuisine, and one focusing on the gastronomic experience of the customer.
Hospederia de los Parajes (Laguardia)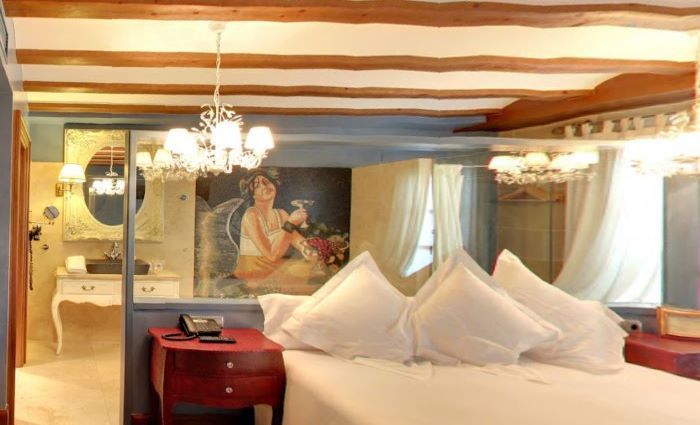 €€€ | 3 Star | 16th-Century Winery | Amazing Amenities | Romantic
Despite not being the most luxurious on the list, this hotel definitely makes you feel expensive with their huge and elegantly furnished rooms. With 18 rooms in total, the hotel feels like a true boutique stay. Attention to detail is very important for this hotel, and romanticism is palpable in every location. This would make an ideal accommodation for a couple or to celebrate Valentines Day, a wedding, honeymoon, or anniversary.
On top of having a small spa and two restaurants, the most impressive part of this hotel is the basement. "El Calado" dates from the 16th century and is currently their winery. In addition, the hotel organizes trips to the Ysios vineyards (some with horses) and hot air balloon trips to float over the vineyards.
Hotel Viura (Eskuernaga)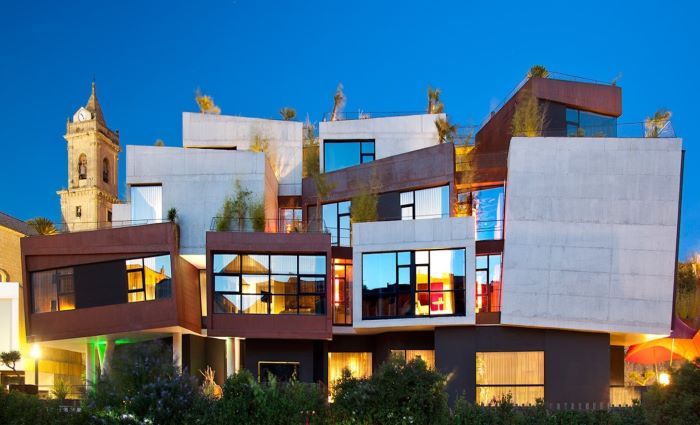 €€€ | 4 Star | Modern Architecture | The Land of Wines
This is a quirky, modern hotel from its aesthetic to its general vibe and services. The rooms in this hotel are even larger than in many luxury accommodations, so if you like staying in a very spacious room, this is for you.
Plus, those huge windows you see in the picture really prioritise the views and natural light. The hotel also has services such as chargers for electric vehicles, a terrace, and a solarium.
Furthermore, it has lovely views of Villabuena de Álava. But the most important reason to pick this hotel is that the town itself has 43 wineries. So, whether you are a wine connoisseur or a beginner this would make your journey very easy and enjoyable.
Zuia Suites (Murgia)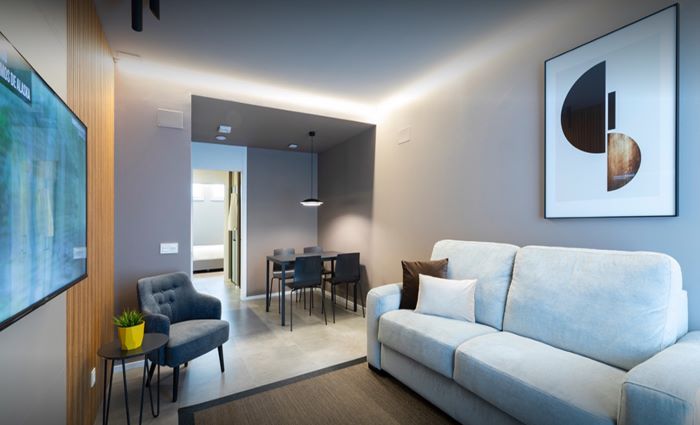 €€€ | 3 Star | Modern Apartments | Bike and Pet Friendly
These modern apartments in Murguía are a great deal for couple, families, and groups of friends. They are very spacious and have everything you could need (and maybe more). The are pet friendly too, so you can bring your animals with you on your trip. Moreover, they are a particularly good option for people who travel by bike as they have bike storage in the apartments as well as a workshop and cleaning room for your bike!
While Murguía itself is relatively small, the location is also perfect as you are less than an hour away from all the three mayor cities in the Basque Country and very close to the Rioja Alavesa. So if you have come for the wine, nature, or the cities, this will do nicely.
Sercotel Boulevard Vitoria Hotel (Vitoria-Gasteiz)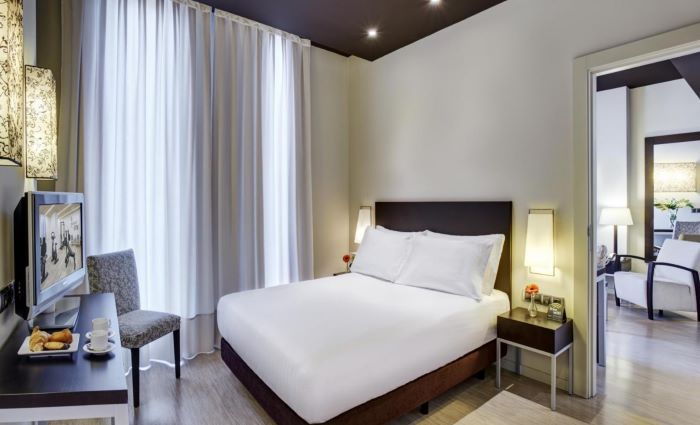 €€€ | 4 Star | Very Practical | Accessibility Friendly
The Sercotel chain of hotels is always a reliable choice. In this particular case, the hotel is only a 15-minute walk from the city centre of Vitoria. Moreover, the rooms are spacious, with a lot of natural light—elegant yet simple in their design.
In addition, this hotel has lots of amenities that make it a very practical choice. They have their own computer room so you don't need to worry if you forgot to bring your laptop. Moreover, they have a laundry room, free gym access, and you can even rent a bike for the day!
Finally I really wanted to highlight them because they have a braille system in place to help and accommodate people who have limited vision. This is not a very common feature, so it's helpful to know if needed.
The Best "Affordable" Hotels In Álava
These rooms will fit into moderate budgets for a holiday. The Basque Country is an affluent area, but considering that is has many rural areas too, this region caters to many different types of travelers and accommodations.
Affordable prices: While the prices of hotels change rapidly, expect these hotels to range from €50 to €100 per night for a standard room. That will obviously vary, so click the link which will take you to Booking.com to see current prices.
Hotel Saiaritz (Amurrio)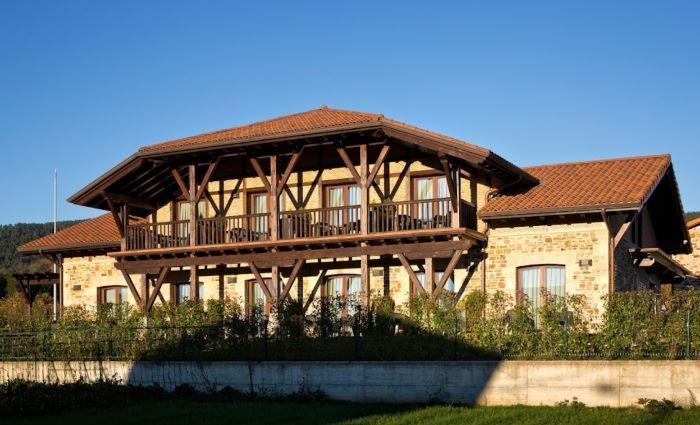 €€ | 1 Star | Rural Hotel | Green Tourism
This rural hotel has two options: you can either book the individual rooms, or you can opt for a whole apartment which is really handy for families. Moreover, the rooms have breakfast included so you don't have to worry about finding suitable breakfast in the Basque countryside. Although it may look old, this is actually a new building that follows the traditional Basque aesthetic.
The hotel has a total of seven rooms, all with modern amenities and views to the countryside. If you decide to book one of the apartments, they have a full kitchen, bathroom, air-con, and an external terrace. The location is perfect for those who want to enjoy the outdoors. You have natural parks and mountains nearby, so you can go and explore and then return to tranquility for a restorative holiday.
Apartamento Kanogal (Labastida)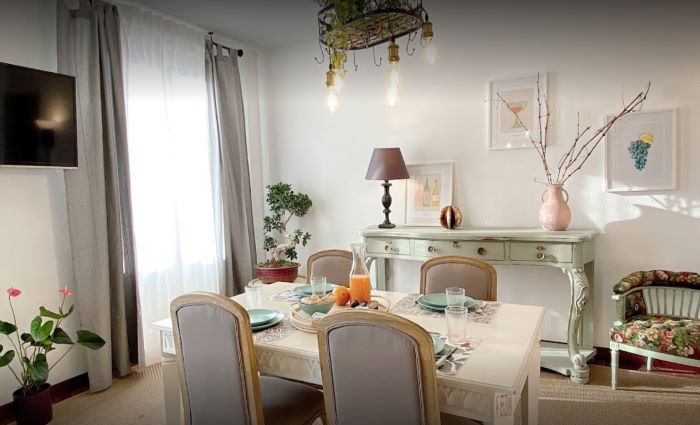 €€ | 3 Star | Rural Hotel | For Nature Enthusiasts
This is a cute apartment in a private residential area with all the amenities you need, including a comfortable American-style kitchen. Guests have access to the residential swimming pool and a terrace. It is ideal for a traveling couple or a family with children. The hotel even allows dogs for an extra fee.
Because of its location in the little village of Labastida, I would recommend this accommodation to people looking for a quiet holiday where to explore local history, heritage and culture.
The surrounding area has prehistoric finds, necropolis and quaint churches from the medieval period to the baroque. Moreover, there are several wineries not far away such as the one in the hamlet of Remelluri.
Hotel Restaurante Los Roturos (Arraia-Maeztu)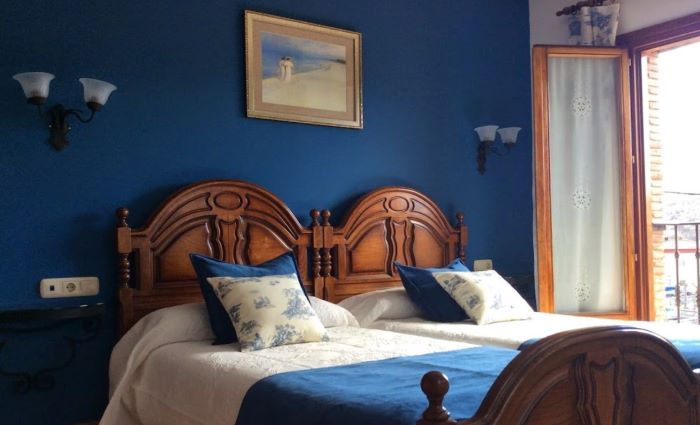 €€ | 1 Star | Rural Hotel | Innovative Restaurant
There may be many reasons why you are traveling through the Basque Country and Álava in particular. And I bet one of those is the food. Well, this hotel has a great restaurant which is their pride and joy. In fact, the main focus of the business is in the restaurant—the hotel was born out of necessity.
Here you can indulge in innovative cuisine that borrows from the Basque traditions as well as the surrounding provinces in Castille and Rioja. Besides, for the quality of the food on offer, the prices are more than reasonable.
With regards to the hotel, it only has eight rooms, so it will be a quiet place to rest. The area of Maeztu where the hotel is located will captivate your soul with its natural beauty. This hotel and area is very much recommended for people into active tourism and wanting to take advantage of the natural park at Izki.
Holiday Inn Express Vitoria (Vitoria-Gasteiz)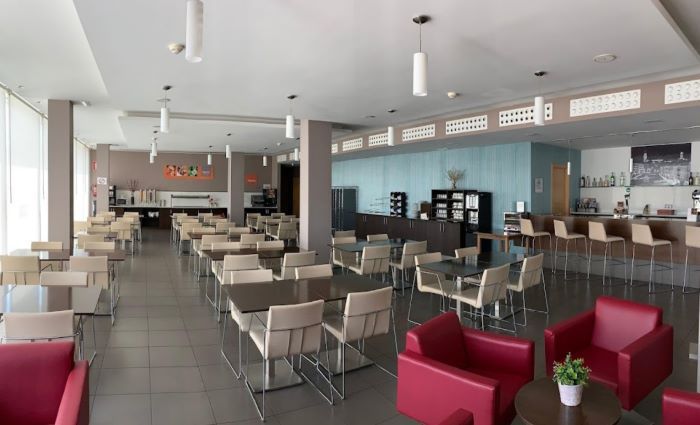 €€ | 3 Star | Box Standard Hotel | Good Motorway Connections
British and American tourists might be happy to see a familiar name and brand of hotels in a place like Vitoria. If you want a budget hotel with everything you need to sleep comfortably and have a familiar breakfast, Holiday Inn the standard of the affordable hotel chains. Do not expect anything flashy or showy: this is just a straightforward type of accommodation.
This hotel is in the industrial park in the outskirts of Vitoria, so you can avoid city life if you want to distance yourself from the bustling atomosphere. It is great for people who are doing a lot of driving a around the Basque Country since it has great connections to the motorway. Also, it's just under an hour away from the main airport in Bilbao.
Silken Ciudad de Vitoria (Vitoria-Gasteiz)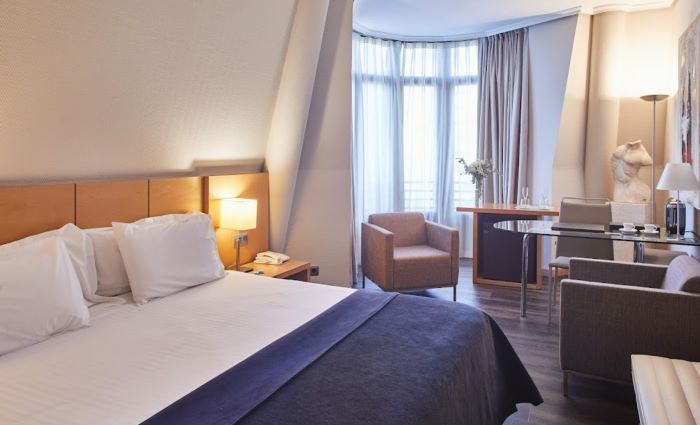 €€ | 4 Star | Modern Hotel | Perfect for Travelers with Children
I bet you weren't expecting to see another Silken hotel this far down the list! Well, the Silken hotel in Vitoria provides a great balance between luxury and budget, plus, the location is right on the city centre, so you can't ask for much better either.
This hotel is aimed to a different audience, so if you are traveling as part of a family or small group, you will fit right in. Their rooms are very comfortable, and well adapted for people traveling with children of all ages.
Furthermore, the hotel has both a gastrobar and a good restaurant, offering authentic Basque cuisine. Finally, like most hotels in this chain, it is a very accessible building for anyone with limited mobility.
The Best "Low-Cost" Hotels In Álava
These are the best hotels if you are planning to spend as little money as possible on your accommodation. Do not expect much other than a clean room and private bathroom in here, though some of these places may surprise you with their value. In fact, you can travel across most of Spain and still have a decent hotel without spending a fortune—spend it on the wine!
Low-cost prices: While the prices of hotels change rapidly, expect these hotels to be €50 per night for standard rooms—or less if you are lucky. That will obviously vary, so click the link which will take you to Booking.com to see current prices.
Hotel Arts – Gasteiz Centro (Vitoria-Gasteiz)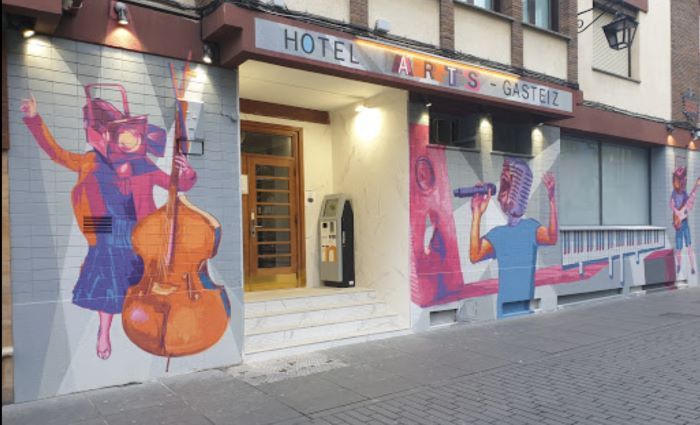 € | 2 Star | Central Location | Breakfast Included
It is unusual for a hotel this cheap to include breakfast so it's an extra-good deal to stay here. You will be right in the medieval city centre of Vitoria, so this is perfect for solo travelers or couples coming over for a small city break.
Furthermore, the hotel has rooms as well as apartments, so if you are traveling as a larger group or are planning to spend a longer time you can make your stay more practical with the amenities of a kitchen and terrace.
Casa Francisca (Estavillo)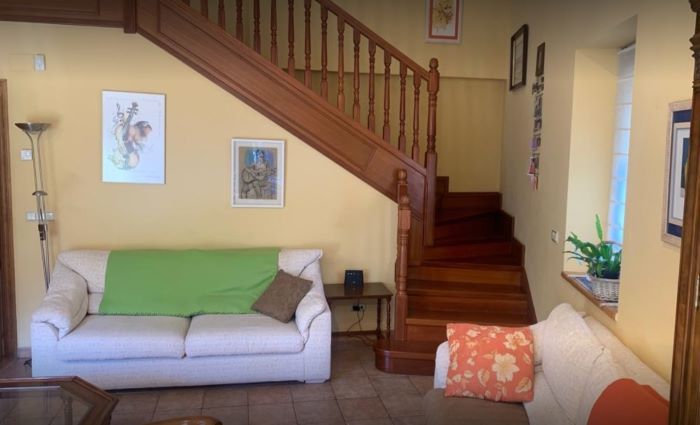 € | Holiday Home | Perfect for Groups
Casa Francisca is the perfect accommodation for a large group of friends or family looking for a quiet house from which to enjoy the Basque Country on a budget. It sleeps up to six people, has a very ample garden with a barbecue, and a playground for children. You can even have breakfast buffet or continental style.
The location is ideal for people who want to explore the little towns and villages of Álava, and it's also by the border of Castille. In fact, Miranda de Ebro (a popular small town destination) is only 7 miles away from this accommodation, and Haro in La Rioja is only a short while drive too. Perfect for a road trip holiday!
Agroturismo Herranetxe (Bóveda)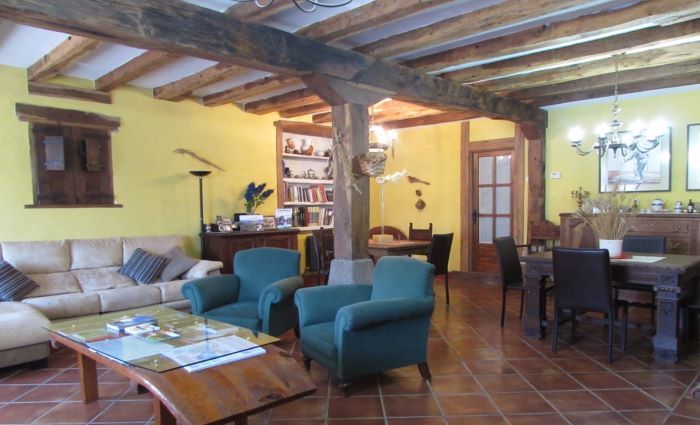 € | 3 Star | Rural Property | Perfect for Solo Travelers
This is a great budget property for a solo traveler. In fact, even if you travel as a pair, the price is even more affordable. The have four rooms for travelers, each with private bathroom, and a communal area where you can watch TV or play board games. The area is perfect for people who like to go cycling or hiking in nature.
Pensión Biazteri (Laguiardia)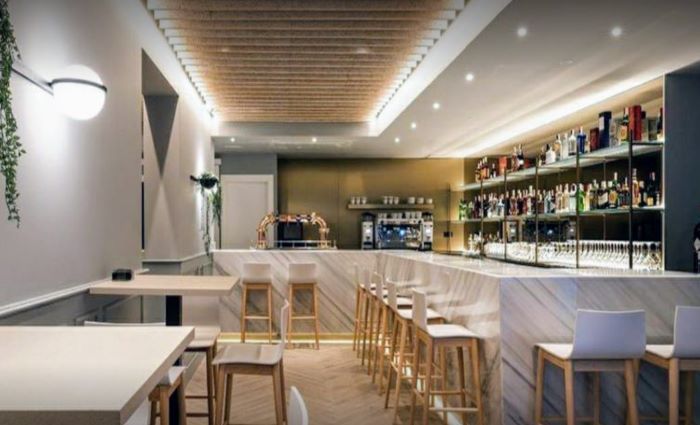 € | 1 Star | Traditional Cuisine | Perfect Enotourism
Like I always say, if you are on a tight budget and looking for reliable accommodations in Spain, stay at a pensión. This one is in the ideal location of Laguardia and will give you access to the wonderful Rioja Alavesa so you can practice enotourism and wine tasting as much as you want.
The rooms are simple but practical, and the accommodation has a lovely restaurant where you can taste the local cuisine.
Hostal del Arquitecto (Vitoria-Gasteiz)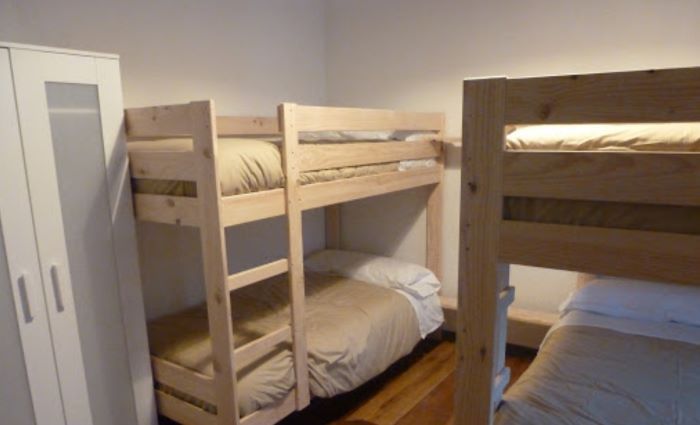 € | Hostel | Perfect for Solo Travelers
This hostel is in the city center of Vitoria, which makes it very convenient for solo travelers looking to explore the city and perhaps delve into the rural areas of Álava. The prices for this hostel are very affordable, and although the amenities are minimal, you will have access to a modern kitchen and bathroom.
The Artium museum is just a few minutes away by walking, as is the cathedral and several parks.