The Basque Country is an iconic destination in Spain for good food and wine. This region in the north of Spain is full of amazing green landscapes and beautiful coastlines. Although it is mostly a rural area, this is also the home to Bilbao. Bilbao is one of the biggest cities in Spain and the largest in the north. With so much nature, culture, and gastronomy to discover, this list will help you find the best places to stay for some wine tourism!
---
Where To Stay in Basque Country: Best Hotels and Cities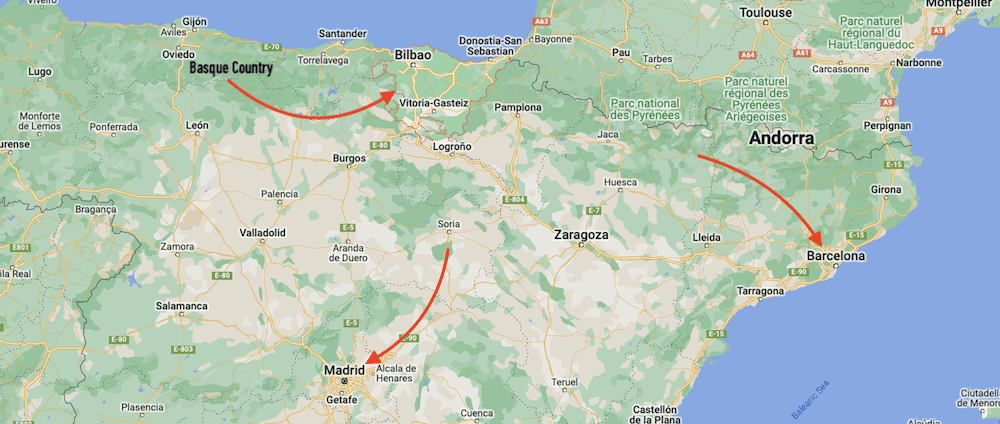 Euskadi (Basque Country in Basque) is a region in north Spain. The Basque Country has its own language, culture, and history, holding special status since the middle ages. Also, it is one of the wealthiest regions of Spain thanks to its industry and commerce. Its location is perfect as it is so close to the French border. Moreover, Bilbao is one of the busiest ports in Europe and home to the Guggenheim museum.
In addition, its geographical location has amazing evergreen landscapes of peaks and valleys. Therefore, it is a great holiday destination for nature lovers, trekkers, and cyclists. All this, mixed with the unique culture of Euskadi, make it an unforgettable destination. In addition, the Basque Country has some of the finest wineries in Spain as it shares a border with the wine region of Rioja, so this is a perfect destination for wine lovers!
Euskadi has three provinces:
All of these provinces have D.O. wines, mostly divided between txakoli and rioja. Moreover, they have their own txakoli. Txakoli is a type of white wine high in acidity, very dry, sparkling, and has low alcoholic content. Finally, Álava, sharing a border with La Rioja, has several wineries that produce famous Spanish Rioja wine. Therefore, this list gives you the top 10 hotels where to stay in the Basque Country in or nearby some of these amazing wineries.
Our Partnership with Booking.com. If you like our content, please book by clicking on our Booking.com links. The price is the same for you and we get a small commission that helps support our blog. We've partnered with Booking.com because they have the most options, great prices, and a solid loyalty program.
Vizcaya (Bizkaia)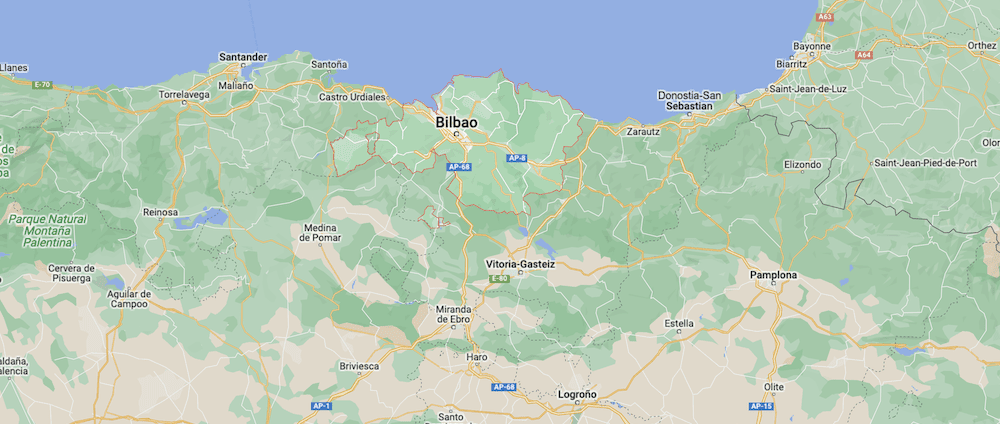 Bilbao | Luxury Hotels | Great Bar Scene | Well Connected
Vizcaya is the area I know best in the Basque Country because it is barely 1 hour away from my home town Santander (Cantabria). Bilbao is a very dynamic city, with many museums, amazing restaurants, and shopping districts. As the Basque Country is a fairly rural region outside of big cities, Vizcaya is a great place to start because you have Bilbao's airport, the port with lots of cruise ships and there is still a sense of industry and urbanization if you're not ready to dive into rural Basque communities and culture.
Why I love Vizcaya:
The outlet shopping district in Bilbao
Hanging out and experiencing a Txoko
Athletic de Bilbao, one of the only three founding football clubs of La Liga to never leave the first division
Eating proper cod a la Vizcaina
Attractions in Vizcaya:
Guggenheim Museum
Santurce
Urdaibai Biosphere
BBK Live
Gernika
Santimamiñe Cave
Oma Forest
Best Restaurants in Vizcaya:
Azurmendi
Nidobilbao
Txoko Mendibile
Restaurante Cafeteria Pentxo
Arandia de Julen
Best Hotels for Wine Tourism in Vizcaya:
Aristieta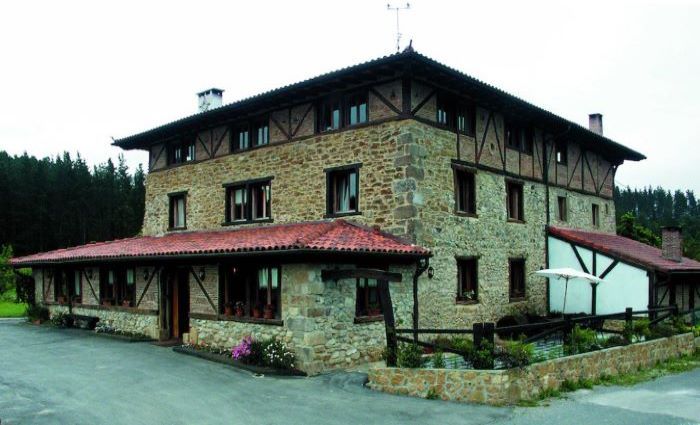 €€ | 3 Star | 18th Century Palace | Attention to Accessibility
This is 15 mins away from Gernika, the town bombed during the Spanish Civil War immortalised by Picasso. Besides, there are 2 local wineries and vineyards at Berroja and Itsasmendi. Moreover, this is a renovated 18th-century rural palace, ecological business, and carefully designed to cater to people with accessibility needs.
Pensión Miribilla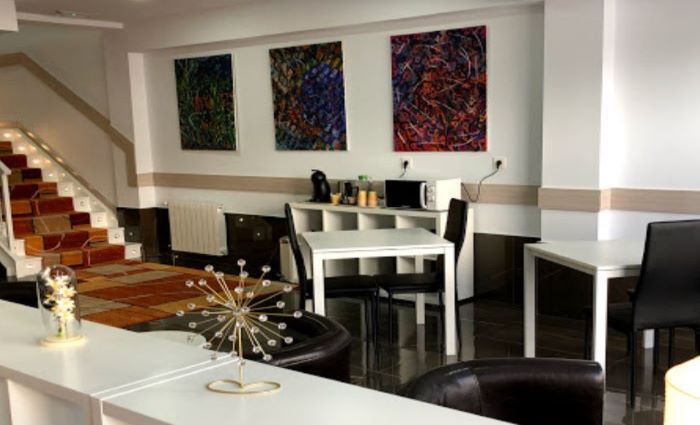 €€ | 2 Star | Simple, Homely Design | Close to Bilbao City Centre
It is a very affordable option for travelers while still getting plenty of comfort. Moreover, it is close to centre of Bilbao. In addition, it is only 12 minutes away from Munetaberri, the best well-known txakoli winery and vineyard in the area.
Hotel Agroturismo Iabiti-Aurrekoa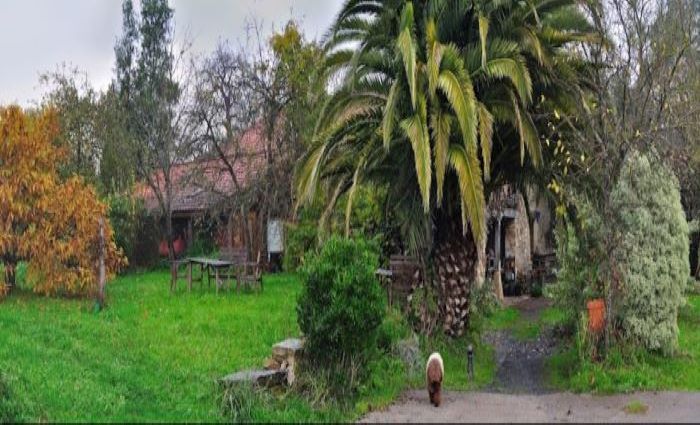 €€€ | 3 Star | Sustainable Property | 19th Century Farmhouse
Stay in a rural property in style only 15 mins away from the airport. It is an original 19th-century farmhouse with a lovely garden and runs on solar panels. Finally, it's only a 5 min drive/20 min walk to Bodega Malazarte Zamudio: txakoli makers for 6 generations.
Álava (Araba)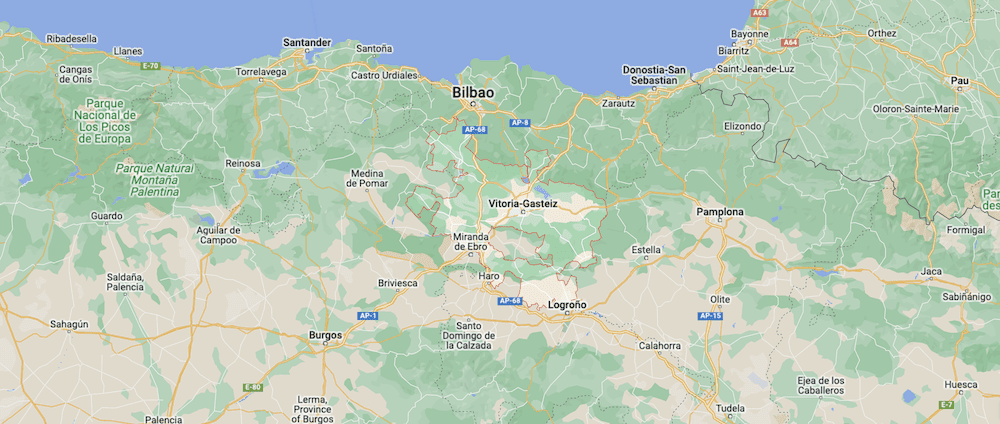 Luxury Vineyards | Vitoria | Ecology | Amazing Landscapes
Álava is perhaps the best-known region because of its luxurious vineyards in the Rioja Alavesa. However, the majority of its inhabitants live in Vitoria, the capital. It is a city full of history and vital importance for Spain as it has always been a crossroads.
In addition, Vitoria was European Green Capital in 2012 and is where you can find the Basque Parliament. Finally, Álava is a land of varied landscape and is perfect for nature lovers. Look below or use our other article for cool hotels in Álava.
Why I love Álava:
Pintxos in Vitoria make great lunch
Incredible historical locations: quaint medieval villages across the region
Ecofriendly initiatives in Vitoria and across the region
Attractions in Álava:
Santa Maria de Vitoria Cathedral
Gorbea Natural Park
Ayala Valley Historical Heritage
Nervion River Waterfall
Chabola de la Hechicera dolmen
Elciego Winery and Vineyards
Archaeological site at Iruña-Veleia
Best Restaurants in Álava:
Zaldiaran
Villa Lucia
Restaurante Zabala
Laua
Koxka
Best Hotels in Álava:
Hotel Marques de Riscal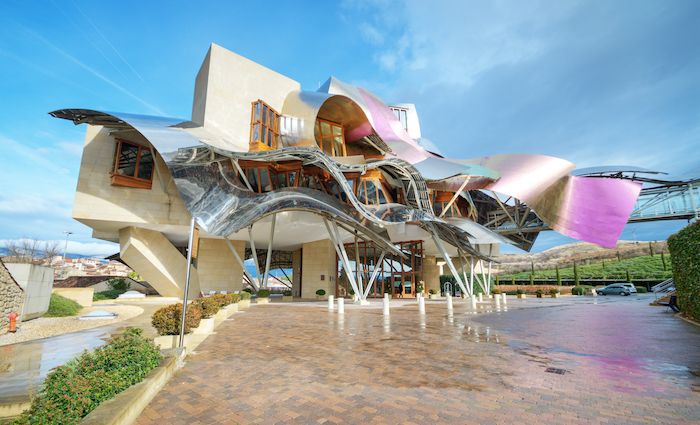 €€€€ | 5 Star | Luxury Hotel | Hotel at Vineyard
This state-of-the-art winery has its own hotel on the grounds! Frank O Gehry designed it. It includes a vinotherapy spa, an auditorium for 100 people, and 4 restaurants to choose from. The winery and the hotel are in Elciego, which is a quaint medieval town. Find out more about the winery and its history in our article on the top things to see in Spain.
Hotel Silken Villa de Laguardia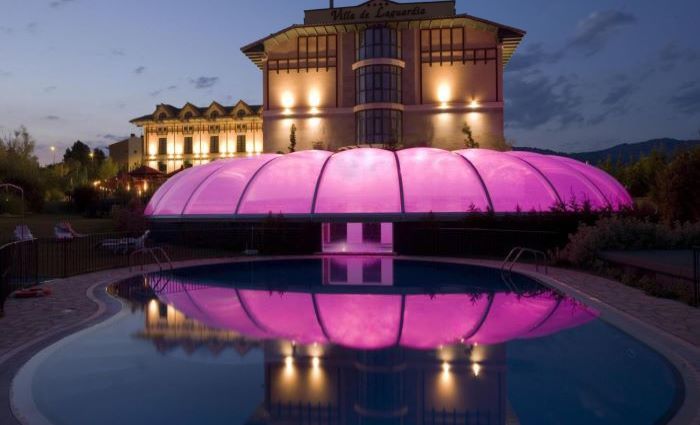 €€€€ | 4 Star | Spa | Close to Rioja Border
The Silken at Laguardia is surrounded by wineries and vineyards everywhere. However, it is worth mentioning Bodegas y Viñedos Artadi y Bodegas Campillo. The hotel itself has luxurious amenities, including a spa with 1000 m2. Besides, it has an amazing terrace and a bike rental service.
Hospederia de los Parajes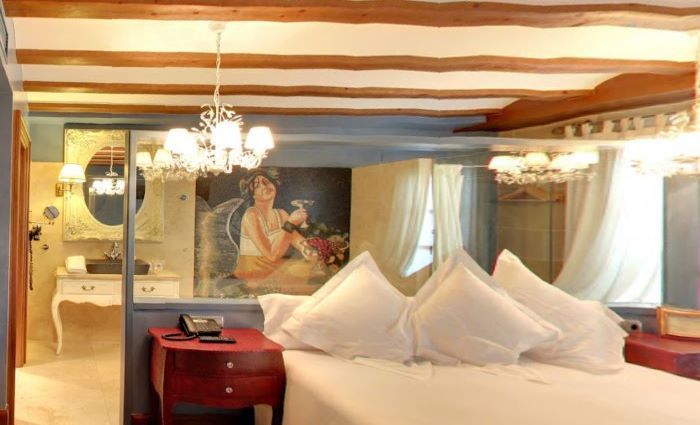 €€€ | 3 Star | 16th Century Winery | Amazing Activity Offers
This hotel despite not being the most luxurious on the list, definitely makes you feel expensive with their huge and elegantly furnished rooms. On top of having a small spa and 2 restaurants, the most impressive part of this hotel is the basement. "El calado" dates from the 16th century and is currently their winery. In addition, the hotel organizes trips to the Ysios vineyards and globe trips to see over the vineyards.
Hotel Viura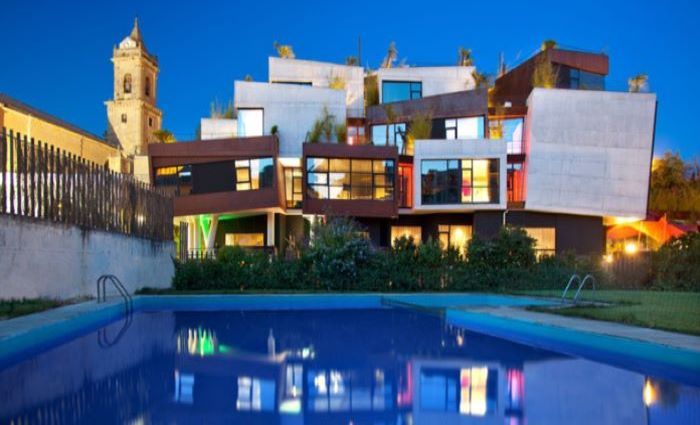 €€€ | 4 Star | Modern Architecture | The Land of Wines
This is a very modern hotel from its aesthetic to its general vibe and services. Besides, it has lovely views of Villabuena de Álava. But the most important reason to pick this hotel is that the town itself has 43 wineries. So, whether you are a wine connoisseur or a beginner this would make your journey very easy and enjoyable.
Gipuzkoa (Guipuzcoa)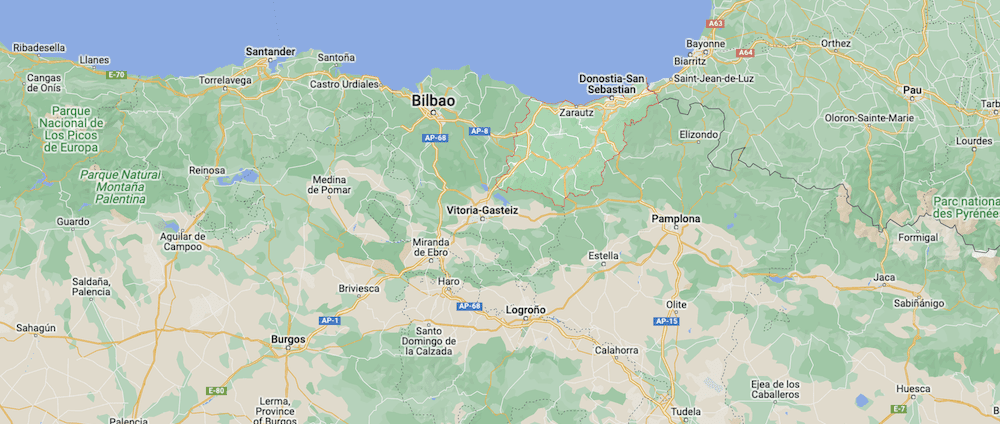 Luxury Vineyards | Vitoria | Ecology | Amazing Landscapes
Guipuzcoa is a bit different from Vizcaya and Alava. It has an oceanic climate which means it rains a lot more as it is exposed to the Cantabrian sea over its beautiful coastline. It is also one of the parts of Spain with the highest condensation of mountainous terrain per square meter. This is because the Cantabria mountains collide with the western part of the Pyrenees in this region.
Finally, in Guipuzcoa people speak Basque more than in Vizcaya or Alava, which is evident in their culture. So keep this in mind when you visit. Don't miss our other article about cool hotels in Gipuzkoa!
Why I love Gipuzkoa:
Beautiful coastal landscapes, with the most amazing location for photographing storms
Super quick connections with France
One of the most beautiful branches of El Camino de Santiago corsses the region
Great water sports tradition
Attractions in Gipuzkoa:
San Sebastian
La Concha Beach
Gigantes and Cabezudos parades during Semana Grande
Parque Ecológico de Plaiaundi
Eibar
Surf in Zarauz
Cultural and historical patrimony in Vergara
Best Restaurants in Gipuzkoa:
Arzak
Martin Berasategui
Trikuharri Taberna Jatetxea
Mendaur Berria
Zuberoa
Best Hotels in Gipuzkoa:
Hotel Rural Gaintza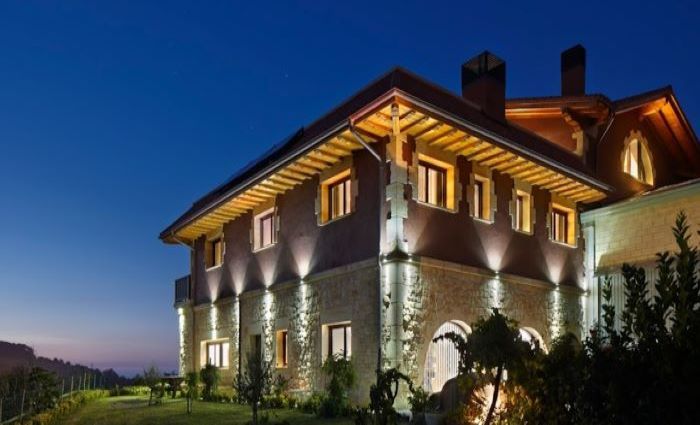 €€€ | 2 Star | B&B | Hotel at Vineyard
This is a small bed and breakfast type of accommodation in the middle of the vineyards of the winery that goes by the same name. It has a modern rustic touch and is a very tranquil setting not far from the coast with views of the sea and the mountains.
Hotel Iturregi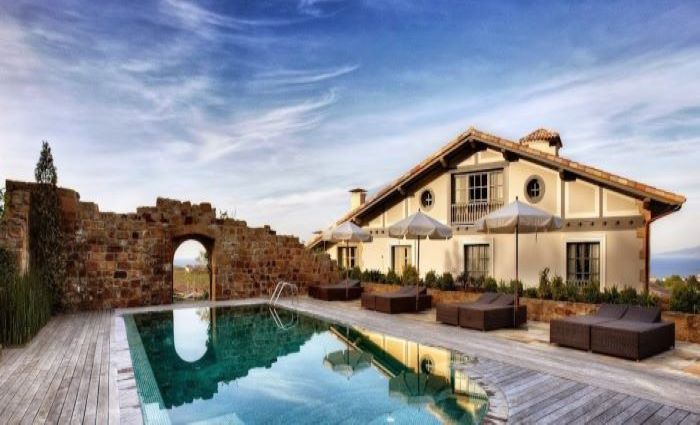 €€€€ | 4 Star | Modern Style | Hotel at Vineyard
This modern and classic 4-star hotel is also located among txakoli vineyards. They also have luminous rooms with views of the sea or the mountains. The hotel is bike-friendly too. Its location is ideal for people interested in El Camino or water sports.
Hotel San Prudenztio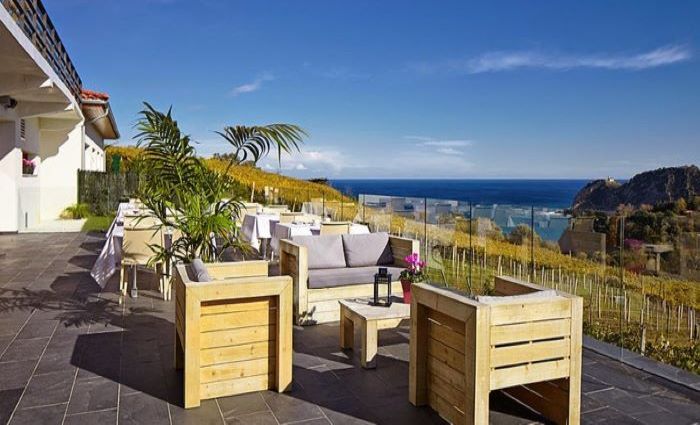 €€ | 2 Star | Rural Hotel | Perfect Middle Point
This charming rural hotel is also surrounded by its own txakoli vineyards and is only 5 minutes away from Getaria, an equally charming medieval walled town that is home to the Balenciaga Museum. It's 30 mins away from San Sebastian and 1h from Bilbao and Vitoria respectively, so if you don't know where you want to go in the Basque Country, this is the perfect middle ground.