Are you near the Florence Cathedral, or il Duomo, and looking for a bite to eat? You may be standing in front of a restaurant and wondering if it is an authentic trattoria or an overpriced tourist trap? We love this Renaissance city, so we created this list of the best places to eat within a short walk from the Duomo in the center of Florence.
---
Best Restaurants Near the Florence Cathedral (Il Duomo)
The Florence Cathedral is undoubtedly one of the top attractions in Florence. The official name in Italian is la Cattedrale di Santa Maria del Fiore which translates into the Cathedral of Saint Mary of the Flower. When we say "flower" we are referring to the giglio which is the flower of Florence. That said, the cathedral goes by more than one name. Locals refer to it as Il Duomo which refers to the main church in town.
Il Duomo is located in Piazza del Duomo and is more of a complex of structures. You also have Giotto's bell-tower and the baptistry. All significant points of interest. Frankly, visiting all or even one of them can spark a hungry, but where are you supposed to eat in such a touristy area? Luckily, we employ many guides in Florence who compiled this list of the best places to eat near the Florence Cathedral.
Konnubio*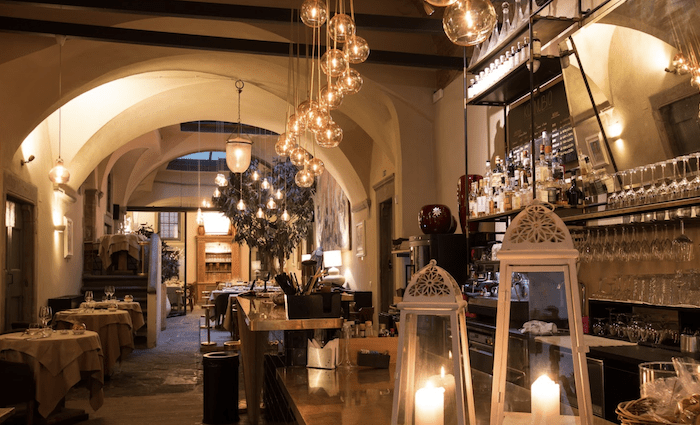 €€€ | Contemporary | Beautiful Interior | Michelin Star
Chef Beatrice Segoni has really earned the Michelin Star with Konnubio. When you walk in you'll know two things. First, you will walk out of this restaurant more relaxed than when you walked in. And second, that you will eat really well.
This is a professional dining experience that you'll really want to mentally prepare for and enjoy. You can tell they spend particular time and attention on the ingredients in which the cook with. Everything is done to perfection.
Address: Via dei Conti, 8r
Hours: 7 – 10pm
Coquinarius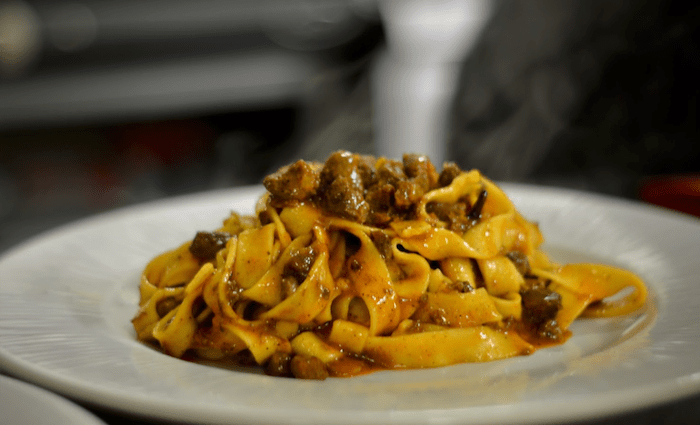 €€ | Tuscan | Restaurant with Extensive Wine List | ? from the Duomo
I really love this restaurant due to how authentic it is. They are not just a restaurant in the center of Florence near the Duomo. They have another location in Fiesole which is a small hill-top town outside of Florence. This means they have to focus on their cuisine and not rely on their central location.
Both restaurants have a similar menu while the restaurant in Fiesole has a much much better view. If you eat at the Florence location you may just find yourself taking a quick trip to Fiesole for a scenic lunch the next day!
Address: Via delle Oche, 11
Hours: 7 – 11 pm Tues – Sat | Noon – 3pm Sat & Sun
Most Popular Florence Tours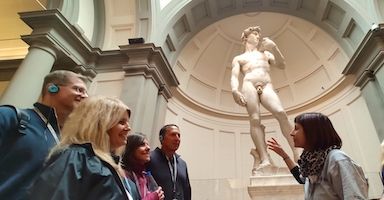 Best-Selling Tour
Florence Walking Tour with Statue of David
Michelangelo is considered the greatest Renaissance artist and the David statue is widely known as his masterpiece. Join our English-speaking guide as you skip the line at the Accademia Gallery to see David. Then venture out to see the center of Florence including the Duomo (outside), Baptistry Doors, leather market, and Ponte Vecchio. Admissions included.





See Prices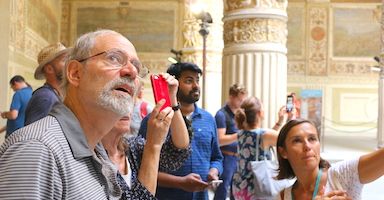 Top-Rated Tour
Skip the Line Uffizi Gallery Tour
The Uffizi Gallery is the most-visited museum in Florence for good reason. Join our licensed, English-speaking Uffizi guide for a journey through the Medician Renaissance. Learn all the stories behind the very art that brought our world out of the darkness as you look upon pieces like the Birth of Venus. All admissions included.





See Prices
Not ready to book a tour? Check out our article on the best Florence tours to take and why.
La Ménagère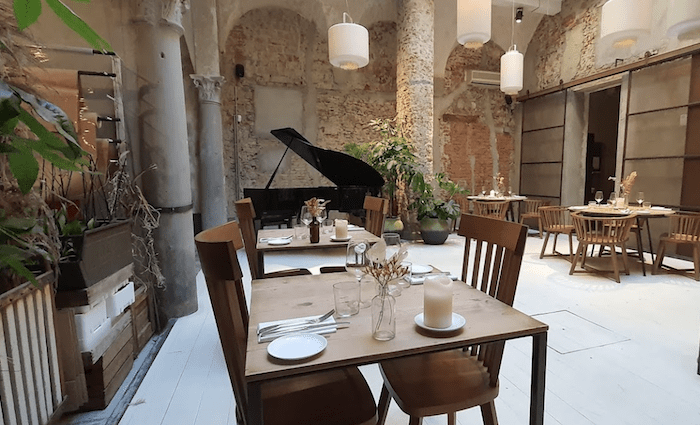 €€ | Cafe & Restaurant | Family Friendly
For me, this is the coolest place in Florence. It is a coffee shop by day. They serve coffee, breakfast, and lunch. If you are looking for a break from pizza and pasta or a substantial breakfast it is perfect. You can also sit, have a cappuccino, and soak in the scenery.
By the way, this coffee shop is much more than meets the eyes. It was formerly a hardware store and reopened as a coffee shop, restaurant, flower shop, and general seller of cool things. The feeling of this 16,000 square foot complex makes you want to stay and hang out. They have a full restaurant that is very stylish and the food is killer.
Address: Via de' Ginori, 8r
Hours: 9am – 11:30 pm Daily
Da Nerbone (Mercato Centrale)
€ | Traditional | Lunch | 1st Floor Central Market | ? from the Duomo
The "best" can be widely misinterpreted or misrepresented. It could mean the nicest, oldest, tastiest, most authentic, or most revolutionary which leaves a lot up to interpretation. Da Nerbone is not the nicest or most revolutionary. It could be the tastiest and possibly the oldest, "dal 1872."
You're going to want to come here for lunch as this part of the market is closed for dinner. The food is traditional Florentine cuisine. Bollito is among the most famous but they will host a variety of options.
As always, ask the person serving you what you should get. If you're nervous by the looks of things, order it anyway and pick a back up plan. Worst case scenario you like everything and will need to walk off your larger meal.
This location is not for the faint of heart. Cafeteria-style seating and possibly the drunkest and most grumpy staff in Italy. I've heard them say things I wouldn't want to repeat but I go continue to go back for the grub.
Address: Inside Mercato Centrale (East Corner)
Hours: Mon-Sat 8am – 3pm
Mercato Centrale 2nd Level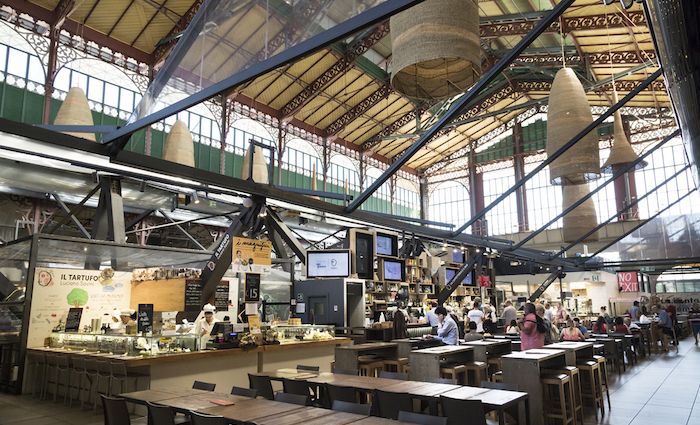 € | Modern Cafeteria | Lunch | Family Friendly
The Second level of Mercato Centrale or the Florence Central Market is one of my favorite places to pop into due to it's authentic but modern Italian style. Trust me when I say that Italians don't go crazy over restaurants with fake ivy painted on the walls. They like great food and definitely appreciate modern style. It's in their blood.
Here are three great places to try inside Mercato Centrale on the second level:
Trattoria dall'Oste Chianineria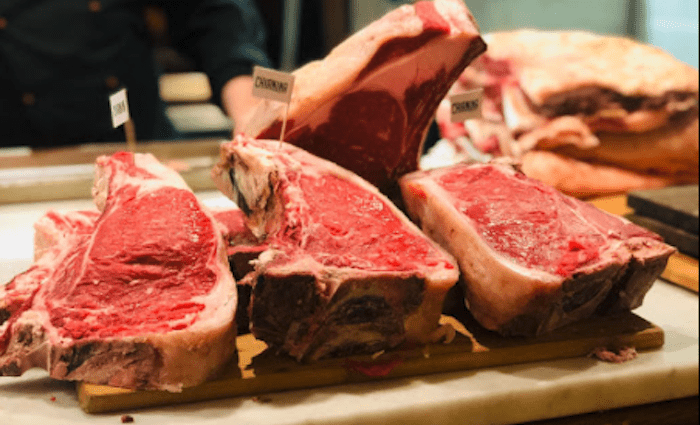 €€ | Florentine Steak House
If you have read through a few of our lists on best places to eat in Florence you are probably starting to understand that beef is a big part of the diet. I recommend you take advantage of that as well. While Italian food is one of the greatest cuisines on Earth, eating pasta two meals a day can get a little boring after day 9.
Trattoria dall'Oste Chianineria is considered one of the best steak houses in the city and its a few blocks from the Duomo. It is a great choice for a hearty lunch after visiting the Duomo or a wonderful and long dinner.
Address: Via dei Cerchi 40
Hours: 11 am – 10:30 pm
Trattoria Mario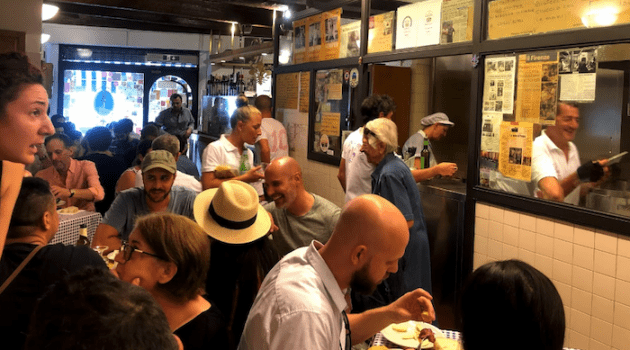 € | No Frill Good Food | Family Friendly
I have been going to this little Trattoria for over ten years and love it due to their old-school style. They only have 10 or so tables but they'll make use of every seat – literally. You could be sitting down with your travel partner when all the sudden a few other people sit down at your table as well. That is traditional Osteria style. That means every seat is utilized.
It may feel a little gimmicky today and it is but they've been doing this since 1953 when they opened. That said, their food is inexpensive and delicious which makes it a great place to try some more traditional dishes.
Address: Via Rosina, 2r
Hours: Noon – 3 pm M – Sat | 7:45 – 11pm W – Sat
Tours of Chianti and Florence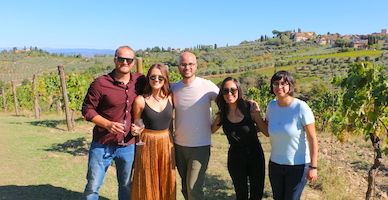 Top-Rated Experience
Chianti Day Trip from Florence with Vineyard Lunch
Want to have an epic experience in Tuscany? Remove the guesswork and the hassle of transportation by joining us on a day trip to Chianti from Florence. You'll enjoy time in the enchanting cities of Siena and San Gimignano with lunch and wine tastings too. Make your Tuscany day trip one to remember!





See Prices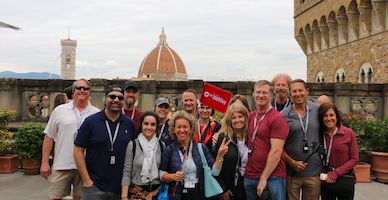 Best-Selling Tour
Florence in a Day Combo Tour with David & Uffizi
This tour is your best value in Florence. See Michelangelo's David statue in the Accademia Gallery with a licensed guide before exploring the Uffizi Gallery. You'll also have plenty of time to see the outside of the Florence Cathedral, Baptistry Doors, Ponte Vecchio, and more. All your skip-the-line admissions are included along with an English-speaking guide.





See Prices
Not ready to book a tour? Check out our Florence Guide for more info.
La Giostra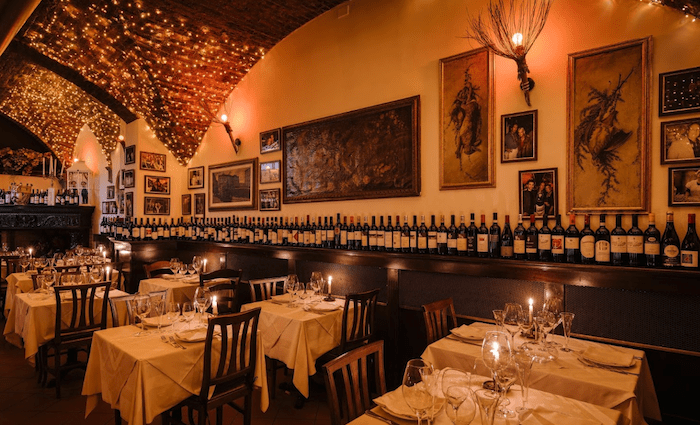 €€€ | High-end | Romantic | RSVP
La Giostra is a great place for a fancy dinner. They have great presentation and fantastic food. If you are looking for a romantic night out this would be among my first choices.
Address: Borgo Pinti, 12R
Hours: 12:30 – 2:30 pm M – F | 7pm – 1am Weekend
Le Cappelle Medicee Ristorante Enoteca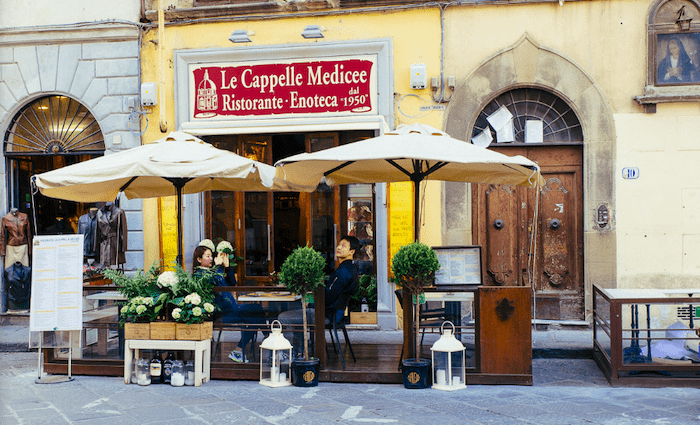 €€ | Restaurant & Wine Bar | Outdoor Seating | ? from the Duomo
This one of those places you'll eat lunch at then end up coming back for dinner or after dinner for a drink. Why? Because it has lovely outdoor seating, good service and high quality food and wine. It has a traditional but elegant interior design that will make you feel comfortable enough to order that dangerous second bottle of wine after dinner!
The name comes from its location right outside the Basilica of San Lorenzo – patron saint of Lorenzo dè Medici. Many of the Medici are entombed a few meters away from the restaurant in the Medici Chapel which is what this restaurant is named after. Best part, this great pick is only a 5-minute walk from the Florence Cathedral.
Address: Via del Canto dei Nelli, 30
Hours: 8am – Midnight Daily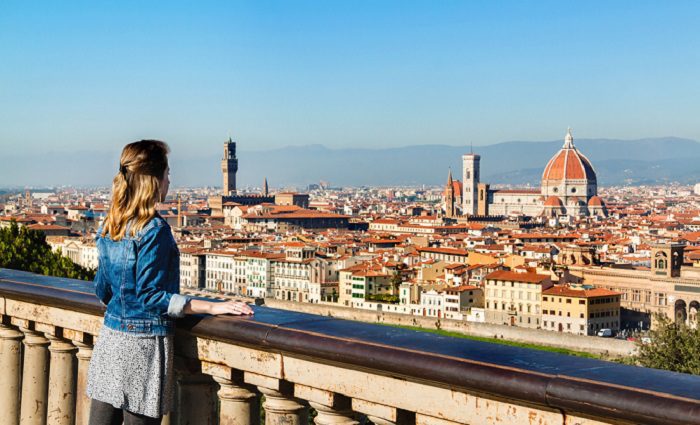 Find the best places to stay
Where To Stay in Florence
Florence is the capital of the Tuscany region in Italy, and it's a positively enchanting city to visit. Find out the best neighborhoods and hotels we recommend!