Find yourself daydreaming about standing on a stool getting measured for a shirt or suit while planning your next trip to Rome? It's a romantic man-dream that in reality is difficult for most to fulfill. That said, with some planning and this article, you'll get measured and have some new shirts shipped to you a few weeks after your trip!
---
Where to go and how much?
The hard truth is that the center of Rome is expensive and with that comes additional costs. You have to balance the experience of stepping out on cobblestone streets in a very "authentic" feeling shop with how much you're going to pay for shirts.
Local Italian professionals are passionate about getting their shirts made and this normally costs around 40€ to 60€ for cotton shirts depending on where you go. You won't see many of these people making shirts in the center as it will run you 100€+ per shirt.
That doesn't mean the shirts won't be great or authentic; quite the opposite. You are simply paying a premium for what is more convenient for a traveler in the center.
Personally, I go to a camiceria (shirtmaker) just outside the center but have had clothing made at all three of the below.
Gianetti Camiceria Artiginale Italiana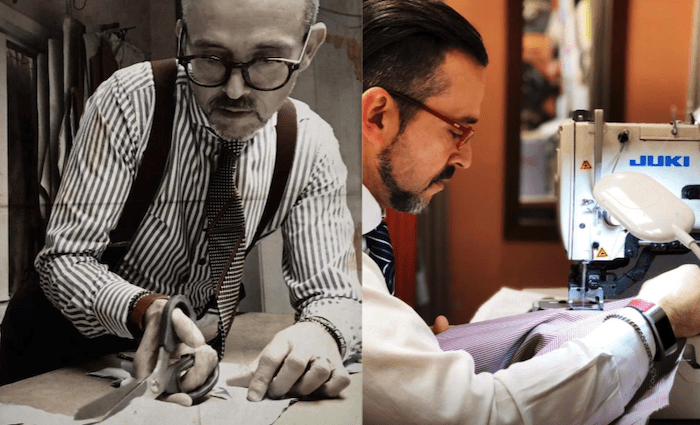 Monteverde | Taxi from center | €€
Gianetti is the real deal and definitely not desperate for new clients. You don't go to Gianetti to, "get some shirts made." If you go to Gianetti, he now makes your shirts. He even has ground rules which shows how passionate he is.
Rule 1 – You don't buy a shirt from Gianetti, Gianetti makes you shirts you'll live in. Your first shirt with him is the start of a long-term relationship regardless of where you live.
Rule 2 – Your first sale is limited to one shirt.
Regarding rule 1, Gianetti will take your measurements and create a model shirt for you that he'll store. Anytime you want more shirts, he can use that model to make more shirts for you without measurements. It's easy to text him on WhatsApp and he'll make & ship your new shirts.
The only exception to rule 2 is for people that don't live in Rome in which he will allow a few shirts to be made on the first run.
Gianetti does cotton shirts all year round. He starts linen shirts in March for the summer season but you have to act quickly to get them. He also does ties and other haberdashery. You can even get suits made, but I recommend doing that on your second in-person visit.
Location: Via Giovanni Torrecremata 14
Sartoria Scavelli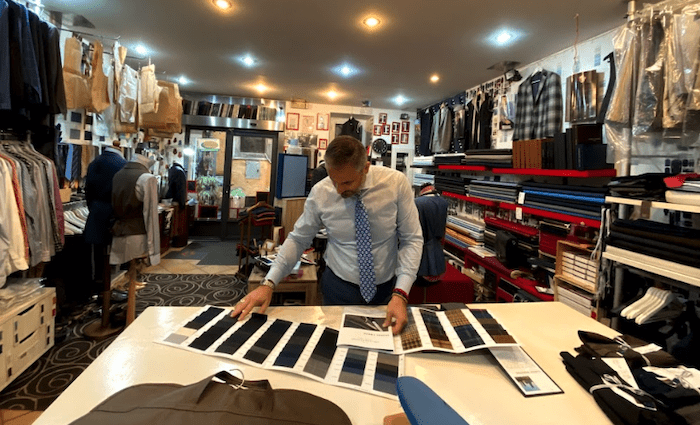 Piazza Navona Area | Historical Center | €€€€
Sartoria Scavelli is an excellent mid-range option right in the center. Francesco has excellent fabrics as well as prints. They make shirts as well as full suits which is their specialization.
They also have really great haberdashery. You can purchase high-quality suspenders, ties, socks, pocket squares, and more.
The only pitfall is that Francesco normally wants you to purchase shirts they make at their store instead of measuring and custom-making them. It is a different experience, but he makes really nice custom products. I have bought many shirts from him and appreciate the quality and craftsmanship years later.
Location: Via Sora, 19/A